Whether you're on the mat in your favorite asana, meditating on the beach, or running errands, yoga wear is comfy, functional, and cute.
Yoga athleisure brands have skyrocketed in popularity and their outfit options continue to get better and better: new fabrics, new flattering shapes, new styles, and new vibes.
Yoga is about losing our egos and forging connections between mind, body, and spirit. But in the modern day, there's no denying the lovely feeling of showing off your yoga practice to the world. Believe me, there is nothing wrong with feeling great in your favorite yoga brand!
We are absolutely obsessed with these top 25 yoga brands for embodying your inner yogi both on and off the mat.
Best Yoga Leggings & Sports Bras
Leggings are the hallmark of any yoga practice, but anyone who has ripped a pair of leggings or got the dreaded camel toe knows that not all leggings are created equal. These brands rock on many levels, but they especially excel at designing perfect yoga leggings.
#1 lululemon
lululemon is basically synonymous with quality, luxury, and the modern chic yoga style. Affectionately called "Lulu" by their cult following, the Canadian company was founded in 1998 with a mission to bring the highest quality technical apparel to yogis around the world.
The Align leggings are the most well known, but really every pair of leggings I've tried have blown me away with how they perform on the mat. If you're looking for a set, Lulu's matching sports bra combos are always a stunner. The website clearly communicates the level of support you can expect, so whether you're small or large chested, their sports bras flatter and hold.
The classic bestselling Align leggings move and stretch perfectly with your body. They are basically like a buttery second skin and they last forever. Customers say that Align leggings flatter pretty much every body type and withstand almost daily wear (because leggings this amazing are worth wearing to classes multiple times a week).
If you're looking for extra support on the mat, this sports bra is low-friction, slick, and great for larger busts. With an abundance of color and pattern options, you can match with your leggings at the studio, gym, or out and about.
#2 Alo Yoga
Alo began in L.A. in 2007 with a mission to embody the transformative power of yoga. Their fashion-forward yoga gear is mat or street ready. Contemporary, chic, and beautifully functional, Alo Yoga wear is luxuriously modern and popular amongst many celebrities like Kendall Jenner and Taylor Swift. Their trend-forward design and performance fabrics are minimalist and mindful.
These breezy second-skin leggings are designed perfectly for hot yoga and vinyasa. The airlift fabric is sculpting and ultra comfortable, and the ⅞ fit is great for petites or a capri style on taller yogis. They are so lovely, you could practically live in these leggings! And the color selections continue to expand for ultra-cute sets and leisure wear.
Dubbed the Alo "studio-to-street superstar", this sports bra could take you from the mat to a night out dancing. It is so cute, smooth, and so flattering with plenty of lift and support. The scoop neck reveals just enough without risking falling out or sagging during practice. The ruched detail in the front is comfy and cute, embodying that elusive bohemian yoga vibe we all love without looking.
#3 Beyond Yoga
Beyond Yoga is female-led and responsibly made in Los Angeles. They are all about body inclusivity and sustainability, always opting for eco-friendly fabrics, waterless dyes, and extensive sizing options.
Beyond Yoga's bestselling legging has a 5" super comfy waistband and length that hits just above the ankle. For most yogis, these are the go-to for every yoga class or errand. The fabric is buttery soft, 4-way stretch, and performance-driven for even the deepest stretches.
One of the softest tank tops you'll ever practice in! This tank has a built in shelf bra, racerback design, and plenty of stretch. The crop style is flattering and cute with leggings or high waisted jeans.
#4 Fabletics
Known for their infamous VIP membership program and partnership with Kate Hudson, Fabletics is all about affordable and fashionable activewear. Their legging deals are wallet-friendly and perfect for those of us who like to indulge in a new yoga outfit every month or so (no shame!)
This legging is the Fabletics staple and comes in a huge array of color options. Most yogis will get at least one pair of these as part of their 2 for $24 intro VIP deal. I love how these leggings fit, hugging in all the right places without ever squeezing in. They give a super flattering "tuck" to love handles and bellies. Plus, they come with a 45 workout guarantee to make sure they perform for you on the mat.
This high-neckline, full coverage bra is amazing for Bikram, vinyasa, hot yoga, running, or any high impact workout. It has extra wide straps and super soft fabric that never digs in or restricts your flow.
#5 Athleta
Gap's Athleta is known for premium sportswear for women and girls. They embody feminism, inclusivity, and sustainability. Their yoga line includes an array of sports bras and compression leggings in really fun colors and designs.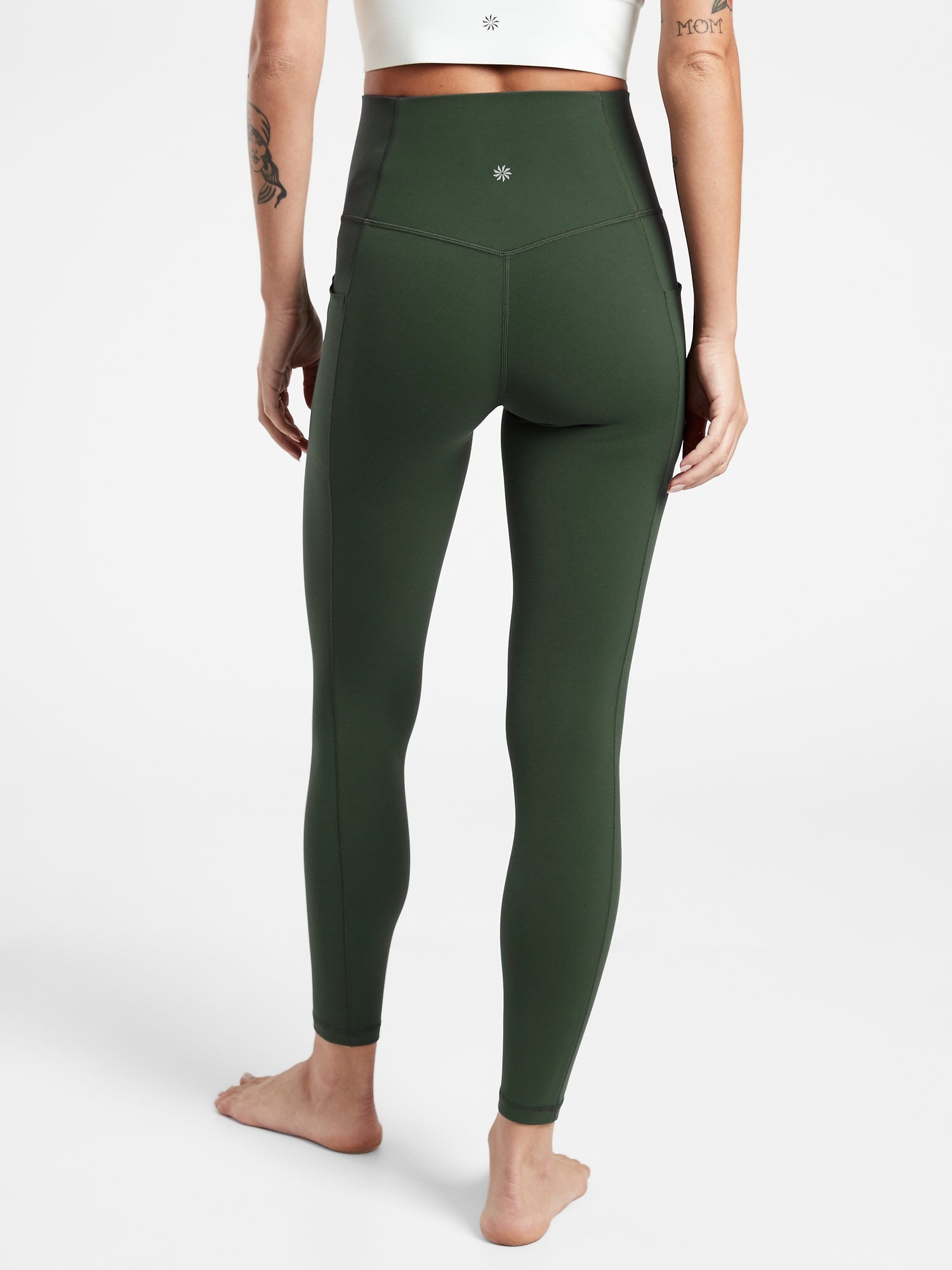 Athleta has really perfected their yoga line and continues to release new fits and colors like these body-hugging tights. Salutation leggings have durable pockets and high-rise non-slip waistbands. The color and fit options make these super customizable for your style and body type. Plus they're sweat-wicking and dry super quickly.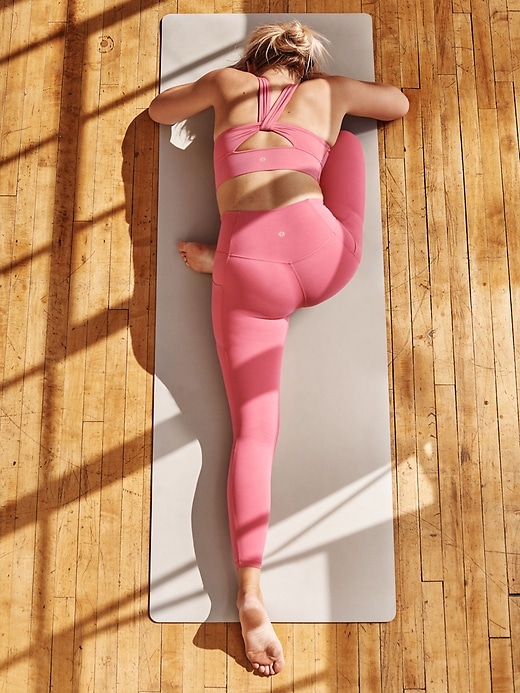 With one of the most unique bra designs on the market, The Warrior is as comfy as it is beautiful. Designed specifically for yoga and studio use, the fabric is smooth as butter and the bonded chest band holds everything in without being restrictive. It also makes an adorable crop top for leisure or even going out.
#6 Under Armour
Under Armour is known as a leader in fitness wear, so their recent expansion to yoga gear doesn't disappoint. Most of their leggings are designed for hot yoga or dual-use as a base layer or running tight. This brand is perfect for the athletic yogi who runs to the studio or likes to hit the gym before a yoga class.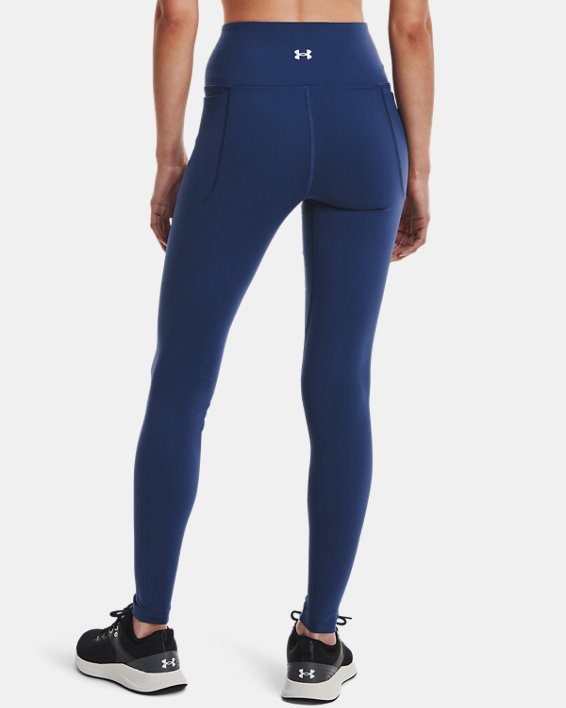 These bestselling stretchy knit leggings are lightweight and breathable for any type of yoga practice. They have a 4-way stretch and anti-odor technology, as well as the perfect high-rise fit and 2 pockets. I especially love how quickly these dry when you're sweating buckets in a hot class.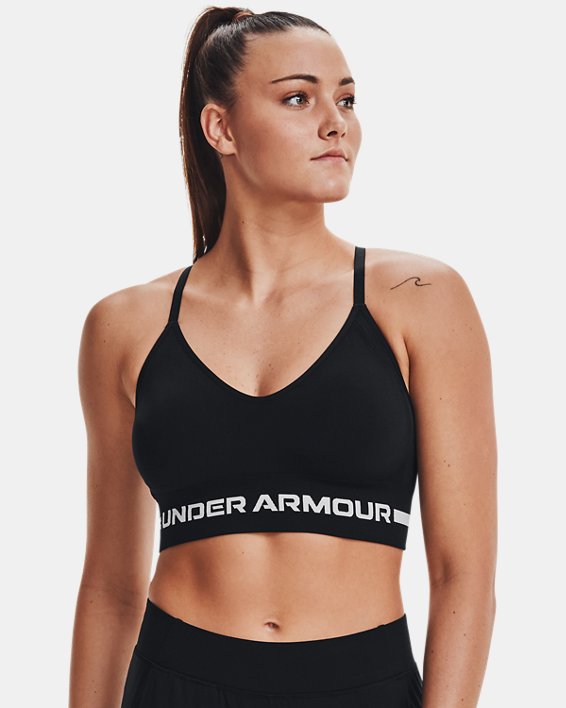 This bra is designed for low-impact workouts like yoga and pilates. It is still very supportive and smooth against your skin, with a seamless fit and plenty of ventilation. The bottom band is stretchy and moves with your body while representing your Under Armour fitness pride.
#7 Gymshark
While not technically made for yoga, Gymshark is an activewear brand that continues to surprise me with their quality and style! Their leggings and sports bras are cream of the crop and fairly affordable. Squat proof, stretch proof, supportive, and cute as heck, Gymshark sets won't disappoint.
Finally, leggings that stay up, never roll down, and don't camel toe! The Adapt seamless series is super soft, squat-proof, breathable, and includes the best high-rise fit. The animal-print is inspired by butterflies and comes in a variety of stunning colors. These leggings perform especially well in hot yoga classes!
It's really embarrassing when your breasts fall out of a sports bra while in a downward dog or inversion. High-neck sports bras like this Adapt seamless bra offer the perfect coverage while still looking super flattering. With medium support and a pretty cross back detail, this Gymshark set will land you tons of compliments at the studio.
#8 Vuori Clothing
Vuori is a California-based company offering premium performance activewear inspired by the Cali coast lifestyle of yoga, surf, swim, fitness, and art. Their "Investment in Happiness" is a product guarantee that demonstrates their commitment to happy customers.
Biker style shorts are always in style and are especially great for sweaty yoga sessions. These ribbed shorts have a high waist, thick no-slip waistband, and seamless sides for distraction-free mobility. They are perfectly stretchy on the mat and perfectly stylish outside of the studio.
The Mindset Bra is lightweight, light support, and luxurious to the touch. It has a delightful strappy silhouette and removable pads for a functional top layer.
Best Yoga Studio Loungewear
Don't you just love the feeling of tossing on a cardigan or a cozy hoodie after an amazing yoga session? Studio loungewear and athleisure gets better and better every year with more brands designing silky smooth fabrics and stunning styles that compliment your yoga outfits or keep you comfy while working from home. Here are our favorites:
#9 PrAna
PrAna is "clothing for positive change" that offers some super high quality yoga clothes and accessories while having a positive impact. Their sustainability efforts include everything from animal welfare to climate action to natural fibers to ensure that your yoga gear is ethical and eco-friendly.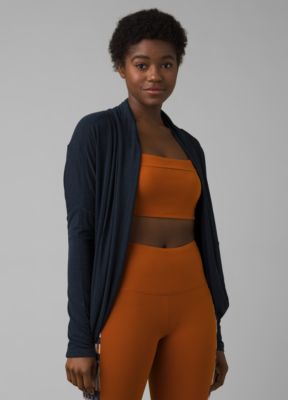 Drapey, stylish, body-skimming, amazingly soft, and pockets!? What more could you ask for in a yoga wrap? This is the perfect cozy cardigan to toss over your sports bra or tank on the go. It's elegant enough to wear with jeans on a casual outing, yet soft enough to sleep in on cold nights.
#10 Namastetics
Namastetics is a Canadian company offering an array of yoga styles that are ethically and sustainably made. They specialize in minimalist solids and unique silhouettes you can't really find anywhere else. Their loungewear is especially soft and includes organic cotton options.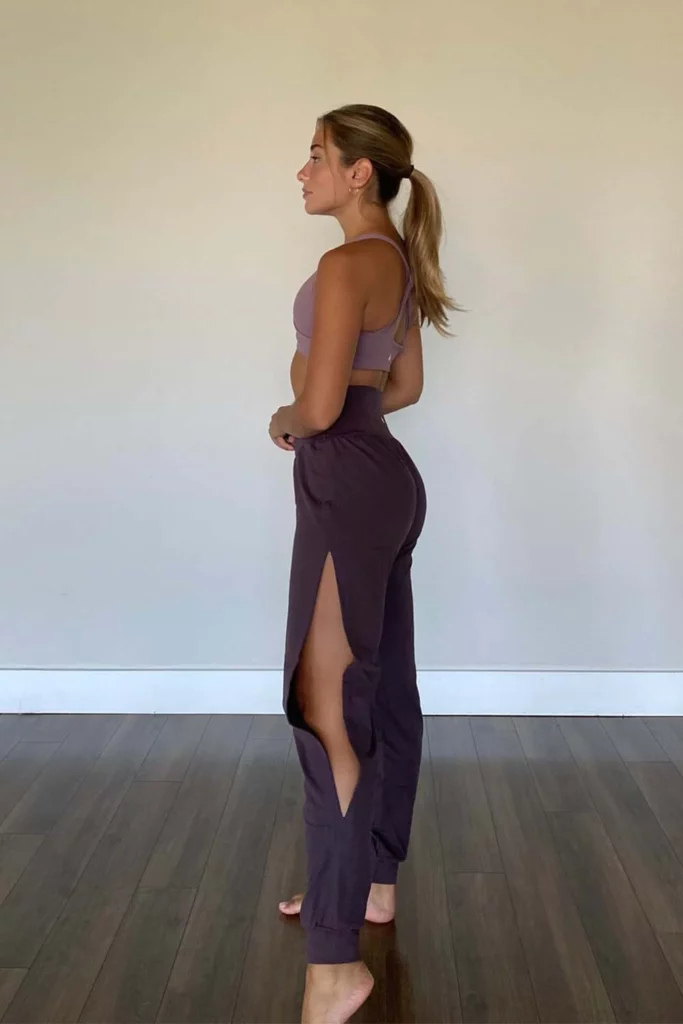 These are comfy, breezy pants for cuddling up on winter nights or tossing over your shorts on the way to hot yoga classes. The Wander Pant embodies everything yoga loungewear should be: cute, relaxed, soft, ventilated, with a zesty bohemian vibe side slit. These pants are best for light flows and lounging rather than intense yoga workouts.
#11 KiraGrace
KiraGrace is a yoga lifestyle brand centered around women's beauty, strength and grace. Known for their yoga dress pants, KiraGrace outfits are inspiring and uplifting, functioning as both yoga wear and even professional outfits. They are obsessed with combining the latest trends with the best premium materials and comfort. Plus, they're made in the USA.
One of the most creative innovations in the yoga world yet: yoga pants that can also be work pants for office settings. These flare bottoms are stretchy, breathable, simple, and oh-so comfortable for getting your zen on or wearing to work.
#12 Montiel
Designed and manufactured in Los Angeles, Montiel is an up-and-coming brand with an eye for unique styles that seamlessly transition from mat to festival to streetwear. They are known for integrity in their operations and ultra high quality collections.
This bestselling top is so elegant and perfect for layering over your sports bra. The open back style is flattering, soft, and wrinkle free.
#13 Free People Movement
Free People has always been a bohemian alternative fashion brand, and with FP Movement, they are magnetizing yogis to their trendy and chill stretchy yoga wear.
These relaxed pants are stretchy and soft, complete with performance seaming that gives them a barely-there feel. The vibe is chill and relaxed, perfect for lounging, yin yoga, or running errands between classes.
Best Yoga Mats & Accessories
#14 Manduka
Manduka has a legacy in the yoga community for some of the most durable and cushioned yoga mats available. Their products are specifically designed by and for yogis and used in studios all over the world.
This bestselling mat is 6mm thick, supportive, and dense for excellent joint support. Designed in Germany, the Manduka PRO is phenomenally sweat-wicking and closed-cell, so you don't have to worry about moisture issues. These mats are easy to clean and maintain, and lightweight to carry to and from classes.
#15 Alo Yoga
Alo Yoga crafts their products with a blend of functionality and fashion using top notch materials that are designed to endure. Their product line includes a selection of yoga mats, leggings, tops, bras, jackets and accessories.
The Warrior Mat is 5mm thick, which provides good cushioning and support. It is also wide enough to accommodate most yogis, even those who are taller than average. The mat is also non-slip, even when wet, which helps to prevent slipping and sliding during your practice.
#16 Gaiam
Gaiam has been respected in the yoga community for years thanks to their authenticity and sustainable products for yoga and fitness. They offer mats, blocks, bags, straps, bolsters, and many other quality accessories for beginner to advanced yogis, and everyone in between.
Finally, a yoga mat that is patterned, cute, and grippy on both sides! This mat is thick yet lightweight, non-toxic, and has really great traction.
#17 Toe Sox
Tired of your feet slipping on your yoga mat? Toesox solves this problem with simple yoga socks that have grippy soles and many unique styles available for hot yoga, pilates, vinyasa, and more. No more losing your meditative zen from slipping out of a pose!
Sometimes even the grippiest mats aren't enough under moist conditions. These socks are an absolute game changer for anyone who gets sweaty feet or finds themselves slipping on their mat during their practice. ToeSox are 5-toe socks designed to encourage your yogi toes to spread out while still supporting you in standing strong in any posture.
#18 Sanuk
Have you ever wished you could be on the mat all day long? Sanuk has designed simple canvas loafers with yoga mat soles that maximize comfort and ease while on-the-go.
These shoes are built with a yoga mat sole that makes it feel like you're walking on clouds all day long. These slip-on loafers are made with earth colored canvas and easy to slip on or off for yoga classes. The textiles are natural and breathable so your feet don't sweat or stink.
Best Organic and Eco-Friendly Yoga Brands
#19 Jade Yoga
JadeYoga was founded in 2000 with the simple goal of fixing the main problem with most yoga mats at the time: they were too slippery and they were made with chemicals! The founders decided to use their background in making rubber rug pads to design the first natural rubber yoga mats that are PVC-free and non-toxic.
This is the popular JadeYoga mat for a reason: it has the best traction, cushion, and stability. It is 3/16" thick and available in two lengths. It weighs about 5 pounds and comes in an array of gorgeous colors. Like all JadeYoga mats, it is made in the United States with 100% natural eco-friendly tree rubber.
#20 Bennd Yoga
This unique company merges ayurvedic healing, herbalism, and ancient weaving techniques to offer absolutely stunning all-natural yoga mats, rugs, and textile accessories. Each mat is hand-loomed and finished with natural rubber latex on the underside for superior floor grip. Their yoga and meditation pillows are some of the most gorgeous and comfortable I've found. With completely natural non-toxic materials and plant dyes, Bennd definitely stands out.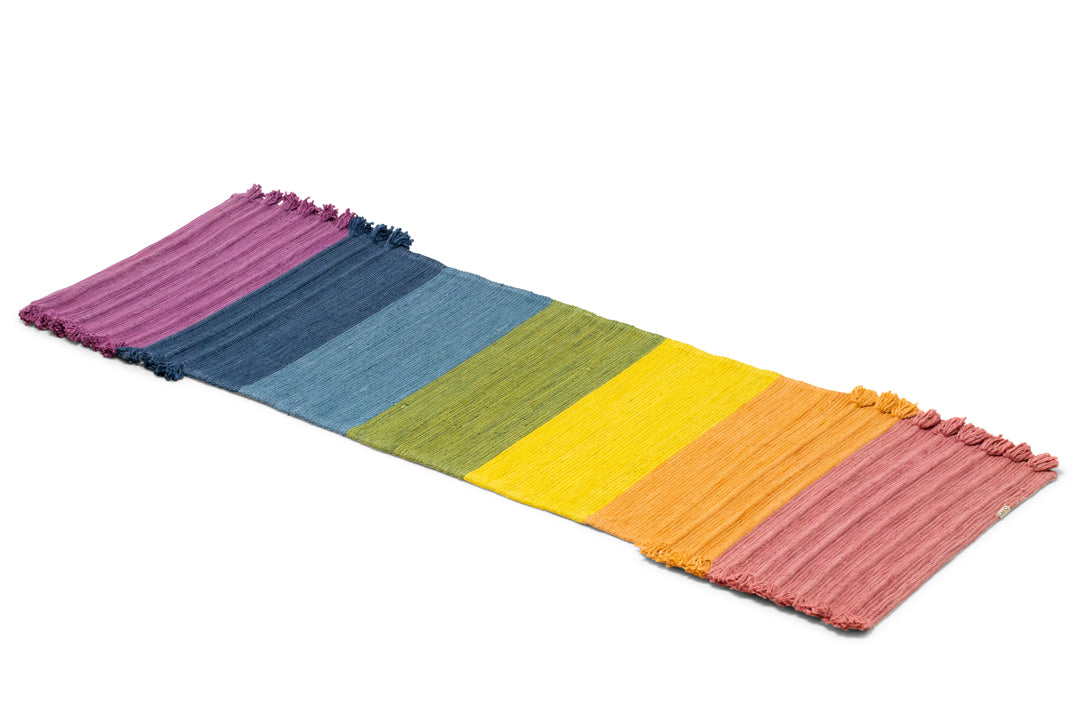 This yoga mat/rug is botanically dyed with herbs that coincide with each chakra. It is super unique, 100% non-toxic, and so lovely against the skin. It comes with a travel bag and all-natural soap for cleaning the rug.
#21 Carrot Banana Peach
Organic hot yoga gear? High impact bamboo sports bra? Pure jute yoga mats? This innovative UK-based yoga company is all about plant-based activewear. Everything they do is rooted in sustainability and eco-friendly materials. Their long lasting yoga wear is made of plant fibers like bamboo, soybean, aloe vera, banana, and organic cotton.
Eco-friendly bamboo fiber is naturally thermoregulating and sweat wicking. It is completely toxin-free and so soft against the skin. This sports bra is a blend of bamboo, organic cotton, and a little bit of lycra for stretch. It is so supportive and comfortable. Packaging is completely biodegradable and petroleum-free. They really thought of everything to keep your yoga practice green, organic, and plant-based.
#22 Satva
Satva is a socially and environmentally conscious brand offering 100% GOTS certified organic cotton and recycled polyester yoga outfits. They work with Suminter India Organic to provide jobs, build fair trade factories, and promote sustainable development of impoverished farm communities. Their sustainable activewear is free of chemical pesticides or fertilizers and guaranteed to help a worthwhile cause from seed to sew.
This is the organic cami of your dreams! With a built in shelf bra, strappy back, and completely organic cotton materials, this tank is perfect for yoga and daily wear.
#23 Wolven Threads
Wolven has taken the social media world by storm with their mission to "Make Sustainability Attractive" by transforming recycled plastic bottles into gorgeous comfy yoga wear. They are climate neutral and hold a wide array of eco-friendly certifications that make their super cute yoga clothes even more mindful and good-looking!
Fun joyful patterns are the root of Wolven's style. These high waisted leggings are made from 86% recycled plastic bottles (27.61 bottles per pair of leggings to be exact!) They are super breathable and feature a hidden zipper pocket in the high waist band.
#24 Outdoor Voices
With their mission to get the world moving and #doingthings for fun, Outdoor Voices is a performance activewear brand making fitness part of recreation. Their unique minimalist style is urban and hip, made with sustainable recycled PET fabrics and partnerships with the World Wildlife Fund and Nature Conservatory.
Yes, you can do yoga in a dress! This dress is flowy, sporty, and breathable, with built-in shorts and pockets for complete coverage and functionality. Wear it to the park for a quick yoga session and then head to a cafe looking cute as ever.
#25 Alo Yoga
Alo Yoga is also committed to ethical manufacturing. The company partners with factories that meet its high standards for labor practices and environmental protection. Alo Yoga also has a code of conduct for its suppliers that outlines its expectations for fair wages, safe working conditions, and environmental compliance.
Top Pick: Women's Renown Heavy Weight Hoodie
This Heavy-Weight Hoodie is stylish, versatile, and eco-friendly that is perfect for layering during your yoga practice or for everyday wear. It is crafted from premium materials and engineered for longevity.
What's Your Favorite Yoga Brand?
With so many mindful companies to choose from these days, yoga is as fun and fashionable as ever. Have you tried any of these brands on or off the mat? We'd love to know!
Namaste!