There are few things worse than flowing into a downward dog and noticing your boobs peeking out from your sports bra. Or worse, the painful bounce of unsupported breasts flying all over the place on a run.
You need a high-quality, ultra-comfy sports bra that looks as good as it feels. lululemon's diversity of bras for every size and style keep the ladies supportive no matter the activity, so you can focus on "less stress more sweat".
Here's everything you need to know about the best athleisure bras from lululemon.
Does lululemon make good bras?
If you've been searching for the perfect sports bra that doesn't bounce, chafe, sweat-stain, or squeeze you too tight, a lululemon bra could completely change the game. Aside from their infamous leggings, lululemon bras are some of their bestselling products for a reason.
lululemon seems to know that bouncing and spillage are the banes of any female athlete's experience. They've changed the game by engineering bras to help you achieve your best body while staying comfortable and feeling cute.
Lulu's bras are ultra soft, smooth, and designed with performance in mind for yoga, running, training, and beyond. They sculpt your chest without restricting your movement. Plus, they just make your boobs look incredible on the mat and on the go.
Here are the top 9 lululemon bras of all time:
Best 9 lululemon Bras for Any Workout
Top 9 lululemon Bras
Product's Name
Fabric
Features
Support
More Info



Best Overall


lululemon Energy Longline BraMedium Support, B–D Cups

77% Nylon, 23% Lycra® elastane
Pockets for optional, removable cups

Medium
See Latest Price

Best for Light Yoga


Flow Y Bra Nulu Shine Light Support, A–C Cups

Bra: 80% Nylon, 20% Lycra® elastane

Pockets for optional, removable cups

Light
See Latest Price

Best for Hot Yoga


Wunder Train Strappy Racer Bra Light Support, C/D Cup

Bra: 77% Nylon, 23% Lycra® elastane

Pockets for optional, removable cups

Medium
See Latest Price

Best Reversible


Lululemon Align Reversible Bra Light Support
Buttery-Soft, Ribbed Nulu™ Fabric, ribbed texture, Sweat-wicking
Quick-drying
Weightless, buttery smooth, no cups
Light
See Latest Price

Best Strappy Back


Free to Be Longline Bra – Wild Light Support, A/B Cup


Slick and Low-Friction Support, Luxtreme™ Fabric
Pockets for optional, removable cups

Light
See Latest Price

Best High Neck Bra


Tough Train High-Neck Bra Medium Support, C/D Cup

Abrasion-resistant

High neck for added coverage

High
See Latest Price

Best High Impact


Run Times Bra High Support B-G Cups

Sweat-Wicking Fabric
Intended for medium-impact activities

High
See Latest Price

Best for Large Bust


All Powered Up Bra Medium Support, A-G Cups

Breathable synthetic blend and foam cups
Fully adjustable, open ventilation, extra soft brushed underband, built in foam cups
Large
See Latest Price

Softest Bra


Like a Cloud Bra Light Support, B/C Cup
Marshmallow-smooth sweat-wicking
Foam malleable built incups, supple fabric, double strap open back
Light
See Latest Price
This bra was voted most likely to be worn multiple times a week for a variety of activities. As Lulu's most versatile sports bra, this super smooth and low-friction bra is perfect for training, yoga, or lounging. It has medium support and a slick design that doesn't dig into your back or chafe against skin.
We love how cooling and breathable the material is (goodbye under-boob sweat)! It's made of Luxtreme fabric. Even with the added Lycra for stretch and shape retention, we recommend removing the cups before washing to help them last longer.
Pros
Luxtreme fabric is super smooth
Breathable to prevent under-boob sweat
Medium support
Versatile for most light-mid impact activities
Removable and washable cups
Cool to the touch
Strappy cross back
12+ beautiful colors
Cons
Runs small- size up!
Not great for high-impact sports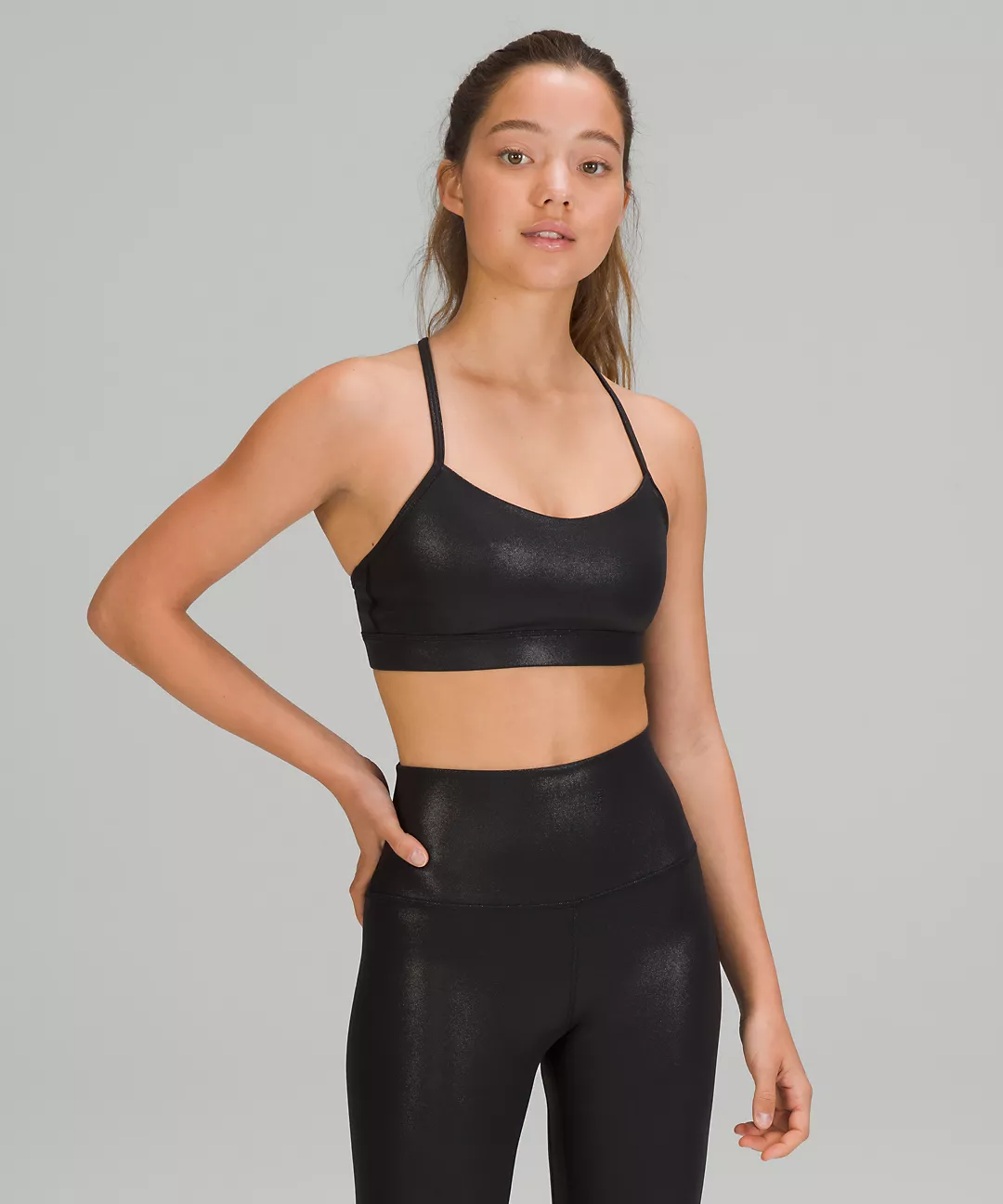 Best for Light Yoga:
Flow Y Bra Nulu Shine Light Support, A–C Cups
This classic racerback was designed so you feel next to nothing while you practice. Perfectly stitched with the dedicated yogi in mind, the weightless Nulu fabric and buttery smooth seamless straps let your mind drift off. As you flow and do inverted poses, you don't have to worry about anything slipping out of place. The light support is just enough for Vinyasa, Yin, or Hatha practices, but may not provide the lift needed for bouncing or jumping around.
Pros
Elegant cross racerback allows full range of motion
Breathable buttery smooth material
Light support designed just for yoga
Sweat-wicking material
Seamless, chafe-free straps never dig in
Pockets with removable cups
Lots of beautiful color options
Cons
Straps are not adjustable
May fit tight around the ribs or armpits (size up if this is a concern)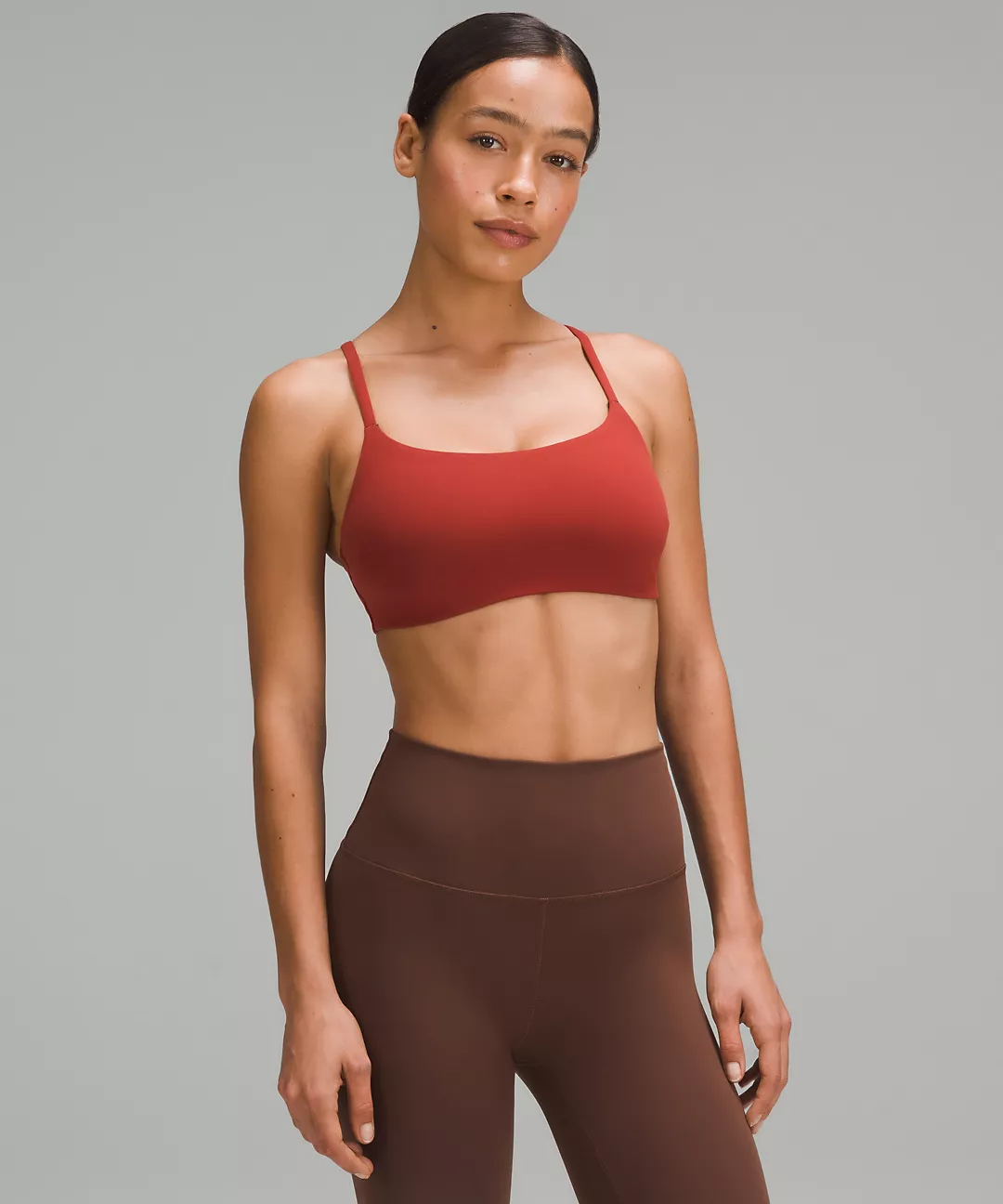 Best for Hot Yoga:
Wunder Train Strappy Racer Bra Light Support, C/D Cup
Made of Lulu's most breathable Everlux fabric, this training sports bra lets you dial into your workout while knowing you have full support and coverage. The medium impact bra holds everything in place as you move and sweat. We love how breezy it feels even in the sweatiest situations.
Pros
Crazy fast drying fabric (no sweat stains!)
Super stretchy and non-restrictive
Thin cross back design
Medium support for cross-training, biking, sports, weight lifting, or gym workouts
Affordable price point
Removable cups
Cons
Runs small
May not be great for large busts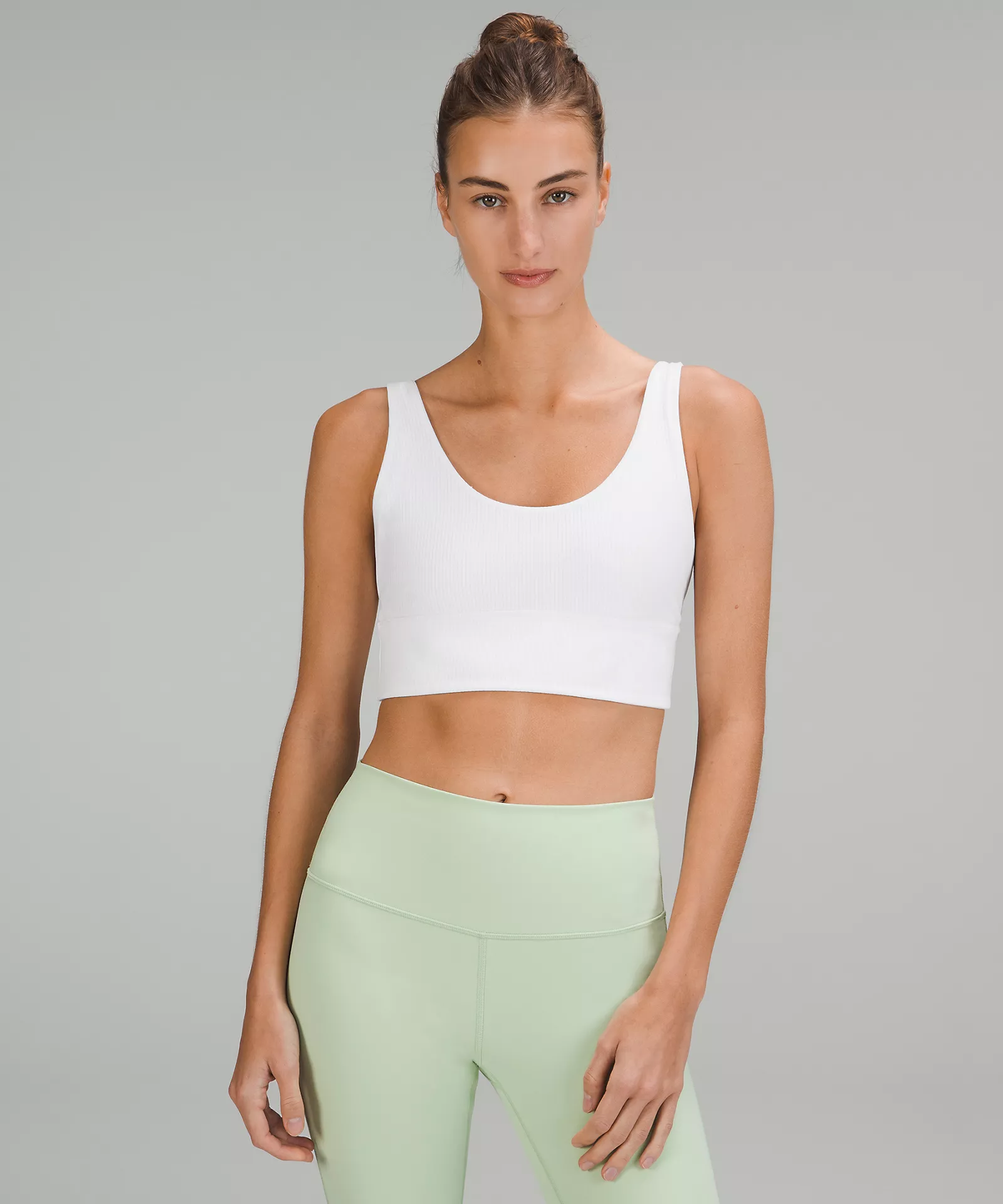 Best Reversible:
lululemon Align™ Ribbed Bra Light Support, A/B Cup
If you want two bras in one, this is the pick for you! We seriously love how seamlessly (no pun intended) this top can transition between yoga or lounging outfits. The low U-shaped back design elegantly shapes your back and lays smoothly against your skin (goodbye back rolls!). It feels similar to the Align tank, but without the "shelf bra".
The straps are comfortable without weighing down on your shoulders. The buttery-smooth Nulu fabric is weightless and stretchy for light flows or on-the-go wear. Best of all, this bra doesn't have any cups. It is instead double-lined for support.
Pros
Impressive support for yoga
No cups! Double lined
Smooth straps
Buttery soft Nulu fabric
Low back design
15+ color options that can flipped inside out for different looks
Cons
Runs small
Not supportive enough for large busts
Lower band may be overly tight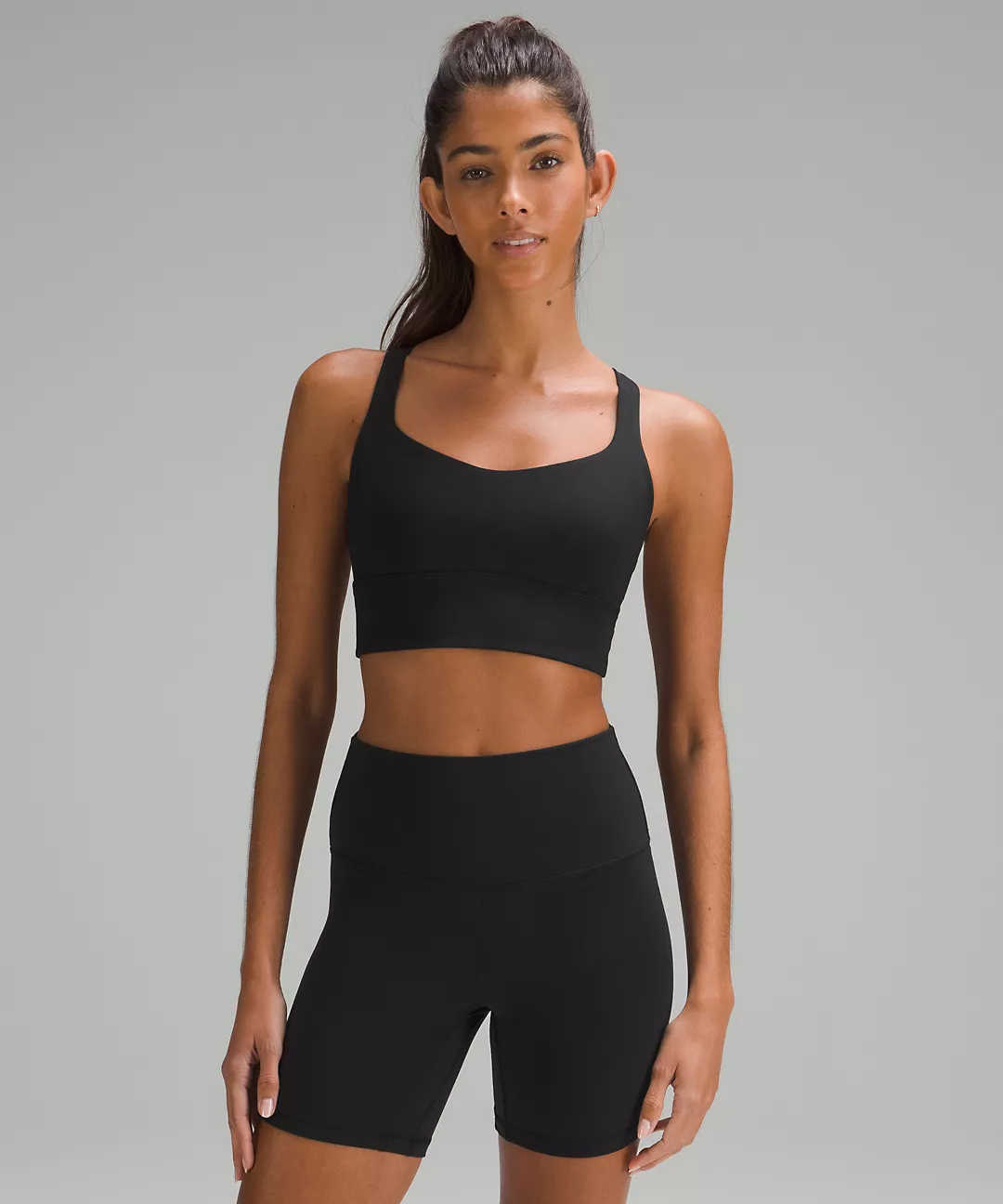 Best Strappy Back:
Free to Be Longline Bra – Wild Light Support, A/B Cup
Business in the front and party in the back. This free-spirited strappy back sports bra is made for stretching and flowing. The cooling fabric paired with a breathable open back keeps you breezy in any Vinyasa or Hot yoga class. At the same time, it's trendy enough to pair with a light open-back tank and wear while running errands.
This is among the most comfortable "wild" back bras we've tried because the straps don't dig into you. While its not adjustable, it keeps everything tightly in place. It makes small boobs look amazing, but it's not great for larger busts.
Pros
Flattering streamlined cut
Very supportive for small busts
Stylish strappy open back
Fits tight yet not restrictive
Cute enough for athleisure
Affordable price point (under $50)
Cons
Runs small- May need to size up 1-2 sizes
Not great for large busts
Extra straps may be distracting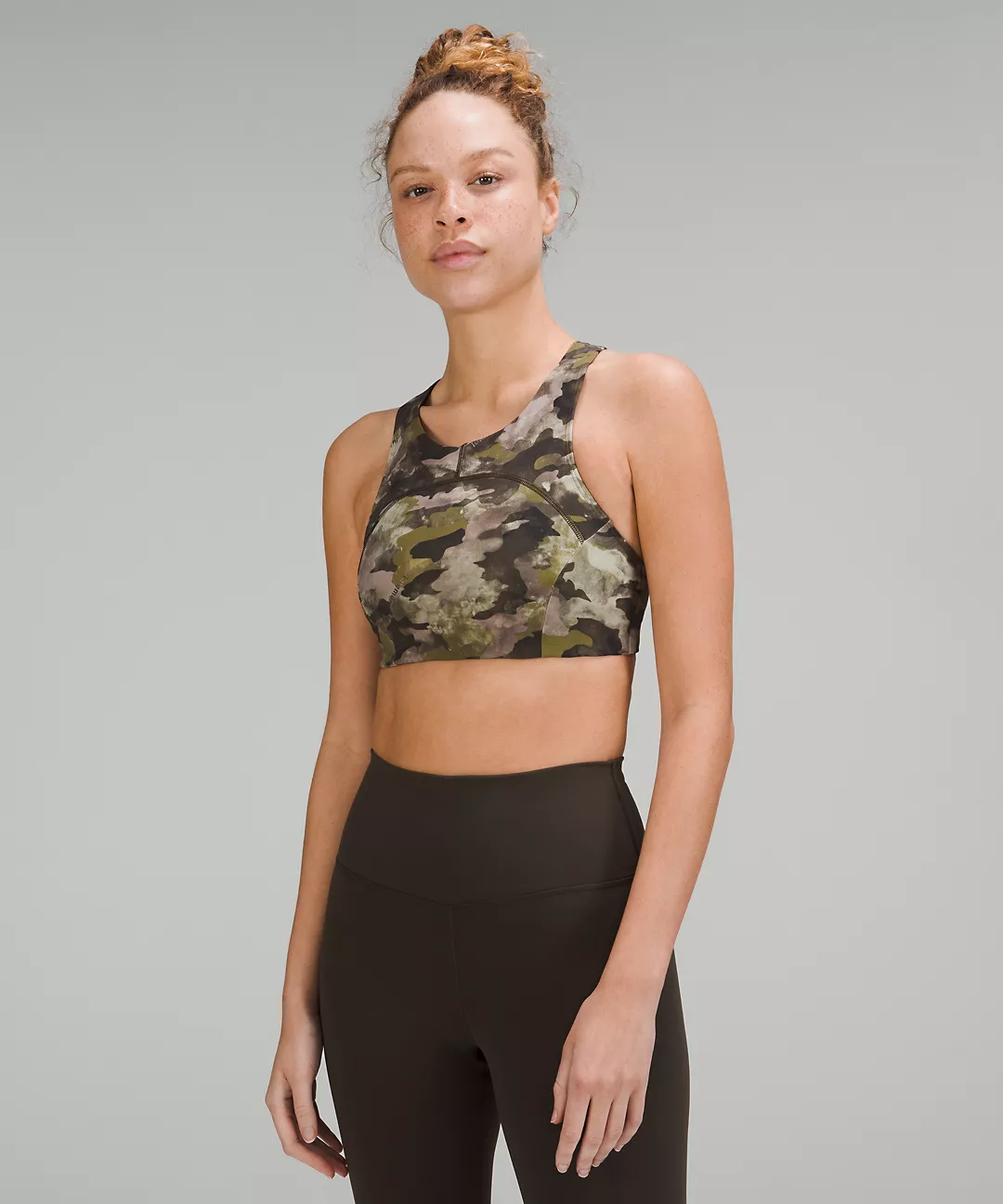 Best High Neck Bra:
Tough Train High-Neck Bra Medium Support, C/D Cup
For those of us who prefer to conceal our cleavage during workouts, this high neck bra keeps you "held in" while still looking cute. The removable cups also ensure you don't get a "uni-boob". Thanks to the abrasion-resistant design, this bra is perfect for things like bench presses and burpees. You can train hard and stay covered without risking spillage or "nip slips".
Pros
High coverage neck line is flattering and non-revealing
Great for high impact workouts
Fits perfect for large busts
Extra tough fabric that is still soft
Quick-drying and sweat-wicking
Removable cups prevent "uni-boob"
Double cross-back design won't dig in
Cons
Higher price point
Pads lose shape when washed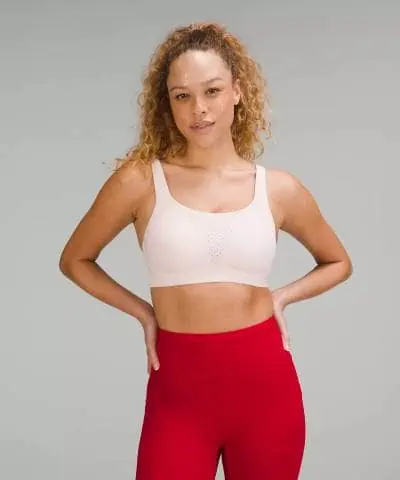 Best High Impact:
Run Times Bra High Support B-G Cups
Finally! A Lulu bra made for larger busted ladies who like to run. The adjustable straps and ultra-supportive high-impact cups prevent bouncing or discomfort. We love how sleek this bra fits and feels. The front even has perforated paneling to keep air flowing between your breasts. At the same time, it keeps boobs separated to prevent "uni-boob".
This bra is designed specifically for B-G cup sizes. It works great for any style of training where you want to feel extra covered and supported. It is also streamlined enough to wear under clothes without showing lines through.
The sweat-wicking fabric and stretch are superior quality. You can even adjust the hook-and-eye closure to customize the underband fit (no more squeezing your ribs). Maybe that's why this is the highest-rated Lulu bra amongst large-breasted women!
Pros
Perfect for large busts
Highly supportive
Adjustable straps
Perforated paneling in front
Keeps boobs separated
Very stretchy and smooth
Prevents bounce during running and high-impact workouts
Hook-and-eye closure
Brushed, soft underband
Cons
Can be tricky to get on at first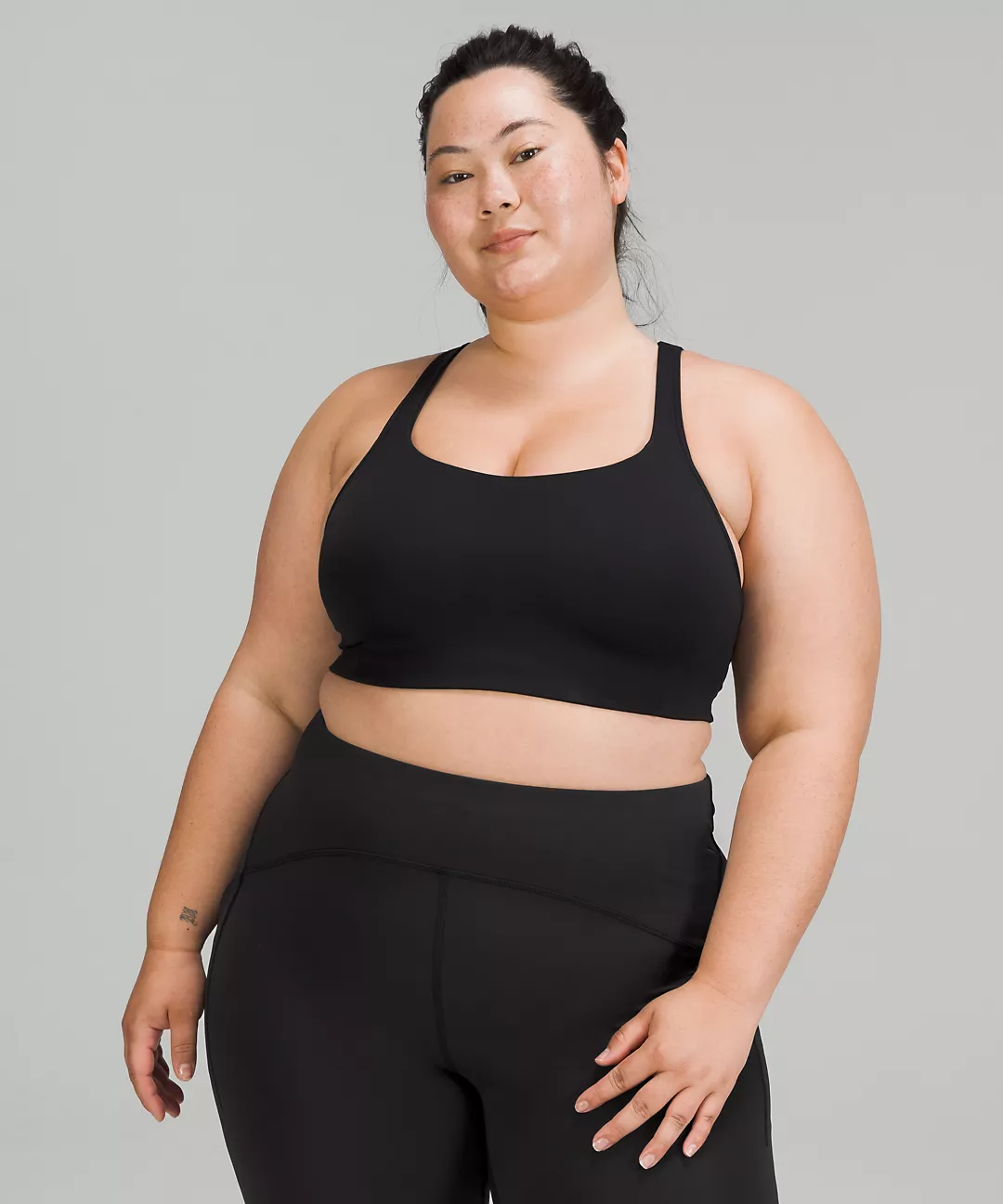 Best for Large Bust:
All Powered Up Bra Medium Support, A-G Cups
If you feel like lululemon's gear is all made for flat-chested ladies, you'll be glad to know that they've finally delivered on a large-bust option that delivers on the mat and beyond. This cross-back design has the same adjustable straps and hook-and-eye closure as the Run Times bra, but it has built-in foam padded cups. This provides subtle lift, clear separation (no more uni-boob) and no worries about washing cups separately.
We love the extra smooth brushed underband that doesn't dig in. At the same time, the fabric is extra sweat-wicking and dries super quick in hot yoga, cardio, cycling, and HIIT workouts.
Pros
Fully adjustable
Open back ventilation
Crossback straps for full range of motion
Extra soft, brushed underband
Built in foam cups for separation and lift
Medium-impact for large busts (A-G cup sizes)
Cons
High price point
Not as great for running as the Run Times Bra
Few color options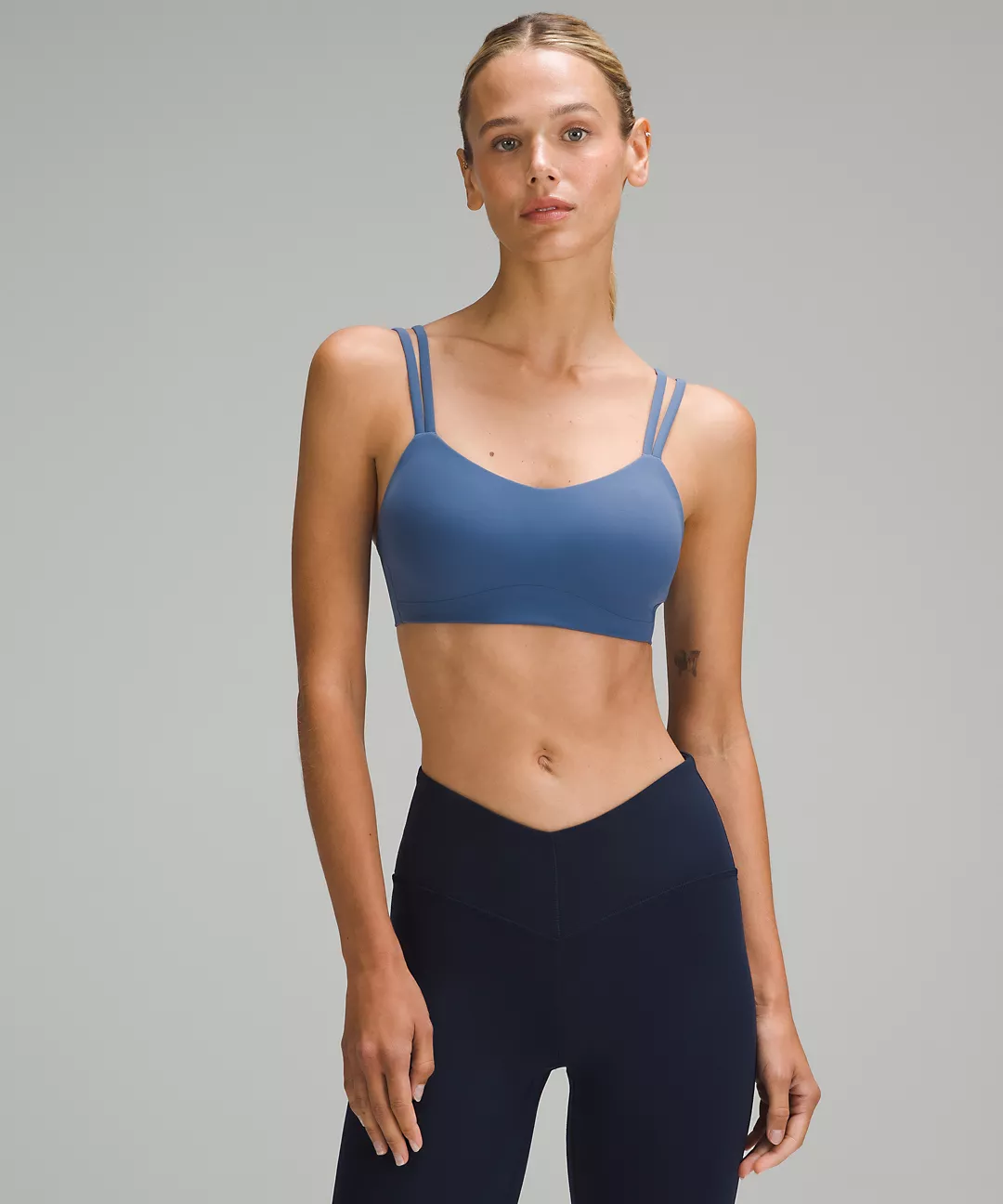 Softest Bra:
Like a Cloud Bra Light Support, B/C Cup
When comfort is your highest priority, this ridiculously soft light support bra truly is "like a cloud". The double strap design is as cute as it is functional. This bra keeps everything in place without feeling tight or too "fitnessy". Instead, it flows with your practice and feels marshmallowy-soft. The supple fabric and built-in foam cups are malleable and lightly support the ladies.
This is our favorite bra for transitioning from a lazy Sunday to running errands to an easy yin flow at the studio. It's great for holding in small busts, but also available in a size D/DD cup with thicker straps and a high-neck version for full coverage.
Pros
Marshmallow-smooth supply cups that don't need to be removed
Comfortable enough to wear all day and even sleep in
Super smooth feel against the skin
Cloud-like lightweight
Sweat-wicking
Light support without restriction
Open-back double straps
Perfect for yoga flows or lounging
Cons
Difficult to get creases out if the cups get bent
Needs close attention to care and washing
Use our Ultimate Guide on How to Wash lululemon Pants, Leggings, Tops + Accessories.
Finding Your lululemon Bra Size
Overall, the biggest complaint about lululemon sports bras is that they tend to run small. If you have a larger bust, always size up from their standard size chart. When in doubt, you can also order online and return in-store. Use this size chart and a flexible measuring tape to find your perfect size.
Here's Everything you Need to Know About lululemon Products (Sizing, Returns, Exchanges, Alterations + Customer Service).
FAQs
Are lululemon bras good for running?
lululemon's high-impact sports bras are incredible for running. In particular, the Run Times Bra High Support B-G Cups has superior coverage, no-bounce support, and plenty of separation to prevent uni-boob.
What are lululemon sports bras made of?
Most of lululemon's bras are made with the same luxurious high-quality materials as their leggings. Their bras are always sweat-wicking, breathable, and keep under-boob sweat at bay. The Lululemon Align Reversible Bra Light Support is made of the infamous buttery smooth Nulu fabric, while the Wunder Train Bra Medium Support is made of their fastest-drying Everlux material. These are all synthetic blends of polyesters, lycra, spandex, and cooling technology.
Should I size up or down for lululemon?
Most lululemon bras tend to run small, while leggings and bottoms run true-to-size. If you can' stand restrictive sports bras, we recommend sizing up. For leggings and stretchy tops, stick to your standard size to ensure there isn't any gaping or awkward fit.