Whether you're looking for high-traction mat socks or something to keep your feet warm during Savasana, yoga socks are uniquely made for flexible cushioning and slip-free comfort. Alo Yoga offers an array of yoga, pilates, and barre socks designed to keep your yogi toes warm and balanced.
But are Alo Yoga socks worth the money? Does Alo Yoga live up tot the hype? Here is everything you need to know about finding the perfect Alo Yoga accessories, plus budget-friendly alternatives.
What Are Yoga Socks?
Yoga socks are non-slip socks with grippy soles to help you stay grounded while holding certain poses. They can also keep your toes cozy, support your balance, and complement your yoga studio commuting outfit. There are several types of yoga socks:
Grippy yoga socks: Similar to yoga gloves, these types of socks prevent your feet from slipping around the mat during challenging poses or sweaty yoga classes.
Pilates/barre yoga socks: These socks lie somewhere between a ballet shoe and a flexible slipper. They are usually grippy, cushioning, and elastic for maximum flexibility and stability.
Multi-use yoga socks: For super soft comfort combined with balancing and grip support, these yoga socks can complement any yoga outfit and be worn with regular shoes.
Top 8 Alo Yoga Sock Picks + alternatives
Best Overall: Alo Yoga Unisex Throwback Sock
Best for Yoga: Alo Yoga Women's Performance Chakra Tab Sock
Best Retro Style: Alo Yoga Unisex Half Crew Throwback Sock
Best for Cold Feet: Alo Yoga Women's Scrunch Sock
Best for Barre: Alo Yoga Women's Pivot Barre Sock
Best for Everyday Wear: Alo Yoga Women's Everyday Sock
Best Concealed Sock: Alo Yoga Women's Concealed Sock
Best Budget alternative: Ozaiic Yoga Socks for Women Non-Slip Grips and Straps
They may look like basic striped socks, but the Throwback Sock has a lot more to offer both on and off the mat. They have all the features of a staple yoga sock (extra grip, warmth, non-slip bottoms, and compression) plus a classic stripe detail that looks adorable with leggings, shorts, and your go-to sneakers.
The comfy cushioning and super soft feel make your feet feel like they're walking on clouds, but you can still stay stable and balanced in every pose. The throwback look is great for men or women, scrunched or worn tall.
Pros
9 trendy color options
Unisex fit
Vintage vibe
High quality cotton, nylon, and lycra fabric
Available in an tall or short height
Look great over leggings
Keep your toes warm without causing your feet to sweat
Great for Hatha and Yin yoga classes
Amazing reviews
Cons
High price per pair
Not ideal for hot yoga classes
These odor-free yoga socks have silver ion threads to keep your feet comfortable and airy. The engineered performance compression gives you plenty of support on the mat and in the gym. We love how soft they are and how much they support your foot. No slipping, sliding, sweating, or stinking!
Pros
5 color options
Odor-resistant silver ion threads
Non-slip bottom grip
Perfect workout socks to stay in place
Great for high impact Ashtanga or hot yoga classes
Breathable and sweat-wicking
Best Retro Style: Alo Yoga Unisex Half Crew Throwback Sock
Enjoy the same benefits as Alo's double-layered crew sock, but with a lower profile fit. These socks have a soft combed cotton and comfy cushioning for everyday wear in to the studio and beyond. We love the compression and grip. Plus, the nylon and lycra ensure that they don't stretch out over time. Tumble dry low to ensure they don't shrink or pill.
Pros
4 cute color options
Ultra soft
Long-lasting
Retain their shape
Thick and cushioned
Retro vintage style
Wear tall or slouch down for a layered leg scrunch
Alo Yoga always seems to find the perfect balance between functionality, comfort, and effortless style. These scrunch socks look effortlessly chic with any yoga outfit. They are soft and breathable with a cool hidden hem graphic. They have enough traction to wear during practice or on-the-go. The combed cotton blend needs to be machine-washed cold and tumble-dried on low to retain its shape and smoothness. We especially love the throwback look and scrunched look.
Pros
8 color options
Stylish scrunched look
Amazingly soft fabric
Effortless outfit compliment
Durable design
Perfect for layered leg scrunches with slides, sneakers, or boots
Best for Barre: Alo Yoga Women's Pivot Barre Sock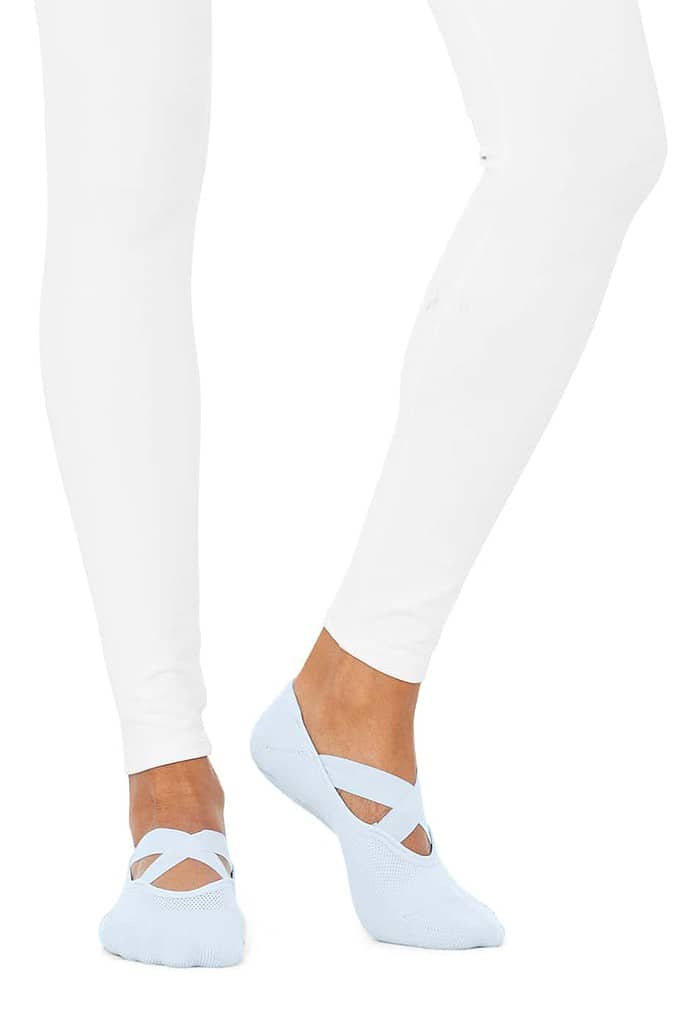 For the yogis who have sweaty feet or feel like they're constantly slipping on their mat, these socks are a game-changer! Although they were designed for barre, they work perfectly for any studio class. The ultra-grippy non-slip sole is cushioned and stress-free.
The perfect-fit elastic straps ensure that your feet stay put without feeling restricted or sweaty. We love the breathable spandex and polyester fabric with silicone grips on the bottom of the socks.
Pros
Perfect non-slip solution
Ultra grippy silicone bottoms
Naturally breathable and cushioned
Soft elastic straps hold your feet in place
3 soft color options
Cons
High price per pair
Need special delicate washing
No men's option available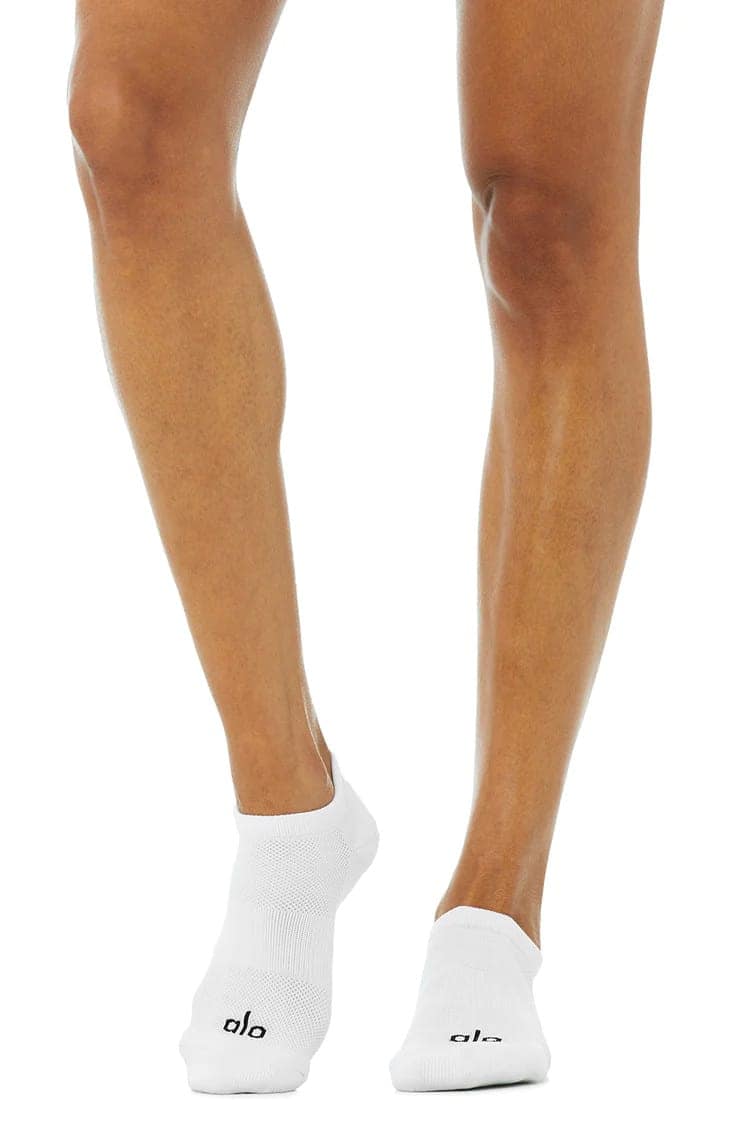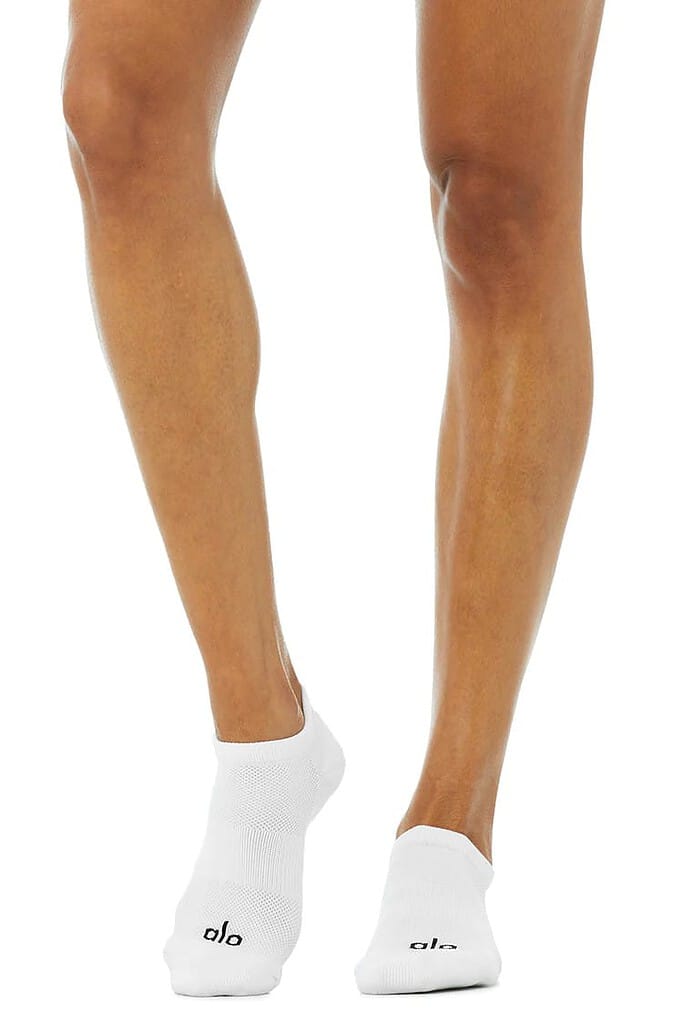 These low profile socks may not look like much at first glance, but they feel amazingly smooth on your feet. The airy polyester-spandex blend feels stretchy and lowkey.
This low-show sock stays put all day long so you don't slide around in your shoes. While we may not wear these during yoga class, we definitely love them with sneakers while on-the-go.
Pros
9 stylish color options
Stays in place
Stretchy, airy fabric blend
Super soft
Low-cut for your favorite shoes
Cons
Basic design
Not ideal for wearing on the mat
Moderate price per sock
Best Concealed Sock: Alo Yoga Women's Concealed Sock
This no-show sock is completely invisible in your shoe. It has a super soft feel and ultra-light fabric that allows your feet to breathe without feeling unsupported inside your shoes. Alo Yoga really nailed it on the non-slip grip and hidden cut of these socks.
Pros
Completely no-show style
Crazy soft and lightweight
Don't slip around in your shoes
Wear with any sneak, flats, or ballet shoes
OK for studio classes
Cons
Only 2 color options
No men's equivalent
Moderate price per pair
This Alo Yoga knockoff has all the features of their grippy barre socks for less than half the price. The silicone gel bottom grips keep you stabilized in any posture. The extreme tread holds your mat like no other! At the same time, the elastic straps don't feel restrictive or uncomfortable. Since they're made of combed cotton, you can still enjoy a soft softness. They even come with a little carrying bag!
These ballet-inspired are our favorite budget option for sweaty yoga sessions or low-traction mats.
Pros
Most affordable per pair (order in bundle)
Extra grippy silicone bottom
High traction sock
Ballet-inspired design
Comfortable straps
Soft combed cotton
Many color options
Pouch included
Cons
No Alo Yoga branding
May not last as long
Key Takeaways: Wear Yoga Socks for More Traction and Grip
Your Downward Dog, Plank Pose, and Warrior balances can go to the next level with yoga socks that grip your mat and prevent your feet from sweating. If you want to enjoy those benefits plus chic style and long-lasting durability, thousands of reviews prove that Alo Yoga is worth every penny.
Namaste!