When we practice yoga, we want to be as comfortable as possible. During a good yoga session you will sweat a lot, and need to be as flexible as possible. It is important to search for yoga shorts that fit you properly. Yoga shorts come in a variety of styles, materials, and lengths.
While doing my research for the perfect yoga shorts, I looked at many things such as popularity with buyers, good materials, comfort, and price range. I feel very pleased with the 10 choices below. I love the style and features of the lululemon Align™ High-Rise Ruched Waist Short 8″. Let's look at all ten options and see which athletic shorts you should buy for your next yoga session.
The Best Women's Yoga Shorts
#1. BALEAF Women's 8″/ 7″/ 5″ High Waist Biker Shorts
See latest price
You can easily wash these yoga shorts in your washing machine. If you like putting your hands in your pockets while you exercise, these shorts are for you. You have plenty of coverage as you move around in different poses. If you need yoga shorts to do different activities like weightlifting or running, then you should get a pair right away.
Pros
Elastic fit
Machine washable
Pockets
Variety of colors
Affordable price
Hidden pocket on waist
Cons
Can be tight around legs
Can be tight around butt
#2. Heathyoga Biker Shorts for Women
See latest price
You will always feel comfortable in these shorts due to the elastic waistband. Two side pockets make it easy for you to carry necessities with you when you are on the go. Soft polyester material will conform to your figure without chafing or being too tight. Spandex makes it an ideal choice for all body types.
Pros
Spandex and polyester
Non see-through
Pockets
Seems stitching reduces irritation
30-day warranty
Various color options
Doesn't ride up
Soft material
Cons
Run small
Can right up while working out
May be tight around thighs
#3. IUGA Workout Shorts for Women with Pockets
See latest price
Don't worry about your modesty at the gym or outside with non-see-through fabric. If you are shy about a few extra pounds, don't worry – these shorts also have great tummy control. Leave your purse at home and hide your keys in the front pocket. Strut your ideal shape as the compression material will lift and conform to your body for a perfect fit.
Pros
Useful for many activities
Side Pockets
Hidden inner pocket
Non see-through material
Lifts and shapes the body
#4. lululemon Align™ Wrap-Waist Short 4″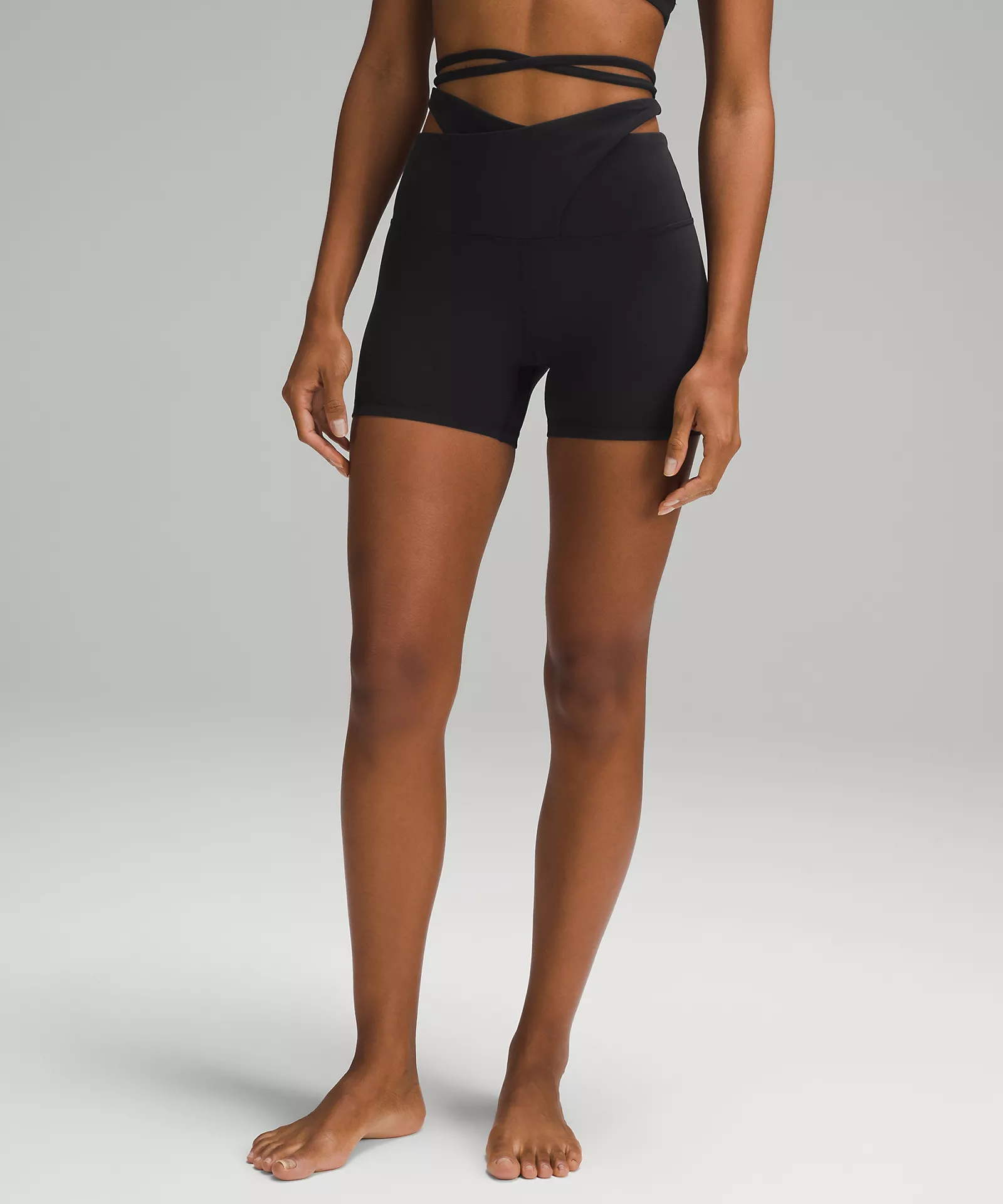 The Lululemon Align Wrap-Waist Short is a lightweight, versatile short that is perfect for yoga, lounging, or running errands. It is made from a four-way stretch fabric that moves with you, and it has a flattering wrap-waist design.
Pros
Lightweight and breathable fabric
Four-way stretch fabric moves with you
Flattering wrap-waist design
Soft and comfortable
Cons
#5. lululemon Align™ High-Rise Short 4″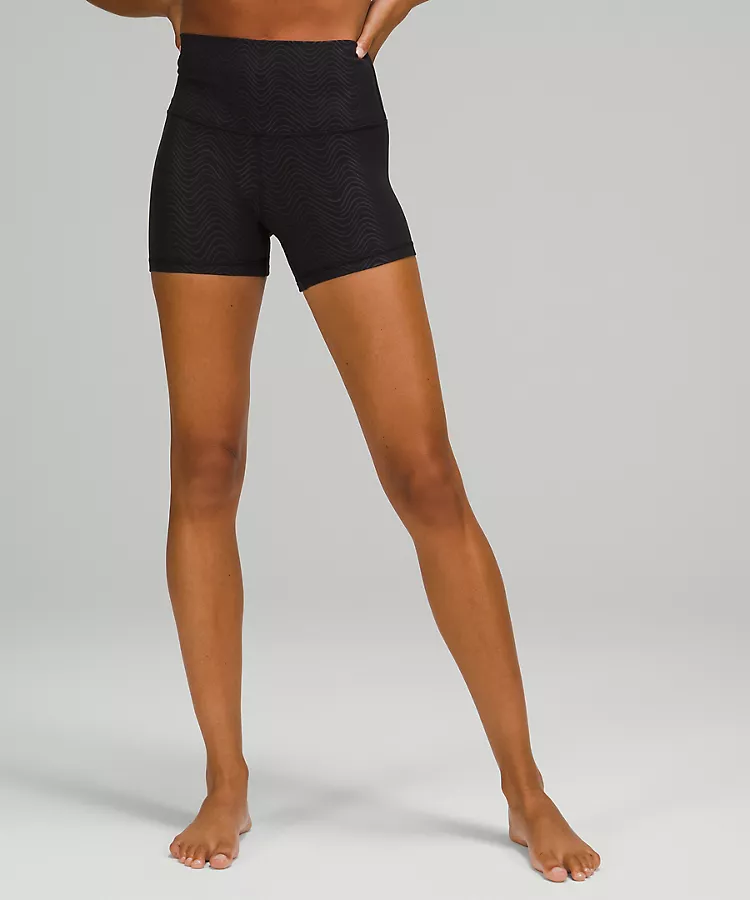 These cute high-rise shorts are made specially for yoga. Easily fit necessities like a card, or a key in your hidden waistband pocket. This is a comfortable and inexpensive choice from this well-known yoga brand.
Pros
Cheaper than other products on this brand
High-rise
Hidden Pocket
Very Soft
Cons
Not flattering on all body types
Can ride up thigh
#6. Hanes Women's Stretch Jersey Bike Short
See latest price
If you need an inexpensive and simple workout short, this one's perfect for you. The Hanes women's stretch Jersey bike short combines cotton with spandex and is machine washable. It is very comfortable with a flattering fit.
Pros
Cheap
Simple
Machine washable
Good fit
Non see-through fabric
Cons
Not for a high-impact yoga
#7. lululemon Align™ Super-High-Rise Short 10″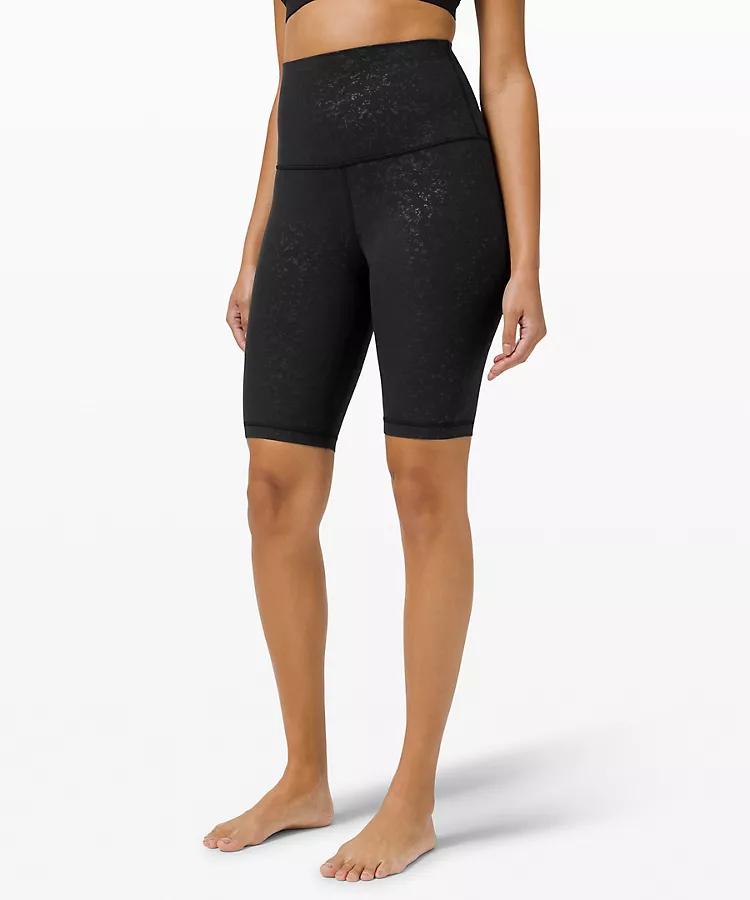 This cute high-rise short covers most of your thighs. The materials are super soft. Breathable Lycra material makes these a great option for low-impact yoga, or hanging out around the house.
Pros
Lycra material
Good for tall people
Waistband pocket
#8. Ewedoos Workout Shorts for Women with Pockets Biker Shorts for Women High Waisted Yoga Shorts Compression Running Shorts
See latest price
The stylish shorts are made from advanced materials that will keep you cool during your intensive yoga sessions. Keep your essential items close by in two side pockets. Soft compression aids in ideal circulation while giving you enough flexibility for a good workout.
Pros
Cooling material
Tummy control
Good for lounging
Cheap
Side Pockets
Cons
May run small
Filled pockets may pull shorts down
#9. TNNZEET 3 Pack Biker Shorts for Women – 8″ Buttery Soft High Waisted Yoga Cycling Workout Shorts
See latest price
These simple high-rise shorts are made from spandex and polyester. Rest assured that you can work out without anyone seeing through the fabric. Conforming material provides control, but won't irritate your body.
Pros
Affordable
Comfortable
Ideal polyester and spandex material
Waist Control
#10. Natural Feelings High Waist Yoga Shorts Side Pockets Fitness Athletic Workout Running Bike Shorts
See latest price
Soft material makes for a pleasant experience and keeps moisture away. These shorts have a smooth appearance under your clothes. Your thighs and waist will look great in these.
Pros
Cheap
Various colors
Two Side Pockets
Cons
How to find the best Women Yoga Shorts for you
Materials
Ideal yoga pants should be made from flexible material that can also handle sweat. Materials should be able to keep sweat away from the body. Spandex is great for conforming to different body types. The material should also be thick enough to not be see-through but also comfortable enough to move around in. Avoid cotton unless it is blended with a breathable material like spandex or polyester.
Durability
You need materials that can handle the extreme movement that is involved with yoga. Materials should be able to handle abrasion as many poses will involve being on the ground. It should also be durable enough to handle wetness due to sweat.
Style
Regardless of how cute a style may be, make sure you have yoga clothes that fit you properly. Do not wear materials that are too loose because they can impede your poses.
Price
Yoga pants can range from $20 to $50. lululemon apparel is on the more expensive end because of how they manufacture and test their clothes.
Women's Yoga Shorts FAQ
What material should women's yoga shorts be made from?
Ideally, women's yoga shorts should be made from materials such as polyester, nylon, lycra, or spandex. You want materials that are breathable and flexible.
What are the best yoga shorts for women?
The best yoga shorts for women should be stretchy, breathable and lightweight. However, they should not be too loose.
Are Women's Compression Shorts Good for Yoga?
Since compression shorts help increase circulation, we can also use them as a good alternative to yoga pants. As long as the shorts do not constrict our free movement, they should be fine.
Conclusion
As you can see, there are yoga shorts for all activity purposes and body types. My favorite pick is the lululemon Align™ High-Rise Ruched Waist Short 8″. I absolutely love the style and material of these yoga shorts. I would feel comfortable testing these out from this brand. I would not only use these for yoga or athletic activity, I would also style these on a hot summer day with a cute top.