We wear them basically everywhere these days: skin-hugging stretchy bottoms that transition seamlessly from the yoga studio to gym workouts to running errands and even working from home. Tights and leggings are the most comfy, easy going pants on the planet, but what's the difference between them?
While tights and leggings are often used interchangeably, they are actually super different in functionality and performance. We decided to dig into the whole tights vs. leggings debate to weave through the hype and figure out which are best for yoga and what brands hold up to the stretching, sweating, and twisting that we all crave on the mat.
What are Tights?
Tights are basically pantyhose (or "stockings", as your grandmother might have called them). Tights are usually sheer (see-through) and designed to be worn under a tunic, long shirt, skirt, or dress. They are thin, full-length, super tight, and often cover your feet.
Tights can be sheer, partially opaque, absolute opaque, colored, fishnet, or patterned. They are usually made of polyester, nylon, and elastic cotton blends. Tights can add a little extra warmth under your clothes, but they are designed to function more as a modest accessory to keep from showing too much skin.
A Slight Caveat
In the modern day tights have taken a turn into the fitness world, with brands like lululemon advertising many of their yoga, running, and training pants as "tights".
To add to the confusion, lululemon's tights are functionally a lot more like leggings. They are "squat-proof" (won't show your lady parts when you stretch or bend over) and never translucent the way traditional tights are. They fit super close to your skin and stretch in every direction, making them a little difficult to squeeze on, but they feel like "second skin" once you're in them.
Pros of Tights
Very stretchy
Fit skin-tight
Opaque or sheer
Come in a range of styles
Can be used for professional outfits or layering
Add modesty underneath skirts or dresses
Wear with tunics or oversized t-shirts
Typically cover your feet
Cons of Tights
Usually not "squat proof"
May reveal privates during yoga class
Very thin
Prone to ripping
Not great to sweat in
May actually be leggings marketed as tights
Best Footless Tights for Yoga
While these bottoms are functionally more like leggings, they are advertised as tights due to their ultra skin-hugging synthetic blend fabrics. These "crossover" picks have the weightlessness of tights with the opaque, squat-proof fabric of leggings. Footless tights are the only type recommended for yoga because of the slipping issues associated with anything covering your feet (well, unless you're using non-slip yoga socks or shoes, of course!)
Creamy dreamy soft yoga tights with big, easy-access pockets? Yes please! This pair of legging-esque tights fits high rise and has a smooth waistband that never digs in. The pockets are deep and seamless bonded for a functional and comfortable way to stash your phone or keys on the way to the studio.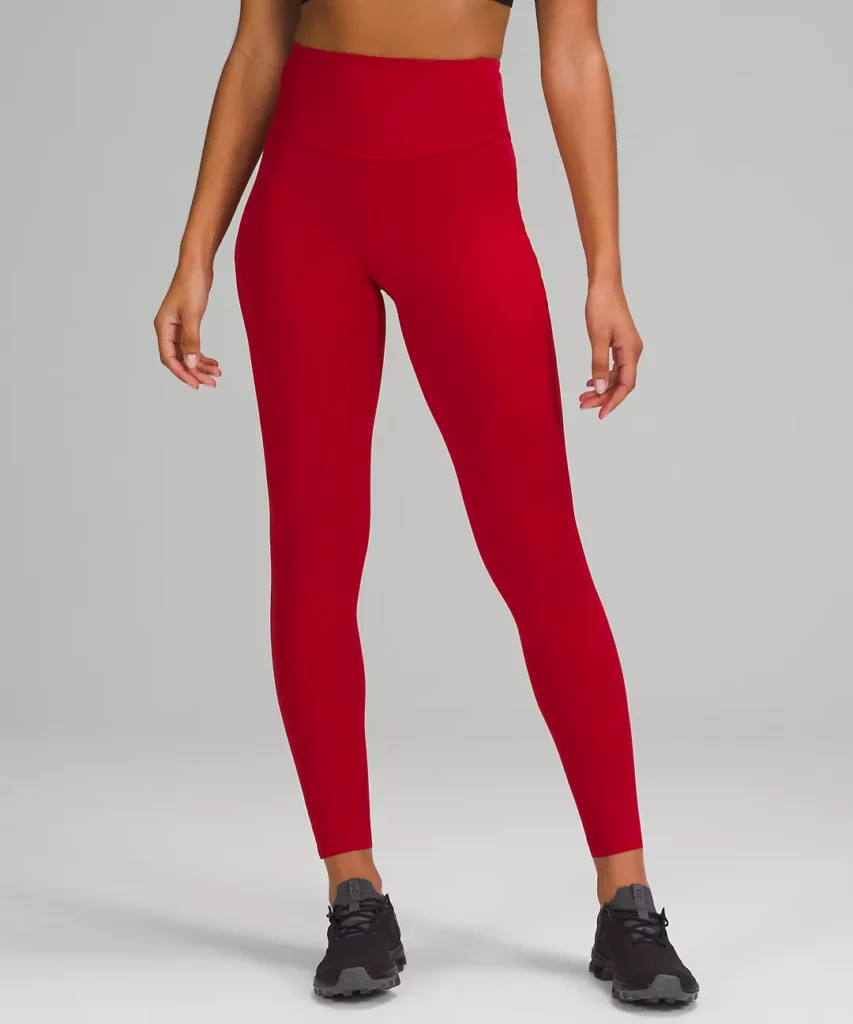 For those of us who prefer cardio and zen on the same day, these running tights absolutely deliver. With the stretchy, ultra-tight, weightless fit of "true tights" but the durable thickness of yoga leggings, the Base Pace tights will last for years of running and sweaty yoga sessions.
If you're looking for the most flattering, tummy-sculpting high rise leggings ever, then this pair from Athleta is a must buy. Like our other options, I'd technically classify these tights as leggings because they are footless, opaque, squat-proof, and buttery soft. The ⅞ fit hits most ladies right above the ankle and gives your legs a sculpted, toned look.
What are Leggings?
Like tights, leggings got their start as undergarments. The main difference is that they are much thicker and do not cover the foot. They used to be known for adding warmth and insulation on really cold days, sort of like "silk underwear" or a base layer.
Nowadays, leggings are basically synonymous with yoga and loungewear. These form-fitting, curve-hugging, super-stretchy bottoms are the trendiest modern take on comfortable athleisure. Sometimes called yoga pants, you can wear leggings almost anywhere. From the mat to school to the gym to a casual lunch, these are the bottoms that have taken the athleisure world by storm.
Unlike tights, leggings are often worn on their own with a regular shirt or a crop top. They should not be see-through or sheer in any way. Most leggings are fitted all the way down the calf or to the ankle. Many even include pockets for stashing your phone, wallet, or keys while on the go.
Legging Fabrics and Styles
They can be made of spandex, polyester, nylon, lycra, elastane, or synthetic fabric blends. There are also "fashion leggings" that are made of cotton, faux leather, or cheaper patterned fabrics that are not designed for yoga or workouts. Insulated or base layer leggings may be made of merino wool or a thick woven fabric that is also not ideal for yoga.
As you can imagine, not all leggings are created equal! Cheap faux leather or cheetah print cotton leggings are definitely not going to perform on the mat the way high-end yoga leggings will. Fashion leggings are almost never squat proof and can even rip or start pilling under the strain of any type of workout.
On the flip side, yoga leggings designed specifically for the mat will have the perfect amount of stretch and flex to move with your body without revealing your lady parts during bendy asanas.
Pros of Leggings
Thicker than tights (more coverage)
Squat-proof (not sheer or see-through)
Can be worn as pants
Super comfortable
Buttery soft feel
Skin-tight
Add warmth and insulation in cold weather
Great for lounging
Cons of Leggings
Not always designed for workouts or yoga
Cheap leggings are see-through
Fashion leggings
Best Leggings for Yoga
When it comes to the debate about what truly defines leggings versus yoga pants, the line has become pretty blurred. Regardless, we've found that the top brands of yoga leggings check 3 major boxes:
Sweat-wicking fabrics
Flattering rise and curve-hugging fit
Never (EVER!) see-through in Downward Dog or squats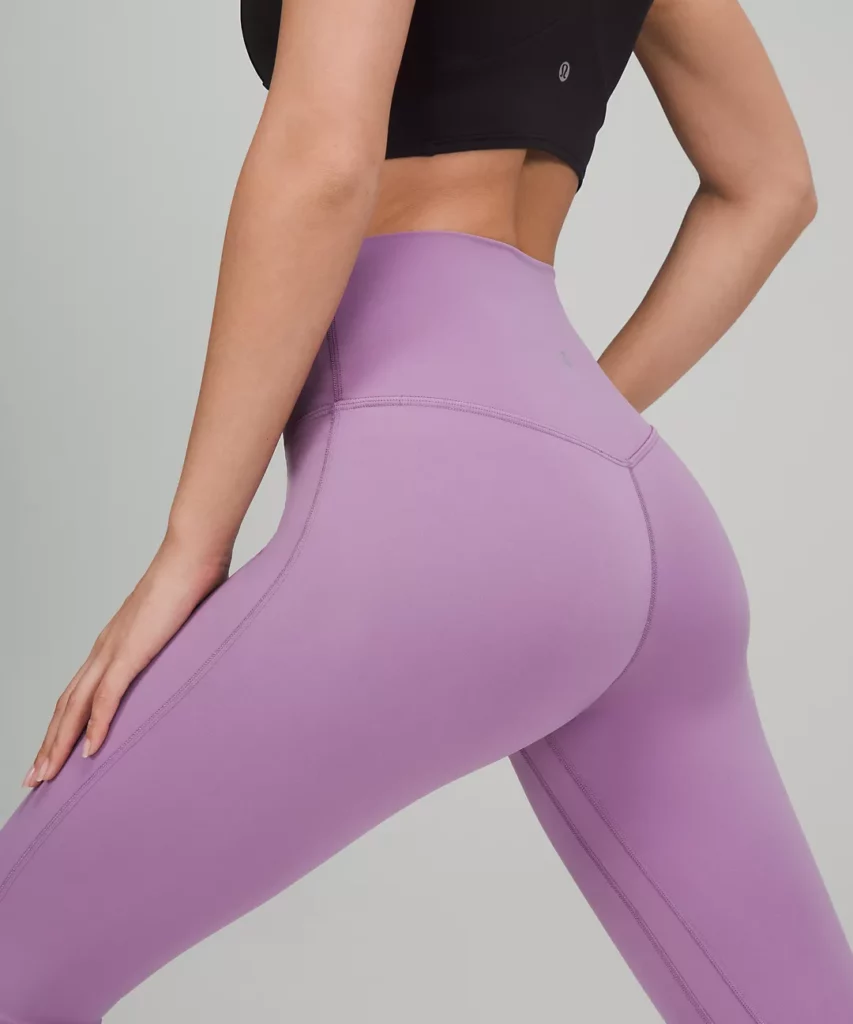 There's a reason that lululemon is synonymous with yoga leggings: their leggings truly perform. The Aligns are definitely thicker and more "pant-like" than their "tight" counterparts. They are sweat-wicking, high-rise, and available in 25", 28", or 31". Designed specifically for years of yoga flows, these leggings have a truly buttery skin-like feel and gorgeous fit on any body type.
The iconic "Just Do It" brand doesn't disappoint in the yoga realm. Nike took their super sweat-proof Dri-FIT fabric and made it into these luxurious high-waist leggings that perform just as well on the mat as they do in the gym.
We love seamless for its camel-toe-free fit and 4-way stretch. Alo Yoga always delivers with trendy styles that wick away sweat and perform exceptionally well on the mat (while looking fabulous).
If you're into cool-weather outdoor flows or a more relaxing yin yoga session, there's nothing better than some stretchy fleece leggings to keep you warm and cozy. These leggings insulate your joints and regulate body temperature without suffocating you. Plus, the pockets make them perfect for winter errands!
Keep your calves cooler and elegantly flattered with these incredible capri leggings from Athleta. With specific details for yoga and studio practice, these capris feel as good as they look. The Powervita fabric feels like a soft hug and the pockets are stretchy and spacious.
Key Differences of Tights vs. Leggings
At the end of the day, the terms "tights" and "leggings" are thrown around almost interchangeably these days. It's important to check the details of fabric, performance, stretch, thickness, and fit to be sure that you are getting the yoga bottoms you need for the mat.
| | Tights | Leggings |
| --- | --- | --- |
| Fabric | Elasticized cotton, polyester, or sheer synthetic blends | Thick spandex, polyester, nylon, lycra, elastane, or synthetic fabric blends |
| Performance | Designed as an undergarment for modesty or warmth beneath dresses, tunics, and skirts (not typically worn as pants) | Designed for yoga, running, and workouts (be sure to avoid "fashion" leggings that won't perform); can be worn as pants |
| Stretch | Ultra tight like second skin | Body-hugging, moderate tightness |
| Thickness | Thin and sheer or mildly opaque, but often see-through | Thicker elasticized material that should be fully opaque (squat-proof) |
| Fit | Typically cover feet | Ankle, 7/8 or capri length, do not cover feet |
Tights and Leggings FAQs
Can you wear tights as leggings?
Most tights are not thick enough to wear as leggings unless they are specifically designed for performance in yoga or running settings. Some brands like lululemon and Athleta offer tights that are specially created for use as leggings. These styles have the body-hugging, ultra-stretchy feel of tights with the opaque, squat-proof fabric of leggings.
Are workout tights the same as leggings?
In many cases, workout tights are very similar to leggings. The differentiation truly lies in what fabric and thickness of leggings you are comparing to. Fashion leggings may be made of thin cotton that cannot hold up in a workout setting. Alternatively, running or yoga tights made of high quality nylon or polyester blends are super sweat-proof and squat-proof for workouts.
Moral of the Story: Not All Tights and Leggings are Created Equal!
Next time you're shopping for tights or leggings, keep in mind that they aren't all created equal. While many names and definitions are blurred these days, one thing is for sure: yoga leggings need to be sweat-wicking, body-flattering, and never see-through.
Namaste!