As one of the highest quality (and most expensive!) athleisure brands, you would hope that lululemon stands behind its products. The lululemon Quality Promise can be a bit confusing.
Here is everything you need to know about lululemon's quality warranty and how to use it.
lululemon Lifetime Warranty – Understanding the Quality Promise
If you buy a lululemon product that doesn't perform to your standards, lululemon promises to take it back. This warranty covers manufacturer defects, stitching issues, low-quality fabric, damage at the retail level, and performance issues.
The key caveats are:
It doesn't cover usage beyond practical lifetime (ie. Align leggings from 5 years ago)
It does not cover normal wear and tear
The Quality Promise cannot be applied to "Like New" (slightly used purchases)
Outlet items may be exempt
A receipt or proof of purchase may be required
There is some grey area about what Lulu will take back versus what they won't. The lululemon warranty may be at the discretion of a store manager and could vary from location to location.
Unfortunately, the lululemon Quality Promise is NOT technically a lifetime warranty. In fact, we aren't sure that any lifetime warranty exists for yoga and workout gear. The quality promise is designed to fix manufacturer defects like flawed seams or improperly knit fabric.
To redeem the Quality Promise, you can bring a product back to any lululemon store.
How to Redeem lululemon Warranty
If you discover something is wrong with your gear after the 30-day return window has closed, go to this Performance Return Form and submit a virtual request to redeem the quality warranty. Remember that a quality issue falls under the Quality Promise, but normal wear-and-tear is not covered by the warranty.
lululemon Return Policy
The Lulu return policy is completely different from the quality promise. You can return items for free within 30 days of ordering online or purchasing in-store for a full refund.
To make a return with lululemon, you'll need:
Unworn, unwashed product in original condition
Hang tags attached
Proof of purchase (printed receipt or email with order details)
Original payment form (for the money to be refunded, unless you prefer your refund as a gift card)
A return label printed from the return portal and attached to your shipping package
There are some special policies for these specific items:
Shoes must be in the original box
Swimwear can only be returned with hygienic liner intact
Gift cards, face masks, and "We Made Too Much" items are all final sale (they cannot be returned)
Sale items cannot be returned
Returns at lululemon generally take 3-10 business days to process. As long as you fit the criteria, you should get the full price back for the item you purchased.
Here are some extra tips for returning Lulu gear:
When shopping in-store, put in your phone number at checkout so you can make returns without a receipt.
Start a return or check your return status online with this portal.
Select a Fast Track Refund for a lululemon e-gift card as soon as you return your order.
Visit lululemon's full Return Policy here. You will have to use a separate return portal for Like New items.
Are There Any Exceptions to the lululemon Returns Policy?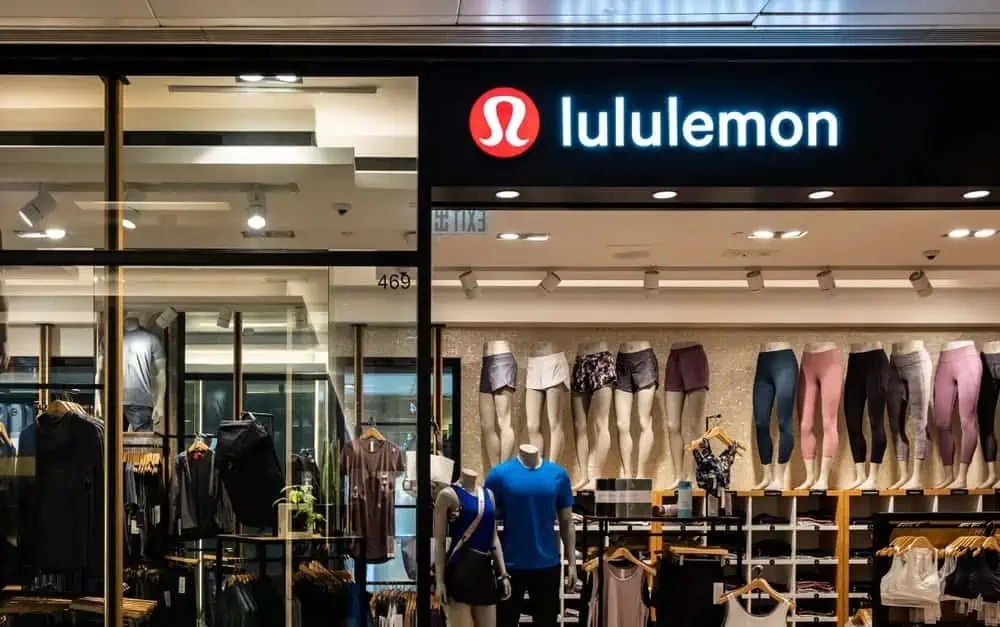 lululemon tends to be pretty strict about its return policy. They don't often make exceptions beyond the 30-day limit unless you are willing to accept store credit.
Without proof of purchase, you're unlikely to be able to do a return online or in-stores. There are also no exceptions for face masks, underwear or swimsuits the hygienic liner, or visibly damaged clothing that clearly doesn't fall under the warranty.
Check out the lululemon Membership for more return privileges and bonus benefits.
What to Do If You Missed lululemon's Return Policy Window
If you've had your item for more than 30 days or you accidentally removed the tags, all hope is not lost! There are still a few options for you to get some of your money back or at least find a better-suited item.
You can try:
Re-selling the item on Poshmark or a similar site
Submitting the gear to lululemon Like New where people trade in their gently worn gear in exchange for credit to use on new lululemon items
Gift the item to a friend
Unique Warranty-Like Services Offered by lululemon
While they may not have a true "lifetime warranty" nor a very lenient return policy, lululemon does uphold their high quality with these extra bonuses free of charge:
lululemon will always price match if items in-store appear cheaper online
lululemon always promises to price match their online store with the prices you see in-stores. This ensures that you get the best price for your gear. Simply pull up an identical item on the website or in the lululemon app and show it to the cashier at the store register.
lululemon Offers free hemming and repairs – even if you purchased used items
Lulu stands by the quality of their products by offering complimentary hemming and stitch repair on all tops and bottoms. You don't even need a receipt or proof of purchase!
Unlike their return policy and warranty promise, this service applies to literally ALL lululemon-branded clothing, including items from the 'Like New' and "We Made Too Much".
Request alterations at your local lululemon store or visit this page to learn more about the hemming service.
Key Takeaways: lululemon Stands Behind their Quality Products
As one of the most renowned brands for yoga gear, lululemon never disappoints. Their close attention to detail and quality ensures that you end up with the best workout experience every time.
When in doubt, their return and exchange policy is valid for 30 days after purchase. Their Quality Promise covers any product defects beyond that time. Although there is no true "lifetime warranty," we are always impressed by the longevity of lululemon's gear on the mat and on the go.
Here are our favorite Luluemon Sports Bras for women and lululemon Shorts for men, based on real reviews and time-tested experience.