Are you sick of buying cheap leggings that go out of shape after a few washes? Are you looking for higher-quality, more durable & reliable yoga pants that you can wear over and over again?
If so, you've surely come across lululemon, the world's most popular yoga apparel brand. If you've been browsing leggings on their site, you've likely noticed two style names keep coming up – Align Vs. Wunder.
These two yoga pant styles look pretty similar. So what is the difference between them, and more importantly, which is better?
We know lululemon leggings are pricey, so naturally, you want to make an informed decision when spending $100 or so on one pair.
We've got you covered as this guide explores all the differences (and similarities) between Lulu Align vs. Wunder Under Leggings. By the end of this article, you'll feel confident about which lululemon leggings range is best for you.
What Is The Difference Between Align And Wunder Under?
Align
Wunder Under
Style
High-rise, super high-rise & low-rise versions

Minimal seams for superior comfort

A wide range of styles - ribbed, scalloped hem, and flared

Hidden pocket in the front waistband
High-rise

Contour fit version with nipped in waist and additional space around the hips

Hidden pocket in the front waistband
Length Options
17", 21", 23", 25", 28", 31" 32"
21", 23", 25", 28", 31"
Purpose
Yoga

Leisure Wear
Yoga

High-Intensity Exercise
Fabric & Breathability
Nulu fabric (weightless)

Buttery soft

Breathable

Shape retention

4 way stretch
Everlux fabric (Lululemon's fastest drying material)

Cool & Sleek interior & soft exterior

4 way stretch

Designed for hot, humid, and low airflow environments
Durability
Known for piling

Not made for vigorous exercise
Can withstand vigorous exercise
Price
$88 - $138
$88 - $138
Style
Both Align and Wunder leggings boast a stylish and supportive high-rise waistband, but Align has additional super high-rise and low-rise options.
Align has more style (and color) options than Wunder, including V-waist, ribbed, scalloped hem, and flared. However, Wunder offers a contoured fit along with the usual tight fit style. The contour version has an adjusted hip-to-waist ratio, which nips in at the waist, giving room through the hips and thighs.
Align leggings have minimal seams and a sleek look, making them ideal for yoga and daily wear. However, Wunder Unders have more noticeable seams and a more sports/workout appearance.
Both Align and Wunder Under have a hidden pocket in the front waistband, an iconic feature of lululemon leggings. The pouch is discreet but big enough to store your key or bank card.
Both styles also have a v seam in the back, giving some booty shape, along with a crotch gusset that extends down the leg to prevent the dreaded camel toe. Plus, both Align and Wunder also have versions with side pockets.
Length
Along with more style options, Align has more length choices too. With Align, you can choose between 17″, 21″, 23″, 25″, 28″, 31″, and 32″ inseam. Wunder Under offers all of these except the shortest and the longest. So, if you are particularly petite (or want super cropped pants) or are very tall, you may prefer Align leggings.
Purpose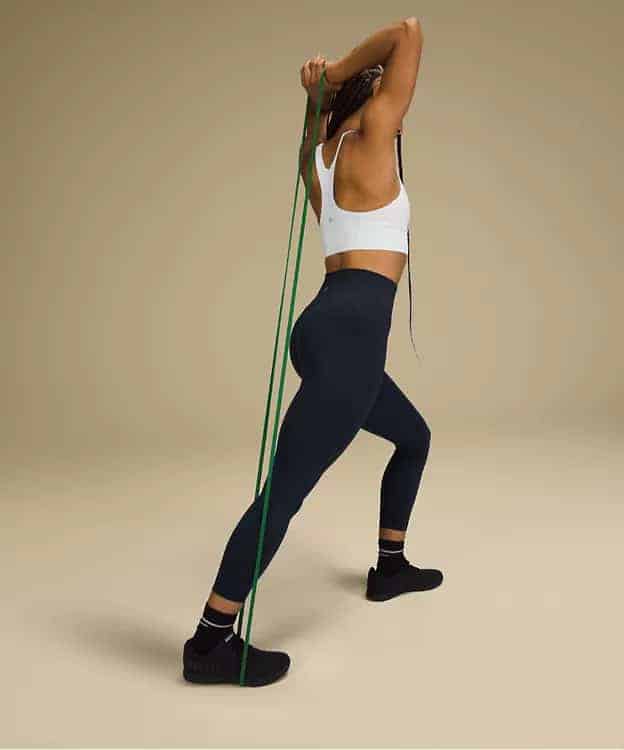 lululemon Align leggings were designed for yoga practice making them a naturally popular choice for yogis. However, they also support other low-impact workouts like pilates, dance, and weight training.
The USP of the Align leggings is its buttery soft Nulu fabric, which makes them weightless and so cozy that you don't even feel like you are wearing yoga pants. Yogis love this as they can wear them as yoga apparel and casual wear – heck, they are so soft, you could even wear them to sleep in! This versatility makes them great value for money.
However, if you do high-intensity workouts or are an avid runner, the Wunder under leggings are a better option. Wunder Under leggings are made from denser, more supportive fabric, offering more durability and making them ideal for all types of vigorous exercise. They are also suitable for yoga but are not as soft as Align leggings, so you may not want to lounge around in them all day.
Fabric & Breathability
Both Align and Wunder Train leggings are sweat-wicking and breathable; however, most people rate Wunder Train as the best for heat control.
Wunder trains are made from lululemon's fastest-drying Everlux fabric, which wicks up moisture before sweat marks have the chance to appear.
They are designed to combat hot, humid, and low-airflow studio environments. So no matter the temperature, the inside of the leggings feel cool and sleek, which helps to regulate your body temperature and prevent overheating.
Note that the older version of Wunder Trains, Wunder Unders, was made with a similar but different fabric composition. There were two types of Wunder Under legging styles; Luxtreme fabric (69% Nylon and 31% Lycra elastane) or Luon fabric (82% Nylon, 18% Lycra elastane).
For comparison, Lunder Train leggings are 77% Nylon and 23% Lycra® elastane – I'll give a more in-depth comparison between the old Wunder under leggings and the new Wunder Train pants later!
Align leggings are made with sweat-wicking, weightless Nulu fabric with a composition of 80% Nylon and 20% Lycra. This finely-brushed fabric looks sleek and feels super luxurious against your skin. The added Lycra fiber adds stretch and shape retention to the super soft material.
Durability
In my opinion, Wunder under leggings are more durable than Aligns. The Nulu fabric of Align leggings is excellent in one aspect, as they feel incredibly soft and give an almost "naked sensation." However, this fabric does tend to 'pile' more than the Wunder Train Everlux fabric.
That being said, if you use Align leggings for their purpose and follow the washing and drying instructions, the pants will typically stay in great shape and condition.
Price
There is little price difference between Wunder under and Align leggings.
Both styles come in various lengths and styles, determining the cost. For example, 21-inch Align cropped leggings are $88 to $98, while the same length leggings in the Wunder Under styles are $88.
Likewise, the popular length 25-inch range from $98 to $138 in both Wunder Under and Align, depending on the style.
So both Align and Wunder under leggings retail between $88 and $138 per pair.
Wunder Under vs Wunder Train Leggings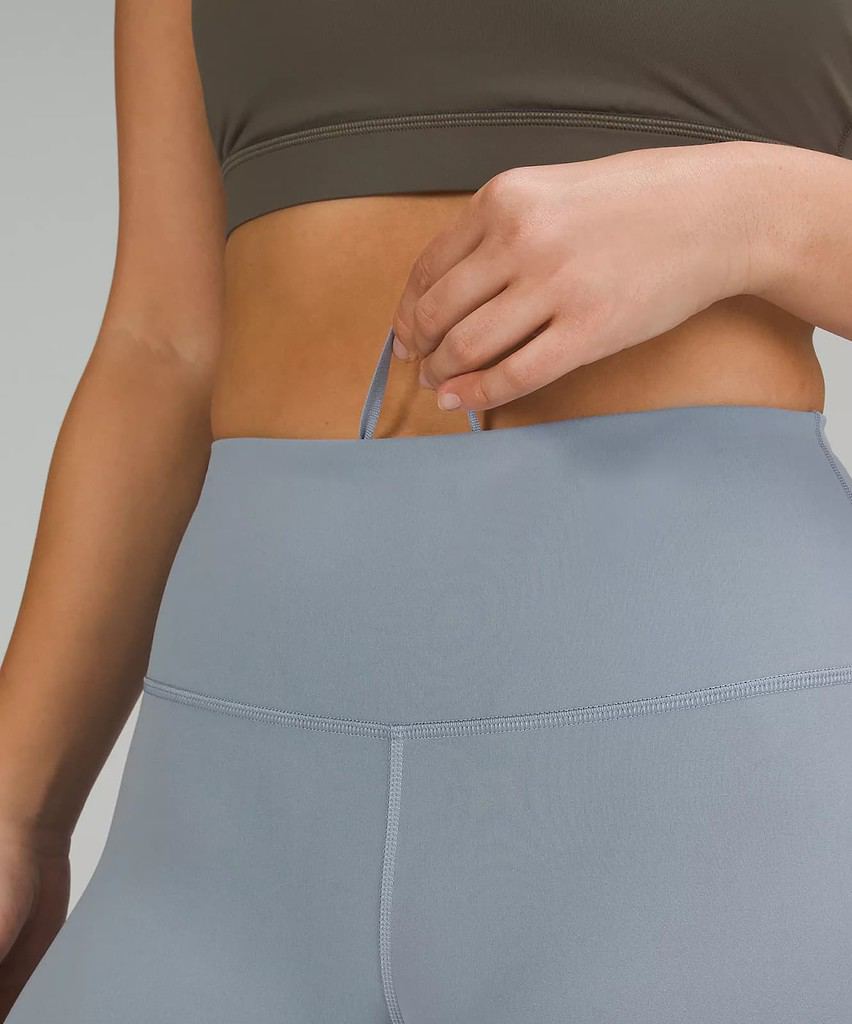 Wunder Under leggings were discontinued in 2021 and replaced with what is essentially Wunder Under 2.0. There are various improvements with the new Wunder Train pants, such as they are stretchier and retain their shape more.
One of the biggest complaints about the discontinued Wunder Under leggings was that the waistband would roll down while working out. This was due to a small gap between the band and the waist area.
lululemon found a solution to this and implemented it into Wunder Train. They now have a hidden drawcord inside the waistband, allowing you to tighten or loosen it.
As mentioned, the fabric composition is also different in the newer version, switching from Luxtreme fabric to the new and improved Everlux.
Along with being stretchier than the older leggings, Wunder Trains feel better against your skin. They have a welcoming, sleek, cool feeling inside, while the exterior is soft. The old Wunder under leggings would sometimes feel like wearing a wetsuit, but this is not the case with the new version.
Align Leggings Range
Let's explore the lululemon Align range and the different style options available.
These are the classic lululemon Align leggings with many colors and patterns available. You can also get them in various lengths, both regular and crop. Designs include solid, tie-dye, camo, and meteor wash.
There are also a few "Shine" shades that give an eye-catching, shimmery effect. Popular shine shades include Black Shine Radiate Foil Print and Diamond Dye Misty Shell Cacao Diffuse Dot Foil.
The Align High-Rise Crop Pants with Pockets are similar to the high-rise leggings but have handy side pockets.
These pants are the same style as the original high-rise ones but feature a bonded, seamless scalloped hem rather than a standard straight one with seams. They are great if you want something different from classic leggings, and some lovely shades are available such as Brier Rose and Vintage Plum. They are available in two lengths – 23″ (cropped) and 25″ (sitting just above the ankle).
If you're seeking maximum tummy control and body shaping, you'll love the super-high waistband of the Align Super-High-Rise leggings. The band extends just over the waist and ribs, covering the entire stomach, leaving just an inch or two of spacing between your pants and sports bra.
You can get these super high-waisted pants in 21 or 28-inch lengths, and several colors are available, including many dark shades like java, navy, and olive.
The V-Waist Align pants sport a v-shaped low-rise waistband, which tastefully shows the belly button and upper stomach. However, while the front band is low-rise, the back gives the standard high-rise for extra coverage.
They are only available in 25-inch lengths, with five solid color options; velvet dust (light pink), powder blue, graphite grey, black, and pomegranate.
These ribbed lululemon Align leggings have a ribbed style all over, including on the high waistband. I love wearing these leggings as leisure wear when lounging around the house or running errands, as they look super cozy and are buttery soft yet still weightless.
Three length options are available; 23″ (cropped), 25″ (sitting just above the ankle), and 28″ (full-length, at the ankle).
lululemon also does an Align Ribbed Bodysuit with 25-inch in-seam legs and a built-in shelf bra with removable cups for added support and coverage. In addition, the Align range includes ribbed sports bras and tank tops in matching colors to complete the look.
The most unique version of the mini flared pant style. These pants are tight around the waist and thighs but flare out slightly around the calves and ankles. They are ideal for yogis who prefer to wear joggers during practice and those who want something different from other leggings.
The mini flare pants are available only in full length, 28 or 32 inches. The latter skims the floor and has a slighter more flared appearance, while the former sits just above the ground and is more subtle. There are many color options for the 32-inch style, including Maldives green, cayenne, wild indigo, and black.
Wunder Under Leggings Range
All Wunder Under leggings come in one of the two following categories.
The Wunder Under High Rise leggings give a tight fit and come in various length options (both crop and regular) from 21 to 31 inches. They sport a matte, brushed exterior, an inner waistband drawstring, and a 4-way stretch.
There are a vast array of shades and patterns to choose from. Some unique designs in this range are Undertone Black Multi, lululemon Ombre Red Multi, and Crackle Glaze Vintage Orange Larkspur.
Like Align high-rise leggings, the Wunder Train version is also available in the shimmery foil design, including Red Merlot, Flourish Black, and Black Radiate Print.
The Wunder Train High Rise Tights With Pockets are the same design as the classic high-rise tights but with additional side pockets. These are available in 23″ or 25″, including the foil patterning.
The Wunder Train contour fit leggings have a desirable figure-hugging fit and a comfy feel. They have an equally high but narrower waistband than the high-rise tights, so they are no gaps between the band and waist. They also feature an adjusted hip-to-waist ratio with extra room around the hips and thighs to give a better fit to a woman's natural curves.
The contour fit comes in crop and regular with four length options; 21″, 23″, 25″, and 28." You can get this style in most colors and patterns as the original high-rise fit version. The Contour version also has the same inner waistband drawstring.
Which Is Better: Align Vs. Wunder Under (Train)?
So, what are the best lululemon leggings? Are Align a better choice than Wunder Under or vice versa?
In terms of quality, they are both excellent choices. So it really comes down to what you need leggings for. If gentle yoga, like yin or restorative, is your only movement practice, Align leggings are best. Their softness and comfort are unbeatable and can be used for everyday wear, making them highly versatile.
However, if you're looking for yoga pants that can double up as running leggings or if you do a wide range of sports and movement practices, Wunder Train is the best choice. They are more durable, squat-proof, kick-proof (for martial arts), and can withstand regular, vigorous activity. They may also be a better choice for Hot yoga due to their impressible breathable and cooling fabric technology.
lululemon Align Vs Wunder Under: Common Complaints
Align are the most popular lululemon leggings ever, with thousands and thousands of five-star reviews. They also appear as the three top-rated leggings on the lululemon site, primarily due to their soft buttery feel and weightless sensation.
However, the most common complaint about Align leggings is that the material gets tiny lint balls after several washes.
Of course, if you've spent $100 on leggings, you won't be very impressed to see them pilling. Still, pilling will happen if Align leggings are not washed or dried correctly.
According to the label, you should wash them with similar fabrics on a cold water cycle. It is also best not to use fabric softeners as the chemicals in these products can strip the buttery feel or sweat-wicking qualities from the fabric.
Another essential thing to note is to hang dry rather than tumble dry them. In fact, machine drying is the most common cause of pilling in leggings.
The new Wunder Train leggings rate significantly higher than the older Wunder Under version, thanks to the added internal drawstring and new and improved fabric.
However, some common complaints about Wunder Trains are that they are a less comfy fit than Aligns and can feel compressing. Customers also note that things like dog fur stick to the material easily, so you'll likely want a lint roller on hand.
What About Other lululemon Leggings Range?
If you're a lululemon fan, you probably know Align and Wunder Train are not the only legging ranges they have. There are three other leggings ranges by lululemon:
Fast and free
Swift Speed
Base Pace
As you may have guessed from the names, these leggings ranges were designed for running instead of yoga. This is not to say they cannot be used for yoga practice, but that is not their intended purpose.
On a personal note, I've worn fast and free leggings for all types of sports and yoga practice, and I feel they are very versatile and comfortable. As they are designed for high-speed running, they give unrestricted movement and incredibly lightweight coverage, which is excellent for all movement practices.
Final Thoughts On Lulu Align Vs. Wunder Under
As you can see, both Align and Wunder lululemon leggings range are top quality and, in my opinion, worth the price. However, value for money is determined by how much use you get from them, so choosing the ones most suited to you is ESSENTIAL.
We hope this guide has helped you understand which lululemon leggings range you'll get the most use from.
As a recap, if you practice yoga every day and love to wear leggings on and off the mat, you'll surely prefer the buttery soft Nulu fabric of the Align pants. On the other hand, if you do lots of sweaty practices and need a supportive durable pair of workout leggings, the sweat-wicking, cooling Everlux fabric of Wunder Under is for you!