It shouldn't be a huge stress to figure out what to wear to yoga. But beginners can often get hung up on the details before their first few yoga classes. Don't worry, I've been there too!
When I first started doing yoga over 10 years ago, I showed up to class in a baggy t-shirt and running shorts. Needless to say, I had a hard time keeping my clothes out of the way. I was constantly adjusting my outfit and it disrupted much of my focus and relaxation.
Over the years, I've tried just about every yoga outfit out there. Unsurprisingly, the ultra-popular lululemon Align leggings are cream of the crop, with a buttery soft second-skin feel, the highest quality eco-friendly fabrics, and a perfect amount of compression for comfort in any pose.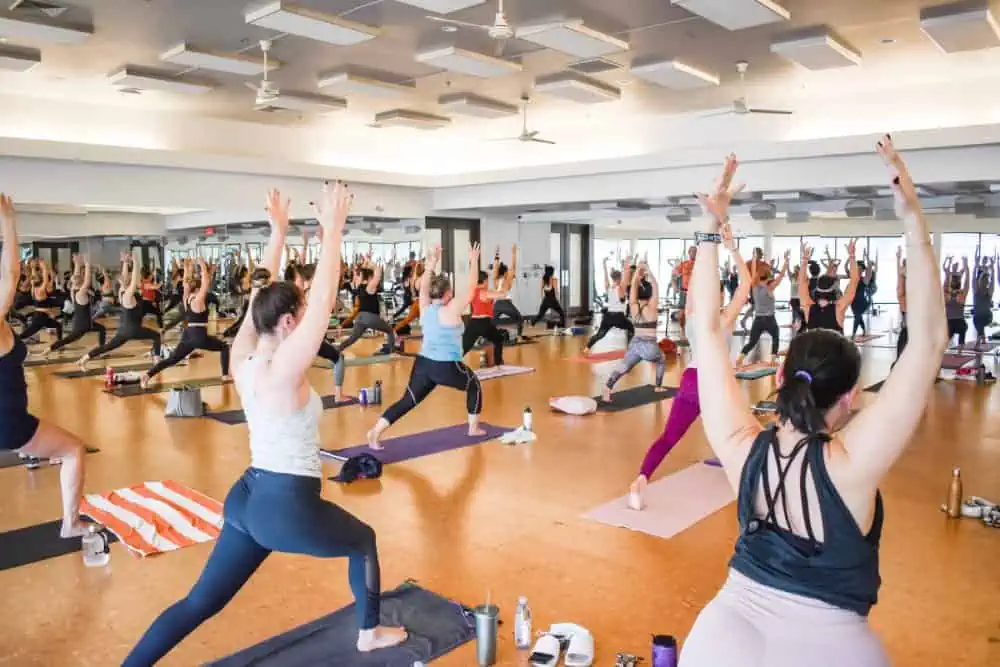 If you don't have an extra $100 to drop on your yoga outfit, I've found that Sunzel high waisted workout leggings are the next best thing for a quality budget option that is functional and high performance. We tried these and several others to discover the best yoga wear for beginner and advanced yogis alike.
Why do you need a specific yoga outfit?
Yoga clothes are designed for yoga, and with good reason. Most yogis will wear tight-fitting clothing (such as yoga tops, yoga leggings and sports bras) to ensure that they stay comfy and focused in their yoga poses. The idea is that it keeps the extra baggy fabric out of the way so that you don't trip yourself up on your mat or get your toes stuck in the leg of your pants!
Plus, yoga style clothing is super comfortable and provides the body with a great range of motion. This will ensure that you can move through every yoga asana with comfort.
For hot and sweaty vinyasa sessions, you may also want to wear breathable material so that your garments don't get drenched with sweat! The last thing you want is to be walking home from the yoga studio and feeling icky.
The best pick of Yoga Leggings, sports bras and Pants for your next class
Product
Main Features
Best for
Learn more
Lululemon Align Stretchy Full Length Yoga Pants - Women's Workout...
Buttery-soft, long-lasting Nulu™ Fabric
Fast drying and sweat-wicking 
Highest Quality leggings
See latest price
Sunzel Workout Leggings for Women, Squat Proof High Waisted Yoga Pants 4...
Sweat-wicking and breathable
Seamless waistband with 4-way stretch
Best budget option
See latest price
RUNNING GIRL Sports Bra for Women, Criss-Cross Back Padded Strappy Sports...
Sweat-wicking and cross straps to stay in place
Removable cups and full coverage
Best sports bra
See latest price
Mippo Women's Soft, Pink, Medium
High-neck and tie-bottom for comfort and coverage
Flattering and trendy with mesh back
Best yoga top
See latest price
NELEUS Men's 2 in 1 Running Shorts with Liner,Dry Fit Workout Shorts with...
Quick drying and moisture-wicking fabric
Tight liner under shorts
Best for men
See latest price
BALEAF Women's Soft Biker Shorts High Waist Workout Gym Spandex Yoga...
Super breathable, stretchy, and quick drying
Short length and no riding-up
Best for hot yoga
See latest price
Find the Right Yoga Outfit for You
What you wear to yoga depends on your yoga goals, fitness level, body type, and style. Yoga is super different from any other form of fitness or activity and that's why many brands cater specifically to yogis. Thankfully there are now thousands of options out there for yoga styles and body shapes of all types. I sorted through them and found the best outfits to wear to yoga for comfort, functionality, and freedom of movement.
Align leggings from lululemon are truly the best of the best! I could wear them every second of every day. These are the highest quality, thick, buttery-soft, and functional leggings available. Made of nylon and their proprietary Lycra® elastane fabric, I know these leggings are made to perform for years of yoga to come.
Pros
Most recognizable and respected yoga brand
Trendy and beautiful color options
Amazing fit for all body types
Stretchy, high quality,
Waistband never rolls or bulges
Cons
Expensive price point
Require extra TLC when washing and drying
Pilling of the fabric can be an issue over time
These leggings are crazy soft, stretchy, and come in various colors and sizes. The high waist style is flattering and functional, never riding up or down during flows or inversions. They include a hidden pocket in the waistband and breathable material for a 4-way stretch. These are the best bargain for beginners who aren't ready to invest in more expensive yoga gear.
Pros
Soft, lightweight, comfortable, and stretchy
Never see-through, even during stretching
Great for tall women
Top band stays up without rolling or "muffin-top" effect
Easy access pockets
Cons
May be too long for shorter women
Thinner fabric may be susceptible to ripping from acrylic nails
It's super important to have a sports bra that will keep everything in place when in downward dog, inversions, or twisting poses. This Running Girl Yoga Bra is full-coverage and supportive without being restrictive so you can flow your heart out.
Pros
Thick, high quality sweat-wicking fabric
Trendy and flattering cross-back design
Full coverage and removable cups that prevent "uni-boob"
Cons
Sizing may be inconsistent
Not as supportive for larger bust sizes
The best yoga tops are either form fitting or tie at the bottom to prevent riding up. This top has a super cute back tie and breathable mesh v-line along the spine, perfect for anyone who wants to cover up yet still stay cool during yoga class. It is also high-neck so you don't have to worry about anything falling out. The "modal" fabric is super soft and comfortable and comes in a huge variety of colors.
Pros
Ties at lower back to keep from moving during inverted poses
Soft, breathable fabric
Trendy mesh back
High neckline
Great coverage for stomach and chest
Cons
Not great for hot yoga
Not as sweat-wicking as other brands
Don't worry guys, we didn't forget about you! My husband always has a hard time figuring out what to wear to yoga. The best thing we've found is by-far these running shorts with a liner. Any leg-lifting or inverted poses can reveal a lot of leg, so the liner under these workout shorts is a game-changer for staying comfortable and covered up. Pair them with a workout tee or go shirtless and enjoy a worry-free yoga class.
Pros
Built in liner prevents sliding or over-revealing
Split leg design offers more flexibility
Breathable fabric dries very quickly
Adjustable waistband
Deep pockets
Cons
Compression shorts may not be tight enough for some sizes
Longer fit on certain body types
Hot yoga rooms are often 90-95 degrees! Needless to say, you will sweat your booty off! These shorts are the cream-of-the-crop when it comes to hot yoga. The quick-drying nylon and spandex material offers a naked feel and breathable comfort. They're a bit longer in length for nice coverage during intense stretches, plus they stay put without riding up or rubbing against your skin.
Pros
Hidden drawstring closure
Machine washable
Sizing XS to 5XL
High-rise tummy control fit for all body types
Deep side pockets
Cons
Need to size up for thicker thighs
Some women experience a "camel toe" with these shorts
Yoga Outfit Buying Guide
What to Look for When Buying Yoga Clothes
What you wear to yoga can actually make or break your experience. Anything too baggy will get in the way of flowing between poses, but anything too restricting will prevent you from stretching and relaxing as much as you could. Trust me, constantly adjusting your pants or top between poses can get really annoying.
To find the best yoga pants to wear to the studio, I have created a few shopping guidelines. These guidelines are formed from my personal experience of practicing yoga daily for many years of my life and in many places around the world.
Whether you are buying yoga clothes specifically for yoga, or for a mix of workouts and pilates too, you want to make sure they tick these three boxes:
1- Form Fitting
You want to make sure that your yoga outfit is form-fitting with good coverage so that it doesn't sag or expose body parts during inverted or twisting asanas. If you prefer looser shirts or tops, consider something that ties or has elastic in the waist to keep it from riding up.
When you are in downward facing dog, you want your yoga tops to stay in place. For this, form fitting clothing is essential. You will be able to focus on your style and practice and be in the moment on the mat.
2- Sweat-Wicking Fabrics
You can get surprisingly sweaty during a normal yoga class, but you can often end up drenched in a hot yoga class. Sweat-wicking fabrics like polyester, nylon, and spandex are the best option to prevent unsightly sweat marks.
Yoga clothing fabrics are always evolving, with big yoga companies such as lululemon and Alo Yoga creating high-quality, go-to fabrics in new colors to help you feel comfortable in your yoga clothes.
Not only will you look great in your yoga classes wearing these big store brands yoga outfits, but you will also be wearing your pair of pants in confidence that you can bend, move and workout without your clothing soaking up too much moisture.
3- No Riding Up or Falling Down
Yoga involves a lot of twisting, downward dogs, and movement, so you definitely don't want anything that rides up or falls down. Look for tops that fit closely to the body or have elastic or ties at the bottom if you don't want your stomach to show. For bottoms, ensure that the fabric won't ride up between your legs mid-pose (talk about distracting!) If you want to fully relax and embrace your yoga experience, be sure that you feel comfortable and covered in the areas that you don't want exposed.
FAQs for What to Wear to Yoga
What should a beginner wear for yoga?
Beginner yogis should wear simple leggings, sports bra, and form-fitting workout shirts to yoga class. Men can wear compression shorts and a t-shirt.
Yoga clothing was designed with the idea of being great for yoga! Plus, be sure to wear your favorite new colors and embrace your own unique style for the ultimate practice.
What should you not wear to yoga?
Avoid wearing super loose or baggy clothing that may restrict movements or fall down. For hot yoga, avoid cotton fabrics that hold onto moisture.
Do you wear shoes or socks for yoga?
It doesn't matter what pair of shoes you wear to the studio, because when you walk in, you'll be kicking your shoes off!
Bare feet are recommended for most yoga class. Socks and shoes can result in slipping, less balance, and discomfort.
What do I wear for a yoga class?
The best thing to wear to a yoga class is leggings, a sports bra and workout shirt, and bare feet!
What else do I need to bring to a yoga class?
You will need a yoga mat (or ask to hire one of the studio yoga mats), a water bottle to stay hydrated, a yoga towel if you are practicing hot yoga, and your comfy yoga clothes.
Over time, as you continue to attend yoga practice on a regular basis, you will find the right balance between an outfit that looks good and feels good to move your hips in!
Conclusion
Ultimately, Sunzel High Waisted Yoga Pants and Running Girl Medium Support Yoga Bra are the best options for an affordable, functional, and cute yoga outfit. They are both sweat-wicking, breathable, stretchy, and form-fitting. They offer plenty of range of motion without being restricting or uncomfortable. Not to mention, there are tons of trendy colors and patterns to choose from to fit your style.
When it comes to what to wear to yoga, think simple and flexible. Enjoy your yoga class in comfort and style! Namaste.