Do you want to cover up your camel toe but are not sure where to start? There are many options available. Whether you are into wearing silicone pads that stick to your swimwear, or you are seeking all-day comfort in panties, this review will help you make a decision!
Quick Picks
The best concealer for swimwear is the Dante Camel Toe Concealer
The best for leggings and everyday wear is the Replurts Camel Toe Concealing Panties
What is a camel toe?
A camel toe commonly occurs when a woman is wearing tight-fitting clothes and the outline of the intimate bits becomes visible in these pants. The tight-fitting material that hugs the crotch area can highlight a woman's private parts, creating a shape resembling a camel toe.
What is a camel toe concealer?
A camel toe concealer is a product that can be placed in your underwear or bikini bottoms to conceal the sight of a camel toe. Sometimes they are adhesive products, other times, the camel toe concealer function is built into the underwear.
To find these products online, search for 'camel toe concealer' under beauty categories and you will see a large number of sellers with a specific online shop for these products.
How to use a camel toe concealer?
With a comfortable camel toe concealer, you will soon forget about your worries and feel more secure in your body. They cover the outline of the details you don't want others to see, giving a smooth look across the pelvic area at the front of your leggings or swimwear.
If you feel like you need a lift of the downstairs area, or hope to hide your feminine lines, then a camel toe concealer could be the perfect gift for yourself!
If you are using an adhesive camel toe concealer, simply stick it onto your pair of leggings, underpants, or bikini bottoms to ensure you have no mo' toe 😉
After a few wears you will know how to adjust them comfortably to ensure that they have a smooth feeling.
For leggings or panties, simply slip them on and enjoy the comfort and invisibility that they bring.
The Top 5 picks for Camel Toe concealers
The business of camel toe concealers has grown in the last few years as more solutions have become possible. Now thought of as a modern type of jewelry for a woman, you can find great shipping deals online to secure your next concealer!
Here are our top five favorite camel toe concealers from Amazon.com. You may also find alternative options in a local store near you that will sell these items too!
1. Best Camel Toe Concealer for Value for Money
The Bestoyard Camel Toe Concealer is guaranteed to hide your feminine lines. Its adhesive surface sticks to underwear or swimwear to create a smooth and seamless concealer.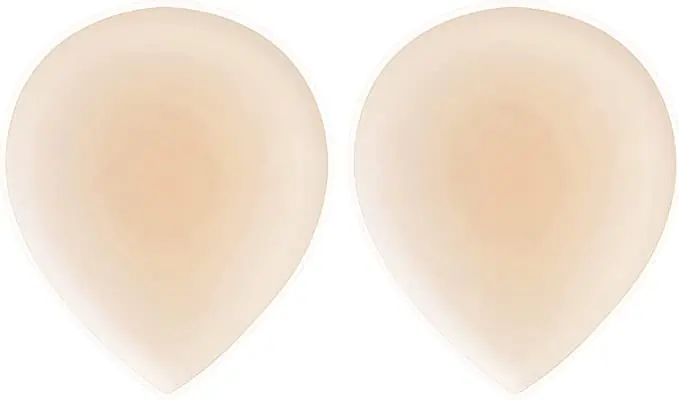 Pros
Cheap and affordable option
Reusable pads, making it good value for money and good for the environment
Made of silicone, so it is healthy for the skin
Waterproof and sweat-proof
Cons
This brand is sized a little larger than other camel-toe concealers on the market, making it slightly uncomfortable or perhaps even noticeable in petite swimwear.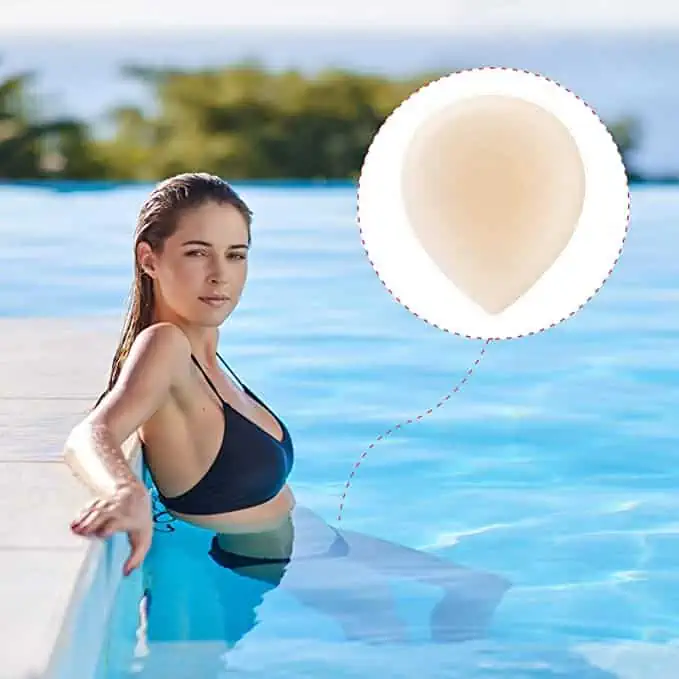 2. Best Camel Toe Concealer for Leggings and Tight Pants
The Traceless Adhesive Camel Toe Concealer is an easy peel-and-stick design to attach to your panties, swimwear, or jeans. The shape of this one is a little longer than others on the market, perhaps not everyone's preference, but it is an option for those who want the extra cover.
Pros
Easy to use
Long, slim fit for extra coverage
Save money with two concealers per pack
Cons
A longer design may be too large for some women
Can move around in swimwear, so it's better suited for wearing under leggings.
3. Best Camel Toe Concealer Panties for Everyday Wear
These Replurts Camel Toe Concealing panties have a built-in pad to cover your camel toe for the entire day. With a slim fit, these underpants fit well under leggings, tight pants, or jeans so you do not need to worry about using a stick-on concealer.
They come in a three-piece package making it a great deal and accessible to wear most days of the week, especially when you need to wear your tight yoga leggings!
Pros
Three-piece pack allows you to wear them most days of the week
Comfortable fit, without feeling that you have something stuck onto your panties
Suitable for everyday use
4. Slim Fit Camel Toe Concealer
This Dante Camel Toe Concealer is the most comfortable concealer for the skin. Its soft, silicone feel and slim fit make it invisible underneath underwear or swimwear.
This one is an easy reusable option, great to wear with bathing suits or leggings. It is hand washable and has great reviews from past customers!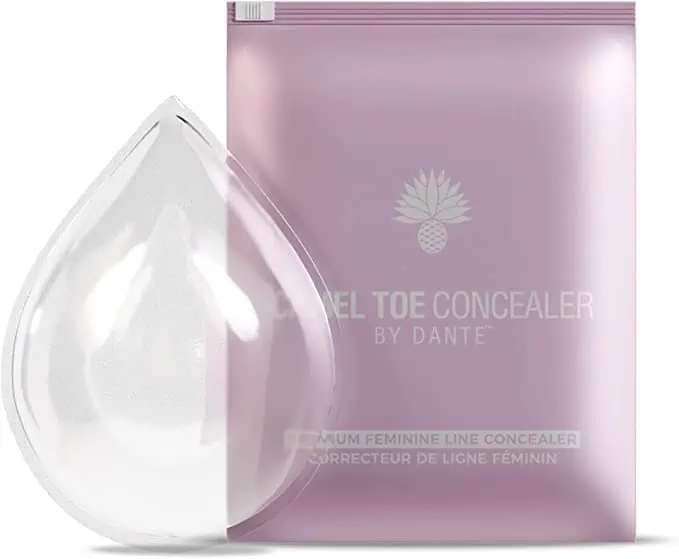 Pros
Smaller than most other concealers for more comfort and better invisibility
No visibility due to its transparent silicone material
It's reusable – giving you value for money and is environmentally friendly
Cons
May be too small for some women
More expensive than other brands
Only comes as a 1 piece pack
How to care for your Camel Toe Concealer
For maximum use and best hygiene practices, follow the steps below:
1. Wash in warm soapy water
If you are wearing reusable camel toe concealer products, it is important to wash them in mild soap and warm water between each use. This will keep them fresh and wash off any old bacteria.
Silicone is a great material for these feminine products as it is very hygienic and easy to wash.
2. Air Dry
Hang out to dry in the air, so that the reusable sticky pads continue to stay sticky.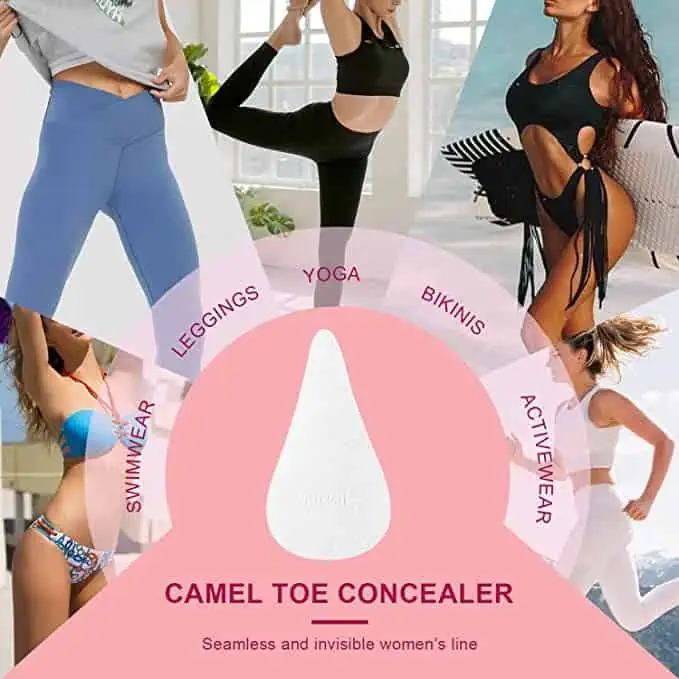 Frequently Asked Questions:
What is the best Camel toe concealer for swimwear?
If you want to purchase the best seller for swimming, we recommend the Dante camel toe concealer. This has the slimmest feel and fit. Grab a few on sale online to qualify for free shipping. They are also very versatile and can be a great option to wear under leggings too.
Are reusable adhesives better than the inbuilt camel toe concealer panties?
Depending on what you are using the camel toe concealer for, will depend on your interest in either the adhesive or the panties. For leggings or everyday wear, it can be best to purchase panties for more comfort. But if you want to use the concealer in a swimsuit, the adhesives are the best option as they can be discreetly applied in the bathroom.