Hi there!
Welcome to TheYogaNomads.com! A place for yoga teachers, yoga students, wellness geeks, entrepreneurs, and travel junkies.
Life is more than sitting at a desk 40 hours a week always dreaming of the next vacation.
Who are The Yoga Nomads?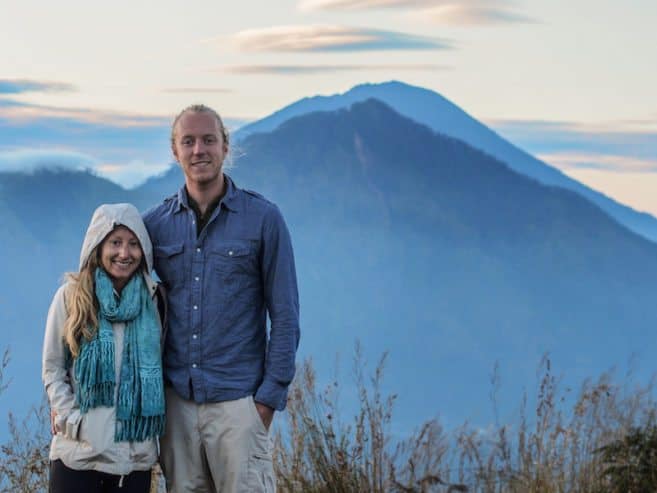 Anne Rapp and Brandon Quittem
The site was originally created by Anne Rapp and Brandon Quittem, an American couple who escaped corporate America by combining our love for yoga and travel. They traveled and practiced/taught yoga while publishing this site.
Julien Raby
Julien Raby has been in the web marketing industry for 15 years. An avid yoga practitioner himself, he's now the full-time owner of The Yoga Nomads where he helps yoga teachers earn more from their passion.
Logan Hailey
Logan Hailey is a writer, entrepreneur, and vagabond yogi who lives in an school bus tiny home. She's a regular contributor on The Yoga Nomads. She travels the U.S. teaching about natural living, organic farming & gardening, and wilderness adventure. Keep up with her adventures on Instagram @ramblinfarmers.
Business Blueprint For Yoga Teacher Success (5 steps)
With freedom at the center of everything we do, we guide our clients through proven processes to achieve more freedom in their lives, all the while earning a fair income doing what they love.
Here is our 5 step business blueprint for yoga teachers. This is a high-level overview of how you can turn your passion into a fulfilling career… A career that serves your ideal client, encourages personal growth, and pays the bills. 🙂
Step 1

: Identify your yoga teaching niche
This stage is all about figuring out who you're meant to serve and what unique qualities you bring to the table. Your goal is to understand your ideal client so well that you're able to effortlessly create things they'll love!
After identifying your niche, things like creating a website, connecting with your ideal client, and creating successful products/services will become WAY easier!
Start by downloading this free resource: 100 Yoga Niche Ideas.
This is a great starting point for identifying your own personal yoga niche.
Step 2

: Create a website (business home base & 24/7 marketing machine)
After getting clear on who you're meant to serve, it's time to create your "business home base," also known as: your website!
Your website builds your credibility, creates deeper connections with your students, and helps market your offerings (workshops, retreats, privates, coaching, etc).
Nab this Free Beginners Guide: How to Create a Yoga Website you Love (7 steps)
Step 3

: Create a following of people who know, like, and trust YOU
Time to start connecting with your ideal clients. This means being active in your local yoga community & connecting with your ideal clients online.
If you haven't by now, it would be wise to set up an email newsletter. Email Marketing is the most effective way to build relationships with your ideal client.
The goal of this stage is to create a following of students who trust you and who'd be willing to consider your offerings.
Step 4

: Create & launch a premium offering
After creating a following of potential clients… it's time to ask your peeps to invest in something you've created.
A crucial thing to realize is that teaching yoga classes at the studio will never pay you enough. The studios cannot afford to pay "full-time wages" so it's up to the individual yoga teacher to create a premium offering "outside the studio."
This means launching something outside the studio that your students might want. Many yoga teachers focus on retreats, workshops, privates, or coaching… but the reality is it can be ANYTHING your students might want/need.
If you're not sure what type of premium offering makes sense for you, download our Free Guide: 25 Ways Yoga Teachers can Earn More Money
Step 5

: Give rockstar customer service and evaluate your offerings
Woohoo you finished the hard part! (The fun part is up next… but the work is not over).
Now that you've acquired some clients/students/customers it's time to over-deliver on your promises. Take great care of each of your clients (especially the first few). These clients will become your biggest fans and help you acquire more clients through word of mouth, referrals, etc.
After ensuring you have a big pile of happy clients, it's time to evaluate your progress and ask yourself some important questions…
Did my offering provide value to my clients?

Did I price it right?

What can I improve on?

Should I try to launch another offering or improve the one I already created?

Does this type of work fill me up?
After deciding where to focus next, it's time to execute! All about execution…
Always remember:
It's important to continually invest in yourself and your business. Learn new skills, read books, listen to podcasts, hire a virtual assistant, do some networking, buy an online course, whatever works for YOU!
Thanks for stopping by!
If you're new around here, we highly recommend checking out our Start Here page. We share some insights into the yoga industry and provide tons of free resources to support your yoga-entrepreneurial journey.
If you're serious about building your yoga business, it might make sense to check out our premium offerings. We focus on self-study online programs that fit our modern lifestyles.