Hi there!
Welcome to TheYogaNomads.com! A place for yoga teachers, yoga students, wellness geeks, entrepreneurs, and travel junkies.
Life is more than sitting at a desk 40 hours a week always dreaming of the next vacation.
Who are The Yoga Nomads?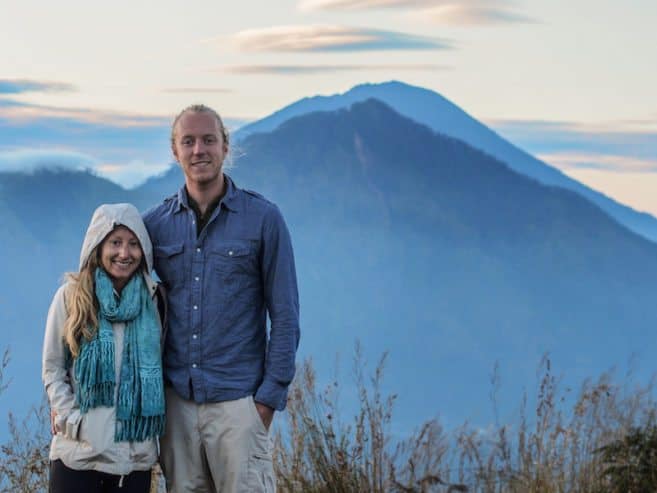 Anne Rapp and Brandon Quittem
The site was originally created by Anne Rapp and Brandon Quittem, an American couple who escaped corporate America by combining our love for yoga and travel. They traveled and practiced/taught yoga while publishing this site.
Julien Raby
Julien Raby has been in the web marketing industry for 15 years. An avid Crossfitter and yoga practitioner himself, he's now the full-time owner of The Yoga Nomads where he helps yoga teachers earn more from their passion.
Logan Hailey
Logan Hailey is a writer, entrepreneur, and vagabond yogi who lives in an school bus tiny home. She's a regular contributor on The Yoga Nomads. She travels the U.S. teaching about natural living, organic farming & gardening, and wilderness adventure. Keep up with her adventures on Instagram @ramblinfarmers.
Gemma Clarke
Gemma Clarke is a certified and experienced yoga & meditation instructor. She has been practicing meditation since 2014 and teaching since 2018. Gemma specializes in yoga and mindfulness for emotional wellbeing, and she has taught in Thailand, Cambodia, and the UK. Gemma is passionate about sharing her expertise and experience with meditation to inspire others to live more mindfully, becoming happier, healthier, and calmer.
Thanks for stopping by!
If you're new around here, we highly recommend checking out our Start Here page. We share some insights into the yoga industry and provide tons of free resources to support your yoga-entrepreneurial journey.
If you're serious about building your yoga business, it might make sense to check out our premium offerings. We focus on self-study online programs that fit our modern lifestyles.