Whether you're into the law of attraction, interested in alchemy, or are simply exploring new spiritual practices, you'll surely love candle magic rituals. Candle magic uses specially crafted colored candles to assist with intention setting and manifesting.
But what makes these colored candles so spiritually powerful? And how do you access their potential? Read on to discover what manifestation candles are and how to do a ritual with one. I'll also share the six best candles for setting intentions and manifesting desires.
What Is Candle Magic?
Candle magic refers to using colored candles when performing spells and rituals to set intentions and manifest your desires. You don't need any special powers to use candles for manifestation, and the process is pretty straightforward.
Candle magick is based on the element of fire and its association with transformation. By burning candles, you can use this transformational energy to set positive intentions and manifest your dreams into reality.
What's more, the act of burning is believed to connect the physical world with the spiritual. Thus, candle burning can help us deepen our connection with the universe and co-create with ease.
While you can use any candle in a manifestation ritual, it is best to use one that relates to your specific intention or desire. For example, each color has unique qualities and attributes, so you should choose a colored candle with the shade that resonates the most.
In addition to color, specific crystals, herbs, and essential oils are commonly used in manifestation candles as they can help to amplify their potential.
The 6 Best Manifestation Candles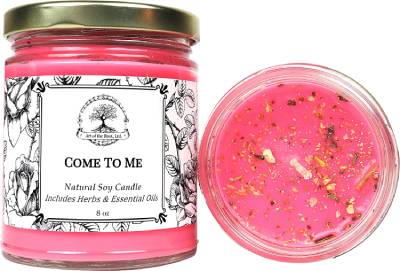 Best For Love & Romance
Come to Me 9 oz Soy Herbal Spell Candle | Love, Commitment, Seduction Rituals | Magick, Wiccan,...
See latest price
The perfectly named Come To Me Candle by Art of the Root is ideal if you're seeking a new relationship or want to improve an existing one. Using this candle in your manifestation ritual can magnetize your intention for love, romance, commitment, or seduction. Moreover, it is also beneficial if you want to cultivate more self-love.
The 8 oz candle is made from natural soy wax, herbs, and essential oils. Including Honeysuckle, Jasmine, Orris Root, and Ginger, you'll find an enticing floral scent with hints of earthy notes. What's more, what I find particularly special about these candles is that they are handmade with intention and produced in small batches to maintain top quality and freshness.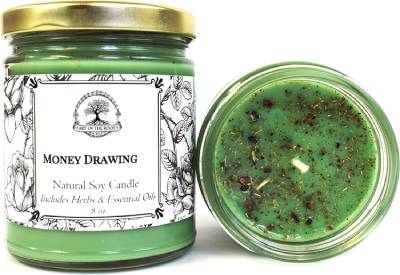 Best For Prosperity & Abundance
Money Drawing 9 oz Soy Spell Candle | Use in Rituals Relating to Wealth, Financial Security,...
See latest price
The green Money Drawing Candle is a good luck enhancer and will help you attract wealth, financial security, prosperity, and abundance. Because green is associated with growth, this candle is ideal for rituals around increasing your income or savings or growing your business.
The 8 oz candle is made from 100% natural soy wax, real herbs, and essential oils, including Allspice, Chamomile, Cinnamon & Bayberry. The candles are all handmade with intention, giving extra manifestation power. The calming scent also helps settle your mind for your intention-setting ritual.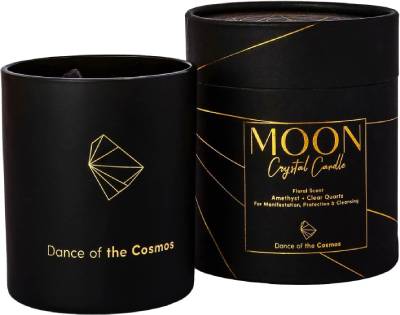 Best For Protection & Cleansing
Crystal Candle| Large 10.5 Oz Jar| Amethyst and Clear Quartz| Lavender Essential Oil| Wood Wick|...
See latest price
This black soy wax candle contains crystals and essential oils to amplify your manifestation power and remove all negative energy from your aura. The candle offers protection, healing, and energy boosting.
This black soy candle by Dance Of The Cosmos comes in a large black matt 10.5 oz jar and has a 60-hour burning time. It features Amethyst and Clear Quartz, Lavender Essential Oil, and Wood Wick to help restore your energy, bring balance to your life, or cleanse your space.
The candles are handcrafted in small batches by a family business. What's more, for each candle purchased, they donate to protect 1 sq. meter of tropical rainforest.
Best For Purification & New Beginnings
My Lumina Purification Sage Lavender Candle - Smudging Chakra Balancing Healing Candle Natural Soy...
See latest price
The Purification candle by My Lumina is made with natural soy wax, white sage, palo santo, lavender, citronella, and clove essential oils. This gives it a smooth lavender aroma followed by sage herb notes, which feel relaxing yet revitalizing.
The 6.5 oz Purification candle can help you bring positive energy into your space or your energetic body and is cleansing, calming, and clarifying. It is best used to purify a new environment, such as a new house or office but is equally suitable for purifying your soul to deepen your spiritual connection.
Best For Calm & Balance
My Lumina Meditation Aromatherapy Candle w/Clear Quartz Crystal Inside, Beach Sage Relaxing Calming...
See latest price
The Meditation Aromatherapy Candle by My Lumina is ideal for meditation, yoga, and other spiritual practices and for unwinding and de-stressing after a hectic day. The blue soy wax candle has a clear quartz crystal and is infused with spearmint, rose, and lily. This combination is excellent for cultivating peace, harmony, and clarity.
The 6.5 oz candle has a fresh, herbal scent that will invigorate your senses and wash away your worries. The addition of the clear quartz helps to clear mental blockages and improves focus so that you can see things from a calmer, clearer perspective.
Best Manifestation Candle Set
Chakra Candles Set of 7,Meditation Crystal Scented Candles Gift Set for Women, Spiritual Healing...
See latest price
If you plan to set candle intentions regularly, choose a set of colored candles. This chakra candle set is an excellent option as it contains 7 different colored candles, each with specific qualities. The candles also relate to the seven chakras; for example, the Indigo candle stimulates the third eye chakra to increase psychic ability.
Each candle weighs 3.2 oz, with a burning time of approximately 10 to 15 hours. They all contain scents and crystals relating to each chakra, including Lavender Jasmine, Sea Salt Sage, Black Currant, Vanilla, and Tweed.
Candle Color Meanings
The most important consideration when choosing a manifestation candle is picking the right color. When it comes to candle magic, each color has certain qualities and properties. For example, red, pink, and white candles work best if you want to manifest a new relationship.
Let's explore the most popular candle colors used in manifestation.
Pink Candle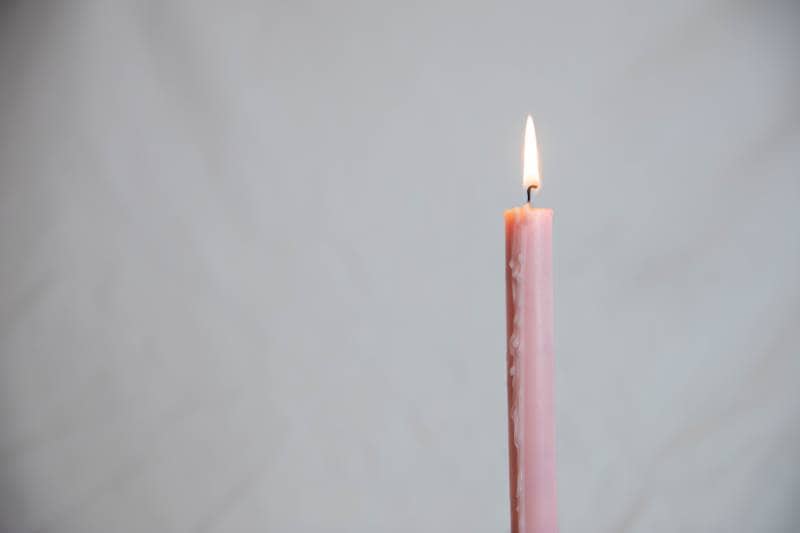 Pink is a feminine color commonly associated with love. Thus, it's not surprising that pink candles are best for manifesting romance. However, a pink candle can also be used for manifestations of self-love, kindness, friendship, harmony, and faith.
Orange Candle
Orange is well known as a happy color, so orange candles are ideal if you want to manifest more joy, fun, or laughter in your life. Orange is also closely linked with creativity, so it is an excellent color for tapping into your creative potential.
Moreover, an orange candle can help boost your energy, stamina, or mood, creating excitement and diminishing anger and frustration. It may also help with intentions around success and prosperity.
Green Candle
Green represents fertility, healing, growth, and good luck. Use green candles to manifest better health and well-being or to request support in a new beginning, such as a relationship or business venture. Green can also be associated with the growth of wealth, so it is excellent if you want to manifest a higher bank balance or more sales.
Yellow Candle
Like orange, a yellow candle can assist with creativity and positive thinking manifestations. Yellow is also linked to clarity, power, and confidence, so it can help you uncover your passion, find inner strength, and reach your goals.
Red Candle
Red is well known as the color of passion and desire, but this is not only in a romantic sense. Red candles can help you connect to your purpose and find the motivation to achieve your biggest goals. A red candle is also helpful if you feel weak, exhausted, and uninspired, as it will help reignite your soul, bringing you more focus, strength, courage, and energy.
Brown Candle
Brown is linked to our core needs and the root chakra. Therefore, brown candles have a grounding, balancing, and stabilizing effect. Use them if you feel unsafe, unstable, or uncentered. Brown candles help manifestations of all material needs, including financial abundance.
Black Candle
Black is a protection color, so it can be used with a brown candle should you feel unsafe or threatened. Aside from keeping you free from harm, black candles also give you the inner strength to overcome challenges.
Moreover, working with a black candle can help dispel negative energy. Thus, many manifesters like to light one before using another candle related to their intention.
Purple Candle
Purple has many spiritual qualities and can help you connect with your intuition, tap into your inner wisdom, and progress along your spiritual path. Purple candles are also associated with prosperity, as purple was a royal color in history.
Light Blue Candle
Light Blue is a calming color that represents harmony, tranquility, and inner peace. Use light blue candles if you want to find calm in a stressful situation, bring more balance into your life, or if you need to forgive someone that hurt you or did you wrong. It can also help you find more mental clarity and give spiritual protection.
Indigo Candle
A dark blue candle has different purposes than a light blue one. Indigo is another deeply spiritual color linked to intuition and perception. As it is also associated with the third eye chakra, an indigo candle is helpful if you want to release limiting beliefs, experience a paradigm shift, or raise your consciousness.
Gold Candle
The color gold is also associated with high frequencies, so it is used for raising vibrations. However, gold candles also have an amplifying effect, so they work best when paired with another color candle. For example, using a gold candle and a green one will enhance the green candle's healing qualities.
White Candle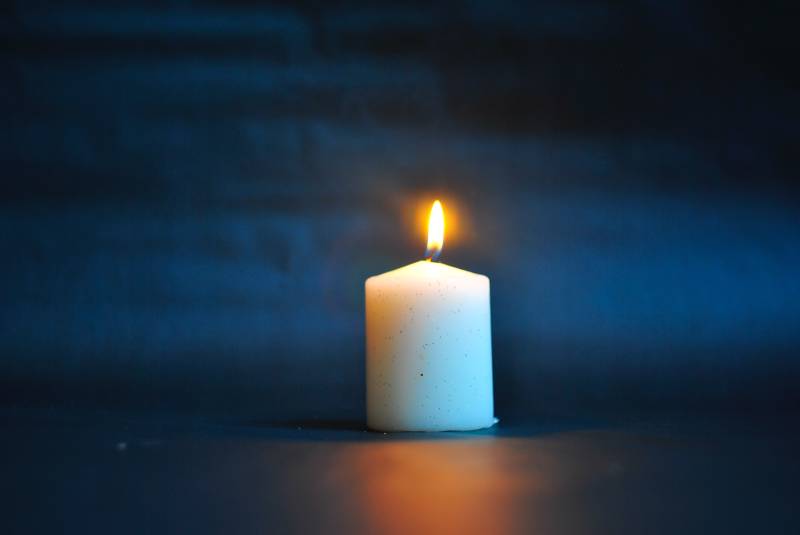 White is a fresh, clean color representing new beginnings; thus, this candle color is commonly used when setting new moon intentions. White candles are ideal when starting something new, like a new job or course. Lighting a white candle can also help you cleanse your aura or the energy around you, and it represents peace, hope, clarity, and unity.
Other Candle Color Associations
Aside from having different properties and purposes, some manifesters believe that particular colored candles are more powerful when used on certain days. For example:
Sunday = gold and orange candles
Monday = white, grey, or silver candles
Tuesday= red or brown candles
Wednesday = yellow or grey candles
Thursday = purple and indigo candles
Friday = light blue, green, or pink candles
Saturday = black candles and other dark shades
How To Perform A Candle Magic Ritual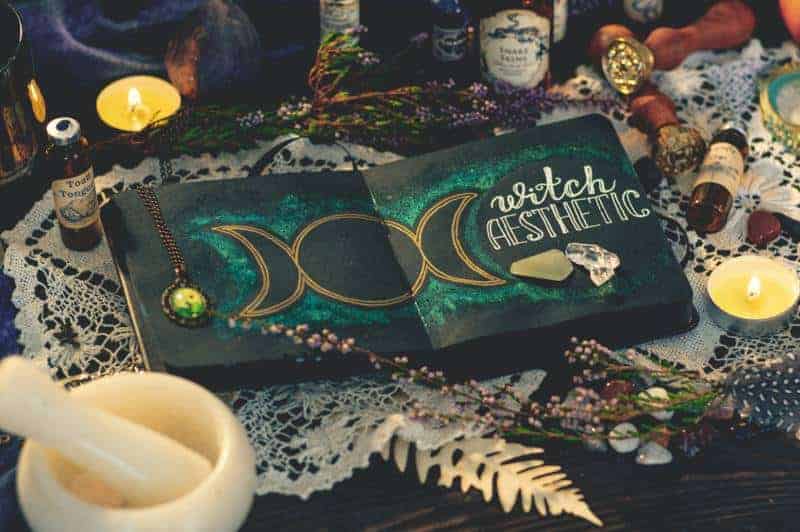 So now you understand the different candle colors, you'll likely be wondering how to use them? Rather than simply lighting the candle and leaving it to burn as you watch TV or cook dinner, you should follow a manifestation ritual.
The most common and easy-to-follow candle magic ritual is this one:
Write down your desire or intention on a small piece of paper.
Fold the paper in half, folding it towards you.
Turn it 90 degrees, fold it again, and press flat.
Place your candle on a heat-resistant plate, then put the plate directly over your folded paper.
Light the candle and repeat your desire as an affirmation at least three times. You can do this out loud or in your mind.
Take a few moments to meditate on your intention, visualizing yourself in possession of the desired outcome.
Create a sacred space and a calm environment for the ritual. Here are some ways you can set the ambiance:
If your candle does not already have any, you can add crystals, herbs, or flowers around your candle to raise the energy.
Ensure your space is free from distractions by turning down the lights and closing the door.
Before you begin, you can do a short meditation or take a few deep breaths to get into the zone.
To increase your manifestation potential further, you can use astronomy, such as performing your ritual during a particular moon phase. For example, it is believed that the full moon is the best time for candle magic as it is when the lunar energy is most intense, which amplifies manifestation.
Final Thoughts On Candle Colors For Manifesting
Colored candles don't just look beautiful; they have unique qualities and powers too. Thus, manifestation candles make the perfect tool for meditation, breathwork, and intention setting. So, if you want to add a sprinkle of witchcraft to your spiritual practice, why not try candle magic?