Crystals serve as excellent healing tools for our minds, bodies, and spirits, but only if you know how to use them. Sure, buying a random crystal and placing it on your bedside table may help. But to get the most out of your crystals, you should choose ones with the healing energy you need and set a specific intention with them.
Not sure what I'm talking about? Don't worry; I'm about to break it all down for you in a beginner-friendly, easy-to-understand way. Read on to learn why you should set intentions with your crystals and how to do it. I'll also reveal the best crystals for beginners and share my favorite healing stone sets on the market.
Best Crystal Healing Sets
Before you start setting intentions, you'll need to have a few healing crystals to work with. If you're new to working with crystals, the vast array of crystals and stones available can be daunting. In addition, as each crystal's energy and properties are unique, understanding the difference between them can take time.
To avoid getting overwhelmed, I recommend getting a crystal set. Most healing stone kits contain the most popular and commonly used crystals; thus, they serve as an excellent introduction to crystal healing. Here are my top five crystal healing kits for beginners.
Top 5 Crystal Sets For Crystal Healing Practitioners
Product's Name
No. Of Crystals
Additional Features

More Info

Best For Beginners


Crystals and Stones - 17pc Chakra Stones, Gemstones and Crystals....
12
Journal, divination pendulum, sage smudge stick, selenite wand, meditation candle
See latest price

Best For Budget-conscious, beginners


Abincee Crystals Set,23PCS Healing Crystals and Stones kit Include 7...
15
7 crystal necklaces, selenite stick, velvet storage pouches
See latest price

Beginners, experienced practitioners


Premium Crystals and Healing Stones Set in Wooden Box Healing Crystals Set...
18
Selenite stick, selenite skyscraper, wooden storage box
See latest price

Chakra Enthusiasts, Beginners, experienced practitioners


QianCannaor Protection Crystals and Healing Stones, Black Tourmaline...
22
Chakra pendulum pendant, chakra bracelet, selenite stick, guidebook, bag of lavender, 5 crystal grids
See latest price

Beginners, experienced practitioners, those looking for protection


Crystals and Healing Stones for Positive Energy - Bulk Set 33 Real...
4
Selenite tower, black tourmaline crystal necklace
See latest price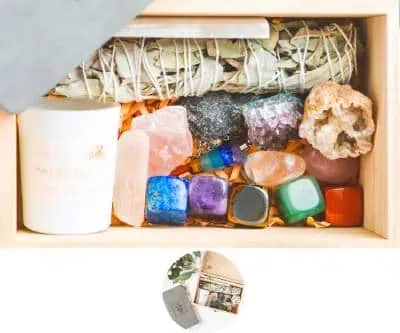 Best For Beginners
Crystals and Stones - 17pc Chakra Stones, Gemstones and Crystals. Meditation Accessories, Healing...
See latest price
This beginner crystal set from The Mindful Collective includes 7 tumbled chakra stones and 5 raw crystals. There is also a divination pendulum to help you make decisions and find answers to your questions, a sage smudge stick to cleanse and activate your crystals, and a selenite wand to clear negative energy.
In addition, the set includes a journal so you can jot down any thoughts or ideas that come up while working with your crystals and a meditation candle to set the mood. It all comes neatly packed in a high-quality wooden box so you can keep all the pieces safely together.
The five high-quality, hand-picked, raw crystals include black tourmaline for protection, rose quartz for emotional support, and amethyst to relieve stress and anxiety. There is also a clear quartz cluster and point for spiritual growth and mental clarity.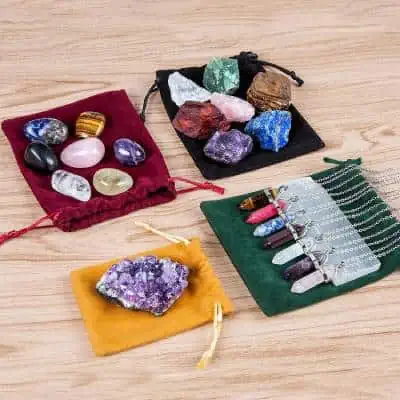 Best Budget Crystal Set
Abincee Crystals Set,23PCS Healing Crystals and Stones kit Include 7 Crystal Necklaces,7 Raw Chakra...
See latest price
This super affordable crystal set by Abincee features 23 pieces for under $20. It includes a selenite stick for charging, a stunning amethyst cluster, 7 crystal necklaces, 7 raw chakra stones & 7 tumbled stones. Thus, you can use it for at-home meditation sessions or on-the-go healing.
The crystal necklaces are double-pointed and come in various colors, including blue, yellow, pink, and purple. The seven raw stones are oriental jasper, white crystal, amethyst, rose quartz, tiger eye, lapis lazuli, and green aventurine, giving a well-rounded balance of healing properties.
All the crystals, including the necklace stones, have detailed information about the crystal used, so you can find the one with the right energy for you. The rocks are packaged in velvet pouches to keep them safe from damage and allow easy transportation if you take them on your travels.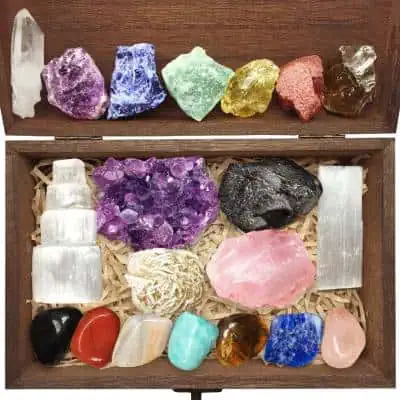 Best Premium Crystal Set
Premium Crystals and Healing Stones Set in Wooden Box Healing Crystals Set for Beginners - Chakra...
See latest price
If you want to invest in top-quality stones, I recommend this set by Aovila. It includes 7 raw chakra stones, 7 hand-picked tumbled stones, and a selenite stick and skyscraper. There are also four large natural crystals; tourmaline, rose quartz, desert rose, and amethyst cluster.
These premium healing crystals come in a lovely wooden box. There is no included physical manual, but there is an e-book and quick reference guide to help you learn how crystals work and their properties.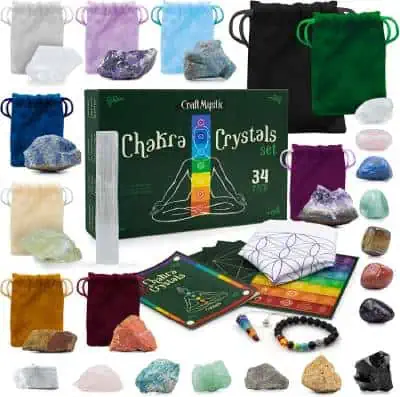 Best For Chakra Healing
Crystals and Healing Stones for Positive Energy - Bulk Set 33 Real Gemstones and Crystals Raw Rocks...
See latest price
If you're a chakra enthusiast looking for ways to work deeper with the energetic centers look no further than the Craft Mystic chakra crystals set. This kit contains 33 pieces and is suitable for all levels of crystal healing practitioners, including beginners.
There are 25 crystals, five crystal grids, and a cloth to use in your intention-setting routines. The stones include four large natural healing crystals, such as citrine and quartz, and seven tumbled healing crystals. In addition, there is an amethyst cluster, a selenite stick, a chakra pendulum pendant, and a chakra bracelet.
The set contains 10 soft velvet bags to protect your stones when not in use. A booklet also explains how to use them and gives tips like keeping the amethyst cluster on your altar to bring positive energy and thoughts.
Best Crystal Kit For Protection & Eliminating Negative Energy
QianCannaor Protection Crystals and Healing Stones, Black Tourmaline Necklace, Selenite Tower,Smokey...
See latest price
As mentioned, each stone has unique healing energy. You can buy a set of rocks that all share the qualities you are after. This crystal set by Qian Cannaor features crystals for grounding, protection, and safety, including Smokey Quartz Sphere, Labradorite, and Black Obsidian.
It also includes a crystal necklace for healing on the go, a selenite tower for charging the other stones, and chevron amethyst for positive energy. The six crystals come in a box with a guidance card to learn more about each one's properties.
Qian Cannaor is an online crystal shop that sells thoughtfully pre-prepared crystal sets for different types of intentions. Aside from this protection kit, they have crystals for abundance, gemstones to manifest love, and a stone kit for cultivating friendship and connection.
Why Setting Intentions With Crystals Is Important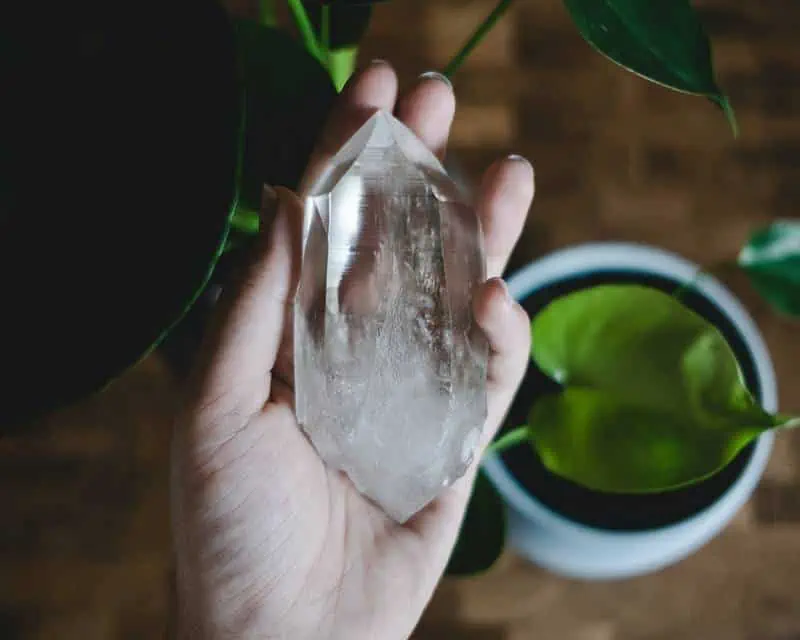 Setting an intention with your crystal is like making the relationship with it more personal. With the powerful practice of intention setting, you let your crystal know precisely how you want it to help you. For example, if you desire more positive energy, you may ask your crystal to assist you with this.
Like goal setting, creating intentions can give you focus and clarity about what you are working towards. Setting an intent with your crystals also helps you in the manifestation process. Thus, if you want to manifest more of something in your life, setting that intention with your crystal will magnify the energy around that desire, increasing your manifestation success.
How To Set Intentions With Crystals
A few steps and considerations are required when getting started with crystal intention setting. Here's what you need to do.
Choose The Right Crystal And Intention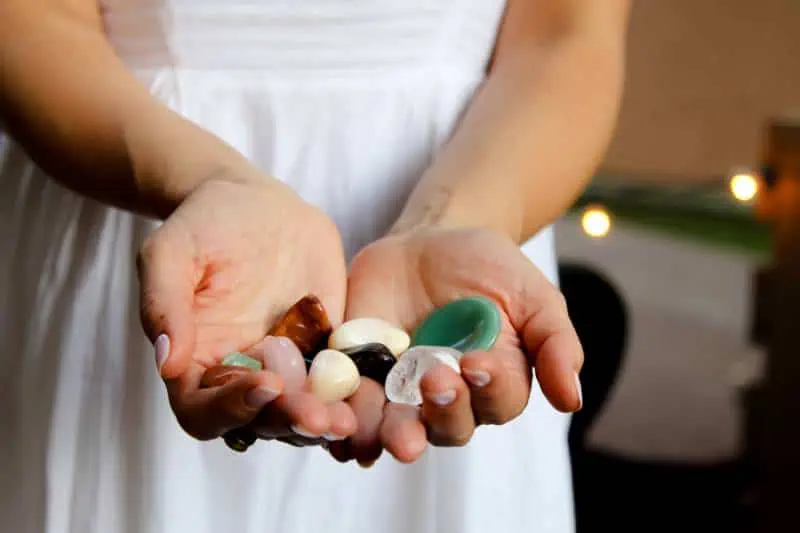 All crystals contain natural energy with unique healing properties. These can range from protection to self-love to heightened intuition. So if, for example, your intention is to reduce stress and anxiety, you should choose a calming crystal like amethyst, celestite, or fluorite.
You can set an intention about anything, but it should relate to a desire or need. Some crystal intention examples and stone recommendations are:
Black Tourmaline – To keep you safe and free from harm
Citrine – To access greater creativity
Pyrite – To attract wealth abundance in all areas of your life
Lapis Lazuli – To enhance your intuition and spiritual connection
Tiger Eye – To increase your confidence, self-belief, and courage
Clear Quartz – For the health and healing of your body and mind
Rhodonite – To increase feelings of self-love and self-acceptance
Rose Quartz – To bring thoughts of happiness, gratitude, and contentment
Activate Your Crystal's Energy
Whenever you get a new healing stone, the first thing you should do is cleanse it. This is essential as you don't know the crystal's past and thus, the energy it currently contains. Activating your crystal is a way to remove any negative energy that it may possess. If you don't cleanse it, that negative energy could enter your aura and result in unpleasant emotions.
There are a few ways to cleanse and activate crystals.
Leave them outside at night to cleanse under the moon's energy. This is most potent during significant parts of the lunar cycle, such as the full moon or new moon.
Soak them in a bowl of salted water for a few hours.
Use the smudging method to smoke them with sage.
For a quick cleansing, place them under running water for one minute before submerging them in clean water and patting them dry.
Crystal Intention Setting Method
Now you're ready to set your intention. Your crystal intention-setting method can be as straightforward or as extravagant as you like; here is what we recommend.
Breathing Exercise And Meditation
Begin by centering yourself; hold your crystal as you do a short breathing meditation. This can be particularly helpful if you are unclear on your intention, as sitting for a few minutes with your stone in silence may help the answer come to you.
Once you are clear on what you want from your stone, state your intention aloud a few times or repeat the words silently in your mind. You can hold your crystal in whichever way you feel drawn to; some people like holding it up to their heart center or the third eye, while others have it in their left hand resting on the knee.
Visualize
While the previous meditation may be enough to set your intention, I recommend using this stillness and mental clarity you just cultivated to work with visualization. With your eyes closed, visualize your crystal absorbing the energy of your thoughts through your hands, cementing your intention deep inside it. You may also like to imagine the crystal emitting the power you seek and that energy washing over you and filling your aura.
Use A Crystal Grid
A crystal grid is one of the most powerful ways to set your deepest intentions. The term refers to a sacred placement of multiple stones arranged to maximize their power.
With a crystal grid, you place stones in a sacred geometric pattern, creating a unique energetic footprint. The flower of life is one of the most commonly used geometric patterns. As it symbolizes birth and creation, it works well with planting a new seed of intention. Clear quartz is a conductor of energy, so it is usually the center stone. Then you place the other crystals more intuitively around the quartz.
The most crucial step to creating a crystal grid is to activate it with your voice. For example, you can say something like, "I activate this grid with my intention to…." followed by what you want it to do.
After you have created your crystal grid, place it on your altar or in another sacred space. What your intention is will determine the best room in the home to keep the grid. For example, if your intent is around self-love, place it in the bedroom. Or if your desire healing, personal growth, or manifestation, your bedside table is a good spot.
Changing Your Crystal's Intention
A crystal's energy and healing power can serve us for many years. However, as time goes on, the original intention we set may no longer be needed. Therefore, I recommend regular intention-setting routines to ensure your crystal continues to work at its potential. Some people like to set new intentions monthly, whereas others revisit them every 6 months or once a year.
Final Thoughts On How To Set Intentions With Crystals
When you know how to properly use crystals, you can access and receive these precious stones' powerful healing qualities. When you add an intention setting, you can specify how you want the crystals to work for you, similarly to putting your intent out to the universe. So, if you already have a manifestation or goal-setting practice, why not use crystals to maximize your results?