New yoga brands are popping up everywhere these days, but one in particular has taken the fitness world by storm with their unique VIP membership program and celebrity ambassadors. Fabletics is a fashion-centered athleisure brand that has evolved yoga and workout gear into everyday street style. They couple luxurious quality performance with an affordable price tag that has struck a chord with over 2 million loyal members worldwide.
Founded in 2013, Fabletics is young but mighty. They've cut out the middle-man and filled numerous gaps in the activewear industry that brands like lululemon and Athleta haven't touched. But is Fabletics worth the membership fees? How does the membership work anyways? Does their quality hold up to competitors? Do their clothes feel as good as they look? Do they hold up on the mat?
We took a look behind-the-scenes to answer these common questions and so many more. Here is the insider's scoop on everything you need to know about Fabletics history, clothing, stores, competitors, and community.
What is Fabletics?
Fabletics is an affordable activewear brand offering color-coordinated yoga gear, loungewear, streetwear, athletic clothes, and accessories that are as stylish as they are functional. They have a VIP membership program with a monthly fee that goes towards clothing purchases and big discounts. Members can easily skip a month or cancel at any time.
Their celebrity endorsements with Kate Hudson, and recent men's launch with Kevin Hart, have helped the brand bring stylish, fun, and eco-conscious athleticwear to a massive audience at a budget-friendly price point. They have also worked with Demi Lovato, Lea Michele, Maddy Ziegler, and Marquita Pring.
Fabletics Mission
Fabletics' core philosophy is making stylish and functional gear affordable for the average person. They wipe out all the marketing gibberish, fancy pro athlete endorsements, and overpriced fabrics in favor of a humble, effortless approach. The down-to-earth vibe of Fabletics is member-focused, delivering unbeatable prices, durable quality, and fashion-forward collections.
Their mission is simple: to be the world's most fashionable, innovative, and inclusive active-lifestyle brand. Fabletics believes that everyone deserves to look and feel their best.
Fabletics Sustainability
They embody transparency and fun, offering a luxury feel without the pretentiousness or extravagant price tags. Recently, Fabletics has also expanded its commitment to eco-friendly styles and climate conscious business practices to uplevel their sustainability game. Fabletics started out as an ecommerce catalogue and has only recently begun opening stores around the world, all of which are climate-neutral from the start.
Where is Fabletics Made?
Fabletics gear is a global brand designed in Los Angeles and predominantly manufactured in Asia. In spite of some bad press in summer 2022, Fabletics has made significant efforts to clean up its supply chain to keep garment factory workers safe and fairly compensated. The company uses its Ethical Sourcing Code and stringent manufacturing requirements to ensure that their products are made with fair working conditions, human rights, environmental protection, and the utmost integrity.
History of Fabletics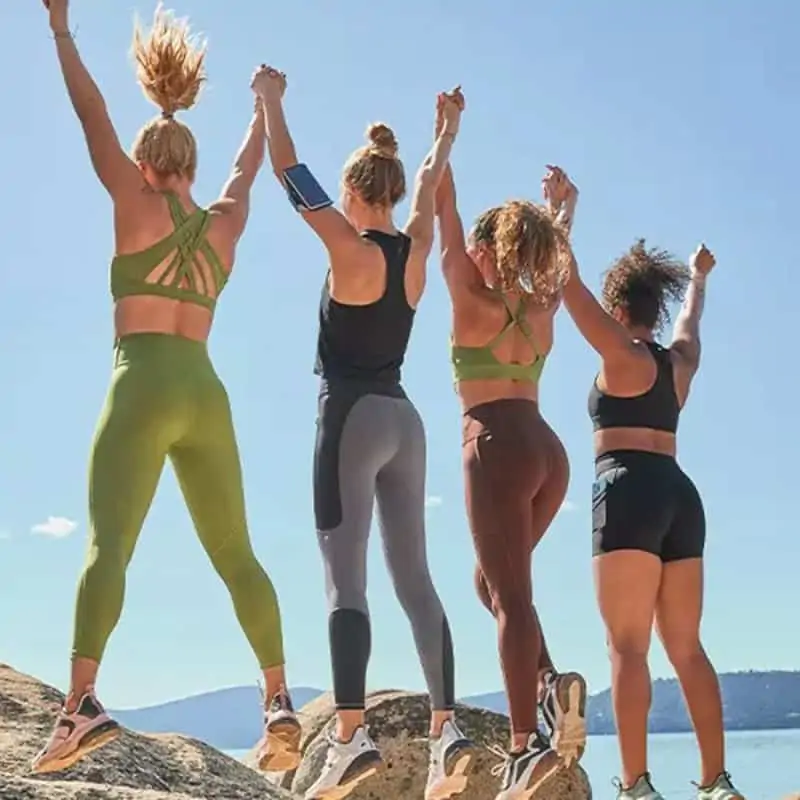 Co-founders Adam Goldenberg and Don Ressler saw some major whitespace in the athleticwear industry in the mid 2000's. At the time, lululemon dominated the market with a luxurious price tag at over $100 per pair of leggings.
On the flip side, you could buy some cheap workout gear at a big box store and hope that it lasts or even fits properly. The founders of Fabletics wanted to create something in between: a trendy, affordable alternative that still lives up to the style, performance, and quality of high-end brands.
Goldenberg and Ressler decided to approach actress Kate Hudson with the idea for fashionable performance-driven activewear that was accessible to a wider range of people. Together, the trio founded Fabletics in 2013 with the core belief that everybody deserves to look and feel their best. Celebrity endorsement, combined with the clever membership-based approach to sales, has helped Fabletics grow to an iconic brand that lives and breathes comfy, cute activewear.
Fabletics started as an affordable high-quality ecommerce brand and has since expanded to over 100 brick-and-mortar stores globally.
What inspired Kate Hudson to co-found Fabletics?
Actress Kate Hudson is most well-known for playing iconic Penny Lane in Almost Famous and later roles in Fool's Gold, My Brest Friend's Girl, Bride Wars, and more.
An active mother and entrepreneur, Hudson was looking for comfortable style to wear from movie sets to workouts to playing sports with her sons. She partnered with Adam Goldenberg and Don Ressler to form Fabletics with the idea that she could help ignite a movement around a fit, active lifestyle.
Hudson's role in Fabletics has been integral to inspiring the positive inclusive community and down-to-earth accessibility of the brand. She reportedly owns about 20% of the company.
Does Kate Hudson actually wear Fabletics?
In a world where people are tired of ridiculously expensive brands sponsored by celebrities that may or may not even wear those products, Kate's approach has been surprisingly refreshing and honest. She actually wears Fabletics on a daily basis. The sometimes-minimalist, sometimes-funky fun style is her signature on-the-go vibe. She's often quoted joking about her "hippie tendencies" and addiction to pilates.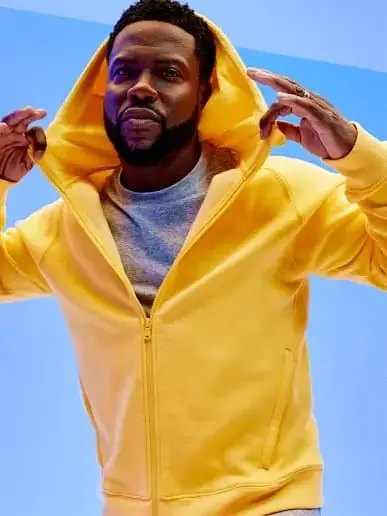 Fabletics Mens Line with Kevin Hart
In mid-2020, Fabletics came out with their first mens line with comedian Kevin Hart as the face of their eco-conscious nature-inspired mens styles. Hart, along with his wife Eniko, are repping the Fabletics collection with a new streetwear and outdoor vibe. Hart is passionate about the transparent, direct-to-customer interactions of Fabletics that allows him to connect directly to his fans in a down-to-earth way.
Brand Core Values
Fabletics is centered around accessibility and inclusivity, offering sizes XXS-4X in a huge range of colors, styles, and of course, affordable price points. They want to make an active lifestyle possible for everyone. They are also passionate about sharing the love with their members. While you can shop at Fabletics without a membership, the VIP program is the backbone of the company.
Their 5 core principles Fabletics aims to deliver for their members are:
Quality and durability for long-term wear
Amazing value and affordable prices
Flattering silhouettes and smooth fits for all body types
Regularly release fashion-forward trendy new collections
Matching complete outfits for more than just the gym
Where is Fabletics headquarters?
Fabletics is based in El Segundo, California outside of L.A. They have 6 office locations around the world, including Berlin, Barcelona, London, Paris, and the Netherlands.
Who owns Fabletics?
The brand is owned by parent company TechStyle Fashion Group. TechStyle is a fashion incubator that acquired the brand in 2015. Fabletics has since surpassed over 2 million VIP members and $500 million in annual sales. They rely heavily on analytics and online trends to stock their stores and determine their releases. There have been rumors of a public IPO on the US Stock Exchange, however the company remains privately owned as of early 2022.
How does Fabletics Work?
Fabletics is all about personalized customer service and trendy fashion at a fraction of the price of most competitors. The key selling point of Fabletics is their VIP membership program, which starts at $49 a month. If that makes you hesitant at first, I'm right there with you. Why would you need a membership to buy a workout set?
Mainly because it gives you a bangin deal on their clothes! But don't worry, you can still shop at Fabletics without any membership commitment. If you're wondering about the amazing benefits that over 2 million people are raging about in their VIP program, here's the details.
Fabletics Flexible Membership
Anyone can shop at Fabletics and you definitely don't need a membership to enjoy everyday great prices. Members just get loads of benefits on top of their regular prices. For example, a 2 or 3 piece outfit might cost $125 for a non-member, but a VIP member can get it for $70 or a VIP member with 1 membership credit can get that same outfit for $50.
Let's break it down. You can join Fabletics for $49 a month. Every month, you get a promotional Member Credit. You can use the credit to pick out a 2-piece outfit (top or sports bra and bottoms) for more than 20-50% off the retail price. The credit can be used for anything you want up to $80 in value.
If you want to shop for more that month, you get 20% off all individual items and personalized monthly picks from Fabletics fitness stylists. You also get super simple exchanges and returns, free shipping, rewards points, and rollover credits for months that you don't want to buy anything (but they do expire after 12 months). When you're charged again on the 6th of each new month, you'll get a new Membership Credit for another outfit and access exclusive releases as well.
Fabletics VIP Benefits
If you're still having a hard time conceptualizing the benefits of the Fabletics membership, here's a simple break down.
For $49/month (with option to skip as many months as you want) you get:
Intro offer of 2 leggings for $24
1 Membership Credit every month (use for up to 65% of a 2-piece outfit set)
VIP-exclusive pricing (20-50% off everything always plus exclusive sales up to 70% off)
Free shipping on all orders over $49.95
Free returns and exchanges within 45 days
Access Fabletics FIT app with on-demand workouts, meditations, and progress tracking
Fabletics BeneFits loyalty points ($1 spent=1 point)
Cancel any time (you can still use unredeemed Membership Credits)
Can you skip a month Fabletics?
You can choose to "skip a month" at any time and you won't be charged the $49 for that month. If you forget to skip a month, but you don't buy anything from Fabletics, you will still get that credit in your Fabletics balance and you can use it anytime. There's no limit on how many months you can skip or pause the membership. Cancellation is also super easy and free at any time.
Fabletics 2 for $24 Intro Offer
The biggest draw to Fabletics' VIP program is the intro offer of 2 leggings for $24. For men, the promo is 2 for $24 shorts. Some people just sign up for this deal and then cancel after, which is totally allowed! The signup process is easy: just add items to your cart from Fabletics.com and then select a membership program at checkout. All they need is your email, zip code, and a password for creating your account.
Is Fabletics worth it?
When you try Fabletics' intro offer plus monthly benefits, it's honestly a pretty incredible deal right off the bat. You get lululemon-quality leggings for $12 each plus the membership fee of $50, which ultimately averages out to about $37 per pair.
If you buy activewear regularly (once a month or even every few months), the VIP membership is 100% worth it. Since you skip a month any time, there's no risk of paying for a membership you don't use (you just have to remember to skip).
If you love getting new yoga sets as often as possible, you end up saving 30-50% continuously on full-price products. Plus, you earn points every time you buy something, leave a review, or shop on Bonus Point Days! All of this adds up to more and more discounts on your orders and outfits.
Can I shop at Fabletics without being a member?
Of course! Anyone can shop Fabletics online or in-store without a VIP membership. You can still enjoy Rewards points and big discounts on certain items. You just won't get the Membership Credit or promotional offers.
Top Fabletics Competitors
There's no denying that Fabletics styles are reminiscent of Lulu, Athleta, Alo Yoga, and Beyond Yoga. The biggest difference between Fabletics and competitors is their price point and specialization in matching sets. The Fabletics membership program allows you to get a new matching set at a bargain price once per month.
Their outfits are full of super fun bright colors, unique designs, and cute accents for a variety of occasions. They also offer a uniquely provocative, minimalist approach to dresses and athleisure that doesn't feel quite as haughty as lululemon, for example.
Brands like Fabletics
Fabletics fabrics and designs are luxurious quality without the budget-breaking price tag. They offer similar technical performance-grade fabrics as their competitors, whether for the sweatiest hot yoga sessions or most intense training sessions.
The top brands like Fabletics include:
lululemon
Athleta by GAP
Alo Yoga
Beyond Yoga
Vuori
Nike
Outdoor Voices
Gymshark
Online vs. In-store Experience
Fabletics stores offer a next-level welcoming experience that some customers prefer compared to the intimidation of brands like lululemon. The in-store Fabletics experience is bubbly, bright, accessible, fun, and most importantly, communal. They offer in-store fitness classes for the community, including yoga, HIIT, and barre. There are also lots of fun events for big sales and holidays. Plus, all new Fabletics stores are built to be completely climate neutral!
But one thing that really sets them apart is the high-tech dressing rooms. It's sort of like the Apple Store geek squad crossed with the luxe lululemon experience to create this seamless high-end retail experience that is still totally affordable and fun.
Fabletics Digital-Savvy Dressing Rooms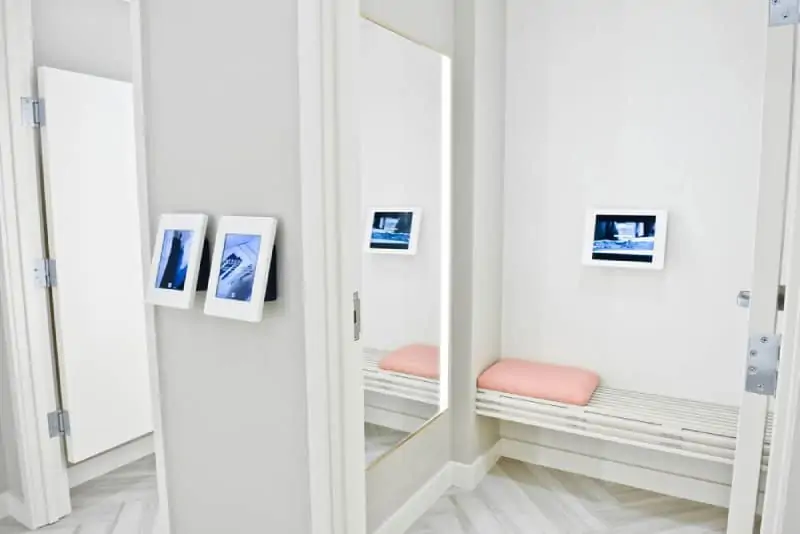 They have brought their digital experience into stores to ensure a seamless integration of interests, fits, styles, and preferences. It's actually pretty high tech and so convenient. Every dressing room has an iPad that you can easily input your selections in and request assistance when needed (none of that awkward associate-standing-around-waiting for you to try on your clothes). You can ask for help with the click of a button and also compare sizing and inventory with the online store.
Find a Fabletics Near Me
Fabletics started as an online direct-to-consumer brand. They now have nearly 100 store locations and are growing by the day. They continue to cut out the middleman with out of this world pricing, quality, and service.
Find one of the 70+ U.S. store locations here.
Remember that VIP members get up to 50% all the time and can use all their perks in store or online. Of course, if you don't have a membership, you can still shop around and enjoy store offerings as well.
Pop-Up Fabletics Shops
Fabletics regularly does fun pop-ups with athletic-related organizations and events such as Varsity Spirit Cheerleading or yoga conferences. The pop-up shops are temporary interactive stores that add a whole new level of fun vibes and community while offering exclusive new styles and special collaborations.
Is Fabletics hiring?
If you want to work in a Fabletics store or office, keep an eye on their Careers page to become part of their ever-growing team. This brand has obviously struck gold with their marketing, products, and stylish quality, so it isn't going anywhere anytime soon.
Where to Find Fabletics Deals
Most Fabletics deals are found right on their website at www.Fabletics.com. They regularly have blow-out sales and members-only exclusive discounts, which really sets them apart from competitors that lean toward the no-sale, high-price-tag model. Fabletics discounts are also easy to find on brand name online thrift stores like ThredUp and Poshmark.
Closing Thoughts
Ultimately, anyone who has worn Fabletics for a while can agree lives up to all the hype. I never in a million years thought their membership would be worth it, but the super budget-friendly outfits and compliments from my students and fellow instructors at the studio have made it 100% worth it. Plus, there's no risk for just signing up, getting some discounts, and cancelling if needed.
At the end of the day, Fabletics doesn't just look amazing on Kate Hudson (let's be honest, she'd probably look good in anything). It's a brand that actually performs and compliments a wide range of body types.
Namaste!