Yoga and various other activities require flexible clothing that also allows our skin to breathe. Yoga materials often focus on women. However, men are also active in this activity. Men may require slightly different styles or options when shopping for yoga items. So I took the time to review some of the best yoga shorts for men.
While researching the best yoga shorts for men, I looked at things such as comfort, style, materials, and popularity. I feel very pleased with the 10 choices below. While there are many great styles to choose from, I must admit my favorite is the Balancer Short 6″ Everlux. It is a short that is specially designed for men's yoga. Let's review the next 10 options to choose which yoga shorts are ideal for men.
The 10 Best Men's Yoga Shorts to Wear for Your Next Yoga Class
Runhit Compression Shorts Men,Underwear for Men Spandex Running Shorts Workout
See latest price
These comfortable shorts will keep you comfortable regardless of the weather or season. Compression spandex material prevents chafing and is durable enough for several types of activity such as basketball or running. Forget the gym locker. Keep your valuables close by in your deep phone pocket.
Pros
Elastic fit
Machine washable
Pocket
Three colors
Affordable price of $25.99
Cons
Fabric may be too lightweight to hold items in pocket
Buy on Amazon for $25.99.
Neleus Men's Compression Short with Pocket Dry Fit Yoga Shorts
See latest price
Stay dry and comfortable during your run due to Dry-FIT fabric. Wear these shorts during all four seasons. Polyester and spandex materials will keep you comfortable and flexible during yoga, biking, or running. These shorts may be a better fit for taller men.
Pros
Spandex and polyester
Pocket for iPhone
For all seasons
For various activities
Stretchy material
Can wear as casual underpants
Cons
Can be too long for some people
Buy on Amazon for $25.86
BALEAF Men's Compression Running Workout Shorts Pockets Gym Athletic Yoga Bike Tights Underwear Baselayer
See latest price
Special breathable fabric is designed to pull sweat away from your skin. Increase muscle strength and decrease muscle strain due to excellent compression material. Some shorts may have shallow pockets. Luckily, you can keep your valuables handy during a long run or hike thanks to two deep pockets.
Pros
Seams reduce chafing
2 deep pockets
Compression material
Keeps sweat away from body
Cons
Buy on Amazon for $30.99
Surge Half Tight 10" Online Only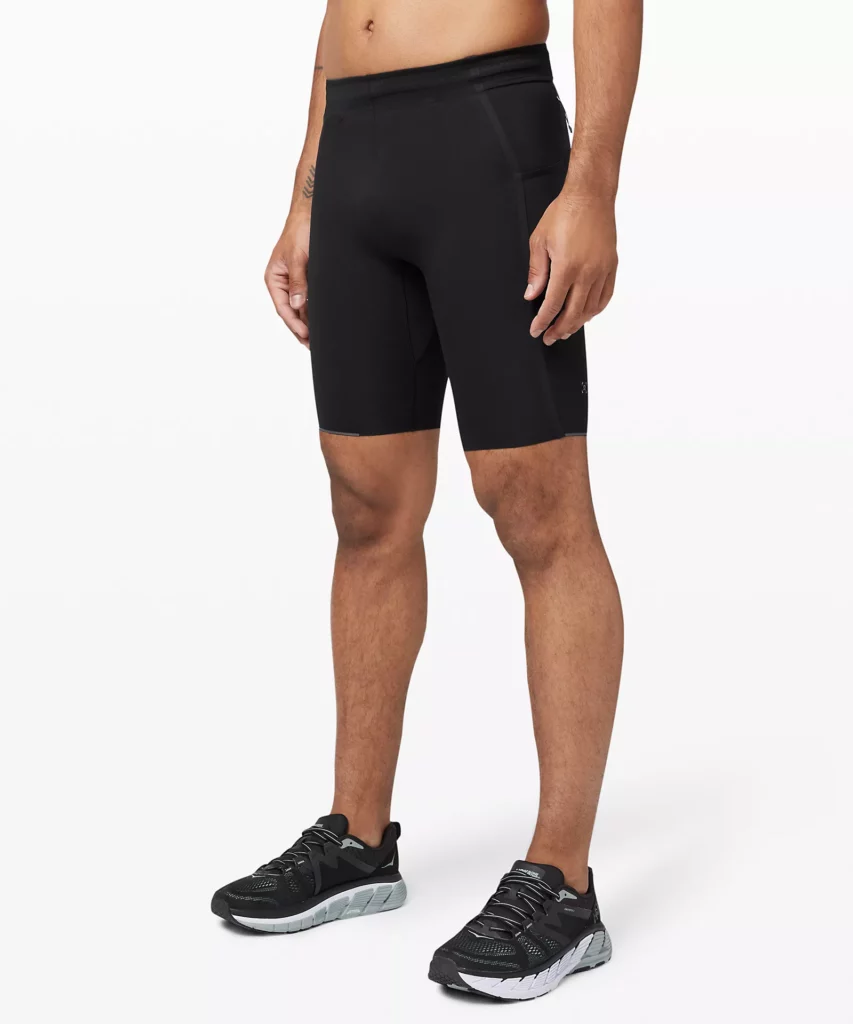 If you do activities beyond yoga – no problem.These simple shorts by lululemon are also perfect for running. Breathable polyester, nylon, and Lycra materials will make your workout as comfortable as possible. Easily drop these into a washing machine after your workout.
Pros
Nylon
Lycra
Made for running
Machine washable
Lightweight
Cons
Maybe see through
Too long for some
YOGA CROW Men's Swerve Yoga, Workout, Gym, Cross Train, Active Shorts w/Anti-Microbial Inner Liner
See latest price
The top-rated shorts are comfortable enough to wear outside of your workouts. Yoga Crow was rated the best yoga shorts by New York Magazine. These highly rated shorts will help you wipe away moisture during your intense workouts and come with a liner to prevent odor.
Pros
Liner
Top rated
Nylon polyester blend
Good for hot yoga
Cons
Buy on Amazon for $59.99
Surenow Mens Running Shorts,Workout Running Shorts for Men,2-in-1 Stealth Shorts,7-Inch Gym Yoga Outdoor Sports Shorts
See latest price
These shorts are great for an intense workout. Enjoy running, basketball, or outdoor hiking with comfortable breathable fabric. It will dry your sweat away in a minute.
Pros
Suitable for All Sports
Fast dry material
Machine washable
Drawstring
Spandex lining
Cons
Buy on Amazon for $12.79
Balancer Short 6″ Everlux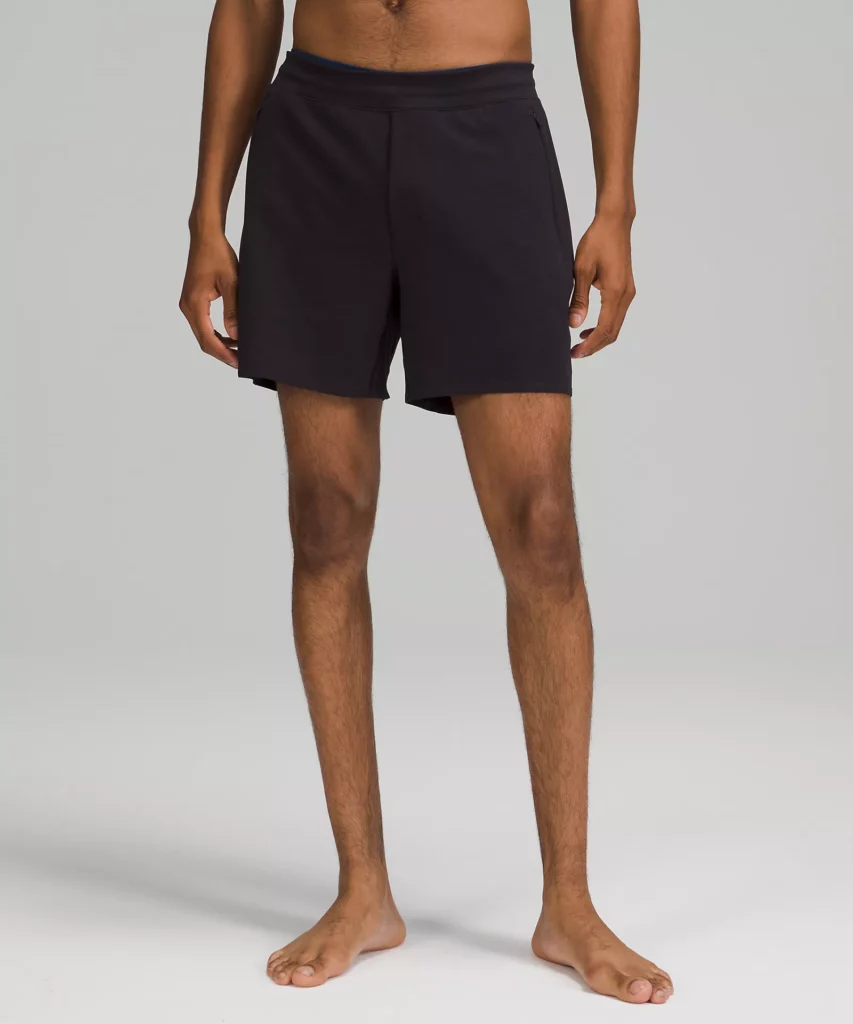 The shorts are designed specially for men's yoga. The Balancer Short 6" shorts will keep you dry by way of Everlux's fastest drying material ever.
Pros
Fast dry material
Designed specially for yoga
Pocket
Stretchable Lycra fabric
Cons
Waistbands don't have end caps
Gaiam Men's Yoga Shorts – Performance Heather Gym & Workout Short w/Pockets
See latest price
Polyester and spandex blend materials will provide you with a comfortable and breathable work-out experience. Easily adjust your yoga shorts with a drawstring enclosure. When you complete your workout, simply toss these in a machine under a cold wash.
Pros
Machine washable
Polyester and spandex
Drawstring
Great for running
Cons
Buy on Amazon. Prices vary with color selection.
MoFiz Men's Yoga Shorts Baggy Comfortable Shorts Pajama Shorts Athletic Shorts with Pockets
See latest price
These men's athletic shorts are suitable for many athletic activities, including yoga. Easily keep your valuables with you at the gym with hand pockets and back patches.
Pros
Pockets
Comfortable
Drawstring
Waist Control
Suitable for all athletic activities
Buy on Amazon for $23.99
Anthem Athletics Solstice Men's 7″ Yoga Shorts
See latest price
These vibrant slim shorts are made specifically for men's yoga. They come at an affordable price and in different color options. These shorts have pockets to host your essentials, as well as a drawstring for greater comfort.
Pros
Drawstring
Various colors
Designed especially for yoga
Slim fit
Buy on Amazon for $29.99
How to Find the Best Men's Yoga Shorts for you
Materials
Ideal yoga pants should be made from flexible material that can also handle sweat. Men tend to sweat excessively during intense workouts. Materials should be able to either dry fast or keep sweat away from the body. Polyester and nylon are ideal materials.
Durability
During any form of intensive activity such as yoga, you want a material that can handle a lot of sweat and abrasion. Nylon is a very durable material that is used in most male athletic clothing. The same durable material is just as handy in yoga.
Style
Ideally, men should choose a style of pants or shorts that is long – especially to catch sweat. The style should also fit comfortably but not too tight. On the other hand, certain styles of yoga require shorter shorts.
Price
Yoga shorts and pants can range in price for men. Yoga shorts can go as high as almost $100.
Men's Yoga Shorts FAQ
What material should men's yoga shorts be made from?
Men's yoga shorts should be made out of materials that provide maximum comfort and ease. Men often wear nylon shorts for athletics. Men can also wear nylon shorts for yoga as long as they fit properly
What are the best yoga shorts for men?
Brands such as Lululeman have specific yoga bottoms for Men. However, men can also use good quality basketball or running shorts to practice yoga.
Are Men Compression Shorts Good for Yoga?
You can wear compression shorts for yoga as long as they are not too restrictive. Compression shorts are great for reducing muscle strain and increasing circulation in men. However, if they are too tight, they can restrict movement. You cannot enjoy the full feeling of yoga if your movements are limited and uncomfortable.
Conclusion
As you can see, there are many types of athletic shorts for men. Some companies such as lululemon also make shirts just for men's yoga. However, men can wear general athletic shorts if they fit comfortably. Amongst these 10 choices my favorite pic is the Balancer Short 6″ Everlux. Overall, these shorts appear to have a nice fit and can be ideal for yoga.They look comfortable and have a drawstring for adjustment.