When it comes to yoga wear, a few name brands are always on people's tongues. Both Fabletics and lululemon have grown a reputation amongst yogis for having the highest quality (and cutest) yoga outfits on the market. But is one better than the other? Do either of them live up to the hype? What about their price tags?
We visited some stores, tried on some leggings, and talked to top yoga influencers to get the details about these athleisure brands both on and off the mat. With one on the affordable end and the other on the luxury side, let's compare Fabletics vs. lululemon to figure out which is best for your practice and lifestyle.
Update: We've published other articles comparing Vuori vs lululemon, Athleta vs lululemon, and Zyia and lululemon.
What is Fabletics?
Fabletics began in 2013 when co-founders Adam Goldenberg and Don Ressler saw a gap in the activewear marketplace: there weren't many affordable options that were still stylish and high-quality. They launched Fabletics with Kate Hudson and a special VIP program that allows members to access their fashion-forward athletic wear at an accessible price point.
The VIP Membership works by signing up for a monthly membership charge that unlocks tons of discounts and benefits. Fabletics VIP members get 20-50% off the price of all their products, plus free shipping, free returns, and a promotional Member Credit every month. They also throw in full access to the Fabletics FIT mobile app and loyalty points for each purchase that lead to cash rewards and free gear.
Fabletics is dedicated to direct-to-consumer sales to over 2 million members. The more members they gain, the more affordable their clothes become because they can predict inventory needs and cut out any middle-man. Sort of like a Costco membership, but for activewear.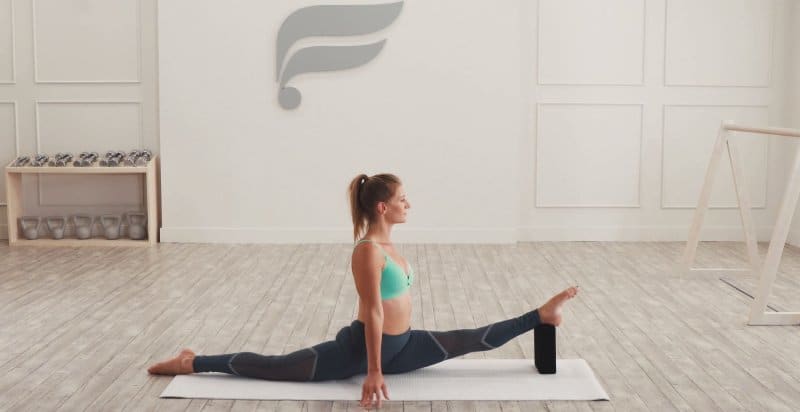 They make really high-quality yoga wear (as well as gym and running gear) for both men and women. They excel in fashion and functionality, with new weekly collections and diversified sizing. Fabletics is best known for VIP legging deals, vibrant colored sets, and their signature phone-pocket leggings.
What is Luluemon?
lululemon (affectionately abbreviated "Lulu") is a luxury athleisure brand from Canada. It was founded in 1998 by Chip Wilson in Vancouver, Canada. Lulu has grown into a forward-thinking and quality-obsessed brand that designs luxury gear for high-end athletes and yogis. A yoga brand at its core, lululemon continues to be one of the most well-known and iconic clothing brands for North American yogis.
Since their expansion to workout gear of many types, Lulu remains laser-focused on highest quality clothes for people to exercise in. Their luxury price point is justified by durable, beautiful, and flattering designs worn by both celebrities and regular people. Yoga remains at the center of what they do, but they recently expanded to menswear as well as an interactive workout setup called MIRROR.

The company manifesto is all about community and individual empowerment. lululemon stores offer an incredible shopping experience with a relaxed ambiance, built-in studios, and a dedicated fanbase.
Overall, Lulu's style is classy and free-spirited. lululemon customers are super dedicated to the brand. There's no denying that, once you own a pair of Lulu leggings, you will probably keep going back. Their gear lasts forever and feels incredible (as it should, for close to $100 for a pair of leggings, right?) The company is also very community-driven, with many celebrity ambassadors, events, and a very helpful online resource called SweatLife.
How Are They Different?
Styles
Both lululemon and Fabletics focus on yoga and running gear. Lulu tends to be more minimalist and classy, whereas Fabletics is fun and playful. They both offer a massive range of colors, patterns, fabrics, and styles, with a focus on fan-favorite high-rise yoga leggings and matching set sports bras.
One thing I really like about Fabletics is you can buy 2-piece outfits together, whereas you have to buy a separate bottom and top from lululemon. Fabletics styles are also more wild and patterned. They also almost always include the signature Fabletics stretchy phone pocket on the side of their leggings and shorts.
lululemon leans toward a luxury-chic style that can easily crossover to streetwear. They are all about functionality both on and off the mat, and their signature modern elegance shows in every product.
Membership
Fabletics is special in that it has a membership-style program, whereas lululemon is just a standard store. The Fabletics VIP membership gains you access to all sorts of perks, namely the huge discounts on their clothes and the opportunity to purchase something new every month
For someone who doesn't need new yoga gear every month, the Fabletics membership may not make much sense. You can easily pause or skip months on your billing cycle, however many yogis would prefer to just buy their outfits at full price at the time they need them.
lululemon does not use a membership platform to sell their clothes. But they do have an online and in-person community called SweatLife and an affiliate program called lululemon Collective.
Quality
One of the best things about lululemon gear is the proprietary fabric blends that are ultra-sweat wicking, buttery soft, and last for many years to come. They feel luxurious when you wear them because lululemon is so dedicated to quality.
Fabletics definitely has some high quality fabrics and attention to detail in their yogawear. Their Powerhold and Motion 365 leggings are the highest quality; they always stay up, have a flattering fit, and are perfectly stretchy. With the VIP membership, Fabletics yoga wear is a budget deal for really high quality.
Both brands are comfy, squat-proof, and never see-through.
Sizing
When it comes to sizing, Fabletics is the most inclusive, offering XXS to 4XL. lululemon sizes range from size 0-20 and may run a bit small on certain body types. There is also some controversy surrounding a comment the founder said about lululemon's fit on larger women. Ultimately, both brands have accessible sizing but Fabletics is more plus-friendly.
Longevity
Everytime I ask someone at the studio or gym about their lululemon leggings, they seem to respond along the lines of "they are worth every penny, I've had these for years and worn them almost every day". lululemon leggings are made to last (which should be expected at their price point).
Fabletics are a little bit more of "fast-fashion" but still pretty durable. I also know people who swear by their Fabletics leggings for 6 months to a year. My first pair of Fabletics lasted a solid year of wear multiple times per week. Fabric pilling and stretchiness can start to happen after a lot of washes or wear-and-tear. However, that's the beauty of the Fabletics VIP membership: you get new styles every month!
Price
At first glance, Fabletics is obviously going to beat lululemon at price point. We're talking $18-$60 leggings (Fabletics) versus $90 to $120 leggings (lululemon). Sports bras, loungewear, and other products tend to follow a similar price pattern for both brands.

But you may wonder if the $50/month Fabletics VIP membership actually pays for itself. The initial member signup deal is awesome, because you get the 2 for $24 deal. This is best for anyone who wants to sign up, get the deal, and then cancel their membership.
Is Fabletics VIP Membership Worth it?
If we look at a regularly priced pair of Fabletics leggings (around $60), you could just buy those outright without a membership. But if you have a membership, you get them for 70% off (about $18).
If that was the only thing you bought that month, you really paid $68 for the leggings because of your membership fees. But you also get 1 member credit every month. That can be redeemed for one outfit ($50+ value), which really pays for the membership itself. So if you buy full outfits, sports bras, and multiple other items, the benefits really start to add up. You also get access to the VIP member sales and accumulate VIP points.
At the end of the day, lululemon will always be a more expensive luxury brand. Fabletics is an accessible brand on its own, but their membership really pays for itself if you shop for new yoga outfits on a semi-monthly basis. If you don't update your yoga wardrobe that often, the membership may not be worth it for you.
Fabletics Bestsellers
Fabletics is known for function, support, and style. They now offer sports bras with a clever built-in pocket in the back for your phone or Bluetooth airpods. Most of their leggings also all include a phone pocket. I've found that almost all of the styles are great for yoga and super comfortable in hot yoga classes as well. Here are their top bestsellers:
With so many colorways and patterns to choose from, this legging is pretty much the Fabletics staple. Most yogis will get at least one pair of these as part of their 2 for $24 intro VIP deal. I love how these leggings fit, hugging in all the right places without ever squeezing in. Anyone with a bit of a belly or love handles will be glad to know that these are super flattering and give a nice "tuck" without being uncomfy! The waistband stays up during yoga or workouts and they include a 45-day Workout Guarantee.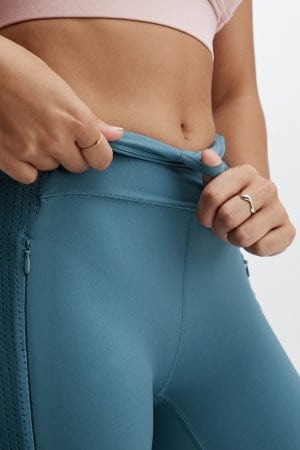 If you run and do yoga, the Motion365 line is made for you! These have a hidden inner drawstring, zipper phone pocket, and plenty of breathability and range of motion. I love wearing these on the mat and on the treadmill. Like all Fabletics, they are no-slip so they really do stay in place.
Working from home or doing chores is so lovely in this ultra-soft breathable matching set. I can feel cute even when I'm cleaning the kitchen! The high-neck tank is super comfy (a little long for us shorter yogis, but it still fits great). The shorts are a soft terry material and the sage green color is to-die for. This is one of Fabletics' most popular sets and I highly recommend it.
Honestly, this seamless second-skin set is everything you could ever want in a yoga outfit. The bottoms are ultra-high waisted and so, so flattering. The matching midi bra only shows a little bit of your stomach and offers great coverage. While it isn't the most supportive for intense exercise, this bra and legging combo is perfect for hatha, vinyasa, and yin yoga styles. It's super soft and versatile for lounging as well.
This is the ultra supportive sports bra of your dreams! It has a high neckline, great coverage, and support for larger chested women. Thankfully, the extra wide straps and super soft fabric mean no digging-in or restrictive tightness. This is so amazing for Bikram, hot yoga, running, or any high impact workout.
lululemon Bestsellers
There's a saying amongst some girls at my local studio that "once you go Lulu you never go back". The feeling of these clothes during your practice is truly magnificent. I'm the type who doesn't mind wearing the same outfit to yoga a few times a week. If it's in your budget, any of these lululemon bestsellers will make you look and feel amazing on the mat and beyond.
The iconic leggings that started it all! The Align yoga pants stretch and move perfectly in every pose. They stay up no matter what and the high-rise flatters every body type. Lulu's signature Nulu fabric is basically weightless and so soft on your skin. These include side pockets that fit your phone and wallet. Plus you can wear them everywhere because they look cute with almost any top.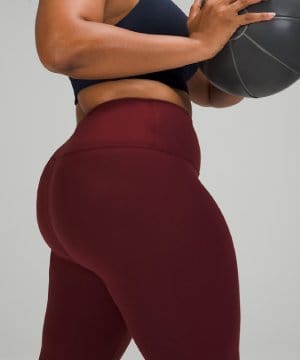 There's a reason these leggings have been one of Lulu's bestsellers for many, many years. The perfect high-rise fit, breathable soft fabric, super quick-dry design, and color options make these tights a no-brainer. I wear these to the gym and to hot yoga classes. These leggings last forever and haven't started pilling after over 2 years.
An abundance of color options, buttery soft fabric, light support, and sweat-wicking design? It doesn't get much better than the classic Align top. You can wear this literally anywhere. It feels so soft and hugs in all the best spots without ever digging in. It stays put in downward dog and complicated twists. The only downside is that this top isn't as supportive for women with larger breasts, but the Energy bra described below does the job.
This bra is low-friction and slick, providing support without rubbing on your skin while you move. You can wear this top for yoga and gym training alike, and the adorable color options make it perfect for lounging or athleisure as well.
This hoodie is chic and cozy at the same time. You can toss it on for winter yoga classes or running errands and still look "put together". The fabric is a breathable cotton-blend fleece for lightweight soft warmth. I love the half zip that makes it an oversized pullover with some feminine style and venting. The color options of this hoodie are also amazing.
Shopping Experiences
In-Store Shopping Experience
Honestly, both lululemon and Fabletics really rock it on their in-store experience. Fabletics has all the lovely Kate Hudson ads and gorgeous displays, while lululemon gives you that upscale-but-not-pretentious vibe. Sometimes you'll find both of these stores in the same shopping center and you'll notice many similarities in the modern decor and welcoming community.
Online Shopping Experience
The Fabletics website is easy to navigate and especially friendly for those wanting matching sets. I love that you can buy outfits as one piece, rather than searching for the matching colors and styles. You can also search by functionality: yoga, running, gym, or loungewear. The Fabletics Plus Shop is especially sizing friendly and body positive! Plus, the VIP membership portal saves all your favorites and makes it easy to maximize your savings.
lululemon offers a sleek streamlined online shopping experience with stunning photos and easy searchability. You'll really enjoy the way the product options are displayed and how easy it is to find the products you want. They do sell out of things more often than Fabletics, but they have more specialized activity lines such as tennis, work, and casual.
Pros and Cons of Each Brand
Fabletics
Pros
Most affordable option
High quality and accessible
Super cute, playful styles
Constant new styles and colors every month
VIP membership program allows you to try new outfits all the time
Membership is flexible (can skip months)
Initial intro membership offer is an amazing deal (2 for $24)
Cons
You really need the monthly VIP membership to maximize your savings
You may not want new yoga outfits every month
May not last as long as lululemon
lululemon
Pros
Classic, chic, sleek style
Luxury unique yoga wear
Iconic leggings are the highest quality
Ultra highest quality materials
Super durable and long lasting
Cons
Exclusive and expensive price point
No membership or discount options
Conclusion
At the end of the day, you can't go wrong with Fabletics or lululemon. They are both amazing brands that serve different clientele. Personally, I wear outfits from both brands and enjoy them for my yoga practice. There is nothing better than feeling cute, free to move, and cozy while doing a flow.
Namaste!