With their cult-like following and ridiculously high prices, lululemon seems like a strange phenomenon to outsiders. Why would anyone pay $100 for a pair of workout leggings? Is it just clever branding and markups, or is there more to the story?
lululemon has become practically synonymous with high-end yoga gear. Since its founding in 1998 they've been delivering the most expensive yet coveted athleisure clothing in North America. But we constantly find ourselves asking: is it really worth it? Do the leggings hold up to the hype?
It only takes one quick try-on of Lulu leggings to realize that they are considered the best in the yoga world for a reason. They feel buttery smooth, hug in all the right places, and wick away sweat like magic during a hot Bikram session. Yet it's unclear why lululemon's "technical fabrics" and trendy designs feel so luxuriously high quality. There are entire Reddit threads dedicated to trying to figure out what makes them so great.
Sure there are some incredible cheap lululemon alternatives and similar alternative brands, but nothing quite compares to the real thing. Yet sifting through the huge abundance of options can feel pretty overwhelming.
We've narrowed down the top 7 best selling lululemon leggings of all time and reviewed them in great depth to help you figure out which are the best for you.
Quick Picks: Top 7 Best lululemon Leggings, Reviewed
What makes lululemon so great?
You may have heard lululemon (pronounced "loo-loo-lemon") called by its fandom nickname "Lulu". With all the hype and buzz around Lulu's high priced yoga clothes and borderline-obsessive fan base, most of us haven't figured out what makes them so special.
lululemon stands behind a philosophy called the "Science of Feel". Basically, they aim to set themselves apart from the rest by honing in on a science-backed technical approach to athletic fashion. This means developing signature in-house fabrics, functional athlete-tested fits, and a brand ethos that people identify with. 
High-Quality Materials
First and foremost, lululemon uses the most divine high-quality materials in their leggings. They are designed to feel luxurious against your skin, allowing for seamless movement and ultimate comfort. Breathability and moisture-wicking properties are key features of their fabrics, ensuring you stay cool and dry during your practice.
Versatility and Style
Whether you're flowing through a vinyasa class, hitting the gym for a high-intensity workout, or just running errands, they never disappoint. With a plethora of styles, colors, and patterns, there's a pair for every occasion, mood, and personality. Plus, their leggings are designed to transition seamlessly from the studio to the street, making them the ultimate wardrobe staple for any active lifestyle.
Signature lululemon Fabrics
lululemon initially launched with a few proprietary fabrics designed to take your sweaty workouts and lounge outfits to the next level. Founder Chip Wilson has emphasized that it was his obsession with fabric technology and performance that inspired him to start the brand. The combo of premium textiles and trendy style yields highly functional leggings that complement almost any body type. 
I didn't believe in all their "specialty fabric" hype until I tried on my first pair of leggings… then I realized they really know what they're doing when it comes to feel and performance. They even have an entire in-house lab dedicated to developing new weaves, stitches, and fits, then testing them out on real-life athletes.
Here is the rundown on each proprietary fabric blend:
Luon®: Like Sweat-Proof Cotton
Lulu's signature four-way stretch fabric that feels soft as cotton but is sweat-wicking enough for intense hot yoga sessions or workouts. It is ultra flexible and super lightweight with a cooling effect on your body. Basically like cotton, but way better at dealing with sweat. Find Luon® in the Define Jacket, Cool Racerback Tank Top, Men's Discipline Pant, and more.
Luxtreme®: Best for Yoga
Designed for yoga and training, Luxtreme® is slick yet low-friction. This fabric was engineered to fit like "second skin". It is supportive, cool to the touch, and ultra smooth on the body. The interlocking construction provides perfect coverage, sweat-wicking, and four-way stretch to squat-proof leggings and more. Find it in the Wunder Under Super High Rise Tight, Swift Speed High Rise Tight, and Free to Be Bra.
Everlux™: Made for Heavy Sweating
Ever cool, this is lululemon's fastest drying fabric designed for a super quick cooling feeling in the toughest, hottest studio classes. Whether in spin class, hot yoga, or dripping with sweat during your workout, Everlux™ is the most sweat-wicking fabric with a buttery soft outside and cooling interior. Next level moisture control, stretchiness, and high-opacity coverage makes this fabric perfect for low-airflow, high humidity, or high-heat settings. Find it double-knit woven into the Wunder Train High-Rise Tight, Men's Everlux Oversized Long Sleeve Crew, and Power Pivot Tank Top.
Nulu™: Feels Almost Like Being Naked
One of the original Lulu fabrics, Nulu™ really feels like you're wearing nothing, but still able to perform and look flattering. It is non-restrictive and extraordinarily butterys oft, yet full-coverage, sweat-wicking, and stretchy in all directions. Find this fabric in the classic Groove Super-High-Rise Flared Pant, Align Tank Top, and the infamous Align High Rise Yoga Pants.
Nulux™: Made for Running
This is the "barely there" or "naked feeling" fabric that hugs your skin with a cloud-light feeling. Made specifically for running, this signature lululemon performance tech is outrageously smooth and weightless, while still being opaque and never see-through. It keeps you dry no matter what. Find it in Fast and Free High Rise Tight, Nulux Waist High Rise Running Short, and Men's Surge Tight.
Athlete-Tested Fits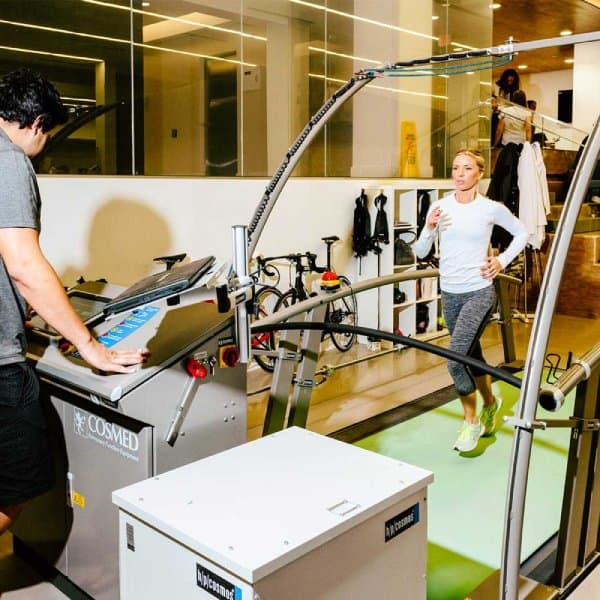 Lulu also takes their quality to premium level by paying extreme attention to detail. They use designer prints from fashion students and body mapping to ensure that their athleticwear complement a wide range of physiques. They also take real-time feedback from yogis, runners, and fitness influencers who test their products in the field.
The in-house workmanship culminates in their laboratory workout analyses. Let's be honest: you probably won't find any Amazon alternatives actually testing out their leggings on real-life athletes or modifying the stitches on different sizes to ensure that they hug unique body types in all the right places.
This is the quality difference that you pay for when you buy lululemon. And it's why they can stand behind all their products with a Quality Promise that says they'll take back your gear for a full refund if it doesn't perform how it's supposed to.
lululemon Brand Ethos
The last and most obvious reason why people wear lululemon is because they identify with the company's overall vibe. In a world of designer images and expert marketing teams, it's no surprise that brand recognition plays to Lulu's advantage.
And let's be honest: you'll see the signature "A"-shaped logo all over every major yoga studio in the country. If you identify with their mission, their something about wearing brand-name Lulu leggings that just makes you feel good.
lululemon's brand ethos is all about community, sweat, and style. The logo seems to represent a sort of bourgeois level of yogi that can afford the highest quality leggings out there. Buying their expensive gear sort of symbolizes that you're willing to put in a little extra effort both on and off the mat. That's probably why their core values include personal responsibility, entrepreneurship, connection, and inclusion.
The 7 Best Selling lululemon Leggings of All Time
All background info, technical jargon, and brand lingo aside, you've probably made up your mind whether or not you want to try out lululemon. So let's jump into the honest reviews about the best lululemon leggings of all time and what makes them so great for your specific needs.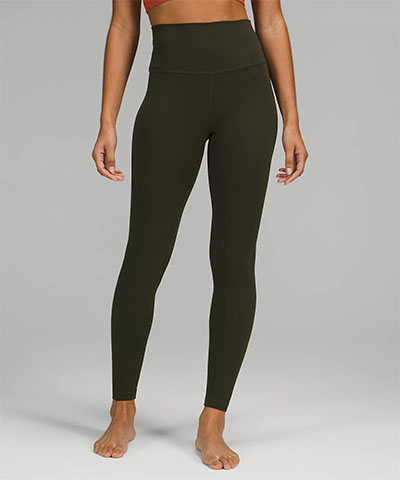 For everyday wear, these are the leggings you'll want to slip on to do just about anything. With its high rise waistband and lightweight fabric, the Align pant is Lulu's all-time bestseller for a reason: they fit like a glove and feel almost like you're not wearing pants at all. They are luxuriously comfortable both and off the mat, and they were voted the best leggings
The Align leggings are made with weightless flexibility, the fewest possible seams, and buttery soft Nulu fabric. They're made specifically for yoga and lounging, but seem to hold up for running and other workouts as well. What we love most is the sleek style that's nice enough to dress up or down without looking sloppy. You can literally wear lululemon Align pants with anything and know that you'll look chic and put-together.
Pros
Crazy buttery soft
Full range of motion and stretchiness for yoga
Abundance of color selections
Available in 25″, 28″, and 31″ inseams
Flattering high rise
Discrete hidden pocket
Cons
Require special washing for longevity
Check out this Ultimate Guide on How to Wash lululemon Pants, Leggings, Tops + Accessories
Made specifically for flowing on the mat, these supportive leggings have smoothing coverage, full stretch, and a cool, moisture-wicking finish. They are designed to conform specifically to each muscle and move with your body through any asana. We love that Instill stays up (no rolling or pulling up mid-practice) without feeling restrictive on your stomach during forward folds or twists.
The second skin fabric is luxuriously soft with a matte appearance that looks super chic. They also added Lycra fibers to ensure that the leggings hold their shape even after tons of washing and wearing.
Pros
Never rolls down during your practice, yet not restrictive on your stomach
SmoothCover fabric is supportive and buttery soft
Extra moisture wicking for sweaty sessions
Matte finish for trendy chic look
Hidden back pocket
Uplifting support that compliments booty and curves
4-way stretch conforms to your muscles
Super lightweight fabric
Cons
Sizing may be inconsistent with other styles (keep the tags on when you order so you can easily exchange them if needed)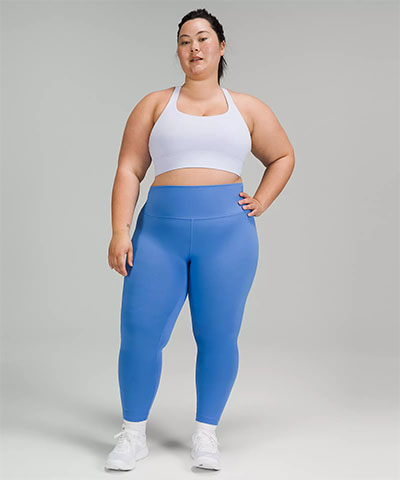 When you're sweating your butt off in the gym, there's few things worse than workout leggings that hold in moisture instead of pulling it away. The Wunder Train high rise tight solves all those problems by keeping you cool, dry, and super comfortable. Everyone is crazy impressed by the breathability of these leggings. They are made specifically for high intensity workouts. The Everlux fabric is lululemon's fastest drying fabric that is also supportive, sleek, and body hugging.
The Wunder Under High Rise lululemon leggings are my daily pick for any type of training, from boxing to weight lifting to power yoga. The built in drawstring even lets you tighten the waist so it never rolls down. I've especially fallen in love with how easily they transition from gym to errands. The sweat dries so quickly after the gym that I can walk into the grocery store without stinking up the place.
Pros
Dries sweat crazy fast
Feels cool against the skin
Flattering high rise pant
Soft and brushed interior
Great for high intensity workouts
Moisture wicking and odor control
Perfect pair for going hard at the gym
Hidden drawstring to adjust the waist
Hidden waistband pocket
Cons
Original Wunder Under high rise tight with Luxtreme fabric was replaced by this style with Everlux
Logo on the leg is less popular than the original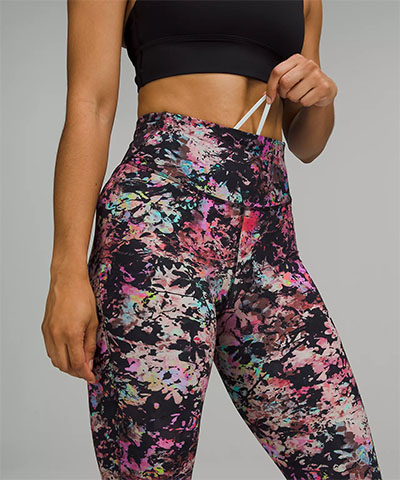 Available in an impressive diversity of solid colors and patterns, the Base Pace is a runner's dream come true. They are made of the signature Nulux fabric with added Lycra fibers that help the leggings hold their shape and stretchiness for years to come. We love the weightless full coverage fit, specially engineered stretch for running, and maximum breathability. You can literally run in the middle of the summer with these leggings and still feel cool!
The sweat wicking properties are among the best of all the lululemon leggings. They have that "barely there" naked feeling that almost makes you forget you're wearing pants. Best of all, there is no inner seam (chafe-free!) and an easy cinch drawcord in the waistband.
Pros
Amazing sweat-wicking
Made specifically for running
Chafe-free
High rise adjustable drawstring
Hidden back waistband pocket
Available in 25″, 28″, and 31″ inseams
Read this article about How to Prevent Camel Toe When Wearing Yoga Pants!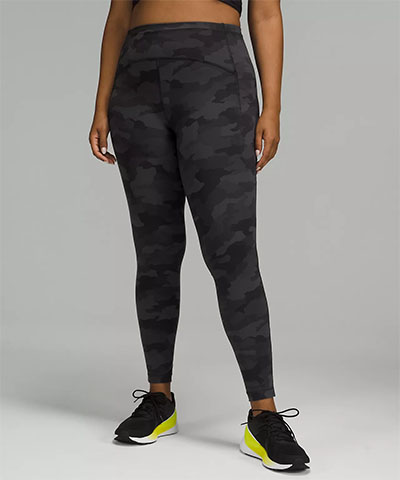 If you love thigh pockets for your keys or cellphone, you'll be glad to know that the Swift Speed High Rise tight delivers all the benefits of Wunder Train high rise, plus side pockets and a zippered back pocket.
These leggings are also designed specifically for running, so they have the next-level sweat wicking properties. The hint of reflective detailing is great for jogging in the early morning or evening. Plus, your phone will actually stay inside the deep side pockets.
Just like the older Wunder Unders, these have that coveted Luxtreme fabric that feels ultra lightweight and super smooth with minimal seams. Reviewers love how low-friction these leggings are for any type of motion. The high waistband hugs you in and prevents muffin top.
Pros
Plenty of deep side pockets plus zippered back pocket
No inner seam (friction-free!)
High rise hits just at or above the belly button
Most popular leggings for running (lululemon Swift Speed High Rise and Base Pace are honestly a very close match)
Pass the squat test
Functional for high impact workouts as well
Sleek look
Cons
Tighter waist than lululemon Wunder
Not as stretchy as the Wunder Train High Rise tight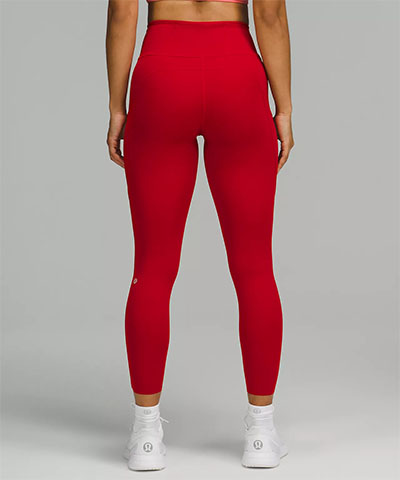 Made with the liberating Nulux fabric, these are the best lululemon leggings for a weightless feel with full coverage. They're completely opaque and never see-through, yet still feel breathable and thin against your skin. It's almost amazing that they pass the squat test. Even the full length leggings are super cooling.
lululemon Fast and Free Tight is part of a newer launch that aims to keep runners as comfortable, covered, and free-moving as possible. They have an even tighter waistband than the Swift Speed, but it is adjustable for maximum comfort. Reviewers are impressed by how well these stay up during intense running sessions. Yet they still look nice enough to wear running errands as well.
Pros
Perfect for running, dance, cardio, and sweaty workouts
Two large phone pockets
5 waistband pockets
Feels weightless
Super breathable and moisture wicking
Sleek and cooling
Quick drying fabric
Cons
Tighter waistband may be uncomfortable for some body types
All the amazing qualities of the regular lululemon Align pants, but with a super cropped 17″ inseam that hits just below the knee.
This pair has an invisible pocket, weightless feel, and buttery smooth super fine fibers. They are designed specifically for yoga and perform excellently in hot Bikram or Ashtanga classes. The sweat wicking properties are complimented by the almost seamless quick-cool engineering.
All in all, these are the perfect cropped leggings for showing off your calves in yoga class. We also love how the the Align shorts fit in the exact same way.
Pros
Perfect below-knee cropped inseam
Super cooling and lightweight
Great for hot yoga and summer runs
Buttery soft Nulu fabric
Flattering high rise
Invisible waistband pocket
Cons
Lighter colors have a thicker fabric
Not as form flattering as Align shorts
How to Care for Your lululemon Leggings
Alright, my lovely yogis, let's talk about taking care of our beloved lululemon leggings! Proper care is essential to ensure they remain vibrant, soft, and ready to support us in every sun salutation and warrior pose. Follow these simple yet specific guidelines to keep your leggings looking and feeling their best!
Washing Instructions
Turn your leggings inside out to protect the fabric's surface.
Use cold water and a gentle detergent, avoiding bleach and fabric softeners.
Opt for a gentle cycle on your washing machine, or better yet, hand wash them to preserve their quality.
Lay your leggings flat to air dry, avoiding direct sunlight and high heat sources like radiators.
Storage and Handling
To keep your leggings in pristine condition, follow these storage and handling tips:
Fold them neatly, avoiding hanging them, as it can cause the waistband to stretch.
Store them in a cool, dry place, away from direct sunlight.
Avoid contact with abrasive surfaces or materials to prevent pilling and snags.
Factors to Consider When Choosing Leggings
Activity: Consider your primary form of exercise and choose a fabric best suited for that activity, like Luxtreme® for yoga or Nulux™ for running.
Fit: High-rise, mid-rise, or low-rise—select the waistband height that best suits your comfort and style preferences.
Length: Full-length, 7/8, or cropped—choose a length that complements your body and the season.
Compression: Some leggings offer more compression and support, while others focus on flexibility and freedom of movement.
Bottom Line: Which lululemon Leggings are Worth it?
In our experience, all of the lululemon leggings we've tried hold up to their reputation (unless you get a fluke, which they will of course replace free of charge).
We were really impressed by how the Instill and Align High Rise Pant held up for several years of daily Hatha yoga classes. But for more intense workouts and sweaty practices, definitely go with lululemon Wunder Train.
At the end of the day, Lulus are worth it for yogis who are serious about their practice. And with the generous return policy and quality assurance, what have you got to lose?
Namaste!