When you practically live athleisure gear, you're always on the lookout for the most luxurious stretchy leggings, the softest laid-back dresses, or the most supportive comfy sports bra. The beauty of transitioning from workout to streetwear is all in the details: fabrics, colors, stitches, straps, feel, and fit. The thin, cheap stuff just won't do.
But that level of quality always comes with a price tag, as well as the brand perception of the logo you're sporting.
When you're dropping over $100 on leggings or a matching set, you want to be sure it's a company you can stand behind: What do they care about? How do their clothes perform on and off the mat? How do they give back? What's their overall vibe?
In comes the Sweaty Betty vs lululemon debate. Sweaty Betty is a British athleisure brand that closely rivals the infamous Canada-based yoga brand. Both companies seek to empower women and source environmentally-responsible materials, but they have different styles, missions, and public perceptions.
Whether you're passionate about yoga, tennis, or simply looking cute on the go, both Sweaty Betty and lululemon should have a place in your closet.
Let's explore what each of these brands are all about, our top merchandise picks, and how to choose which is best for you.
What is Sweaty Betty?
Sweaty Betty is British activewear company known for their A-lister popularity and performance styles. Their Power leggings sell at an astonishing rate of one pair every minute.
Founded in 1998 by Tamara Hill Norton, Sweaty Betty started as a small boutique activewear store in Notting Hill. Norton said "it was a very bleak landscape for women's activewear […] masculine and shapeless." She "thought it was time to create clothes that made active women feel beautiful and powerful", so Sweaty Betty was born.
The Sweaty Betty line started as technical, beautiful workout wear for running, skiing, yoga, swimming, and anything British fitness enthusiasts might enjoy. They have always focused on gorgeous workout styles that look nice enough to wear on a daily basis. In the recent decade, they've expanded to casual streetwear, dresses, swimwear, and cozy loungewear.
Today, Sweat Betty has over 60 shops globally, though their fanbase is predominately UK-based. Sweaty Betty markets directly toward women and does not offer any menswear. They are known for some of the best workout leggings for gym workouts, spin class, or running errands.
Ultimately, Sweaty Betty is all about inspiring women to feel confident and loved no matter their shape, size, or body type.
Does lululemon own Sweaty Betty?
lululemon and Sweaty Betty are two independently owned companies. lululemon is publicly traded (NASDAQ:LULU) and worth about $43 billion. Sweaty Betty was privately owned brand, but in 2020, they were acquired by US-footwear company Wolverine Worldwide for $410 million.
Is Sweaty Betty a luxury brand?
At $80 to $100 per pair leggings and around $40 for a sports bra, Sweaty Betty is definitely a luxury brand. Fortunately, their styles are backed by raving reviews and quality-centric manufacturing. Sweaty Betty gear feels as good as it looks. The performance and durability are on-par with rivals like lululemon, Athleta, and Nike.
What is so good about Sweaty Betty?
Sweaty Betty leggings and other gear are among the highest quality in the fitness industry. Many customers even rank them higher than competitor lululemon.
Their styles tick all the boxes for the avid yogi, runner, or athleisure wear aficionado: they're always squat proof, sweat-wicking, outrageously smooth, booty-sculpting, and incredibly comfortable for just about any activity.
Top Sweaty Betty Picks
Sweaty Betty's bestsellers have become iconic in studios and gyms across the UK, and more recently the US:
Power 7/8 Workout Leggings: the most popular and luxurious bum-sculpting Sweaty Betty signature with next-level stretch, sweat-wicking, compression, and flattering seams
Super Soft 7/8 Yoga Leggings: some of our favorite leggings for Vinyasa and hot yoga classes, these leggings are versatile, super fast to dry, and come in super unique color/pattern options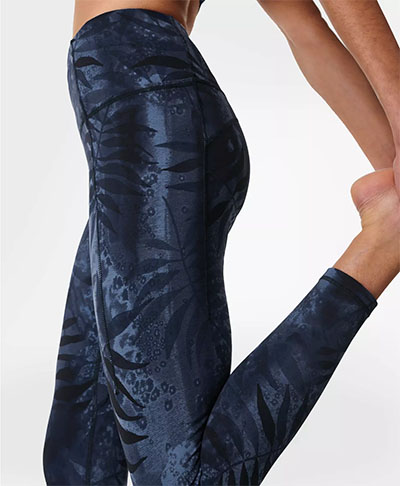 Stamina Sports Bra: medium supportive for running, with a smoothing soft material, and perfect high-neck for no "spillage" in downward dog
Tranquil Seamless Bra: light support, adorable cage-strap back, perfect for yoga flows, lounging, and more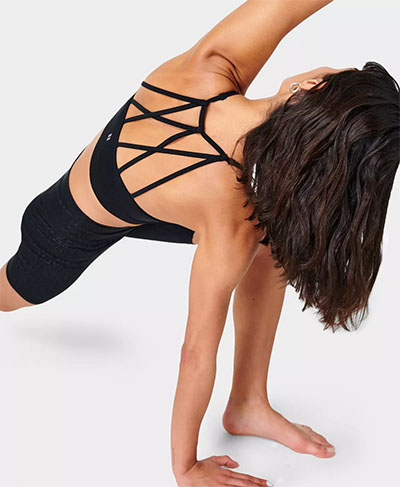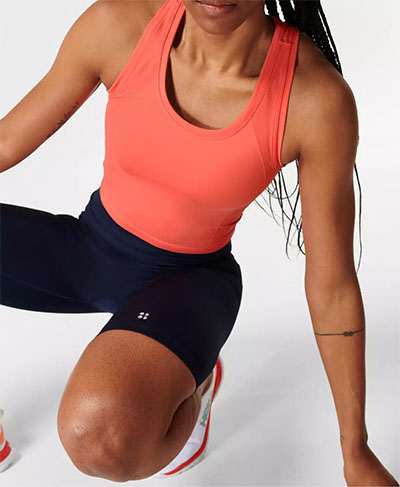 After Class Crossback Sweatshirt: with the perfect drape, swing, and cozy warmth for tossing over your sports bra and shorts sets, this sweatshirt is cute enough that it doesn't look like a sweatshirt at all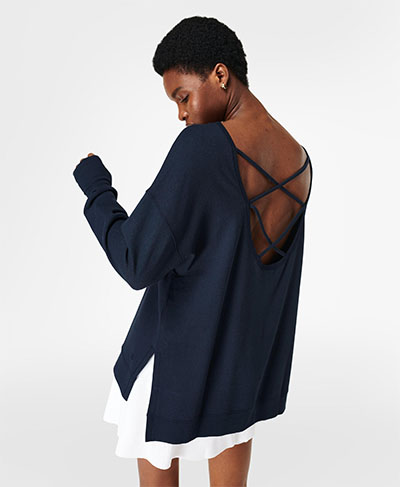 What is lululemon?
lululemon is the iconic luxury yoga brand founded in 1998 by Chip Wilson. Headquartered in Vancouver, Canada, lululemon has grown to a global phenomenon with nearly 500 stores worldwide and a thriving ecommerce platform.
Reveled for their premium technical gear and almost cult-like customer base, lululemon is famed for making the best workout leggings. You can spot their signature "A"-shaped logo in yoga studios, gyms, and fitness classes through the U.S. and Canada.
lululemon began with a focus on crafting performance-centered gear specifically for women's yoga. They now create both mens and womenswear for athletes of all types.
Their quality-obsessed origins continue to inspire premium fashion-forward gear, namely through Lulu's signature fabric technology of trademarked specialty blends like Everlux, Nulu, Nulux, and Luon.
Here is Everything You Need to Know About lululemon: Is It Worth It? History, Community, Lingo, + More
Top lululemon Picks
Lulu's bestsellers have been time-tested for over two decades and continue to evolve for the most up-to-date fitness technology and style:
lululemon Align High Rise Pant: the classic buttery soft Nulu fabric designed to feel like you're wearing nothing; they flow with you on the mat and seamlessly transition to daily wear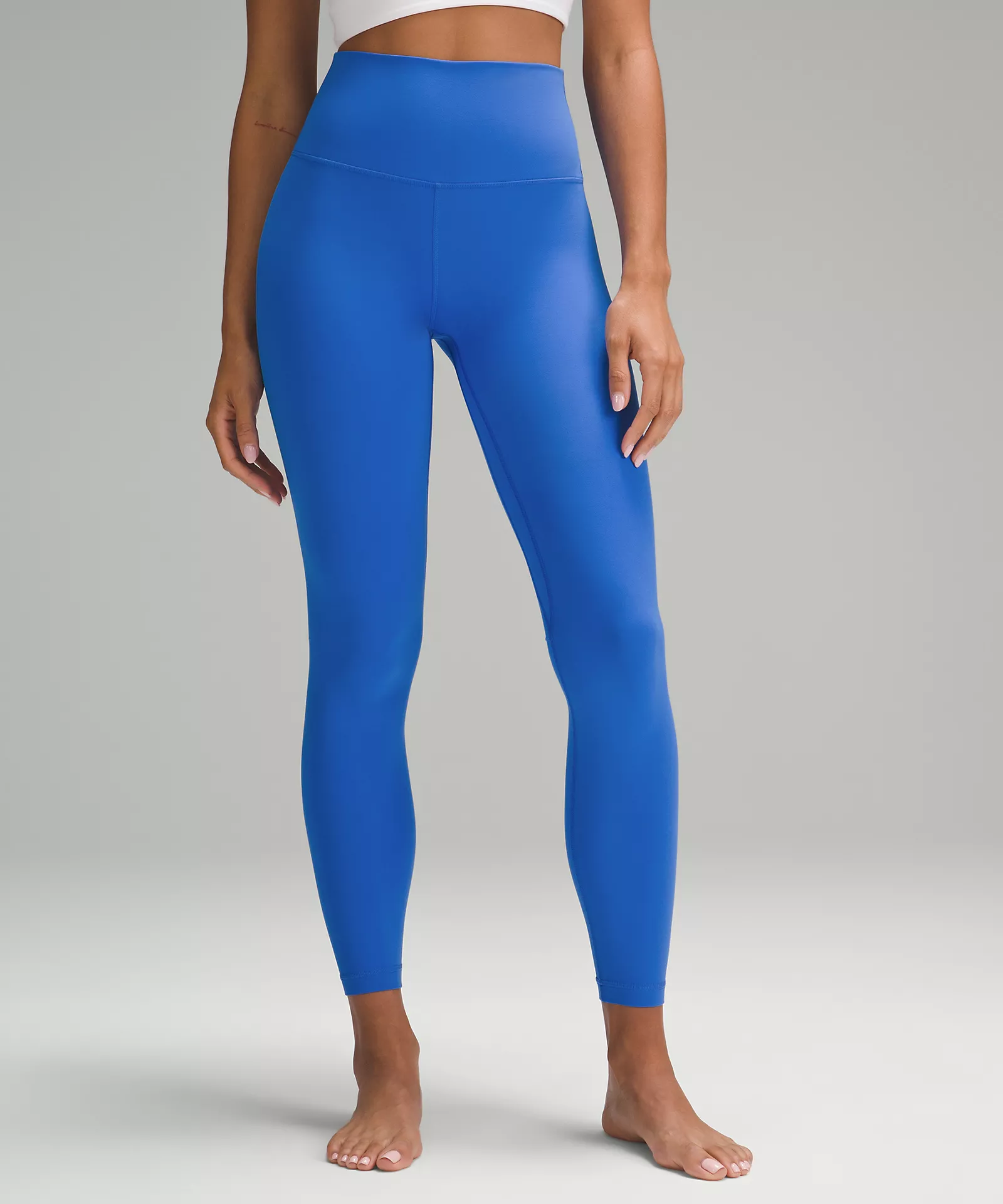 lululemon Align Crop Tank Top: built-in shelf bra, flattering fit, a subtle "V' cut, and buttery smooth fabric that you'll want to wear every day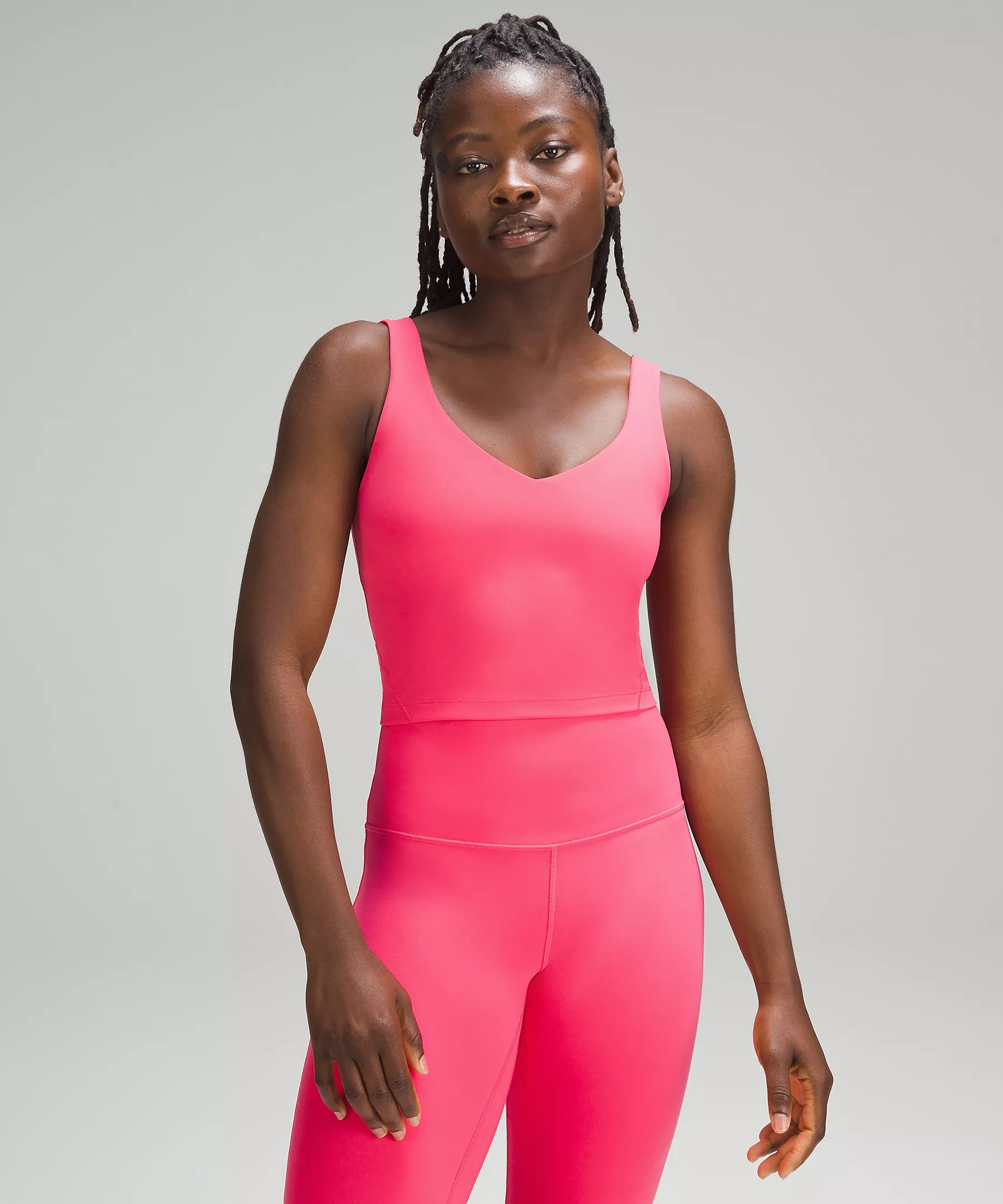 Read our full review of the Align tank top here: A Full lululemon Align Tank Review + Our Top 5 alternatives
Like a Cloud Longline Bra: with marshmallowy-soft foam cups and supple fabric that smooths over your skin, this yoga bra is unbeatable for transitioning from Hatha classes to running errands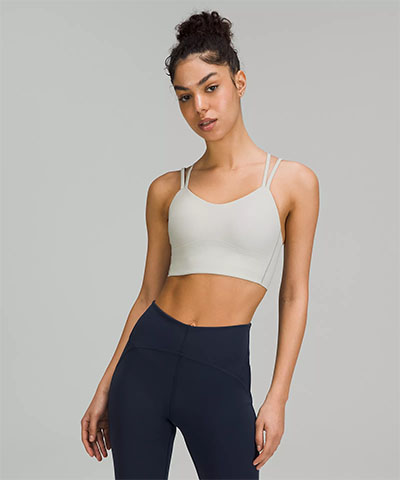 Align Jogger: the softest, most weightless fabric you can imagine perfectly crafted to hug you and slim your curves in all the right places
Read our full review of lululemon's joggers here: Is the lululemon Align Jogger Worth It? Honest Review + Cheaper alternatives
What's the difference between lululemon and Sweaty Betty?
lululemon and Sweaty Betty are both athleisure brands that specialize in workout leggings, activewear, and lifestyle clothing. Their key differences are:
Location
Company mission
Type of customer
Clothing styles
Manufacturing quality
Sustainability
They both sell in the luxury price range and sell clothing online as well as in high-end storefronts. Interestingly, both brands were founded in 1998. lululemon (affectionately called "Lulu" by its dedicated fanbase) got its start in Vancouver, Canada, while Sweaty Betty began as a small boutique London, England.
lululemon vs Sweaty Betty Locations
When it comes to in-store shopping experience, both brands excel in ambiance, community involvement (hello free fitness classes!) and customer service.
Sweaty Betty has about 150 shops worldwide, including US locations in major cities of the west coast, midwest, and south. Find them here.
As a much larger corporation, lululemon has nearly 500 global locations, including just about every major city in North America. Find one here.
lululemon and Sweaty Betty Company Missions
When it comes to company mission, lululemon seeks to "elevate the world from mediocrity to greatness", while Sweaty Betty is on a mission to "empower women through fitness and beyond". While both are lifestyle-focused, lululemon definitely attracts a more ambition-driven, high-end clientele that identifies with their striving for greatness. On the other hand, Sweaty Betty is a bit more down-to-earth and community-based with their focus on women's empowerment.
lululemon vs Sweaty Betty Customer Base
lululemon's demographic is mostly upper middle class women who love all things healthy living and personal goal setting. Because of their association with professional athletes and ultra-technical workout gear, lululemon's target customer is undeniably competitive, entrepreneurial, and a go-getter.
With their expansion into menswear, they more broadly target a hardworking athletic type who is passionate about ultra high quality and looking sleek while "going beyond the ordinary".
On the other hand, Sweaty Betty is a bit less intense. They are a laid back and don't seem to attract the competitive, overly athletic type. The brand encourages body positivity, acceptance, and equality. They are very female-focused and planet-driven.
lululemon vs Sweaty Betty Styles
From leggings to sports bras to dresses to under and outerwear, lululemon and Sweaty Betty offer similar styles. They seem to have the same amount of color, fabric, and activity options, including gear specifically for yoga, running, tennis, cycling, and hiking.
lululemon has more leggings options and a greater emphasis on their signature fabrics, while Sweaty Betty offers more fun and eye-catching patterns and leggings made from recycled-materials.
lululemon vs Sweaty Betty Quality
In recent years, many customers who used to love lululemon have switched to Sweaty Betty due to Lulu's alleged decrease in legging quality. Nonetheless, both have cult-like followings who religiously purchase their performance gear and ultra soft loungewear.
A pair of lululemon Align leggings is said to last for 3-5 years of almost daily wear if they're cared for properly. Similarly, Sweaty Betty has raving reviews about the overarching quality of their clothing: they feel good, look great, and have remarkable durability when used for the activity they're designed for.
Which are better lululemon or Sweaty Betty?
Comparing Sweaty Betty vs lululemon is a tough debate because both brands offer such similar clothing. When it comes to leggings, lululemon's Align and Sweaty Betty's Power Leggings are close competitors. The Lulu Align is has most buttery soft material and and 4-way stretch. They truly feel as amazing as raving reviewers say they do.
But the SB leggings excel in bum-sculpting seams, incredible stretching, and stylish pattern options. If you prefer ultra-stretch and quick-dry, Sweaty Betty is the way to go. If you want something more breathable and weightless, Lulu Align is best for you.
Sustainability at lululemon vs Sweaty Betty
While both brands emphasize environmental responsibility, Sweaty Betty wins extra points for their use of organic and recycled cotton, recycled fish net swimwear, and recycled water bottles used to make leggings.
lululemon has ambitious goals for 100% sustainable materials by 2030. They have also taken major action for renewable energy at their facilities and reducing plastic packaging waste. We love the lululemon "Like New" shop where they take back and re-sell gently worn items at a bargain price to reduce their carbon footprint and reinvest profits in sustainability initiatives.
Sweaty Betty achieves a similar goal by taking back your unwanted pairs of old leggings and recycling them with SOEX (in UK stores only). Through this program, they have kept over 40,000 garments out of landfills since 2019. Sweaty Betty also plans to use 100% recycled and recyclable packaging by 2022 and get rid of all single use plastic by 2025.
Key Takeaways: Sweaty Betty and lululemon are Close Competitors
Whether you're shopping for the most supportive sports bra, the perfect leggings for downward dog, or errand-running outfits that make you feel comfortable yet stylish- you can't go wrong with either of these brands.
lululemon is for the more sleek, upscale city dweller or athlete, while Sweaty Betty is for the laid-back, fashionable fitness women passionate about female empowerment. They have similar price points and unrivaled quality that truly holds up over time.
Have you tried either of these brands? How did they perform on the mat? We'd love to hear from you in the comments.
Namaste!