You just spent nearly $100 on a new pair of leggings, but now they seem like they're fuzzy and falling apart. Pilling is what happens when fabric degrades in high-friction areas like your crotch, thighs, or backside.
If you're wondering about lululemon's pilling policy and how to prevent pilling, here is everything you need to know.
Does lululemon Refund for Pilling?
lululemon's Quality Promise says "if our product doesn't perform for you, we'll take it back." They stand behind the performance of their leggings and yoga gear, so you can claim this "warranty" by bringing the leggings and proof of purchase to your local lululemon store where they can issue an exchange for a new product.
If your product was purchased within 30 days and still has the tags attached, you can do a simple return. Their return policy tends to be fairly lenient and they ensure that returns are completely free.
The main reason pilling wouldn't be covered is if the leggings have been used past their expected lifetime or appear to be otherwise damaged by wear-and-tear.
lululemon no longer acknowledges pilling as a quality issue, yet some customers still report success returning or exchanging their pilled leggings. Ultimately, there is no use in trying. Some leggings truly are defective from a lack of quality control in lululemon's supply chain, while others start pilling due to improper care from the customer.
What is Pilling?
Pilling is when tiny balls or "pills" form on your clothes because of friction. It happens as fibers break, loosen, or shed and then group together when they rub against other surfaces. It's more common in synthetic or blended fabrics, like those used in lululemon products.
Though pilling doesn't affect the durability of your clothes, it can make them look worn out or aged. Some fabrics are more prone to pilling, especially those with a softer texture or a mix of natural and synthetic fibers. The fabric quality also matters; lower-quality materials tend to pill more easily.
lululemon uses high-quality fabrics for comfort and performance, but pilling can still happen. Knowing what causes pilling and how to prevent it will help you keep your lululemon gear looking fresh and fabulous!
How Do You Keep Leggings from Pilling? 5 Simple Tricks
lululemon pilling is a pain in the butt to deal with after it starts, but you can easily prevent pilling with proper care.
Use a fabric shaver to remove pilling
If your leggings have already started pilling, you can remove pilling and restore the fabric with a fabric shaver.
The iRUNTEK Rechargeable Fabric Shaver is a battery-powered lint and pill-remover with 3 speeds, 3 shaving hole sizes and 4 blades. It makes removing pilling as quick as ironing. The tool gently cuts off fuzz to restore a sleek, soft surface. We especially love how easy this fabric shaver is to use and recharge.
The Rechargeable Fabric Shaver Magictec Lint Remover works with 3 razor sharp blades and a mesh cover that gently shaves off the upper layers of pilling without damaging the fabric.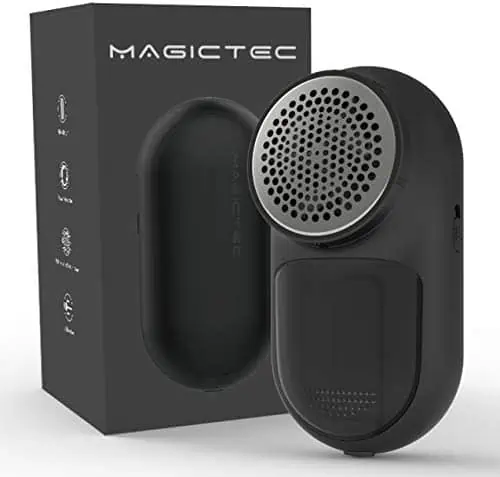 Wash them correctly
The most important way to prevent pilling in lululemon leggings is to wash them correctly. Many Lulu products can be fairly delicate. For example, the Align pant is more likely to pill than other fabrics because it is so thin and stretchy.
If you're wearing those leggings on a daily basis, they can easily get snagged or wear away where your thighs touch. But an even greater risk is posed by the washing machine. Improper care is the number one reason why leggings eventually pill.
Our top washing tips include:
Turn leggings inside out
Wash on a delicate or cold cycle
Wash your yoga gear separately
Never wash lululemon leggings with other fabrics or abrasive hardware (zippers, buttons, etc.) that could snag the leggings
Hang to dry or put in the dryer on the lowest, coldest cycle
Never use fabric softeners
Don't wash with cotton
Use less detergent
Learn more in our Ultimate Guide on How to Wash lululemon Pants, Leggings, Tops + Accessories.
You can also use a mesh lingerie laundry bag to further protect your lululemon leggings in the wash. We love this 3 Pcs Durable Honeycomb Mesh Laundry Bags for Delicates. It protects yoga pants, workout gear, and other delicate fabric clothing from getting snagged in the wash.
Use leggings for their proper use
lululemon leggings are made for specific uses like running, training, or yoga. If you wear yoga leggings to the gym, they are far more likely to train. Similarly, Align pants aren't cut out for medium impact sports.
When in doubt, choose a legging that is designed for your regular activities or is slightly more durable than what you intend to do. For example, if you want a basic pair of black leggings for daily wear, go for an Everlux fabric pant like the Wunder Train Tights. These leggings are designed to resist the high impact of weightlifting and gym use, which means they are less likely to pill during leisure wear.
Choose the right size
Customers who purchase leggings that are too small are more likely to experience pilling. While lululemon leggings are crazy stretchy, the fabric is not invincible. As it repeatedly over-stretches to a larger body size than it was designed for, the fabric can degrade and start pilling. Reference lululemon's size charts so you can ensure you are comfortable and fully covered.
To prevent pilling and ripping, be sure that your size selection allows plenty of give and a full-range of motion. Use this guide to Everything You Need to Know About lululemon Products (Sizing, Returns, Exchanges, Alterations, + Customer Service).
Be realistic about the lifetime of leggings
Sometimes pilling is unavoidable. Leggings can start to pill from extended use or regular wear over a long period of time. You can expect lululemon leggings to last for at least 1-2 years of regular wear. After that, pilling can happen more quickly because the fabric has stretched out and worn down.
Top 3 Best Pilling-Resistant lululemon Leggings
Unfortunately, some of lululemon's bestselling leggings like the Align pants are known for pilling over time. Use the strategies above to prevent pilling or choose these pilling-resistant options for longer lasting performance:
Wunder Unders are the perfect leggings for training and high impact workouts that cause a lot of friction in the legs. The thicker, sweat-wicking Everlux fabric is resistant to fraying. Everlux is arguably lululemon's most indestructible fabric that will last for years without pilling. These leggings are still buttery soft and lightweight, yet they feel thicker than Nulux or Luxtreme fabrics. This is the best option for high-impact sports, hiking, or women who tend to put a lot of wear-and-tear on their leggings.
If you need an ultra-stretchy legging for yoga that won't pill, these running tights perform surprisingly well on the mat. The extra flexible Nulux fabric provides unrestricted movement and lightweight coverage without risking any fabric fraying or loose threads. Just be careful not to snag them in the wash!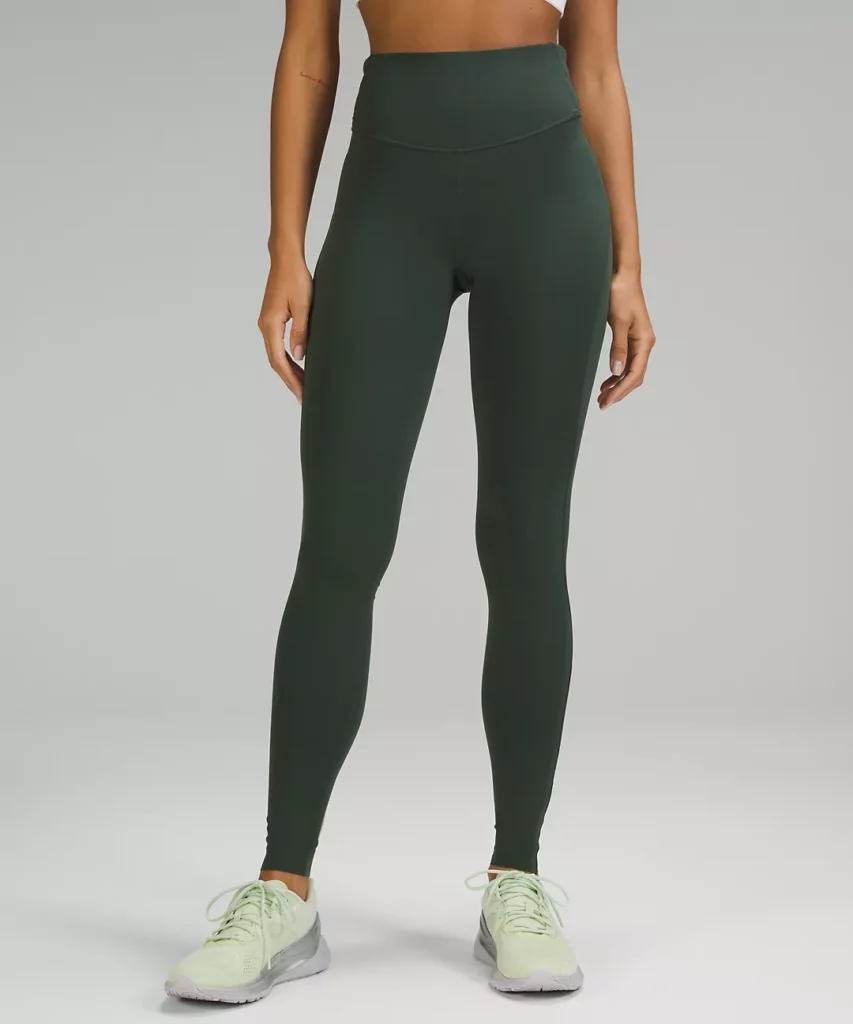 Lightest Pill-Free Legging:
Base Pace High Rise Running Tight
If you want leggings that feel as soft and lightweight as possible while still resisting pilling, these running tights are surprisingly long-lasting. The stretchiness and low-seam construction of these leggings is complimented by durable stitching and a shape-holding design. The Nulux fabric feels lighter than Everlux. As long as you wash and dry them correctly, these leggings should not fall victim to pilling.
lululemon's Response to Pilling Issues and Improvements Made
lululemon has always been committed to customer satisfaction, and they've taken the pilling concerns seriously. They've worked diligently to enhance their fabric technology and manufacturing processes, ensuring a higher resistance to pilling.
By continually refining their materials and providing clear care instructions, lululemon aims to deliver top-notch quality products that keep customers coming back for more. So, while pilling may still occur in some cases, lululemon's ongoing efforts have helped minimize this issue and maintain their reputation for high-performance, long-lasting athletic wear.
Key Takeaways: Prevent lululemon Pilling with Proper Care and Use
Whether you live in leggings or mainly wear them to yoga class, keeping them pill-free isn't rocket science. Our best advice for preserving the quality of your workout fabrics is to wash them as delicately as possible. Air dry and never treat with harsh heat or detergent.
You should also select fabrics that are specifically designed for the level of impact you most commonly do in your workouts. Worse comes to worse, you can always use a fabric shaver to regenerate the surface of your leggings.
May your yoga pants be soft, stretchy, and pill-free!
FAQ
Will lululemon fix pilling?
lululemon usually doesn't fix pilling, but their customer service is known for being understanding and accommodating. If you're experiencing excessive pilling, it's worth reaching out to them to discuss your concerns.
They might consider a return, exchange, or other resolution depending on the specific situation. Just remember, pilling is a common issue in most textiles, and sometimes, it's simply a matter of normal wear and tear.
How do I stop lululemon from pilling?
To keep your lululemon gear pill-free, follow these simple steps: First, use a fabric shaver to remove existing pills. Next, make sure to wash your items correctly by turning them inside out and using gentle detergent in cold water.
Avoid fabric softeners and tumble dry on low heat or air dry. Stick to the intended use for your leggings, and be sure you've chosen the right size to minimize friction. Finally, be realistic about the lifespan of your leggings—no pair lasts forever!
Namaste!