Are you ready to add a few yoga sets to your wardrobe? This guide will run you through the top three yoga sets available on amazon.com so that you can be up to date with the latest yoga clothes style and trends.
Choose between a sweaty vinyasa yoga set, a chic and sporty style or block color clothing that people will notice you in! It's important to read the details and find a set that would be perfect for you, but with these sets falling under $30, you won't hurt your budget trying a new set for your next yoga practice.
Quick Overview:
Best yoga clothes
Yogis these days are choosing to wear color-coordinating sets of yoga clothes with buttery soft fabric and invisible seams, to make them feel comfortable in their body! Not only do good yoga clothes promote a great yoga practice, they also allow you to feel comfort, peace of mind and to radiate a wonderful and vibrant aura! Whether you choose to wear these sets for your next workout, or a yoga class, you will be up to date with the current trends.
Yoga clothes in a set usually consist of matching sports bras and leggings, but you can also wear these yoga clothes items individually to bring variety to your wardrobe. Make your own rules, and wear the things that feel good on your body. Whether you stay with the matching vibe, or interchange your leggings and bras, your next yoga class should be focused on feeling good.
So let's take a look at some of the best options currently available:
The yoga set for the one who likes a sweaty vinyasa class
The QINSEN Workout Sets with high waist shorts is the best pick for those sweaty classes. With compression fabric keeping everything in place, you can move through your yoga flow and sun salutations without a worry. The material of the workout set is comfortable, has good stretch and is moisture-wicking so that you keep dry during your sweaty class.
The shorts and crop top look is popular on the market, with many brands offering a similar range. With the ribbed material and high-waist leggings, you can't go wrong with one of the QINSEN workout sets.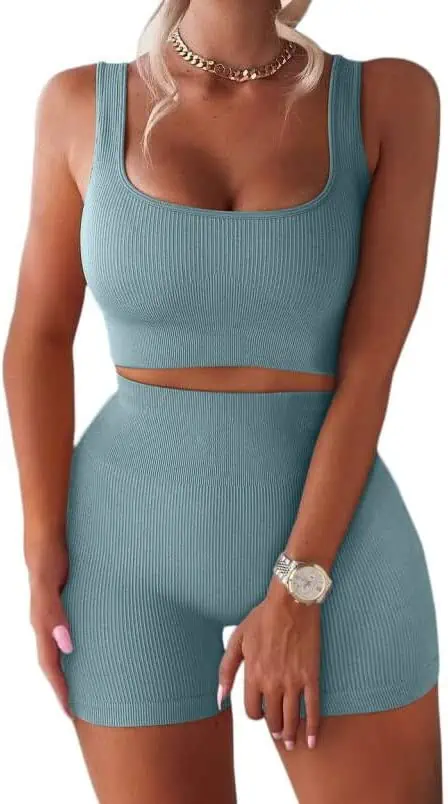 Pros
Moisture-wicking is great for a sweaty vinyasa yoga class
Focus on comfort and soft feel
Perfect ribbed material with high elasticity for tummy control
15 unique colors to choose from
Shorts are cool in the summer
Also suitable for everyday wear
Affordable set under $25
Cons
Thin material may wear through quicker
Reviews say that the top is better than the bottoms in terms of compression fabric
With cheap purchase comes cheaper material
The yoga set for the one who likes to look sporty
If you like wearing your workout clothing everywhere, then this is the solution for you! The Olchee Workout Set is a track style set with high waist leggings, compression around the waist so that they don't fall down, and good coverage with long, full length legs. They are guaranteed to squeeze everything in tight, making it a perfect choice for yoga sets that can double as everyday wear.
If you like wearing your workout sets to the supermarket, for a cup of coffee, as well as to pilates and yoga, then you'll look cool in one of these sets. Choose from their extensive color range for a style that suits you!
Pros
Great for a range of activities – lifting gym equipment, doing a yoga stretch, meditating to clear the mind
You'll be feeling firm in your body with the tummy hugging leggings
Colors focus on body contours, creating a chic look
Comfortable fit
Range of 15 colors
Cons
Very tight material, needs a little more stretch.
Size runs small – make sure to order a bigger size than usual.
The yoga set for the one who likes simple colors
Keeping things simple is sometimes the best choice. With soft workout gear, easy colors and comfortable leggings, the OQQ workout set is a wonderful choice for yoga classes. It looks casual enough to wear after class, but also elastic enough to provide comfort and flexibility for during a yoga class.
Pros
Super soft and comfortable material
Can double as yoga, workout wear or casual clothing
Unique acid wash design, differs from other major brands
Supportive ribbed contouring and padded cups in the bra
Cons
Runs on the small side
Does not have great tummy control
Does not stay in place so well
Only 4 colors to choose from
Frequently Asked Questions:
Are yoga sets better than regular yoga clothes?
It is important to choose yoga clothes that are comfortable for you regardless of what is in trend! There is no better or worse option when it comes to yoga sets, but they can be a great choice for those who want the simplicity of choosing an outfit within seconds that looks good together.
What is the best yoga set for sweaty vinyasa classes?
We all know how important it is to have comfy clothes that don't fall down during a sweaty yoga session. That's why the QINSEN Workout Sets make a great choice when it comes to fast-paced yoga classes. With compression fabric and breast and waist support, it's an easy choice to make! Choose from their amazing range of 15 unique colors too.