Are you wondering which lululemon fabrics are best for your yoga or workout routine? Do all those fancy proprietary blends live up to the hype? And do you have to go through a special care process to keep lululemon gear in good shape?
We did the testing and research for you. Here is everything you need to know about lululemon fabrics and the truth about their performance both on and off the mat.
lululemon Fabric Guide
From their buttery soft leggings to ultra-breathable sports bras, lululemon is the best-in-class for yoga and workout clothes. The Canadian-based athleisure brand prides itself in its technical performance fabrics that are specially designed for specific activities and use.
If you want to get the most out of your lululemon gear, start by understanding which fabric is best suited to your workout, lifestyle, and laundry routine:
Nulu™
Nulu™ is the iconic buttery fabric that gives you the ultimate "naked sensation" that Align™ legging fans rave about. Yes, it truly feels lightweight enough that you forget you're wearing them.
Nulu™ is soft enough to sleep in, yet provides enough coverage and stretch to fuel any yoga practice. In spite of its light compression and next-to-nothing feeling, leggings and tops made with Nulu™ are squat-proof and never see-through. This is the staple lululemon fabric for all things yoga.
Best for: Yoga
Our Top Nulu™ Picks:
lululemon Align™ High-Rise Pant 28″
The (wo)man, the myth, the legend: Align™ leggings are the most iconic lululemon product for a reason. The finely brushed Nulu™ fabric looks sleek and feels absolutely luxurious. These leggings are weightless, stretchy, and oh-so soft. They never dig into your stomach or feel restrictive during a flow. We especially love the minimal amount of seams and the sweat-wicking fibers… goodbye camel toes and sweat marks!
Pro Tip: For the greatest longevity and smoothness, NEVER use fabric softener when washing your leggings. The chemicals in fabric softener can strip the fabric of its sweat-wicking, buttery finish.
For more details on Align™ leggings, check out this complete guide to lululemon Align Leggings: Review, Guide + Best Align Leggings alternatives.
Groove Super-High-Rise Flared Pant Nulu
Enjoy all the stretchy, breathable, dreamy comfort of Nulu™ in a classic flare yoga pant. These pants are arguably more cozy and functional than the Align because they just feel so liberating. You can flow, sweat, stretch, and bend over without feeling like everything is on the display. They're soft enough for lounging, yet trendy enough for streetwear.
This super smooth light support bra has a classic racerback that stays in place without any restriction or digging into your skin. Since it's made with Nulu™ fabric, you get that buttery lightweight feeling along with shapeliness for the ladies. Just beware, this is not the bra for large busts.
Nulux™: What is lululemon Nulux fabric?
Nulux™ is Nulu™ on steroids. Imagine that the buttery, elegant Align yoga pant had a baby with the fast-drying Everlux™ Wunder Train shorts. Designed with the same airy "naked" feeling, Nulux™ fabric has a more robust construction for high-impact workouts.
The cross-knit fibers are made with a special technique that creates ultra-lightweight gear that stays opaque no matter how much you stretch and sweat. You never feel wet or weighed down. All Nulux™ products have a silky, cool-to-the-touch feel that can hold up to intense movement.
Best for: Training and running
Our Top Nulux™ Picks: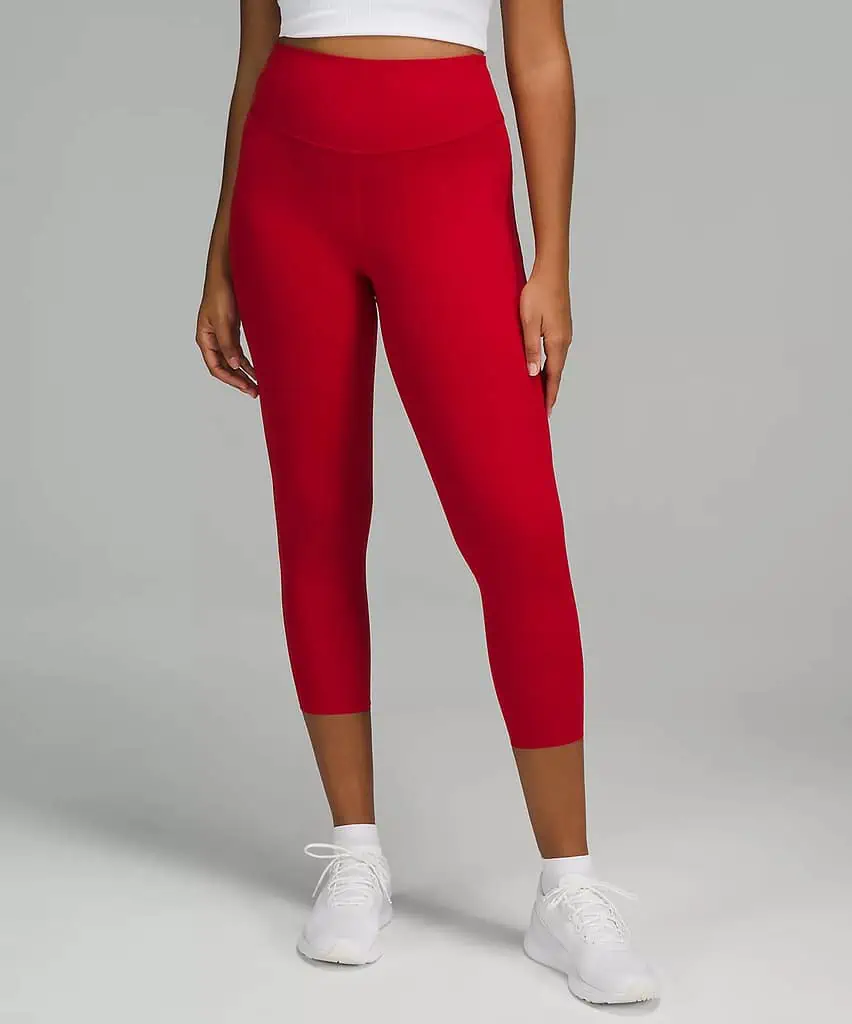 Made with runners in mind, these tights are the smoothest sweat wicking lululemon leggings for jogging. The versatile fabric is sleek and non-see-through. They include an inseam-free interior and easily cinchable drawcord. Compared to Aligns, they definitely hold up better in a regular wash cycle (though we recommend washing all of your Lulu gear on delicate).
Nulux Cropped Tennis Short Sleeve Shirt
A girly cut with beast-mode performance: This smooth sweat-proof top has a next-to-nothing feeling that is robust enough for tennis, running, and weightlifting. The Nulux fabric construction is naturally moisture wicking and breathable. We love the way this crop contours your body and pairs perfectly with a high-rise skirt or pants.
Luon®
Luon® is the original performance fabric that catapulted lululemon to success. Made specifically for bendy yogis, this fabric feels cottony-soft yet has the breathability of a synthetic blend. We love the four-way stretch of Luon® pieces because they allow for maximum flexibility on the mat.
Best for: Yoga or low-impact workouts
Our Top Luon® Picks:
Perfect for runners or yogis, this form-fitting layer can be tossed over a sports bra or tank anytime you're on the go. The streamlined silhouette looks chic, yet feels effortlessly flowy and lightweight. We love how the sleeves can be converted into hand protectors in chilly weather. The slim fit is also super flattering for any body type.
It's Rulu Run Cropped Half Zip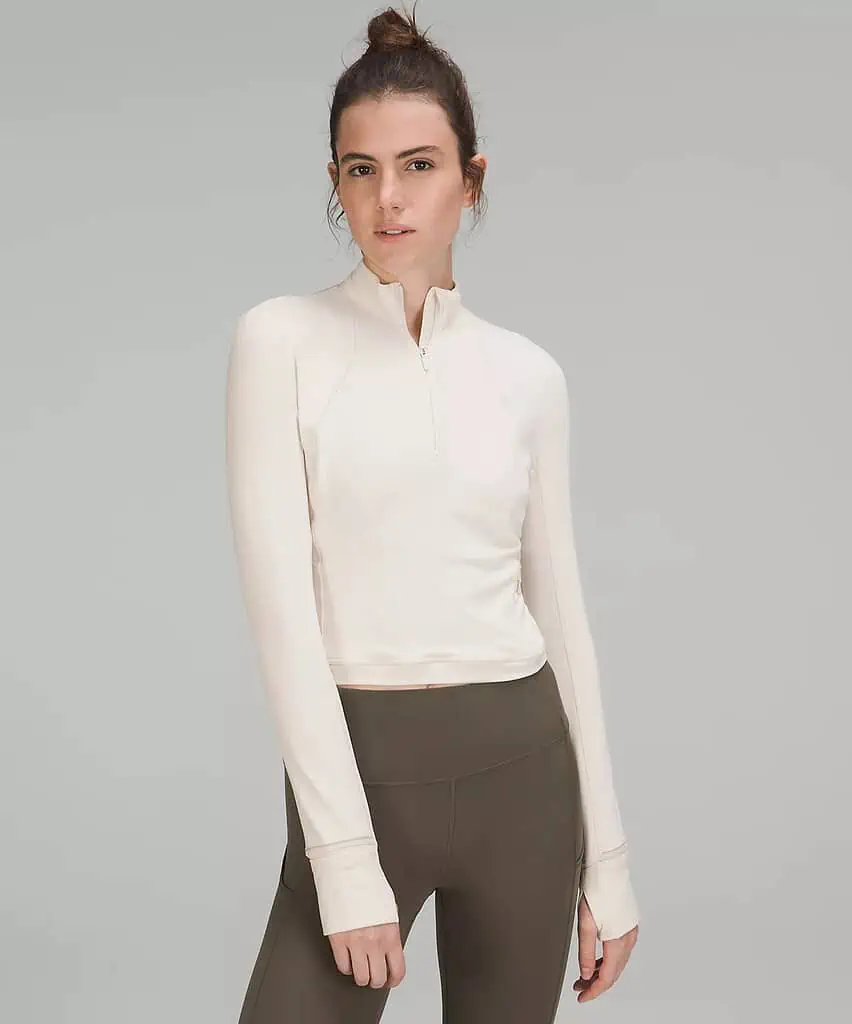 This modern running crop was recently replaced with Luon's very close fabric cousin called Rulu. It has the exact same stretchiness and cotton-like comfort, plus a warm yet quick-drying thickness that feels super high quality. As always, the Lycra® addition gives this piece the perfect combo of shape retention and body-hugging comfort.
Everlux™
For the hottest, sweatiest workouts, Everlux™ is lululemon's ultimate performance fabric. As you drip with sweat, this fabric somehow magically pulls it from your skin and keeps you feeling cool and dry. The lululemon design team literally worked with scientists, athletes, and designers to bring this fabric to life.
It looks trendy, feels super soft, and dries faster than any other fabric. No sweat stains, no puddles, no swamp a**, just lightweight coverage that feels cool against the skin.
Best for: Intense sweaty workouts and hot yoga
Our Top Everlux™ Picks:
Wunder Train High-Rise Tight 25″
These leggings are the fast-drying workout powerhouse staple for any fitness-lover. No matter how you move, these leggings glide with you and retain a dynamic shape. Not to mention, they look super flattering. The exterior has a brushed matte finish, while the inside of the leggings feels smooth and cool on your skin. The waistband always stays flat and there is a hidden drawcord to keep things in place during intense spurts.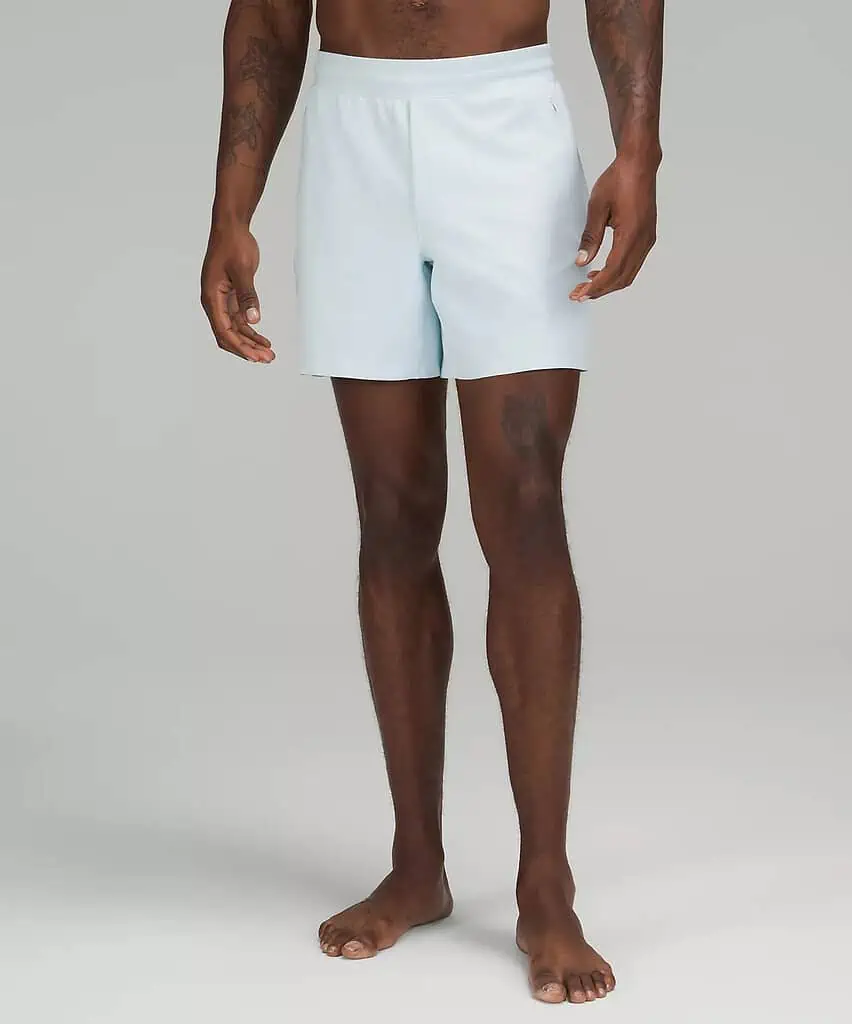 For all the hot yoga dudes (we mean guys who do hot yoga), these breathable and supportive shorts beat any other yoga shorts on the market. Thanks to the Everlux™ construction, you no longer have to worry about sweat stains or a swampy feeling during humid, blazing-hot yoga classes. The Balancer shorts have a slim tapered fit that keeps you covered without restricting your movement.
Luxtreme®
Luxtreme® is a high-performance fabric developed to withstand extremely sweaty, high-intensity workouts. It is notably similar to the Everlux fabric and holds up to wear and tear. The primary difference is that Luxtreme has interlocked fibers that provide more compression against your body.
If pilling drives you crazy, Luxtreme products are calling your name! This blend is also highly resistant to sweat, multiple washes, and high-friction movements.
Best for: Training and running
Our Top Luxtreme® Picks:
lululemon Energy Longline Bra Medium Support, B–D Cups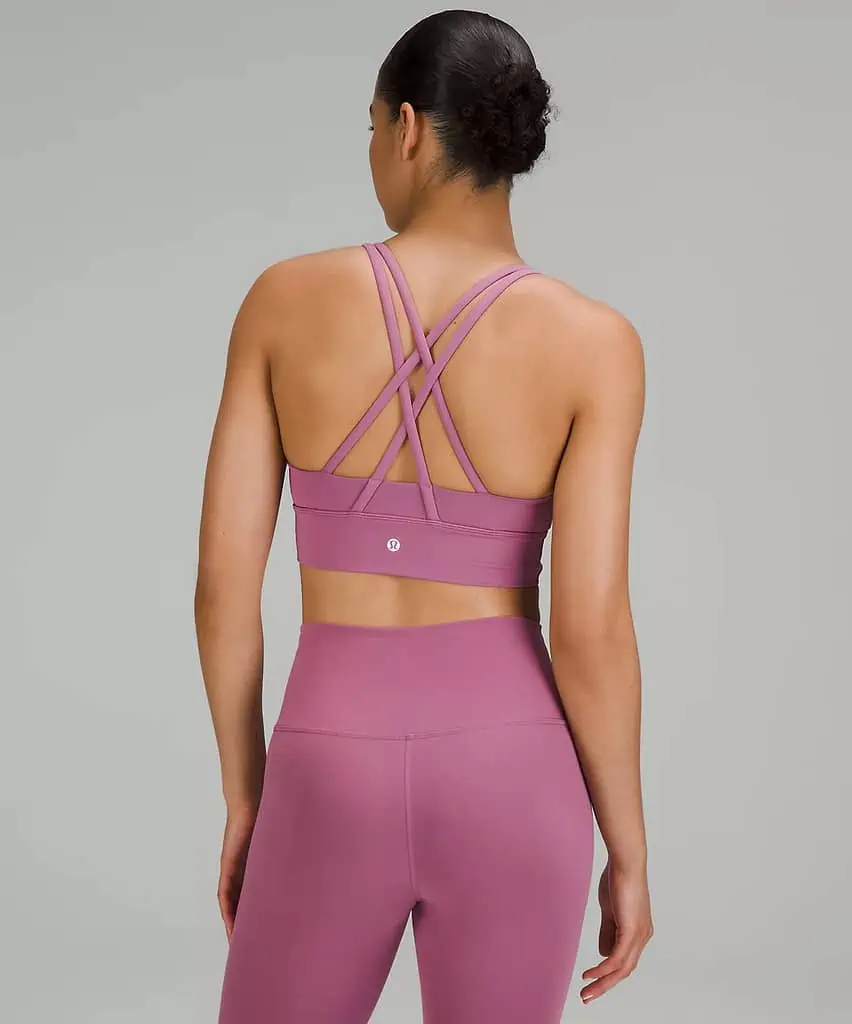 This is the sports bra that yogis and weightlifters could practically live in. The Luxtreme fabric construction ensures low-friction support and a slick feeling against your body. The bra is stretchy and moderately supportive for various sports and uses. We love how it fits B-D cups without the straps weighing down on your shoulders.
Made with Luxtreme fabric, these versatile joggers are relaxing yet chic. They have the same feel as lightweight cotton, but are way more durable and functional. The cooling blend effortlessly wicks away sweat and feels cool as you move. They even feature a buttery smooth Nulu lining on the inside of the waistband! These flattering joggers are great to pull over your Align shorts on the way to the studio or head out for a casual walk around the city.
Silverescent® Technology
If you feel like you stink all the time, Silverescent® is the lululemon fabric for you! They call this sweat wicking technology "the science of stink" because it prevents the growth of odor-causing bacteria.
Silverescent® is incorporated into most high-sweat Lulu products. It is typically mixed in with other fabrics.
Best for: People who sweat A LOT!
Our Top Silverescent® Picks:
Metal Vent Tech Midweight Half Zip
For men on the move, this seamless chafe-free zip-up keeps air flowing and stink away. The X-STATIC® Silverescent™ technology inhibits smelly bacteria from growing anywhere on the garment. We love the ventilation combined with the polished look.
Swiftly Tech Short-Sleeve Shirt 2.0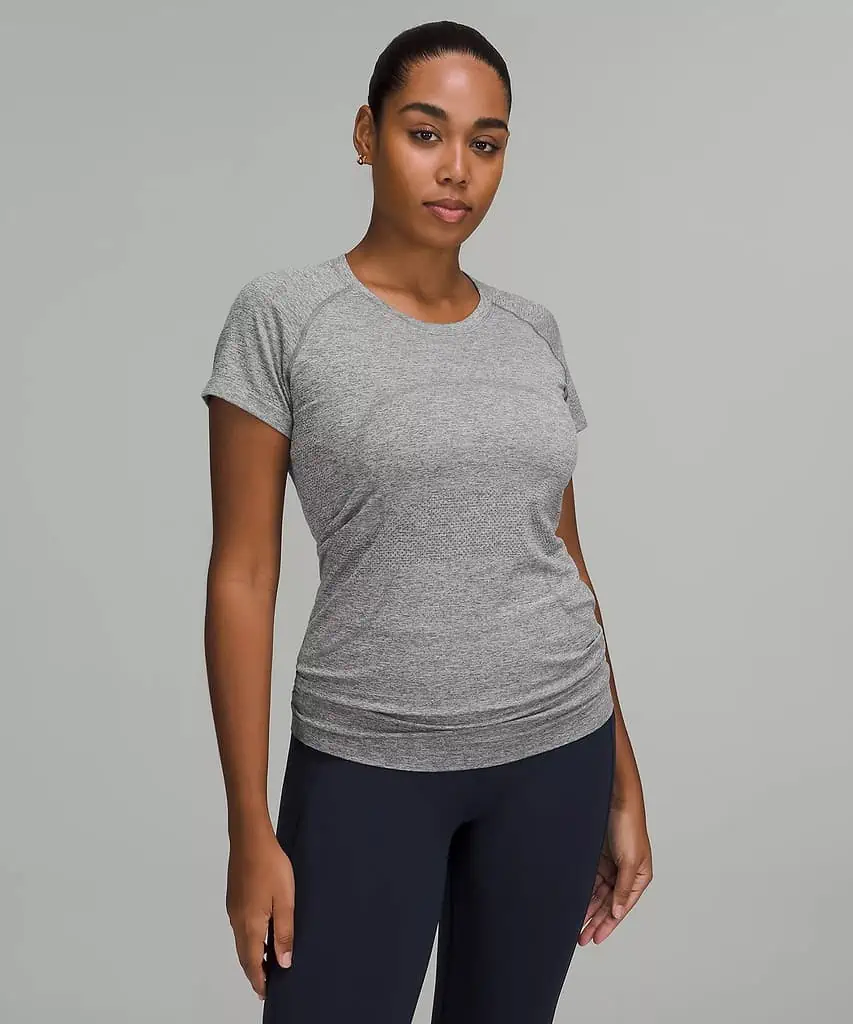 The only tee you'll ever need for high sweat workouts! This top is made with a seamless fabric designed for serious sweat without the stink. Thanks to the Silverescent™ infusion, you don't have to worry about odors.
Warpstreme™
Warpstreme™ is a durable fabric designed for casual wear. It is the backbone of lululemon's men's commuter line, including the ABC Jogger and chino-style Commission Pants. This versatile woven fabric feels as soft as super luxurious cotton, with more stretchiness, sweat wicking treatments, and wrinkle resistance.
Best for: Travel, office, commute
Our Top Warpstreme™ Picks: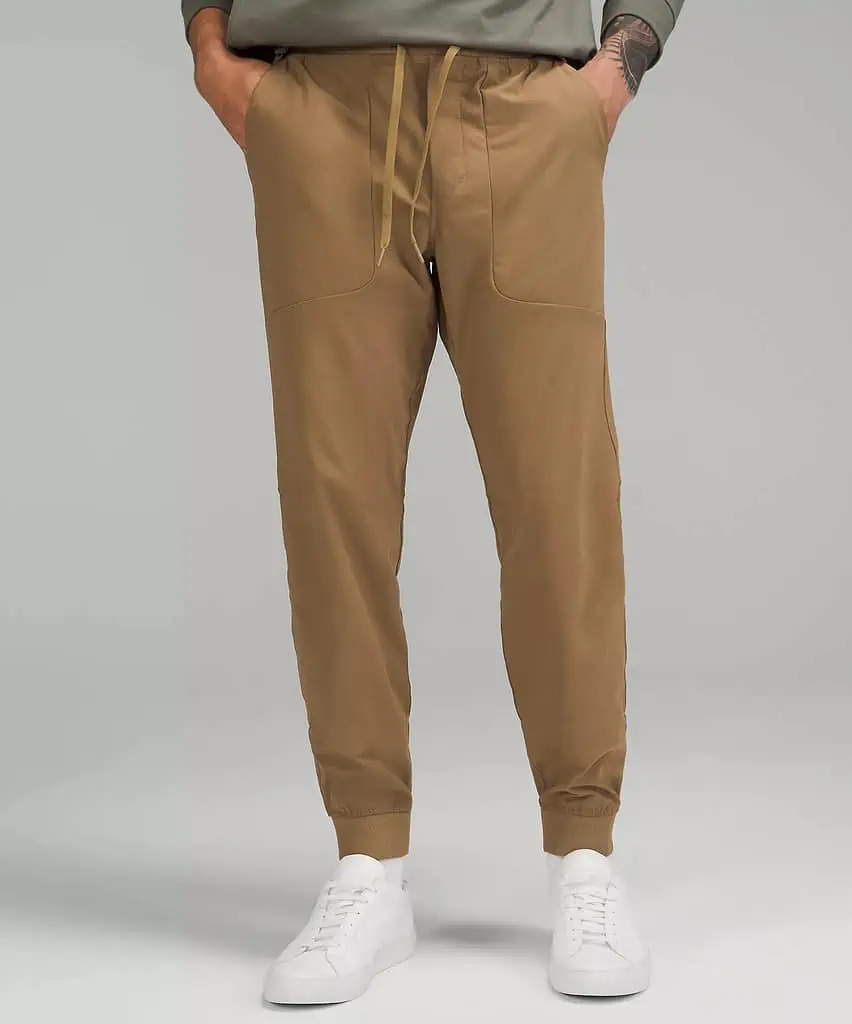 The ABC jogger is a bestseller for a reason: They look dressy enough for business-casual wear, yet it feels like you're wearing sweatpants. With lots of hidden pockets and a tapered fit, these pants are so functional you could wear them every day (in fact, my dad has 3 pairs on rotation for wearing to the office throughout the week). The Warpstreme fabric naturally repels wrinkles, dries fast, and feels cool to the touch.
Commission Classic-Fit Short 9″ Warpstreme
If summer bike commutes or urban public transit leave you sweating before you even step into the office, lululemon designed this men's line just for you. These chino-style shorts feel like classic running shorts, yet look nice enough to keep up with a professional agenda. Featuring Lulu's anti-ball crushing technology, these shorts are made with quick-drying Warmstreme fabric that never needs to be ironed.
Vitasea™
This newer Lulu fabric is made for lightweight layers and fashion-worth tees. Vitasea™ is a blend of Seacell yarn, Pima cotton, and stretchy lyocell Lycra®. Even after lots of washing and wear, this fabric remains one of the softest materials in our closet. While it isn't suited for intense workouts, it still has lululemon's signature sweat wicking capacity to ensure you don't have any pit-stains on your commute.
Best for: Travel, office, commute
Our Top Vitasea™ Picks:
The Softest Tee Ever: 5 Year Basic T-Shirt 3 Pack
It may look like an average t-shirt, but this fan favorite is made of the softest material you could ask for. It is breathable, stretchy, and perfect for all day wear. The trendy city prints like San Francisco and Chicago add a unique, ultra-soft punch to any casual outfit.
Swift
Last but not least, we have to talk about the most versatile lululemon fabric: Swift. This woven fabric is strong and light at the same time. A lot of the Swift product line includes jackets and transitional layers equipped with water-repellant and sweat wicking treatments.
Nice enough to wear on the go, this is a lightweight version of Warpstreme that also performs great in the gym or on a run. The Swift Ultra line has more stretch for a yoga practice, while the Swift Ultra Light is the best for warm weather running.
Best for: Training, office, travel, and commute
Our Top Swift Picks:
Hotty Hot High-Rise Lined Short 2.5″
These running shorts are delightfully airy and roomy. The Swift fabric is ultra-ventilated to ensure that you feel light as a feather. We love how these shorts can dual function in the studio or the gym thanks to the built-in liner for coverage and the easy-cinch hidden drawcord.
Designed specifically for weight training, these lightweight shorts provide plenty of coverage a split hem to keep you agile. The Swift fabric is like a lightweight version of a basketball short. Plus, they look nice enough to wear with casual pieces on the go.
Key Takeaways: lululemon Fabrics Have Real Science and Testing Behind Them
You can really feel lululemon's obsession with quality when you compare their different fabrics. There is true science behind these designs. When in doubt, check the recommended activities for each piece so you can figure out what will work best for you.
Many lululemon leggings, shorts, and tops are versatile for multiple uses. However, those with a more robust lifestyle will definitely want stronger fabrics like Everlux and Luxtreme that can hold up to intense workouts.
Namaste!