Contrary to the popular image of a fit female yogi in tight spandex, yoga is an ancient practice designed for every body: bigger bodies, taller bodies, petite bodies, round bodies, disabled bodies, old bodies, young bodies, and everyone in between.
If you've been looking for an access point into plus size yoga, we've got 7 tips for you from experienced plus sized yogis who have transformed their lives with this timeless practice.
Benefits of Yoga for Plus Size Bodies
Yoga is an inclusive philosophy centered around compassion and mindfulness. A regular yoga practice can benefit people of all shapes, sizes, and life experiences.
Whether you're trying improve your flexibility, reach new fitness goals, boost your self confidence, or just find time to relax and de-stress, yoga is most certainly for you. The benefits of yoga include improving your body's alignment and reducing the strain on your joints. It can also improve your balance, breathing, and mind-body connection.
Of course, yoga is also great for weight loss, but it can simultaneously help you feel better about your self image while learning to love all that your body is capable of. Best of all, yoga just makes you feel damn good: mentally, physically, and emotionally.
There are specific mats, props, yoga pants, poses, and tips that help accommodate yogis with bigger bodies.
7 Plus Size Yoga Tips for Beginners:
1. Create a Safe Space
Space is a word used often in the yoga world and it includes much more than physical space. You need to find a grounded headspace in which you can feel peaceful and focus on connecting your movements with your breath.
It is also helpful to create a safe space to practice yoga. In a home studio, that might mean sectioning off a private little area of your bedroom where you can practice in peace. Light a candle or use an essential oil diffuser to make it feel a little more sacred; a special time just for you. Use a book like Yoga Rising: 30 Empowering Stories from Yoga Renegades for Every Body by Melanie C. Klein to guide you in beginning poses, or follow along with a YouTube video.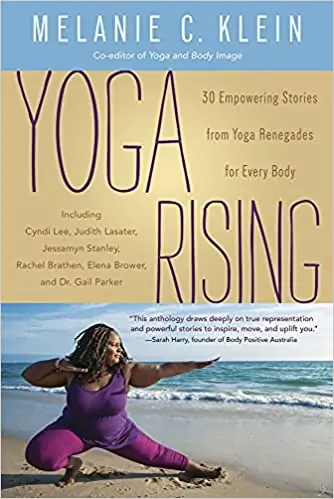 If you're in a yoga studio, try to arrive early for your first few classes and connect with an instructor that can guide you through your beginning practice. Make sure they are creating an inviting and comfortable space for you to let loose and enjoy your practice. Most importantly, never be afraid to take a break or leave the room if you no longer feel in the right headspace for your practice.
2. Start at Home
Unfortunately, some yoga classes may feel inaccessible to larger bodies because of the common stereotypes around thin, ultra-flexible yoga moms that regularly attend many studios. In reality, I've found the majority of yoga studios are very welcoming and nonjudgemental. Most people in the yoga community genuinely want to connect and lift each other up. If you're looking for plus size community, there are even "Fat Yoga Studios" specifically for bigger bodies and thick thighs.
That being said, there is no shame in wanting to start with yoga at home. This approach is less intimidating and more relaxing when you don't have to worry about judgement or comparing yourself to others. It is also pretty rewarding to create a safe happy yoga space in your home like I described above. This area can be a place of stress relief, workouts, journaling, and more.
There are many amazing yoga classes available online to help you begin a home yoga practice.
3. Purchase the Right Sized Mat
Many yogis don't realize that there are many different sizes of yoga mats. Sure, the so-called standard size is 24″ wide by 68″ long, but that doesn't mean it's a "one size fits all". In order to find the right yoga mat size for you, measure your dimensions and search for a longer, wider, or extra cushiony mat to make your practice more comfortable.
These heavy durable mats are best for extra tall yogis who are tired of their head or heels hanging off of standard yoga mats. Manduka is one of the most well-respected brands in the industry and delivers a top-of-the-line 6mm mat that is thick and supportive for bigger bodies.
Best Extra Wide and Extra Long Mat
Yoga Accessories Extra Wide and Extra Long 1/4'' Thick Deluxe Yoga Mat (Purple)
See latest price
As one of the largest yoga mats on the market, this super thick and supportive mat is a full 7 feet long and 3 feet wide so you can fully stretch out, regardless of your body size.
4. Find Comfortable Plus Size Yoga Clothes
With all the inclusive sizing improvements from prominent yoga brands, it has honestly never been a better time in history to be a plus sized yogi. You can finally find comfortable yoga pants that allow full freedom of movement and flatter those lovely curves!
Psychologists have found that wearing certain clothing can change the way we think and act. In other words, simply wearing activewear makes us feel more athletic.
Yoga is a mindful and zen practice that shouldn't be centered around looks, but we all know that it helps to feel good about our appearance in the modern day. If you invest in a cute yoga outfit that you really like, you're way more likely to put it on and actually do your yoga workout.
Here are some of our favorite plus size yoga pants, leggings, and tops that are available online:
Best Plus Size Cropped Yoga Pants
Core 10 Women's Spectrum High-Waist 7/8 Crop Yoga Legging, Rich Red, X-Small
See latest price
Swap the black for one of fifteen vibrant colors and patterns in these adorable high rise buttery soft leggings. The wide band waist is so comfortable and prevents any sort of muffin-top. They are available up to size 3X and 100% squat-proof so you can downward dog with confidence.
These Athleta's high waist joggers are perfect for any yoga workout because they are loose enough to move with you, but not so baggy that they get in the way. With a super flattering high rise cut, tapered leg, and curved seams, these pants look great on any body type.
Best Plus Size Boot Cut Yoga Pants
Danskin Women's Plus Size Yoga Pant, Midnight Navy, 3X
See latest price
If you're looking for a pair of yoga pants that you can also workout in or run errands in, these are super affordable, soft, and functional. The material is thick enough to pass as normal pants and they're breathable enough for a sweaty hot yoga session as well.
This tank was made for plus size women looking for luxuriously soft fabric that doesn't dig in or restrict your movement. It stays down and covers your belly in all your favorite poses. Plus, it is made with a thermoregulating, sweat-wicking fabric that keeps you cool and dry.
5. Find a Yoga Buddy
This tip is really simple yet profoundly effective. If you have a friend to do yoga with, it's so much easier to get on the mat and enjoy yourself. You can encourage each other and help each other with challenging poses. Whether you prefer yoga studios, video flows at home, or doing yoga in a park, a yoga buddy is your ticket to accountability and more fun.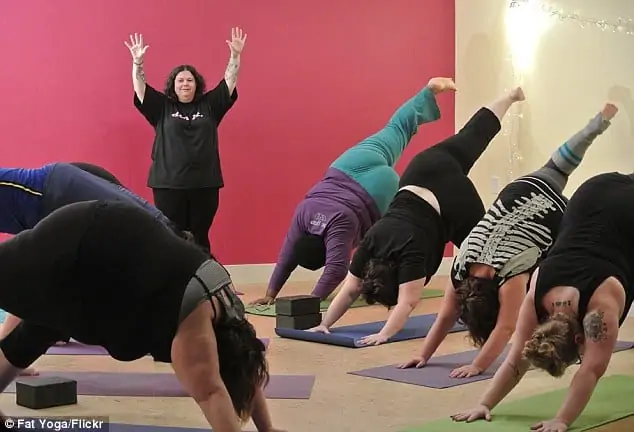 6. Remember, Keep Your Focus on You
There is a great story from Gary Vaynerchuk about how he used to be so embarrassed in high school when he had a zit on his face or [insert any other insecurity]. Then one day he realized that no one cared about his zit; they were all focused on their own zits!
This goofy metaphor perfectly represents what is happening in a yoga class: most yoga students are so focused on their own practice that they are not paying attention to you. They are trying to hold their balance or sync their breath with each movement, so they don't have the time or energy to judge your body shape or gawk at your downward dog.
When I realized this, it was pretty relieving. Everyone is focused on themselves during a yoga class. That takes a lot of the pressure off.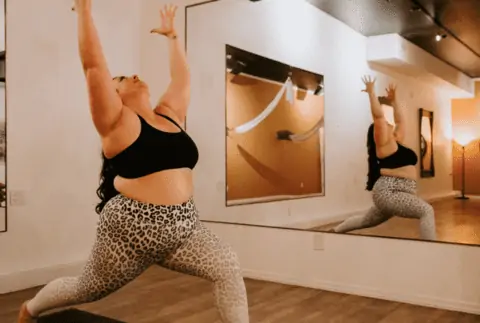 7. Celebrate Your Wins
Lastly, don't forget to congratulate yourself for getting on the mat at all. Even if your yoga poses don't look like the perfect photos you see online (mine definitely don't), celebrate the small improvements in flexibility, balancing, and mindset.
Remember, every body type belongs in the yoga community.
Namaste!