If you're a male yogi or fitness nut looking for quality gym clothes that can easily transition from sweaty workouts to casual wear, you're in luck.
For years, the yoga world has been dominated by women's activewear brands with a hefty price tag. But with an estimated 10M American men adding yoga to their workout routine, the need for high performance athleisure clothing options for men is more important than ever.
While brands like lululemon, Fabletics, and Outdoor Voices have brought technical fabrics and men's activewear to a trendy young demographic, a new brand called Rhone is taking affordable performance gear to the next level.
Here's everything you need to know about lululemon vs. Rhone, including sizing, pricing, quality, and our top picks.
What is Rhone?
Rhone Apparel is a men's activewear brand founded in 2014 by ex NFL employee Nate Checketts and former NCAA lacrosse player Kyle McClure. With roots in New Haven, Connecticut, Rhone was named after the Rhone River, which is a famous European trade route known for its simultaneous beauty and functionality. This philosophy is woven into every product Rhone produces. Their workout gear looks as good as it feels, with unparalleled functionality and comfort.
Rhone menswear looks trendy and sleek, yet feels lightweight and performs incredible. They use the best performance technology such as moisture-wicking fabrics, odor control, quick-drying fibers, and lightweight, well-stitched staples that will last for years to come.
This brand offers performance-driven athleisure clothing that is versatile enough to wear in the gym, in the studio, or on the go. Unlike many other workout gear brands, Rhone specializes in men's clothing and has quickly become a favorite amongst male athletes and everyday dudes looking for comfort and style.
Top Rhone Picks
Here are the top-reviewed Rhone products for men who like to sweat and move while still looking sleek.
Best Performance T Shirts:
This lightweight everyday tee is made of ultra sustainable fabrics, including organic pima cotton and recycled polyester fabric. While it may look like just a t-shirt, the sweat-wicking GOLDFUSION anti-odor technology in this tee is truly top notch.
Whether you're in a hot yoga class, lifting weights, or on a long-distance run, this classic fit tee won't show sweat stains or stink to high heaven. It's lightweight and flexible for use as an undershirt or casual day-to-day wear. The casual crew or v-neck style hugs your muscles without looking overly tight.
If man leggings aren't for you, but you still want to hit the mat, these sweat pants are super stretchy without looking feminine or tight. They are sustainably produced with recycled polyester, adjustable drawcord waistband and large pockets.
They're similar to Rhone's commuter pants, but with more range of movement and a cozy sweatpant feel that doesn't feel overly sweaty or baggy.
For men who like to move throughout the day yet still look super sleek at the office, the Commuter Pants are like a dream come true. They are super flexible and gusseted for extra mobility. The fit is easygoing enough for casual wear, but they still look nice enough to mistake as business-casual chinos.
While we you may not want to workout in the commuter pant, you can definitely wear them on a brisk walk or a hot day without worrying about sweat stains.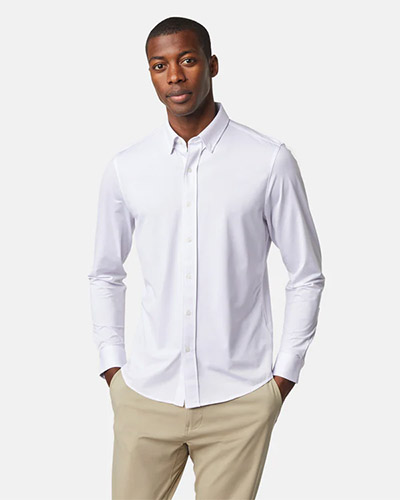 We love that Rhone dress shirts look fancy yet feel as laid back as a gym tee. This luxury dress shirt has unparalleled sweat-wicking fabric that is lightweight and naturally wrinkle-resistant. It has a streamlined, stretchy fit that keeps you free of pit stains or odors without looking baggy or unprofessional.
The Commuter Shirt features an Italian style athletic stretch fabric and hidden button collar, button-front styling, and tailored details.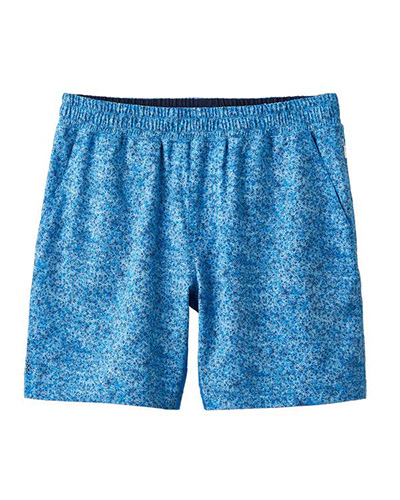 The Mako Short is truly one of the most versatile active shorts you'll find. Rhone says they're the only ones you'll ever need! And honestly, the reviews for these shorts hold up to their reputation. They are crazy soft, flexible, and super quick-drying. Great for training, yoga, running, and casual errands, these shorts are seriously lightweight without looking flimsy.
They include a media pocket for your phone and hidden zipper pocket for keys or credit cards. They're also available in a 9″ inseam and lined or unlined options.
These laid back joggers definitely give lululemon a run for their money (no pun intended). Though they ring up at a similar price point, these pants are more lightweight, sleek, and have larger pockets.
Perfect for running, lounging, or a yoga class, the durable French terry cotton has added spandex for stretch and shape. The pants come with a washed-down style and several color options.
What is lululemon?
lululemon is an iconic yoga and athleisure brand founded in 1996 in Vancouver, Canada. Known for their high-end women's leggings and sports bras, their expansion into menswear came in 2014 when men's interest in yoga really began to take off.
lululemon offers men's workout gear for everything from yoga to running to weight lifting to tennis, as well as casual clothes for streetwear. lululemon men's line includes pants, shirts, tank tops, boxer briefs, and accessories available in technical fabrics, stylish colors, and a variety of fits.
They are known for their attention to detail and ultra high quality products that are tested by top athletes and fitness icons throughout North America.
Top lululemon Men's Picks
When it comes to activities and fits, lululemon is a larger brand with a wider range of styles than Rhone. Here are our time-tested favorites:
Breathable and ventilated enough for hot yoga, this anti-odor tee won't stick to your skin or show sweat stains. Even better- it has a slim fit and polished look that can be paired with jeans for casual outings.
This lululemon classic men's tee has underarm gussets for added mobility and a silver-infused fabric that keeps the stink away. We especially love the high-end look of the curved inseam and heathered colorways.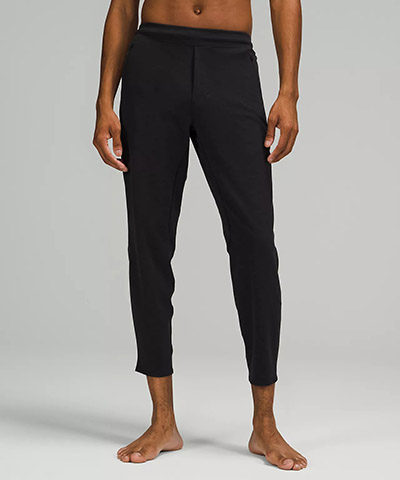 lululemon's Balancer Pant is by-far one of the best yoga pants for men on the market. It has a polished feel without looking too feminine or laid back.Perfect for hot, humid yoga classes, these quick-drying pants feel like wearing cooling sweat pants that let you move freely.
The slim tapered leg skims your glutes and thighs and lands right above the ankle for a full range of motion. They look great on most body types and have the extra comfort of an elastic-free waistband, gusseted crotch, and the super fast drying Everlux fabric.
lululemon's new expansion into casual button downs brings more options for business-casual style that still has all the performance features of athleisure. Similar to Rhone's button up Commuter pants and shirts, lululemon's Airing Easy line delivers breathable, sweat-stain-free fabrics for hot days at the office or commuting outdoors.
This shirt is designed specifically for men on the move that still want to look sleek and put-together. Pair with jeans, shorts, or even Rhone Commuter Pants for a cool casual look.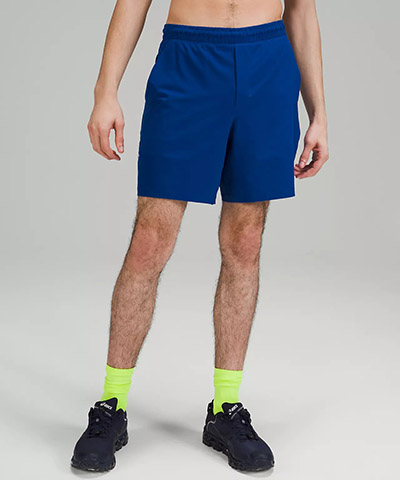 Comparable to Rhone's Mako short, the Lulu's Pace Breakers are the catch-all workout short for any sport, yoga, or gym session. They have zippered pockets, stretchy fabric, and extremely sweat-wicking properties. The lightweight fabric is swift and moveable. Plus, these shorts are a sustainable option with 100% recycled polyester!
They also really got down to the details on how these shorts feel and perform. The quick-drying mesh liner has a no-bounce phone pocket with a cord exit. Also available in 5″ and 9″ inseams, or a liner-free version.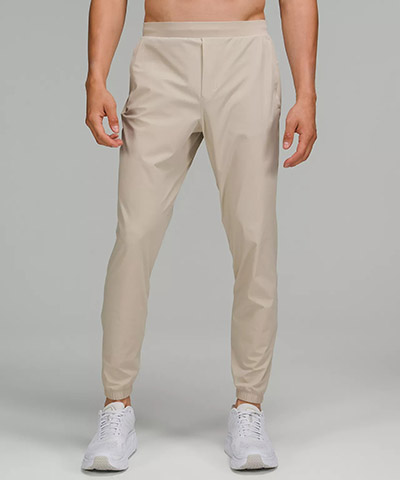 Feels like sweatpants, looks like casual dress pants? You can't go wrong! These lightweight joggers are made for jogs or running errands. The zippered cuffs make it easy to remove them after a warm up if you prefer to wear shorts underneath.
We love the crazy quick-drying fabric and four way stretch with added Lycra for shape retention after multiple washes.
Rhone vs lululemon
It's clear that both Rhone and lululemon offer similar athleisure clothing for men on the move. Here's a breakdown of the similarities and differences between the brands:
Style
Both Rhone and Lulu tend to cater to the modern preppy athletic male. Depending on your personal style, you may prefer the urban business style of Rhone or the sleek minimalist style of lululemon.
Target Customer
While Rhone is targeted specifically to men, lululemon offers both women's and men's gear. lululemon started as more of a yoga brand that expanded to a variety of sports and workout styles. Rhone doesn't particularly target male yogis, instead catering to the active, stylish male who enjoys training, golf, tennis, and business commute type gear.
While both brands offer options for practicing yoga, lululemon tends more toward the studio style while Rhone is better for a brisk walk through the city on the way to the office.
Price Point
Rhone and lululemon are fairly similar when it comes to pricing. Both operate in the luxury range of athleisure, with shorts ranging rom $50 to $75, pants from $90 to $120, and tops around $50 to $100.
Quality
Both Rhone and lululemon are also particularly known for their extra high quality materials and craftsmanship. Some say that lululemon's quality has gone down over the years as they've gotten larger. Some products are incredibly technical and high performance, while others don't feel as luxurious.
On the other hand, Rhone is still a fairly small company with extremely sturdy, thoughtful construction that remains consistent across products.
Sizing
Rhone generally fits true to size, however their t-shirts and underwear are known to be a bit more compressive. If you prefer a looser fit, it's best to size up. Rhone pants fit true to size, but the Commuter Pant can feel a little slim for more athletic builds.
lululemon actually runs a little large on mens t-shirts and pants, but they offer more options for waist sizes, adjustability, and inseams.
Sustainability
Compared to other brands like Nike and Old Navy, Rhone and lululemon are on track for more earth-friendly activewear. While they're far from perfect, both brands offer sustainable clothing options. Rhone gear tends to cater more toward the eco-conscious active male.
Shipping
While lululemon only ships to the U.S. and Canada, the Rhone brand offers international shipping.
In-Store Shopping
With over 600 global stores, lululemon is known for their superb in-store shopping experience as well as their user-friendly e-commerce platform. While Rhone operates predominately online, they have three pop up stores in Equinox gyms, Nordstrom, and select malls. They also have four stores: 3 in New York City and 1 in their home state of Connecticut.
Key Takeways: Rhone vs lululemon
In the world of cheap sweat pants and baggy gym shorts, finding quality yoga and workout clothes as a dude can be difficult. You want to be comfortable and free to move, but not feel sweaty, stinky, or "underdressed". Rhone and lululemon both sell technical, high quality gear at a luxury price point. At the end of the day, the best brand for you comes down to your style and workout preferences.
If you love yoga, go with the classic time-tested lululemon men's line. On the other hand, if you want sweat-proof, active feeling clothes that look good enough to wear to a business meeting, Rhone is the brand for you.
Namaste!
FAQ
Is Rhone better than Lulu?
When it comes to mens athletic gear, Rhone has higher quality and slightly more affordable pricing than Lulu. They are a smaller brand specifically catered toward men, whereas lululemon is a global brand that offers both men's and women's wear for yoga, training, and beyond.
However, it's harder to find Rhone in stores because they predominately sell online.
Is Rhone same as lululemon?
Rhone and lululemon are both athleisure brands, but they have different customers and clothing options. Rhone is a mens-only athletic wear online clothing brand that combines technical fabrics with sleek trendy styles. lululemon is a yoga and athleisure brand that has both men's and women's yoga gear, as well as clothes for training, sports, and streetwear.
What brand is better than lululemon?
Rhone is a top notch lululemon alternative for men who like to move. Whether you prefer running, yoga, golf, or gym training, Rhone offers technical gear that matches lululemon in style and performance, yet exceeds Lulu's quality and comfort.