These days, we basically live in activewear. Where cozy comfort meets function and style, yoga and athleisure gear has come to define casual women's fashion.
The rise of Lululemon fandom and a myriad of new athleisure brands offers an abundance of styles and tastes for everything from yoga to workouts to running errands to lounging with friends.
While most people think of Lululemon as the top-tier yoga wear brand, new kids on the block like ZYIA have taken the athleisure world by storm. This active lifestyle brand is rooted in community and women's empowerment. ZYIA leggings are now being touted as the "cheaper alternative to Lululemon", but do they actually live up to their big biz competitor?
These two Canadian brands have a lot in common as well as significant differences. The ZYIA vs Lululemon debate comes down to quality, style, brand culture, and very different business models.
We decided to dig into the history of each brand, how they differ, and which products truly deliver so you can decide which one is worth your hard-earned money.
What is Zyia?
ZYIA Active is a premium Canadian activewear brand centered around community and quality. In 2019, they became Canada's first direct sales activewear brand. They create clothes for men, women, and children to "embrace activity with excitement, vigor, and delight". They believe that exercising is more fun with friends and family around you.
Often referred to as "like Lulu but without the price tag", ZYIA is known for affordable yet luxurious leggings and activewear. Instead of selling physical stores, ZYIA is a purely ecommerce brand that relies on their brand representatives to build community and sell their products.
How did ZYIA get started?
ZYIA was founded in 2010 by husband-and-wife power couple Erin and Jeremiah Bradley. The idea first came to Erin on a snowy hike up a mountain with her close friends. At one point, she fell behind the group and found herself observing from a distance as her friends and acquaintances helped each other mentally and physically up the climb. She felt super inspired by the experience of women actively supporting each other in their journey to reach a goal.
These core principles of community fitness, female empowerment, and self-improvement define ZYIA's four pillars today: Community, Activity, Uplift, and Light. They aim to offer more than just ultra high quality activewear, but also a brand that enhances people's lives.
Instead of going the standard capital fundraising route, the entrepreneurial Bradleys decided to launch ZYIA with small investments from friends and family members. Starting from their living room, ZYIA has now grown to a massive company of over 300 employees, 40,000 sales reps, and 90,000 square feet of warehouse space. ZYIA Active operates in Canada and the United States.
In 2019, they decided to develop ZYIA's sales representative model to more closely engage with local communities instead of building storefronts or massive marketing campaigns. The ZYIA Active Rep program offers brand fanatics the opportunity to earn great commissions on selling Zyia products directly to their friends and family members.
Zyia works on a weekly limited release schedule every Wednesday, year-round. They are constantly releasing new products that are reviewed and promoted by their local reps in regions across the U.S., Canada, and Australia.
How to Pronounce Zyia
ZYIA Active is pronounced like Zi-Ya and rhymes with Maya. The name comes from the Arabic language and roughly translates to "glow" or "light". CEO and founder Erin Bradley's moonlit hike origin story was likely the inspiration for this name. The lunar-shaped logo is also linked back to this uplifting core.
Like the moon glimmering through a dark night sky during a mountain climbing challenge, the company remains adamant in their mission to spread positivity and light through fitness, community, and self-growth. Their sales rep program is specifically centered around rewarding self improvement and local involvement.
Where is Zyia made?
The majority of ZYIA clothing is made in China. The Canadian corporation uses direct sales (via ZYIA representatives) to market their internationally-manufactured activewear clothes. ZYIA Active says they ensure ethical and sustainable manufacturing practices in all their facilities, however the documentation for these claims is not openly available.
Where is ZYIA Active Located?
ZYIA doesn't have any stores. Instead, local reps sell ZYIA products on their own websites and in their communities by hosting Zyia parties and other events. All ZYIA products are shipped from their corporate warehouse in Salt Lake City, Utah.
What is Lululemon?
Basically synonymous with "yoga wear", Lululemon is the quintessential high-end athleisure brand that was founded by Chip Wilson in 1998. The Vancouver-based yoga clothing giant is associated with luxury quality, technical performance, and minimalist chic style. We dig into all the details of Lululemon's history and company culture in this article.
Lululemon offers mens and womens athletic gear, as well as loungewear, streetwear, and accessories. Their proprietary fabrics, extravagant shopping experience, and dedication to in-store community fitness events has earned them a "cult following" of yogis and fitness aficionados. Lovingly dubbed "Lulu" by brand devotees, Lululemon is among the most expensive and highly regarded athleisure brands in the world.
Here's Everything You need to Know About Lululemon Products (Sizing, Returns, Exchanges, Alterations + Customer Service) as well as The Best Lululemon Sales, Discounts and Coupons.
Lululemon vs Zyia
Since ZYIA rose to mainstream in 2019, many legging-lovers have speculated that Zyia leggings are equally as good or- daresay better?– than Lululemon leggings. Is that just because Zyia is cheaper or do they truly deliver on quality and functionality?
The Lulu vs Zyia rivalry has expanded into sports bras, running gear, and menswear, leaving so many people wondering which one is actually worth the investment. While they offer many similar products, these brands are remarkably different in so many ways. Let's explore all the Lulu vs Zyia details so you can decide for yourself.
Price
When it comes to dollar-for-dollar value, ZYIA is undeniably more affordable than Lululemon. Everyone knows that Lululemon sells some of the most expensive leggings and athleisure clothes that money can buy. Because Lulu is a luxurious and world-recognized brand name, their price tag inevitably reflects the exclusivity of their products.
ZYIA leggings look and feel a heck of a lot like Lulu leggings. They cost 20-30% less, usually ringing up to $60 to $70 per pair. They are predominantly purchased through Zyia parties or on Zyia rep websites, so the markup can be different depending on who you buy them from.
On the other hand, Lululemon leggings hang around the $90 to $130 range both in stores and online. Lulu is also known for their general lack of discounts. There are a few Lululemon outlet stores and occasional annual sales, but it can be difficult to find your favorite styles and sizes at a cheaper price.
The Price Winner? ZYIA Active
Quality
Lululemon and ZYIA Active have comparable quality in many realms.
Most avid runners insist that Lulu shorts are much better than ZYIA shorts. On the flip side, many loungers prefer ZYIA leggings to Lulu because of the compression and fit.
Avid yogis still lean toward Lulu leggings because of the impressive stretchiness, buttery feel, and curve-hugging fit of Lululemon's luxe premium fabrics.
When it comes down to it, Lululemon quality is rooted in their development of proprietary fabrics and obsession with performance. They get down to the thread-by-thread detail of every design, fit, and function. They even test their products in an in-house fitness lab to ensure that they perform for exactly what they are made for.
Shopping Lululemon is an all-around technical experience. Every article of clothing has a very specific composition and function for your workout. They are very forthcoming about why they design their products in specific ways and how it will enhance your yoga (or running or lifting) experience.
Lululemon products are designed to last for many years of use and they stand behind that promise. Most yogis find that Lulu leggings last for at least 2-5 years of regular use. Their Lululemon Guarantee ensures that you can get any product replaced free of charge if it doesn't last its reasonable lifetime.
ZYIA isn't as direct about the differences between their fabrics or collections, but they openly advertise their 4-way stretch, compressive, and copper-infused antimicrobial fabrics as key selling points.
Their leggings are undeniably stretchy and comfortable. The durability is harder to gauge because they haven't been around for that long. Some Zyia aficionados report wearing their leggings almost every day for 1-2 years without any signs of wear.
The Quality Winner? Lululemon
Zyia vs Lululemon Sizing
Most Lululemon leggings, pants, sports bras, and tops fit true to size. Zyia Active also tends to run true to size, but they recommend sizing down for a tighter fit in many of their low-compression styles. Understanding your fit with ZYIA can be a bit more confusing because their product descriptions are not as detailed as Lululemon.
Both brands offer sizing from XXS to 4XL. Lulu sizing can be a little more complicated to figure out because they use numeric sizes (0-33) for many of their products. Thankfully, their size charts are easy to follow and their exchange policy is generous, whether you order online or in-store.
Zyia leggings also use numeric sizing, but some sizes are listed in a range (for example size 6-8). Their products are mainly marketed through their catalog and rep service, which kind of acts like a personal shopper to ensure that you get the perfect fit. Your Zyia rep will work with you one-on-one to find the perfect fit, size, and style that compliments your body type and workout needs.
Zyia's size chart is fairly straightforward:
Zyia doesn't offer much in the realm of customizations. But Luluelmon offers in-store alterations and tailoring for free on all their products. Ultimately, both brands are fairly straight forward with sizing, but the fits of different styles are easier to understand through Lululemon's marketing techniques.
The Fit/Sizing Winner? Lululemon
Manufacturing Practices
Both Lululemon and ZYIA are manufactured abroad, primarily in factories in Asia.
Being a larger company, Lululemon has much more documentation surrounding their production practices. They have many checks-and-balances in place to ensure that they are not supporting unethical practices like child labor, human trafficking, unfair wages, or environmental harm.
ZYIA Active claims they practice sustainable and ethical manufacturing, however there is not much information about their suppliers available online.
The Ethical Manufacturing Winner? Lululemon, though both are predominately manufactured in China and other developing countries
Style
There is no denying that ZYIA Active and Lululemon styles look remarkably similar. Some have even wondered if they are made in the same factories and stamped with different logos. The flattering silhouettes, seams, vibrant colors, unique patterns, and accessory functions all mirror each other in many ways.
That being said, Zyia's vibe is definitely more playful than Lulu's chic, city-slicker feel. If you love ultra vibrant colors, modern silhouettes, and laid back fits, Zyia could be calling your name. On the men's side, Zyia is sporty and chill with a classy overtone. Zyia kids and juniors are equally cute and playful, reminiscent of the Athleta Girl line and in a similar price range.
On the other hand, if you gravitate towards the minimalist designer-feel vibe, Lulu's styles are nice enough to dress up or down. Their sleek fits and seasonal colors are seemingly always en vogue. Their men's lines are a little more on the preppy side, but equally handsome and functional.
Since Zyia is a direct sales company, they release new styles every single week, which gives you an abundance of fits, patterns, and colors to choose from at all times. Zyia focuses on women, men, and children equally, whereas Lulu mostly pushes toward their female customer base.
The Style Winner? Zyia Active
Performance
Lululemon founder Chip Wilson didn't get into activewear for the sake of fashion; he was most interested in technical performance gear that outlasted and out-performed everything else on the market. Of course, his obsession with quality details had to include functional style that looked good in motion.
As a brand, Lulu is undeniably focused on performance above all else. They put a lot of research and development into every new style, fit, and proprietary fabric. Their leggings feel seriously incredible on the mat, and their sports bras offer next-level support on every jog. Every stitch of Lulu clothing seems perfectly placed to ensure no slipping, rolling, chafing, or awkward flashing events.
ZYIA Active definitely offers performance-driven clothes, but their brand is much more centered around style and community. Zyia founder Erin Bradley openly shares her love of fashion and the community mission as the driving force behind their brand. They keep their product descriptions fairly vague and to-the-point, but that doesn't mean their gear lacks performance. Zyia leggings hold up on the mat, stretch and move with you, and are high quality enough to never be see-through.
When it comes down to it, both brands do what they are meant to do: enhance your workouts. We just find that Lululemon's technical gear is the most effective on the mat.
The Performance Winner? Lululemon
Zyia Activewear Review: Best Zyia Products
Since you can't try them on in stores, reviewing ZYIA Activewear requires a bit more of a jump. Thankfully, their local reps act like personal shoppers to help you find what's best for your needs.
Like we mentioned before, Zyia is constantly coming out with new products and styles. We decided to review some of Zyia's bestselling classics as well as new styles to see if they live up to the hype.
Zyia Bestsellers
If you're looking for the tried-and-true Zyia bestsellers, you may accidentally stumble upon a passionate fan base who will rave about these products. We were honestly pretty impressed with the quality and function reported about these pieces, all of which are under $70.
Flattering, gently compressive, fully flexible, and never see-through? These leggings check all the boxes for any casual or dedicated yogi. They feel like being naked, except with a flattering vibrant color and sexy silhouette.
The fabric is sweat wicking and the seams are durable for virtually endless washes. We love that this waistband never rolls or digs into your skin. These leggings are adaptive for even the wildest, deepest stretchy asanas.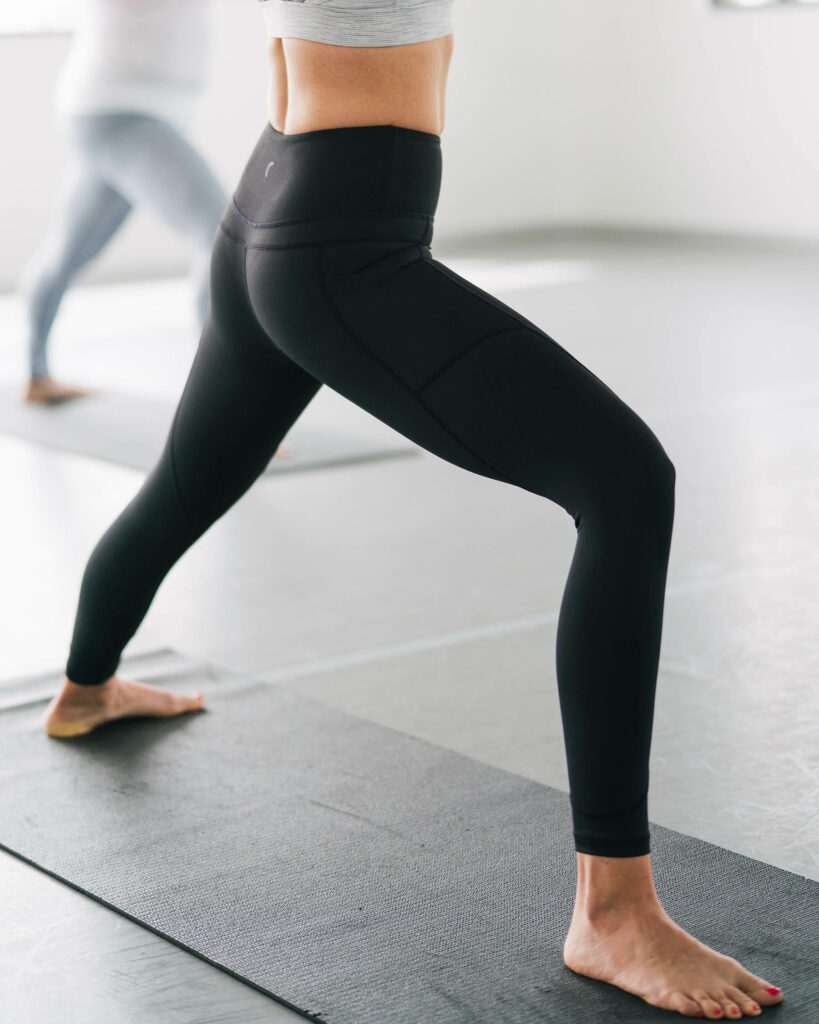 These high-compression leggings are supportive and feel delectable against your skin. Whether you're running a marathon, hitting the studio, or chilling on the couch, they truly are as comfortable as they look.
The stitching contour is flattering and includes seams that don't dig in. We love the compressive waist that stays put without rolling down. If you don't like ultra-compressive fits, size up on this pair!
When it comes to joggers, they need to hug or hang in all the right places for the perfect casual yet put-together look. The Black Grounded Joggers do just that by hugging your body with a front yoke and pleat style that flares into a relaxing cut.
The drawstring waist is easy to adjust and secure, even when your pockets are loaded down with keys or your phone. The lightweight fabric offers a 4-way stretch that is perfect to flow or chill in. This style is pretty relaxed, so size down if you want something a little tighter.
Easily one of the most supportive sports bras on the market, this high-impact, high-neckline bra is perfect for pretty much everything. It is buttery soft and full of mesh ventilated panels to keep the sweat off.
The zippered T-shaped racerback style keeps everything comfortably in place while you move. The bottom band is elastic but perfectly smooth so it doesn't roll or dig in. You can wear it under a top or on its own for a perfect worry-free fit during any yoga class or workout.
When it's super clammy outside or you're headed to a hot yoga class (and you don't feel like being half-naked), this breezy tank is the most ventilated, yet cute option around. It is loose, yet flattering. Cozy, but not baggy. The entire tank top is perforated with ventilated holes for a sweat-free experience. The polyester and spandex blend is made from recycled water bottles that wick sweat away from the body while keeping the airflow- well, flowing.
Figuring out what to wear to yoga as a dude can be pretty challenging. These lightweight, matte colored shorts have a no-roll waistband and perfect 4-way stretch. They fit loose enough to keep you comfortable, yet tight enough to stay in place. These shorts wick sweat away like a champ and have enlarged front pockets, a faux fly, and split hem on the quad for maximum range of motion. However, they are liner-free, so don't forget your base layer!
For those young yogis who still want to look cute and sleek while they get their flow on, these girl's leggings are comfortable and minimalist. They have the quality fabric of womenswear with the special modesty and sizing for girls. Ultra soft, sweat-wicking, and chafe-free, daughters can feel powerful and cute while they move.
Best Zyia Leggings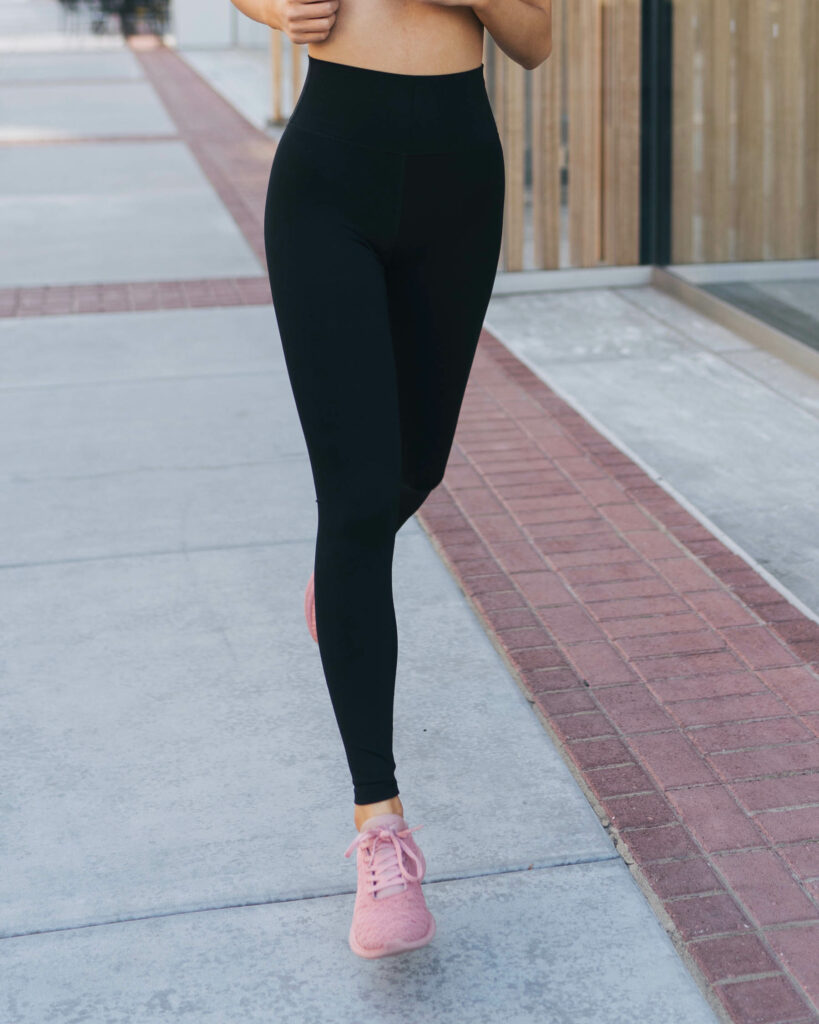 One of Zyia's best selling leggings, this staple product is the most versatile legging we've found. It has flattened seams and a high spandex composition for the stretchiest, loveliest feel. They have less compression than the Light n Tight line, and include a more structured waistband to prevent rolling down or a muffin-top.
The quick-dry nylon-based fabric is super durable and is seriously resistant to pilling and shrinking (read: you don't have to be so dang delicate when washing them, finally!)
One of Zyia's most popular crops, this legging is perfect for summer workouts or intense gym training. The firm compression is supportive yet super stretchy. It has a nice belly-button-skimming high waistband that stays in place no matter what. We love the vibrant colors that don't fade in the wash.
Are Zyia leggings worth the money?
After all this research and reviewing, you're probably still wondering: Is Zyia worth it?
We honestly think that Zyia quality and styles match their price tag. They deliver with maximum value, performance, cuteness, and an inspiring brand mission. Though their multi-level marketing ("direct sales") model may seem a little weird at first, there is nothing "pyramid scheme" about it. They simply use reps to sell their products rather than a normal ecommerce model.
The brand is truly worth trying out for any yogi or activewear lover. Their clothes are stylish and high quality. If you don't want to pay so much for Lululemon's styles, or you just don't associate with their brand image, Zyia could have your next favorite workout outfit.
FAQs
Is ZYIA Active a pyramid scheme?
ZYIA Active is an athleisure brand that utilizes a direct-sales business model to sell their trendy activewear. Because there is a physical product, it's not considered a ponzi scheme. However, the multi-level marketing setup relies on reps buying the product, marketing it to their local community via their own websites and Zyia parties, and then receiving a commission in return.
Is ZYIA as good as Lululemon?
ZYIA leggings are similar to Lululemon in many ways. The fit, feel, and functionality are mirror images in many regards. However, Lululemon is more focused on longevity and technical performance, whereas ZYIA is more about releasing trendy new styles on a regular basis. If you're looking for a more affordable Lululemon alternative, ZYIA is the way to go.
Is ZYIA worth the money?
At about 20-30% cheaper prices than Lululemon, Zyia quality and styles match their price tag. They deliver with maximum value for their products while holding true to their brand mission to inspire and uplift by making activity a fun and essential part of life.
Is Zyia made by Lululemon?
No, Zyia is not made by Lululemon. Both are Canadian brands, however Lululemon is a global giant founded in 1998 by Chip Wilson. Lululemon has stores across the world and a reputation for high-end luxe activewear. Zyia is a newer brand founded in 2010 that uses a direct sales model through local reps. Both brands offer similar yoga leggings and offerings for both men and women, however Zyia also caters to kids.
Closing Thoughts
In the abyss of new yoga brands and athleisure gear companies, Lululemon and Zyia both stand out with their unique mission and business structure.
While Lululemon strives for performance and in-store experience, Zyia focuses on inspiration and community.
Lulu is all about a streamlined online shopping or luxurious storefront experience, whereas Zyia excels in community-based direct sales channels and constant new releases in their catalogue.
At the end of the day, both brands are amazing on and off the mat. If you want to save a little money and try out something new, look for Zyia's adorable lunar-inspired logo to feel part of a familial vibe during your practice.
Namaste!