If you're dying for one of those adorable lululemon skirts but it just isn't in your budget, you'll be amazed by how close these Amazon alternatives come to the real thing!
Whether you're going on a hike, playing tennis, or running errands after a yoga class, a running skort is a summer staple for staying breezy and looking cute (without having to worry about flashing anybody).
Workout skirts are super versatile and effortlessly chill. You can slip it on after a sweaty hot yoga sesh and head to the grocery store with a sports bra and hoodie. You can toss you phone and keys in the pockets and head for at rail run. Or you can dress it up with a crop top and sandals for a casual lunch.
Here's our top 5 super cute, affordable picks:
5 Best lululemon Tennis Skirt Alternatives
Just like lululemon's best selling Pace Rival Skirt, Court Rival Skirt, and Hotty Hot Skirt, several cheaper brands offer built-in liners, handy pockets, and incredible ventilation for a flattering, comfy look on the go.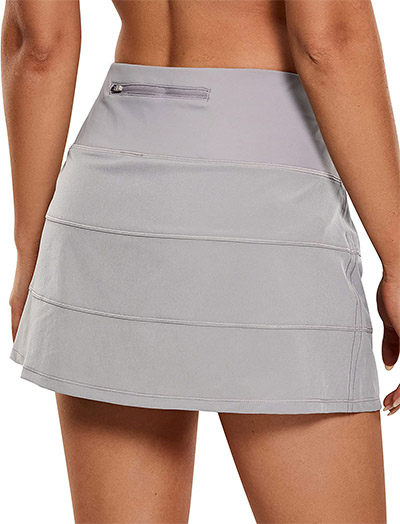 Best Pace Rival Mid-Rise Skirt Alternative:
#1. CRZ YOGA Women's Lightweight High Waisted Tennis Skirts A Line Athletic Workout Running Sports Golf...
See latest price
At less than half the price of the original, this tennis skirt from CRZ Yoga looks shockingly similar to the real thing and feels super high quality.
The A-line fit and layered pleats compliment your curves as you move. It has lightweight quick-dry fabric, mid-rise waistband, hidden drawstring, and functional pockets all around.
The built in spandex shorts mean you don't have to worry about wearing shorts (or even underwear) underneath. Whether you're running, playing tennis, at the golf course, or lounging, this sweat-free skirt is stylish and free-flowing for a cute, preppy look.
This skirt definitely gives Lulu a run for her money!
Pros
3 functional pockets
Quick dry fabric (88% polyester, 12% spandex)
Flirty pleats
Sweat-wicking
Super lightweight without being see-through
Built-in spandex shorts
Drawstring closure
Wrinkle-resistant
Flattering mid-rise
19+ color options
Cons
Waist runs large; size down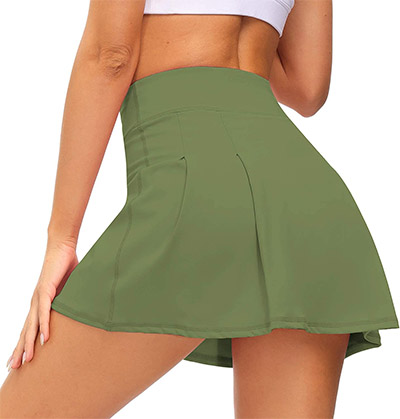 Best Pace Rival High-Rise Skirt Alternative:
#2. Loovoo Women's Pleated Tennis Skirts with Pockets Shorts Athletic Golf Skirts Activewear Running...
See latest price
If you're the type to always shop for the high-rise fit, this skirt will fit you perfectly. It has a curve-hugging silhouette and looks exactly like the Pace Rival skirt from lululemon, but with a higher waistband.
Though it lacks the back zippered pockets, it makes up for it with a hidden interior waistband stash for your key or cards. The lightweight, breathable fabric has a beautiful pleat with spandex inner shorts to keep you covered.
Pros
Smooth, breathable fabric
Super comfortable
Curve-complimenting cut
Long enough for modesty in golf or country club lunches
Leg pockets and hidden stash waistband
20+ stylish color and pattern options
Cons
No zippered pocket
Runs small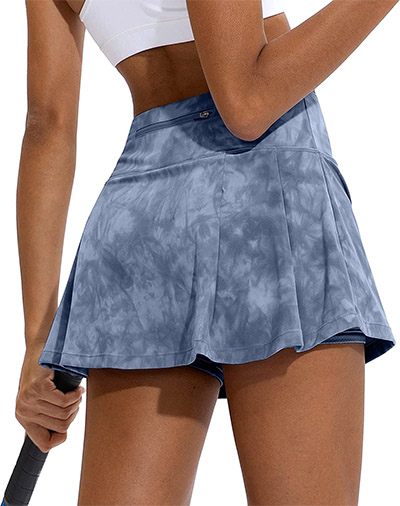 Best Court Rival Tennis Skirt Alternative:
#3. Soothfeel Pleated Tennis Skirt for Women with Pockets Women's High Waisted Athletic Golf Skorts...
See latest price
This classic court skirt ditches the pleats for a cute short flutter that looks almost identical to the Lulu version. We love that this pick is regularly on sale on Amazon and made of an ultra-soft lightweight material.
The mesh internal liner and built-in pockets are comfortable and functional for a full range of motion. The skirt feels lightweight and looks cute enough to dress up or down.
Pros
Lightweight material resembles Lulu Swift fabric (75% nylon, 25% elastane)
Back key zippered pocket and phone pocket in the shorts
Built-in spandex and mesh liner
15+ pretty color and pattern options
Cons
Not as high rise as lululemon
Short length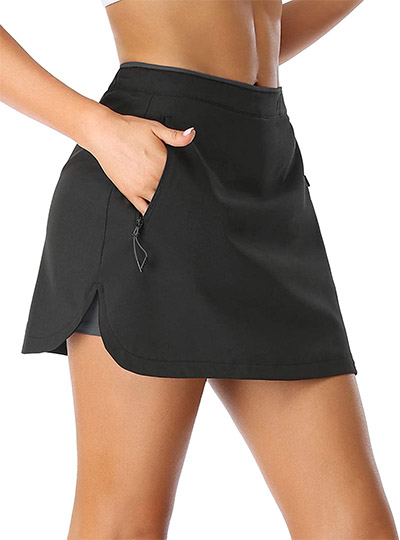 Best Hotty Hot High Rise Skirt Alternative:
#4. SEVEGO Women's Active Tennis Skorts with Built-in Shorts Side Pockets Mid Waisted Performance...
See latest price
If you're looking for a bit more coverage, this skort rivals Lulu's Hotty Hot High Rise Skort (Long). It has a nice silhouette and the perfect length for golf.
Although lots of Amazon clothes can have weird branding on them, we like that this skirt is free of logos and names. You don't have to flaunt lululemon or a random online brand.
Pros
Sweat-wicking stretchy fabric (95% polyester, 5% spandex)
Cute mid-rise design and flat waistband to prevent muffin top
Inner shorts stay in place
2 zippered side pockets
Cons
May need to size up for a longer length
Waistband is not stretchy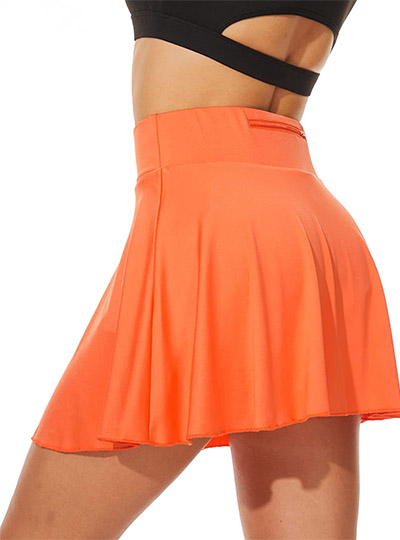 For ladies who want a more fluttery, lightweight feel, this pleated skirt is loose and flowy. It fits and feels almost like the real thing at less than a third of the price.
Pros
Preppy pleats with a flowy silhouette
Lighweight, sweat-wicking fabric (95% polyester and 5% spandex)
Built-in shorts liner
High waist fit hides your tummy
Elastic wasitband
Athletic golf style
Over 25 color and pattern options
Cons
May run small
Colors are sometimes different than shown