You can't go into any yoga studio or trendy fitness club these days without spotting someone sporting Lululemon. The Canadian athleisure brand has taken the yoga world by storm and earned itself quite a reputation for its luxurious workout gear and cult following fanbase.
Of course, their attention to next-level quality, scrumptious details, and brand recognition comes with a hefty price tag. Some of us hesitate before dropping $50 on a sports bra or $100 on a pair of leggings. Are they going to fit right? Can I return them? How long will Lululemon leggings last? What if they don't live up to all the hype?
If you're confused about Lululemon sizing, returns, warranties, exchanges, alterations, and customer service, I've got you covered. Lululemon is a brand unlike all the rest and their unique way of doing things can be a little intimidating for the uninitiated.
After years of indulging in high-end fitness wear, I've learned all the ins-and-outs of getting exactly what I pay for with Lululemon. And honestly, I've been pretty dang impressed. Whether it's your guilty pleasure or a regular investment, Lulu's yoga gear should perform both on and off the mat. Here's everything you need to know about Lululemon clothes:
Lululemon Sizing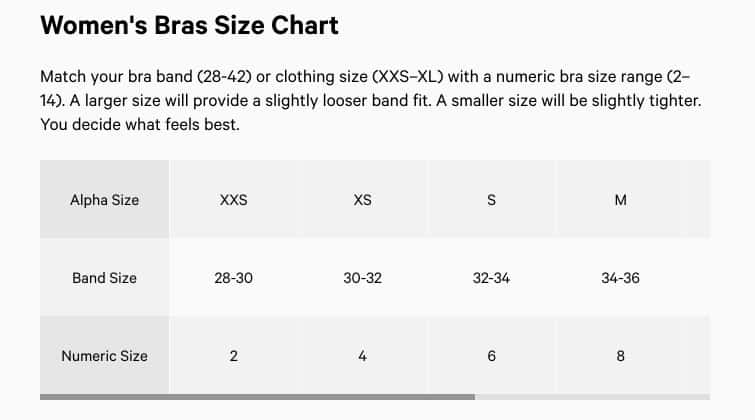 A lot of people are confused by Lululemon sizing because they operate on the old-school numeric size spectrum (size 2-12) rather than XS to XL. Some bottoms include size 0 and 14-20 as well. To make it a little bit more confusing, leggings are listed in the 0-20 sizes, whereas tops may be listed by numeric size (0-20) or alpha size (XS-XL).
Every product is a bit different due to the proprietary fabrics and unique silhouettes. That being said, Lulu's size charts tend to be quite accurate and most customers report near perfect fit when they properly take their measurements.
There is a separate size chart for bras, tops, shorts, socks, pants, coats, underwear, skirts, and swimwear so you can really get your size right. Here are the quick links:
How to Tell Lululemon Size
The easiest way to determine your Lululemon size is to buy a simple sewing measuring tape and take your measurements.
Sports Bra Sizing
Sports bras have a numeric size (2-14) as well, but the size chart helps you figure it out based on clothing size (XXS-XXL) and band size (28-42). They even have a bra quiz to help find the best size for you.
Measure your band size by wrapping the tape around the smallest point below your breasts.
Lululemon designs bras with the cup size in mind, but this is listed on the specific styles rather than requiring a measurement.
For example, the Energy Bra is designed for medium support of B-D cups, whereas the AirSupport Bra gives high support to C-DDD cups. If you're looking for E cups, you'll see a DDD label for the same fit, but with a different name.
Lululemon Tops Sizing
Tops are based primarily on chest or bust size. Wrap the tape measure around the fullest part of your bust to get this measurement. Then use your standard top size as a gauge. When in doubt, size up so you don't get squeezed out of your range of motion.
Pants and Leggings Sizing
Bottoms are sized based on three measurements:
Waist
Hips
Length (inseam)
Measure your waist by wrapping the flexible tape measure at the narrowest part of your stomach. Do this after an exhale and maybe even after a meal to make sure you don't accidentally measure too restrictive.
For your hip measurement, stand with your feet together and move the tape down right to the point of your hip bones. Wrap snugly all the way around the widest point of your hips.
Inseam length is the distance from your crotch to the tip of the hem. Every product has a different length and some have different options. Luckily, Lululemon offers complimentary hemming services for leggings and pants as well as many other products. So you don't have to worry about this one too much.
Remember that Lulu sizes are not necessarily correlated with your dress size or standard jean size in other clothing.
Lululemon Sizing Help
If you think you're between sizes or really can't figure out what fit will work best for you, I highly recommend using Lululemon's amazing customer service. You can book a complimentary sizing help video chat online or ask for in-store assistance to have a Lulu expert help you find the perfect fit.
The great thing about Lululemon is their attention to detail both in product design and customer service. They genuinely want to help you find the perfect fit and will go to great ends to do it. I've had customer service walk me through taking my measurements and finding my exact size during online shopping. In store, the experience is even better. So don't be afraid to ask for help!
How does Lululemon fit?
When it comes to fit, every product is a little different. Most Lulu customers report that Lululemon pants fit true-to-size. The Lululemon Reviews section of each product is usually the easiest way to tell, since reviewers are asked their "usual size" and "size ordered".
Do Lululemon leggings run big or small?
As a rule of thumb, Lulu tights, leggings, and tops fit true to size but joggers and sweats may run larger or smaller depending on how baggy or "relaxed" you prefer the fit.
For example, someone who wears a size 4 in jeans may need a size 6 in certain leggings like the Wunder Under High Rise Tight, but she may prefer a 4 in the Relaxed High Rise Jogger because they tend to run on the larger size. Similarly, many women in the size 10-12 range prefer a 12 for Wunder Under Tights and a 10 for joggers.
How do I know if my Lululemon leggings are too small?
Luxtreme and Luon fabrics are exceptionally stretchy, but should be matte-finished and squat-proof once on your body. If you can see partially through the fabric, it's best to size it up so it doesn't restrict your movement or reveal your lady parts.
You can stretch the Luon fabric width-wise with your hands to see if light shines through, which will show you what the sheen too-small fit may look like. Anything sheen or see-through when on is a sure sign that your leggings are too small.
Size Recommendations and Gifting Lululemon
If you don't have a measuring tape or you are buying as gift, you can also go off of the model size recommendations listed under each product.
For example, these Dance Studio Mid-Rise Full Length Pants are photographed on a model named Hayley who is 5'7" and wears a size 4. This method is not fool-proof, but may make it easier to gauge where you or the person you're shopping for fits on the sizing spectrum.
As you'll see below, the return policy is pretty generous and if you buy the wrong size as a gift, you won't have to sweat it. When in doubt, buy a Lululemon gift card. Gift cards never expire, have no transaction fees, and they'll love it just as much.
Lululemon Return Policy
If you ordered the wrong size, fit, or just ended up not loving your new gear, don't sweat it. The great thing about Lulu's return policy is that all newly purchased merchandise can be returned for free done in-store or by mail.
How to Make a Lululemon Return
Lululemon returns are really straightforward. Online, you can just use the self-serve return option. For in-store returns, bring your receipt and new gear. In both cases, your gear needs to be unwashed and unworn with the tags still on, otherwise they will not accept it. Swimwear and underwear have to have the hygienic liner still intact.
An online Lululemon return usually takes 3-5 business days to process whereas in-person returns are immediate. Don't worry, you can totally return items purchased online by bringing to a local store as well.
The return window is exactly 30 days after purchase. Lulu's return policy is generous during the holiday season: anything purchased between October 21 and December 24 can be returned or exchanged until January 23.
Final Sale Items
However, anything purchased from "We Made Too Much" sales are final sale and cannot be returned or exchanged. Most Lululemon outlet stores hold the same policy.
If you ordered a Like New product, you can return it via the Like New Returns Portal. The process is really simple: just enter your order number and last name to find eligible return pieces. Unfortunately, you do have to pay for return shipping in this case. 
Lululemon Exchange Policy
If you accidentally got the wrong size or color, Lulu gear exchanges can only be done in-person in a Lululemon store. If you want to exchange an item you bought online, you can do that in-store as well or simply return it and re-order.
Exchanges work very similarly to returns: you've got 30 days from the day of purchase, items must be unworn and unwashed, tags need to be attached, and you need your proof of purchase.
"We Made Too Much" items are still final sale and cannot be exchanged, so be sure to get the right size or you'll end up having to give them away or re-sell on Poshmark.
Lululemon Customer Service
Lululemon has some of the most responsive customer service around. Whether shopping online or in-person, you get a specialized experience from experts who actually know what they're talking about and seem really passionate about the product. I got fitted for leggings and sports bras at my last visit to a local Lulu store and was very impressed with the kindness and professionality.
Their new virtual shopping assistant is surprisingly helpful for sizing, styling, gift ideas, and other recommendations. You can also book a personal shopping appointment in your local store.
They also offer live chat, phone, and email customer service for questions that you can't find the answers to in their FAQs. The Guest Education Centre offers a quick and easy way to ask questions via live chat with Lululemon's Educators.
When does Lululemon restock online?
There are lots of rumors around the exact times and days that Lululemon restocks their gear options. Online, this is typically Tuesday afternoons or evenings around 6 PM Eastern. This is when Lulu fanatics have the best chance to jump on new products and sold-out items.
In stores, some say the same is true. Others say that stores restock 3 times a week (typically Mondays, Tuesdays, and Thursdays). But the truth is that every store is different. Maybe you can ask your fav local Lulu employee for the inside scoop.
Lululemon Alterations
Lulu's dedication to customer service and quality products is more than just talk. They actually back up their products with complementary alteration services at all of their stores. Yes, you can get your yoga gear hemmed or altered by a professional Lululemon tailor for free!
Here's how it works:
Try on pants or a top in store, or bring in a Lululmeon garment you've already purchased (no tags or receipt needed)
A Lulu educator will pin the hem right where you want it

If you need pants or leggings hemmed, they recommend bringing the shoes you want to wear with the outfit so they can get the hem length just right
Some items with special features can't be hemmed if they have cuffs, drawcords, buttons, zippers, etc.

Lululemon's professional tailors will hem it and you will get a "hemming receipt" to hold onto until you pick up
Your gear can be picked up in about 3-7 days depending on the store
Lululemon Warranty
Quality is at the core of everything Lululemon does, so it's no surprise that they offer a Lululemon Guarantee to backup their products. If something doesn't perform or last in its reasonable lifetime (for example, if your leggings rip within a few months of purchase), they'll take them back and replace them for you.
This sort of "Lululemon lifetime warranty" is actually called their Quality Promise. It's all about longevity and function, but the guarantee obviously does not apply to anything purchased in used condition or from their Like New.
Lululemon clothing is built to be durable and long-lasting in the activities it was created for: yoga, running, training, and sweating. With proper sizing and care, these products should truly last for many years of regular use. If there is some sort of error in manufacturing or a lower-quality garment, Lulu stands behind their products 100% and will replace it.
This is yet another reason why Lululemon fans are so passionate about this brand. They practice what they preach and back up their luxe price tags with real functionality and style.
How long do Lululemon leggings last?
On average, Lululemon leggings last for 2-5 years if cared for properly. Some women I know have even had their Lulus for nearly 10 years! Yogis and runners often brag about how durable their leggings really are. They withstand everyday wear and hold up to regular washes (as long as you wash them correctly).
The only reasons why a pair of Lululemon leggings wouldn't last for many years are: 1) they were washed or cared for improperly, 2) they were improperly sized to begin with and/or you experienced weight fluctuations that altered the fit, or 3) there was an error in manufacturing, in which place the Quality Promise comes into play.
Moral of the story? Wash your Lulu leggings cold or delicate cycle and low tumble or air dry. Avoid exposing leggings to anything sharp that could harm the durability of the fabric. And be sure to wear them all the time to enjoy the quality of the product for as long as possible.
Lululemon Reviews
Lululemon clothes have some of the best reviews you'll find for any athletic brand. From fit to style to feel to function, customers are usually raving in the review section of online products or in-person at the gym.
All you have to do is scroll down under any product listing or just ask anyone you spot with the signature A-shaped logo. Every woman I've ever asked, "were those Lululemon leggings worth it?" answered "honestly, they were worth every penny".
There's a reason they say "once you go Lulu you never go back". Cheap yoga gear just can't compare.
Closing Thoughts
At the end of the day, whether or not you have an extra chunk of change to drop on new yoga gear is a matter of personal choice. But if you do want to splurge or find a trusty pair of soulmate leggings to wear every day, Lululemon is the place to do it.
Worst case scenario, you don't like the fit or sizing and you can return them worry-free. If they're too long, you can get them hemmed. If they don't uphold regular use or start breaking down before the lifetime of the garment is over, Lululemon will even honor their warranty and give you a new pair. There's really not much to lose with Lulu! In my experience, they live up to all the hype and more.
Namaste!