Are you slipping and sliding around your yoga mat during a Hot Yoga Session? With the latest technology to cater to the rise in hot and sweaty yoga sessions, there has been a boom in hot yoga mat designs to take your yoga practice to the next level.
The Best Yoga Mat Brands
Alo Yoga, lululemon, Manduka, and Jade are some of the leading brands when it comes to yoga mats, but we have also found some high-quality alternatives that are available at affordable prices.
If you don't have the funds to invest in a new yoga mat right now, don't sweat it, simply scroll to the end of this article to find a few yoga mat alternatives such as grippy hand gel, yoga gloves, or hot yoga towels.
Our Top Picks:
For a quick overview, take a look at this list:
Why do you need a specific mat for hot yoga classes?
Here are the top three reasons you need a hot yoga mat for your next hot yoga class:
1. Sweat absorption
Well-designed hot yoga mats focus on being able to absorb sweat so that your sweaty hands and feet adhere to the mat rather than slide all over the place! This will not only make your class more comfortable (because you won't be swimming in a pool of sweat) but it will also help you to improve your yoga asanas and focus on the practice instead of the sweat rolling off your body.
You can use a yoga towel over your yoga mat to help absorb sweat, but sometimes the towels get in the way of a smooth-flowing practice.
2. Safety first
Making sure your mat is slip-free is also a safety measure. If you are constantly sliding off the mat, you are at risk of twisting an ankle or injuring a wrist in a simple pose such as a downward dog. Hence, most yoga instructors will encourage nonslip yoga mats in their studios. Not only will your alignment get better, but you'll be able to practice balancing poses without the fear of your hands slipping out from underneath you.
Non-slip mats also help to strengthen the small joints such as wrists and ankles as you will be able to build strength in these small parts of the body when you activate the correct muscles as cued by your teacher.
3. You'll notice the difference
Most yoga mats are a basic design to give comfort, cushioning, and sometimes a textured surface for better grip. But usually, the generic mats that you can find for a cheap price do not have the same grippy texture as a specific sticky mat designed for hot yoga.
If you are going to attend a class at a hot yoga studio, which is usually heated at around 30 to 40 degrees Celsius (that's 86 to 104 degrees Fahrenheit), you will notice how a hot yoga mat holds up compared to a normal yoga mat. Hot yoga is designed to provide a more intense workout and encourage you to sweat, so it will be worth taking up that floor space with your new hot yoga mat even if it is a bit pricey compared to other mats on the market.
What to look for in hot yoga mats
When choosing a new mat, you want to make sure it is eco-friendly and made from sustainable materials such as natural rubber or another type of recycled material. Yoga values union, which means that every little decision you make ultimately has an effect on everyone and everything around you. Choosing a sustainable yoga mat is a decision that supports the environment, animals, and other human beings too.
You also want to make sure it is extra grippy, but without any toxic additives or harmful chemicals. Some cheap mats will use chemicals to create a grippy surface, but when your face is on the mat each day, you want to be sure that what you are breathing in is healthy for your body. To help you make this decision, Oeko Tex is a governing body that can certify yoga mats that are good for you and for the environment. An Oeko Tex-certified mat must pass a certain criteria list containing around 100 annually updated test parameters for harmful substances, including AZO, DOP, phthalates, Bisphenol-A (BPA), lead, and dioxins.
Another helpful feature in a hot yoga mat is dual textured sides that allow you to use the same mat to absorb moisture in a sweaty practice but then flip to the other side for a soft textured surface during a relaxing yin yoga class. Of course, this is not essential but is a personal preference for many yogis.
Now, let's get into the best hot yoga mats on offer right now!
Alo Yoga "Warrior" Mat – the best for a yoga instructor
Alo Yoga has a long-standing reputation for being a high-quality and reliable brand for yoga students and yoga instructors alike. The Alo Warrior Mat is a top choice for a yoga instructor as it is known to be durable for daily use and has been rigorously tested over many years. The yoga mat is where the magic happens and this mat is great because it's roomy, perfectly cushioned for joint support, has anti-odor protection, is dry-wicking, and is slip-free in both wet and dry environments. It's also 100% formaldehyde-free, non-toxic and PVC-free, perfect for a clean practice and a peaceful savasana.
This mat is great if you have a physical practice in one physical location so that you don't have to lug all 8 lbs (3.6 kg) of it around to every class and studio. This is why we recommend it as a top choice for a yoga instructor, as they are more likely to be staying put in one studio, and also getting their money's worth of value from the expensive price tag!
Pros
Luxe, matte finish for style
Oversized design helps you stay on the mat
100% formaldehyde-free, non-toxic and PVC-free
The bottom layer is made with ethically sourced, premium, all-natural rubber
Choose from eight cool colors to match your mood
Long-lasting quality
It's what the pros use!
Cons
Expensive for a yoga mat
Heavy mat weighing in at 8 lbs (3.6kg)
Not suitable as a travel mat
The top layer is made of polyurethane leather (while vegan, it is still a plastic product so not 100% eco friendly)
Jade "Harmony" Mat
The Jade Harmony Mat is the most popular mat from Jade Yoga as it provides great traction and cushioning while still providing stability for standing poses.
Jade yoga is an eco-friendly company and the mats are made with natural rubber tapped from rubber trees which are a great and sustainable renewable resource. The company also plants one tree for every mat purchased creating a great incentive for the eco-conscious yogi.
Jade mats do not contain PVC, EVA, or other synthetic rubber, and are made in the United States in compliance with all US environmental, labor, and consumer protection laws.
They also have a really great 'giving-back' program, with $5 of your purchase being donated to a certain charity depending on the color of the yoga mat sold.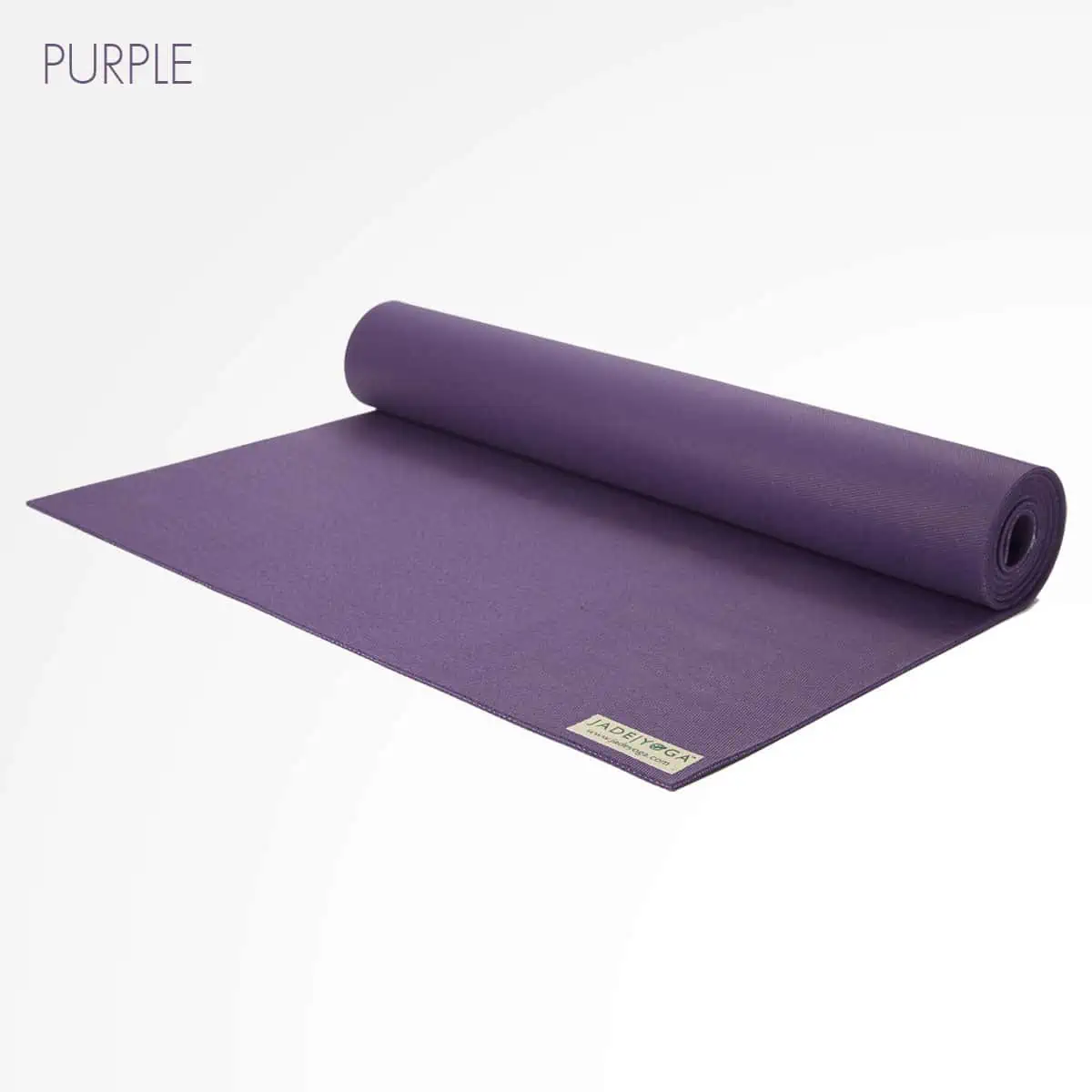 Pros
Comes in a variety of sizes (68″ – 74″)
A beautiful choice of colors including Purple, Midnight Blue, Olive Green, Black, Jade Green, Raspberry, Slate Blue, Tibetan Orange, Sky Blue, Pink, and Teal
Good grip for a hot yoga class
With every purchase, a tree is planted!
Eco-friendly and non-toxic making it good for you and the planet
Reasonable price for a good quality and reputable brand
Cons
Mat colors vary from the images on their website
Will wear quickly if used outdoors and in sunlight due to the use of natural materials
lululemon Mat – "The Mat" 3mm
lululemon's mat is made with natural rubber and a grippy surface layer to help you stay in place while you practice. The Mat 3mm has an innovative grippy top layer that absorbs moisture to help you stay grounded in high-sweat practices. They have also added an antimicrobial additive that helps prevent mold and mildew on the mat, making it more hygienic for your practice.
The good news is, that the mat is suitable for all yoga practices. With a reversible mat design, you can flip as needed between the smooth, grippy side and the cushioned, natural rubber side. Many yogis vote for the lululemon mat as one of the best yoga mats due to their reliable brand image and consistency in their products. Although 3mm seems like a very thin option for a mat, most users report that it is suitable for their personal practice.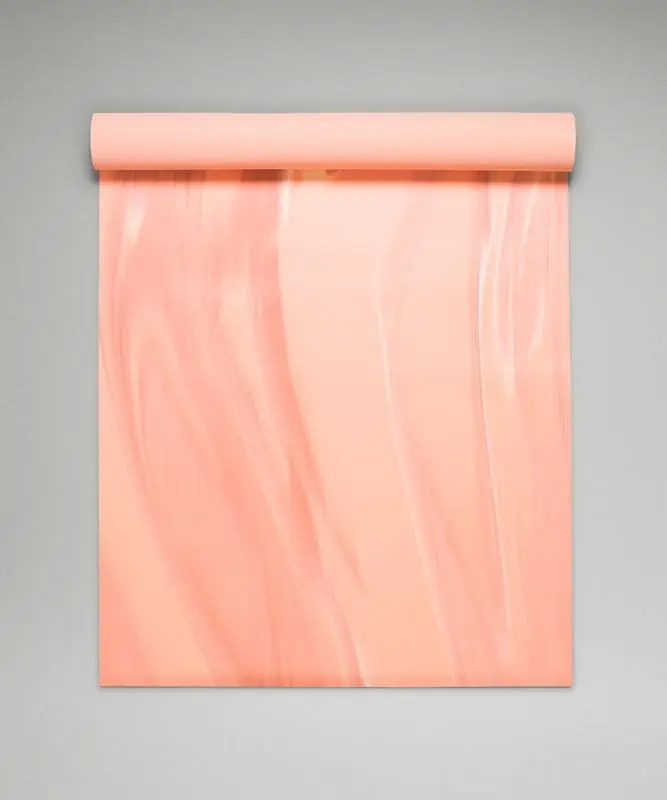 Pros
Reversible mat making it suitable for a hot yoga class and also a regular yoga class
Focus on extra grip surface making it a super nonslip yoga mat
Affordable price for a good quality mat from a reputable brand
Beautiful marbled color options
Cons
Contains Latex: People with rubber or latex allergies should avoid contact with this yoga mat
You should always ensure the mat is dry before rolling which can be tricky after a hot yoga session
Contains ammonium chloride (a possible a skin irritant) to inhibit bacteria and mold, but could cause a topical reaction
Smells strong for the first few uses
Manduka GRP Hot Yoga Mat 5mm
Manduka has a lot to say about its own mat, claiming that no matter how much you sweat, the Manduka GRP delivers supreme traction with no slip. With a leather-like surface and a charcoal-infused rubber core, this is their most innovative mat to date.
The GRP's core and bottom layers are made with sustainably harvested natural tree rubber. They are manufactured in a sustainable factory in Spain to ensure no toxic emissions are released into the atmosphere making the GRP good for the planet and your practice.
The only small difficulty with this Manduka mat is that it has a specific cleaning requirement. Mats designed to absorb moisture (the GRP Series) should never be treated with disinfectant as the liquid will be absorbed into the mat and then cannot be thoroughly cleaned out. Instead, use just the right amount of the GRP Restore cleaner and you'll be back on track. Luckily, the charcoal-infused center of the mat will keep your mat odor free.
The GRP varies from the Manduka Pro mat in terms of sweat absorption. The GRP absorbs sweat, whereas the Pro yoga mat has a closed-cell construction that seals out any moisture. Both Manduka mats are a great choice for yogis, so pick your preference!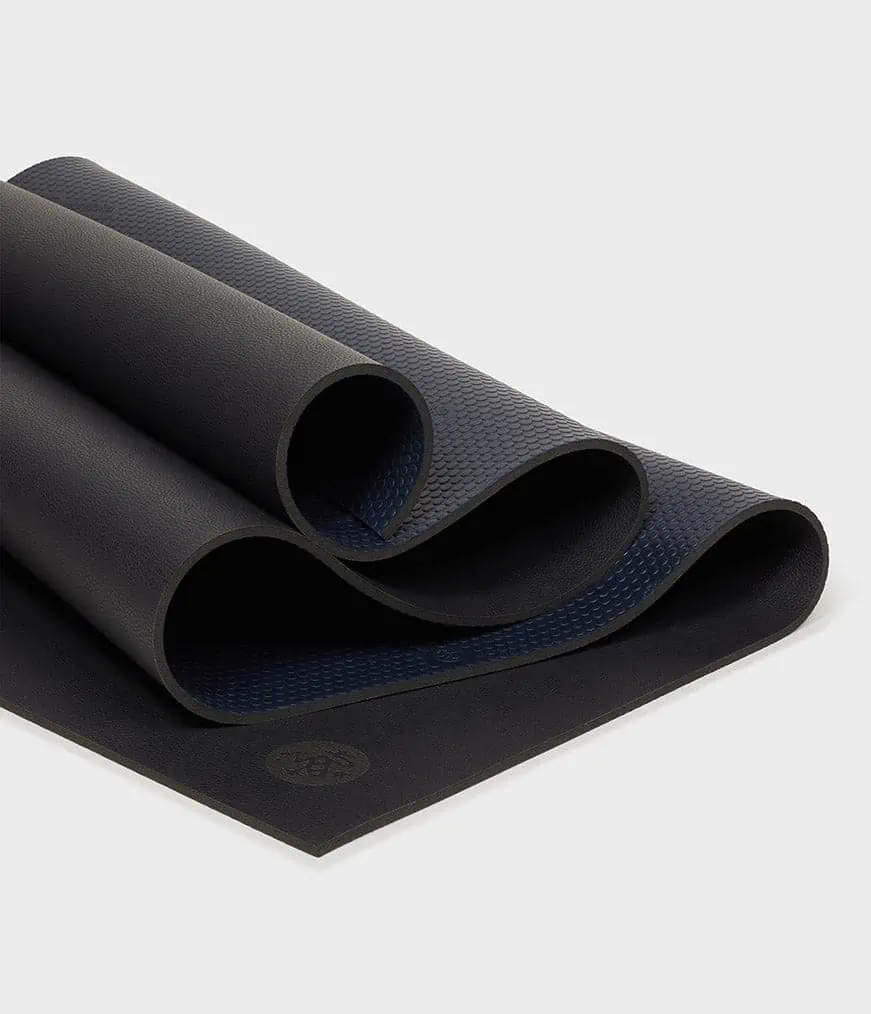 Pros
6mm thickness provides ample support and enough cushion for all poses
Rubber mat base with charcoal-infused natural rubber core absorbs sweat to eliminate odor
The innovative upper layer provides proven anti-slip control in all sweat conditions
Is a little lighter in weight than the Alo rubber mats
100% open airflow filters moisture immediately for the ultimate hot yoga class experience
Cons
Need a specific cleaning routine
Strong smell when new that can last for the first few weeks of practice
Best Budget Mat: IUGA textured and reversible mat
The IUGA Non-Slip yoga mat is a reversible mat with a textured surface. Although it is not a 100% rubber mat, it is made from eco-friendly material known as TPE (thermoplastic rubbers) which makes it both latex-free and a free-from-PVC mat.
The IUGA Mat will prevent slipping thanks to its double-sided non-slip design. This non-slip mat allows you to perform any movement with confidence. The exclusively designed "bone" pattern underside stops the mat from sliding on the floor.
It also benefits from being a very lightweight option weighing in at 2 lbs. This makes it perfect for travel while still providing the best cushion for under your joints.
Pros
Lightweight compared to a rubber or cork mat
A grippy choice for hot yoga, keeping your hands and feet in place
A cheaper option than other 'well-known' yoga brands
Reversible mat with a usable shape
Easy to wash
Latex free
Cons
TPE material is not 100% natural (contains plastic)
Not quite a dry-wicking surface, but easy to wipe with a yoga towel to remove sweat during practice
How to clean your Hot Yoga Mat
After a few sweaty sessions, it's known that your own mat can start to get a little smelly!
To ensure that you get the best life out of your yoga mat and that you keep it hygienic for human health purposes, here are a few tips for proper care:
Wipe your yoga mat with a damp cloth after each use.
You can use a spray bottle filled with water and a few drops of essential oils such as eucalyptus, tea tree, clove, or lavender to kill off bad bacteria and microbes.
Another option is to use a coarse salt soak on your mat to kill any bacteria and absorb odors.
You can also use warm water and dish soap, but ensure that you rinse it completely after soaping it up.
After washing, hang your mat out to air and let it dry completely before rolling it back up.
Hang the mat in the sun if possible, as the sun is a natural disinfectant (but for a maximum of one hour so that the strong sun doesn't deteriorate the mat).
Additional products to make your Mat grippy
If you don't quite have the funds to go all out with a new yoga mat, there are a few options that you can try to make your yoga mat more non-slip for your hands and feet during a hot yoga practice.
Manduka Yoga Grip Gel
The Manduka Grip Gel is a grip enhancer and evaporating gel that creates a moisture barrier between your skin and your yoga mat. This gel should be applied to your hands (and feet if you like) to help you stay in the perfect non-slip downward dog.
The texture feels dry and chalky on your hands, is never sticky, and is easily removed with soap and water. But, the downside is that if you aren't a fan of the feel of a chalkboard or terracotta, this product may not be for you. Its dry, chalky texture is what creates an excellent grip between hand to mat.
Pros
Cheaper than a yoga mat
Grip lasts a whole class
Easy to apply
Cons
The chalky feel may not be for everyone
Gaia M Grippy Yoga Gloves
Yoga gloves are another non-slip option that can even be used instead of a yoga mat! These Gaia M yoga gloves provide a non-slip surface anytime, anywhere to increase balance and stability in your practice. They are easy to wash, wear and travel with anywhere you go.
Pros
Can use gloves to do yoga without a mat
Easy to travel with instead of a mat
Lightweight
Easy to wash and wear
Cons
May get a little sweaty on your hands in hot yoga
One size fits most (not very specific)
Yoga Mat Towel
A yoga mat towel is another great option that can potentially extend the life of your yoga mat while also reducing the chance of your hands and feet slipping (especially important in hot yoga classes).
The idea of a towel is that it absorbs sweat and acts as a "sticky" surface after your mat gets sweaty. You can use a mat towel or fabric mats over the top of any traditional yoga mat.
The YogiToes Skidless towel by Manduka is a great option.
Pros
Easy to wash
Lightweight to carry with you to yoga
Cheaper to use as a non-slip option than buying a new mat
Extends the lifetime of your yoga mat
Cons
An extra accessory to carry
May bunch up during fast vinyasa classes
Frequently Asked Questions:
Can I use a regular yoga mat for hot yoga?
Yes! You can always use a regular yoga mat during a hot yoga class, but the grip and non-slip qualities may not be as good as a mat that is specifically designed for those sweaty hot yoga sessions.
What are the main qualities that differentiate hot yoga mats from normal yoga mats?
Hot yoga mats have more moisture-wicking properties, can absorb sweat better, are usually non-slip for both wet and dry environments, and are created to be used in heated environments.
Some hot yoga mats will be double-sided, with one extra grippy side for hot and sweaty yoga, and one smooth side for yin or hatha yoga styles (the more gentle yoga classes).
What are the nonslip yoga mats made from?
Most nonslip yoga mats are made from rubber, as it is a natural non-slip surface. But some add chemicals or other substances to help with moisture absorption and to create a grippy surface. It's best to check each individual brand, particularly if you have any allergies to latex or rubber, or other common chemical additives.