Do you want to salute the sun from a mountaintop? Or kiss the earth in the depths of the forest? Heighten your practice with an outdoor yoga mat so you can take your asanas on an adventure! on a
You might be wondering why you need a separate yoga mat for outdoor yoga sessions, and although it's not completely necessary, it is 100% worth it. Outdoor yoga mats are built to sustain tougher grounds, resist rips and tears and be more hygienic with easy-to-clean surfaces.
There is a great debate about which is the best yoga mat for outdoors and that will come down to personal preference. That is why we have chosen a few yoga mats from a range of brands and got the latest info from a number of yoga instructors to help you find the right yoga mat for you! Get ready to roll out your new yoga mat and head outside for your practice.
What are the benefits of doing yoga outdoors?
Taking your yoga practice outdoors allows for the following benefits:
Scenic yoga spots
Fresh air in your lungs
Fewer distractions than being in a city or yoga studio
More space to move and flow at your own tempo
Your music can be the sound of the birds
You can soak up the negative ions and the benefits of Forest Bathing
Get grounded quicker
Be at one with the elements
Why do I need an outdoor yoga mat?
An outdoor yoga mat is generally more durable compared to most yoga mats. If you want to get outside and practice on dirt, rocks, wet grass, or other uneven surfaces, you want to make sure that your yoga mat will last for a few outings!
An outdoor yoga mat will also be designated for the outdoors compared to your standard yoga mat indoors. This will help to keep any remnants of outdoor use outside and a clean studio or home practice space inside. This will create a long-lasting yoga mat in both instances so that you can practice yoga poses for many years to come.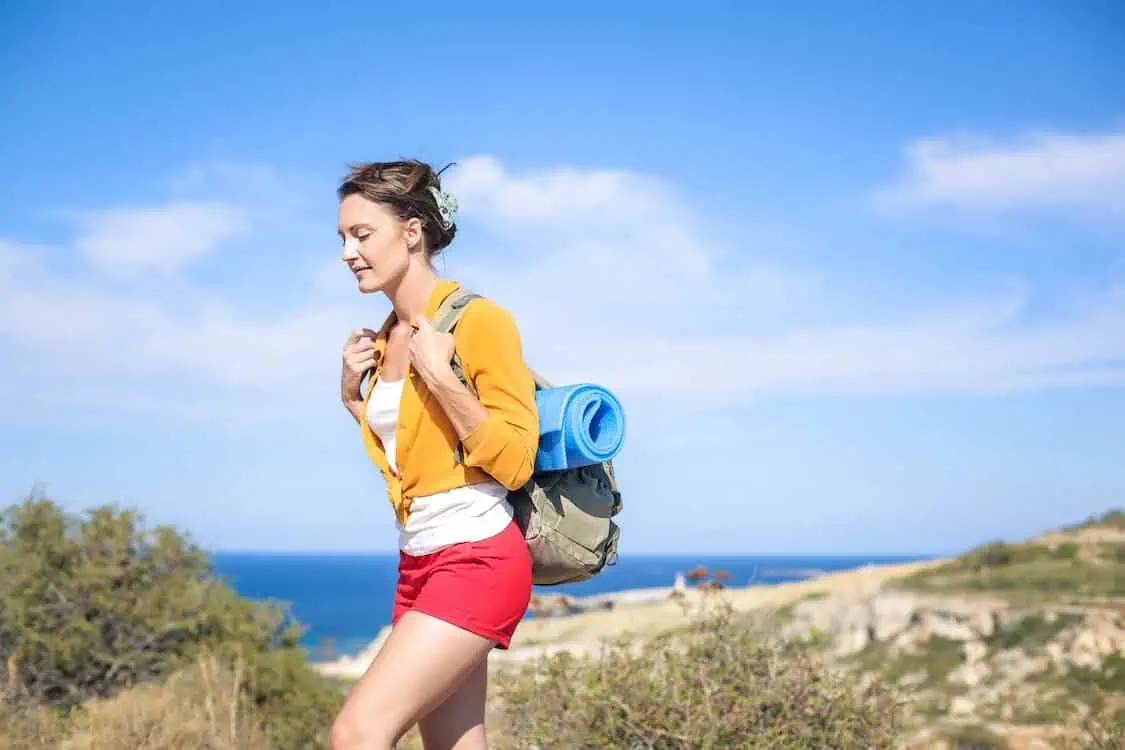 What to look for in an outdoor yoga mat?
When you practice yoga outside you want to find a yoga mat that is:
Thick for tough surfaces
Flexible and durable mat material
Made of eco-friendly materials (no microplastics or toxins in the environment!)
Close-celled to prevent dirt and microbes from getting in (and easy to keep your mat clean)
Easily washable to wipe off dirt and dust
Free from PVC mat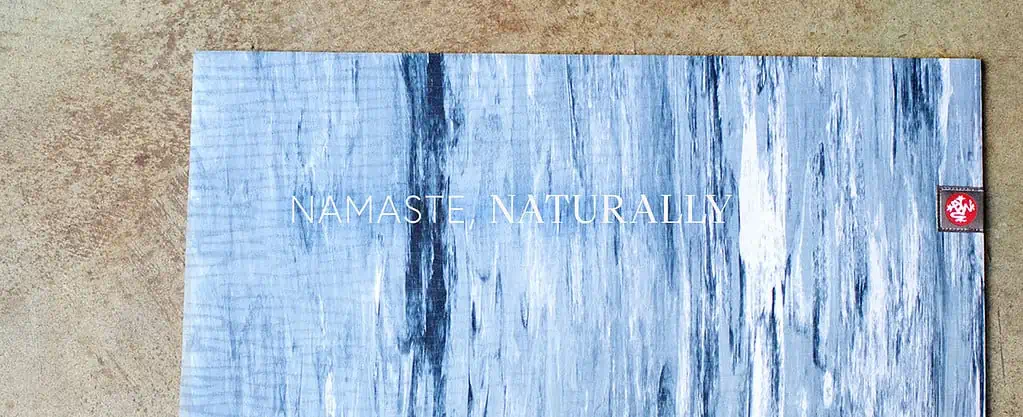 To make the research easier for you, we have put together a list of the 8 best outdoor yoga mats that will stand the test of the great outdoors:
Our Top Picks – A quick overview: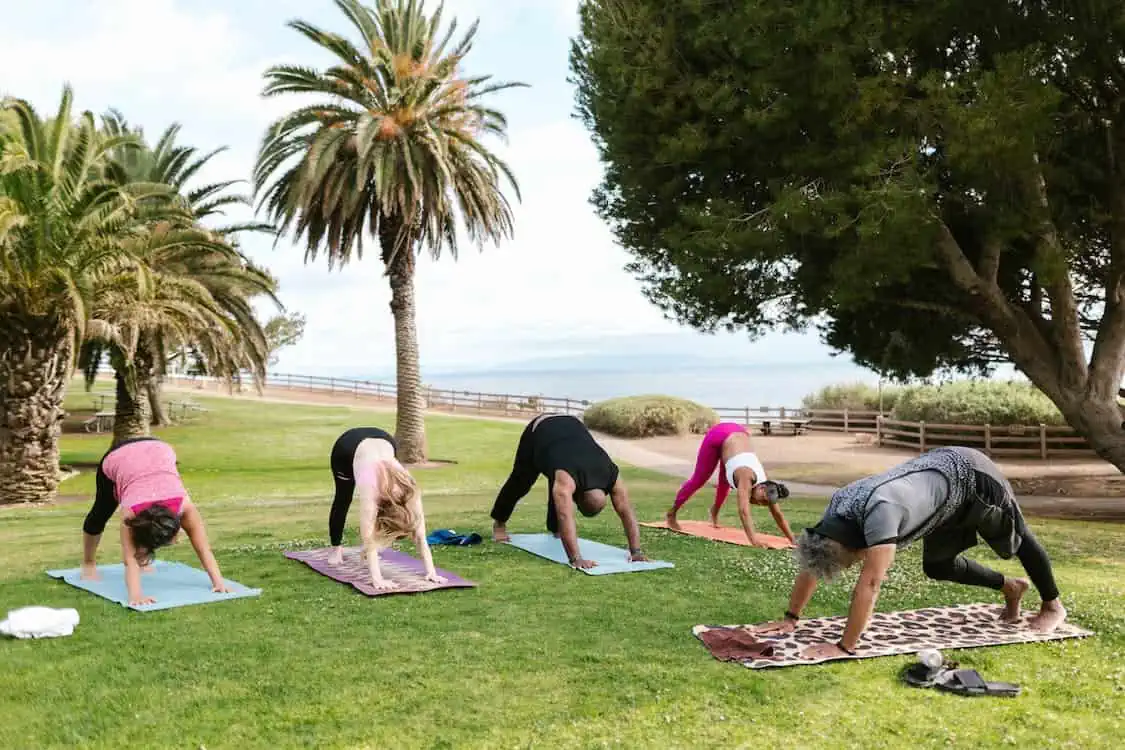 The Gaiam Essential Support yoga mats are both lightweight and thick, making them a great choice of mat to provide additional cushioning for your joints anywhere you go. With 5 mm of thickness and a sticky mat surface, you'll be able to practice yoga with ease.
The best thing about this mat is the price point. From less than $30 you can get your hands on one of these yoga mats and due to the cheap price, you won't be afraid to get it a little dirty.
The Gaiam mat is non-toxic and a healthier choice for you and the planet. For best results unroll and air out your mat for two to three days before using it as a harmless odor may be present when unwrapped.
As one of the most inexpensive mats, you can even purchase one for indoors and one for outdoor yoga.

Pros
Affordable (under $30)
Comes in a beautiful range of colors and patterns
Every yoga mat purchase includes a free bonus downloadable yoga workout to help get you started
Latex-free mat (for those with latex allergies)
Cons
Unpleasant odor when new
A cheaper quality mat may wear through quicker when used outdoors constantly
Not made from natural rubber or other natural materials
Another choice from the Gaiam selection is their foldable travel mat. Rather than rolling, this mat folds up to make a compact travel companion. Again less than $30, this travel mat will give you value for money and save you spending on hiring a mat at each yoga studio you visit along your journey.
To make it lightweight, this mat is only 2 mm in thickness, making it a little less comfy than a standard mat of 5 to 6 mm. But, if used on grass, sand, or a soft mossy surface, you will still be able to enjoy your yoga session.
Pros
Great as a travel mat
Folds up to pack in travel luggage or a backpack easily
Latex free (suitable for those with allergies)
Free from harmful chemicals (also free from polymer environmental resin)
Cons
Fold creases are present even when unfolded
Quite thin at only 2 mm thickness
Not made of natural materials (non-rubber mat)
If you are going to get outdoors, you want to make sure that your yoga mat is made of natural material. This ensures that any wear and tear will also be naturally biodegradable and not cause any damage to the local surroundings.
As yogis, the philosophy of Ahimsa (one of the Yamas) is also about doing no harm. No harm to yourself, others, and the environment!
This Jade Grass Yoga mat is made completely of natural materials. In fact, unlike most other yoga mats on the market, this one is uniquely made of Handwoven Dharba grass and cotton. Dharba grass is a tropical grass that grows in India and is considered sacred. Practicing restorative yoga on this mat will transport you to a natural state of meditation with its earthy grass feel and scent.
The great thing about this outdoor yoga mat is that it is handwoven by rural artisans in India, preserving a tradition and art form and providing a livelihood for weavers. Plus, with each Dharba Grass meditation mat purchased, Jade will provide a week of hot lunches for a child in India.
Pros
Made of 100% natural ingredients means that you won't leave a trace in nature
Of all the mats, this is easily the most biodegradable and natural
Smells sweet and natural
Every purchase of a Dharba grass mat feeds hot meals to a child in India for a week
Cons
Designed as a meditation mat, the Dhaba grass is not great for hot and sweaty yoga, but preferable for gentle yoga sessions.
The Favourite for Indoors and Outdoors (And extra grip!): Jade Harmony Mat
The Jade Harmony Mat is a 100% natural rubber mat which not only means it will have a funky rubber smell to it for the first few uses… but! It will also be completely biodegradable and made of eco-friendly materials. As far as a rubber yoga mat goes, the harmony mat by Jade is one of the grippiest without the need for a break-in period.
If you're heading outdoors, your harmony mat will work well on soft ground or stable surfaces for outdoor use. It is a standard mat size and chosen as the perfect yoga mat by many yoga instructors.
Also suitable for hot yoga practices, this natural rubber layer absorbs moisture and keeps you dry in all humid conditions. As it is made from one material it can also be used as a reversible mat on both sides. This Jade Harmony Mat rolls up to a reasonable size to accompany you on your hiking or travel adventures.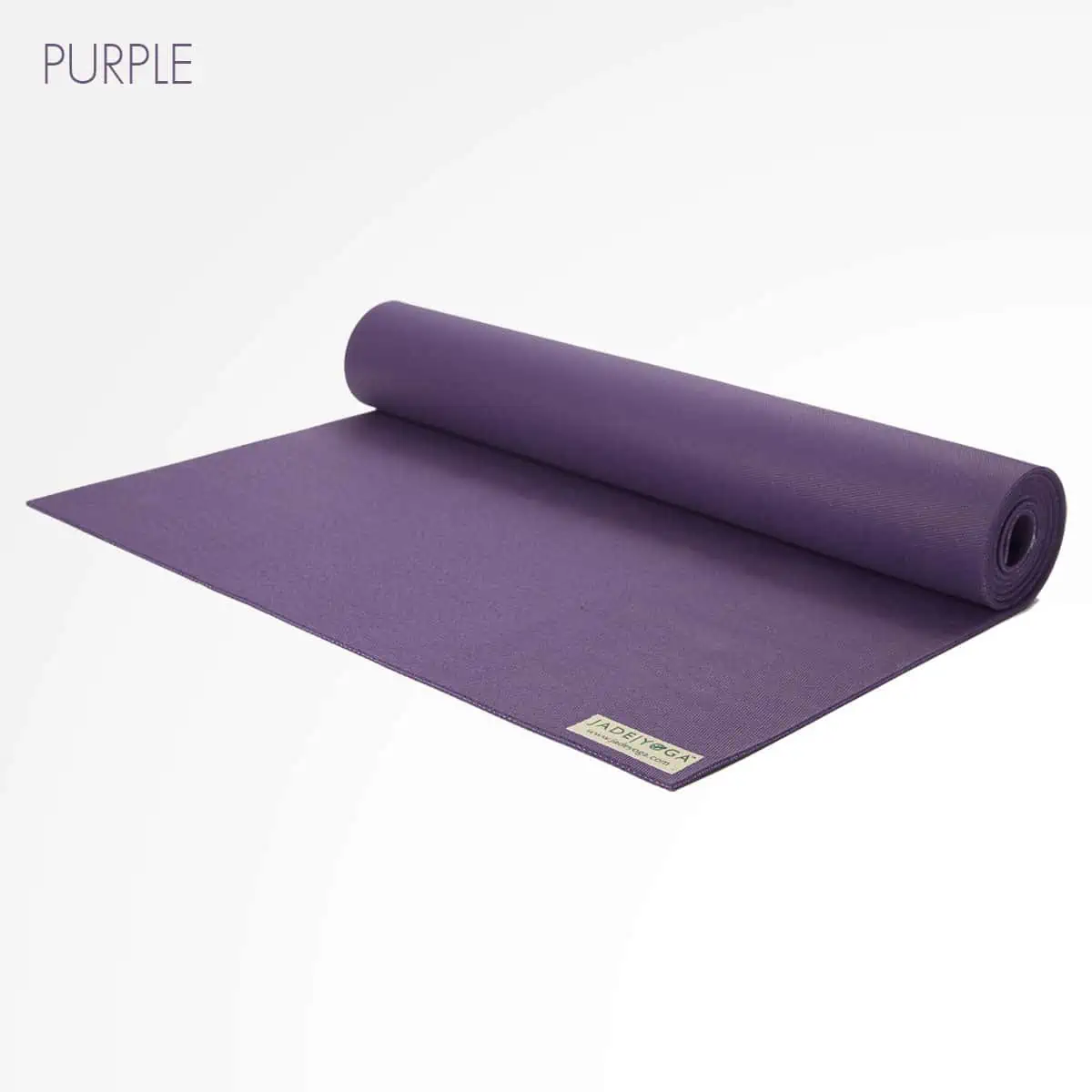 Pros
Best yoga mat for it's grippy surface, reversible mat qualities, and natural materials
A common choice of yoga mat (and hot yoga mat) for a yoga instructor
A bit of a thicker mat compared to other travel-style mats
A tree is planted for every mat purchased
Cons
A little bit tricky to clean as it has such a sticky surface
Reversible sides are the same (unlike the versatility offered by the lululemon reversible mat)
Of all the lululemon mats, the lululemon reversible mat is one of the best yoga mats for the great outdoors. It is the best yoga mat choice for both outdoor use and indoors too. Recommended by a hot yoga instructor for its grip despite sweaty conditions, and easy to wipe down with a microfiber towel after class, there is no need to use a yoga towel with the lululemon mats.
One of the big challenges is that this yoga mat is a little heavier than the other mats recommended here, so the reversible yoga mat would be one to use locally in nature, for example, in your backyard or local park. You don't want to be lugging this lululemon reversible mat from the yoga center to the middle of the wilderness. Due to its weight, it is made from durable and high-quality yoga mat materials.
With 5 mm in thickness, it will give ultimate cushioning for any floor poses and also provide support from hard surfaces when it's in outdoor use. The textured grip keeps your hands and feet in place making it one of the best rubber mats on the market.
The lululemon reversible mat also boasts a polyurethane top layer that absorbs moisture to help you get a grip during sweaty practices and outdoor workouts for good wet traction.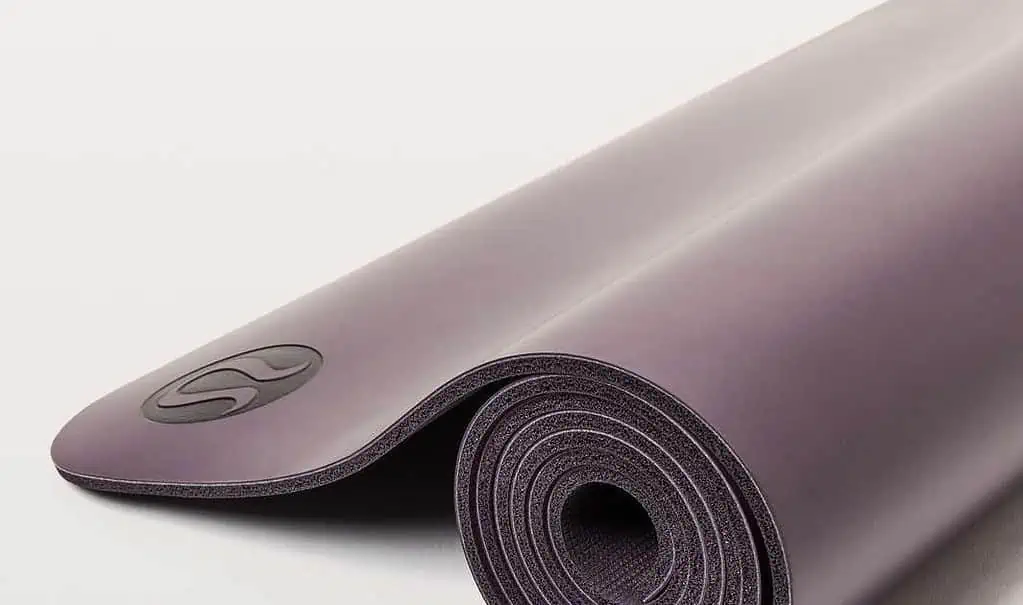 Pros
Natural rubber base gives you cushioning and a textured grip for low-sweat practices
lululemon reversible mat provides 2 unique sides to practice on (one polyurethane top layer and one textured grip side)
Backed by a hot yoga instructor
Easy to clean with a microfiber towel
Wet and dry grip
Cons
Contains Latex: People with rubber or latex allergies should avoid contact with this product as it contains natural rubber and may contain latex
Color changes over time
Very heavy compared to other outdoor mats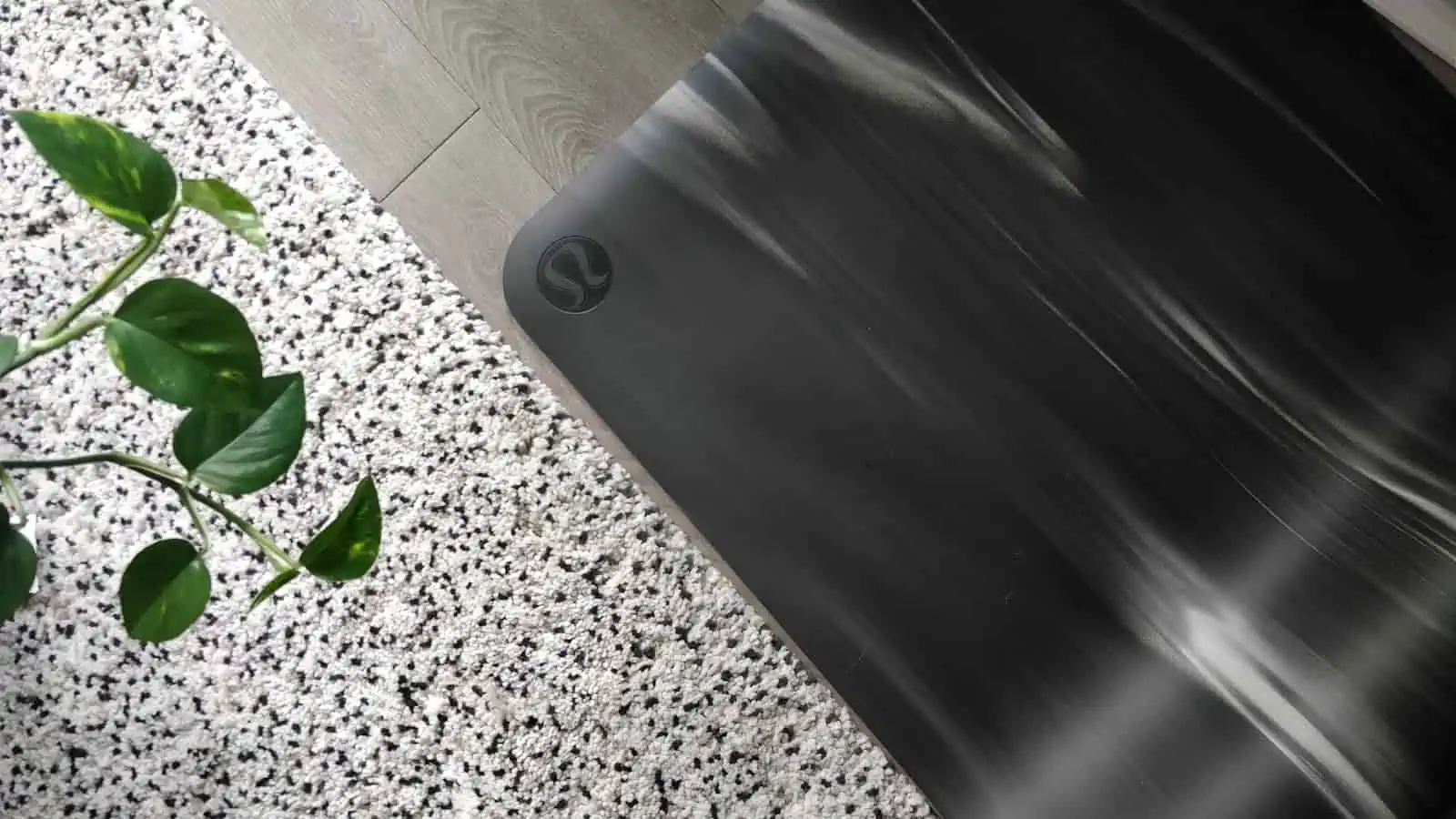 Well known for the 'Manduka Pro yoga mat', Manduka has stepped up its portability game by creating a travel mat. Meet the EKO® Superlite Yoga Travel Mat. At 1.5 mm thick, it provides ultimate portability. The surface texture offers superior grip, even with light perspiration and the tightly woven scrim resists tearing or stretching. This makes it a great choice for taking on your next hike as you won't need to worry about getting a tear on a sharp rock.
Compared to the Manduka Pro Yoga Mat, which is heavy in weight, the Eko Lite version is one of the best yoga mats for hiking, traveling, and carrying over long distances due to its ultra-lightweight quality. It is also the best mat for seasoned yogis who don't need much cushioning under their bodies but rather just extra grip.
Self-proclaimed by Manduka, the eKO® series is the most durable natural rubber mat on the market and it contains a proprietary surface texture that lasts twice as long as the competition.
Another bonus of this mat is the closed-cell surface that was designed to prevent sweat from seeping into the mat, but it also means that it is easy to clean off dirt and dust from being outdoors!
Without polymer environmental resin, it is purely made from natural rubber from sustainably harvested rubber trees. Made with natural rubber, this means that this yoga mat is also eco-friendly for the environment and also for your deep breaths.
Fun Fact: Natural rubber is a renewable resource and is harvested responsibly from farm to production. Each rubber tree regenerates and continues to produce for approximately 30-35 years.
Pros
Sustainably made from the rubber tree, Hevea Brasiliensis.
Lightweight but sturdy
Close-celled and easy to clean with a microfiber towel
Super grippy surface for all types of yoga practice
99% latex free and made with no PVC, toxic plasticizers, or harmful dyes
Cons
Thin mat with only 1.5 mm protection under your body
Not a huge range of colors
Strong smell during the initial break-in period
High quality you can trust: Liforme mat
The Liforme mat comes as a full-size or travel-size mat. A travel mat is easier to pack on your travels and lighter to carry than a regular mat for those who are on the go. So if you travel often, and want a lighter, more flexible, and smaller mat it is definitely worth the investment.
The best thing about Liforme is the strong dry grip capability that exceeds most other mats. You will also thrive in hot yoga in the jungle or other humid locations as the natural rubber will keep your hands connected to the mat.
The mats also have a number of alignment lines on them so you know where to place your hands and feet in your downward-facing dog!
It is thin but great for outdoor use on soft ground. It is also voted one of the best yoga mats for its exciting colors and styles compared to other yoga mats on the market.
The mats are also completely biodegradable, breaking down in only 1-5 years in normal landfill conditions. PVC-free and made using high-quality non-toxic materials, they also avoid plastic packaging. They also have a patented three-layer construction and quick-drying CleanGrip Technology which stops sweat from making its way into the natural rubber base.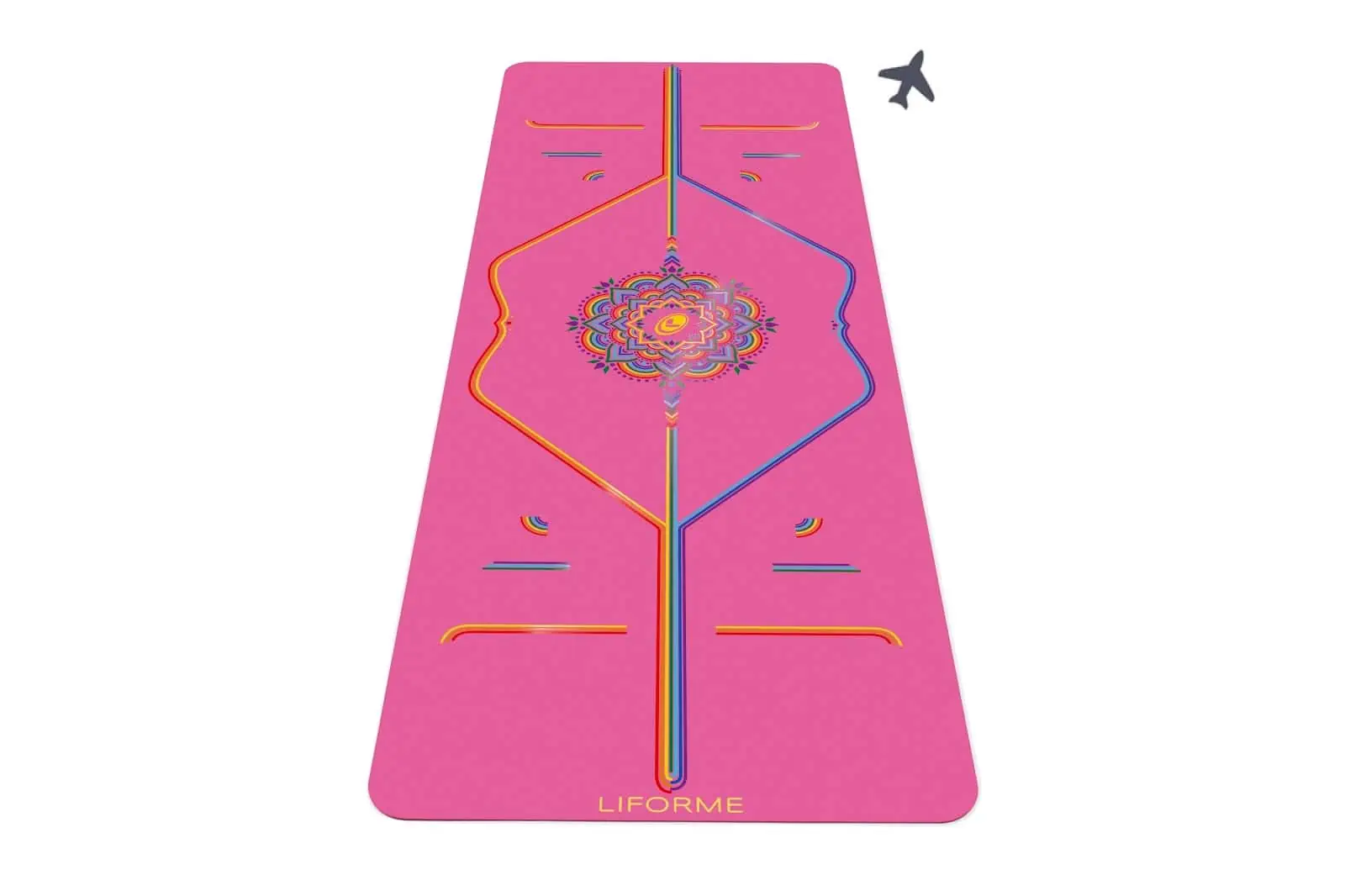 Pros
Bold colors with alignment lines for your hands and feet
Completely biodegradable yoga mat, breaking down in just 1 to 5 years
Strong dry grip
Good for normal and hot yoga
Cons
More expensive yoga mat (but worth it for the high quality!)
An initial smell from natural rubber materials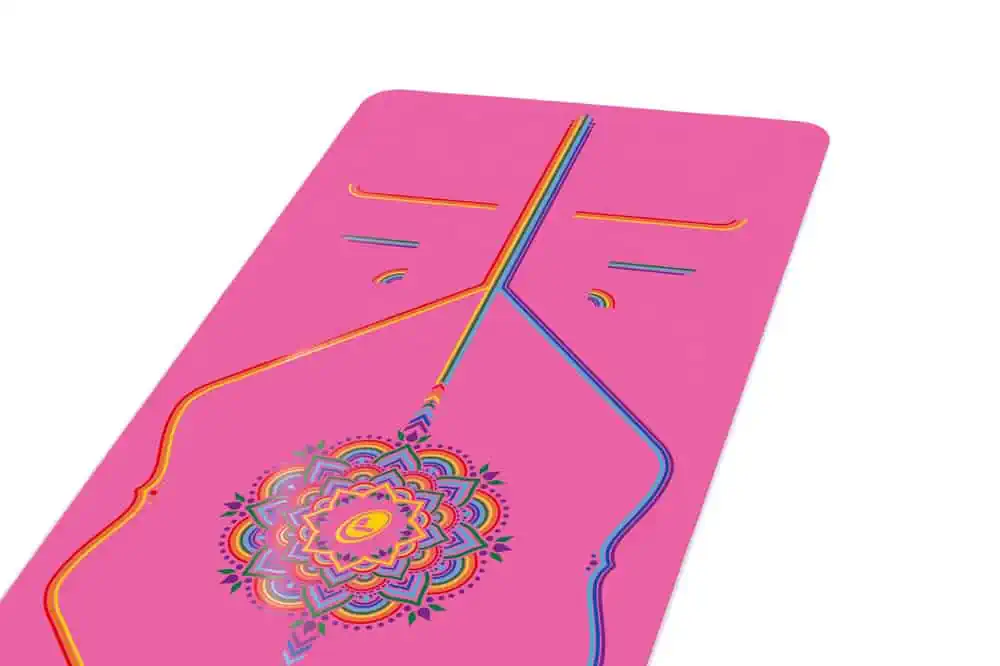 There are so many benefits of cork yoga mats, one particularly being that they are environmentally friendly and a sustainable choice of yoga mats.
One great cork yoga mat for outdoor use is the Luxury Cork Yoga Mat. This mat is designed as the thickest, and widest yoga mat that was found online, which is great for outdoor use because it gives extra room for practicing without needing to step off your mat. As a cork form yoga mat, it provides wonderful cushioning for the joints and is very kind to your joints.
The great thing about this yoga mat is that it was specially crafted by yoga teachers, and made with the highest quality Portuguese cork. Engineered with six times more cork than a standard cork yoga mat, you are guaranteed to get a lot of durability out of this yoga mat!
With a great dry grip for normal yoga and a sweaty grip for hot yoga, you can take this yoga mat outside in any weather conditions.
The only downside about this cork yoga mat is it's heavy. But, work carrying it around for the extra space and cushioning that this yoga mat provides.
Pros
Longer, wider, and thicker than most other mats
Alignment lines on the yoga mat
Ultra premium quality cork from Portugal
Excellent grip for normal and hot yoga
Amazing slip resistance in hot yoga
Very stable and sturdy
Unrolls perfectly into a flat mat every time
Cons
Heavy as it weighs 8.8 lbs
Not very portable
High price point
Frequently Asked Questions:
What is the difference between indoor and outdoor yoga mats?
Indoor yoga mats are generally thicker than outdoor yoga mats, with a few exceptions in our list here. The main feature of outdoor yoga mats is stronger durability to resist wear and tear on rougher surfaces. This feature of durability is not so important in indoor situations as the ground in a home or yoga studio is generally more even and soft.
How thick does an outdoor yoga mat need to be?
To understand yoga mat thickness better, we have an article here about how thick a yoga mat should be. Generally, most yoga mats range from 3 mm to 5 mm, but it really depends on your personal preference and how much padding you like (or don't like) to have beneath you during your yoga session. Some travel mats for seasoned yogis may be just 1 mm thick, whereas, for beginners, we usually recommend a thicker mat choice, around 5 mm.
What can I do to stop my yoga mat from getting damaged outside?
If you are wanting to use your mat outdoors, choose a durable mat material, clean it after every use, and where necessary, place an old towel underneath your mat to protect it from any sharp rocks or susceptibility to getting a hole.
Try to practice yoga on even ground, not just for the benefit of your yoga mat, but also for your alignment.