Yoga is a relatively cheap sport to get started. Contrary to popular belief, you don't need anything special to get started.
Technically a mat isn't even required. Your yoga practice can start done with just your body and mind. Or, if you want a little extra cushion without investing in the extravagant comforts of a high-end yoga mat, you can explore some great yoga mat alternatives.
Whether you prefer to practice outdoors, can't afford a nice yoga mat, hate carrying around a bulky roll, or just don't like the feeling of a rubber mat, there are countless yoga mat alternatives to add comfort and non-slip support to your practice.
Here we explore all the different ways to practice yoga without a mat. You might be surprised how easy it is to replace this iconic yoga accessory!
Can You Practice Yoga Without a Mat?
Long before the invention of rubber or even cork or fabric, ancient yogis were practicing yoga with nothing more than their bodies, minds, and spirits. While the yoga industry has exploded into virtually endless offerings of yoga gear, props, mats, leggings, and accessories, the true meaning of yoga is to "yoke" or "unite" the mind-body-spirit connection.
You can absolutely practice yoga without a mat. Depending on your favorite styles and poses, you may opt for a yoga mat alternative or just enjoy your practice bare in the Earth like the original yogis of India did.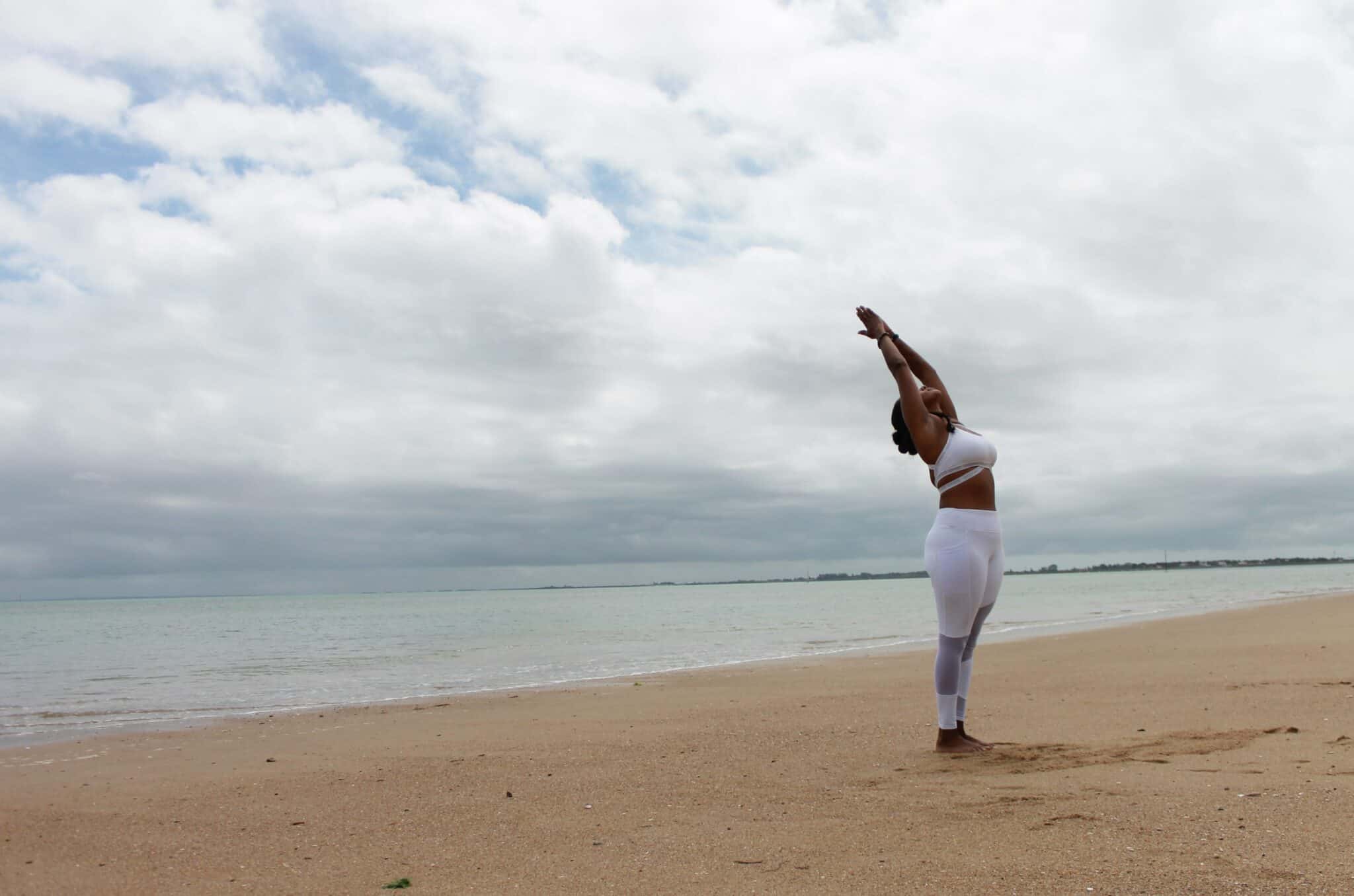 What Can I Use Instead of a Yoga Mat?
The benefits of a yoga mat come down to a few basic functionalities:
Cushioning on a hard floor
Sticky, non-slip grip
Joint and bone support
Stable surface
Alignment aid
A defined space to practice in
If you want to substitute a mat in your practice, think about things that may offer at least a few of those functionalities. A few yoga mat alternatives may be sitting around your house right now:
Beach towel
Extra throw blankets
Wooden floors
Grass in your front or back yard
Rug or carpet
The beach
Your bed
If you imagine that it's the early 20th century and there is no booming yoga business, you'd probably get pretty creative as to where and how to practice yoga. Let's dig into how to use these alternatives to fuel your yoga practice, as well as the pros and cons of each.
Top 6 Yoga Mat Alternatives
If you don't want to use a yoga mat, you have quite a few options. Some of them take you back to the basics, while others include modern products that can be more affordable, portable, or comfy than a standard yoga mat.
Grass Yoga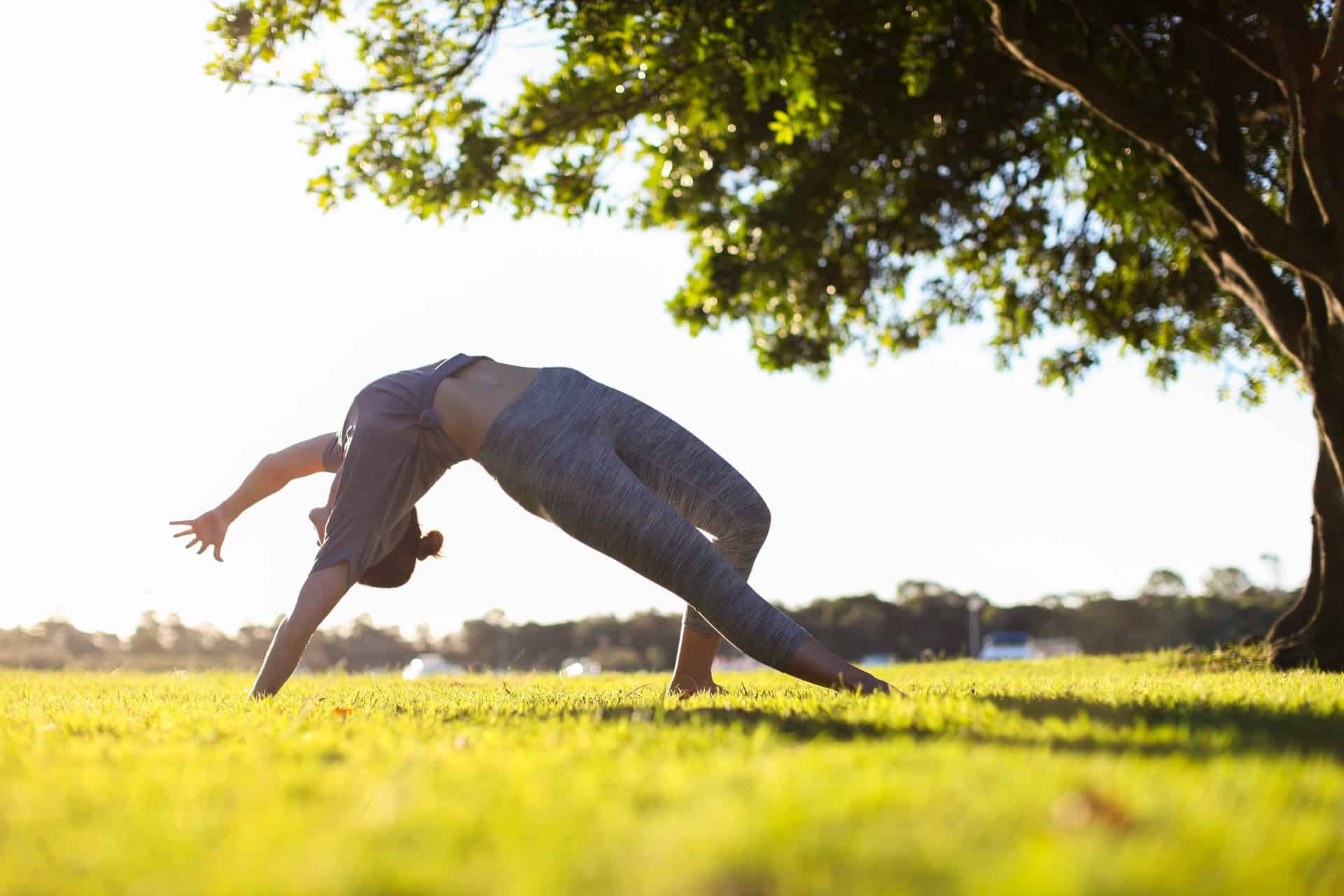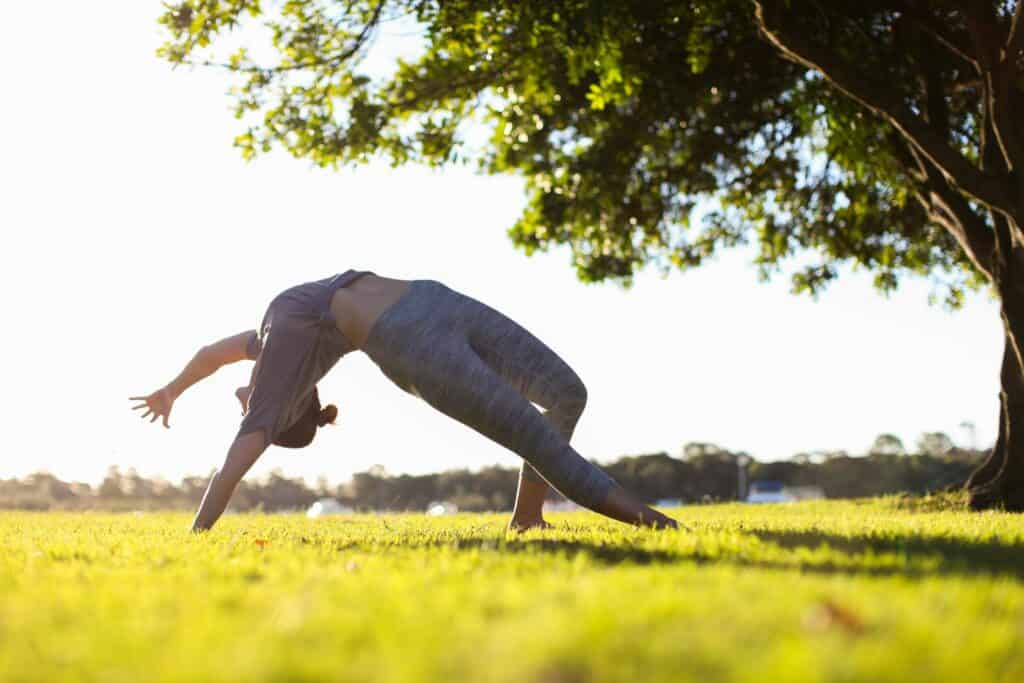 Let's get back to the basics. Pretty much everyone has access to a grassy lawn or nearby park. There is no easier place to practice outdoor yoga than in your own backyard.
Grass is one of the best yoga mat alternatives because it's natural, not slippery, and fairly cushiony. Some grasses are more prickly and long than others, so it helps to explore around your neighborhood for a surface that feels the best to you.
Beyond the base itself, practicing yoga in the grass makes you feel a lot more connected to nature than a studio will. On a nice day you can feel the sun against your skin during your sun salutations (probably how they were meant to be practiced). You can listen to the birds and feel a little more zen as the clouds pass by ahead.
On the flip side, wet grass, bug bites, and mud aren't all that pleasant. This option is limited to fair weather days and areas without those pesky "stickers" or aggressive bugs.
If you don't want to go barefoot in the grass, try out some yoga shoes designed for outdoor practice. Sometimes laying a nice yoga blanket in the grass can give you enough cushion and protection from anything harmful on the ground.
When practicing yoga outdoors, be sure that the grass hasn't been sprayed with any toxic pesticides. Pay attention to your lawn care crew or look for signs in public parks.
Unfortunately, many places don't notify you if they have been spraying, so you have to use your own observations and intuition. If there isn't a dandelion, weed, or grasshopper in sight, chances are it's been sprayed and you're better off seeking a different yoga mat alternative.
Pros
100% natural (no TPE, PVC, rubber, or other weird synthetic materials found in yoga mats)
Fairly soft and cushiony, depending on the type of grass
Enjoy connection with nature
Practice yoga in the sun
No slipping
You can practice with bare feet or yoga shoes
Cons
Grass could be contaminated with toxic pesticides or herbicides
Wet grass is not very fun to practice yoga in
Grass may wear on your yoga outfits more than you'd like
Allergies
Seasonal availability (especially in the north)
Dog poop… enough said
Beach Yoga
Anyone who loves Meghan Currie's inspiring beach yoga flows has probably thought about getting a little sandy and salty during their practice.
There are fewer things more soothing in life than the sound of waves and seagulls. If you are lucky enough to live or vacation near the beach, taking your yoga practice to the sand could be the best thing you ever did for your mental health.
Sand is a lovely base for your yoga practice as long as it is fairly flat. We've found that moderately moist sand (the area in between the dry sand and the sopping wet tidal zone) tends to provide the best surface for balancing.
Practicing on the beach is really soothing and liberating for yogis who are more nature inclined. You can wear a bathing suit (ideally, a closer-fitting one) and get a little tan on while you zen out. You can jump in the water for a nice meditative rinse. You can even just Savasana on your beach towel and call your practice a success.
However, a beach practice is obviously limited to nice weather and location. It can be hard to find private places to practice. You may also want a special yoga outfit that you don't mind getting sandy or wet.
Some yoga poses may be pretty uncomfortable or messy in the sand. For example, you may not want to collapse into a full on Happy Baby pose unless you want to spend the whole day getting sand out of your hair.
Instead, opt for a sequence focused on your favorite balancing and standing poses. A classic Sun Salutation or Vinyasa flow at the beach is the perfect way to nourish your body and soul outside the studio.
Pros
Deep connection to nature
Soothing sound of waves
Sunlight, salty air, and the sky
Soft sand is cushioned and comfortable
No worries about slipping
Bring a beach towel for floor asanas
Cons
More limited to standing poses and flows
Sand… everywhere
Can make a big mess
Not possible for everyone
Wind or cold take away the fun
OK, this is technically still a yoga mat, but we wanted to list it here because it is just so dang versatile. It folds up like a towel to stash in your gym bag, breach bag, or carry on luggage.
If you want to truly practice yoga anywhere, this is the mat for you. It feels soft and protects your joints on hardwood floors, tile, and even concrete. The underneath of the mat has Manduka's proprietary dot pattern to hold it in place so you never slip. The textured top layer is super grippy, but not too sticky.
Perfect for travel of all types, this mat is remarkably supportive and cushiony despite its thin (2.5mm) composition. The ultra-dense closed cell PVC is OEKO-TEX certified to ensure it doesn't contain any harmful VOCs or chemicals. It cushions your joints like a true yoga mat, yet it is the weight of a standard yoga towel.
Pros
Ultra thin (2.5 mm) for travel
Practice yoga anywhere
Folds up like a towel
Proprietary underneath dots help stay in place on any floor
Grippy (but not too sticky) upper non-slip texture
OEKO-TEK certified PVC material
Handcrafted in Germany
High density cushion for joint support
#1 teacher recommended brand
Cons
Still a yoga mat feel
Synthetic materials
Not as supportive as a true yoga mat
Traditional Ashtanga yoga practices were done on rugs rather than mats. This ultra-soft and absorbent rug makes for the perfect yoga mat alternative or simply a cozy cover to lay over your mat in hot yoga.
The 100% natural cotton is completely biodegradable and eco-friendly. It absorbs moisture from sweaty hands and feet. The texture is sturdy and thick to resist bunching as you flow between yoga poses.
This yoga rug is also ideal for practicing yoga outdoors. Lay it over the grass or beach sand to get an extra grip and keep your leggings clean. Afterwards, toss it in the wash (cold cycle) and it'll be good as new!
Pros
100% natural cotton
Latex free
Can be folded up for added support
Traditionally used in Ashtanga yoga
Sweat absorbent
Great substitute for a mat during outdoor practices
Washable
Cons
Not as supportive as a yoga mat
Doesn't grip hardwood floors
Yoga Paws Elite - Padded Yoga Gloves and Yoga Socks - Portable Travel Yoga Mats for Yoga, Pilates,...
See latest price
One of the most unique yoga mat alternatives is still technically yoga mat material… except attached to your hands and feet. This combo of yoga socks and gloves provide all the cushion of a mat delivered directly to the balls of your feet and hands.
The rubber-cushioned grippy socks and gloves are non-slipping, wrist-supporting, and surprisingly lightweight. Instead of clunky mat or towel, you can stash these in your bag to take anywhere. They are excellent for practicing inversions or just flowing on a hard surface.
Pros
Grippy socks and non-slip gloves
Perfect for inversions or outdoor practice
Yoga mat cushioning directly where you need it
Completely non-toxic rubber
Versatile uses
Wrist and joint support
Great for travel
Cons
May promote improper distribution of weight on your hands during inversions
Hand grips don't fold very easily, making it more difficult to flex and move your hands
Yoloha Unity Cork Yoga Mat - 6mm thick - Non Slip, Eco-Friendly, Durable, Premium (80" x 26")
See latest price
In the growing field of eco-friendly yoga mat alternatives, we have noticed a lot more cork mats. Again, this is technically still a mat, but without the synthetic rubbery feel of most yoga mats out there.
Cork is 100% non-toxic and renewable. It is blended with a 100% recycled rubber bottom for maximum grip on the floor. A great hypoallergenic alternative, Yoloha products are absolutely free of chemicals, PVCs, and latex.
This mat non-slip, breathable, and moisture-absorbent. Cork is also really nice because it can absorb the mist of essential oils to lock in a lovely relaxing aroma.
Pros
100% renewable and recycled materials
Cork is super durable, non-slip, and moisture absorbent
Non-toxic, PVC-free, latex-free
Impact resistant high-cushion feel
Long-lasting and super durable
Made in the USA
Cons
Rolls up the same size as a yoga mat
Weighs about 4 pounds
May be harder to clean
Can I Practice Yoga on the Floor?
Practicing yoga on the floor in your home is an easy way to unwind and stretch out. If you don't have any yoga mats around, consider using a rug, carpet, bath mat, towel, or firm cushion to support your joints in certain poses. The padding level you need will depend on the firmness of your flooring and the type of poses you are doing.
Can I Practice Yoga on My Bed?
Sometimes a nice easy alternative to a full on yoga session is to simply get your stretch on while in bed. Whether morning or evening, you can absolutely practice yoga in your bed.
Typically the best yoga poses are yin yoga stretches and asanas that are practiced in a seated or laying down position. Depending on the firmness of your mattress, a bed can make a standing pose pretty unstable or even dangerous.
Our favorite bedtime yoga poses include Child's Pose, Happy Baby, Cat/Cow, King Pigeon, Seated Forward Fold, Plow Pose, and Supine Spinal Twist.
Closing Thoughts
Maybe it's time to expand the boundaries of your practice and take your yoga beyond the mat. Whether you want to explore outdoor yoga or simply ditch the regular rubber mats, try out one of these yoga mat alternatives and let us know what you think.
Namaste!