With their stylish yoga sets and aesthetic marketing, Alo Yoga has taken the athleisure world by storm. From its founding in Los Angelas in 2007, Alo has helped its fashion-forward following mindfully and seamlessly transition from the mat to the street. Their modern take on yoga wear combines fashion, functionality, and comfort.
Like its competitor lululemon, this brand has also expanded into the realm of yoga mats and accessories. Similar to their clothing, the luxury products come with a high-end price tag. So does their yoga gear live up the hype? What makes the Alo Yoga mat better than the rest?
Let's dig into everything you need to know about the Alo Yoga Warrior Mat and the synopsis of thousands of reviews.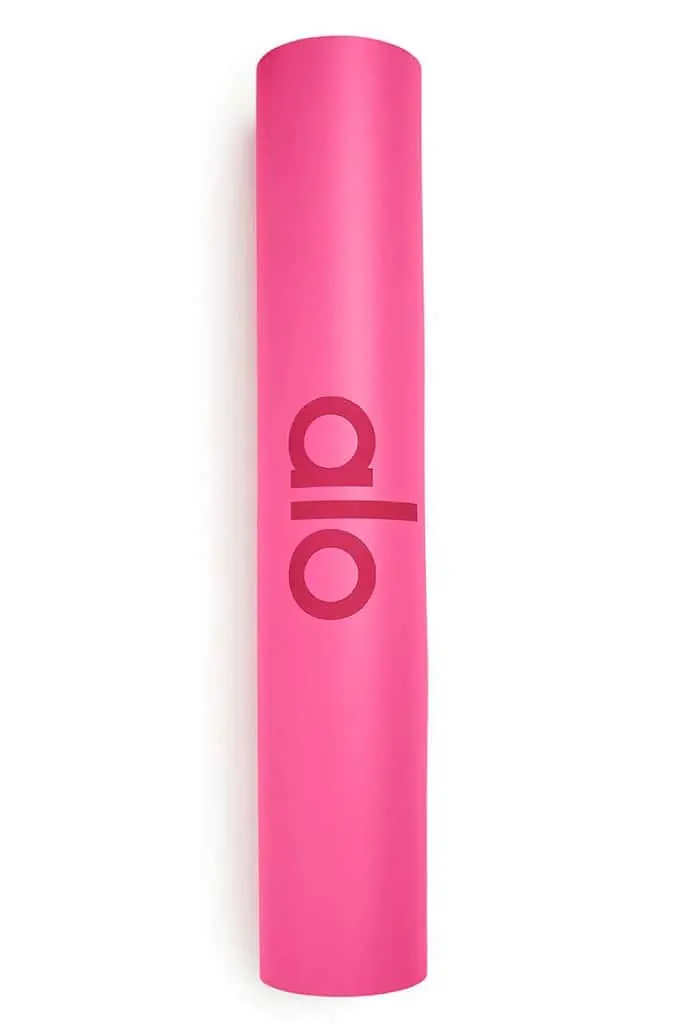 Is the Alo Yoga Warrior Mat worth it?
With its non-slip grip, supportive thickness, and luxurious feel, the Alo Yoga mat is one of the best yoga mats on the market. The mat is made of 100% pure natural rubber and a grippy sweat-proof polyurethane surface. You don't even need a yoga towel! Thousands of reviewers have raved about its non-slip surface, softness, perfect support, size, cushion, and beauty. The mat comes in an array of trendy, earthy colors for every style. Better yet, the Alo Yoga Warrior Mat is crazy durable and easy to roll.
While this brand may be known for their celebrity-endorsed clothing, it's clear that they used professional technical development to create a mat that feels as good as it looks. Their rigorous testing process ensures that every mat is worth its pretty penny. You can also Savasana in peace knowing that this mat is 100% non-toxic and free of harmful PVCs or formaldehyde.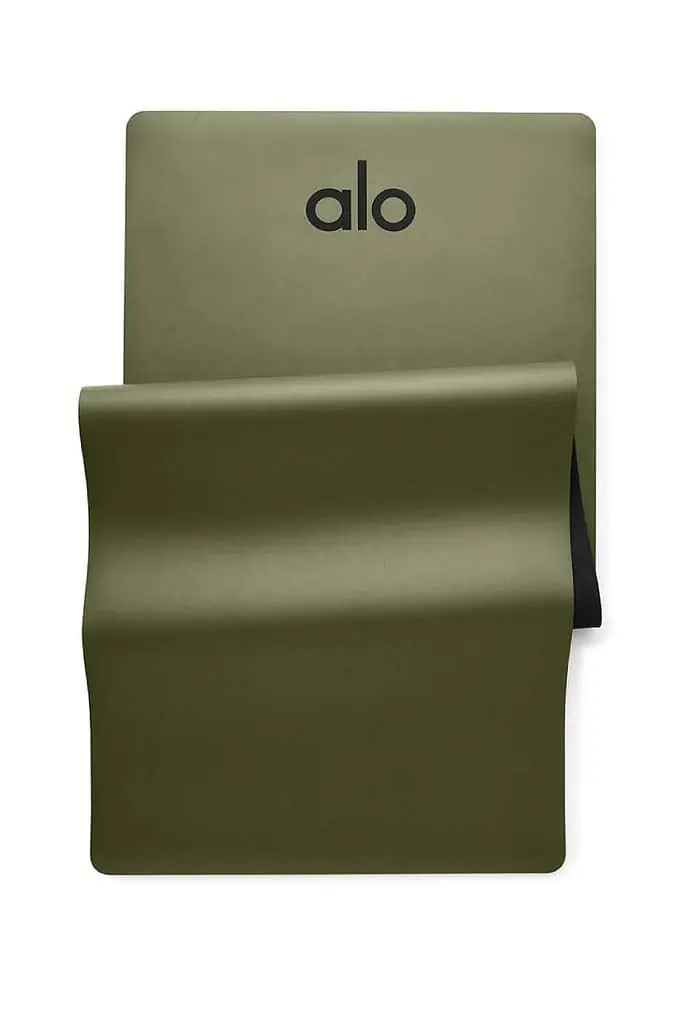 Alo Yoga Warrior Mat: Honest Review
Thousands of happy customers have been raving about The Warrior Mat from Alo Yoga. We can confirm: this next-level mat truly makes you feel like a warrior. With its magical softness and anti-slip surface, it supports you in every way possible. Here is our honest review of every detail of this shows-topping yoga mat:
Materials
The Alo Warrior Mat has very high quality construction that truly performs. The bottom is 100% natural rubber. Rubber mats are known to be more sustainable and natural than PVC. Alo Yoga sources their pure rubber from an ethical and natural supplier. We love that this non-toxic mat is PVC free and formaldehyde free.
The top eco polyurethane surface has next-level grip that ensures you never slip around (even when you're sweating buckets in hot yoga). Reviewers have raved about how well they can keep their balance regardless of the setting. The upper surface texture is grippy yet soft. It is naturally moisture-wicking, odor-resistant, and quick-dry.
Reviewers also love that the mat materials hold up over the years. It is easy to wash with a damp microfiber cloth and 1:20 dilution of vinegar and warm water.
Thickness and Padding
When it comes to joint support, Alo Yoga has somehow found a sweet spot. At 5mm, this mat is neither too thick nor too thin. It feels cushiony enough to prevent pain but not so padded that you can't roll it up. The mat weighs approximately 8 lbs and rolls up to a portable size (but not quite travel-friendly). The brand advises always rolling with the top side facing outward so you don't damage mat surface.
The textured surface also has a soft, smooth surface that feels supportive and comfy. This mat is cozy enough to lay on a hard floor, yet dense and stable for balancing poses.
Aesthetic
All the mats that Alo offers have the same luxe, matte finish to compliment your leggings or shorts set. The mat comes in a variety of cool colors to match your mood. We love the Smoky Quartz and Jungle.
The only problem with the Warrior Mat color selection is that the lightest mats can easily get stained. Some reviewers have complained that the white and pink mats are difficult to maintain. If you suspect this might be a problem for you, choose a darker color like Black or Camo.
Grip
The best thing about this yoga mat is the incredibly grippy texture. No matter how much you sweat buckets in hot yoga, this mat will not slip. If you feel like you can never get a good grip while practicing yoga, this mat could be a game changer.
Whether you're doing a simple Downward Facing Dog or a super advanced yoga pose like Scorpion Pose, the Alo Warrior Mat keeps you safe, comfortable, and care-free.
Both men and women confirm that the Warrior Mat series has the best grippiness for all sizes and weights. It surpasses both the Manduka PRO and lululemon mat.
Durability
Customers happily report that the Alo Yoga Warrior Mat lasts for 1-2 years or more with regular or daily use. It sustains its grippy, sticky surface for this entire time frame and withstands the extreme conditions of a hot yoga class.
However, the durability can be significantly compromised if you use this mat outdoors. It is strong, but not invincible. We recommend using the Alo Yoga mat for indoor practice only. A cheaper, mat like the Gaiam Essentials Premium Yoga Mat would be best for exposing to the elements.
Sustainability
We love that the Alo Warrior Mat series is fairly eco-friendly. The natural rubber mats have a 100% non-toxic, ethically sourced base. Even though the polyurethane top layer is not a natural material, we like that it doesn't have any toxic chemicals or strong off-gassing smells. If you're interested in the ultimate sustainable and non-toxic yoga mats, be sure to check out our guides to How to Find a Non Toxic Yoga Mat + Top 7 Eco-Friendly Yoga Mats.
Size
At 6.2 ft long and 2.2 ft wide, the Warrior Mat is larger than a standard yoga mat. Reviewers rave about the perfect oversized design that they can fully stretch out on. Whether you're on the tall side or just like some extra room, this mat has an almost universally-appealing size. However, if you need more room you may want to read Simple Guide to Extra Wide and Long Mats.
Price
At about $100, the Alo Yoga Warrior Mat is on-par with competitors. It is a high quality yoga mat that is well-worth the price.
Best Alo Yoga Mat Accessories
Once you decide to get an Alo Yoga Warrior Mat (you won't regret it), there are lots of lovely accessories to make your yoga practice even more enjoyable, functional, and stylish. Our favorites are:
This ultra-durable mat bag is designed to perfectly fit the Alo Warrior Mat and protect it from damage. If you want your mat to last basically forever, we highly recommend keeping it safe from scratches, scuffs, or the elements. Plus, the bag has a padded shoulder, extra pockets, and a stylish design.
For the sweatiest hot yoga classes, this yoga towel has top-notch softness, quality, and super-loaded grip. As if the Alo Warrior Mat wasn't enough on its own, this no-slip towel adds more comfort and peace of mind for sweaty palms and feet. The 80% polyester and 20% nylon structure dries out crazy quickly and absorbs moisture like no other. The silicone backing keeps it in place on your mat. While it may be expensive, it outlasts and out performs most of the competitors.
When you need an extra balance support or tailbone cushion, yoga blocks feel like a lifesaver. The Alo Yoga Uplifting Yoga Block is 4″ x 6″ x 9″ and made with 100% toxin-free EVA foam. The beveled edges mean you never have to worry about losing your grip or irritating your palms.
Key Takeaways: Uplevel Your Yoga Practice with the Alo Yoga Warrior Mat
All in all, we are really impressed with this mat. The Alo Yoga Warrior mat delivers in quality, function, durability, and aesthetic. It is among the best yoga mats for hot yoga
The only downsides are the luxury price point, the heavy weight (about 8 lbs) and the
Namaste!
FAQs
Which yoga mat is better lululemon or Alo?
The lululemon Mat and Alo Yoga Warrior Mat are comparable in price, thickness, and aesthetic. There are thousands of 5 star reviews for the Alo Yoga mat, while the Lulu yoga mat has a few complaints about slipping and scruffing. While lululemon offers more size, weight, and material options with their yoga mats, the Alo Yoga Warrior Mat is the more durable and non-slip option. Both mats require special care to ensure they don't snag, rip, or stain.
Do Alo yoga mats smell?
The Alo Warrior Mat has a slightly rubbery smell right when you take it out of the box. This is normal for natural rubber mats and you can be assured that it isn't due to toxins or off-gassing chemicals. With a little airing out and use, this non-toxic yoga mat will quickly dissipate its smell and remain delightfully odor-resistant for years to come.
Does the White Alo yoga mat get dirty?
Although the Alo Yoga Warrior Mat is one of the best yoga mats on the market, the main complaint is that lighter colors easily get dirty or stained. The only way to prevent this is with regular cleaning with a gentle diluted 1:20 vinegar and water solution and microfiber towel. Avoid using the mat outdoors or on rough, dirty surfaces.