Looking for stylish yet durable yoga or workout gear? Look no further than Fabletics, a rising star in the activewear industry. Fabletics offers high-quality sports and leisure apparel, tons of on-trend styles, and a unique VIP membership program.
In this article, we're reviewing the Fabletics shorts range, breaking down the pros and cons of the six most popular shorts styles for men and women. Plus, we'll share the best shorts for running, yoga, CrossFit, tennis, and more. Let's get started!
Best Fabletics Men's Shorts
Top 6 Mens Fabletics Shorts
Fabletics offers a variety of sports and leisure shorts for men.. Let's explore the pros and cons of each Fabletics men's shorts based on our personal experience and the reviews of others.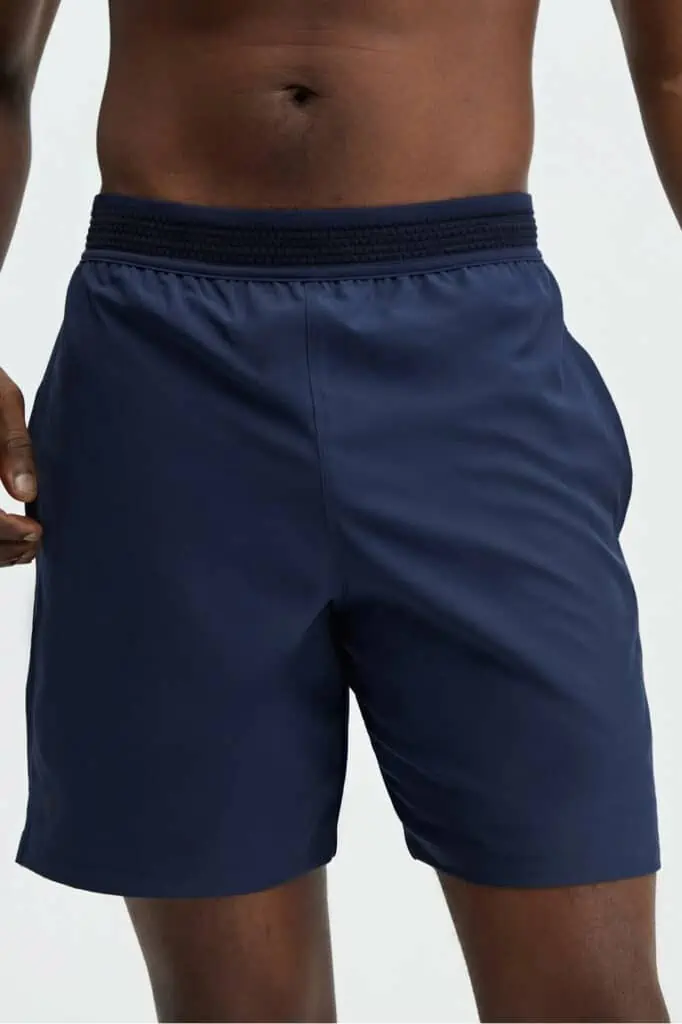 The Fundamental Short is among Fabletics' most popular workout gear thanks to its versatility, high-stretch fabric, and anti-stink properties. These shorts are ideal for all sports and fitness activities, from running to boxing to Crossfit.
The Fundamental short features a breathable, sweat-wicking lining with inner zip pockets to secure your phone or keys safely. They also have a fitted but comfortable waistband with a hidden internal drawstring.
They are made with high-performance fabric (90% Polyester and 10% Spandex) that prevents static build-up from gym equipment and gives a 4-way stretch allowing you to squat and lunge with ease.
However, one of the most loved features of the fundamental short is its anti-stink technology, which conceals odors, so you don't have to worry about producing foul smells at the gym. Another common praise about the fundamental short is the waistband, which stays firmly in place without bunching or rolling down.
If you only want to buy one pair of sports shorts, the fundamental short is the one to go for!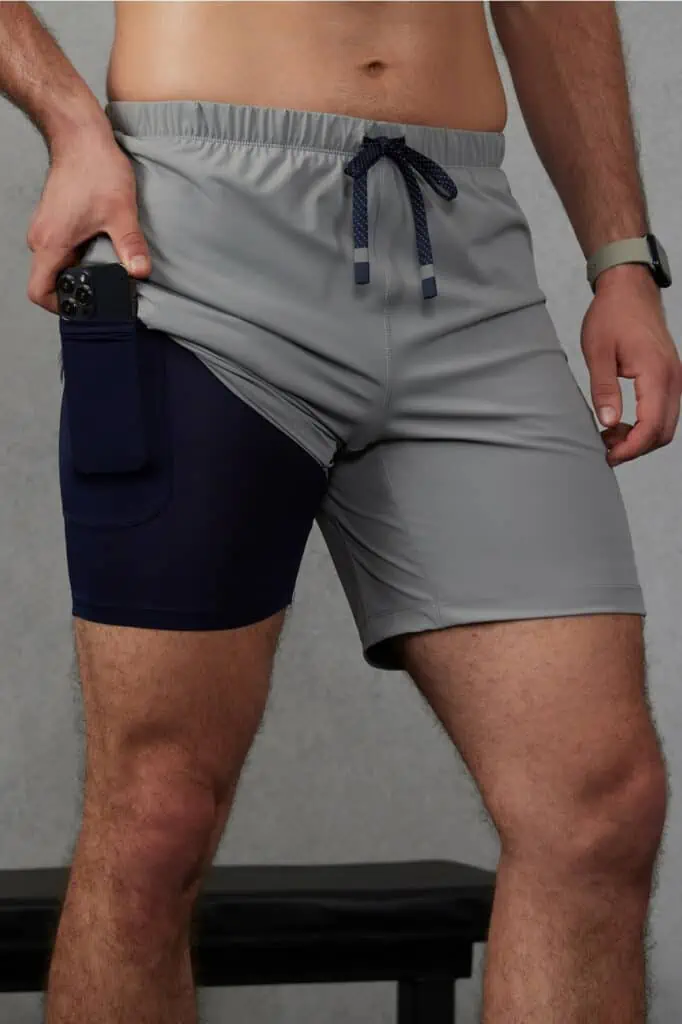 The One Short is Fabletic's original gym-to-swim short made with ultra-lightweight quick-dry fabric that doubles up as swimwear and workout wear. It features all the standard Fabletics benefits, like high stretchability, a built-in liner, and a drawstring waistband. It also has secure external zip pockets and hidden pockets in the lining.
The One short has UPF Protection so that you can wear them to the beach or while surfing. They also have a handy towel loop on the side you can use to wick up any sweat after a challenging workout.
These ultra-lightweight fast-drying shorts are constructed with 79% Nylon and 21% Spandex. Choose between a 5 or 7-inch inseam length and a wide range of color options.
The Franchise short is an eco-style all-purpose sports short made from durable fabric and coated with sweat-wicking and anti-stink technology. You can choose between lined or unlined shorts.
You can also opt for a shorter length with a 7-inch inseam or a longer length with a 9-inch inseam. It has four external zip pockets large enough for a phone and is made from a durable composition of recycled Polyester, Polyester, and Spandex.
The Franchise short is praised for its comfortable, anti-chafe feeling and functionality. However, one downside is that it does not have an adjustable drawstring waistband.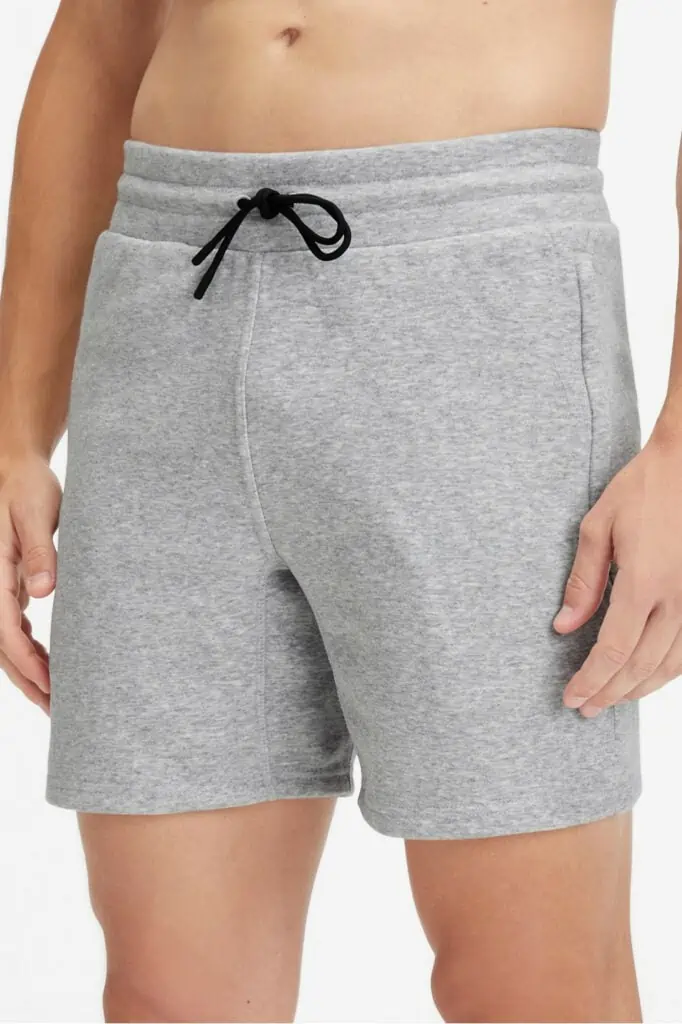 Thanks to the ultra-cozy brushed terry material, the go-to short is ideal for loungewear. It features a comfortable drawstring waistband, zip-up pockets, and a mid-thigh length. The heavy brushed fleece fabric is quick-drying and has a soft buttery feel. Thus, they are perfect for lounging on the couch, walking, or doing light workouts.
There is also an ultra-lightweight version of the go-to short designed for the summer months made from 85% Cotton and 15% Recycled Polyester. These are available in a range of light-tone colors as well as your classic black and navy.
The Only Short is a comfortable and practical commuter short made from a water-repellent recycled fabric. It is designed for on-the-go wear, from traveling, to golf days, to visiting family. The short's lightweight stretch woven material (63% Polyester, 36% Viscose, 1% Spandex) allows you to live in the moment and take on whatever opportunities the day may present.
There are zip pockets to keep your belongings safe should you partake in an impromptu tennis match or head out on a hike. Moreover, the stylish smart-casual look blends elegance with comfort, so you can wear them from morning to night.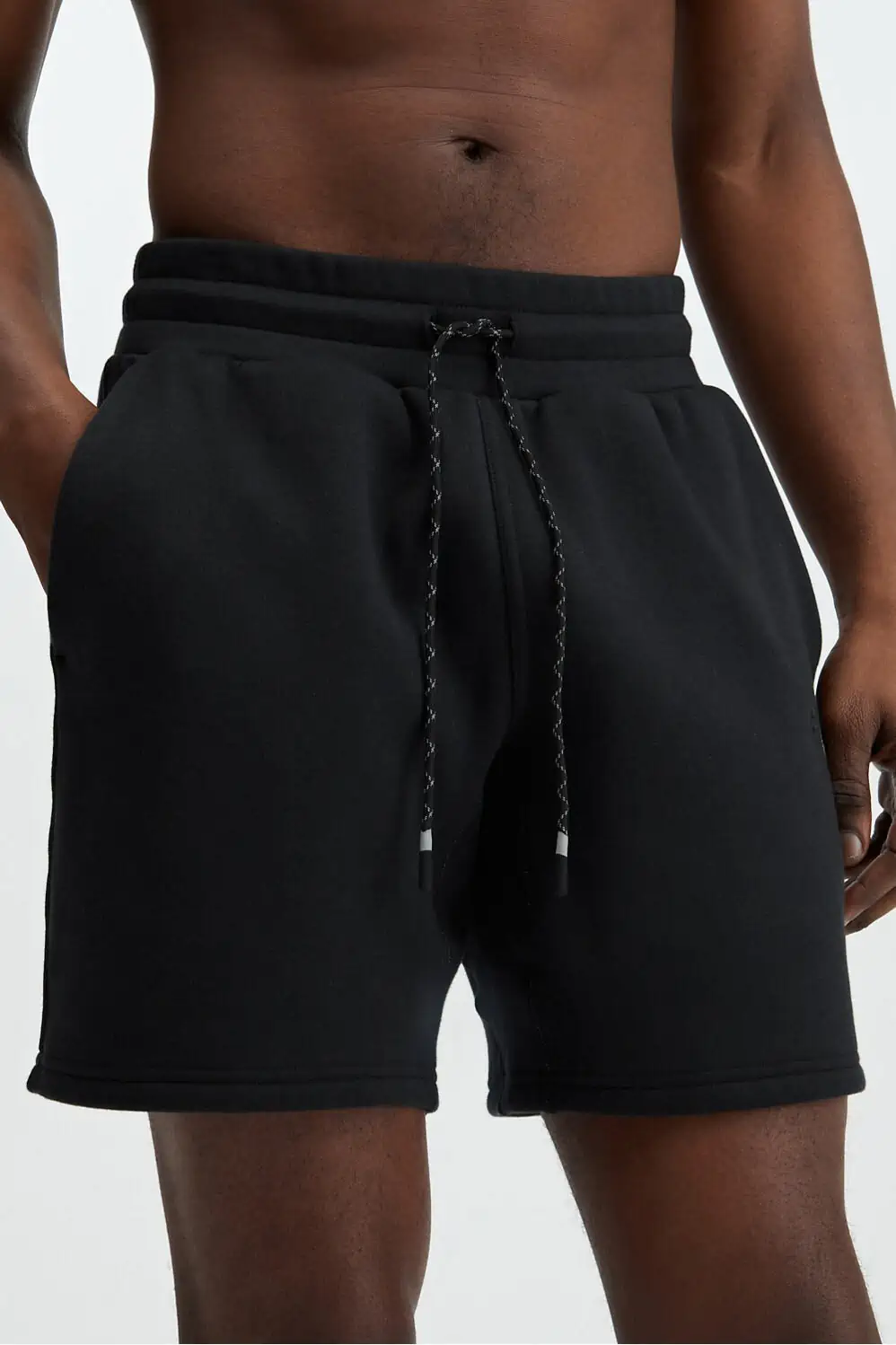 As the name suggests, these shorts are designed for post-game or post-workout. Made from softer than soft brushed fleece, these shorts are cozy enough to sleep in, travel in, or run errands. They are also suitable for light workouts like stretching sessions, featuring Fabletic's iconic anti-stink coating.
These cozy fleece shorts are made from 84% Polyester and 16% Spandex, giving a warm and heavy feeling, perfect for colder days. They also have a comfortable drawstring waistband, two open side pockets, and a 7-inch inseam, giving them a mid-thigh length.
Best Fabletics Women's Shorts
Top 5 Womens Fabletics Shorts
There is an excellent range of shorts in the Fabletics women's range. While they are all suitable for exercising, the compression, fabric, and length vary. Let's explore the pros and cons of each Fabletics women's shorts based on our personal experience and the reviews of others.
The women's short is the only loose-fit Fabletics shorts style for women. Thus, it is ideal for lounging around the home and running day-to-day errands, as well as a wide range of workouts. This is thanks to its quick-dry Nylon and Elastane blend and high-stretch design, allowing you to run, walk, or hike with freedom and comfort. It is also ultra-lightweight, so it won't weigh you down on your runs.
The One Short features an adjustable drawstring waistband and is available in a 5-inch inseam for a mid-thigh length or a 3-inch inseam for a super short fit. There is also a wide range of patterns and solid colors, including limited editions like Bali blue.
The Oasis are the best shorts for yoga, pilates, barre, and similar low-impact exercises. The best thing about these shorts is their buttery soft PureLuxe fabric, the softest material blend from Fabletics. It feels snug and cozy with a "barely there" sensation and chafe-resistant feeling inside. Meanwhile, the lightly hand-brushed finish makes the exterior equally smooth to the touch.
Another excellent quality of the Oasis Short is the high stretchability, giving you full range of motion and support as you find your zen in tree pose or transition elegantly between postures in barre. In addition, the soft fabric is sweat-wicking, making them suitable for sweaty hot yoga classes, and they feature UPF Protection for outdoor practice.
The Oasis shorts feature two external pockets for keys, hair ties, or bank cards, and the high-waisted design gives you a tummy-tucking ultra-flattering look. If you like your shorts short, opt for the 2-inch inseam. But if you prefer total coverage in your downward dog pose, I recommend choosing the 6-inch inseam.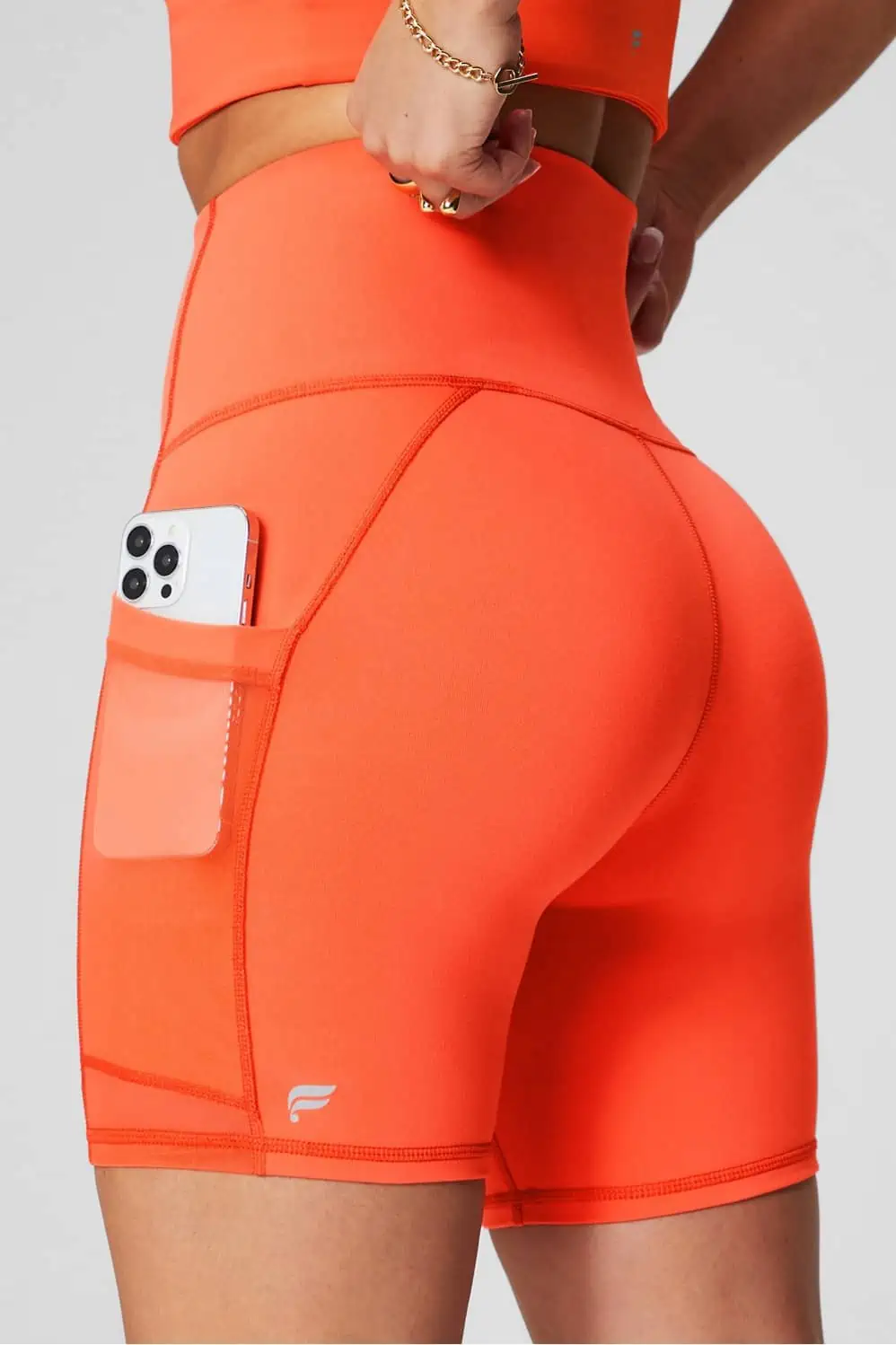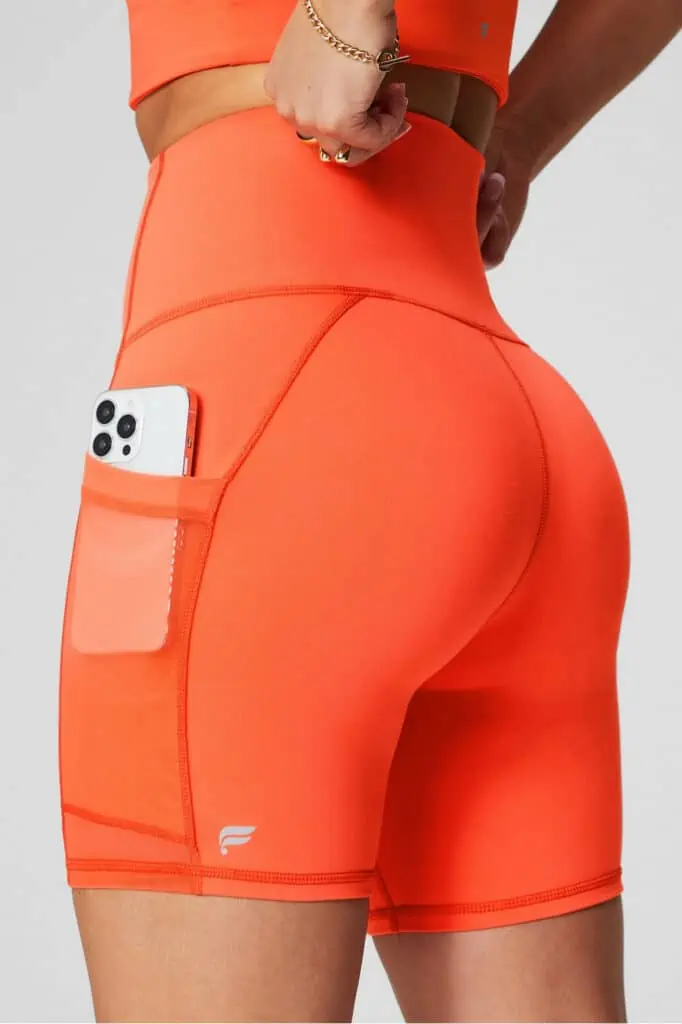 While the on-the-go shorts are designed for training and movement practices, their super comfy fit also makes them excellent leisure wear. These shorts feature an ultra high-rise design coupled with Fabletics signature PowerHold fabric, giving maximum compression to hide any lumps and bumps without restricting movement. The 6-inch inseam provides total coverage too.
These shorts also have all the usual sports short properties, including moisture-wicking fabric, chafe resistance, and side pockets. What's more, featuring UPF Protection, they are a top choice for outdoor workouts, hikes, and beach walks.
Featuring Fabletics' most versatile fabric, Motion365, the Anywhere Short can quite literally be worn anywhere and for anything.
These shorts have the same fantastic sculpting benefits as the high-compression on-the-go shorts but with maximum breathability. I found they fit like a glove and allow you to move with ease in all activities, whether biking, dancing, or squatting. They are also excellent at quickly wicking away any sweat or moisture.
You can choose between high-waist and ultra-high-waist, depending on how much tummy control you need. It has a 6-inch inseam, giving a mid-thigh length.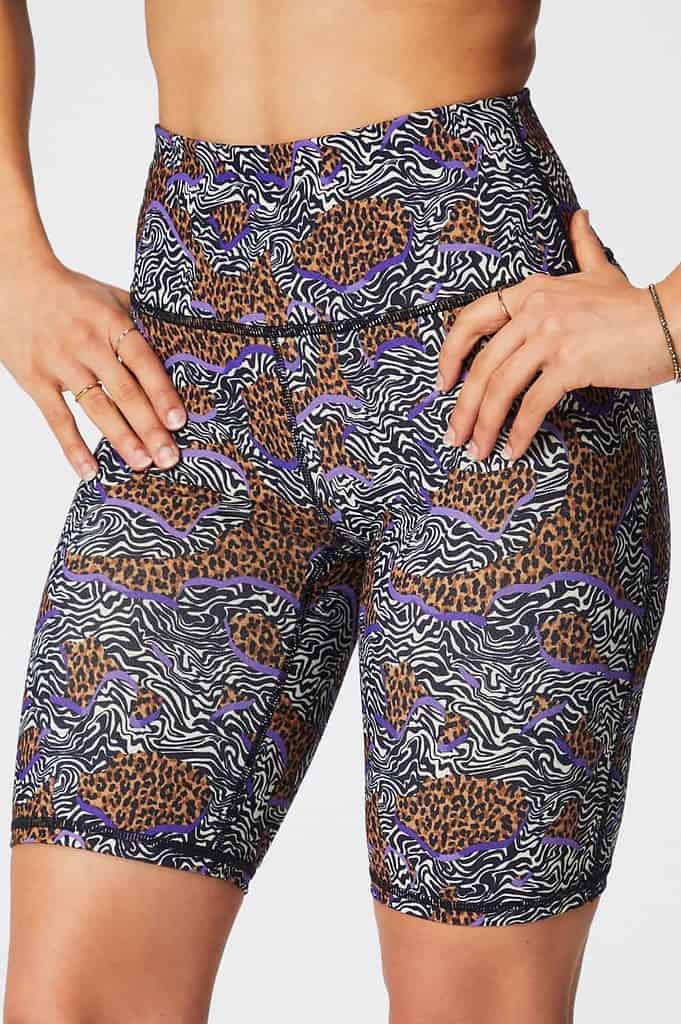 With a 9-inch inseam, high waistband, and max compression, the Define short is best for anyone looking for the most figure-hugging workout outfit. Like the on-the-go short, Define uses PowerHold fabric to hold you firmly in place in even the most high-intensity exercises. With these shorts, you can say goodbye to a sagging bottom or jiggly thighs as you run the treadmill or hit the boxing bag.
Despite the high compression, I found the Define shorts extremely comfortable, with zero chafing or rubbing. They are an excellent choice for those who love Fabletics leggings but want something more summer-appropriate. They support you in all the places you need, so you look cute and attractive rather than frumpy.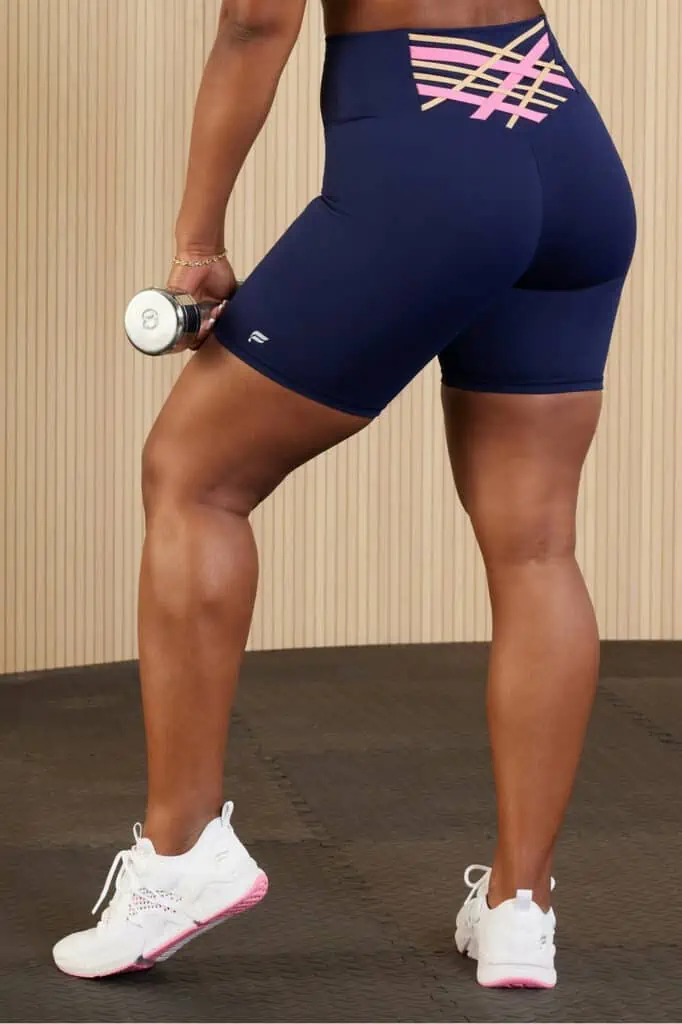 If, like me, you're not blessed with a big booty, these are the shorts for you. The Fabletics Boost shorts lift your buttocks to amplify their appearance while holding them firmly in place so there is no excess jiggling. This is thanks to the PowerHold fabric combined with InstaBoost Technology to flatter, not flatten, your booty.
I found these shorts just as comfy as the others, and they can wick up any sweat from strenuous workouts. I also liked the concealed pocket in the back of the waistband, which is surprisingly big enough to fit a smartphone, and the block color strap detailing gives these shorts a super fashionable aspect.
FAQs
Are Fabletics Shorts Stretchy?
Yes, whichever shorts style you choose, you will benefit from Fabletic's renowned four-way stretch technology, giving you optimal freedom of movement and aiding your flexibility rather than hindering it. This is coupled with an anti-chafe design and soft material, giving many Fabletics shorts a "barely there" sensation.
How Much Do Fabletics Shorts Cost?
Men's Fabletics shorts currently range from $60 to $80 per pair, while women's are typically between $50 and $70.
However, if you plan to buy from Fabletics, often, it is well worth joining their VIP membership program, where you'll receive discounts and credits, saving you from ever paying the full price. In the VIP membership program, you pay a monthly fee to receive store credit, a 20-50% discount on all items, and free shipping (on orders over $49.95).
For example, for those in the VIP membership program, most shorts cost between $15 to $25 per pair (or two for $24). What I also like about this membership program is that you can opt-out anytime or skip the months when you don't plan to purchase anything.
Where Are Fabletics Products Made?
Fabletics clothing products are designed in Los Angeles but manufactured worldwide, including in Asia. Fabletics are not fully transparent about which countries manufacture their clothes, which led to some bad press and questioning around how ethical they are as a company. This has prompted Fabletics to clean up its supply chain in the last year by implementing an ethical sourcing code and stringent manufacturing requirements.
What Is The Difference Between Fabletics And lululemon?
While both activewear brands manufacture high-quality workout gear, their styles between Fabletics and lululemon differ. lululemon typically offers a more minimalist, timeless style, while Fabletics is more fun and playful. Many Fabletics shorts come in various bright colors and fashionable patterns. So if you want to add a pop of color to your outfit or stand out from the crowd, Fabletics is for you.
Conclusion: What Are The Best Fabletics Shorts?
As you can see, Fabletics offers a wide range of sports shorts. So which should you choose?
For men, we recommend the highly-versatile Fundamental Short as it has some fab features like a breathable lining and handy inner zip pockets.
For women, you cannot go wrong with the Anywhere Short as it suits all activities and occasions. However, if you're looking for yoga shorts, the Oasis Short is hands down the best choice thanks to its super soft feel and high stretchability.