You know that chemical smell of new mat straight out of the box? That can't be good for your deep pranayama breathing. But are there actually toxins in your yoga mat that could harm your health?
Unfortunately, yes.
Yoga is an earthy, spiritual practice rooted in ancient Hindu and Buddhist traditions. But most people who practice yoga would be shocked to know just how many toxins and carcinogens (yes, cancer-causing chemicals) are hidden in modern yoga mats.
On the other hand, some yoga mats are not necessarily toxic, but they're horrible for the environment. Polyurethane, foam, and plastic will be around forever and are difficult to recycle or reuse. Something has got to give!
Thankfully, as people are becoming more eco-conscious, there is a growing abundance of environmentally friendly and non toxic yoga mats. Many of them are quite affordable and even more functional than standard toxin-laden mats.
This master guide includes our favorite non-toxic yoga mat brands, where to find them, and how to pick the best eco friendly yoga mat for your practice.
After all, if you're going to be practicing on a mat every day, you want to be sure that it is safe for your health.
Quick Picks: 7 Most Eco Friendly Yoga Mats
The Best Eco-Friendly Yoga Mats, Compared
Product's Name
Material
Size
Thickness
More Info

Top Pick


Brentwood Home Organic Yoga Mat
100% GOTS certified organic cotton upper + 100% FSC certified natural rubber latex lower
71" x 24"
5mm
See Latest Price

Best Cork Yoga Mat


GURUS Sweat Proof Durable Cork Yoga Mat Thick Non Slip Exercise Mat for...
100% cork upper + natural rubber lower layer
75" x 25"
5mm
See latest price

Best Latex Free Option


Handmade Organic Cotton Yoga Mat by Live Well 360 - Natural Yoga Mat -...
100% cotton
78" x 27"
4mm
See latest price

Best Natural Rubber Yoga Mat


JadeYoga Harmony Yoga Mat- Durable & Thick Gym Fitness Mat, Non-Slip...
100% natural tree rubber
68", 71", or 74" x 24"
4.7mm
See latest price

Best Natural Rubber Yoga Mat


Ajna Organic - Natural Jute- Large Non Slip Eco Friendly yoga mats with...
Jute
72" x 25"
5mm
See latest price

Best Biodegradable Mat


Manduka eKO Yoga Mat - For Women and Men, Strong, Durable, Non Slip Grip
100% pure natural rubber latex
71" x 24"
5mm
See Latest Price

Budget Pick


Gaiam Cork Yoga Mat
Cork and TPE
68" x 24"
5mm
See Latest Price
Are some yoga mats toxic?
Most yoga mats are made from synthetic rubber or plastics, which are predominately petroleum byproducts. They can be treated with a range of toxic chemicals such as VOCs, PVC, phthalates, artificial dyes, adhesives, flame retardants, antimicrobials, and heavy metals.
VOCs, or Volatile Organic Compounds in Yoga Mats
VOCs, or volatile organic compounds, are breathable gases that can cause negative health impacts like headaches, nausea, allergies, brain and neurological issues, liver damage, and even fertility issues.
VOCs are found in furniture, paint, carpet, and yes, yoga mats. Research shows that indoor VOC concentrations can be up to 10 times higher than outdoors, meaning this pollutant could be filling your yoga studio or home yoga room without you even knowing it.
In yoga mats specifically, VOCs are most commonly laced into the antimicrobials, anti-static treatments, adhesives, colored dyes, and organophosphate flame retardants. They off-gas continuously throughout the life of the mat and may become even more problematic in hot yoga settings.
To make matters worse, VOCs are a greenhouse gas that contributes to climate change and harms the environment. If this sounds like a major disruption to your pranayama breathing, it is!
Bottom Line: Choose certified VOC-free or low-VOC yoga mats by ensuring your mat is made from natural materials.
The Problem with PVC in Yoga Mats
While VOC's may be infused into a range of materials, the core composition of many yoga mats is polyvinyl chloride (PVC). This material is durable, lightweight, and easy to manipulate in a factory setting to make everything from yoga mats to flooring. But PVC contains a known carcinogen called vinyl chloride that we are directly exposed to when practicing yoga on a synthetic mat.
PVC is often marketed as synthetic latex. Some PVC mats are manufactured with lead, cadmium, chlorine, mercury, and other heavy metals. Basically, it takes a lot of chemicals to create a bendy, rollable mat out of rigid PVC.
Bottom line: PVC is a carcinogen. If you want to go the non-toxic route, avoid PVC yoga mats at all costs.
Phthalates, Hormone Disruption, and Hot Yoga Dangers
There is a surprising danger to hot yoga class that most people don't pay any attention to. It's not the temperature, the extreme flexibility, or the heavy breathing- it's the potential cancer-causing chemicals leaching out from yoga mats under high heat conditions.
Phthalates are used in yoga mats to make them more pliable. They are linked to hormonal disruption, asthma, birth defects, and a range of other health problems). And under warm conditions, they tend to leach out, cling to dust particles, and get inhaled. While these plasticizers may make for an extra flexible, soft, and sticky yoga mat, they're definitely not worth potentially harming your health.
Many mats are advertised as "phthalate free", but there's still another caveat. They could be sneaking in another lesser known plasticizer that could be equally harmful.
Bottom line: Avoid synthetic materials (PVC, TPE, synthetic rubber, etc.) that are most commonly laced with phthalates. Pay attention to greenwashing. Phthalate-free a better option, but doesn't necessarily mean the brand is safe. And if you practice hot yoga or Bikram, be extra aware of what's in your yoga mat.
Polyester is Non-Toxic but Environmentally Damaging
Recently, polyester has become a more popular alternative to PVC in yoga mats because it is safer for human health. While this is probably true, the problem with polyester is its energy-intensive production that generates large amounts of pollution. Making polyester releases significant amounts of carbon monoxide, acetaldehyde and 1,4-dioxane into the atmosphere. It can also cause runoff of acids, iron, and ammonia into nearby waterways.
Bottom Line: Polyester may be a better option for your health, but it is not environmentally friendly.
Avoid the 'Yoga Mat Chemical', azodicarbonamide
Azodicarbonamide, or ADA, is a controversial chemical foaming agent that has been used in yoga mats to create that spongy, supportive texture. After being coined the "yoga mat chemical", investigative journalism from the Environmental Working Group also uncovered that ADA is used as a food additive in over 500 food products with very little safety oversight from the FDA.
In yoga mats and other household products, ADA is most commonly mixed with PVC, rubber, and polymer plastics to create tiny gas bubbles that create that malleable, lightweight feel. But when it's heated (in a hot yoga class for example), azodicarbonamide releases carcinogens like ethyl carbamate and immunosuppressing chemicals.
The World Health Organization has found that ADA is linked to asthma, respiratory issues, and irritation.
Bottom Line: Most synthetic yoga mats are at risk for containing ADA. While it is in the process of being banned in food products, it can still be imported in non-edible products. Avoid it by choosing natural materials.
Are lululemon mats non toxic?
While we love lululemon's incredible leggings and athleisure wear, their yoga mats have some questionable materials. Their classic "The Matt 5mm" is made of 55% Natural rubber, 23% Synthetic rubber, 15% Polyurethane, 5% Polyester, and 2% Nylon.
Here's a safety breakdown of those materials:
Natural rubber: Over half of Lulu's mat composition is FSC certified natural rubber, which is sustainable and comes from natural rubber trees (though it does contain latex). So at least half of this mat is non toxic and eco friendly.
Synthetic rubber: Artificial elastomer synthesized from petrochemicals byproducts, may contain carcinogens like 1,3-butadiene and styrene.
Polyurethane: There is some controversy in the industry about whether polyurethane is safe or not, but we do know that it contains probable carcinogens called isocyanates. Foam manufacturing is also very polluting and can pose some lung cancer risk to workers.
Polyester: Non-toxic but environmentally harmful to produce.
Nylon: Non-toxic but energy-intensive to produce.
Bottom Line: lululemon yoga mats are not the most toxic out there, but they're not fully non-toxic either. You can buy a much more eco friendly yoga mats like the Brentwood Home Organic Yoga Mat at a similar price point.
Is Manduka yoga mat non toxic?
Manduka yoga mats are made with PVC but apparently tested for harmful substances. The PRO Series is certified STANDARD 100 by OEKO-TEX®️ (12.HUS.17706 | Hohenstein HTTI), meaning they are purportedly sustainable and semi non-toxic. These mats are 100% latex free and synthetic, meaning they are not made from natural materials. Unfortunately we don't have an exact breakdown of what's inside them.
However, Manduka does gets sustainability points for their new mat recycling program, Live On, which lets you recycle your old mat for just $10 with any new mat purchase.
Bottom Line: Manduka probably offers the most sustainable PVC yoga mat you can find. It is certified and third party tested for toxins. But the materials are not natural.
Best 7 Eco Friendly Yoga Mats
Sustainable yoga mats don't have to break the bank. Our top picks are all in similar price points to the most popular yoga brands, but they're completely safe for your health and the environment.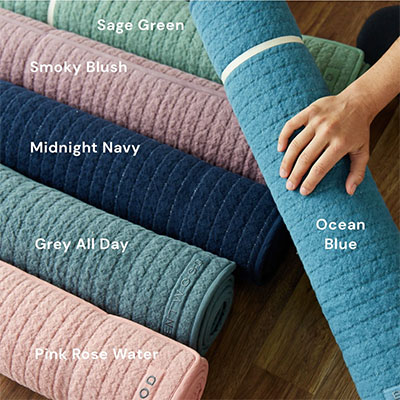 Top Pick:
Brentwood Home Organic Yoga Mat
This is one of the only 100% GOTS (Global Organic Textile Standard) certified organic cotton yoga mats with a 100% FSC-certified natural rubber latex base. Organic yoga mats are made with materials sourced directly from nature and grown without any pesticides or synthetic chemicals.
This is the ultra-sustainable yoga mat of our dreams. It is completely non-toxic, eco-friendly, and biodegradable when you're done with it. There are no hidden materials: just organic cotton on the top and natural rubber from trees on the bottom.
The mat is cushiony, non-slip, and super comfortable on tender joints. The latex lower portion stays still and grips the floor while adding extra support to your asanas. The upper cotton texture wicks away moisture and is super easy to throw in the washing machine after a sweaty hot yoga class.
Plus, it's certified Climate Neutral and Certified Vegan!
Pros
GOTS certified organic cotton
FSC certified natural rubber from sustainably grown rubber tree plantations
100% biodegradable
Absolutely no foam, PVC, TPE, or synthetic toxins
Machine washable
Vegan Certified
Climate Neutral
Company is dedicated to green manufacturing and uses 100% renewable energy
Cons
You can't wipe it down like an all rubber mat
Bulky in the laundry
Not reversible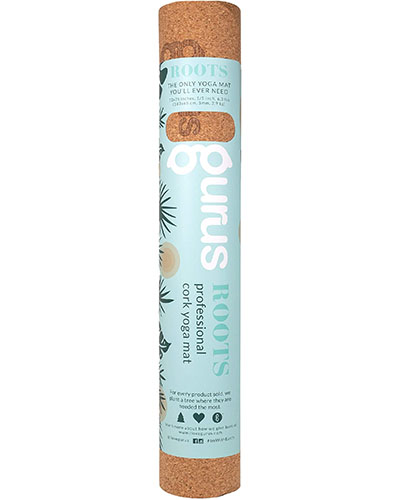 Best Cork Yoga Mat:
GURUS Sweat Proof Durable Cork Yoga Mat Thick Non Slip Exercise Mat for Home Workout (Cork Yoga Mat)
See latest price
Of all the cork yoga mats on the market, Gurus stands out for their eco friendliness, versatility, and stability. The brand is dedicated to chemical free products and is partnered with Trees for the Future to ensure they give back. The cork and rubber are both ethically sourced and completely free from any of the carcinogens in conventional toxic yoga mats. Natural cork comes from the cambium (outer bark) of cork oak trees, meaning they don't need to be cut down to continuously yield sustainable cork.
The mat itself is crazy versatile, with a naturally antimicrobial cork upper and a 100% natural rubber lower layer. Both sides can be used and easily wiped down.
At 5mm, the density is ultra comfortable on your joints and rivals all the top competitors. It's non-slip and great for Bikram as well as classic Vinyasa or Hatha classes. The cork actually gets more grippy when it gets wet, so you don't have to worry about sweating buckets on this mat.
Pros
Made from 100% cork upper and natural rubber lower layer
Versatile and reversible (you can use both sides)
Ethically sourced
Naturally antimicrobial cork
Super durable (lasts for many years to come)
Completely free of toxins
Environmentally friendly company
Cons
At 6 pounds, it's a little heavy
Cork can crack when folded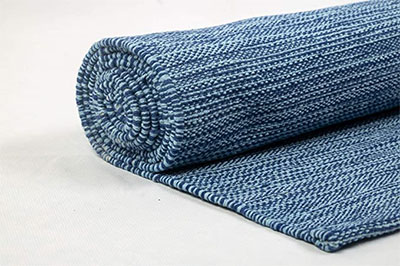 Best Latex Free Option:
Handmade Organic Cotton Yoga Mat by Live Well 360 - Natural Yoga Mat - Exercise, Workout, & Fitness...
See latest price
Whether you're allergic to synthetic latex or natural rubber, this latex-free option is allergy-friendly and soft on your skin. The Live Well mat is essentially a 100% cotton rug that is designed specifically for yoga.
It's 78″ x 27″ in size and 4mm thick. At just 2 pounds, it's super lightweight and portable. The material itself takes a bit of getting used to after using a regular yoga mat, but it is very comfortable and non-slip
Long before synthetic yoga mats, rugs were the go-to for ancient yogis. These are a lot like the traditional Mysore yoga mats used in India by Ashtanga practitioners.
Pros
Super soft and skin-friendly
Moderate density and joint support
Perfect for those with latex allergy
Machine washable
Handwoven in India
Cons
Density is only 4mm, so not as supportive as latex mats
Not the best for Bikram or heated classes
Cotton is not GOTS certified organic
A note on natural rubber latex:
I personally have struggled my entire life with an intense latex allergy (like throat closing, asthma attack, full body rash, rush to the hospital type of allergy). However, I eventually discovered that I only had that reaction to synthetic latex in balloons, gloves, and yes, toxic yoga mats (that wasn't a fun a yoga class…)
When I experimented with natural rubber latex (with an EpiPen on hand), I discovered that I wasn't allergic at all. In fact, I now sleep on an organic latex mattress and use an organic latex yoga mat. My anecdotal experience tells me that I may be allergic to all those nasty chemicals in synthetic rubber, and not the latex from natural rubber trees.
*This is not medical advice. Consult with your doctor if you have a rubber or latex allergy.
Best Natural Rubber Yoga Mat:
JadeYoga Harmony Yoga Mat- Durable & Thick Gym Fitness Mat, Non-Slip Natural Rubber Yoga Mat- Home...
See latest price
JADE YOGA was the first in the yoga industry to come out with completely natural rubber yoga mats. This mat is made with 100% natural tree rubber and free of toxins or synthetics. It has great grip and stability for every pose.
All Jade products are made in the USA and time-tested by brand devotees for decades. These mats last forever and feel so good on your joints.
We also love the eco friendly mission of this brand. With Trees for the Future, Jade Yoga plants a tree for every product sold.
Pros
Made from renewable materials (natural rubber latex)
Naturally grippy and high traction
Abundance of color and and size options
No chemical additives
3/6″ thick for great cushion and traction
Made in the USA
Eco conscious brand
Best Natural Jute Mat:
Ajna Organic - Natural Jute- Large Non Slip Eco Friendly yoga mats with Carrying Strap - Reversible...
See latest price
Unlike cork yoga mats, jute fibers (also known as golden fiber) won't flake or crack over time. This natural jute fiber mat is ultra sustainable, 100% natural, and naturally non-slip. It is made to repel sweat and absorb shock so that you have plenty of traction and comfort without risking exposure to harmful toxins.
This Australian woman-owned brand has an impressive ethos and a dedication to giving back by planting trees for each mat sold. They ensure that all of their mats are free from latex, phthalates, heavy metals, and other toxins. Plus, their mats are beautiful and include a 100% cotton carrying strap.
Pros
Made with natural jute fibers
Durable and extra non-slip
100% non toxic
Latex-free
Beautiful and aesthetically pleasing
Biodegradable and recyclable
Australian woman owned brand dedicated to sustainability – supports reforestation projects
Zero waste packaging
Includes carrying strap
Weighs about 4 pounds
Cons
Needs to be hand washed
May contain other hidden materials? It is unclear if the base is actually jute
Best Biodegradable Mat:
Manduka eKO Yoga Mat – For Women and Men, Strong, Durable, Non-Slip Grip, 5mm Thick, 71 Inch
When it comes to eco friendly yoga mats, we're glad that big brands like Manduka have finally jumped on the bandwagon. Though some of their other products contain known toxins, this particular mat is remarkably chemical-free and recommended by yoga teachers around the world.
It is made with 100% natural tree rubber and free of toxic foaming, agents, azodicarbonamide, PVC, and harmful plasticizers. It is 5mm thick for superior joint cushioning, making it great for any type of yoga session. It has a rippled surface for added traction. We also love that this mat is so easy to clean with a quick wipe down.
Keep in mind that this mat does have a fairly strong smell out of the box, but it isn't that nasty chemical smell from conventional mats. The pungent smell comes from the natural tree rubber and dissipates over time. Cleaning with a diluted apple cider vinegar solution can help get rid of it.
Pros
100% pure natural rubber latex
The natural rubber is sustainably sourced (not from the Amazon rainforest)
Completely biodegradable and sustainable
Rippled surface for grip and traction
Non-toxic and zero waste manufacturing
99% latex free (no synthetic rubber)
Closed-cell construction so moisture can't get into the mat
Very durable and tough
Cons
Strong natural latex smell takes time to dissipate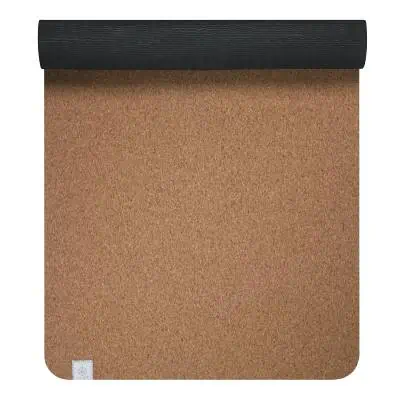 Budget Pick:
Gaiam Cork Yoga Mat | Natural, sustainable cork print design stops odors | Non-toxic TPE Rubber…
At under $40, you really can't beat Gaiam's cork yoga mat option. Although this mat has a TPE rubber backing, we still love natural cork upper. It has impressive traction and gets even softer when damp in hot rooms.
This cork mat is pretty dang sustainable, but its toxin level is unclear. The cork itself is produced from sustainably managed cork trees, but the TPE rubber bottom could have hidden chemicals. Nonetheless, it is super affordable, non-slip, cushiony, and keeps funky smells out.
Pros
Very affordable
Natural cork upper
Excellent grip and traction
Non-slip lower
Pretty lotus emblem
Easy to roll up and carry
Lifetime guarantee
Cons
Contains TPE rubber backing (may have toxins)
Still has a mild chemical-like smell
Cork may crack over time
FAQs
What is the healthiest yoga mat?
The Brentwood Home Organic Yoga Mat is one of the only 100% organic cotton and natural rubber latex yoga mats on the market. This mat is free from any toxins or harmful chemicals and is produced from organic cotton farms and rubber tree plantations that are never treated with pesticides or synthetic chemicals.
What is the most non toxic yoga mat?
Non toxic yoga mats are made without harmful VOCs, PVC, plasticizers, foams, heavy metals, phthalates, or other toxic chemicals found in mainstream yoga mat brands. The most non-toxic option we've found is the Gurus Roots Cork Yoga Mat made from 100% sustainable cork and natural tree rubber latex.
What is a natural yoga mat?
Natural yoga mats are made with materials like cork, natural rubber, jute, cotton, and organic fibers. They are free from the harmful chemicals found in PVC, TPE, synthetic rubber, plastic, and other common toxin-laden yoga mat ingredients.
What makes a yoga mat eco friendly?
Eco friendly yoga mats are non-toxic and environmentally conscious from manufacturing until the end. They are made from nature-sourced materials like natural rubber, cork, jute, cotton, or wool. They are either 100% biodegradable (can decompose at the end of their lifespan) or can be recycled into something new.
Are yoga mats bad for the environment?
PVC, TPE, foam, and synthetic rubber yoga mats can be incredibly harmful for the environment and human health. They are manufactured with toxic chemicals like VOCs, azodicarbonamide, isocyanates, plasticizers, phthalates, lead, cadmium, chromium, and other heavy metals. Most yoga mats are also doomed to the landfill because they are not biodegradable and typically not recycled. Choosing an eco friendly yoga mat ensures that you are practicing in alignment with your ethics and keeping toxins out of your pranayama breathing.
What can I use instead of yoga mat?
Key Takeaways: How to Find
Your yoga practice is all about healing your body and mind through conscious movement. But conventional yoga gear may have you breathing in toxic chemicals in the process.
If you want to minimize your exposure to VOCs and carcinogens while reducing your carbon footprint, opt for an eco friendly non toxic yoga mat. Eco friendly materials like cork, jute, natural tree rubber, and organic fibers are better for the planet and your health compared to a PVC mat or a standard yoga mat.
Have you tried any of these mats? Let us know what you thought!
Namaste!