Cover photo credit: rollingsandsharmony.com
*This article compares towels for hot yoga. If you're looking for more yoga gear, check out our reviews for traveling yoga mats or carry on backpacks or yoga backpacks for commuting to the studio.
—
Looking for the best yoga towel for hot yoga to prevent you from slipping during class?
There are tons of yoga mat towel options to choose from. Luckily, we did the research for you and narrowed it down to the top 5 towels for hot yoga.
What was I looking for in a hot yoga towel?
Sticky / Grippy
Durable
Fair price
Anne and I have been practicing yoga for a combined 14+ years and have tried out countless yoga products.
This guide was designed to make choosing the right yoga towel for hot yoga a breeze! (or at least give you a starting point).
At the end, I will share which towels we use. However, depending on your specific needs, any hot yoga mat towel we list below will do the job.
Pin me! Then keep reading 🙂
Let's start with a high-level overview…
The hot yoga towel comparison
Brand
Price
Length
Material
Stickiness
Color Options
More Info

Best High-End



Yogitoes
High
71"-79"
Microfiber + Silicon grips
4/5
13
See Latest Price

Best Value



Manduka eQua
Competitive
72"
Microfiber
5/5
3
See Latest Price

Best Support



Kulae Yoga
High
74"
Microfiber
4/5
2
See Latest Price

Best Hand Towel



Shandali GoSweat
Low
74"
Microfiber
3/5
6
See Latest Price

Best Combo Mat+Towel



Yoga Design Lab
High
70"
Microfiber top, natural rubber bottom
5/5
8
See Latest Price
Alright, let's move on to the individual yoga towel reviews…
Yogitoes Skidless yoga towel (71″)
Yogitoes Skidless yoga towels are one of the most well-known in the world of hot yoga. These towels are made with microfiber and contain little silicon grips to keep your towel from bunching up. I love and recommend this towel for most types of yoga (Bikram, Hot Series, Yin, etc). However, the price is high for the towels reviewed here.
Potential downside:
Not great for Vinyasa – the towel bunches up when transitioning from Crescent Lunge to Warrior II
Grips aren't for everyone – the silicon grips irritate a small percentage of people
Best High-End:
Yogitoes Yoga Mat Towel - Lightweight, Quick Drying Microfiber, Non Slip Skidless Technology, Use in...
See latest price
Manduka eQua yoga towel (72″)
It's no secret that Manduka makes premium yoga products. Their flagship hot yoga towel is yet another great product. Priced competitively. Personally, I think this is the best value of the non-slip yoga towels we reviewed. I use this towel for any heated vinyasa class, and it's my go-to travel towel.
Potential downside:
Need to be damp – must spill/spray water on the towel before it becomes sticky
Best Value:
Manduka eQua Yoga Towel – Absorbent, Non-Slip for Yoga, Gym, Pilates, and Outdoor Fitness, Quick...
See latest price
Kulae Yoga Towel (72″)
If you usually practice on a larger mat, this towel could make sense for you. Although this is my least favorite towel on the list, it is the best option for people who want a no-slip yoga towel and extra padding. With its extra support, the Kulae hot yoga towel is much bulkier, which some people (including myself) do not love. It comes with only one color option (gray) and is the most expensive on the list.
Potential downside:
Expensive – Priced higher than other options on the list
Limited color selection
Shandali GoSweat Non-Slip Hot Yoga Hand Towel
You might be thinking, "Okay, but what if I want something small to wipe off my hands, face, arms, etc.?"
Enter the Shandali GoSweat hand towel — the #1 best seller on Amazon when we searched "hot yoga towel" in 2023. It can be used as a smaller towel placed on your mat to help you maintain dry hands and feet for a stable, slip-free foundation, making it easier to achieve advanced postures.
This lightweight towel also promotes hygiene by allowing you to wipe down studio mats, eliminating concerns about germs or sweat. Its portability offers a convenient alternative to lugging around a larger, heavier towel to wipe yourself off with.
Best Hand Towel:
Shandali Hot Yoga GoSweat Microfiber Hand Towel in Super Absorbent Premium Lemonade Pink Suede for...
See latest price
What about the hybrid yoga mat + towel combos?
There are a few companies trying to create a hybrid yoga mat and yoga towel combination. In my opinion, that is a challenging task. It would need to have a sticky yoga mat texture on the bottom and an absorbent, non-slip, towel-like surface on top.
I was skeptical of these products, and here are a few questions I had right away:
What if you don't want to practice with a yoga towel surface today?
What if the soft yoga towel surface is too slippery?
Luckily, we did find one product that nailed it!
Yoga Design Lab
It's a beautiful product with great colors/designs and performs great! It is great for any sweaty yoga practice and can be machine-washed when needed. It also comes with its own carrying strap. Great reviews on Amazon (4.7 stars out of 5 at the time of writing).
Potential Downside?
Best Combo Towel+Mat:
YOGA DESIGN LAB | The Combo Yoga Mat | 2-in-1 Mat+Towel | Eco Luxury | Ideal for Hot Yoga, Power,...
See latest price
How do I keep my yoga towel from slipping?
Most hot yoga towels have anti-slip materials on the underside. But sometimes, the edges still won't stay put!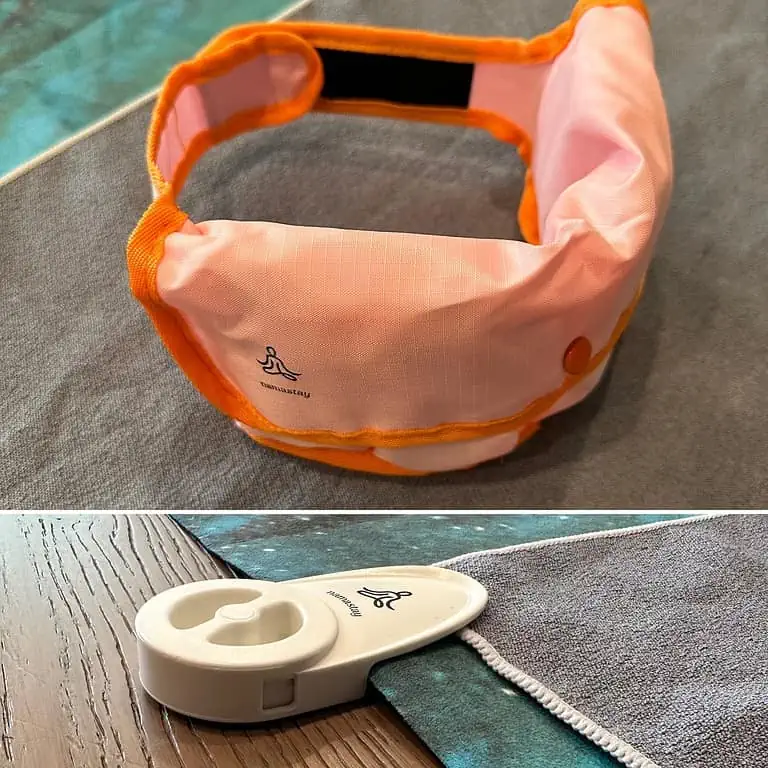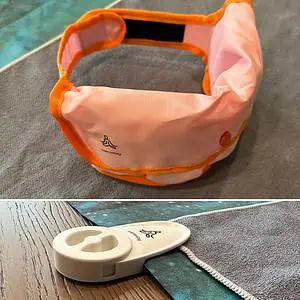 We just got our hands on a nifty set of Namastay clips that keep your yoga towel clamped down to your mat. A set comes with 4 clips — one for each corner of your mat.
It was great that they came in a pouch that loops around your yoga mat. The grippy interior of the clamps helps to keep everything together.
Best yoga towel clips:
Namastay Clips - Secure Your Yoga Towel Underneath Your Hands and Feet
See latest price
Do I really need a "yoga towel?"
You might be asking yourself, what is a yoga towel? Can't I just use a normal towel? Or no towel at all.
Well, technically you can. If you only practice yin yoga, aka you never sweat during yoga, a yoga towel will offer nothing besides a little extra support. If you do hot yoga, you need a towel to prevent slipping which can cause injury.
Benefits of a towel for hot yoga
Extends the life of your yoga mat
Decreases the chance of feet slipping (especially important in hot yoga)
Absorbs sweat and acts as a "sticky" surface after your mat gets sweaty
What about a regular towel?
I understand, you want to save a few dollars and use your old towel sitting in the closet. You CAN do this but it doesn't work very well. Regular towels don't stick to your mat which leads to bunching up. If your towel is bunching up, you'll be constantly adjusting your towel.
Regular towels will wear out really fast; yoga towels last for years with regular use. Yoga towels are the perfect size to fit your yoga mat. Regular towels are too wide and too short to be used for yoga!
Laslty, you can also go for a hot yoga mat and towel in one combo. For example, the Yoga Design lab Combo Mat which is a solid option. Personally I prefer keeping my yoga mat and the best non slip yoga towel I can afford separate.
*Bonus: a yoga mat towel also works great for a travel towel! See what else Anne packed in her bag for travel.
What towels do The Yoga Nomads use?
I think the best yoga towel is the Manduka eQua which I use for most yoga classes and for travel. It's also the best yoga towel for sweaty hands that I've used. Let's be real: my hands get extra sweaty the second I walk into a heated studio. Sometimes I do use my Yogitoes when practicing the "Hot Series" from CorePower (which resembles the Bikram series). Side note: some people think a specific bikram yoga towel. However, I think that's a bit crazy 😉
The "Best Hot Yoga Towel 2023" award goes to… the Manduka eQua. It's so comfy, durable, great value, and simply the best anti-slip yoga towel I've used!
Brandon's personal Bias… I LOVE Manduka (and use most of their gear)
Did you enjoy this article? Pin me!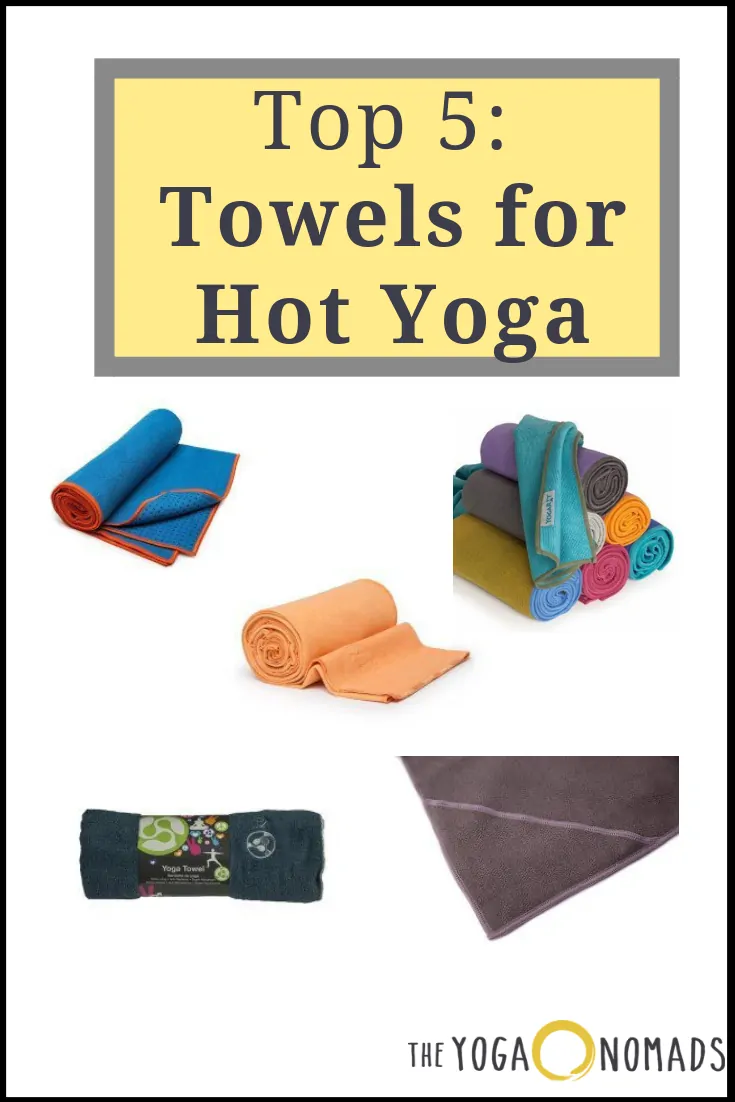 Are you a yoga teacher?
This guide shows our proven step-by-step system for creating a yoga website you love. If you're a yoga teacher, snag this guide for FREE.
Cheers!
Brandon