The foundation for a rejuvenating yoga practice starts with your mat. You need something comfortable, supportive, grippy, and non-slip. A great mat should also be easy to clean and transport between classes or the park.
With so many yoga mat options on the market, you're probably wondering if a clothing brand like lululemon actually has a mat worth investing in. Their original line of "The Mat" has evolved into 3mm and 5mm options as well as The Take Form Mat, The (Big) Mat, The Reversible Mat, and the travel-style The (Un) Mat. All of these mats have unique features and impressive performance in hot yoga, Vinyasa flows, and beyond.
Here's everything you need to know about choosing the best lululemon Yoga Mat for your practice, including in-depth reviews and comparisons, plus cheaper alternatives. Let's flow!
Top 6 lululemon Yoga Mats
As lululemon's original and most popular mat, this natural rubber mat is designed for everything from hot to hatha. It has an incredibly grippy texture on the top and a 5mm thick natural rubber latex core.
The polyurethane surface absorbs moisture and performs incredibly well during the sweatiest practices, but you can also flip it over to use the cushiony natural rubber base in low-sweat flows. This mat is treated with an anti-microbial additive to prevent mildew or mold. It needs to be wiped clean and air-dried after use.
Pros
66cm x 180cm (26″ x 71″)
Extra grippy surface
5mm (0.19″) thick cushioned base
Very supportive for joints
Reversible for use on either side
Great for sweaty sessions or low-sweat flows
Easy to clean
High quality, dense, construction
Beautiful color selections
Cons
Cannot use with a latex allergy
Odor at the time of opening (needs to air out)
May slip on hardwood or slick floors
Heavy (2.38kg or 5.24 lbs) and difficult to roll
"The Mat" is made with an eco-friendly FSC-certified rubber base that's 5mm thick. The extra cushion feels deeply supportive and comfy. lululemon's innovative top layer is grippy and moisture-absorbing to keep you grounded during hot yoga classes.
Like the Reversible Mat, you can also flip it over and use the cushioned, natural side for less sweaty flows. The main difference between the two is the sustainability (The Reversible Mat is not FSC certified) and the cushion (The Mat is a bit more supportive for your joints).
Pros
66cm x 180cm (26″ x 71″), 5mm (0.19″)
Extra cushiony for knees and joints
Dense natural rubber
FSC-certified rubber is sustainable and eco-friendly
Very grippy non-slip topper
Reversible for use on both sides
Cons
A bit bulky and heavy to carry at 2.38kg (5.24lbs)
Sweat stains can soak into light-colored mats (may be difficult to remove)
Not for anyone with a latex allergy
Best for Joint Comfort:
Most Versatile Mat:
This thinner version of The Mat has all the same qualities, but with slightly less cushion and less bulk. The 3mm thick FSC-certified natural rubber provides a non-slip, supportive base. The opposite side has the same smooth top layer with an excellent grip. It is slightly cheaper than the 5mm mat and easier to transport.
Pros
66cm x 180cm (26″ x 71″), 3mm (0.12″)
Weighs 1.76kg (3.87lbs)
Sustainable FSC-certified natural rubber base
Highly grippy texture
Reversible sides
Easy to clean
8 beautiful colors and patterns
Affordable price point
Cons
Not for anyone with a latex allergy
Slight smell fades over time- air out before use
If you're looking for extra stability and flow, the Take Form has an innovative 3D-textured surface to help you seamlessly feel your way around the mat. The guideline markers keep you centered in poses without looking down and checking your alignment. The cushion and grippy surface are luxuriously comfortable, but they do require a little extra care compared to lululemon's other yoga mats.
Pros
66cm x 180cm (26″x 71″), 5mm (0.19″)
Mid-weight 2.24kg (4.9lbs)
FSC certified sustainable natural rubber
No slide or motion
Very stable core
Easy to clean
Very sticky and grippy on your feet (though it may squeak a bit)
Beautiful color and design options
Cons
Higher price point
Alignment lines are pale and difficult to see on some colors
Not reversible
Needs special care: Roll with top layer facing inward and never put weights or shoes on the 3D surface
Best Large Option:
The (Big) Mat
For the taller yogis or those who want extra space to spread out, The Big Mat 5mm has added width and extra length. It's literally the size of a door (so you can obviously feel the extra weight).
It is made with sustainable FSC certified rubber and the same high-grip top layer to keep you from sliding around. The 5mm cushion has excellent joint support and you can also reverse this mat to use either side. We love the antimicrobial additive that keeps this mat mildew-free and smelling nice.
Pros
Extra long and wide- 71cm x 213cm (28″ x 84″)
So much room to stretch out in any pose
5mm (0.19″) thickness
Reversible material
Repels sweat absorption
Superb traction
6 attractive pattern options
Great durability
Cons
The heaviest option at 3.2kg (7.05 lbs)
Not good for small studios or crowded classes
Colors may fade or smudge
Best Travel Mat:
The (Un) Mat
For yogis on the go, this ultra-thin mat is incredibly lightweight, yet still has enough cushion to protect your joints from a hard floor. We love that you can travel the country with it or roll it out on your living room carpet and enjoy a non-slip practice. At only 1.05kg (2.32lbs), it's super portable. The FSC-certified natural rubber base material can be alternated with the smooth, grippy side for versatile texture options.
Pros
Most affordable price point
Very portable and lightweight
FSC-certified natural rubber and high-grip polyurethane top layer
Moisture absorbent (can absorb essential oils for a long-lasting smell)
Antimicrobial treatment to prevent mold and mildew
Eco-friendly materials
Cons
Sweat stains may be difficult to remove
Attracts dust and marks from floor
lululemon Yoga Mat Review
Based on our tests and thousands of reviews, we can safely say that lululemon offers some of the best yoga mats on the market. With comparative quality to Manduka, JadeYoga, and Gaiam, lululemon's mat selection is definitely worth the price.
Texture and Material
Most Lulu mats have dual reversible textures: the tops are made of polyurethane-coated grippy, smooth surface and the bases are made of FSC-certified natural rubber. The Forest Stewardship Council ensures that rubber trees are sustainably tended to make their mats eco-friendly. This means they are not latex free. lululemon mats are not safe for people with latex allergies.
Most of their mats also have a synthetic rubber and polyurethane component of the material. Be aware that the natural rubber component of lululemon's mats will make them smell a bit right off the shelf. Roll them out and let the air fade the smell away over time.
Thickness and Support
You can get a lululemon yoga mat in 1.5 mm, 3mm, and 5mm thickness. The 1.5mm is just 0.06″ and typically only used for travel. It doesn't provide much cushion.
The 3mm thickness is middle-of-the-line with moderate padding and a medium weight (around 5 pounds).
5mm thick mats have the most cushion for your joints as well as the most durability. However, most of them weigh in at over 7 pounds and can be bulky to roll up.
Grip and Feel
The most grippy non-slip lululemon yoga mat is the Take Form Mat 5mm. It has an extra layer of elevated dots and stickiness to keep your feet and hands in place during downward dog, vinyasa flows, or any other pose. All of the Lulu mats have a similar polyurethane-coated top surface and textured natural rubber base that feels smooth to the touch.
Price
A lululemon yoga mat will cost you $58 to $138, depending on the style and thickness. The cheapest option is The (Un) Mat, but it also is the thinnest. lululemon's yoga mats are comparable in price to competitors and come with their classic workmanship guarantee.
Our Favorite lululemon Mat Accessories
Best Yoga Towel:
The Towel
Whether you sweat buckets during hot yoga classes or you want something soft to wipe off with after your shower, this microfiber towel is as high quality and durable as it gets. Perfectly designed to fit lululemon's regular-sized mats, this towel grips both your mat and feet for a dry, non-slip surface. The clean cut edges won't fray. We especially love that you can spritz the towel with diluted essential oils for added grip and a pleasant smell.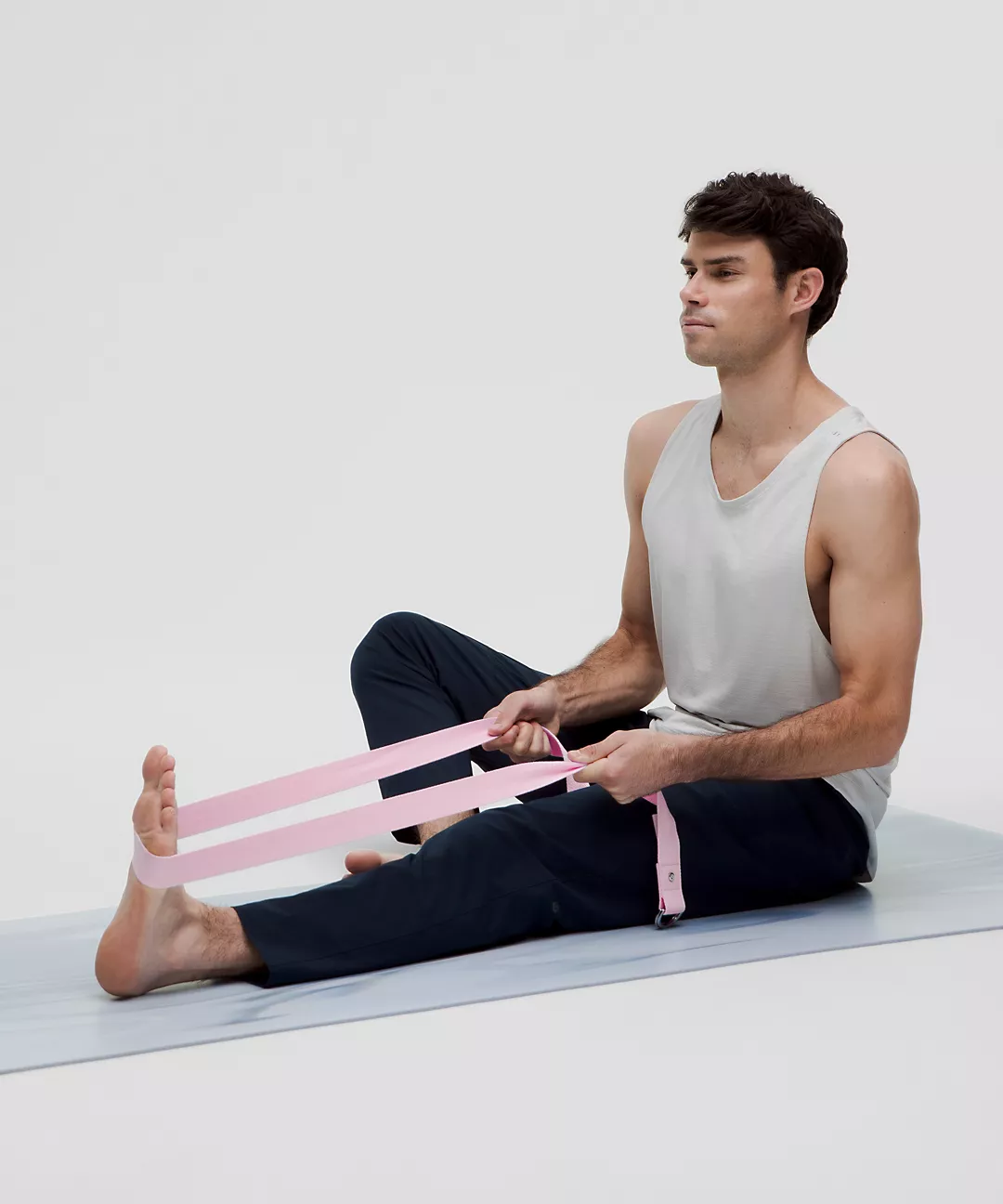 Best Stretching Strap:
No Limits Stretching Strap
This is easily one of the most useful yoga props you can carry with your mat. It extends your range of motion and helps you get a good stretch without worrying about overextending. Learn more in our full guide on How to Use a Yoga Strap: 7 Yoga Strap Stretches and Benefits.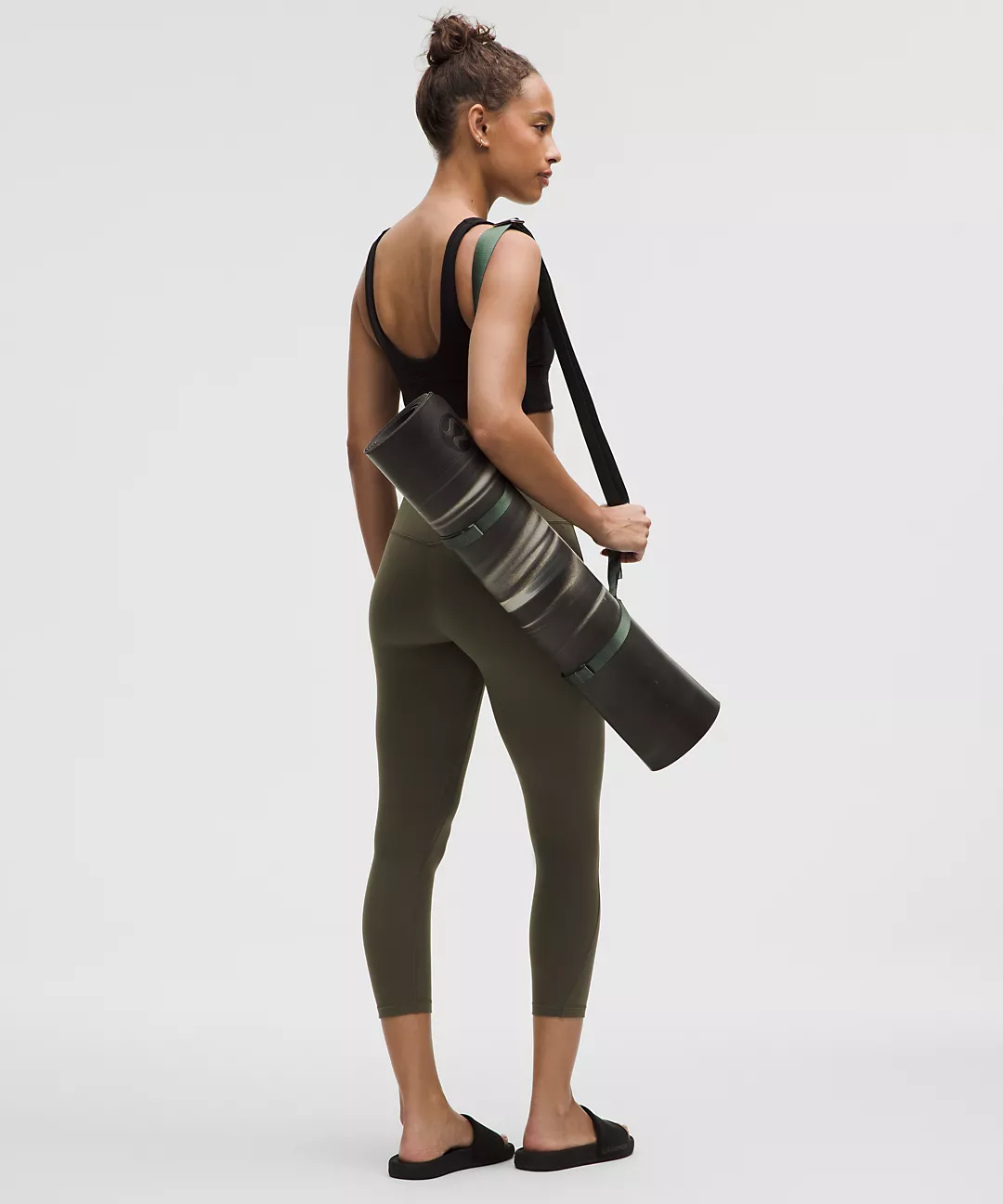 Best Yoga Mat Carrying Strap:
Adjustable Yoga Mat Strap
This adjustable mat strap holds your mat in place and easily transitions between cross-body or over-the-shoulder carrying. The buckle closure make it a breeze to use and you don't have to worry about annoying velcro noises when you're putting your mat away.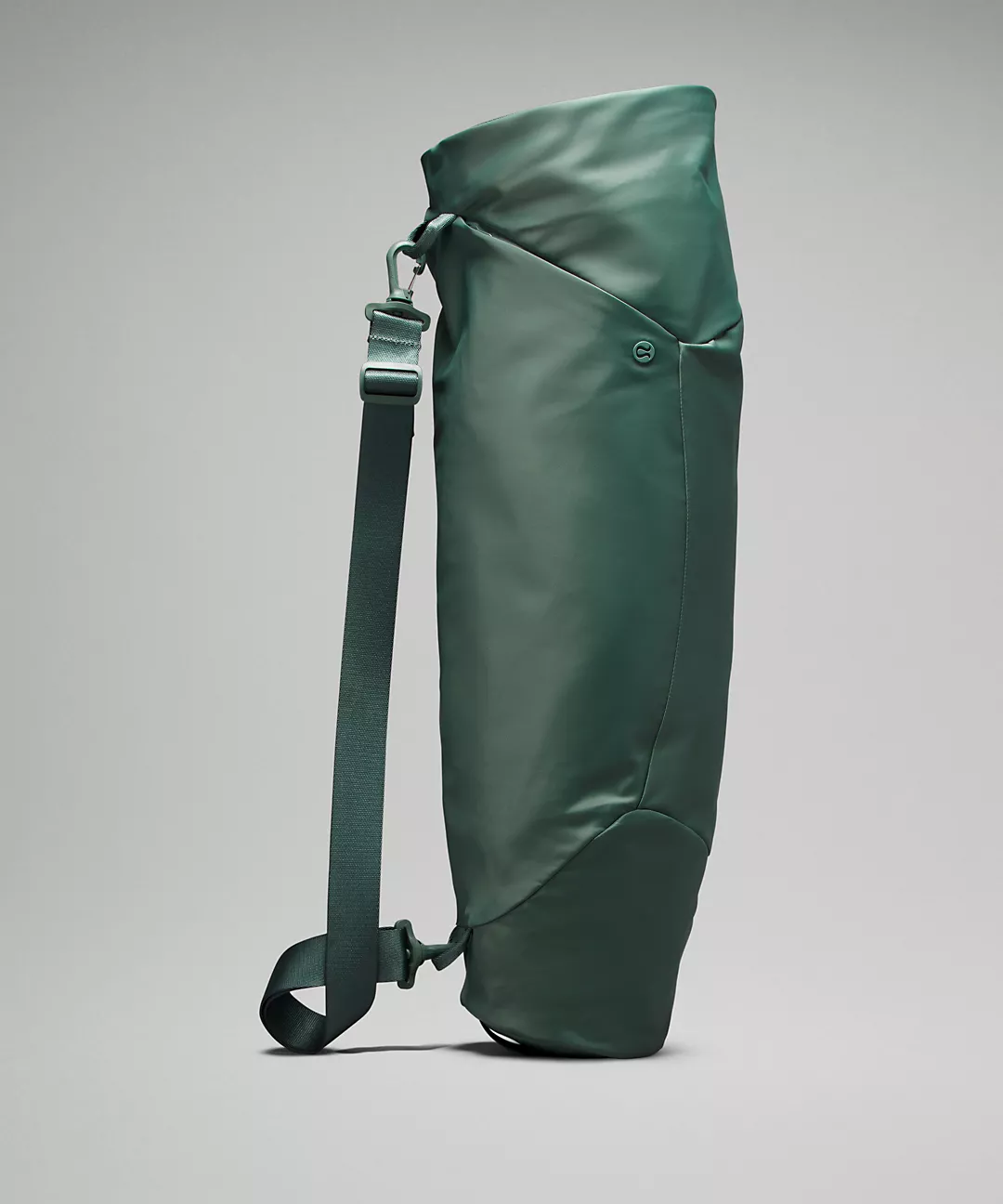 Best Yoga Bag:
Adjustable Yoga Mat Bag
This is easily one of the highest-quality yoga mat bags on the market. Based on our in-depth reviews and research on the 6 Best Yoga Mat Bags for Functionality, Easy Transport, and Style, lululemon's mat bag checks all the boxes: stylish, easy to carry, comfortable on your shoulder, and an added pocket for stashing your water bottle.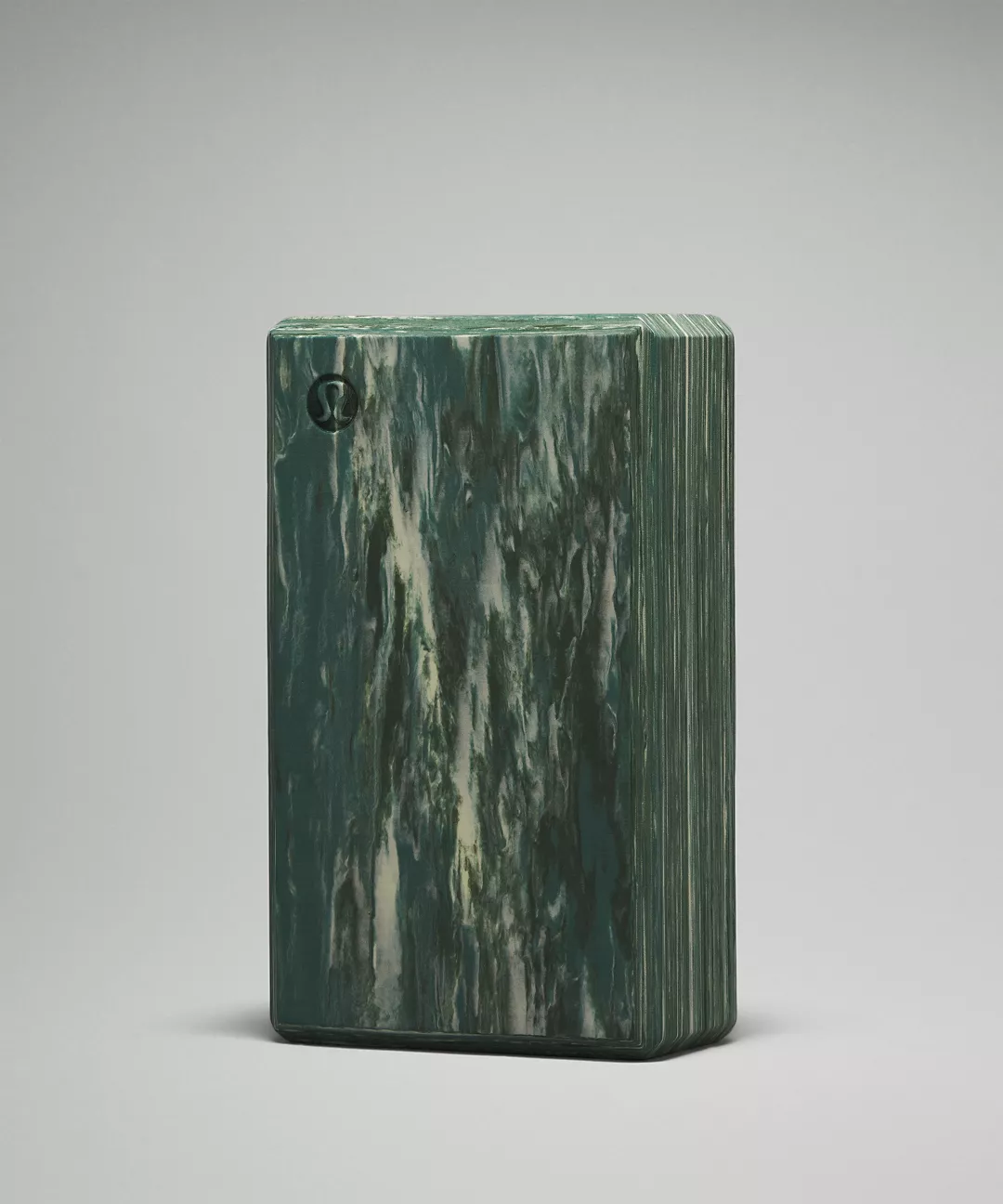 Best Yoga Blocks:
Lift and Lengthen Yoga Block Marbled
Yoga blocks add so much extra support and comfort to your practice. They can help you lift, deepen, or extend without hurting yourself. lululemon's block is made of dense, durable foam that feels soft and supportive to the touch. It's aesthetically-pleasing and easy to clean!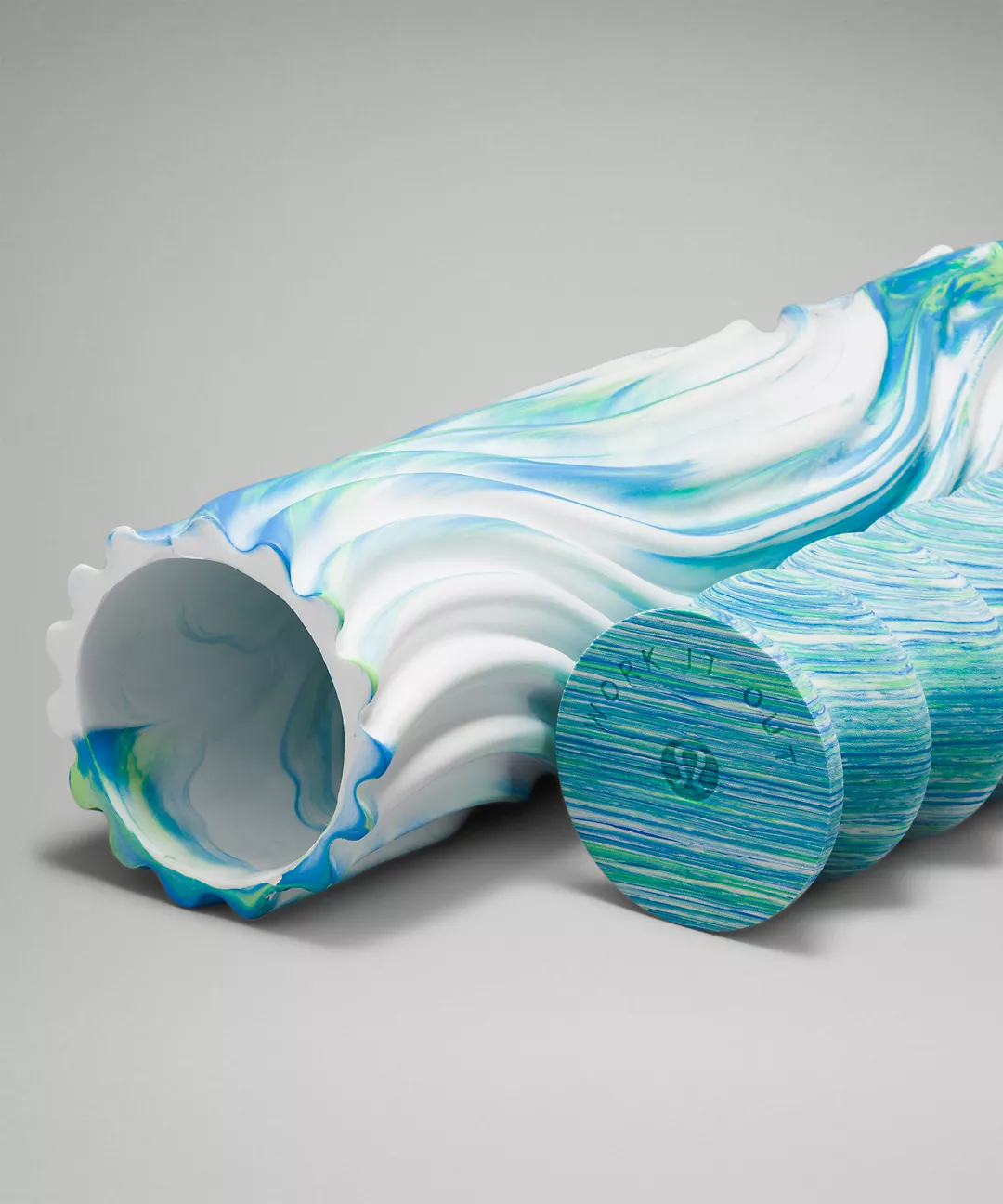 Best Foam Roller:
Double Roller
For an incredible release after yoga or your workout, this two-in-one roller combo feels like heaven on your back, arms, and legs. They are made of dense foam materials that can be wiped down with a natural cleanser. We love that the exterior roller can massage your legs and arms, then you can pull the interior roller out to help release tension in the back.
FAQs
How long do lululemon yoga mats last?
With proper care, your lululemon yoga mat can last for 1-2 years of daily practice. If you don't practice as often, the Lulu mats can go for 4-5 years or more. The durable natural rubber and polyurethane-coated construction make these mats as long-lasting as others on the market. The key is to avoid using them outside (the sun degrades the rubber) and keep them rolled up when not in use.
Are lululemon yoga mats toxic?
What is a good thickness for a yoga mat?
For most yogis, 5mm (0.19″ thick) tends to be the best thickness for optimal joint cushion, support, and transport. lululemon's The Reversible Mat 5mm is made of natural rubber and has incredible support and grip for any skill level. However, if you travel often you may opt for a lighter weight 3mm mat. People with sensitive joints may prefer a 7mm thickness, but it will be bulkier to carry.