Sliping and sliding around your mat can come to an end in 2023, with so many wonderful choices of yoga towels to enhance your practice. If you haven't used a yoga towel yet, hang around to find out why you might want to add one to your wish list.
The best yoga towels are those that absorb sweat, look great and are environmentally friendly! They should be able to stay in place without getting bunched up like a hand towel, and also give you a good grip to hold your poses and move through your yoga practice with ease.
To help you decide which mat to try first, here is a list of the top 6 non-slip yoga towel options for you to stay steady in your next yoga class.
Product's name
Material
Size
Weight
More Info

Meditation 


YogaAccessories Traditional Mexican Yoga Blanket ( Gray)
50% acrylic / 40% polyester / 10% cotton
74" x 52"
2.4 lbs
See latest price

Outdoor practice


Folkulture Majestic Blue Round Mandala Tapestry or Hippie Indian Beach...
100% Cotton
72 inches (in diameter)
11.3 ounces
See latest price

Yoga asanas


Halfmoon Cotton Yoga Blanket | 60" x 80" - Handwoven Soft & Large Throw...
100% Cotton
60" x 80"
2.7 lbs
See latest price

Cold Climates, Restorative yoga


Manduka Recycled Wool Blanket, Sediment
75% Recycled wool and 25% Recycled synthetic fibers
82" x 60"
3 lbs
See latest price

Meditation, Restorative yoga 


Open Road Goods Grey Yoga Blanket - Thick Mexican Thunderbird Blanket -...
Acrylic, polyester, cotton
78" x 50" 
1.9 lbs
See latest price

Outdoor practice, Yoga mat topper


Benevolence LA Authentic Handwoven Mexican Blanket, Yoga Blanket - Perfect...
100% Recycled Acrylic + Cotton
45" x 70" 
3 lbs
See latest price

Yoga asanas, Meditation


Manduka Yoga Cotton Blanket - Yoga Prop and Accessory, Roll, Fold, Stack to...
52.5% Recycled Cotton, 35% Recycled Acrylic, 12.5% Polyester
65" x 83"
4 lbs
See latest price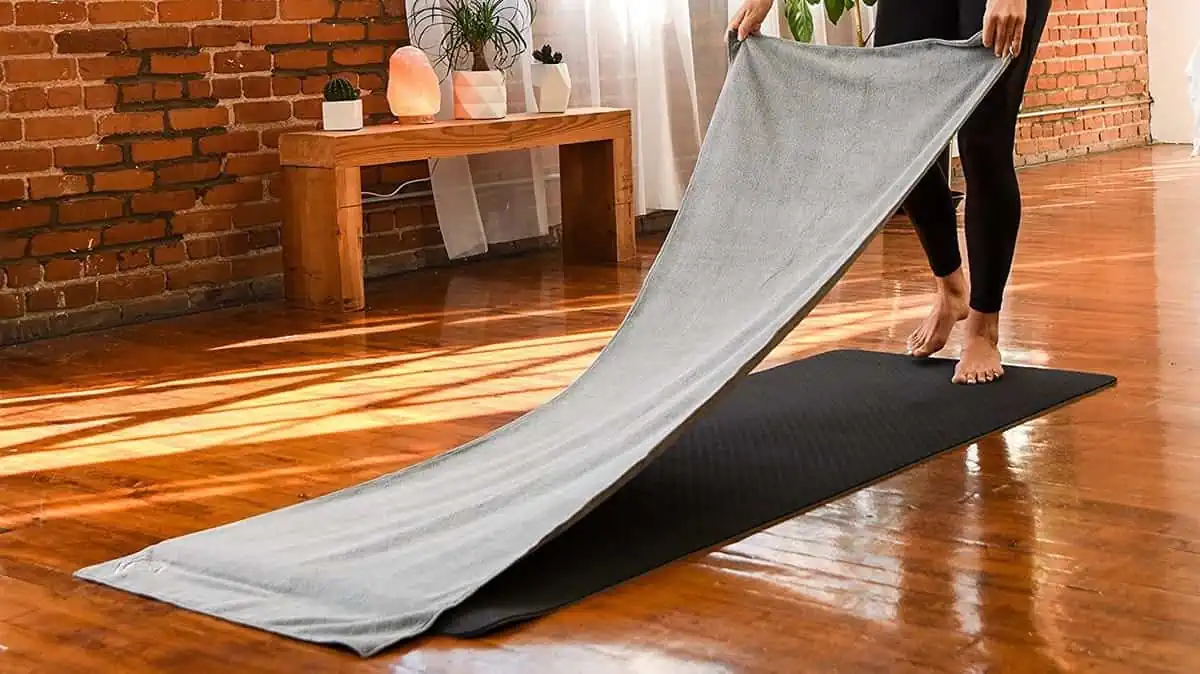 Read on to find out more information about each yoga towel…
Manduka is already a top brand that yogis won't stop raving about. They have lived up to their reputation once again with the yogi toes Manduka yoga towel, which claims to prevent slipping no matter how much you move or sweat.
The Yogitoes Manduka yoga towel is ultra-absorbent, lightweight, and quick-drying. Made of super soft microfiber on top with an innovative web silicone backing on the bottom, you'll be able to stay stable in all of your yoga poses!
Yogitoes Manduka Towel features Manduka's patented Skidless® Technology, which utilizes silicone nubs to grip your mat and keep you in place. It is ideal for hot yoga or any super sweaty practice.
Plus, for the environmentally conscious, this mat boasts to be eco-friendly, with every towel being made with at least four recycled plastic water bottles. The recycled bottles are woven into 50% poly yarn that requires 66% less energy to produce.
The mats come in a large range of colors and patterns, which are created free of AZO, lead, and heavy metals to protect everyone in the production process, and of course, the yogis!
Pros
Great nonslip silicone nubs on the underside of the mat
Super soft material
Moisture wicking and absorbs sweat with ease
Great range of colors and patterns to choose from
Easy machine wash and air dry
Free from toxic materials and chemicals
Cons
Colors can leak dye onto light colored mats or clothing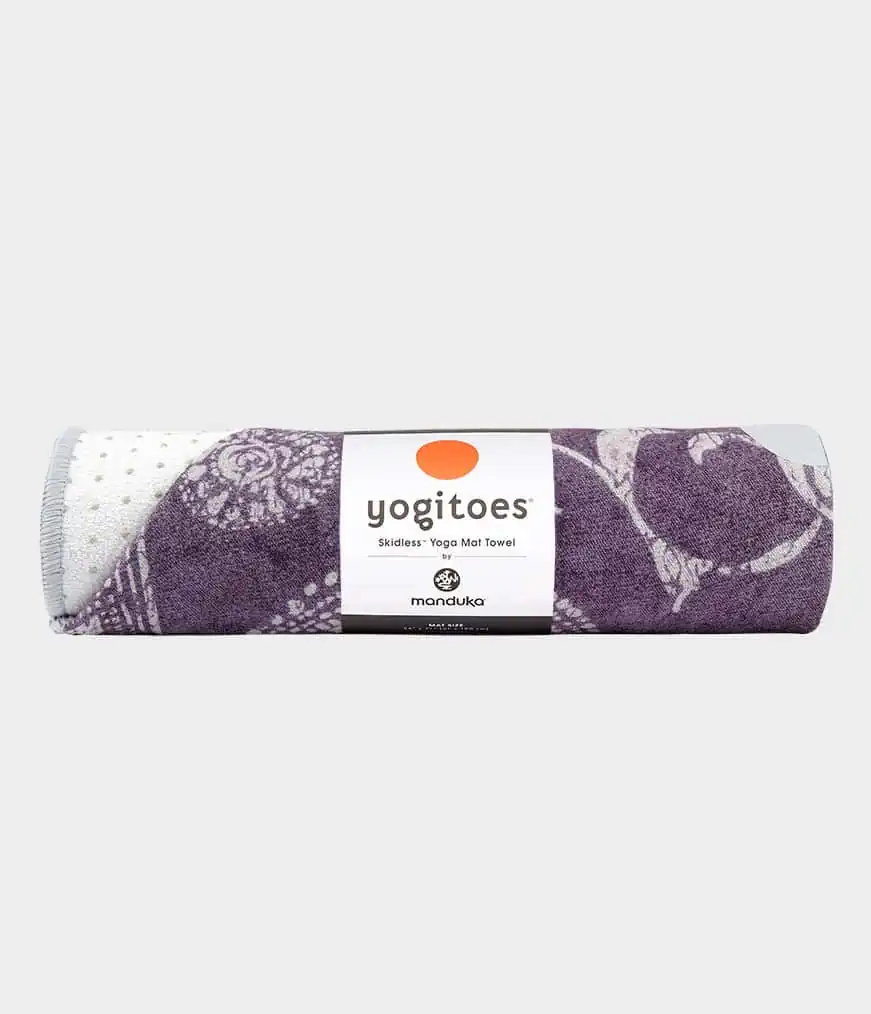 The Hugger Mugger Yoga towel is another great yoga towel option. It is designed and made from polyester that comes from bamboo charcoal & nylon. This combination creates a PER (Polymer Environmental Resin), which is an eco-friendly and soft microfiber towel to make your practice comfortable.
It feels like a firm and steady option to lay on top of your yoga mat, or to simply use as a mat on its own if you are traveling.
This Hugger Mugger yoga towel has a full, non-slip backing to prevent bunching. It will help you to grip your sweaty palms to the mat during any sweaty session or yoga practice, as it can absorb moisture and prevent sweat from pooling on the mat.
You'll be feeling good in all of your yoga poses as you enjoy the benefits of this moisture-wicking yoga towel!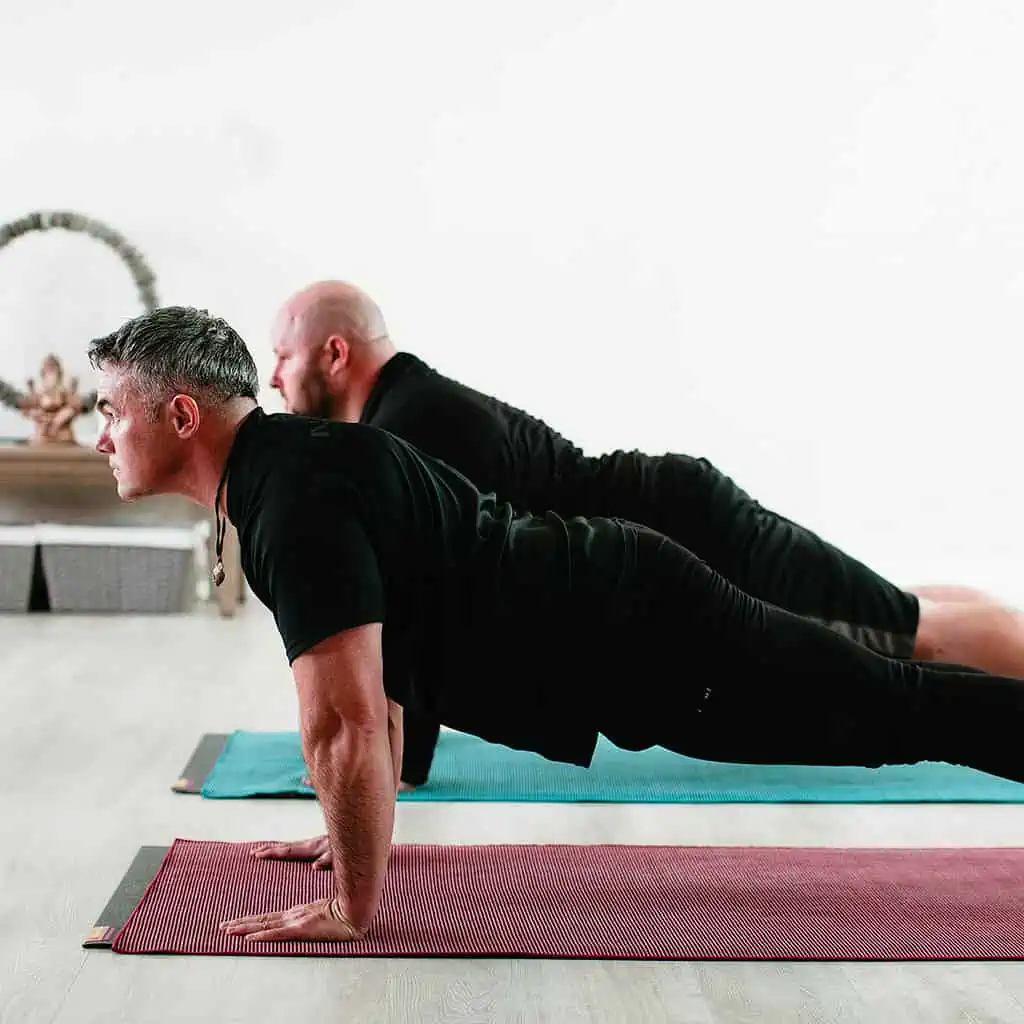 Pros
Absorbent material and fast-drying surface
Improved design with stitching throughout the towel to prevent separation
Non-slip backing prevents bunching
Great for hot or sweaty yoga styles
Lightweight and compact
Machine-washable
Latex-free
Cons
Not as smooth or soft a feeling as some of the other yoga towels
The Yoga Mate Towel is the best mate for a reason! This super soft microfiber towel is one that you will want to practice yoga on! It is super lightweight, weighing in at less than 1 lb, making it easy to roll up inside your mat to take with you to class.
Despite the lightweight, the Yoga Mate still provides high quality for a fraction of the price of other yoga towels. For less than $20, you'll be able to purchase a number of these mats for daily use and wash them all at the end of the week!
Choose from 4 colorful designs to enhance your practice. Great for hot yoga and normal yoga, and with one of the best yoga towel designs, this is one accessory that you won't be leaving home without.
Pros
Very Affordable
Nice color range
Suprisingly lightweight
Cons
No silicone backing to hold the towel in place
The Iuga yoga towel features corner pockets that you hook over the corner of your mat to keep the towel in place. Corner pockets are not a design incorporated into your average yoga towel, and when you've tried it once, it will be hard to go back to a normal towel.
As well as the bonus of corner pockets, this yoga towel also comes as a combo package with a small-sized yoga mat hand towel and a spray bottle. You can fill the spray bottle with water to dampen your towel before class so that your hands have an extra grip!
This combo package comes in multiple colors and 2 sizes to fit your mat perfectly. At just over $20, this is one of the best value-for-money yoga towel packages.
Pros
Super absorbent of sweat and slip-resistant
Comfortable microfiber material
Affordable
Comes as a 3-piece package
Your towel won't slip n slide over the mat thanks to the corner pockets!
Cons
No silicone backing
Need to dampen the mat before use to activate the grippiness
Yoga Design Lab has created beautiful yoga towels with amazingly colorful designs and patterns. You will feel instantly at peace when you melt into one of their yoga towels and drift off to a tropical island or dreamy sunset.
With the lightweight, ultra-absorbent, non-slip microfiber towel that dries in minutes, you will be preventing potential slips with their yoga towel and improving your practice.
Yoga Design Lab is also a great choice for the eco-conscious community, as each yoga towel is made with no less than 4 recycled bottles. They also used water-based dyes in their patterns to ensure that the mat is free from toxins and supportive of men's and women's health.
Similar to most yoga towels, you will find the best grip when you spray the towel and make it a little damp before use. This is because these mats are designed to be used in the sweatiest of conditions!
Pros
Made of durable microfiber and recycled plastic bottles
Amazing patterns and designs
Non-toxic, with water-based inks
Very slip resistant
Super absorbent
Easy to wash in the washing machine
Cons
Water-based inks may leak during washing
No silicone backing for grip to the mat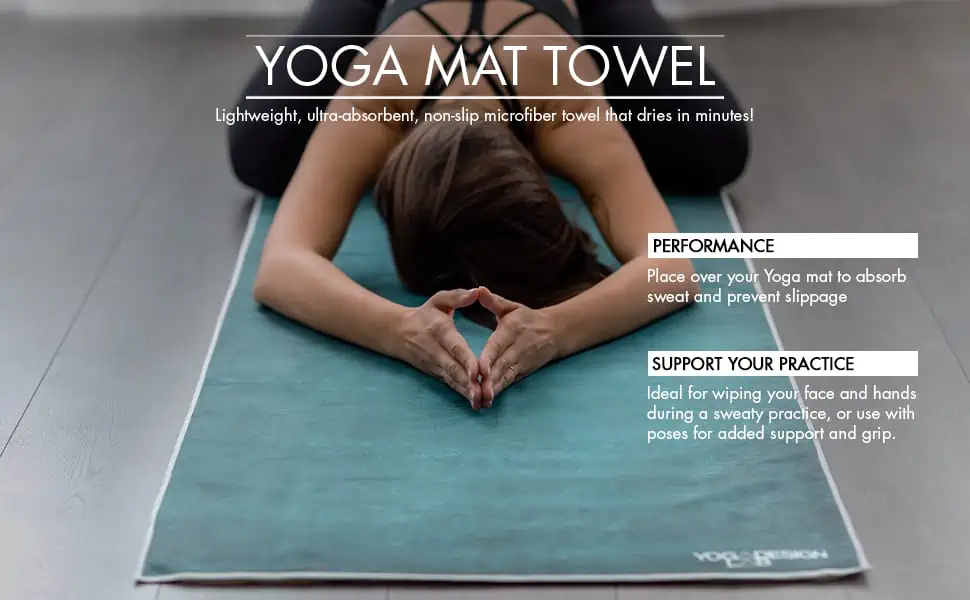 Alo Yoga Towel – Grounded
One more towel to consider, if you've got a bit more money in your budget to spend, is the Alo Grounded Yoga Towel. Alo has done it again with a soft front that absorbs sweat for maximum comfort and stability. Plus, a silicone grip pattern backing sticks to your mat for slip-free practice.
This is one of the best yoga towels for those who want to have a brand name on their towel, as Alo is well-known in the yoga world. The brand is tried and tested by many yoga teachers, ensuring that what you see is what you get.
Note: If you like brands but want an extra large yoga towel, then you will have to look over at lululemon, but if an average-size towel will do the job, then go with Alo!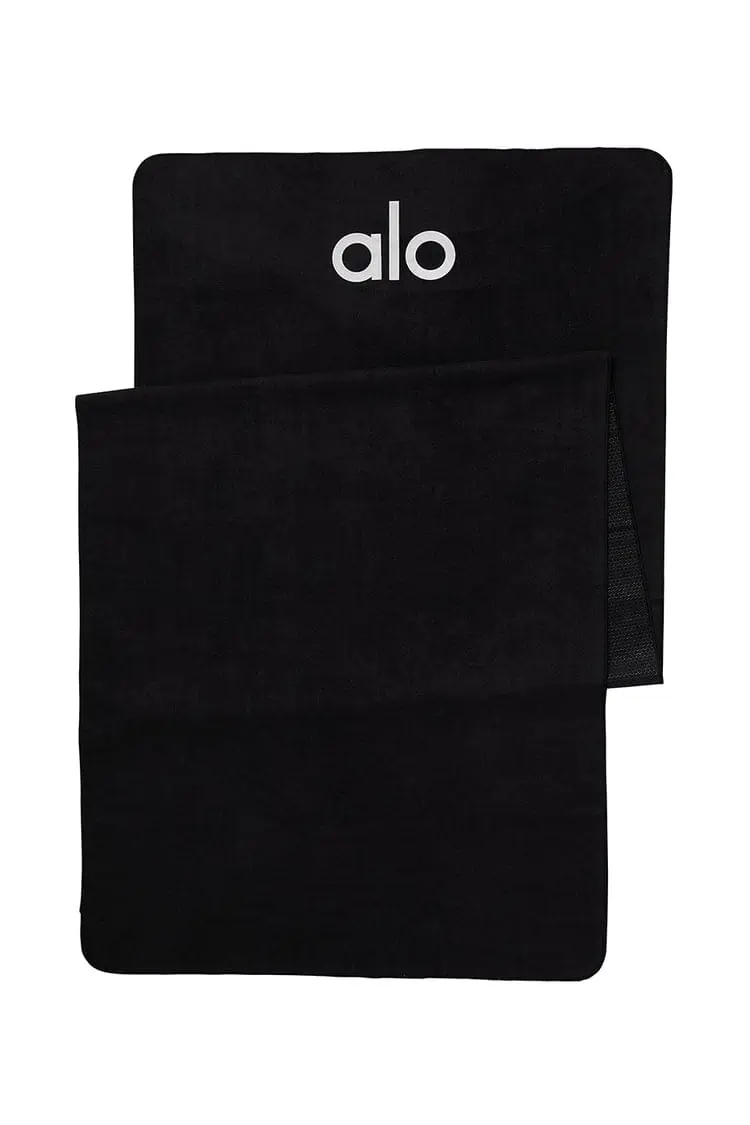 Pros
Trusted Alo Yoga brand
Comes in 7 colors
Easy to machine wash cold with mild detergent
Great silicone backing for extra grip to the mat
Cons
More expensive than other yoga towels
Only one size yoga towel
What is a Yoga Towel?
A yoga towel is made of fabric material and is designed to lay over the top of your yoga mat. Usually, yoga towels will have a grippy underside to hold onto your mat, while the topside has absorbant qualities to absorb sweat.
Many textile and yoga experts have worked together to create custom towels that both look and feel good and this has resulted in some of the best yoga towels on the market that can enhance your sweaty yoga practices.
A lot of people ask why they can't just use a regular towel on their mat, and while that is a valid option, you may find that your towel gets bunched up under your feet and becomes a hazard or annoying addition during your yoga sessions.
To avoid this, yoga towels are designed with a grippy layer on the bottom to adhere better to your yoga mat or floor beneath you. Some yoga towels even come with corner pockets to hold your towel in place.
Most commonly, yoga towels are used during hot yoga sessions, but they can also be a part of your regular yoga class for a soft feel under your hands and feet.
If you are not sweating, they may not be as grippy as usual, so some yoga mat towel brands recommend dampening your mat with a spray bottle where your hands and feet should be gripping before you start class.
You may also like to bring a yoga towel to your yoga practice if you are borrowing the yoga mats from your studio. This helps to keep it a little more hygienic so that you aren't mixing your sweat with someone who was practicing yoga on the mat before you!
What are the Benefits of Yoga Towels?
As you look around the hot yoga studio, you may be wondering why so many people have a yoga towel over their mat while they practice yoga. Especially if you are attending a hot yoga class, there are some reasons that you'll want to have the best hot yoga towel over your mat too.
Some of the benefits of using a yoga towel are:
A yoga towel is moisture-wicking and absorbs sweat to reduce the chances of you sliding around the mat.
A yoga towel will provide extra grip and reduce the chances of injury from falling over.
When you are sweaty, a yoga towel will create a grip under your hands to keep you in place in your poses, helping to improve your practice and build strength.
They are specifically designed to grip to yoga mats, instead of just using a small hand towel that can get bunched up beneath you.
Easy to machine wash after class and quick drying so its ready for your next yoga practice!
Lengthens the lifetime of your yoga mat as it stays cleaner for longer.
Easy to carry in your yoga bag, rolled up inside your mat.
Hypoallergenic microfiber is hygenic to use over common studio mats.
A soft yoga towel will provide a little extra cushioning for your joints.
Convinced yet? As a wellness writer, the list could go on and on about how adding yoga props such as a towel and a good quality mat will improve your practice.
How do I keep my yoga towel from slipping?
Most hot yoga towels have anti-slip materials on the underside. But sometimes, the edges still won't stay put!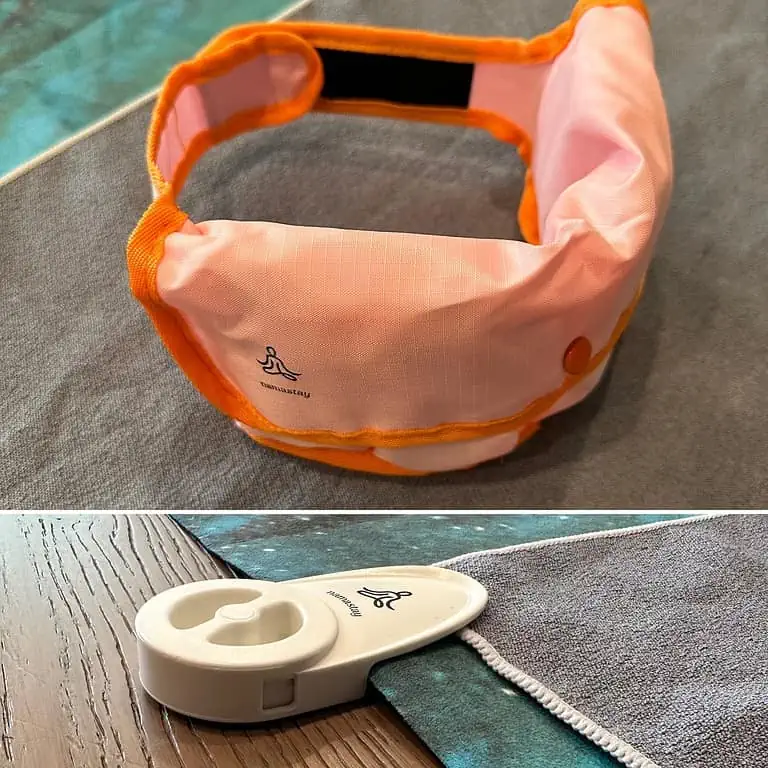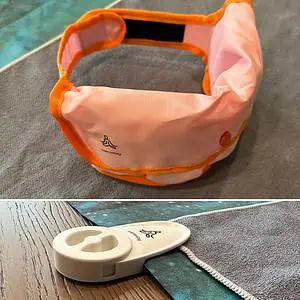 We just got our hands on a nifty set of Namastay clips that keep your yoga towel clamped down to your mat. A set comes with 4 clips — one for each corner of your mat.
It was great that they came in a pouch that loops around your yoga mat. The grippy interior of the clamps helps to keep everything together.
Best yoga towel clips:
Namastay Clips - Secure Your Yoga Towel Underneath Your Hands and Feet
See latest price
Frequently Asked Questions:
What is the difference between a yoga mat and a yoga towel?
A yoga mat is usually made of a thick and soft material, (rubber, cork, or other grippy materials). Some mats are specific for hot yoga to absorb sweat, but most average yoga mats are not. This is where the Yoga Towel comes into play.
A yoga towel is a thin towel, made of absorbent material to soak up sweat and stop you slipping off your yoga mat during a sweaty yoga class. They are easier to wash than a yoga mat (simply throw your yoga towel in the washing machine) and plus, they are lightweight and portable.
Your yoga mat towel should simply lay over the top of your yoga mat (or a studio yoga mat if you are using it to reduce the spread of germs). Most one size yoga towels will fit the average mat and provide an extra layer of comfort, plus practicality to improve your yoga practice!
What is the best hot yoga towel?
The best yoga towel is the one that you feel most comfortable using. Try out some of the recommendations in this article to find a towel that will keep you in place during your yoga poses.
If you like to be eco friendly, try Yoga Design Lab, or if you prefer renowned brands, go with the Alo Grounded Towel. Our personal fave is the Manduka yoga towel for its great grip and comfortable material.