With all the yoga and workout gear options on the market, what sets celebrity-endorsed Fabletics apart from the rest?
Fabletics is an activewear and athleisure brand represented by actress Kate Hudson and comedian Kevin Hart. Their affordable prices and special VIP membership perks distinguish them from competitors like lululemon and Athleta.
Thousands of devoted followers have offered insights into the company's pros and cons. Is the $60/month membership worth it?
Here is an honest review of Fabletics clothing, plus everything you need to know about the Fabletics membership.
What is Fabletics?
Fabletics is a popular athleisure brand that offers affordable and fashionable workout clothes for both women and men. While anyone can purchase their products, their unique monthly subscription (VIP membership) offers extra discounted prices, bonus perks, and a monthly color-coordinated outfit.
Is Fabletics owned by Kevin Hart?
As of 2022, Kevin Hart is a major spokesperson of Fabletics, but not an hour. Founded in 2013 by Adam Goldenberg and Don Ressler, Fabletics began specializing in fashion-forward woman's workout clothes. They partnered with co-founder Kate Hudson, who reportedly owns about 20% of the company. In 2020, Fabletics started their men's line of eco-conscious mens streetwear and workout styles represented by comedian Kevin Hart.
Is Fabletics a reputable brand?
Fabletics is a global activewear company with reputable factories, corporate offices, and stores. Their gear is high-quality and durable, lying somewhere between "fast fashion" and high-end athleisure.
Fabletics' mission is to be the most innovative, fashionable, and all-inclusive activewear company on earth. Their down-to-earth vibe and community focus is backed by durable quality clothes, vibrant collections, and unbeatable prices.
Unlike lululemon's extravagant $98 leggings, you can get 2 for $24 Fabletics bottoms or an entire matching workout set for under $50.
How Does Fabletics VIP Membership Program Work?
Fabletics is most well-known for its VIP Membership Program which charges a monthly fee of $59.95 to access exclusive benefits, including:
Introductory offer: 2 bottoms for $24 when you sign up
1 Membership Credit every month (the credit is worth $100 can be used for up to 65% of any items, 2-piece outfit set, or gear purchase)
VIP-exclusive pricing (you always get 20-50% off everything plus access to members-only exclusive sales up to 70% off)
Free shipping on all orders over $49.95
Free returns and exchanges within 45 days
Access the Fabletics FIT app for trainer-led workouts, meditations, and fitness tracking software
Fabletics BeneFits loyalty points ($1 spent=1 point)
Cancel any time (even if you cancel, you can still use unredeemed Membership Credits to purchase items)
The VIP program is flexible, which means you can go online to use your membership credit to purchase a VIP-exclusively priced gear or skip a month. If you choose to skip the month altogether, you won't be charged your membership fee for that month.
How many items do you get as a VIP member of Fabletics?
Your monthly credit can be used for anything you want up to $100 in value, including special pricing on all items. This is a great deal considering that your membership only costs $59.95 per month. You also earn points with every purchase that can be redeemed for rewards.
As a member, you automatically have 30-50% off the retail price of everything Fabletics sells. You will see the original non-member price crossed out and your VIP Offer listed next to the price. Sometimes the items are up to 80% off non-member prices!
You can mix-and-match any leggings, sports bras, tops, shorts, or accessories. Or you can save your credit for next month.
Do you have to buy an entire outfit with your Fabletics member credit?
Although Fabletics will usually push for you to buy an entire outfit, but you do not have to get a matching set every month. You don't have to feel obligated to purchase that month's "custom picks" either. You still get to shop like a regular customer and choose from the entire catalogue of options.
If you want to spend beyond the $100 monthly member credit, you will still get an additional 20% off any extra items.
How do you skip the month with the Fabletics VIP Membership?
The flexible membership at Fabletics is unique and highly reviewed. You aren't locked in to paying $59.95 every month of the year. You can skip any time you don't feel like buying more workout clothes!
However, one drawback to the membership is that it's not super easy to skip a month. You have to remember to log into your account and check a box each month, otherwise you will be charged!
You must log into your online portal on the 1st-5th day of the month and you'll see a "Skip This Month" red box on your home page. Check this box to make sure you aren't charged for the month.
If you don't check the box before the 6th, you will be charged $59.95 for your monthly membership fee.
Can you cancel Fabletics after first purchase?
Technically, you can cancel your Fabletics membership at any time. So if you wanted to enjoy the introductory 2 for $24 bottoms offer or make another purchase and then cancel, you would be allowed to do so. However, you will still be charged the $59.95 for your first month and have to go through the cancellation process.
Is Fabletics hard to cancel?
Fabletics is fairly simple to cancel, but it requires planning and waiting. It's best to cancel your membership at the end of a month so you don't get charged for the next month. There is no cancellation fee for ending your Fabletics membership! Thank goodness!
To cancel Fabletics:
Call their Fashion Consultants at 1-844-Fabletics (1-844-322-5384), 7 days a week.
Or cancel your account online by clicking "Contact Customer Service" and chatting with an agent.
Your promotional member credits will stay on your account, but expire within 12 months of issuing.
You will lose access to members-only pricing and perks once the month is up
Fabletics Reviews: The Good and Bad
Overall, the Fabletics brand has a positive reputation for quality, customer service, and style. They have a mix of positive and negative reviews from thousands of customers over the years. Most customers love Fabletics for the bargain pricing, flattering fit, and quality of the items. It is also fun to feel like an exclusive member and access all the benefits that come along with that.
Other people have had issues with inconsistent sizing or slow shipping. Some customers dislike the complicated membership structure and think that $59.95 per month is too high. They also complain that it takes too much effort to skip the month or cancel.
Here are more details about thousands of reviews from dedicated Fabletics customers:
Positive Reviews
Fabletics is a thriving brand with a very dedicated customer base. People have lots of positive things to say about their clothes, customer service, pricing, fabrics, and styles.
Fabletics is Budget-friendly: Fabletics customers rave about the affordability of Fabletics. Compared to high-end brands like lululemon, Alo Yoga, or Beyond Yoga, Fabletics offers impressively low prices for good-quality clothes. The membership may seem expensive, but the math really does add up. For $59.95 a month, you are getting over $100 worth of gear (the value is even higher when you consider the 20-60% member pricing that is built-in to the item listings).
Fabletics Has Quality Fabrics: One of the most common reviews you'll find for Fabletics leggings is that the fabric feels luxurious. Most leggings last for at least a year or two before they start pilling. Both tops and bottoms are soft, comfortable, and functional during exercise.
The signature Fabletics fabrics include:
PowerHold: Max compression, ultra-flattering fabric with lots of hold and support. This moisture-wicking fabric is recommended for multi-sport activities and has UPF 50+ sun protection plus InstaBoost technology (designed to lift and shape your booty!) Find this fabric in the bestselling Define PowerHold High-Waisted Legging.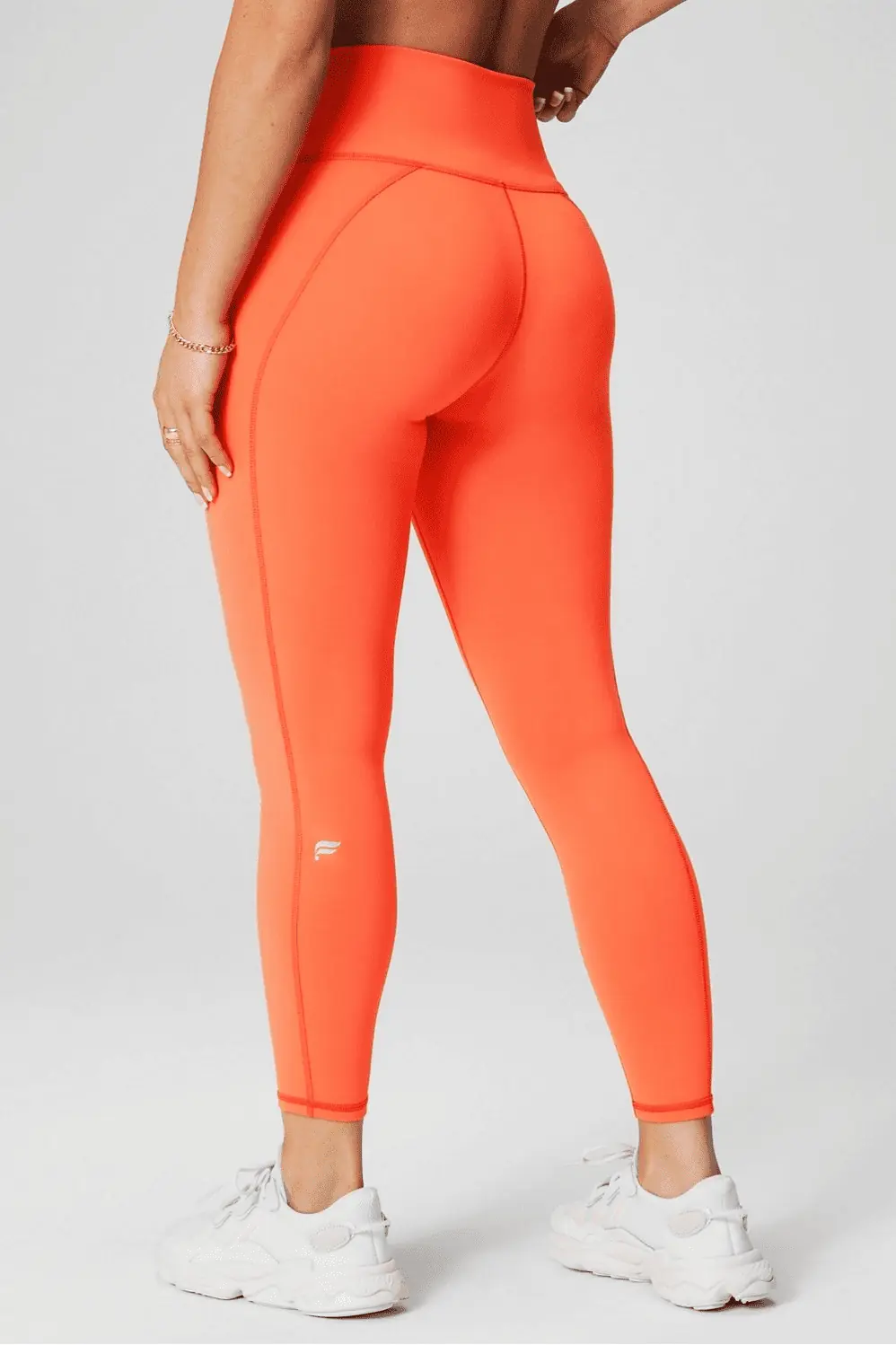 Motion365: This everyday fabric has a silky-smooth feel and extreme flexibility for everything from yoga to running to shopping. It helps regulate your body temperature so you don't get overly sweaty. Motion365 fabric has superior support, breathability, and versatility with high compression and stretchiness. You can find it in the bestselling Anywhere Motion365+ High Waisted Short.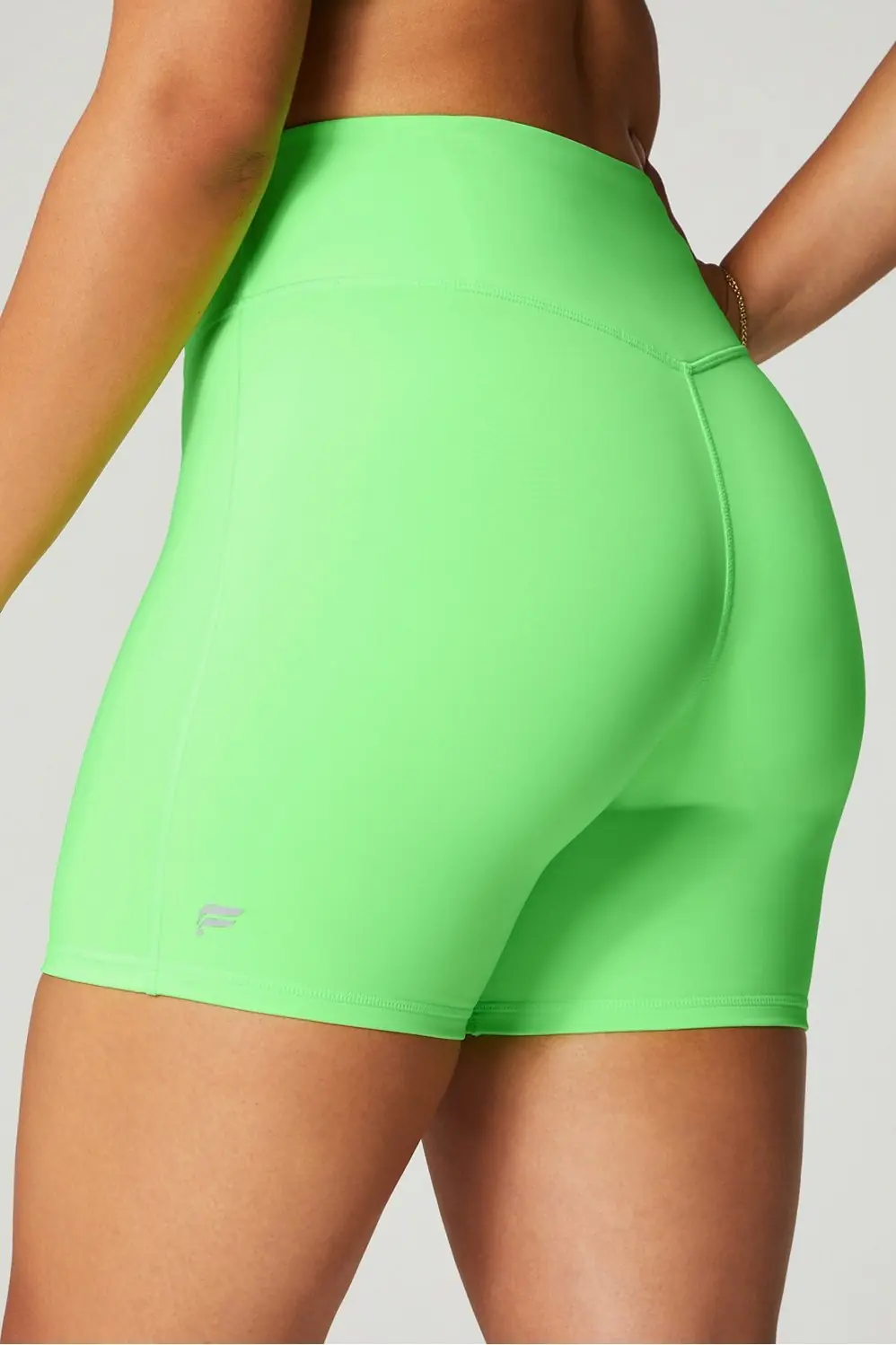 SculptKnit: This medium compression fabric is engineered to contour and sculpt your curves in all the right places. Pieces are designed with a unique "body mapping" and strategically placed ventilation that wicks moisture away from your skin. You could compare SculptKnit items to a cross between shapewear and activewear. The SculptKnit High Waisted Legging is especially high-rated.

For true shapewear, Fabletics recently acquired YITTY by Lizzo. Fabletics members get access to all the same benefits when purchasing from Yitty.
PureLuxe: Fabletics' medium-light compression design has the buttery soft feel of popular, luxury yoga brands. Great for yoga and low impact workouts, the "barely there" feeling allows for total range of motion and flexibility. We love the PureLuxe High Waisted Strappy Flare and Oasis PureLuxe High Waited Short.

Fashion-Forward Style: Reviewers rave about Fabletics' on-trend designs. Fabletics is constantly coming out with celebrity-worthy styles that are nice enough to be streetwear or casual athleisure. Their outfits aren't only workout clothes; they make fashion-forward outfits that are comfortable and functional.
Fabletics also collaborates with several celebrities, athletes, models, musicians, actors, and influencers for special drops. For example, in April 2022 they came out with the Normani x Fabletics line, featuring this iconic Pleated Skirt with Built-In Shorts.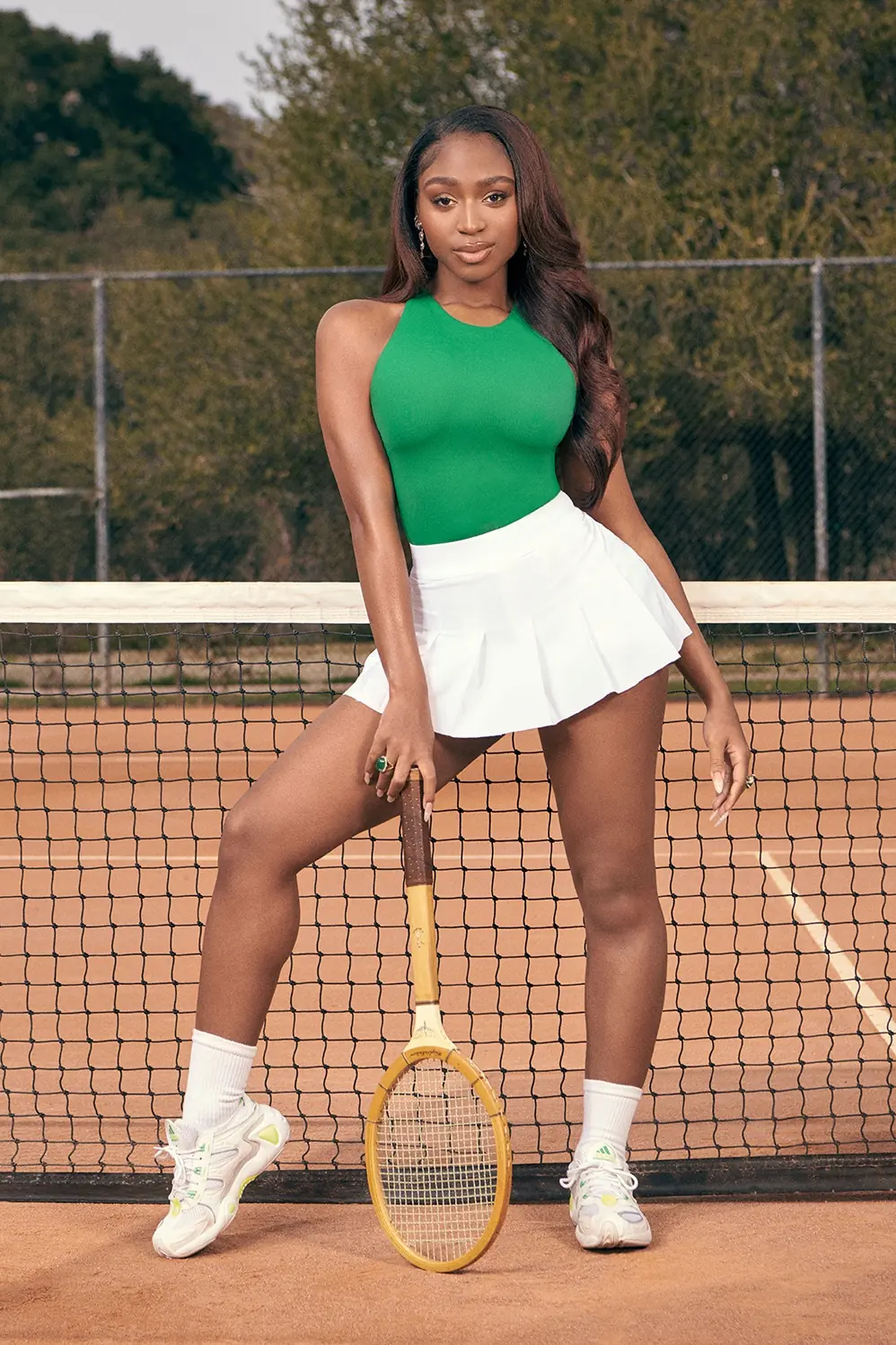 Body Flattering Fits: The majority of reviewers are impressed by the flattering fit of Fabletics clothes. The range of sizes (XXS to 4X) and models ensures that Fabletics will flatter any body type. They even offer a Plus Size and Maternity section for women who traditionally feel left out of the athleisure industry.
Is Fabletics true to size?
The vast majority of Fabletics products run true to size. From leggings to tops to maternity to menswear, the brand is very highly ranked in terms of sizing. Every product on the Fabletics website includes a sizing spectrum based on customer reviews. This Size Guide is helpful for figuring out what to order if you're between sizes.
Negative Reviews
While Fabletics has predominantly positive reviews, no brand is perfect. The fashion brand still has its drawbacks and issues. The biggest complaints are related to VIP Membership concerns, which some people claim to be a scam (it's not, but the charge may surprise people who don't understand what they're signing up for). There have also been negative reviews about pilling, sizing, customer service, and durability.
Biggest complaints about the VIP Membership: It's difficult to find a Fabletics review that doesn't discuss the drawbacks of the VIP program. Some customers are really annoyed and frustrated by the structure of the Fabletics VIP Program and the sneaky pricing.
For example, while the site accurately claims their is no sign up fee for the membership, there is a subscription fee of $59.95 a month. Negative reviewers often sign up for the program (to get the VIP member discount on their desired items) without realizing that their card will be charged the $59.95.
Becoming a Fabletics VIP Member has its perks, but isn't worth it for everyone. The major downside is the complexity and confusion around the program and the difficulties some customers have had with canceling their membership.
Customer service: Some Fabletics reviews report problems with the member services team and customer service. Chat agents are not always equipped to resolve your issues and you may have to wait for a phone conversation or connection with a higher-up advisor.
We agree that it should be easier to get assistance and to cancel your Fabletics membership. Fortunately, the company is constantly addressing its customer's concerns and does a great job at getting back to you in a timely manner.
Problems with pilling: Like any workout gear, if you don't properly wash your Fabletics clothes, they may start pilling. This is mostly a problem with the ultra-stretchy compression leggings and shorts. While they may not be as expensive and high-end as lululemon, some customers expect them to have the same longevity.
Upset reviewers report that some Fabletics items begin pilling (fabric becomes textured or disheveled) after just a few washes. This could be a manufacturing error or a problem with how they care for the items.
Fabletics' Care Guide states that their clothes should generally be:
Machine washed on a cold, gentle cycle
Tumble dried on gentle with low heat
Never ironed
Never dry cleaned
Washed with like colors
Turned inside out (especially sports bras)
Washed with pads removed (if relevant)
Never cleaned with fabric softener (the silicone can clog the pores of the fabric and ruin them)
Fortunately, if your Fabletics purchase has some sort of quality compromise, you can return un-worn, unused items within 90 days.
Sports bras may not fit large busts: Many reviewers complain that Fabletics sports bra sizing is off and the fits don't always support large bust sizes. This is especially true of the bestselling Oasis Twist Sports Bra and most low impact bra options. If you have a larger bust, go for the high impact No-Bounce Sports Bra.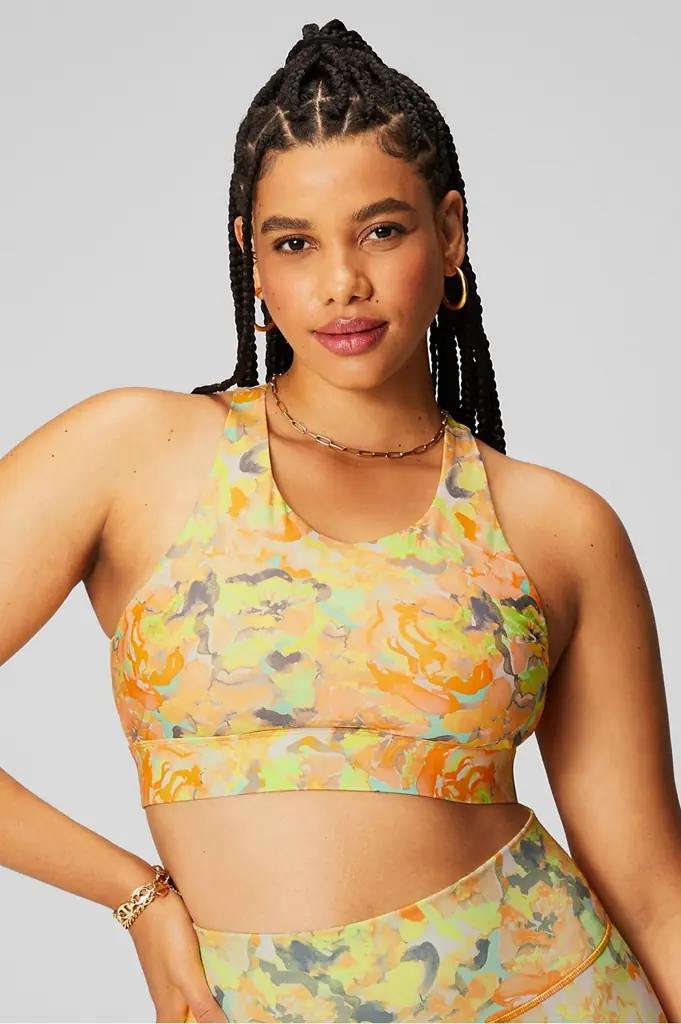 Pricing: Overall, Fabletics is an affordable brand with great pricing for the quality of its clothes. However, many customers complain about the confusing pricing on the Fabletics site. The members-only prices are extremely cheap and affordable, but standard non-member can be 20-60% higher.
For example, the bestselling The One Short 3″ costs $59.95 for non-members and $17.98 or 2 for $24 for customers who join the VIP membership. This price is still affordable compared to luxury athleisure competitors, but it makes sense why people complain about pricing discrepancies.
If you don't want to enjoy the best prices, you could become a member for just one month and purchase everything you want, then cancel your subscription.
Is Fabletics Worth It?
Whether or not Fabletics is worth it depends on how much workout gear you buy. If you're like us and you live in workout clothes, then the VIP membership is definitely worth it! Even if you only join for a couple months, the discounts are tremendous. If you don't buy new workout clothes often, the membership will not be worthwhile.
The best way to maximize the Fabletics VIP Membership is to save up your money, join for 1-2 months, and buy a large amount of products at one time. Then, you can decide to keep your membership or skip several months until you want to invest in new gear again.
Fabletics Review: Top 5 Best Fabletics Shorts
Now that we've thoroughly checked out all of the Fabletics reviews, let's explore the best products this innovative brand has to offer.
These shorts are incredibly cute, the perfect length (not too cheeky nor too long) and have a mid-level compression. Reviewers love the breathability and the hidden pockets. There are also several uniquely vibrant patterns and colors.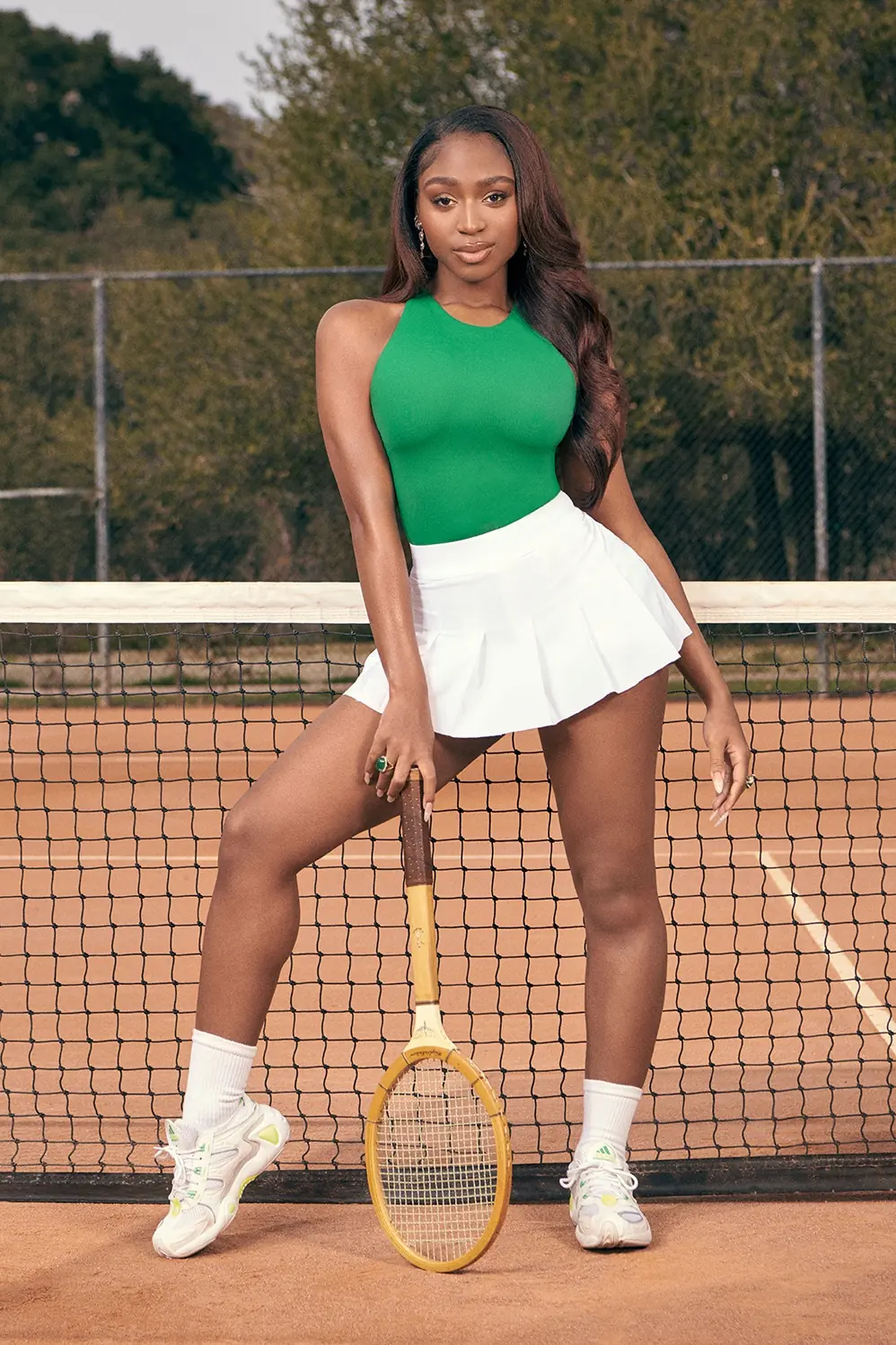 These shorts are perfect for lifting weights or any high impact workout routine. 100% of purchasers recommend buying these shorts and rank them true to size!
For the spunkiest colors and patterns, these exciting mid-length biker shorts have the perfect amount of compression and softness. They wick away sweat very quickly and prevent your thighs from rubbing together.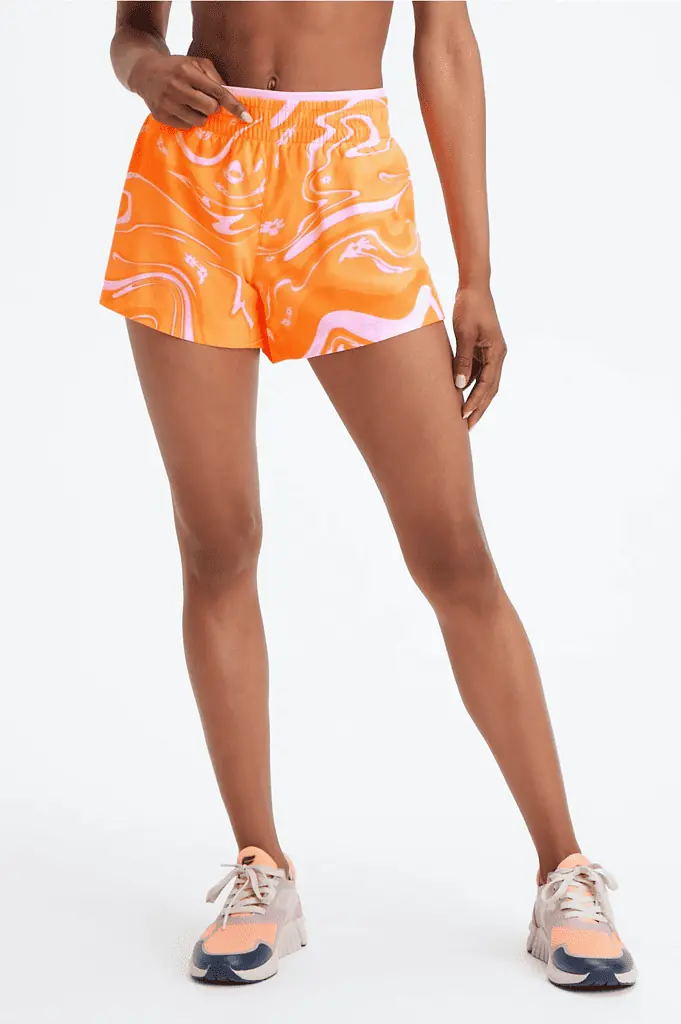 For running and cardio, these shorts ensure plenty of airflow while keeping you covered. They have a flattering mid-rise just below the bellybutton on most people. If you are in between sizes, one review recommends you size up.
For a relaxing day off, this terry lounge short is super soft, comfy, and lowkey. Many reviewers are obsessed and recommend buying several colors. The fit is fairly loose, so you can size down if you don't want them to look baggy.
Fabletics Review: Top 5 Best Fabletics Leggings
Long before their menswear, swimwear, and shapewear, Fabletics was known for the cutest, most affordable leggings on the market! These top picks have incredible reviews and longevity.
This iconic pair of leggings is perfect for everyday wear to work, school, the gym, yoga class, and beyond. They run a little small, but they are completely squat-proof and don't show a camel toe (hallelujah!)
Fabletics iconic capri is high waisted, curve-hugging, true to size, and super cute. The cut right at the calf is flattering on any body type.
If you love Fabletics On-The-Go shorts, you absolutely need these pocket leggings with superior stretchy and booty-sculpting seams. The massive color selection will not disappoint!
Hide your phone and key in the low-back pocket and don't worry about them! These leggings are so stretchy, buttery smooth, and perfect for commuting or running errands. They also perform great for runners, athletes, and gym girls.
For you staple daily legging or yoga needs, this pair will have you going back for one in every color! There are literally dozens of pattern and hue options, and all of them compliment your curves like no other. Reviewers rave about the softness, breathability, and waistband that never rolls down!
Fabletics Review: Top 5 Best Fabletics Sports Bras
Whether you want to style a matching set or keep your girls from bouncing around on a run, a Fabletics sports bra pairs functionality and style with good quality and support.
This bestseller is cute enough to run errands in, yet it holds everything in place during workouts. While it may not be best for large busts, most reviewers are obsessed.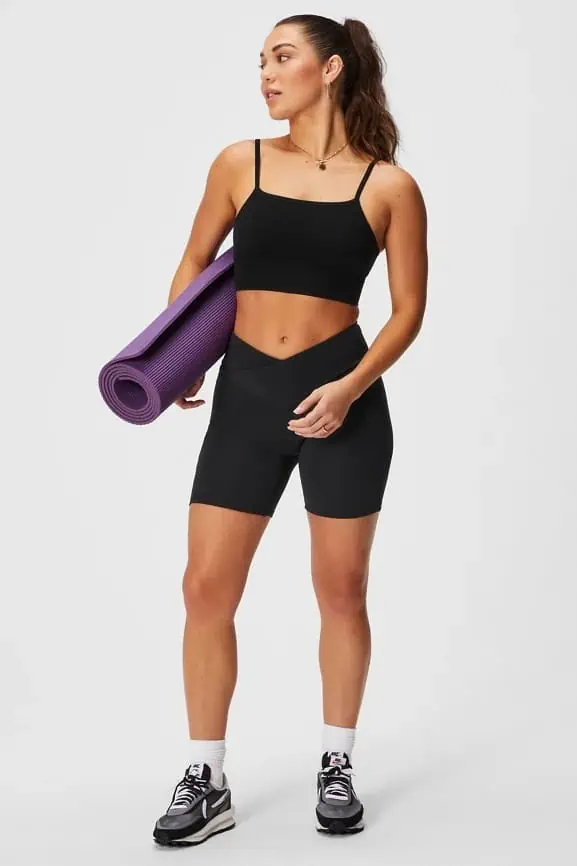 For unparalleled comfort while you lounge or do yoga, this ultra-soft seamless bralette actually feels like a cloud against your skin. It isn't the most supportive or compressive, but that's what makes it so cozy for low impact activities.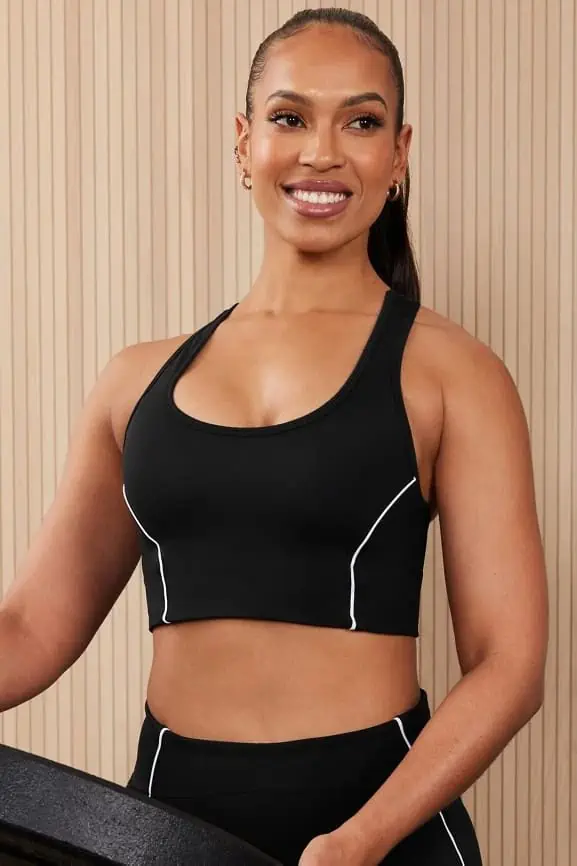 This cross between a supportive sports bra and cute tank is a bestseller for a reason! It has incredible hold without feeling like it digs into your skin. Reviewers love the built-in phone pocket right on the racerback of the top.
For the softest bra on the planet, this supportive top has multiple strap adjustment options and a flattering plunging V-neck. It's available in so many cute colors and provides plenty of support for large busts.
Fabletics Faye sports bra has the cutest strappy back paired with a high-neck coverage front. The built-in cups are so supportive that you shouldn't feel any jiggle as you workout. Truly no-bounce!
Fabletics Review: Top 5 Best Menswear Picks
Fabletics isn't only for ladies! These best sellers are endorsed by Kevin Hart and enjoyed by athletic men across the globe.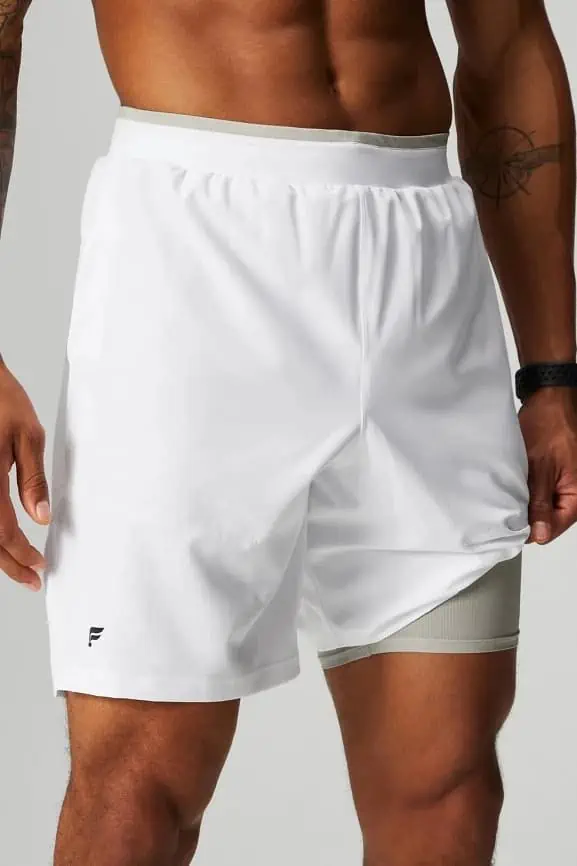 If you hate having to wear sliders under your workout shorts, this all-in-one solution is trendy, comfortable, and full-coverage. There are so many colors to choose from and a hidden phone pocket on the hip.
Keep everything tucked in and stowed. This bestselling lined short is exceptionally well-made, stretchy, and comfortable.
More than just a T-Shirt, reviewers are raving about the next-level softness and breathability.
Finally, a nice shirt that never shows sweat stains! This is the most comfortable polo you'll ever own and it feels soft enough to lounge in.
Fabletics' iconic mens jogger gives lululemon's ABC Jogger a run for its money. This affordable, ultra soft, sweat-wicking pant is perfect for everyday wear or tough workouts.
Key Takeaways: Fabletics Offers Extraordinary Quality for the Price
To conclude our Fabletics review, we'd say that this brand is worth the price and quality. To get the best bang for your buck, sign up for the membership and bulk-order your items, then skip the month or cancel.
Namaste!