Unrolling a brand new yoga mat for the first time is always satisfying. However, this feeling can quickly turn sour when you realize after a few yoga poses that your shiny new mat is super slippery!
If this has just happened to you, don't worry. It doesn't necessarily mean you have brought the most slippery mat on the market. Instead, there is a surprisingly normal reason behind it. Read on to learn why new mats can lack stickiness initially and how to fix a slippery yoga mat.
Why Is My New Yoga Mat Slippery?
If you have just brought a new mat and it seems slippery, it is most likely because of its protective layer. Many yoga mats, particularly PVC ones, are coated with a thin surface film to prevent the product from sticking to itself when rolled up after manufacturing.
An initial slippery texture in a new yoga mat is not a sign of bad quality or defect. In fact, many high-end PVC mats like the Manduka Pro have this protective layer. This film wears off naturally with use, so your new mat will gain more traction over time. However, it does mean that it could be pretty slippery for the first few sessions.
If you've had your mat a long time yet are still slipping all over the place, it could be due to sweaty palms or feet. Alternatively, suppose you've been using your mat for several months; it is still not sticky, and sweat is not the issue. In that case, it could be the product is made from cheap, low-quality materials that do not have non-slip properties.
Top 3 Yoga Mats For Traction
Top Pick – lululemon lightweight 5mm Mat
Best Budget Pick – Heathyoga Non-Slip Yoga Mat
Best Eco-Friendly Pick – Jade Yoga Harmony Mat
If you're looking for a yoga mat with a good grip from the first use, rubber mats and TPE mats may be your best bet. This is because they tend not to have the same initial slipperiness as other mat materials, such as PVC. Here are our three favorite non-slip yoga mats to give you the ultimate balance and stability in your next yoga session.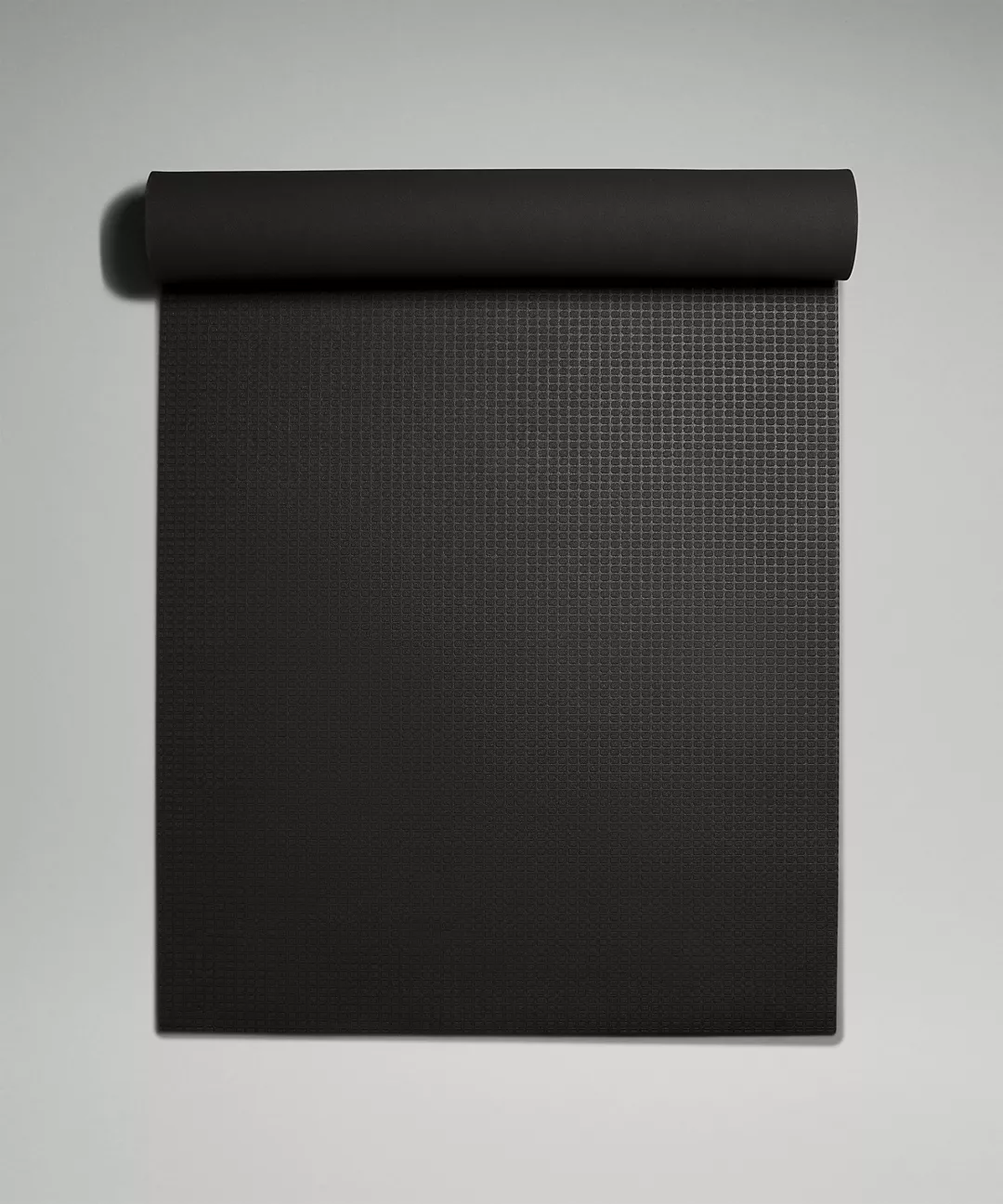 Best Overall Non-Slippery Yoga Mat:
lululemon Reversible 5mm Mat
There are multiple reasons why we love the lululemon reversible mat. Firstly, as it is dual-sided, you can try both sides to find the stickiest one. The base is made from natural rubber with a textured grip, and it is recommended to use this side up for low-sweat practices. The top layer is made from Polyurethane, which absorbs moisture and gives the best grip in sweaty sessions like Hot Yoga.
Pros
Double-sided
Incredible grip
Good thickness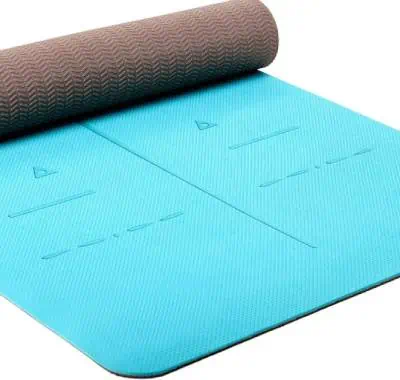 Best Budget High Traction Yoga Mat:
Heathyoga Eco Friendly Non Slip Yoga Mat, Body Alignment System, SGS Certified TPE Material -...
See latest price
This non-slip mat by Heathyoga is made from SGS Certified TPE Material, which gives it an odorless, textured non-slip surface. It is also good for you and the environment, containing no latex, PVC, or heavy metals. Plus, it has optimal cushioning thanks to its 6mm thickness and is longer and wider than regular mats.
Pros
Affordable
Environmentally friendly
Great cushioning
Helpful alignment system
Larger than normal size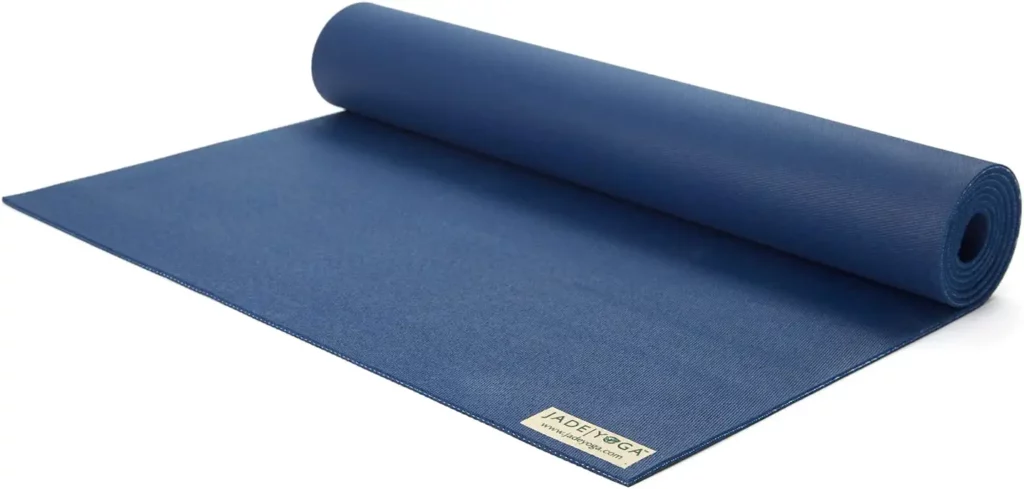 Best Eco-Friendly Sticky Yoga Mat:
JadeYoga Harmony Yoga Mat - Durable & Thick Gym Fitness Mat, Non-Slip Natural Rubber Yoga Mat - Home...
See latest price
The Harmony mat by Jade Yoga is made from durable, thick, open-cell natural rubber, which gives it an excellent non-slip style and sufficient cushioning. However, the real highlight of this mat is its sustainability as it is made from natural rubber tapped from rubber trees, a rapidly renewable resource. It's also entirely plant-based, containing no toxic materials like phthalates, heavy metals, or other harsh chemicals.
Pros
Made from only natural materials
Sustainable and eco-friendly
A tree is planted for every mat sold
3 Ways To Avoid Slipping In Your Yoga Practice
If your new mat is not as sticky as you would like and your hands and feet are sliding all over it, don't worry. You can make it less slippery and find more stability during your practice in a few ways.
Wash it
The easiest way to make your yoga mat less slippery is to clean it by spraying it with water and wiping it with a damp cloth. Plain water is usually enough to wear down the protective layer on PVC mats, as adding water to this material has the same result as breaking it in by regular use. Thus, cleaning your mat multiple times will make it less slippery faster.
Using soap typically has no extra benefit. Moreover, white vinegar and apple cider vinegar can damage some materials, such as rubber, TPE, and Polyurethane.
Some people like adding essential oils to their mat cleaner, but even these can damage some materials. Check the advice from the brand of your mat before using any solution other than plain water. Some PVC mats can be put in the washing machine but if you decide to do this, ensure the spin cycle is switched off.
Ensure you air dry your mat thoroughly after washing but don't hang it in the sun as this can damage the material. Don't roll it up while it is still wet, either, as this can break down some of the fabric, making the mat less sticky over time.
Use sea salt
Using an organic surface cleaner with coarse sea salt is another possible way to accelerate the aging process of your mat and remove the protective layer causing the slipperiness. Be careful not to use too much; one teaspoon of salt mixed with water in a bottle is the best solution. Spray the mixture over the mat and leave it for 12 – 24 hours. Wash it with plain water afterward and dry thoroughly before using.
Use a yoga towel
If you don't want to mess around with washing and drying your new mat and prefer to start using it immediately, a towel is your best option. You can place a sports quick-drying microfiber towel over the top or, better yet, purchase a specially designed yoga towel. A thin cotton beach towel may also help, but it does not have the quick-drying qualities of microfiber.
Yoga towels add traction as they are made from durable, non-slip fabric that quickly absorbs and dries sweat. Many also have a grip design like the Heathyoga Hot Yoga Towel, which boasts a dual-grip two-sided feature, so it stays fixed on your yoga mat. Alternatively, the lululemon Yoga Mat Towel with Grip has innovative corner pockets and an elastic strap to anchor down to your mat.
Wear yoga gloves and socks
Instead of placing a towel over your new mat, you can opt for yoga gloves and socks. These yoga accessories serve the same purpose as a yoga towel; to create traction and reduce slipping. However, while they can help with sweaty palms, they won't catch any dripping sweat from your body, something that contributes further to a slippery yoga mat.
These Gorilla Grip Yoga Socks have thick slip-resistant dots on the soles to provide traction on the slippiest yoga mats. They are so effective you can even use them directly on a hard floor of a yoga studio without sliding. What's more, they are made from sweat-resistant and moisture-wicking terrycloth material.
For your hands, we recommend the Gaiam Grippy Yoga Gloves, which feature finger-and-palm targeted traction grips, creating a non-slip surface anywhere.
Final Thoughts On How To Make Yoga Mat Less Slippery
So there you have it; a slippery yoga mat doesn't necessarily mean it is no good. It also doesn't mean you cannot start using it right away. The tips above will help you find a quick and effective solution to get the most out of your shiny new yoga accessory.