The age of stuffy trousers and crotch-riding shorts is over. lululemon has transformed men's athleisure by creating a chino-style pant that feels like athletic wear.
Both the ABC Pants and Commission Pants are nice enough to wear to the office, yet comfy and stretchy enough to lounge around in. These pants have many of the same benefits, but a few unique design details that set them apart.
Here is everything you need to know about the lululemon ABC versus Commission Pants, and how to choose the best style for you.
What does lululemon ABC mean?
lululemon ABC pants stand for Anti Ball Crushing technology. Yes, you read that right! The ABC pants are made with a special gusset crotch that ensures your manhood stays comfortable in any position. The ergonomic design removes tension from the crotch area so you always feel relaxed, sweat-free, and ready to move.
What is the difference between Commission pant and ABC pant?
Both the lululemon Commission Pants and lululemon ABC Pants are made for business casual menswear that is comfortable enough to wear on-the-go, yet polished enough to wear to the office. All Commission Pants have Lulu's signature Anti-Ball Crushing technology built into the gusset.
The main difference between these styles is that the Commission pants are more relaxed, while the ABC pants have a slimmer fit. The Commission pants tend are stretchier and more chino-like, but the ABC pants are closer to jeans or business pants. Both styles are breathable and easy to move around in.
Key Takeaway: The lululemon ABC Pants are the ultimate jean-replacement and the Commission Pants are the best chino-replacement. Both pants have an ultra-comfortable gusset for a full range of motion.
Top 6 Picks + Reviews: lululemon ABC Pants vs lululemon Commission Pants
All of these pants are made for business casual, sports, or on-the-go, but each style has its own unique features. With lululemon's signature Anti-Ball Crushing technology, you can trust that you'll be comfortable no matter which pant you pick.
Described as "the best pants ever", this agile upgrade to dress pants lives up to the hype. This smooth, cool, stretchy, and stylish pant is designed for the modern man on the move. The knit Warpstreme fabric is designed to perform just like workout gear: it is breathable, sweat-wicking, quick-drying, and has four way stretch. While the pants feel as comfortable as joggers, they look professional enough to wear to a meeting or dinner date.
Plus, no ironing needed! Warpstreme is naturally wrinkle-resistant and feels smooth as it falls against your skin. You could literally go for a run or a bike ride in these pants and then sit down to a meeting without anyone knowing. They're truly revolutionary!
The Commission Pants incorporate lululemon's ABC Technology (Anti-Ball Crushing), which basically means they have a flexible gusset that won't restrict your movement.
Pros
Available in 5 inseams (28″, 30″, 32″, 34″, and 37″)
Naturally wrinkle-resistant: Never iron again!
Warpstreme fabric performs in a variety of conditions
Professional enough to wear to work
Relaxed, streamlined fit
Breathable through glutes and thighs
ABC crotch ensures maximum comfort
Hidden zipper pocket
Hidden snaps
Cons
May run big (size down for a slimmer fit)
High price point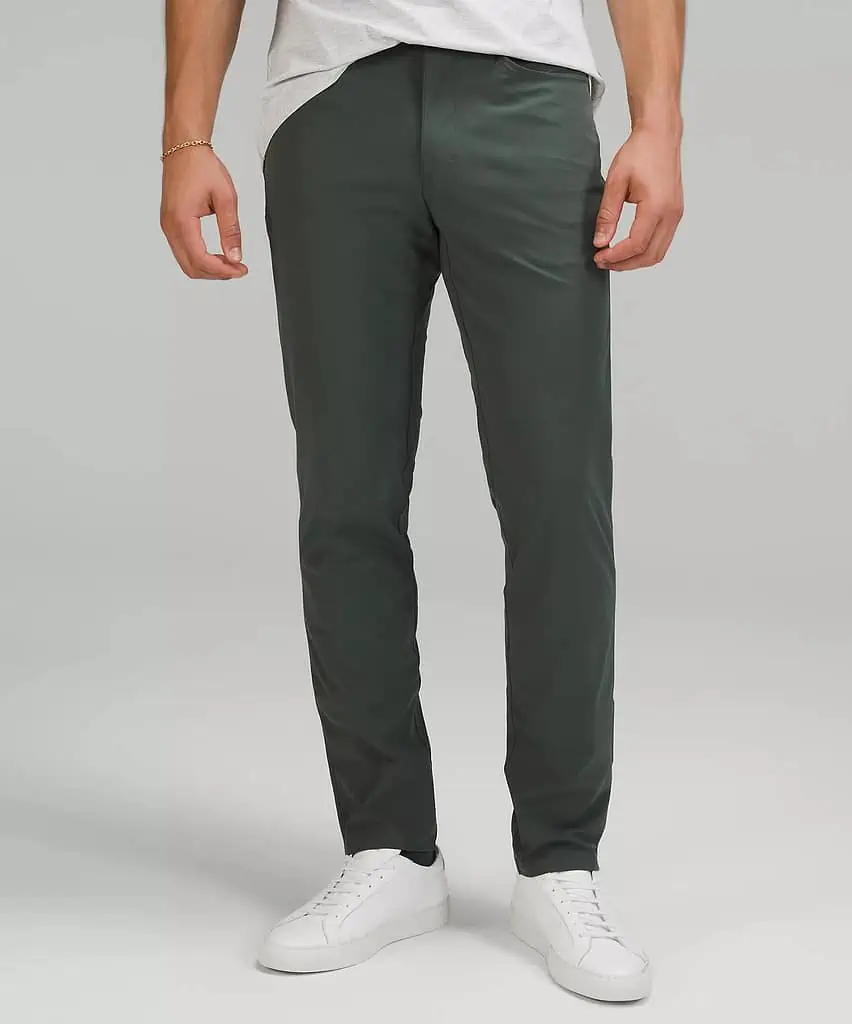 They look like dress pants and feel like sweatpants!
lululemon's ABC Pants stretch and move like no other. Trade in your uncomfortable jeans for these breathable, quick-drying, "anti-ball crushing" pants that keep up with any busy lifestyle. Like the Commission Pants, this pair is made with Warpstreme fabric that never needs to be ironed.
With sleek back pockets and shape-holding fabric, this classic fit mimics stretchy jeans yet looks impressively professional. The ABC Pants feel like super high-quality material that can withstand lots of wear and tear.
Pros
Best jean alternative
Super comfortable
Available in 5 inseams (28″, 30″, 32″, 34″, and 37″)
Very durable
Great for casual wear or dressing up
Wrinkle-resistant Warpstreme fabric
Back pockets are secure and sleek
Lightweight and breathable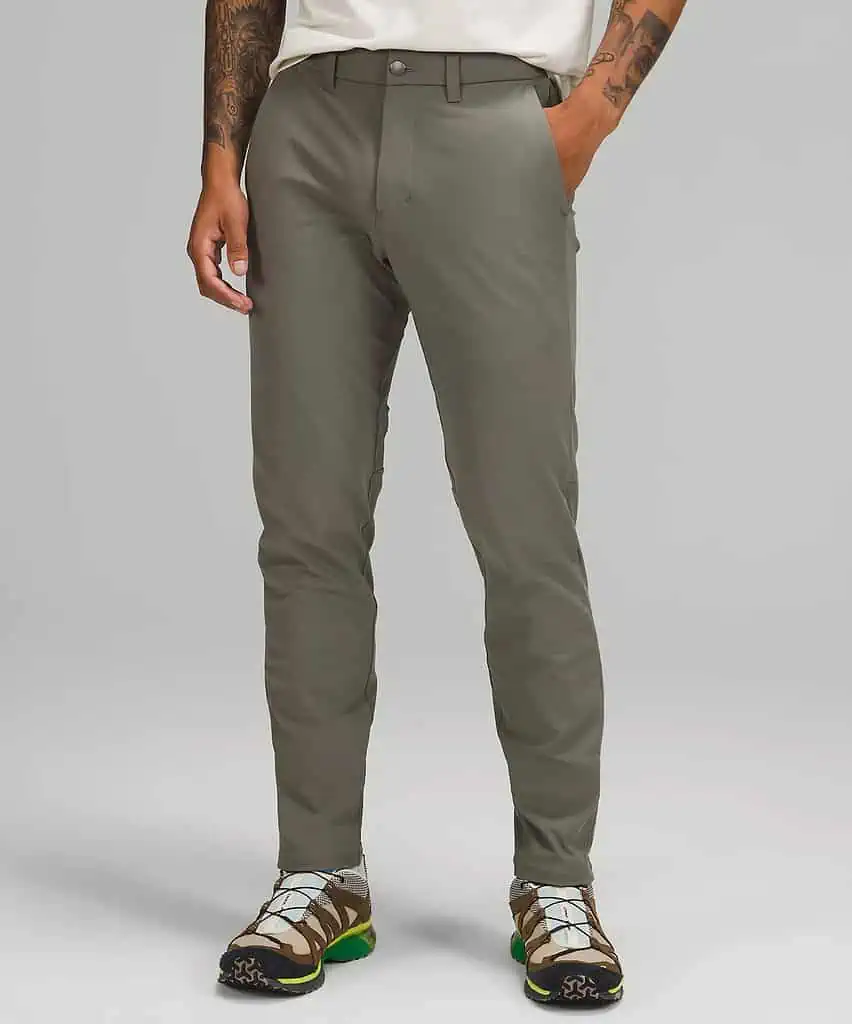 If a classic chino pants had a baby with workout joggers, the Commission Pants would be the result! These pants feel stretchy, smooth, and athletic, yet look nice enough to wear to a business meeting. They have the same ABC crotch gusset as the lululemon ABC Pant, but they look a little more like dress pants.
The slim fit is flattering to most body types without feeling restrictive. It skims your glutes and thighs, then skims down with a straight leg. We especially love the shape retention and breathability. You never have to iron these pants, yet they always look good. Plus, if you accidentally get sweaty on morning commute or an afternoon lunch break, the fabric dries incredibly quick. No sweat stains! No worries!
Pros
Wide array of fashionable colors
Available in 5 inseams (28″, 30″, 32″, 34″, and 37″)
Warpstreme fabric doesn't need ironing
Hidden snaps in the back pockets
Hidden zipper pocket
Sweat-wicking
Retains shape after washing
Slim fit flatters most body types
Great for tall dudes
Great for athletic body types
Cons
High price point
May still look baggy on slim body types
Some men have problems with the back buttons
For those who ride a bike around town or need a little more range-of-motion, the ABC Pull-On Pant has the nice quality of the above styles with a chill vibe. These pants are slouchier and loser. The waistband is more like sweat pants- there is no chino-style button.
While these may not work for a business meeting, they certainly can be dressed up or down for any casual outing. The relaxed fit doesn't look baggy or sloppy. Instead, these pants combine the best of both worlds: a sweat-pant-style top and a chino-style bottom. The fit is tapered to feel roomy in the glutes and thighs, with a slimmer hem just above the ankle. Wear a longer shirt to cover the waistband, and you can definitely still rock these at work. Heck, they'd even work for a laid back yoga class!
Pros
Very versatile
Great alternative to sweatpants
Available in 5 inseams (28″, 30″, 32″, 34″, and 37″)
Custom fit with internal drawcord
Hand pockets with hidden phone sleeve
Discreet back pocket
Looser, relaxed fit
Naturally wrinkle-resistant
Warpstreme fabric feels breathable and functional
Feel like sweatpants, but never look sloppy
Cons
Not as dressy as the other pants
High price point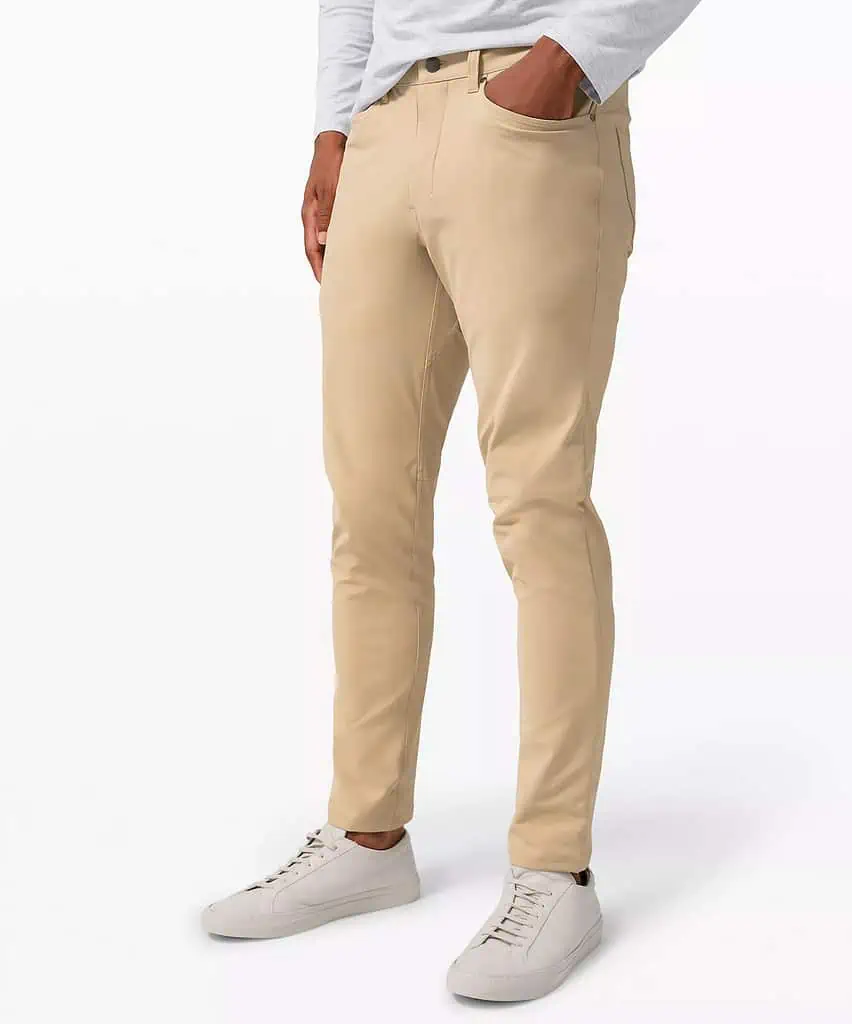 If you're looking for something more comfortable than skinny jeans, these are the pants for you. lululemon calls these "the five-pocket jean, reinvented." That's because the pants look like jeans from a distance, yet give you much greater freedom of movement.
The ABC technology keeps your manhood comfortable regardless of your position. Similar to the Commission Pant Slim Fit, these pants have a nice stretch to them. They skim the glutes and thighs and stay close to the body all the way to the hem. Overall, these are very similar pants to the ABC Classic Fit, but they hug your legs tighter.
Pros
Tighter fit like comfortable skinny jeans
Available in 5 inseams (28″, 30″, 32″, 34″, and 37″)
Polished, professional look
Quick-drying and breathable
Super smooth feeling
Hidden zippered pocket
Warpstreme fabric is wrinkle resistant
Cons
Muscular builds may need to size up
Not as stretchy in the hips as the Commission Pants
High price point
Never look sloppy in sweatpants again. These joggers are the ultimate workout pant upgrade. They are almost too comfortable to look as good as they do. The fit is tapered and stretchy without feeling tight or restrictive. The drawcord tucks into a flat-laying elastic waistband that is easily adjustable. The flexible ABC gusset never feels restrictive.
These dynamic joggers are stretchy enough for an intense yoga flow and stylish enough for a casual dinner date. We love the thoughtful storage pockets and lowkey seams.
Pros
3 inseam options (28″, 30″, 32″)
Sleek waistband with tucked adjustable drawcord
Warpstreme construction repels wrinkles and sweat
Good pants for yoga or running
Stretchy, smooth material
Fast-drying and cool to the touch
Holds up in the wash
Secure hidden pockets
Cons
Less color options
May run small
High price point
Do Commission and ABC fit the same?
lululemon's top men's athleisure pants have a similar fit that is simultaneously athletic and professional. The lululemon ABC Pants have a more "jean-like" feel while the lululemon Commission Pants feel like a chino replacement. Both lines are available in classic and slim fit options.
FAQs
What are lululemon Commission pants made of?
The lululemon Commission Pants are made of Warpstreme fabric, which is a technical performance blend of recycled polyester and a stretchy material called Elastomultiester. The fabric feels smooth, breathable, lightweight, and flexible. It is naturally wrinkle-resistant, so no ironing is needed! These pants are the ultimate comfort upgrade for dress pants (without sacrificing aesthetics).
Are lululemon ABC pants stretchy?
The lululemon ABC Pants have a good amount of stretch, especially in the crotch and inner thigh. Whether you're commuting, traveling, or running errands, these pants are designed to move with you. The flexible Warpstreme fabric ensures that you never feel restricted. At the same time, the material is robust enough that it doesn't feel like leggings or spandex.