Zen is a bit of a buzzword lately, but its roots go deeper than just finding a sense of inner peace in daily life. Zen is an ancient practice that many Buddhist Monks follow. At the heart of Zen practice, is a meditation called Zazen.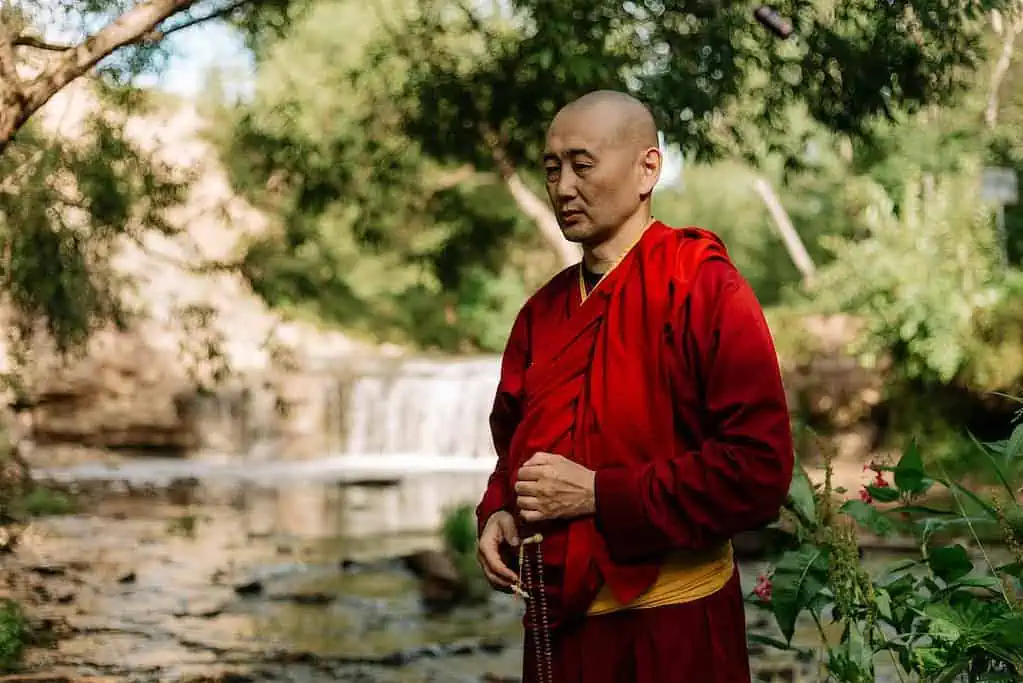 Zazen invites one to come to a comfortable seated position and drop into a deep meditative state, just like the Buddha. Many people use a Zafu meditation cushion to enhance their Zazen meditation, and here you can find out why…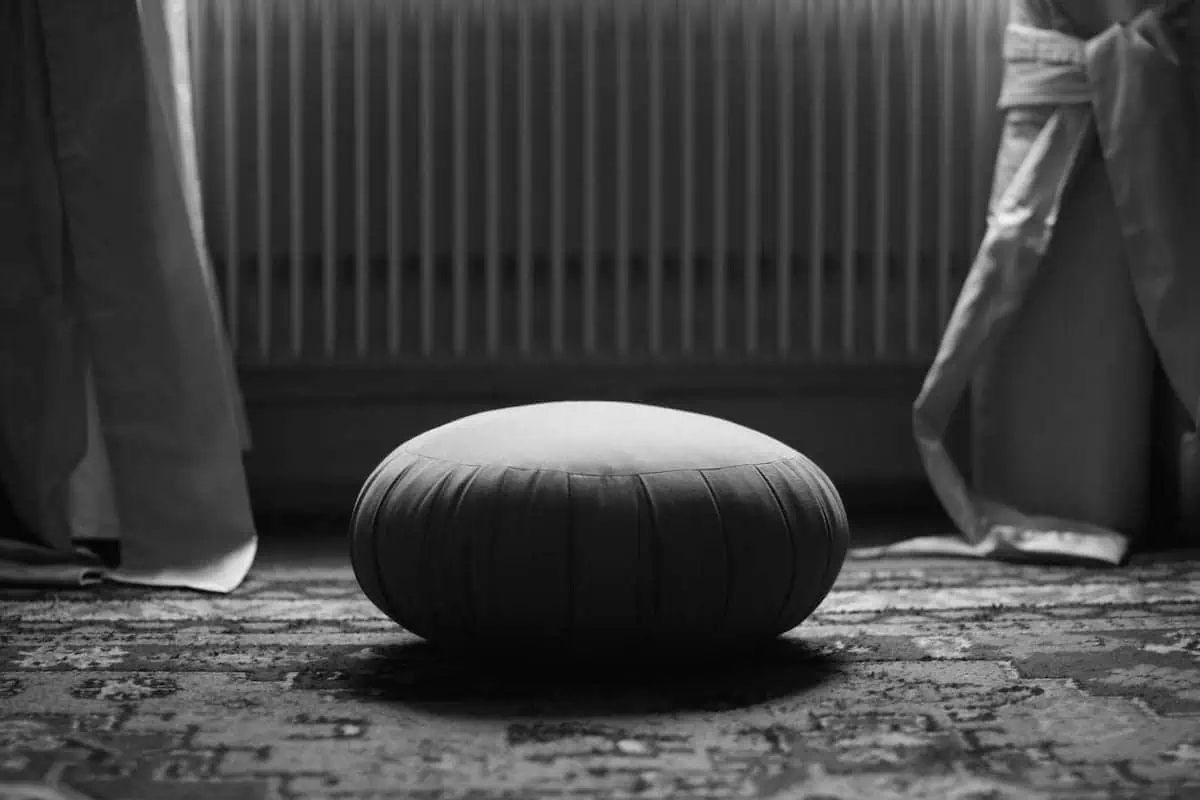 What are Zafu meditation cushions?
A Zafu meditation cushion is a specific type of cushion used in meditation practice. It is said to provide comfortable support for the body to allow you to drop into a deeper state of meditation. They are round in shape, with about 5 to 6 inches in height, which is usually adjustable depending on if you add or takeaway some of the filling.
The Zafu meditation cushions have been used in monasteries by Zen monks, as well as in yoga studios, homes, and anywhere else where you'll find people sitting in meditation.
Sometimes, you will see people meditating with a cushion set, which includes a floor mat or floor pillow too. But in this article we will simply be looking at the benefits of the Zafu meditation cushion (and recommending you some of our favorites).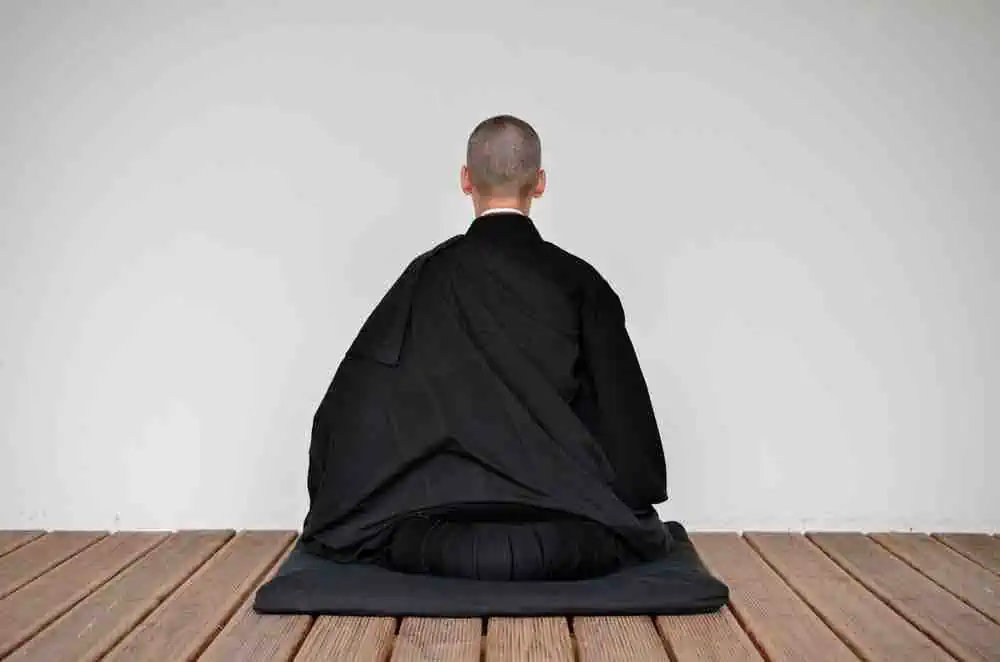 To use a Zafu meditation cushion you sit your hips on the pillow and then cross your legs. This will allow your knees to be suspended from the ground while giving you comfortable support under your buttocks. This cross-legged position is the most comfortable, and well-known meditation poses.
If this isn't comfortable for you, you may try to use the Zafu meditation cushion but sit in the seiza position, by bending your knees and having your feet tucked underneath you.
How can a meditation cushion improve your meditation practice?
A zafu meditation cushion will improve your meditation practice by increasing your comfort and encouraging you to sit in meditation for longer! The longer and more frequently that you meditate, the more insights you may discover.
When you sit on a cushion, it supports you by slightly tilting your pelvis forward, elongating the spine, and creating a better natural posture.
Zafu meditation cushions also increase the angle between the hips which will reduce the pinching of the hip flexors, and at the same take the strain off the knees.
If you are someone who experiences body pain while seated in a meditation position, a zafu meditation cushion could be the solution for a comfortable and supportive practice.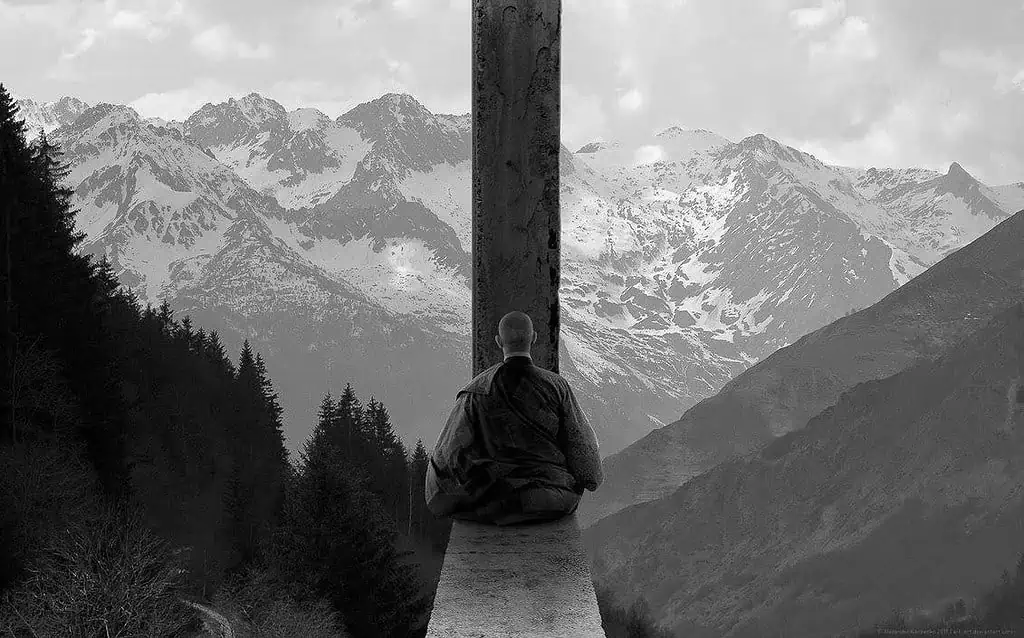 What are Zafu meditation cushions made of?
Zafu meditation cushions are usually made of natural materials. For example, most are made from durable cotton material around the outside and are filled with buckwheat hulls on the inside.
There are some brands that use microfibers and synthetic materials, but we usually try to discourage the use of these as they release microplastics in the environment.
Where can I get the best zafu meditation cushions?
There are so many zafu meditation cushions available online but what you need to look out for are ones made with organic and natural materials, that comes in a soft yet supportive shape, and that are filled with natural and lightweight materials such as buckwheat hulls.
Here are some of our favorite Zafu meditation cushions with links to order them online.
The Waterglider International Zafu Meditation cushion is the top pick for many reasons.
Firstly, the cover is made with 100% organic cotton and the inside is made with buckwheat hull, creating a 100% natural and biodegradable product. Their buckwheat supplier has been in the industry for over 20 years and has a state-of-the-art facility to ensure high-quality, clean buckwheat hulls.
Secondly, the shop supports new refugees by giving them the work to help produce these cushions.
And finally, these cushions provide ultimate comfort! People love to meditate on these cushions, and every online review speaks highly of these Zafu cushions.
As a bonus, they are easy to wash and easy to dry. For the quality and materials used, they are very affordable too and will last for a number of years if you keep them in a dry place in your home.
Whether you are simply adding five minutes of meditation to the end of your yoga class, you want to increase the length of your current meditation or you want to create a little home temple of Zen, this is the choice for you. Shop online on the Amazon site and add one to your virtual cart today!
Specs:
Sizing: 14″ width by 6″ height
Weight: 5.24 lbs
Color: 10 variations to choose from
Pros
Environmentally friendly, made with 100% natural fibers
Affordable
Supports refugees in the USA
Durable quality that lasts many years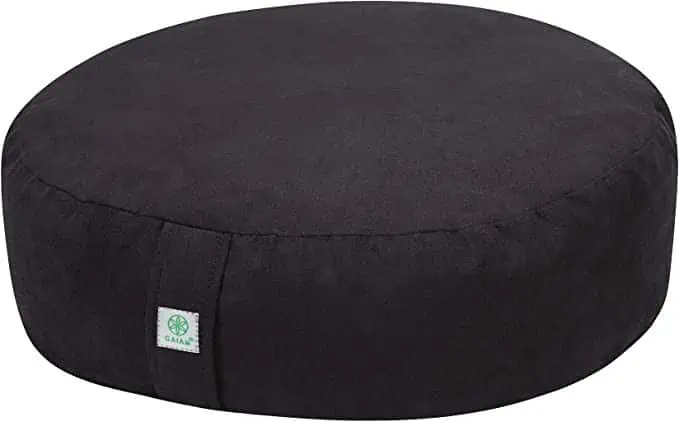 The Gaiam meditation cushions are filled with buckwheat hulls that gently conform to your body's shape. The exterior zipper allows you to adjust the filling to make it more or less solid based on personal preference so that you can find the most comfortable seated position.
This cushion feels soft on the hips and comfortable on the spine, allowing you to sit on the floor for longer. This lightweight cushion is easy to carry from home to your meditation or yoga class, hence we recommend this Gaiam pillow for those who want to carry this around to different places.
Although not made of natural materials, the microfiber cover is machine washable with a zipper that allows you to remove the cover for washing. The cover also has an easy-to-carry handle for portability and the option to hang up for storage.
This cushion also comes as a package deal on the site, with the ability to add on an extra floor zabuton to protect the ankles and knees while meditating too. Buying as a package will save you time in setting up your home Zen space and it will be a combination that you love. We recommend getting both for ultimate comfort.
Specs:
Sizing: 15.5″ diameter x 6″ height
Weight: 4 lbs
Color: 2 color choices (black and teal)
Pros
You can adjust the quantity of the filling
Most lightweight Zafu cushion for traveling
Can buy in a bundle pack with a Zabuton for extra comfort
Customer reviews are very positive
Easy to remove cover and wash in no time
Long-lasting when stored in a dry place
Cons
The covered material is made from microfiber (not 100% environmentally friendly)
Only two colors to choose from
The Zafu meditation cushion by Hugger Mugger is filled with organic buckwheat hulls that form to your contours. We love that the quantity of buckwheat hull can be adjusted to create the best sitting position for your body and spine. We also recommend that you try a few different heights, to see what feels the most comfortable for your body.
This Hugger Mugger cushion is covered with sturdy, beautiful, upholstery-grade fabric that will last many years and includes a convenient carrying handle, so you can either store it on the ground or hang it on the wall.
With 12 bright and bold colors to choose from, you will elevate your meditation practice from a supported base.
The only downside with this cushion is the weight! Weighing in at over 6 lbs, this cusion is not for the traveller! It is best to buy this cushion only if it will be staying in one place (i.e. either your yoga or meditation studio or your home Zen space).
Specs:
Sizing: 15″ width x 5″ height
Weight: 6.7 lbs
Color: 12 color choices
Pros
Easy wash in cold water
Great customer reviews
Love the bright and bold color choices
Durable fabric that will last years
Cons
Heavier than most other meditation cushions
Frequently Asked Questions:
What is a Zafu meditation cushion?
A zafu meditation cushion is a round cushion designed specifically to create comfort for those who practice meditation (and other seated yoga postures). It gives you a soft yet solid place to rest your hips, while your ankles rest on the ground beneath you.
If you add a Zafu meditation cushion to your meditation, you will enjoy great meditations that take you closer to experiencing the Buddha Nature. Every review says a Zafu cushion will also make your meditation easier.
Will a meditation cushion really make a difference to my meditation practice?
Yes! A meditation cushion will bring extra comfort to the legs, spine, hips and also your mind. This will enable you to stay in an easy meditation position, sitting on the hips or sitting on the knees, for longer. The longer (and more frequently) you meditate, the more insights and moments of Zen you will be able to experience.
Add a meditation cushion to your home and enjoy some great meditations. Every review of these cushions say that it is totally worth is and any customer would highly recommend adding one to your online shopping cart. 100% worth it to order online and have your cushion delivered tomorrow!
What size Zafu should I get?
Most Zafu meditation cushions are made around a standard size of 14 to 15 inches in width and around 5 to 6 inches of height. The height can vary depending on what your cushion is filled with.
If you have an easy access zipper, you can add or remove the amount of buckwheat hull inside your cushion to make the height lower or higher to find the best sitting position for your own body and spine.