As one of the most popular high-end athleisure brands on the market, Canadian company Lululemon Athletica has become practically synonymous with luxury yoga outfits. The brand offers everything from buttery soft leggings and yoga tops to high-performance sports bras and stylish streetwear.
The jury is out on whether or not competitors like Athleta and Fabletics live up to Lululemon's iconic style and impeccable attention to detail. But one thing we can all agree on: Lululemon is pricey. At the upper end of yoga gear, full-price Lululemon outfits are not in every yogi's budget. Unfortunately, they don't have regular sales or coupons either.
So how do you find Lululemon discounts and save on the leggings of your dreams? Here's the insider details on 9 ways you can get cheap Lululemon gear.
Why is Lululemon So Expensive?
Lululemon – or "Lulu" is at is called by its cult following of yogis and fitness enthusiasts – is most well known for its luxurious quality. Even in the height of the 2020 recession, women were spending $100 on new pairs of Lululemon leggings. Why? Evidently because Lulu delivers value and performance. Not only is their branding and community engagement on-point, but their products feel incredible and actually last.
The company has invested millions of dollars into creating the best technical performance gear to sweat in. They've developed proprietary fabrics and innovative designs for specific activities. They are intensely dedicated to ethical manufacturing and social impact. They even work with athletes to test their products out in a high-tech laboratory called Whitespace.
Down to every stitch, Lululemon has taken athletic apparel to a whole new level of performance. Inevitably, this comes with a price tag. The costs of R&D coupled with manufacturing, marketing, charitable giving, educational efforts, and an exquisite in-store experience all play into Lululemon's expensive price point.
That being said, we'd all like to enjoy Lulu's amazing yoga gear at a discount. One peek at their website and you quickly realize that sales are few and far between. So how the hell do you find Lululemon bargains? Here's the secret:
Lululemon Discounts
Does Lulu have sales? Unfortunately not really. The company does not offer typical "sales", or at least they don't call them that. The high-end brand is not one for coupons, markdowns, or thrifty bargains. But they still have product surplus and out-of-season items cycling through that they need to sell to somebody. To maintain its luxurious reputation, Lulu discounts are often more disguised than the average athletic wear.
Lululemon Outlet Stores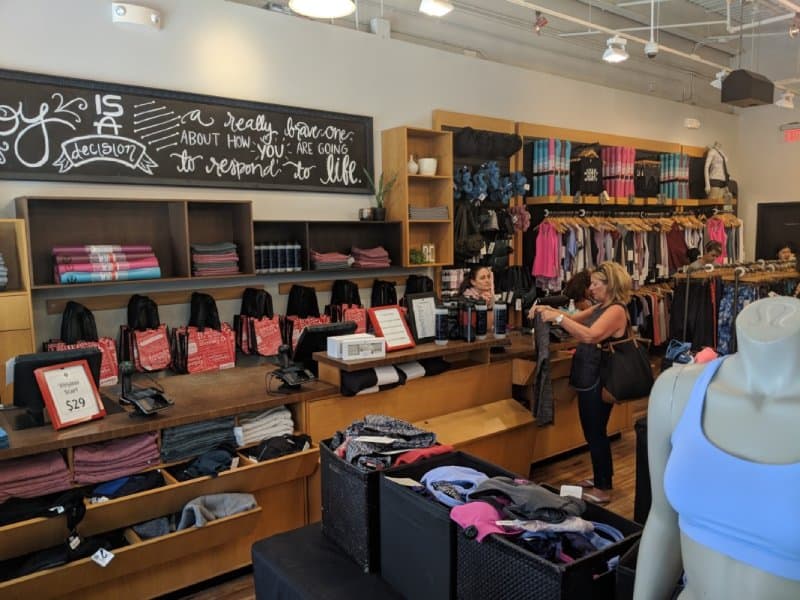 There are about 20 Lululemon outlet locations in the United States with amazing deals on current and previous season's gear. Some Lulu outlets will have discounts up to 30-90% off! I've found some incredible pieces at the Lululemon outlet store in Orlando, including a $15 Align sports bra, $19 tanks, and Inspire cropped leggings for $39! Everything is brand new with tags of course, just potentially an older style or color.
As you can imagine, these outlet stores don't always have the same pristine shopping experience as a true Lulu store. The bins or racks may be cluttered and sizes difficult to find, though many of the stores still display things pretty nicely. The downside is all sales are final and returns are not accepted at outlet locations. These discounts are also not available online.
Lululemon Sale: Marked Down Online Items
If you're shopping online, Lulu discounts can be harder to come by but they definitely exist. Marked down items on the Lululemon website are often best found via Google. I like to search "Lululemon sale [item name]" and often many sponsored links to hidden corners of their website will pop up at the very top. The "Price Drop" sticker is sometimes displayed on the top left.
Many of these items are either part of the "We Made Too Much" sale or marked down for some other obscure reason. I've found Align High Rise Shorts for just $29, but only in sizes 16-20. Like most Lulu sale opportunities, the sizes are few and far between.
Again, these tend to be final sale, so make sure you get the right size or you'll end up having to slang them secondhand (explained below!)
In-Store Price Match
Some stores may have different prices than online stores and if you catch a discrepancy it can be a great opportunity to snatch up a discount. Stores will price match Lululemon.com and vice versa. Simply demonstrate the price difference in-store or on Lululemon live chat and the customer service team should be able to price match for you. Unfortunately this won't work for "Final Sale" or "We Made Too Much" items.
"We Made too Much" Sales
Lululemon's previous "Warehouse Sales" have been replaced by outlet stores and the "We Made Too Much" section of their website. This is where you can find 20-50% off discounts from current season styles that may have been overproduced. Usually the items are limited to less popular colors or extra small or large sizes. Sometimes it can be hard to find the exact size or color you need, but it is always worth browsing through regularly in case your fav style happens to be on sale.
The secret to shopping the Lululemon Made Too Much section is shopping on Thursday mornings around 11 AM EST because this is reportedly when they update the offerings. You can also shop in-store around mid-morning for "We Made Too Much" discounts that you may not find online. However, like the outlet stores, these are all final sale products and can't be returned.
Lululemon Used and Second Hand
My personal favorite way to get cheap Lulu gear is simply to buy second hand. Half the time the item is brand new or barely worn! The two main apps I'd recommend are Poshmark and ThredUp. I've bought and sold all sorts of brand name clothes on these sites, but the used Lululemon selection seems to be especially high quality. Discounts range from 20-80% depending on the seller and how used the garment is.
Poshmark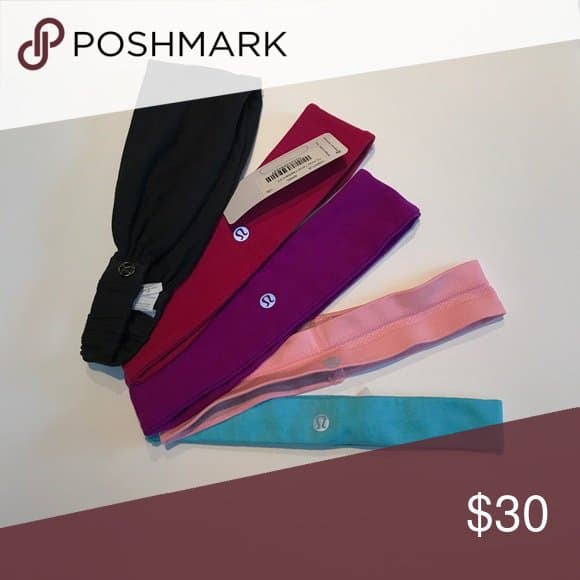 Poshmark is the queen of all online secondhand stores. Think high-end thrift store but organized by name brand, item condition, style, your size, and pretty much any other metric you are searching for. There are usually lots of photos and you can easily request specific measurements or more pics in the comment section of each post.
Perhaps the coolest thing about Poshmark is your opportunity to haggle. You can "Make An Offer" on any item below the listing price and the seller may accept your offer or negotiate with you. This can get you an even cheaper price than what's listed! My only complaint is that items sometimes arrive with a strong detergent smell depending how the seller washed them (so always ask in advance if you are sensitive).
ThredUp
ThredUp has the same principle of Poshmark and another great user-friendly app. It is really a goldmine for lightly used or NWT (new with tags) Lulu leggings, tops, sports bras, and more.
Most people selling on Poshmark and ThredUp are yogis just like you and me who may have purchased something in the wrong size or color and missed their return window. The seller receives a small commission for the sale and all transactions are protected through the app.
Yoga Instructor Discounts Through Sweat Collective
OK, this discount method is my favorite for in-store and online shopping because it just makes me feel exclusive and important. Contrary to some people's beliefs, this company actually cares about yoga and thoroughly supports the yoga community.
The Sweat Collective is a membership program for "leaders in sweat". Basically anyone who teaches fitness or yoga, professional or elite athletes, coaches, trainers, or people who own a studio or fitness club can apply to join the Sweat Collective. The application is pretty straightforward and simply requires proving that you are some sort of active sweat leader. They take 7 business days to get back to you about your application status. You also have to renew every couple of years.
Once accepted, Sweat Collective members are eligible for 25% off ALL Lululemon products. Pretty amazing right? The discount can be used in store with a photo ID and online with a special promo code. It also works for MIRROR and all Lulu accessories.
This is obviously a pretty smart marketing strategy for an athleisure brand because they get yoga teachers and personal trainers out in the world sporting their gear and representing the brand to the target customer. Best of all, you can even use your Sweat Collective discount at the outlet stores for the most bang for your buck!
How do you get 25% off at Lululemon?
The only way to always get 25% off at Lululemon is to become a Sweat Collective member. This discount is limited to fitness and yoga instructors or athletes who are accepted to the program. You can learn more and apply online on Lululemon's website.
How much do trainers get off at Lululemon?
Without applying and becoming a Sweat Collective member, personal trainers don't get any discount at Lululemon. They have to go through the application process and get approved to receive the Sweat Collective discount of 25% on all Lululemon products purchased specifically for themself.
Military and First Responders, Spouses + Lululemon Nurse Discount
If you are an active military member or United States First Responder, you can get 15% off at all Lululemon stores and online. This includes active duty military, reservists, veterans, firefighters, law enforcement, EMTs, medical doctors, and licensed nurses. You will need to verify your status online via SheerID and then you will be able to shop with your discount. In store, you simply need an official ID. Spouses are also eligible, but they have to verify and shop on their own with a government ID or online code.
The 15% discount applies only to Lululemon products you buy for yourself and does not include gift cards, Lululemon Like New, or combinations with other promotions. This is also only available at American Lulu stores.
Unfortunately, Lululemon doesn't offer any student or teacher discounts currently.
Lululemon Team Discount
If you are part of an athletic team or sports-based group that is passionate about getting sweaty and training, you can apply for the Lululemon Team Discount. It takes about 10 business days to have your application reviewed and then you can access the Team Program portal to shop bulk quantities of products at an exclusive price.
Reportedly, this type of discount can also be used in some stores. If you are in a group of teachers or yogis that are all interested in the same item, you can order multiples (orders of 12 or more of the same item) for 25% off. Depending on the store, you may also be able to get a discount up to 30% on as few as 6 of the same item. It is unclear if Lululemon offers this opportunity online.
Lululemon Like New
In an effort to be more sustainable and accessible, Lulu recently created the Lululemon Like New program similar to Levi's Secondhand. These gently used Lululemon pieces can be a moderate to really good deal depending on the trade-ins and resale availability at a given time. This is a more reliable company-verified way to get used Lululemon gear that you know is still of good quality. 
Their goal with Like New is to help give your clothing a new life by trading it in for credit. They clean and revive gear to make sure it's ready for its next owner, allowing you to have an upscale experience compared to thrifting or online second hand stores. As expected, sizes, styles, and colors are limited and changing all the time. The trade-in program is currently only in California and Texas, but anyone can shop Like New online. 
Closing Thoughts
Although Lulu doesn't have any amazing Black Friday deals, coupons, or student discounts, they do offer a few great opportunities to access their luxurious yoga gear at a more affordable price point.
Yoga teachers should definitely take advantage of the Sweat Collective. Yoga influencers may be interested in the Ambassador program for perks and commission opportunities. And other yoga lovers can shop Like New or secondhand sites, or even plan a trip to a Lulu outlet store on your next vacation for the bargains of your dreams.
Have you tried any of these Lululemon discount methods?
Namaste!