lululemon is a world-renowned for its women's leggings and yoga gear, but their men's line is equally as high quality.
Launched in 2014, lululemon menswear includes an incredible range of gear for everything from training to running to yoga. They even have premium quality business casual wear for commuting to work without sweating or feeling restricted.
Here's everything you need to know about the 11 bestselling lululemon products for men.
Bestselling lululemon Mens Products
If you need a "go-to" short for pretty much anything, these lightweight shorts are the all-in-one package. They are made with lululemon's signature Swift fabric with four-way stretch, sweat-wicking, quick-drying technology and the ultimate breathability. They may look like classic gym shorts, but they feel luxuriously high quality and last forever.
Pros
Stretchy for a full range of motion
Extra quick drying (no sweat stains)
7″ inseam is short without being too short (also available in 5″ and 9″)
Slim fit yet breathable through thighs
Durable and long-lasting
Pet hair doesn't stick tot hem!
For dudes who sweat buckets in the gym or like to do hot yoga, this shirt is probably the most sweat-resistant tee on the market. It has built-in anti-stink technology and the fastest drying fabric that lululemon has to offer. Though it looks and fits like a classic t-shirt, it feels has a luxurious premium feel.
Pros
Anti-stink technology
Fastest drying
Super soft fabric
No sweat stains
Longer drop cut for coverage
Huge selection of muted, earthy colors
Added lycra for stretch and shape retention
Cons
High price point
Neck line may be too loose
May fit small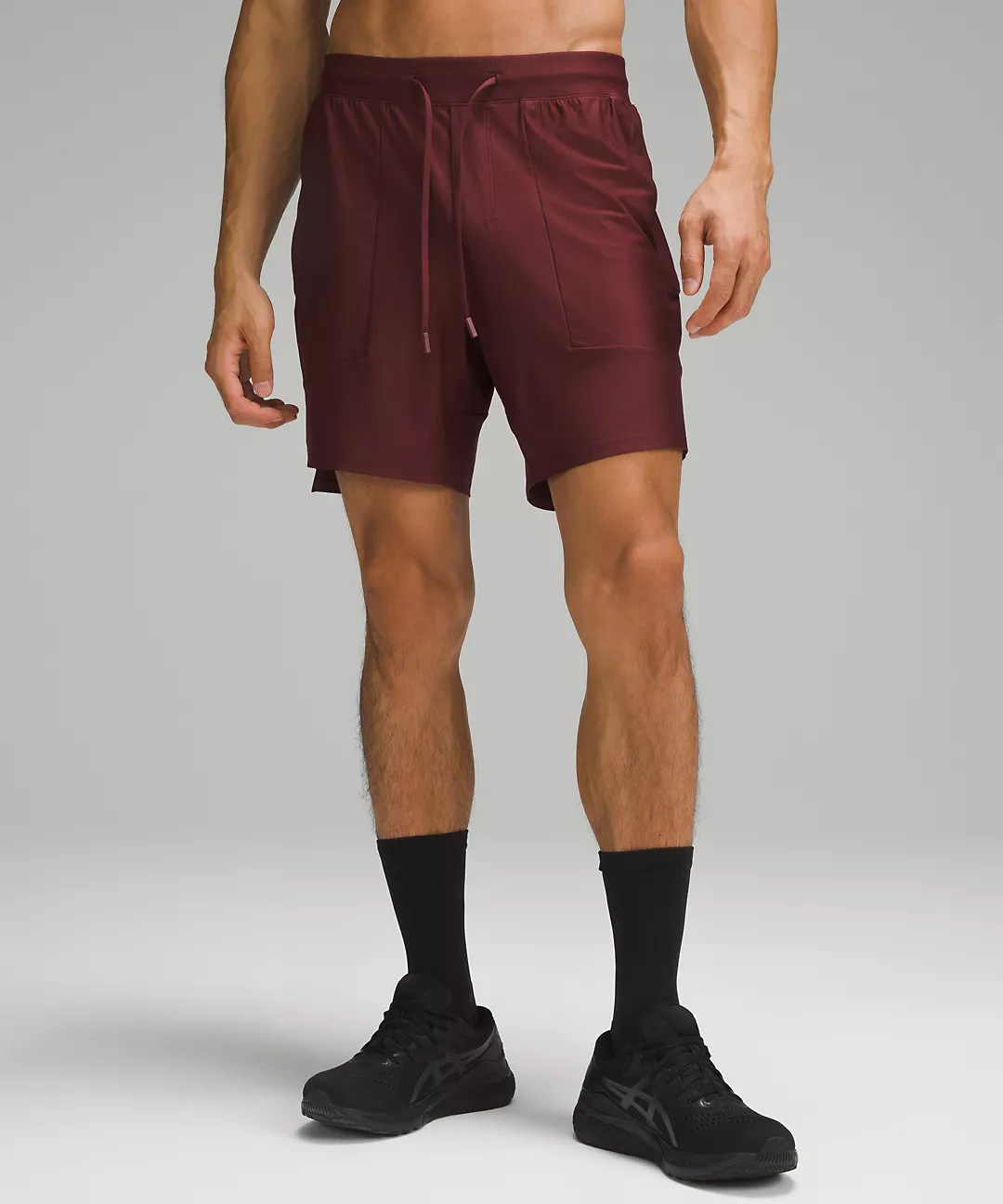 Best Training Shorts:
License to Train Linerless Short 7″
These shorts are designed to be remarkably abrasion-resistant. The fabric can withstand bar bells, weights, and outdoor adventures. They have a quick-drying waistband and a drawcord that can be worn inside or out. We love the secure pockets and exceptional quick drying technology. Compared to the Pace Breaker, these shorts are more durable and better for the gym. Also available in a lined version.
Pros
Top rated
Feel smooth and easy against the skin
Won't tear or snag on equipment
No sweat stains
Trendy, attractive fit
Lined version has a tight portion on the thigh for great coverage in yoga
Cons
High price point
May run large
These men's joggers have taken the athleisure world by storm! ABC stands for "anti-ball crushing" and these joggers are just that. They give you plenty of room and breathability in the crotch. They feel loose and comfy like sweatpants, yet look sleek enough to wear casually.
lululemon used their trademarked "science of feel" process to develop joggers that they say "feel like moving from a cramped studio apartment to a house with a yard". Honestly, it isn't an exaggeration. These pants truly embody the "less stress more sweat" mentality because you don't have to worry about constantly adjusting your manhood. Better yet, the Warpstreme fabric is breathable, wrinkle-resistant, and super soft.
Pros
Extra roomy in the crotch
Designed for being on the move
Feel like sweatpants, yet look like sleek casual pants
Classic tapered fit
Ultra soft Warpstreme material
Wrinkle-resistant
Handsome dark color selections
Cons
High price point
May run small (size up for looser feel)
This simple sleeveless workout shirt is honestly one of our favorite pieces of men's yoga clothing. Designed for running, it also performs great on the mat and in the gym. The lightweight mesh fabric and low-armpit cut ensures full breathability. Plus, it is infused with an anti-odor technology so you don't have to wash it as often.
Pros
Extra lightweight material
Reflective details
Mesh artwork for breathability
Chafe-free bonded seams
No-Stink Zinc technology to prevent odors
It looks like an everyday butt0n-up, but it has the quick-drying technical fabric of a gym shirt. lululemon has taken their menswear innovations to a next level with their new line of semi-casual dress shirts. This collared shirt has all the sleek details of an office outfit, yet includes the same breathability and ease of motion as their workout gear. We love the removable collar for washing (to keep you looking sharp), plus the underarm gusset for full mobility (no more shirt riding up)!
Pros
Woven Air fabric is naturally breathable and snag-resistant
Amazingly comfortable
Can wear casually or dress up
Breathability for commuting and preventing sweat throughout the work day
Stretchy, airy feel
Nice enough to wear to the office
Classic and funky prints
Cons
May fit short
Cannot machine dry or it will shrink
Like a chino golf short, but with all the lululemon athletic tech. These breathable shorts have the same ABC (anti-ball crushing) technology as their joggers to ensure your crotch stays comfortable whether sitting, standing, or on the move. The secure pockets and extra flexible fabric make commuting to meetings a breeze. Made with Warpstreme fabric, these shorts are naturally wrinkle-resistant, quick-drying, and incredibly smooth on your skin.
Pros
Functional for any occasion (can dress up or down)
Chino vibe yet feel like workout or lounge shorts
Wrinkle resistant
Secure pockets
Ergonomic gusset to remove tension from the crotch
Classic solid colors
Available in 7″ and 9″ version
Cons
Inconsistent sizing (may need to take advantage of pick up in store and free returns to exchange your size)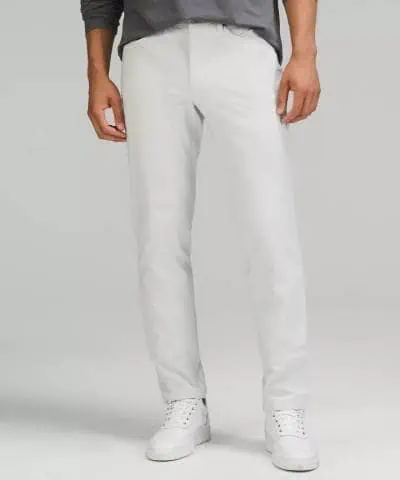 Best Office Pants:
ABC Classic-Fit Pant 34″ Warpstreme
Once again, lululemon delivers far beyond the gym or yoga mat. These pants are designed for any man on the move. They're made with the same wrinkle resistant Warpstreme fabric that everyone loves, plus the coveted anti-ball crushing technology that ensures a full range of motion and breathability. They look great with sneakers or dress shoes and can be worn for everything from a casual date night to a business meeting. We especially love these pants in the summer heat!
Pros
Can be dressed up or down
Hidden zippered pocket
Breathable and sweat wicking
Full flexibility and range of motion in the crotch and legs
Wrinkle free
Incredible 20+ color selection for any outfit
Available in 28″, 30″, 32″, and 34″
Cons
Waist runs slim
Consider sizing up
When you're dreaming of a cozy sweatshirt but you don't want to look dumpy, this zippered hoodie is classy, soft, and breathable. The French terry fabric feels expensive and slightly stretchy. There are even hidden media and coin pockets for stashing things on the go. This is perfect to toss on after the gym or on a chilly fall walk.
Pros
Extra soft and stretchy French terry material
Expensive, smooth feel
Classy, modernized look
Naturally breathable
Hidden pockets
Cons
Runs large
Threads may loosen
Best Men's Tight:
License to Train Tight 21″
If you need a warm base layer for winter workouts or versatile training tights for your yoga practice, the License to Train tight is top-of-the-line. The low-friction seams and locked-in support ensure a distraction-free workout. lululemon's trademarked Luxtreme fabric is slick, breathable, and cooling to keep your legs airy no matter the sweat. We like the silicone grippers on the waistband to keep the tights up no matter how you stretch or move.
Pros
The perfect workout base layer
Warm, yet breathable and sweat-wicking
Bonded construction for flattened, chafe-free seams
Silicone grippers keep the waistband up
Small interior pocket
Cons
Run small
Need to hang dry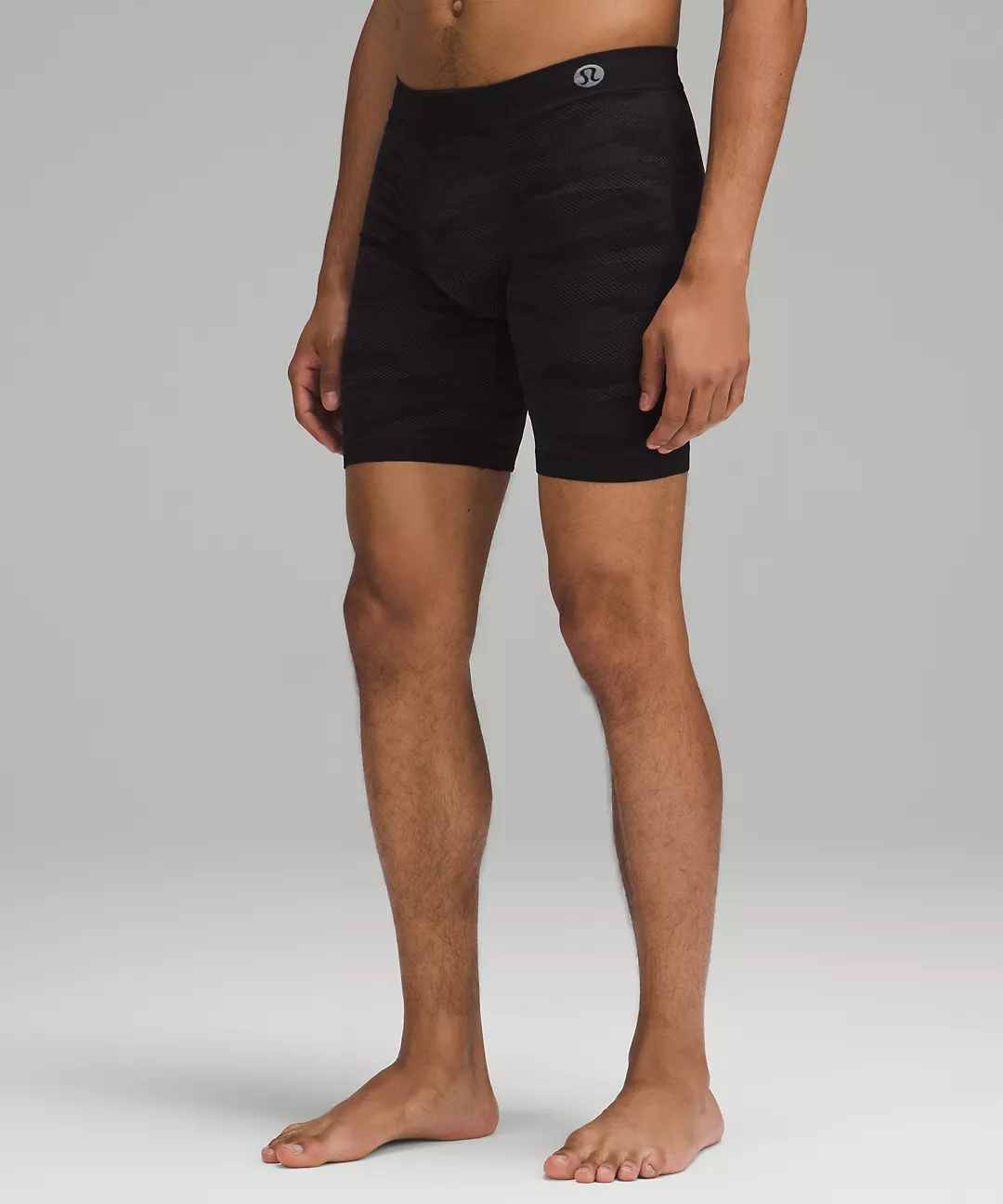 Best Ventilated Boxers:
Rapid Vent Tech Boxer 7″
For workouts, commutes, or daily activities, these lightweight boxers are seamless and supportive. The specially engineered pouch and and strategically placed mesh ensures maximum breathability and comfort. The boxers are also treated with lululemon's signature No-Stink Zinc for odor control.
Pros
Versatile for fitness and lounging
Supportive pouch
Seamless construction
Chafe-free
StrategicWhat is the men's version of lululemon? ventilated mesh
Cons
Run small
May be too compressive for some men
FAQs
What is the men's version of lululemon?
lululemon menswear goes by the same name as their women's line. The ever-expanding selection of lululemon men's workout gear, casual outfits, and loungewear has all the technical design and ultra-comfortable fabrics that their ladies leggings are praised for.
Is lululemon popular with men?
lululemon is increasingly popular amongst men who want to enjoy comfort, versatility, and breathability on-the-go. Their menswear includes impressive combinations of sleek, modern styles and next-level technical fabrics. You don't want to miss their ABC (anti-ball crushing) technology and anti-stink fabrics designed specifically with athletic dudes in mind.