In the West, most yoga classes are full of women in tight yoga pants. Since most yoga practitioners are female, the industry has mostly catered to them and there is no shortage of resources for women buying yoga clothes. But what about the dudes?
Believe it or not, male yoga is on the rise as more men discover the amazing benefits of yoga for the male body. In fact, yoga used to be a predominately male activity of the Brahmin caste in India, with the practice being passed down from man to boy.
Back then, men often wore traditional holy dresses (called "dhoti") and bare chests. But what the heck should guys wear to yoga in the modern day? Shirtless with some sweatpants may work great for home practice, but you need the proper gear for classes at a yoga studio.
Yoga involves a lot of inverting, twisting, stretching, and — in the case of Bikram yoga — copious amounts of sweating. When old gym clothes or basketball shorts don't quite fit the bill for keeping you covered and comfortable (they usually don't), you'll probably need to invest in some quality yoga gear.
Here's how to find the perfect yoga clothes for men's yoga.
Yoga Poses Require Certain Clothes for Guys
You may feel a little intimidated by the few experienced male yogis touting their tight shorts and bare chiseled chests in a hot yoga class. Don't worry, you don't have to show off your toned pecs to practice yoga (although you may end up with some nice definitions if you keep with a regular practice).
Yoga is a lot more about the internal journey of self-reflection, breath work, stress relief, and improving the body's physical resiliency. That being said, yoga clothes can drastically improve or impede that experience.
Trust me, nobody wants to interrupt their focus by pulling up their pants during a balancing asana or having to adjust their shirt in a bridge pose. You also definitely don't want to accidentally flash anybody if your baggy basketball shorts slide up during downward dog. Yikes!
So, What Do Guys Wear to Yoga?
Yoga gear is similar to workout gear in a lot of ways- it should be breathable, comfortable, and never restrict your movement. But yoga is obviously a lot more bendy and unique than your classic workout. You will be bending over, twisting, stretching, and putting your body into weird shapes.
There is some debate over whether you should practice yoga in tight or loose clothing. My male students lean toward the latter only because looser clothes can really get in the way and even impede your movements or accidentally expose certain body parts. A tighter fit is more likely to stay in place and keep you covered, but as you'll see below, it isn't necessary for every body type.
Yoga clothing is ultimately a matter of personal preference. The most common yoga wear for men includes a breathable top or tighter t-shirt, compression underwear, and tie-waste jogging pants or lined running shorts. Thankfully, lots of yoga brands are now catering to male yogis and offering a nice array of yoga apparel.
Here are our top picks for dudes practicing yoga:
Quick Picks
Best Men's Yoga Tops
Best Men's Yoga Pants
Best Men's Yoga Shorts
Top 6 Men's Yoga Tops
When you're picking out a yoga top, sometimes an old t-shirt or gym shirt will do. But certain yoga workouts can get a lot more intense and sweaty. Pit stains are a bummer and so are restricted movements from tight cotton sleeves. Sleeveless tops, natural fibers, and sweat-absorbent blends tend to be best for male yogis.
If you want to practice topless, the choice is yours, but keep in mind that most ladies in the class are trying to focus on their own meditative practice, not your sweaty chest. The choice is yours, but here are our favorite yoga tops for the job.
lululemon isn't just for super expensive leggings and yoga moms. Their men's line is full of high-quality, durable, and surprisingly stylish men's yoga gear. This top is the best of all with its "anti-stink" technology and soft mesh fabric that feels good against your skin even when you're sweating (and trust me, you will sweat during yoga). The sleeveless style with open pits adds plenty of airflow and range of motion for certain poses. It has a classic fit that complements most body types and a relaxed longer hem to keep you covered during deep stretches.
Pros
Super fast drying
Soft, mesh material
Sweat-wicking
Relaxed fit
Anti-stink
Sleeveless for full range of motion
Cons
Some men may need to size down for a tighter fit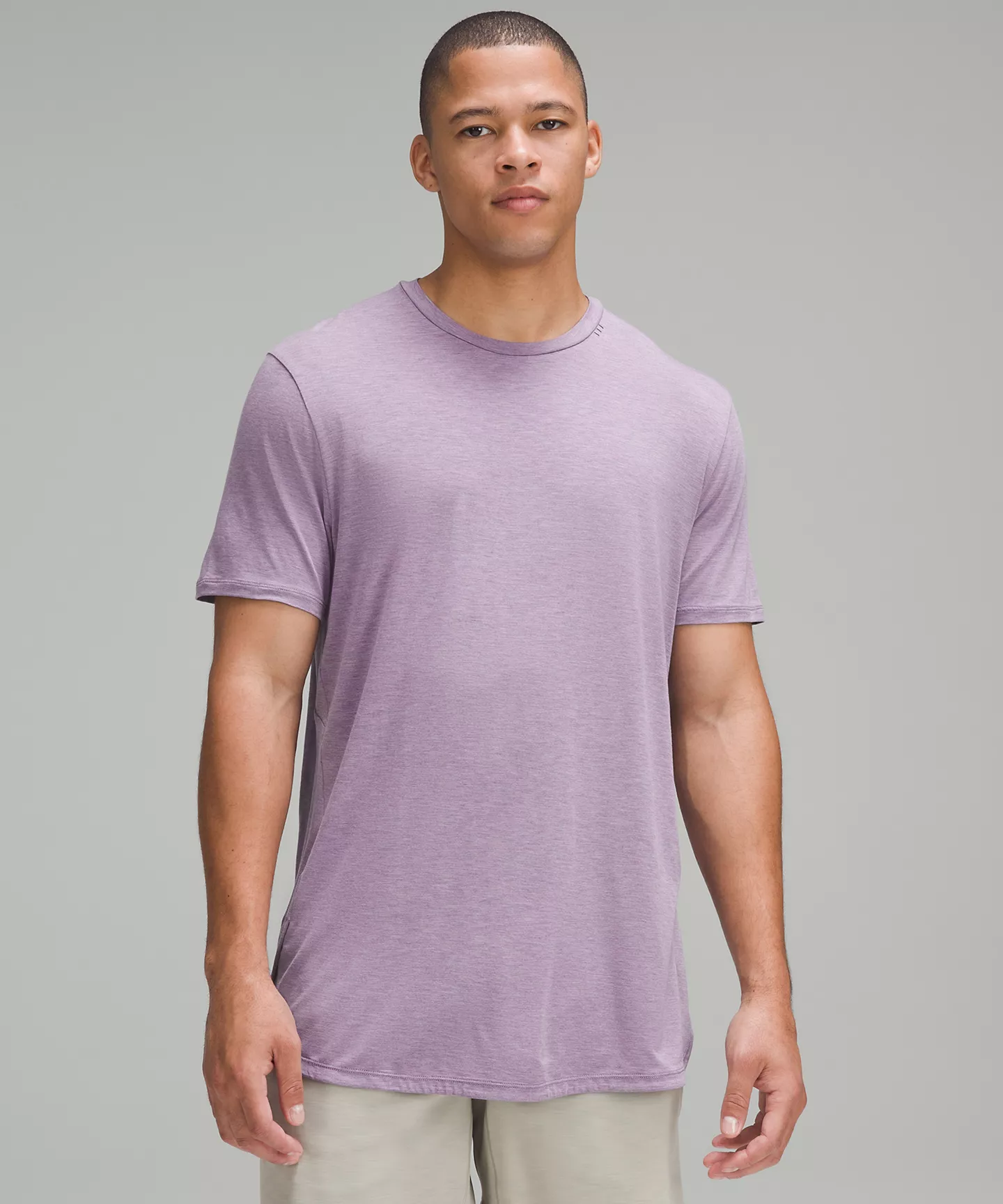 Best Men's Yoga Tee
#2 – Everyday Basic Yoga Top
If you're not quite wanting to show off those guns yet, this yoga top is everything you love in a classic t-shirt, but lighter weight, stretchier, and easier to move in. The sweat-wicking poly blend fabric is soft and durable with a little bit of spandex for stretch. It fits like a basic crewneck tee and stays in place as you move. Gaiam is a well-respected yoga brand that is worn by yoga instructors and students alike.
Pros
Very affordable price point
Sweat wicking poly blend fabric
A little bit of stretch
Perfect fit for free range of movement
Quick dry workout tee
Cons
Runs small
Sleeves may be a bit long
Created specifically for soft, lightweight comfort on the mat, this tee is perfect for Bikram yoga or any hot yoga class. It is stretchy and includes split hems for freely moving between poses. The material is extremely sweat-wicking so you don't have to worry about embarrassing pit stains or slipping on the mat. The back is slightly longer in the back to prevent flashing anyone while you bend or stretch. Nike's Dri-FIT tops are slim fit, seamless, and with 50% recycled polyester.
Pros
Sweat-wicking
Fast drying
Slim fit
Longer in the back for coverage
Sustainable materials
Perfect for hot yoga
Split hems for free movement
Super soft
Cons
Mid-price point
Center seams down the middle of shirt may not fit some men's style
Best Looser Fitting Men's Yoga Top
#4- CRZ YOGA Men's Lightweight Pima Cotton Henley Shirts Slim Fit Casual Long Sleeve T-Shirts Fashion...
See latest price
If you're going for a more relaxed vibe or a slower-paced yin yoga class, a long-sleeve, loose-fitting shirt may be a better option. This ultra-soft, stretchy, lightweight henley comes in 4 nice muted colors and includes three buttons down the chest for a laid-back feel. It has a slim silhouette and covers the waist during stretching. It's also very breathable and sweat-wicking for a more intense yoga workout.
Pros
Long-sleeve loose fit for outdoor yoga or a low intensity yoga class
Ultra soft fabric
Sweat wicking to prevent pit stains
Trendy and slick for wearing to yoga or casual outtings
Long hem for coverage
Affordable (under $30)
Cons
May fit too slim if you don't size up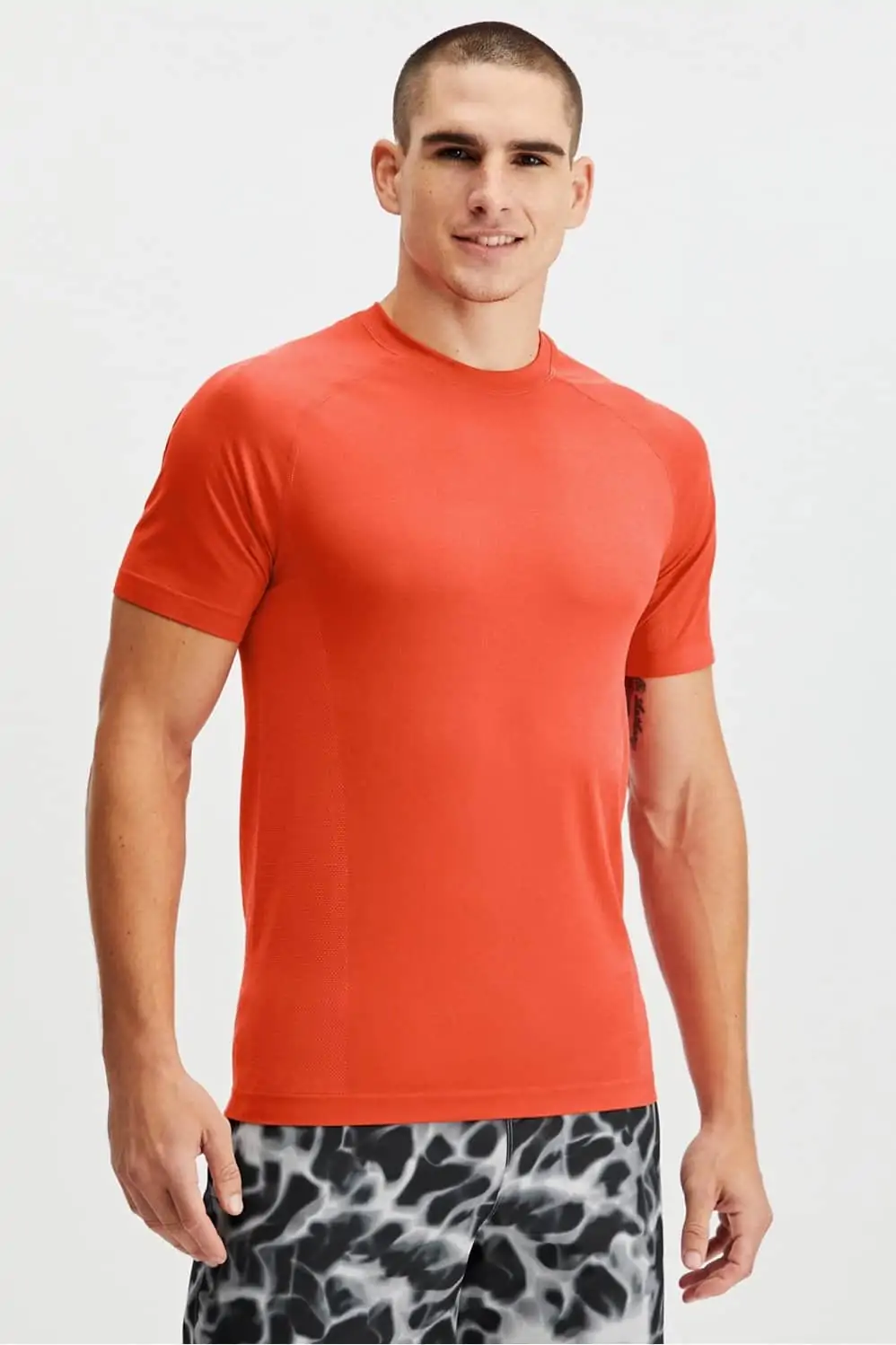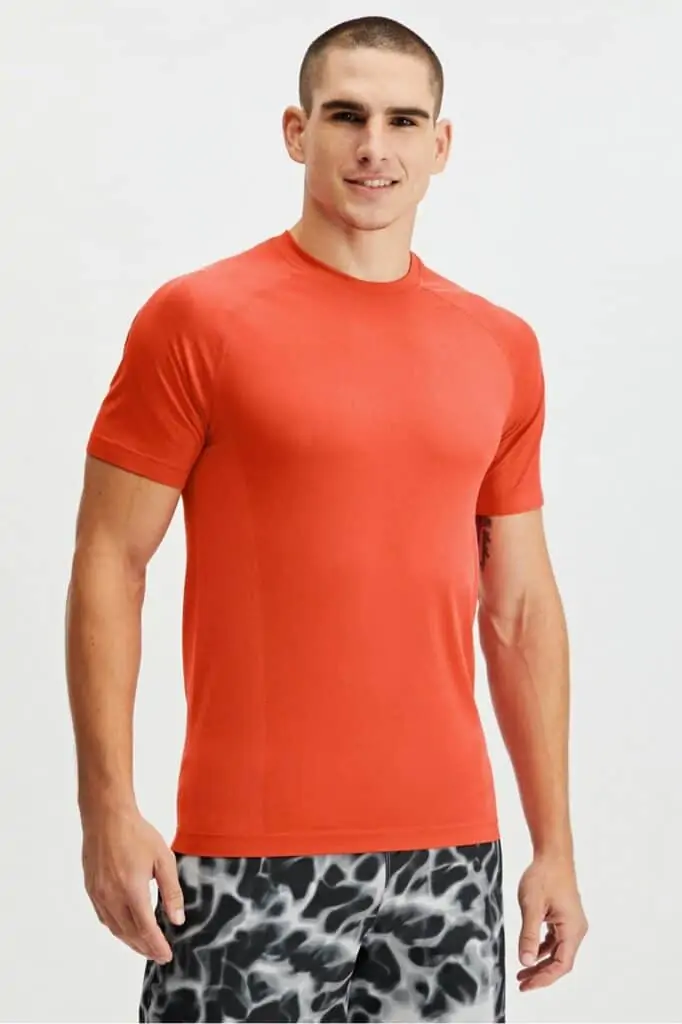 Best Tight Fitting Men's Yoga Top
#5 – Fabletics Men's The Training Day Tee, Performance, Running, Workout, Athletic, Active, Gym, Mens...
Seamless and colorful, this training tee by Fabletics Men is anti-chafe, anti-stink, and super breathable. It has the perfect fit that hugs your body for more intense poses or yoga workouts but never restricts your movement during deep stretches. Available in a ton of awesome colors, this tee is a bargain deal for the quality and style.
Pros
Sweat-wicking
Anti-chafe
Anti-stink
Super breathable
Lots of color options
Doesn't restrict flexible movements
Light and stretchy fabric
Cons
More expensive for non-Fabletics members
Best Budget Pick
#6- CRZ YOGA Men's Lightweight Pima Cotton Tank Tops Crew Neck Moisture Wicking Sleeveless Shirts...
See latest price
If you're just looking for something cheap to get you moving and on the mat, this budget yoga tank does not disappoint. At $20 or less, this muscle shirt is a bargain. It is ultra-soft, sweat-wicking, and has 4-way stretch for even the bendiest poses. It dries really quickly and comes in nice muted colors. The Pima cotton is crazy comfortable and won't get sweat stains the way regular cotton does. While it doesn't last as long as other options, it's the perfect muscle tank to just grab and go.
Pros
Super affordable
Soft Pima cotton
Breathable muscle-tank style cut
Sweat-wicking and quick dry
Stretchy fabric
Cons
Runs big, arm holes may be oversized for some body types
Less durable or long-lasting than other options
Top 4 Men's Yoga Pants
What to wear on top is pretty straightforward, but figuring out the right yoga bottoms for men can be a little more tricky. Classic sweatpants are usually too baggy and bulky. Track pants might do, but they have a tendency to restrict movement in deep lunges or warrior poses.
And you should definitely avoid cotton if you're doing hot yoga of any time. Fortunately, there are lots of nice yoga pants out there that won't leave you looking like a hippie rasta (unless you're into that sort of thing).
Highest Quality Men's Yoga Pants
#7- prAna Men's Standard Vaha Pant, Gravel-Legacy, Medium/32 Inseam
See latest price
PrAna has been a leader in the yoga world for many years and their new men's line does not disappoint. Designed specifically for yoga, these hemp men's yoga pants are breathable, stretchy, and minimalist. They dry extra quickly and have a relaxed fit for any yoga flow. The vibe is earthy and obviously "yogi" without being too in-your-face about it. The waistband is elastic like sweatpants for a secure fit and the pants come in a variety of colors and inseam options.
Pros
Luxury sustainable materials (hemp and recycled polyester)
Stretchy and breathable
Comfortable, relaxed fit
Knit elastic waistband
Stretchy and easy to move in
When I bought these pants for my husband to wear to our weekly yoga class, he was ecstatic. They are the coziest, most handsome manly yoga pants you could ask for. The fabric is soft, sweat-wicking, and extra comfortable. It has a cotton feel without all the sweat stain problems associated with cotton. The fit is slim and tapered, which allows you to move freely without tripping on extra fabric. They are also cut slightly above the ankle for plenty of hamstring stretching movements.
Pros
Super soft, sweat-wicking fabric
Slim tapered fit
Free range of motion
Attractive trendy style
Cotton-feel without the sweat stain risk
Extremely durable and long lasting lululemon
Best Men's Yoga Sweatpants:
#9- Pudolla Men's Cotton Yoga Sweatpants Athletic Lounge Pants Open Bottom Casual Jersey Pants for Men...
See latest price
As long as you're not in hot yoga or Bikram class, these sweatpants are perfect for men's yoga. They come at a budget price under $40 and deliver in quality and fit. The cotton material is soft and stretchy, with a little bit of spandex for flexibility. They have a drawstring closure and elastic waist that stays put no matter how much you bend and twist. The ankles are open and relaxed fit for a full range of motion. Plus, they just look nice: minimalist, relaxed, and chill.
Pros
Affordable price point
Stretchy cotton blend
10 minimalist color selections
Elastic waist and tie waist
Front and back pockets
Casual fit
Open ankle for range of motion
Cons
Cotton is not ideal for hot yoga
Best Men's Compression Yoga Pants
#10- Willit Men's Active Yoga Leggings Pants Running Dance Tights with Pockets Cycling Workout Pants...
See latest price
There's no shame in wanting to wear some tighter yoga leggings. After all, women choose them for a reason. As do runners and cyclists. They are perfect for yoga classes because they move with your body and feel like second skin.
This pair is especially nice because of the cooling nylon fabric and moisture-wicking properties that continuously keep you dry. They are functional with pockets and chafe-free seams, as well as a gusseted crotch that conceals your package while still allowing free mobility in the inner thighs.
Pros
4 way stretch
Sweat-wicking fabric
Quick dry
Second-skin fit
Gusseted crotch for secure fit
Full range of motion
Soft on the skin
Top 4 Men's Yoga Shorts
When pants are too hot or not quite your style, shorts are the way to go. Most men I know wear shorts to practice regardless of the season. It's just easier to move with bare legs when practicing asanas.
The kicker here is that gym shorts tend to ride up and cause a lot of problems during inverted or floor poses. It is super important to wear compression underwear so you don't end up flashing anybody when your leg is up in a standing balance or one-legged downward dog. Some yoga pants also have built-in liners to prevent this from happening.
Here are our favorite short picks:
lululemon's signature quick-drying Everlux fabric is perfect for hot, humid yoga classes. These shorts are super smooth against the skin and cut shorter at 6″ for maximum freedom of leg movement. The slim fit skims your glutes and thighs, tapering at the end for demanding practices that require some major hip opening.
Pros
Super fast drying
Extra soft
Elastic-free waistband
Lighweight
Zippered storage pocket
Shorter fit
Extremely durable (lifetime guarantee)
Cons
Luxury expensive price point
May be too short for some men
Require compression shorts underneath (no liner)
Best Men's Yoga Shorts with Liner
#12- Surenow Mens 2 in 1 Running Shorts Quick Dry Athletic Shorts with Liner, Workout Shorts with Zip...
See latest price
If you prefer a built-in liner, these running shorts are the way to go. They have the classic gym short fit with a drawstring closure and quick-drying, lightweight fabric. The liner is super elastic and stretchy without any friction or chafing. They provide coverage while feeling like they're barely there, so no compression shorts are needed.
Pros
Built-in super comfortable compression liner for comfort and modesty
Breezy lightweight fabric
Sweat-wicking
Quick drying
Elastic waist
Affordable price
Cons
Runs small
Cut may be too short on some men
Stitching on legs may come loose
Best Men's Yoga Compression Shorts
#13- ZENGVEE Compression Shorts Men 3 Pack with Pocket Running Short Mens...
See latest price
These cycling shorts are made of polyester and spandex, perfect for hot yoga or any sweaty practice. They have a super durable, no-rip design and gusseted crotch with flat seams for maximum comfort. These shorts can be worn under running shorts or on their own for complete freedom of motion and easy stretching without worry.
Pros
4 way stretch
Moisture wicking
3 pack
Very affordable price
Elastic stretchy material
Soft, no-chafe flat seams
Tight without feeling suffocated
Cons
May run small
May be too revealing to wear on their own
Budget Pick Men's Yoga Shorts
#14- Anthem Athletics Solstice 7 Inch Men's Workout Shorts - Open Pocket for Yoga, Pickleball, Tennis &...
See latest price
These yoga shorts are the ultimate budget pick: they're durable, super soft, and surprisingly functional. The hidden drawstring is nice and comfortable, while the slim fit is easy to move in and doesn't get hung up in your way during challenging asanas. They are cut just above the knee so they aren't too revealing nor too long. However, they don't include a liner, and could still risk riding up during poses with your legs up.
Pros
Budget price point
Internal drawstring closure
Designed specifically for yoga
Stretchy, strong, and soft
Slimmer flattering fit
Open pockets
Cons
Need compression shorts underneath
Closing Thoughts
At the end of the day, what guys wear to yoga should not be anything super stressful to worry about. Just choose comfortable workout clothes that will keep you covered and still allow you to move freely.
As more guys get on the mat, yoga clothes for men continue to be a growing industry, so be on the lookout for your favorite athletic brands as they release new comfortable clothing for male yogis.
Namaste!
FAQs
What pants should a man wear to yoga?
The best yoga pants for men are breathable, comfortable, and secure. Form-fitting tends to be better than loose clothes because you don't have to worry about fabric getting in the way of twisting, bending, or balancing. Almost any long pants that absorb sweat and tie at the waist will work for your next yoga class, however many brands make exceptional yoga pants specifically for this purpose.
Is it OK for guys to wear yoga pants?
Compression tights and yoga pants for men are a great option for male yogis. This style of pant is commonly used by runners and cyclists, so why not take it to the mat as well? There are lots of different types of men's yoga pants that have gusseted crotches and a proper fit for the male body. They move with your muscles and stay out of the way so you can focus on your zen.
What should a guy wear to hot yoga?
Gym shorts with compression shorts underneath or yoga shorts with a liner are the best options for men in hot yoga. Moisture-wicking fabrics will keep you dry and a spandex liner will ensure that nothing is revealed when you're in crazy bendy poses.