lululemon has become practically synonymous with ultra high quality yoga gear. Whether you're looking for sweat-proof hot yoga shorts, a new running set, or the perfect rest day outfit, lululemon's short selection is top-notch. Their classic styles are sleek and carefully designed for optimsal performance as well as flattering cuts to compliment your legs and booty.
With specialty performance fabrics, an abundance of colors, and several inseam options, Lulu's shorts don't disappoint. Here are the top 10 best rated women's shorts from lululemon, plus cheap alternatives.
What's so great about lululemon shorts?
The main thing that sets Lulu shorts apart from competitors is quality and attention to detail. Each pair is designed with sweat-wicking fabrics and a flattering, functional style for a specific activity like running, training, or yoga.
lululemon is known for their trendy, high-end style and specialty fabrics that make workouts more enjoyable, functional, and cute. Their "science of feel" is all about feeling your best so you can perform your best. lululemon takes this to the heart of their products by combining technical fabrics with unique garment construction to create the perfect feel for different movements.
10 Best Women's Lulu Shorts for Any Workout + Cheaper Alternatives
Between Lulu's new arrivals and time-tested classics, these styles are durable enough to wear every day and luxurious enough that you'll never want to take them off.
lululemon's women shorts are the highest quality around, but if they aren't quite in your budget, we've also included a variety of affordable alternatives.
Best Overall: lululemon Align High Rise Short
Best for Flow Yoga: Nulu and Mesh High-Rise Yoga Short
Best for Training: Wunder Train Short
Best Loose Running Shorts: Hotty Hot High Rise Lined Shorts
Best Low Rise Short: Hotty Hot Low-Rise Lined Short
Best Tight Running Short: Base Pace High Rise Short
Best Lined Short: Track That High Rise Lined Short
Best for Lounging: Inner Glow High Rise Short
Best for Hiking: Multi-Pocket Cargo High Rise Hiking Short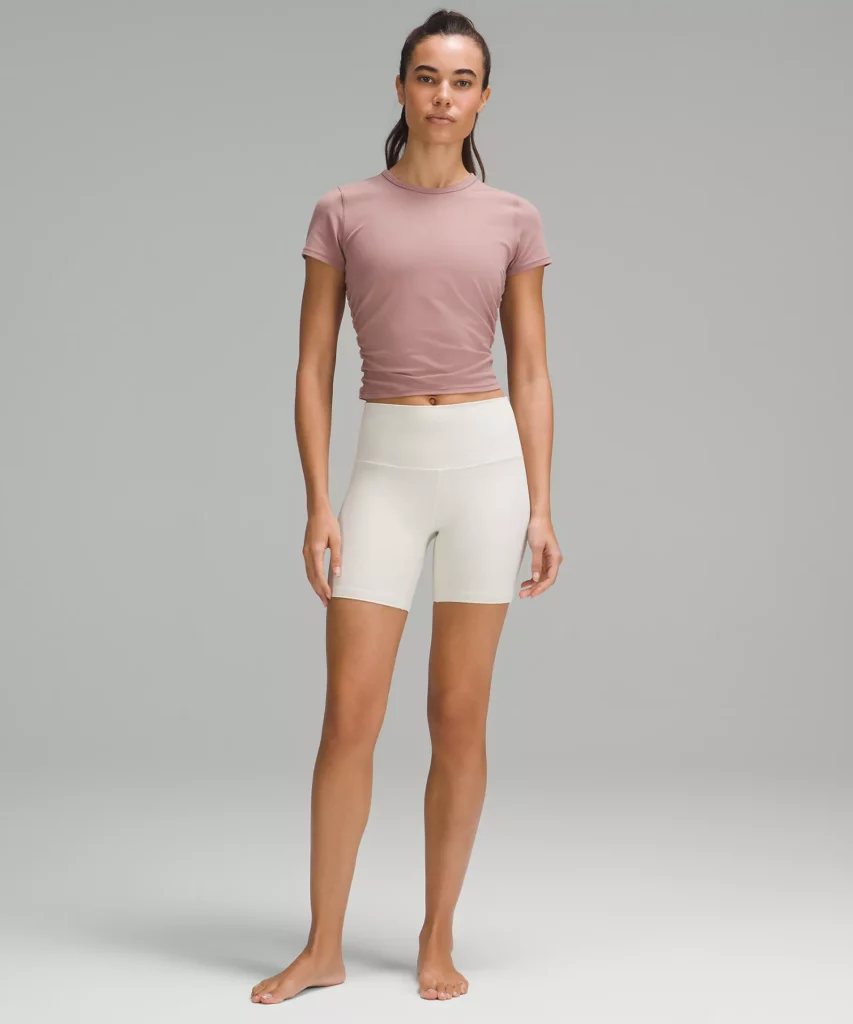 Best Overall:
lululemon Align High Rise Short
lululemon's signature Align collection uses weightless Nulu fabric for the most buttery soft, super stretchy, and breathable bottoms you've ever worn. They are the most moisture-wicking pair of shorts we've found, making them perfect for hot yoga and any other ultra-sweaty endeavor.
These shorts are an essential for any yoga practice, gym workout, or casual daily outfits. They look adorable paired with an Align Cropped Tank Top or an oversized tee.
As a bonus, white and light colored shorts are lined with a second layer of fabric so you don't have to worry about over-revealing yourself. All Align shorts are 100% squat proof and durable for daily wear.
The Align short comes in over 22 colors and four inseam options: 4″, 6″, 8″ and 10″.
Cheaper Alternative Option:
CRZ YOGA Women's Naked Feeling Biker Shorts 4 Inches - High Waisted Workout Gym Running Yoga Shorts...
See latest price
At a fraction of the price, CRZ Yoga's biker shorts feel shockingly similar to the Aligns. These shorts are made of 71% polyamide and 29% spandex, have a seamless waistband, and flat lock seams to lay smoothly against your skin. We love the tummy control and anti-sweat, form-fitting design. While they may not last as long, these shorts are certainly a bargain for yogis on a budget.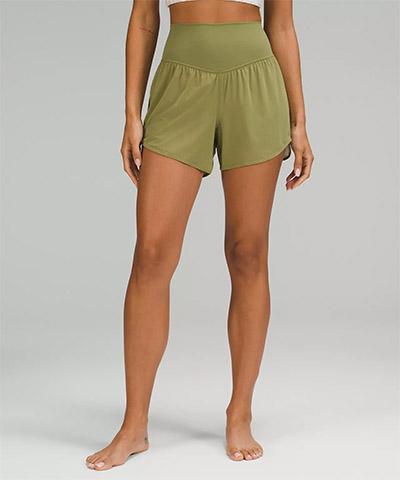 Best for Flow Yoga:
Nulu and Mesh High-Rise Yoga Short
When you're looking for a looser, relaxed workout bottom, this ultra-flattering pair of airy yoga shorts keep you cool and breezy. They're made of the same buttery smooth Nulu fabric, but without the spandexy fit. The feminine cut conceals any belly or leg fat while complimenting curves.
We love how the mesh fabric overlay flutters as you flow. The elastic waistband is also brushed so it feels soft against your skin and doesn't dig in. These extra breathable shorts keep you feeling weightless and light on your feet as you flow through Vinyasas and stretch out in peace.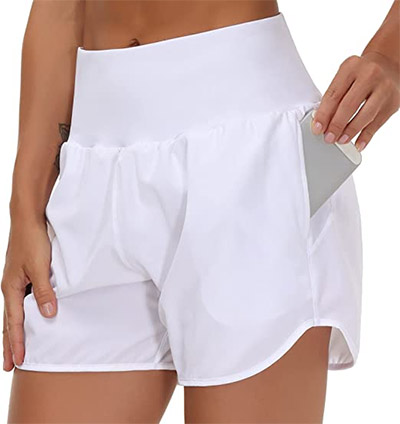 Cheaper alternative Option:
THE GYM PEOPLE Women's High Waist Running Shorts with Liner Athletic Hiking Workout Shorts Zip...
See latest price
With bigger pockets and a quarter of the price tag, The Gym People's alternative gives Lulu's flowy yoga shorts a run for their money. This pair is undeniably more cheaply made than the real thing, but the style is remarkably similar and extra flattering for any body type. We love the breathability and earth tone color options.
Best for Training:
Wunder Train Short
If you despise sweat stains, these are the shorts for you! Unlike cheap workout gear, the Wunder Trains keep you chilly and dry no matter what.
Powered by lululemon's signature Everlux fabric, this collection is all about quick-drying comfort. These shorts are a female weight lifter's dream. They truly feel as good as they look in the gym!
The four-way stretch, extra moisture-wicking, and cooling construction of these shorts ensure that you never have to deal with sweat stains again. They also feature an extra wide high waistband that keeps rolls and muffin tops tucked away.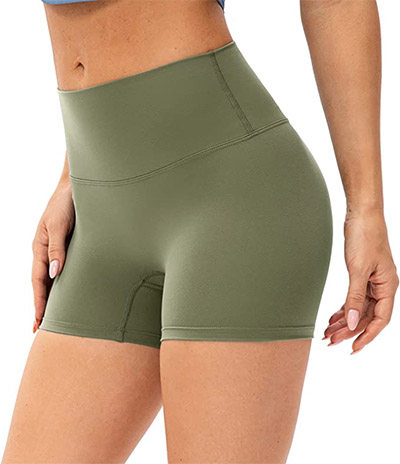 Cheaper alternative Option:
Lavento Women's All Day Soft Yoga Shorts 5 Inch - Workout Gym Running Active Biker Shorts for Women...
See latest price
If the under $20 price point and butt-lifting design aren't enough, this alternative also features a unique waist line that slims the stomach. Like the Lulu pair, they are super soft, sweat-proof, and squat-proof for the gym. These shorts are made from 80% nylon and 20% spandex with an elastic waistband.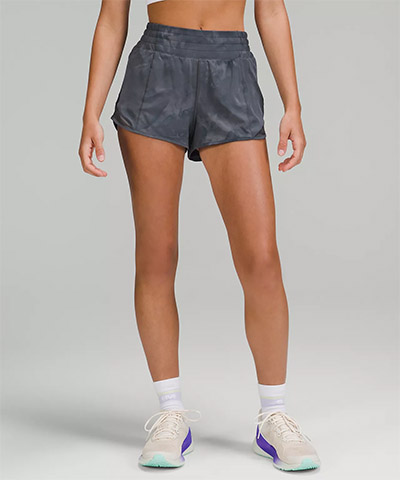 Best Loose Running Short:
Hotty Hot High Rise Lined Shorts
For women who love to run, the Hotty Hot shorts have a swift, lightweight fabric that let you move freely while still looking cute. The high rise cut is stomach-flattering, but the loose leg keeps you feeling breezy and relaxed.
We love the built-in liner that doesn't feel restrictive, yet keeps your lady parts hidden from view. You can definitely go carefree commando with these shorts!
Available in 2.5″ and 4″ inseams and over 14 color options.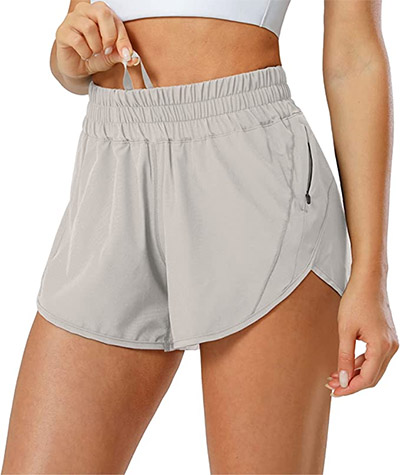 Cheaper alternative Option:
Aurefin Athletic Shorts for Women, Women's Quick Dry Running Track Shorts Workout Active Shorts with...
See latest price
These polyester and elastane running shorts look shockingly similar to the Hotty Hot style. They have a perfect above-the-belly-button high rise fit, built-in liner, and adjustable drawstring. The zippered side pocket is great for holding your phone as you run.
However, they aren't quite as sweat-proof as the real thing (you may see marks from sweaty hands wiped on the sides). We also don't like that the liner is white and sometimes show. The fit is a bit "fluffier" fit and not quite as streamlined as lululemon.
But hey, for a quarter of the price, you can't complain!
If you're sick of the high-rise trend, this low-rise version of the Hotty Hot running shorts is the ideal pair for a full length workout top. They are made with the same lightweight Swift fabric and mesh side panels for optimum ventilation.
We love how fast these dry and the secret zippered stash pockets for small essentials on the go. The drawstring makes it easy to cinch around your waist and has a continuous design so it doesn't get lost in the wash (hallelujah!). Lulu designers always seem to get down to the nitty gritty.
Like the high-rise version, you also get a built-in liner and reflective details for morning or evening runs.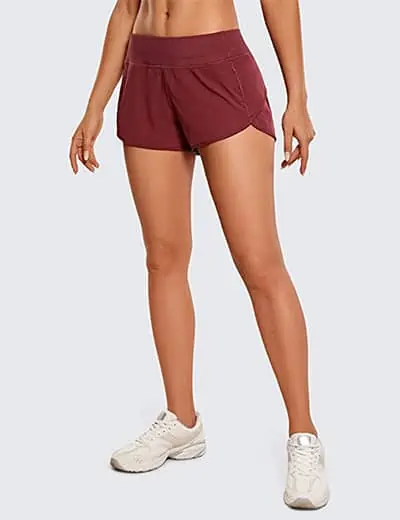 Cheaper alternative Option:
CRZ YOGA Women's Quick Dry Workout Running Shorts Mesh Liner - 2.5 inches Drawstring Sport Gym...
See latest price
The low rise fit and lightweight feel of this alternative are mostly the same as the real thing, however the sleek style isn't quite as flattering. We do like that CRZ Yoga offers durable shorts under $30 and 2 comfortable built-in pockets for stashing your phone and keys.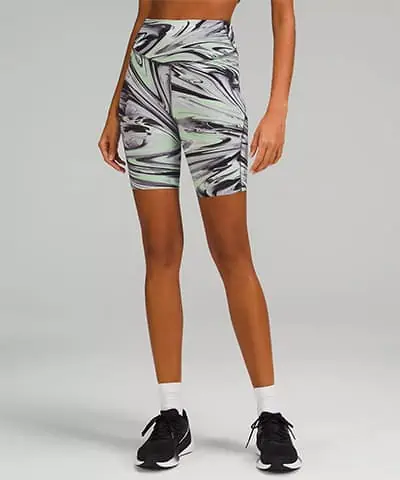 Best Tight Running Short:
Base Pace High Rise Short
These shorts are engineered similar to the Align styles, but with an even lighter weight finish that makes you feel like you can run forever. The weightless coverage and Nulux fabric are truly luxurious against your skin, but they don't leave you feeling completely naked on your jogs.
We love the cooling, sleek feel on the inside and outside of these shorts. The built in back pocket and hidden drawcord are functional and minimalist, but the zero inseam stitch takes your smooth stride to the next level.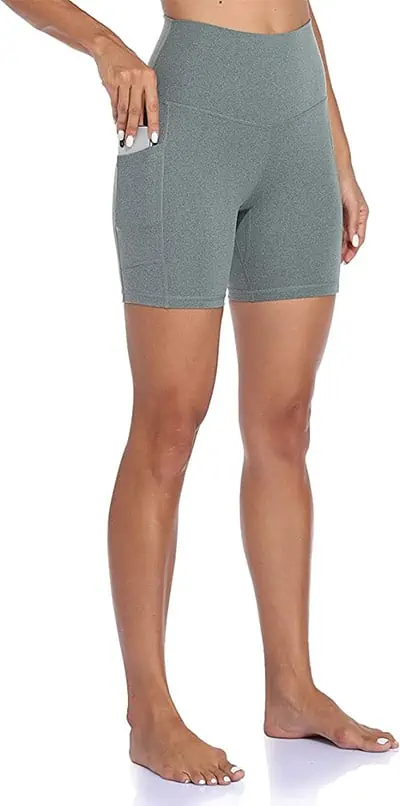 Cheaper alternative Option:
Colorfulkoala Women's High Waisted Biker Shorts with Pockets 6" Inseam Workout & Yoga Tights (S,...
See latest price
Made of 75% polyester and 25% spandex, these biker shorts feel almost as buttery soft as the Base Pace. They have a brushed finish and cooling feel when you sweat. The big side pockets are really nice and the waistband doesn't dig in. Plus, they're super cheap compared to the brand name Lulu.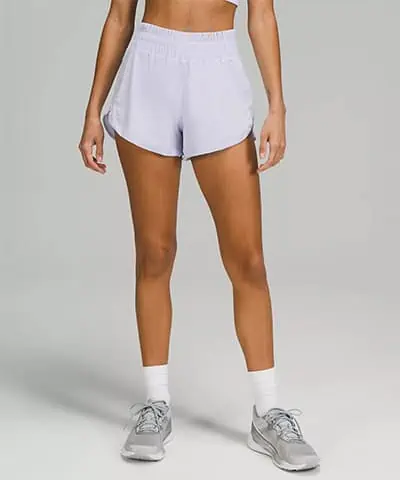 Best Lined Short:
Track That High Rise Lined Short
With any even looser fit than the Hotty Hot shorts, the Track That style has extra coverage and the softest built-in liner. The liner is also the most comfortable and sweat-proof of all the shorts we've tried.
These shorts are made with a stretchy lightweight fabric that dries super fast. We especially love this flat-lying waistband that never digs in (even when you're feeling a little bloated).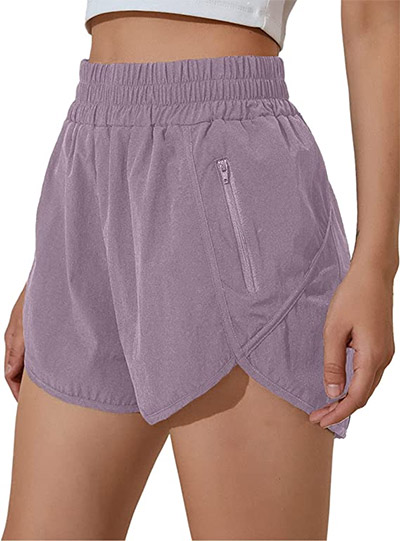 Cheaper alternative Option:
BMJL Women's Running Shorts Elastic High Waisted Shorts Pocket Sporty Workout Shorts Quick Dry...
See latest price
At under $30, BMJL's Lulu alternative doesn't disappoint. These shorts dry quickly and feel luxurious on your skin without that cheap-feel of many Amazon alternatives. We love the elastic waistband, high-rise fit, and zippered phone pocket. The cut is pretty similar to Lulu, but slightly less flowy in the upper thigh.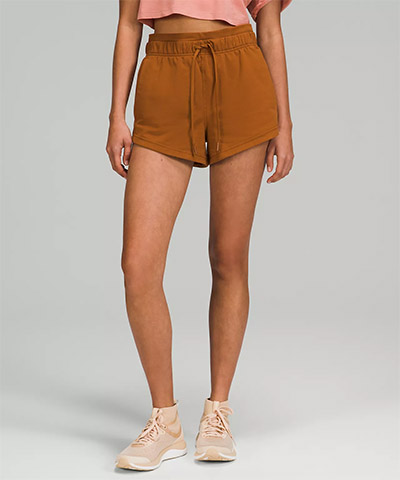 Best for Lounging:
Inner Glow High Rise Short
It's called athleisure wear for a reason! These shorts are our top pick for lounging and running errands. They look nice enough to wear out of the house, yet feel cozy enough to fall asleep in.
The effortless cut is at once relaxing and stylishly put-together. Lulu's French Terry fabric is refreshingly soft and slightly stretchy. Pair with your favorite crop top and slides for errands or coffee on-the-go.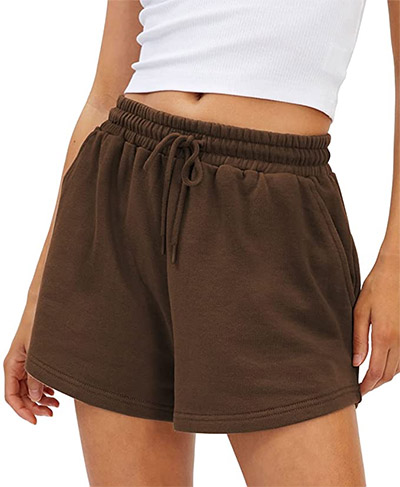 Cheaper alternative Option:
AUTOMET Womens Sweat Shorts Casual Summer Cotton Shorts Elastic Comfy Running Shorts High Waist...
See latest price
Somehow these shorts feel like cozy sweatpants yet look nice enough to wear outside the house. This alternative is made of 65% polyester and 35% rayon for a comfy yet breathable skin feel. The style fits similar to lululemon, but the waistband isn't quite as sleek. They ring in at under $30 and come in a range of vibrant colors.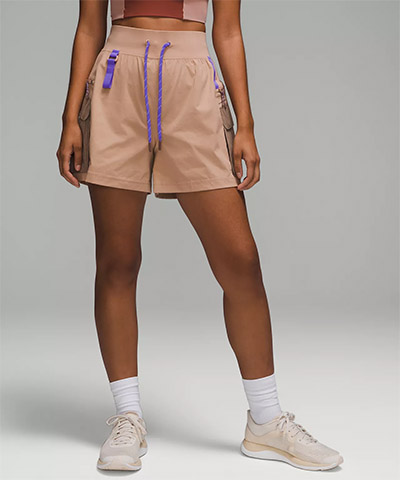 Best for Hiking:
Multi-Pocket Cargo High Rise Hiking Short
lululemon has finally gotten on the outdoorsy train by delivering these multi-pocket quirky cargo shorts for nature-lovers. They offer the same soft yet functional feel as their other styles, but have the added benefits of abrasion-resistant, water-repellant, extra durable fabric.
You get several cargo pockets, zippered pockets, front loops for carabiners and a locker loop for easy hanging. The adjustable drawcord and comfy waistband ensures that you can climb any mountain you set to conquer.
Best of all, these shorts are different from Lulu's typical girly styles. They have a cute "tomboy" feel that is still good-looking and functional. As always, these have free shipping, pick up in store, and free returns if they end up being a little too far-out for your style.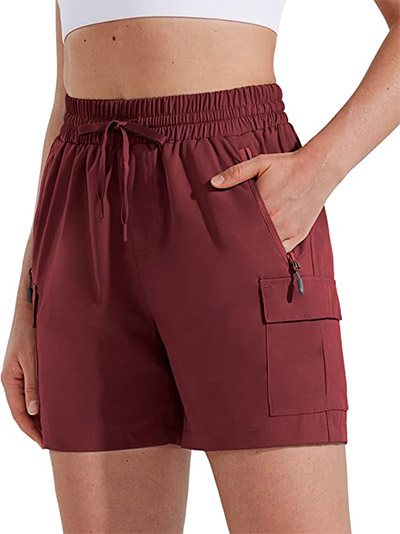 Cheaper alternative Option:
MASKERT Women's Hiking Cargo Shorts Quick Dry Athletic Golf Shorts 5 Inches Lightweight Running...
See latest price
There aren't many things on the market that quite match Lulu's earthy cargo vibe. Somehow the real thing is the perfect balance of fashionably baggy yet feminine. However, this alternative has an equal amount of functional pockets and nice coverage for a bargain price.
Types of lululemon's Women Shorts
Each of these shorts is designed with a specific activity in mind, ensuring that you can find the perfect pair for your workout needs.
Types of lululemon Women's Shorts
FAQs:
Can you swim in lululemon shorts?
With the motto "less stress more sweat", lululemon's shorts should be swim proof, right? While most options are very water-resistant, it's best to avoid exposing them to chlorine or saltwater for extended periods. Instead, check out lululemon's stylish swim line product list. You can buy and pick from a range of athletic swimwear options that feel as comfy as their shorts.
What is the inseam on lululemon shorts?
lululemon shorts are available in a wide variety of inseams from 4″ to 6″ to 8″ to 10″ biker shorts. Depending on the fit and size type, you may want to try out a few different styles to see what best compliments your body shape.
What materials does lululemon use for their women's shorts?
lululemon uses a variety of high-quality materials for their shorts, including their signature Nulu, Luxtreme, and Everlux fabrics. These materials are known for their softness, stretchiness, moisture-wicking properties, and durability.
Do lululemon shorts run true to size?
Generally, lululemon shorts run true to size. However, the fit can vary depending on the style and fabric. It's always a good idea to check the size guide and read reviews before purchasing.
Can I wear lululemon shorts for activities other than sports?
Absolutely! While lululemon shorts are designed for athletic activities, their stylish designs and comfortable fit make them suitable for casual wear as well.