There's no getting around it: hot yoga is intense! It is not the time to whip out some old, dingey leggings and hope for the best. Sweaty yoga sessions require the proper hot yoga pants to keep you comfortable and prevent you from slipping all over the place.
In regular slow flow yoga classes, you can get away with nearly any comfy athleisure combo, but heated studio classes are a lot more like an extreme support: you need gear to make it enjoyable. But tiny shorts and sports bras aren't for everybody. With the right hot yoga pants, you can still be modest and stay cool.
Needless to say, you wouldn't go snowboarding in cotton sweatpants and a hoodie, so don't hit the hot yoga mat unprepared.
Here are the best hot yoga pants for women who don't want to show a bunch of skin, but still want to stay (somewhat) cool.
Benefits of Hot Yoga
Hot yoga is one of the best calorie-torching, stamina-building workouts you can do. It can help you lose weight, tone up, and find extraordinary peace-of-mind.
Whether it's Bikram, heated power yoga, or an integrated yoga workout class, these sweaty sessions are sure to get your heart rate up as you sweat out any built-up toxins.
But it's not for the faint of heart!
You will have sweat pouring from pores you didn't know existed. Your muscles will shake and you will probably stretch in ways you never could've fathomed at room temperature.
In hot yoga you essentially get a two-in-one: all the benefits of a sauna plus the rewards of an intense workout. The science tells us that hot yoga:
Basically, hot yoga is the secret to taking your yoga practice to the next level. It seems pretty crazy to do anything in a room that is over 100°F and 90% humidity, but the mental and physical release can be profound. Any hot yoga aficionado will enthusiastically tell you how much they've come to crave the heated workout.
I know what you're thinking: fortunately, hot yoga isn't a cult or some weird drug. It just gives you a sort of high that keeps you coming back to sweat your butt off.
That being said, it will be much more enjoyable with gear that allows you to focus on the challenge rather than pulling up your leggings or watching embarrassing sweat stains form in the mirror.
Here are our review-tested picks for the most functional and stylish hot yoga pants for the job. Don't worry, they all pass the sweat test!
Quick Picks
7 Best Hot Yoga Pants
I know I know, you may be rolling your eyes to see lululemon at the top of the list. But lululemon (affectionately called "Lulu" by its cult-like following) is known as the best in the yoga world for a reason.
These classic hot yoga leggings wick away sweat like no other. They will never show sweat stains, roll down, or reveal any lady parts during a downward dog. The weightless design, impressive stretchiness, and fewest possible seams allow an endless flow without any restriction.
Better yet, the high-waisted fit flatters almost all body types and the signature Nulu fabric feels like luxurious second skin. If you want to feel as close to naked as possible, yet still look stylish and dry, you can't go wrong with Align leggings.
We also love Lulu's grippy hot yoga mat towel for staying stable on the mat.
Pros
Incredible moisture-wicking properties
Keep you super dry
High tech, time-tested design
Weightless second skin Nulu fabric
Ultra stretchy, no-rip design
Minimal seams
Crazy comfortable and buttery smooth
Trusted brand with lifetime warranty and free alterations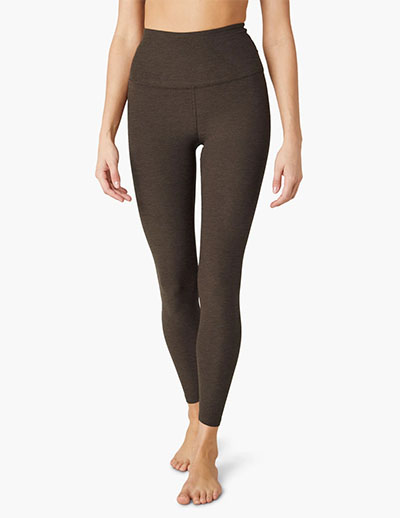 Best High Waist Hot Yoga Leggings:
Beyond Yoga Women's Spacedye Caught in The Midi HW Leggings, Darkest Night, Black, XS
See latest price
If you love that above-the-belly-button fit that hugs everything in (without restricting your movements), these Beyond Yoga leggings will impress you on and off the mat. Available in sizes XXS to XXL, the spacedye line is crazy soft yet surprisingly breathable.
They are super lightweight without feeling cheap or thin. The moisture wicking is pretty impressive- the sweat disappears seemingly as fast as it came. We love how smooth they feel on your skin without suffocating your pores.
The 4-way stretch allows you to keep your full range-of-motion. And the squat-proof design means that every color is opaque and never see-through, regardless of how drenched you get!
Pros
Weightless yet not too thin
Ultra high rise flattering fit
All colors are opaque and squat-proof
Luxuriously smooth, comfy feel
Abundance of earthy color selections
Hides sweat like no other
Cooling and breathable material
Cons
High price point
A bit slippery on the outside (great for splits, not so great for tree pose)
Fastest Drying Hot Yoga Pants:
Nike Women's One Luxe 7/8 Tights Black/Clear M
See latest price
Nike's Dri-FIT collection has finally entered the yoga world and we're honestly pretty impressed. These leggings feel comfortable and cool without skimping on performance. You can basically sweat endlessly in these hot yoga pants and you will never see a drop.
We love how these fit perfectly for workouts, lounging, or running errands. Their specialty Infinalon fabric is great quality: buttery smooth, incredibly stretchy, and lightly compressive.
When it comes to hot yoga pants, most competitors are marketing to the classic yoga mom (that's you, Lulu!), but Nike is designed specifically for the athletes who prefer the Just Do It brand. Either way, we're finding that more yoga lovers are opting for Nike's time-tested workout clothing on the mat.
Pros
Keeps you dry even in the sweatiest sessions
Snug fit
Minimal seams for a smooth feel
Fast sweat evaporation
Non-sheer fabric
Cons
High price point
Minimal color options
Best for Plus Size Women:
Girlfriend Collective Compressive Pocket Legging (23 3/4" Inseam), Moss, M
See latest price
Girlfriend Collective is the most size-inclusive yoga brand on the market (up to 6XL), but they never leave curvy yogis without the support and performance they need.
The high rise leggings collection will feel quite snug and tight on your first wear. Don't be alarmed! This is totally normal. You'll start to feel them slightly relax and mold to your body with more wear. The hugging sensation and tightness is beneficial for circulation and our fabric will relax and conform to your body over time. If you are looking for a more relaxed feeling size up
We really love the wide waistband style that is both flattering and functional (no rolling down, no matter how sweaty you get!)
Pros
Body positive and size inclusive
Ultra lightweight material
Pulls moisture away from your body
Incredible flattering high waist fit
Feels like you're wearing nothing (yet you're totally covered)
Completely squat-proof (never see through!)
Cons
Mid-price point
Colors may bleed at first wash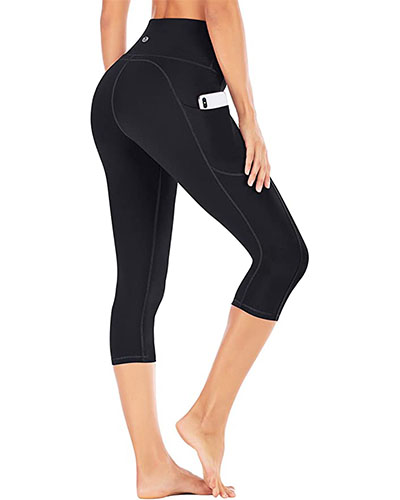 Best Hot Yoga Capris:
IUGA High Waisted Yoga Pants for Women with Pockets Capri Leggings for Women Workout Leggings for...
See latest price
When you don't want to show off too much leg but still want to stay cool, high waist yoga pants with a calf-skimming capri design are the perfect happy-medium. These budget-friendly capris hold up in hot yoga classes with their ultra-stretchy 100% spandex fit and second-skin feel. They don't dig in or chafe against your skin as you move.
We love the 4-way stretch and full coverage design, as well as the high waisted tummy control. This pair of capris is tight yet flexible and fashion-forward.
Pros
Budget price point!
Full coverage squat-proof
Flattering calf-length
Super stretchy in the thighs
Tummy control to prevent rolling or muffin top
Cons
Not the best sweat-wicking properties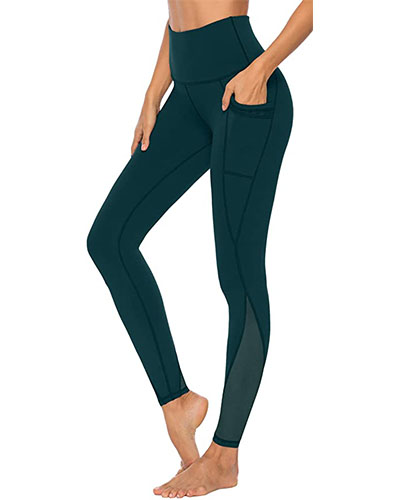 Best Mesh Yoga Pants:
AFITNE Yoga Pants for Women High Waisted Mesh Leggings Tummy Control Athletic Workout Leggings with...
See latest price
With the side mesh panels and ultra-breathable material, this pair of hot yoga pants is extremely cooling. We love the curve-contouring seams and moisture-wicking fabric that simultaneously absorbs and dries sweaty skin.
The gusseted crotch is camel-toe-free and the flat-lock stitching prevents chafing from all angles. The 2 big side pockets are big enough for your smart phone, cards, or keys.
Thanks to the mesh inserts, these are by far the best hot yoga pants for breathability in the legs and crotch area, while still staying within your budget.
Pros
Budget friendly
Mesh inserts
Contouring design
Machine washable
Sweat-absorbing and drying
Non-see through fabric
2 big side pockets
Attractive high waisted fit
Cons
Material feels cheaper than other brands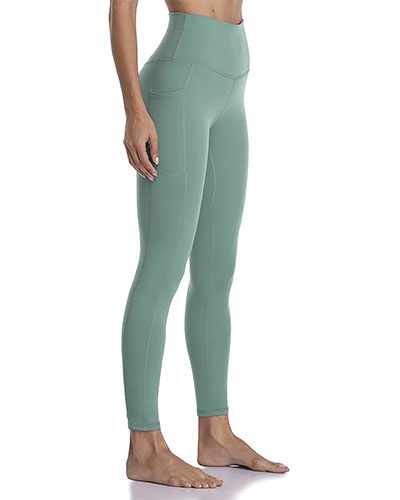 Best Budget Hot Yoga Pants:
Colorfulkoala Women's High Waisted Tummy Control Workout Leggings 7/8 Length Yoga Pants with Pockets...
See latest price
When it comes to affordable hot yoga pants, you may think you have to skip on the luxurious feel and fit. Fortunately, that's not the case with Colorfulkoala.
These top-rated leggings have over 45,000 positive reviews on Amazon for a reason! They're one of the best pairs of budget leggings you can find for under $30.
They really perform and look incredibly flattering on a range of body types. While they aren't specifically designed for hot yoga, we've found that they still keep sweat at bay so you feel as cold and dry as possible.
We love how these leggings hit at a 7/8 length on most yogis and have pockets that are big enough for a smartphone. The high waist fit is tummy-tucking and roll-proof so you don't have to adjust during deep forward folds.
Pros
Naked feeling, sweat-wicking fabric
Super affordable hot yoga pants!
Cute enough for everyday wear
Hold their shape after washing
75% polyester and 25% spandex for ultra stretchy feel
Seamless waistband style won't dig in
2 big stretchy pockets
Amazing color selection
Cons
If you have long legs, the 25″ inseam may hit too high above the ankle
Not specifically designed for sweaty sessions
What to Look for in Hot Yoga Pants
As you can tell, not all hot yoga pants are created equal. When you're shopping for yoga pants, look for:
Synthetic sweat-wicking fabrics: Cotton is probably the worst material you could wear during hot yoga. Look for synthetic fabric blends like polyester, nylon, and spandex.
Quick-drying technology: Some yoga pants are designed more for softness than breathability. In hot yoga, you want those quick-dry fabrics that never show moisture stains or feel wet on your skin.
Functional fit: High waist yoga pants tend to be best for keeping your stomach covered and ensuring a no-roll waistband.
Dark colors: Light colors tend to show more sweat stains. Dark and patterned colors are the best for concealing moisture.
4-way stretch: As your muscles warm up, hot yoga can get you bending and stretching in ways you didn't even know you could do! Flexible, stretchy fabrics are a must. Look for at least 10% elastic material like spandex or elastane.
Key Takeaways: The Best Hot Yoga Pants Women's
Thankfully, you don't have to wear next-to-nothing to feel comfortable in a hot yoga class. But not just any yoga gear will do! High quality hot yoga pants can keep you cool and dry so you can focus on mental and physical challenges of balancing, flexing, and stretching in the heat.
Just don't forget your water bottle and yoga towel!
Namaste!