While ladies are practically living in leggings, dudes are still craving the same versatility and comfort (without looking like a lazy bum). Joggers are the perfect solution for staying stylish yet feeling like you're wearing sweatpants.
After seeing so much hype about lululemon's sleek and trendy joggers for men, we wanted to review them for ourselves to see if they perform on the mat and off. Here's our top 6 picks, plus budget-friendly alternatives.
Ultimate Review: 6Best lululemon Men's Joggers + Budget Friendly Joggers alternatives
Top 6 lululemon Joggers Men
Product's Name
Fabric
Features
More Info

Best for Yoga


In Mind Pant
Stretchy, breathable, sweat-wicking synthetic blend
Flat waistband, zippered pockets, secure phone sleeve, and ventilated gusset
See Latest Price

Best for Everyday Wear


ABC Jogger
Warpstreme wrinkle-free breathable fabric
Sleek style, tapered fit, "anti-ball crushing" technology with ergonomic gusset
See Latest Price

Best for Running


Surge Jogger
Lightweight synthetic blend
Zippered ankle cuffes, zipperless back pocket, and reflective details
See Latest Price

Best for Training


License to Train Jogger
Abrasion-resistant fabric
Secure media pocket, durable design, and water-repellant technology
See Latest Price

Best for Casual


City Sweat Jogger
Soft french terry blend
Inside or outside drawcord, hidden media and coin pockets
See Latest Price
For comfort and cooling coverage on the mat, these stretchy mens yoga pants have the ultimate ventilation. The sweat wicking fabric dries extremely quickly and includes strategically-placed breathable mesh fabric for high-sweat areas.
The masculine yogi fit skims your thighs and cinches at the hem to unsure that the pants don't fall down or ride up in inverted poses. These joggers come in four colors with secure pockets and a hidden sleeve for your phone.
Pros
Super ventilated for hot or room temp yoga
Very lightweight jogger
Ultra soft and smooth
Stretchy to move with your body
Quick drying and sweat wicking fabric
Flat elastic waistband
Slim tapered fit
Pockets with zippers and phone sleeve
Incredible reviews about durability and performance
Cons
May start pilling with improper washing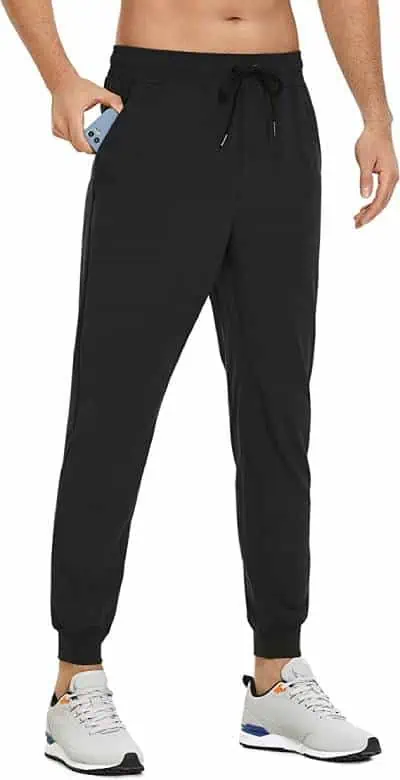 Cheaper alternative:
CRZ YOGA Men's Lightweight Joggers - 29'' Slim Fit Quick Dry Running Athletic Workout Hiking Pants...
See latest price
This budget version of lululemon's In Mind pant has the same jogger design with zip pockets and an extra lightweight fabric. While this pair doesn't feel as high-end and luxuriously smooth as the brand name thing, they look fairly nice and are super comfortable both on and off the mat… All for less than a quarter of the lululemon price!
The coolest thing about the lululemon ABC Jogger is how easy you can dress them up or down. These classy joggers are truly nice enough to pass as business casual while still feeling like you're wearing sweat pants. The wrinkle-resistant, breathable fabric falls smooth and elegantly from your body. It ensures you stay comfortable while commuting to the office, running errands, or lounging at home.
We love the sleek style and tapered fit that feels relaxed yet looks streamlined. lululemon's signature ABC technology also includes what they call an ergonomic gusset to remove tension from the crotch area as you move throughout the day.
Pros
Nice enough to dress up or down
Sleek tapered fit
Warpstreme wrinkle-free, breathable fabric
Super soft premium feel
Hidden or exposed drawcord
Front pockets, secure back pocket, and hidden media sleeves
Wide array of color options
Cons
May run small
Back zipper could scratch leather seats
Cheaper alternative:
CRZ YOGA Mens 4-Way Stretch Golf Joggers with Pockets 30" - Work Sweatpants Track Gym Athletic...
See latest price
These golf style joggers have a similar vibe to the ABC Jogger, though not quite as premium luxe quality. The hidden drawstring waistband, tapered ankles, and deep pockets make these joggers extra functional for a budget price. The polaymide and spandex material has plenty of stretch for workouts or leisure wear. However, unlike the real thing, these still look like you're wearing sweats and may be difficult to transition into business casual.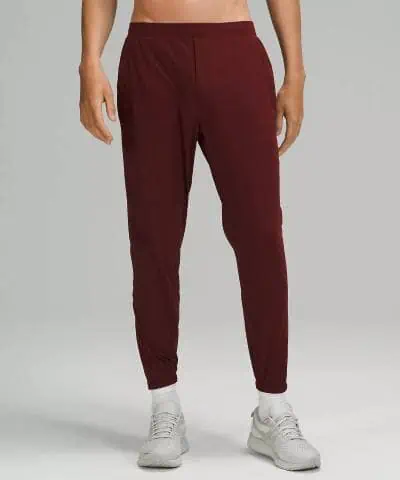 Best for Running:
Surge Jogger
These extra lightweight running pants have zippers on the cuffs to make them easy to take off after a warm up. The quick drying fabric wicks away sweat and won't show any sweat stains. We also love how stretchy these pants feel. The inseam is designed to sit just above your ankle. There is a secure zipperless back pocket and reflective details for your early morning run.
They have plenty of breathing room without looking baggy or slouchy. We also love that they look slick and classy enough to head to the grocery store, the airport, or a happy hour.
Pros
Incredible comfortable fit
High quality material (dog hair doesn't even stick to it!)
Perfect warmth for fall and winter
Zippered ankles for easy on/off
Clean cut for casual travel or running errands
Cons
Not abrasion resistant for hiking
May run small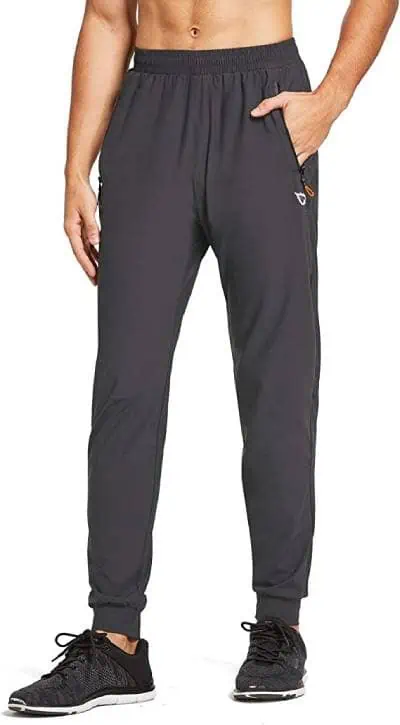 Cheaper alternative:
BALEAF Men's Athletic Joggers Pants Lightweight Quick Dry Running Hiking Pants Workout Training Gym...
See latest price
At under $30, these athletic joggers are a bargain alternative for lululemon's Surge. The smooth internal drawstring waist and extra deep pockets are functional and comfortable. Although they aren't zippered, we love the way the tapered cuffs keep you warm while on a chilly morning run.
If you love to train hard in the gym and adventure outdoors, these abrasion-resistant joggers have the versatility and durability for any activity. lululemon's signature Swift fabric is naturally stretchy, water-repellent, and resilient to hiking or rough workouts.
Cons
The material is reminiscent of a windbreaker sound
Friction of fabric may be loud
At first glance, these seem like basic sweatpants. But they're actually more like "bougie luxury pajama pants" (as one reviewer described). Designed for men on the move, you can wear these ultra cozy joggers on the mat or on the couch. The stretchy french terry fabric is soft like fleece yet breathable and sweat-wicking like workout gear. The tapered fit ensures you don't look lazy nor feel restricted.
Pros
Crazy soft and breathable
Tapered slim fit
Inside or outside waistband drawcord
Feel like high quality sweatpants yet look nice enough for casual wear
Hidden media and coin pockets, plus discreet back pocket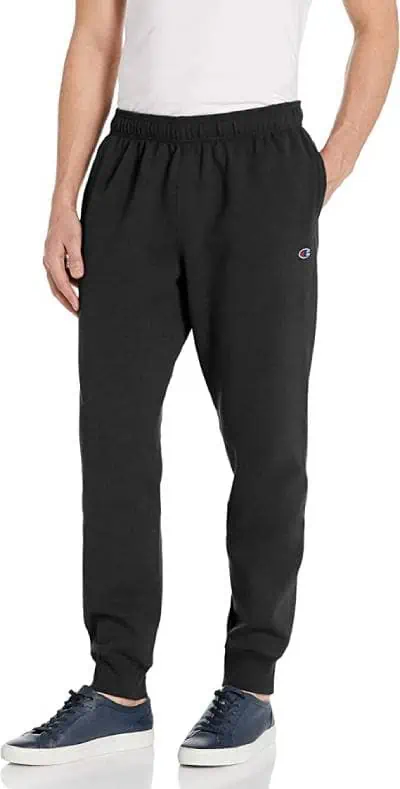 Cheaper alternative:
Champion Men's Joggers, Powerblend, Fleece Joggers, Sweatpants for Men (Reg. or Big & Tall)
See latest price
These joggers from Champion have over 32,000 positive reviews on Amazon for a reason! At a fraction of the lululemon price, they have all the comfort and pockets for your things. The polyester and cotton blend is sweat-wicking and airy. The only downside to this alternative is that they just don't look quite as high-end as the real thing.
If you prefer a classic cotton-blend fabric, this lululemon option pairs stretchiness with soft textured comfort. Designed for warmups, wearing over your shorts, or lounging around, the At Ease Joggers truly make you feel like you can let loose.
The extra mobile gusset and waistband drawcord give you plenty of room up top, and the tapered ankle keeps the cold off. At the same time, they're lightweight enough for summer wear. We love the little details like the locker room loop and secure zippered pocket.
Pros
Soft textured cotton-blend
Naturally breathable and sweat-wicking
Loose gusset for more movement and relaxation
Stretchy enough for yoga, lounging, or travel
Superior comfort
Comfortable in summer or winter
Cons
Some colors fade with wear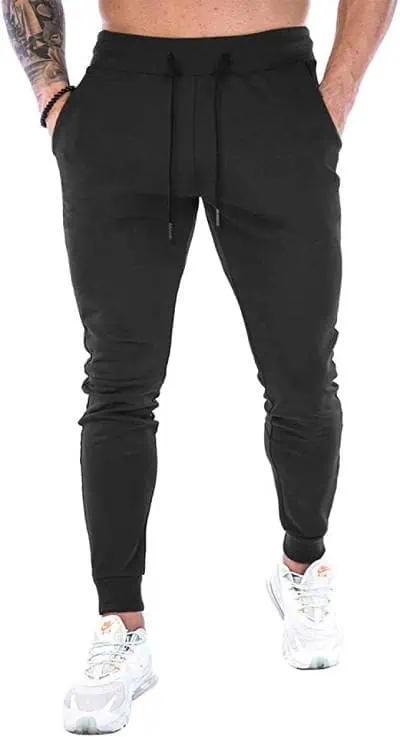 Cheaper alternative:
GANSANRO Mens Jogger Sweatpants, Men's Slim Fit Workout Athletic Pants, Black Sweatpants for Men...
See latest price
These cotton blend joggers have the same stretch and breathability as the lululemon option, but a slightly tighter fit. They may not feel as buttery soft, but they're a really comfortable alternative for under $30.
FAQs
What do ABC joggers stand for?
lululemon's ABC joggers stand for "Anti-Ball Crushing" pants. The breathable wide-panel gusset design is supposed to help men feel free to move in yoga, workouts, and commutes without feeling like their manhood is being restricted.
Are surge joggers worth it?
Based on reviews and years of durability, lululemon's Surge Jogger is definitely worth splurging on. They combine next-level comfort with lightweight breathability for running and beyond. They even look nice enough to dress up a bit for casual wear outside of workouts. Our favorite feature is the zippered ankles for streamlined warm ups or staying cool after a tough workout.