Yoga equipment is fairly minimalist compared to most other fitness activities. The only thing you really need for yoga is a mat. Sure, you can practice on hard bare ground, but a quality yoga mat will make your practice so much more enjoyable, comfortable, and liberating.
You may be asking: how do you choose a quality yoga mat and what are the best yoga mats for beginners? Here we've reviewed the absolute best yoga mats for beginner yogis and included a short guide for how to choose the best mat for you.
What Are the Best Yoga Mats for Beginners? Quick Answer:
Best Yoga Mats for Beginners: Comparison Chart
Product's name
Material
Thickness
More Info

Best Overall 


Manduka PRO Yoga Mat – Premium 6mm Thick Mat, Eco Friendly, Oeko-Tex...
Certified non-toxic PVC
1/4" (6mm)
See latest price

Best Foam Mat


Heathyoga Eco Friendly Non Slip Yoga Mat, Body Alignment System, SGS...
Certified TPE
1/4" (6mm)
See latest price

Best for Travel


JadeYoga Travel Yoga Mat - Packable, Lightweight, & Portable Yoga Mat -...
Natural Rubber
1/8" (3.175 mm)
See latest price

Eco-Friendly Mat


Jade Harmony Professional 68-Inch x 3/16-Inch Yoga Mat (Pink)
Natural Rubber
3/16" (4.7mm)
See latest price

Extra Wide Mat


CAMBIVO Extra Wide Yoga Mat, 73" x 32" x 1/4" TPE Non-Slip Exercise Mat 6mm...
Certified TPE
1/4" (6mm)
See latest price

Budget-Friendly Option


YogaAccessories 1/4" Thick High-Density Deluxe Non-Slip Exercise Pilates &...
Foam
1/4" (6mm)
See latest price
Top Yoga Mats For Beginners Reviewed
There is a reason Manduka has been a leader in the yoga industry for a long time. These mats are as high quality as it gets. I've had my Manduka PRO for well over 5 years and really beat it up with outdoor use, yet it still works great. It is ultra-dense, thick, supportive, and grippy. The dot pattern grips the floor underneath and helps your hands and feet stay in place on the top. At the same time, it's not so sticky that you stick to the mat when trying to flow between postures.
Although this mat is made of PVC (typically a no-no for us), it is a non-toxic form of PVC that is certified STANDARD 100 OEKO-TEX, meaning it is free of harmful substances. These mats are manufactured in a sustainable facility in Germany. It doesn't have a chemical smell or give me a headache at all. The material is closed-cell to keep moisture out and make cleaning easy.
Pros
Extra grip for sweaty or hot yoga
Very supportive
100% latex-free
Non-slip dot pattern stays in place ont the floor
Ultra-dense 6mm thick mat with extra cushioning
Closed-cell construction means it's easy to clean and doesn't absorb odors
Extremely long-lasting
Used in yoga studios worldwide
Grip actually improves over time with use
Cons
Made of PVC, but certified non-toxic and and crafted in an emissions-free facility
Not natural or biodegradable
Heavy (about 7.5 lbs)
This TPE (thermoplastic elastomer) foam mat is dense and comfortable. At a super affordable price under $50, this is a great option for beginners or for those with a latex-allergy. I especially love the body guides on the surface of the mat to keep beginners aligned in poses.
This mat is large and wide with a diamond-shaped grip on the top. The ultra-grippy underside that stays put on any flooring type. Your knees and wrists stay super comfortable in the dense foam without sinking in or denting the mat. It's also nice and stretchy so it won't tear against the resistance of the powerful Downward Dog. And a carrying strap is included!
Pros
6mm thick dense foam
Exceptional grip (double layer structure grips ground and hands/feet)
Alignment grid helps you adjust positions
Odor-free
Lightweight (about 2.8 lbs)
Non-toxic (free of latex, PVC, heavy metals, NBR, or EVA)
Carry strap included
Cons
Synthetic TPE foam material
If you're the type to jump on your yoga mat between flights at the airport or in your hotel room, then the Jade Travel Yoga Mat is for you. The cushion and density of this natural rubber mat is impressive considering how lightweight and thin it is. The color options are limited but beautiful jewel-tones.
There is nothing toxic or synthetic about this mat, and Jade Yoga goes the extra mile to sustainably manufacture their mats in the USA. They even plant a tree for every mat sold! I like that this mat has little to no rubbery smell and the sticky grippy surface is easy to clean. But this stickiness is also a downside because the mat does hold onto dirt and dog hair, so it may not be the best for outdoor practice.
Pros
Great cushioning
Excellent grip and stick for a non-slip practice
Great for hot yoga
Thin and lightweight (about 3 lbs)
Rolls up small for on-the-go use
Made in America
Non-toxic natural rubber
Cons
Does not hold up great if left in sunlight
Absorbs sweat and needs to be cleaned regularly
Stickiness attracts dirt and dog hair
Not best for outdoor practice
Just like the Jade Travel Mat, the Harmony is ultra-sustainable and completely natural. I love this company for its dedication to the environment and natural living. This mat is thicker than the travel size and a bit heavier at about 4.5 lbs.
The grip and traction is really incredible, making a yoga towel almost obsolete. These things last forever and will definitely not disappoint.
Pros
Extremely durable and long lasting
100% natural tree rubber
Amazing traction and strong grip
Dense for stability
Available in multiple lengths for taller students
More cushion than synthetic rubbers
Made in America
Tree planted for every mat sold
Cons
Mild rubber smell in the beginning
Slightly heavier
Open cell rubber is not as moisture-repellant as synthetic materials (could be positive because it is more natural)
Standard yoga mats are sometimes just too narrow or too short for comfort. You don't want half your body hanging off the mat when you are trying to enjoy a nice back twist or Savasana. The Cambivo mat is longer and wider without being too heavy or bulky to carry. The certified non-toxic TPE is a dense and 6mm thick foam-like material with double-sided non-slip surfaces. It is great for hardwood floors or other rigid studio surfaces.
The closed-cell foam keeps out sweat and dirt, making it easy to clean and great for hot yoga. You'll also love that this ultra wide mat is odor-free and shock-absorbing at a very affordable price point.
Pros
Extra long and extra wide for all sized yogis
Double-sided non-slip grip surfaces
Lightweight (only 2 lbs)
No odor or smell
Shock-absorbing yet firm and stable
Closed-cell to keep moisture out
Very affordable
Cons
Synthetic plastic material (thermoplastic elastomers)
Foam may indent
At under $30, the YogaAccessories mat is hard to beat. It is a fairly high quality foam material for this price point and comes in a ton of color options. This mat will fit someone up to 6' tall, yet still rolls up small for transport.
It is durable and tear-resistant. The foam is free of latex, phthalates, and heavy metals, so you don't have to worry about odor or chemical exposure.
Pros
Very affordable
Double-sided non-slip grip
Stable dense foam
Tear-resistant
Tons of color options
4" longer than standard mats (great for tall people)
No questions asked 30-day money back guarantee
Cons
Synthetic materials (not eco-friendly or biodegradable)
May not last as long as other mats
Build Your Practice on a Solid Foundation
Ever since renowned yogis like Indra Devi, Sri Krishnamacharya, and B.K.S. Iyengar popularized yoga in the west during the 50s and 60s, yoga has spread like wildflowers across the United States.
Nowadays, yogis can easily become overwhelmed by all the different styles of yoga, confusing Sanskrit words, and endless options for yoga clothing and gear. There's a million options and a lot of cheap gimmicky products out there.
Just like the foundation of your house, your yoga mat is the very base of your practice. If it is too flimsy, hard, slippery, smelly, toxic, difficult to clean, or falling apart, you will have a harder time reaping all the benefits of a yoga practice.
What to Look For in a Quality Yoga Mat
Everyone's body type and reasons for doing yoga are different, so you want to be sure your mat fits your specific needs. Sure, you can pick up a yoga mat at just about any big box store, but that doesn't mean it will be comfortable or functional.
Mat Thickness
At first, you may be tempted to go for the thickest mat you can find. Contrary to popular belief, the thickness of a yoga mat is not a good indicator of its comfort or functionality.
Super thick foam in softer yoga mats can be ½ inch thick or more. While it may be cushiony on your joints, this foam will indent and stretch. Plus, it is a lot harder to balance when you are sinking into foam. Remember, you don't want your yoga mat to be a pillow, you want it to be a solid foundation for building balance, strength, and inner peace.
The density of a mat's material is a far more reliable way to gauge its functionality.
Material Density
Denser materials that are less thick are typically the best experience for beginner yogis. They won't indent or stretch like soft mats, yet they still provide a comfortable surface for your knees, hands, or baack.
Common Yoga Mat Materials:
Natural Tree Rubber: This is the most common and most dense mat material. Thickness ranges from 1.5mm (thin for travel) to 3mm (average) to 6mm (extra thick). It holds its shape while providing equal amounts of cushion and solid support. They have a slight smell from the rubber trees and may be problematic for those with a latex allergy (note: I have a latex allergy to synthetic latex like balloons but I've never had a problem with the natural rubber latex in yoga mats).
Dense Foam: Key word here is dense. Common in the fitness world, foam is great for beginners and very affordable. Check that it is free of latex, PVC, phthalates, and other toxins, otherwise you will end up with a bad-smelling mat that may give you a headache (or worse).
TPE: Thermoplastic elastomers are rubber-synthetic blended mats that are non-toxic and far safer than PVC. These are the most affordable mats and last a fairly long time. The grip is superior and they are supposedly biodegradable in the long run.
PVC: Polyvinyl chloride is in most cheap $12-$15 yoga mats at big box stores. We recommend avoiding at all costs due to the toxic chemical load, unless they are a certified non-toxic PVC like the Manduka mats.
Non-Slip Grip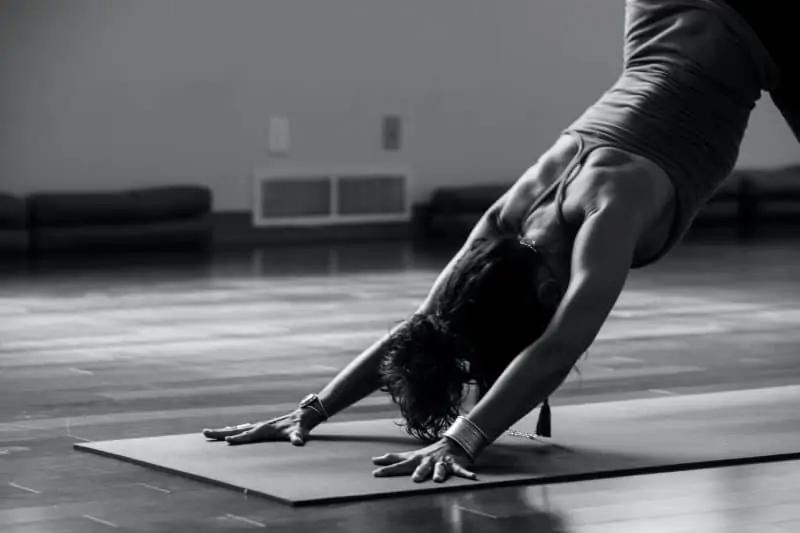 Sweaty hands or feet are not a great combo for a slippery yoga mat. Whether you're doing hot yoga or you just tend to sweat more, a yoga mat surface that grips your skin is the safest and most enjoyable to use.
The best yoga mats (all the ones we reviewed here) will have a slightly sticky surface and light texturing (little raised bumps) on the mat to help hold you in place.
If you're on a budget, you can always opt for a cheaper mat and use a non-slip yoga towel to bring more grip to your practice.
Durability
The material in your yoga mat will determine how long it lasts. Cheap PVC, plastic, and foam mats can tear and wear down in just a few months. This is especially problematic in the areas of the mat where your hands and feet regularly place pressure and stretch. Nobody wants a ripped mat in the middle of Downward Dog.
On the other hand, dense natural rubber will last for years or even decades. Some higher-quality eco-friendly foams will be similarly durable. Just because these materials are biodegradable (break down in a landfill under heat, pressure, and microbial activity) does not mean they will degrade in the yoga room.
The up-front investment in a durable yoga mat ensures you enjoy your practice while protecting the planet and your body.
Style and Transport
From solid classics to wild mandala designs, there are endless colors and styles of yoga mats these days. Get something that expresses your style and soulfulness. There are even mats with alignment guides, chakras, and mantras imprinted on them.
Some brands offer matching carrying straps or mat bags for easy storage and transport. I really enjoy the ritual of rolling up my mat at the end of the practice and securing it with a lovely strap. On that note, I avoid the velcro straps because they make an annoying sound when undoing them at the beginning of a class.
Yoga Mat Cleaner
If there is anything I regret about my 5 years with the Manduka PRO mat, it's the fact that I didn't clean it after every use. It is still in great shape, but it would probably be a lot nicer if I took that extra 10 seconds to wipe it down.
The simplest DIY yoga mat cleaner is diluted apple cider vinegar (1 part vinegar to 3 parts water) and a few drops of essential oils in a spray bottle. You can also purchase specially formulated yoga mat cleaners like this one.
Enjoy the process
Decisions, decisions, decisions! Hopefully we've helped you decide on the best yoga mat for your practice and budget.
We all started as clueless beginners nervous about the perfect gear, yoga outfit, and trying not to fall from our balancing poses. But at the end of the day, none of that truly matters. It's all part of the beautiful unfolding of our inner and outer tension both on and off the mat. Enjoy the process! Embrace the challenges!
And most importantly, get on the mat as much as you can.
Namaste!