Walmart has an extensive collection of yoga mats for you to choose from.
When it comes to yoga mats, there is no such thing as one size fits all. We should avoid buying yoga mats just because we like the color. Yoga mats come in a variety of styles, widths, materials, prices and sizes.
Yoga can involve many poses ranging from relaxing to difficult, so we need to make sure that we have proper floor support.
While doing my research for the ideal mats available at Walmart, I considered many things such as online reviews, popularity with buyers, portability and sustainability.
I feel comfortable with all five choices below, but I must admit that the BalanceFrom GoYoga is my best pick. I just love the combination of extra knee support, foam cushion and portability. Let's look at all five options and see which one is best for your yoga needs.
Top 5 Best Walmart Yoga Mats
Everyday Essentials All-Purpose 1/2 In. High Density Foam Exercise Yoga Mat Anti-Tear with Carrying Strap, Blue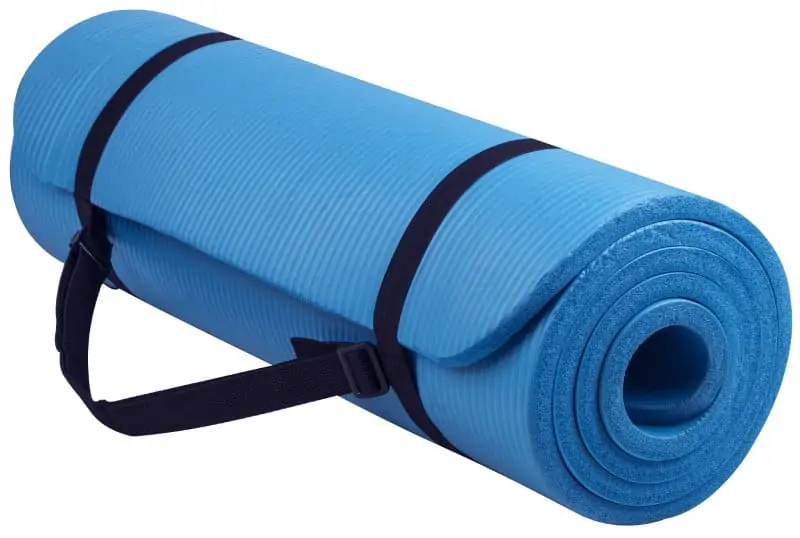 Do you like to travel or frequent yoga classes? Throw the strap over your shoulder and take this vibrant mat everywhere you go with no strain. It comes in several colors and only weighs .5 lbs. Feel comfortable testing various poses thanks to a slip resistant feature. It is roomy enough for yoga lovers of various sizes. Your knees and elbows will be protected by cushy foam material.
Pros
lightweight
easy to clean
very portable/has strap
various color options
non-slip traction
2 year warranty
inexpensive
Cons
may limit advanced poses
may wrinkle
ends may curl when you unroll
Buy the Everyday Essential Yoga Mat for $19.95. You can purchase a similar item from Amazon here:
Evolve by Gaiam Rubber Yoga Mat
You won't have to worry about this mat stretching and bunching while you move around. It's core provides stability to keep the mat in one spot. Feel comfortable doing the standing dog without slipping around due to Evolve's excellent grip texture. Whether you practice at home or need to go to yoga straight from work, you can easily roll this map up and take it everywhere you go. Natural rubber material will keep your yoga routine free from toxins.
Pros
Slip-resistant texture
Made from natural rubber
Eco-friendly
Featuring an internal stabilizing core that prevents bunching and stretching
Stable
Portable
Cons
Use a string sling instead of a strap
Few color options
Buy this mat at Walmart for $34.97 or a similar one from Amazon here:
BalanceFrom GoYoga+ All-Purpose 1/2-Inch Extra Thick High Density Anti-Tear Exercise Yoga Mat and Knee Pad with Carrying Strap
If you need extra support for your knees and are concerned about injury, look no further than this mat by BalanceFrom GoYoga. This portable mat includes a knee pad and features double-sided non-slip surfaces. Easily wash your mat with soap and water after a sweaty session. The map is made of extra thick foam for your overall comfort.
Pros
Mat comes with a knee pad
Has carrying strap
Portable and light
Non-slip traction and cushion
Many color options
Comes with a 2-year warranty
Cons
Buy this yoga mat at Walmart for $17.60 or a similar one at Amazon here:
Gymax Large Yoga Mat 7′ x 5′ x 8 mm Thick Workout Mats for Home Gym Flooring Blue
Do you need a lot of space to roam during your yoga routine or a mat big enough for the family? This mat by Gymax is perfect for yoga lovers that love sharing their space. Use it for your yoga business or cover the floor of your home-based workout room. Enjoy this large mat for a long time since it is tear-resistant. Regardless of flooring, feel free to enjoy intense activity with your workout partners on this mat without slipping and sliding around.
Pros
Large size
Can fit several people
3 color options
Comes with carry straps
Tear-resistant material
Easy to clean
Waterproof
Multipurpose beyond yoga
Eco-friendly and non-toxic
Cons
Weighs 20 lbs
Not ideal for small spaces
Buy this floor mat at Walmart for $109.99 or a similar one on Amazon here:
BalanceFrom Acupressure Yoga Mat and Pillow Set for Back and Neck Pain Relief and Muscle Relaxation Massage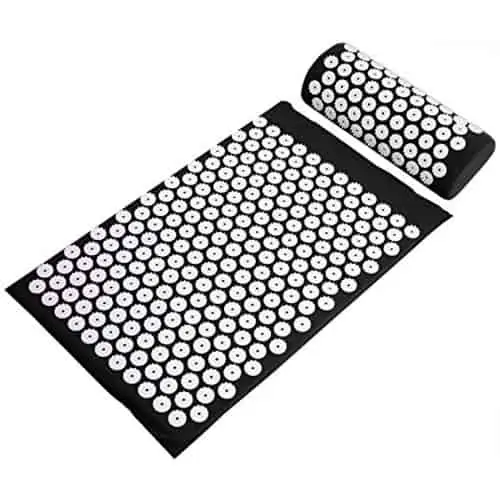 After a long week, sometimes we just need a massage or a good stretch routine. If your body is stressed and you are more focused on relaxation techniques than extreme poses, then you should consider this Acupressure mat. This mat comes with a pillow set and contains non-toxic plastic spikes that relieve muscle tension. Do your best flat yoga stretch as this mat helps improve blood circulation and nerve stimulation.
Pros
Made from plant-based foam
Portable
Muscle relaxation
Acupuncture technology
Cons
Not for moving around
Has plastic spikes
Buy this mat at Walmart for $18.99 or a similar one on Amazon here:
How to Find The Best Yoga Mat For You At Walmart
Thickness
While shopping for a map, look at the thickness because it can affect traction. If you do a great deal of balancing and fast-paced techniques, you should aim for a rougher mat. You could lose balance with too much padding. If the mat is too thin, you can hurt your knees and joints.
Weight
Are you doing yoga outside the home? If so, you will want something easy to carry. A 1lb mat is much more portable than a 20 lb one – even if both have straps. If you use your yoga mats for therapeutic practices, look for heavier mats with extra cushioning. However, a soft cushioned mat is great for restorative yoga.
Materials
The material of your mat affects other elements like stickiness, durability, texture and eco-friendliness.
No one wants to be exposed to toxic materials, so make sure your yoga mat does not come with a health warning about carcinogens. Materials are also important for sustainability. Rubber is the most eco-friendly material to use and is usually lightweight.
Durability
Think about how often and how intensely you do yoga, as this can affect the lifespan of your mat. The average mat is replaced every six to 12 months. You don't want to perform yoga or any intense activity on a worn-out mat. Buy a mat with the most durable material possible if you plan to use it often.
Texture
Various texture patterns can improve grip for many poses. You may prefer a soft or sticky texture depending on your needs.
Stickiness
Do you perform yoga that involves intense poses? A slippery mat can cause injury. Look for mats with non-slip technology.
Style
Are you doing restorative or vigorous yoga? Choose a mat based on your yoga style.
Price
Prices span the gamut from $7 to over $100. It may be worth it to pay more money if it means durability and warranty.
Walmart Mats FAQ
What type of yoga mat is best for beginners?
Try finding a yoga mat with alignment markers for hands and feet. You certainly want one with no slip capability since you will have to learn balance.
What is the best thickness for a yoga mat?
It is best to get a yoga mat that is between half an inch- one inch thick. Try not to go above 1.5 inches or it will feel too thick for yoga.
How much should you pay for a yoga mat?
You can get a high quality and very durable yoga mat for between $60- $100. If a yoga mat is too cheap, don't expect it to last very long.
In Conclusion
As I stated earlier, my top pick is the GoYoga mat. As someone whose knees can't handle hard floors, I just love the combination of extra knee cushion and portability. It is lightweight and vibrant as well.
My runner up is the Gaiam Rubber Yoga Mat since it is also portable, made of eco-friendly rubber and manages to stay in place on the floor.