Yoga is a practice that has made essentialism one of its core values. Having among its main philosophical pillars the concept of Aparigraha, non-possessiveness, it goes without saying that this millennial discipline requires little to no fancy equipment.
All it takes it's just a mat and a good dose of consistent dedication. Nevertheless, there are some props that could really take our practice to the next level.
But even so, during my career as a teacher, I've met many advanced yoga practitioners who often thought that props were just a beginner's thing, sure of the fact that they're only really useful if you really need them.
Why do we need yoga props?
The truth is that props can help us to ease the practice, to explore our body in-depth, allowing us to experience the benefits of new asanas and transitions which were otherwise inaccessible before.
And they're fit for anyone, regardless of how bendy or strong you are! Given the rising popularity of yoga, the market is nowadays virtually clogged with all sorts of props: from comfy bolsters to blocks and straps…
So much so that you'll probably agree with me when I say that finding the right ones for you can be rather tricky. That's why we realized it was about time to bring some clarity into this topic so as to help you find the best props for your practice!
The Top Yoga Props, Reviewed
Product's Name
Size
Comfort,
Durability
Value for Money
Material
More Info

Best Yoga Blocks


Manduka Yoga Cork Block - Yoga Prop and Accessory, Good for Travel,...
8 x 12
x 18
inches
5/5,5/5
4/5
Cork
See latest price

Best Yoga Strap


Lotuscrafts Yoga Strap for Stretching - 100% Organic Cotton - Yoga Belt...
8.2
x 1.5
inches
3/5,5/5
5/5
100%
Organic Cotton
See latest price

Best Yoga Wheel


Florensi Back Roller - Back Stretcher, Back Cracker, Yoga Wheel, Deep...
6-10-13
inches
diameter
4/5,5/5
5/5
Eco-friendly
thermoplastic
elastomer (TPE)
See latest price

Best Meditation Cushion


Mindful & Modern Velvet Meditation Cushion | Luxe Zafu Yoga Floor Pillow...
16" diameter
x 4.5"
high
5/5,4/5
4/5
Velvet
and
buckwheat
See latest price

Best Meditation Cushion


Manduka Yoga Rectangle Bolster Pillow - Firm, Removable eQua Cover, Easy...
27 x 9
x 6
inches
4/5,4/5
4/5
Microfiber,
Polyester
See latest price

Best Inversion Bench


Restrial Life Yoga Headstand Bench- Stand Yoga Chair for Family, Gym - Wood...
24.8x16.1
x13.38
inches
5/5,5/5
5/5
Laminated
birch wood,
Vegan leather
See latest price
What kind of yoga equipment can I use in my yoga practice?
Yoga props range from yoga blocks, straps, blankets, wheels, chairs, yoga mats, and any other kind of yoga accessories that could be used during a yoga class.
Usually, yoga equipment is designed to help support people find the right alignment in their yoga practice and create stability in tricky yoga poses. But, yoga accessories can also be used to deepen a stretch in a sweaty practice, or create extra padding under the hips in seated poses.
Each piece of yoga equipment can be a great tool for transformation when used correctly. So, let's take a look at how you can add yoga equipment to your yoga classes!
Yoga Blocks
One of the most common props, used in a lot of yoga classes is the yoga block. For specific recommendations, we have created an article just for yoga blocks, and you can read it here!
Blocks are a lovely way to create stability and support when practicing yoga as they can be added to many traditional yoga poses. They can be stacked on top of your mat to bring the stability of the floor closer to your body.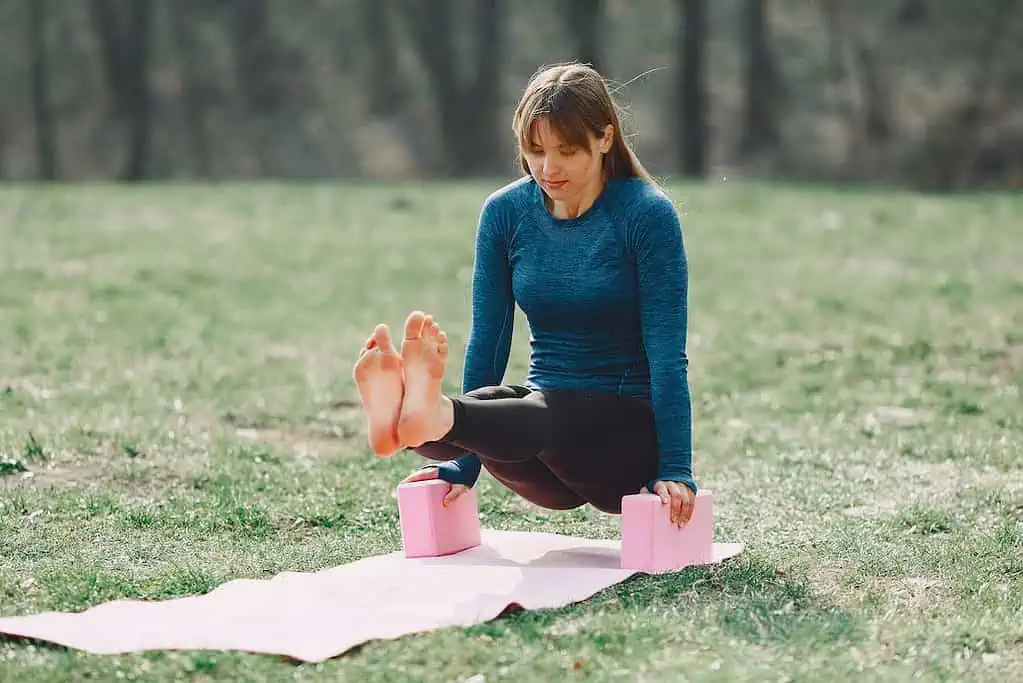 Yoga Mats
Perhaps you have never thought of a yoga mat as a yoga prop. But, the quality of your yoga mat will determine the quality of your practice. Having a great yoga mat will allow you to find a good balance between grippy poses and holding the right shape in the yoga studio.
If you want to read in-depth about how to find the best yoga mat for your practice, check out this article about eco-friendly yoga mats or this one about hot yoga mats that will soak up your sweat!
Mat bags are also another accessory that can make your life easier by creating a carry bag for your yoga mat!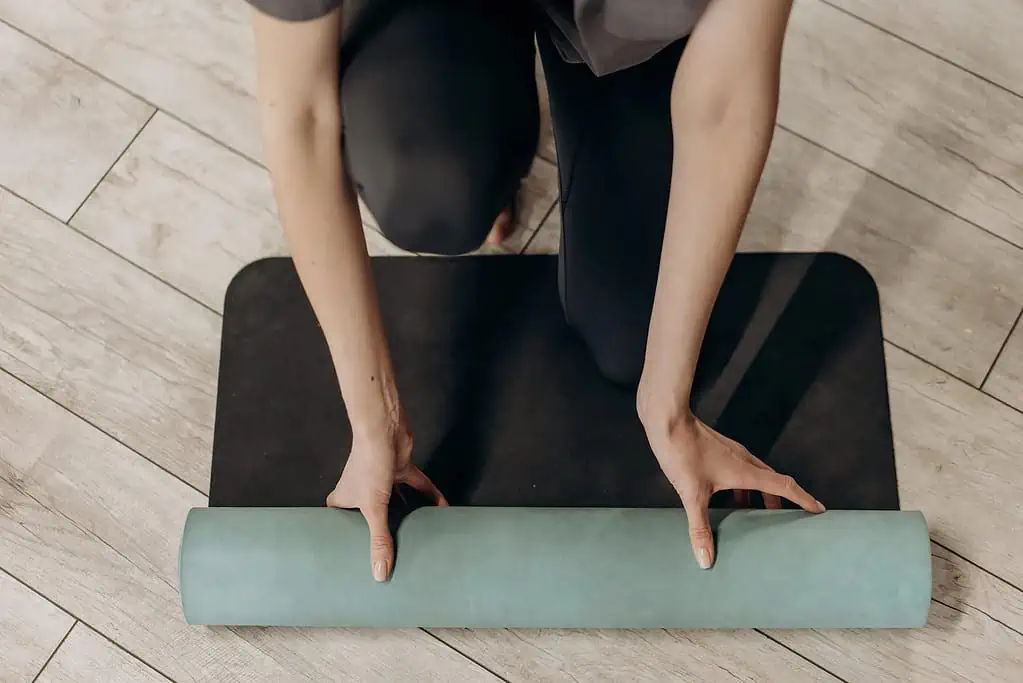 Yoga Straps
Yoga straps are great accessories for deepening stretches, but also for holding forward folds when your hands can't quite reach your feet. They can act as an extension of the arms and are on the list of accessories you want to have next to your mat during a yoga class to help you deepen your range of motion.
Yoga Blanket
A yoga blanket is generally a weighted blanket that helps to keep you warm and cosy in savasana. But a yoga blanket can also be used to support your hips, knees and other joints to find more comfort when sitting on the floor. Rolled up, or folded in different ways, a yoga blanket can form a number of different shapes, until you find the perfect shape that will support a specific part of your body.
Other Props
Aside from a yoga mat, yoga blanket, block and strap, which you will almost always find in yoga studios, there are a few other props that can be fun to play around with.
A headstand bench will help you prepare and build strength to make it into a full headstand pose.
A yoga wheel will increase the range of motion in your spine, plus, create a good spinal workout while stretching your hips and heart space.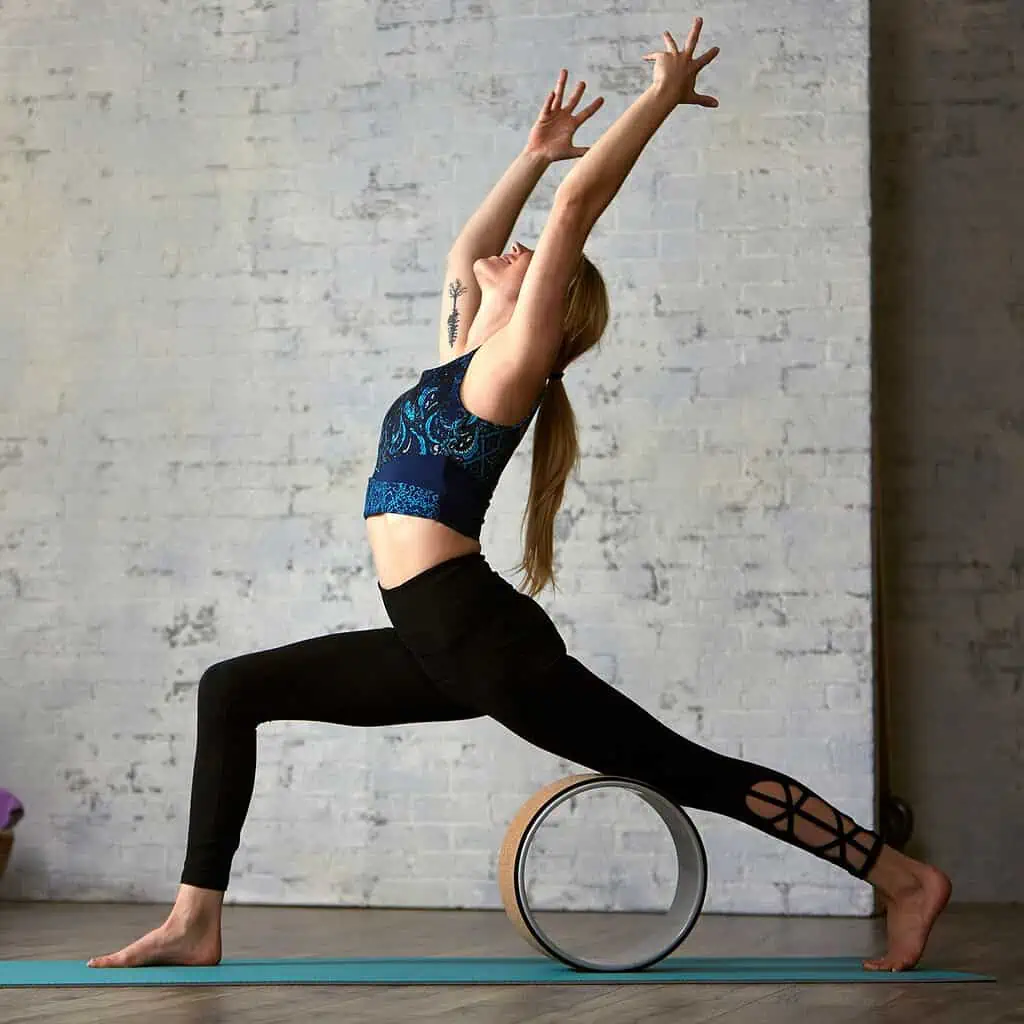 Yoga towels are also great additions for hot yoga sessions. We have a review of hot yoga towels here, so that you can make your next yoga studio visit sweat free! Simply carry a towel with you in your mat bag and then place it over your yoga mat when you arrive in the studio to stop you from slipping all over the place.
You might even find yoga socks when looking for yoga props. Socks are a controversial topic in yoga classes. Some students from cold parts of the world might want to wear grippy yoga socks, while in warmer parts of the world, socks generally make the practice more slippery and dangerous!
What props do we recommend?
It's time to get to the business of finding the right props for you! Visiting yoga studios will provide you with a chance to try out a yoga blanket, a range of yoga mats and other kinds of equipment that may support your knees and help you find alignment in your poses.
When you are ready to purchase your own equipment for your home practice, take a look at what we have put together for you. To help you decide where to shop and what to buy for yourself, we have a few suggestions:
Find the right prop for you
Best Yoga Blocks
#1- Manduka Yoga Cork Block - Yoga Prop and Accessory, Good for Travel, Comfortable Edges, Lightweight,...
See latest price
If you're still unsure on whether you need blocks in your practice my suggestion would be yes, but only as long as you get good ones. Good quality blocks can really enhance your practice, helping you find the proper alignment, and deepen your stretches in complete safety.
As a yoga teacher, I have tried many types of blocks in my day. I've even used books to replace them but I've never really found them very useful…
There's an entire universe of different types of blocks out there, they may vary for color, size, and price but they all have pretty much the same functions. And I can say that hands down, among all the different blocks I've tried so far, those designed by Manduka are the real deal.
These cork blocks are firm enough to support your body weight, but they are also incredibly soft to touch, so you won't feel uncomfortable when leaning on them. Yes, cork blocks are now a big thing but these ones by Manduka are just on a different level than those standard ones: they're firmer, light, and easy to carry, but most importantly, they provide a fantastic grip and support. Which in my opinion, justifies their fairly high price.
What I also found pretty cool about this brand is that it's a firm advocate of sustainability because it creates products that opt to minimize environmental waste.
And these blocks are no exception: made of sustainable cork, they are simply the perfect combo between sturdiness and sustainability.
So let's recap their overall pros and cons…
Pros
Great grip and comfort
High-quality, eco-friendly materials
Sturdy and durable
Manduka is a reliable yogis brand
Best Yoga Strap
#2- Lotuscrafts Yoga Strap for Stretching - 100% Organic Cotton - Yoga Belt Strap with Adjustable D-Ring...
See latest price
Have you ever wanted to achieve those aesthetic, tangled asanas but didn't dare to try because you felt like you were not bendy enough? Well, this will no longer be your concern because once you try a yoga strap, it will quickly become essential to your practice. I remember spending most of my hours as a student struggling with my own body just to be finally able to do poses like Natarajasana or King Pigeon Pose. Failing each and every attempt.
But then I've discovered the yoga belt and I've realized I had suddenly found the support that I actually needed. And for me, this one by Lotuscraft is simply the best. Made with 100% organic cotton this strap provides gentle support, allowing you to stretch without running the risk of injury. Despite its eco-friendly material, this belt is also pretty affordable and comes in a great variety of colors.
This one is also 8.2 ft long, 1.5 inches wide and it's easy to adjust to any given length.
So it's suitable for anyone, regardless of the pose you're trying to perform!
I also found it really sturdy and durable, but on the other hand, its sturdiness has a downside, as a few users complained that the cotton makes it very stiff and almost sharp around the edges. But that's just a matter of time because it will get softer once you start using it.
Pros
Great size
Eco-friendly materials
Perfect sturdiness and durability
Regular price is affordable, under $10
Can be used in yoga, gyms and pilates classes
Cons
It might be kind of stiff at first
Best Yoga Wheel
#3- Florensi Back Roller - Back Stretcher, Back Cracker, Yoga Wheel, Deep Tissue Massager - for Back...
See latest price
Yoga wheels are incredibly useful tools that can truly become our best friends: they improve our balance and they can significantly enhance our flexibility. But most importantly, I've found wheels incredibly beneficial for the entire spine… Especially after a tiring practice, when it's time for some soothing inversions, stretching on a yoga wheel is exactly what my body craves!
But for me the best yoga wheel, it's this nice set of three wheels made by Florensi. They're really high-quality and since they come in three different dimensions, you get to stretch any muscle of your body. So they're pretty much for any need.
The largest wheel is 13" in diameter and I found it great for deeper stretches, especially for the whole back; I totally love just spending a few minutes at the end of my practice laying over this wheel while resting and decompressing my spine.
The medium size wheel is 10" in diameter and can allow you to stretch the lower back, while the smallest wheel is 6" in diameter and it gives a gentle fascia massage, especially around the neck and the back of the legs.
I've tried several yoga wheels in the past, but I came to realize I was just using them because they had a certain level of aesthetic. Some of them were made of nice wood, some others just had cool prints. These wheels designed by Florensi might not look super fancy but they do have strong adherence and nice, soft padding that ensures pleasant comfort.
Pros
Come in three different sizes
Non-slip surface
Soft padding
Cons
Their design might be quite dull
Best Meditation Cushion
#4- Mindful & Modern Velvet Meditation Cushion | Luxe Zafu Yoga Floor Pillow Seat | Posture Support |...
See latest price
When you're browsing for a soft meditation cushion, I'd warmly encourage you to treat yourself with something comfy and resistant. One of my favorite products is this beautiful velvet meditation cushion designed by Zafu.
Especially during long meditations, I've always been quite unsatisfied with the seat: I've tried with blocks, pillows, and wooden meditation benches, but still, I kept feeling a sharp pain along the spine and shoulders. And it's simply the same story that repeats over and over, you feel uncomfortable, start moving and snap, and you've lost the focus.
If you've experienced the same while meditating, it doesn't mean that your focus is flickering but rather that you're simply meditating on the wrong seat! This meditation pillow on the other hand is by far the best one I've tried so far. This pillow is purposefully designed to give you soft yet firm and ergonomic support for your entire spine. And it's also beautiful, a real treat for your body!
On top of it, this cushion is entirely made with organic buckwheat and has a removable, machine-washable cover, so no need to worry about stains when you use it. Yes, I know its price is rather high compared to that of other cushions, but believe me, its quality is totally worth the money. Just take it as a luxurious treat for your practice!
Pros
It provides great comfort and support
It's made with eco-friendly materials
Easy to clean
Beautiful and ergonomic design
Best Bolster
#5- Manduka Yoga Rectangle Bolster Pillow - Firm, Removable eQua Cover, Easy Carry Handle - Thunder...
See latest price
Another great product designed by Manduka is this Yoga bolster. It's rectangular and provides the perfect level of support for forward-folds, inversions, etc. I found it incredibly sturdy yet soft to the touch and for that, I normally use it either when teaching or for my personal Yin Yoga practice. And I have to say that it's literally become my go-to bolster.
A while ago, I mainly used just a couple of pillows stacked on top of each other to replace a bolster, but then I finally figured I actually needed to gift myself a nice and cozy bolster. Then I've found this one by Manduka and I absolutely fell in love with it!
Its fabric is smooth and its size is simply ideal. It's durable, firm, not squishy but incredibly comfortable. I also adore the dark-colored cover because small stains are not extra-visible. So you won't have to wash it 100 times a day just to keep it clean.
However, it has a couple of flaws: its materials are not really the best, as this bolster is made of microfiber and it comes in just two colors. As an upside though, it has a cover that is fully removable and easy to wash.
Given its low-quality materials, some reviewers also complained that it had a strong smell when first unwrapped… For this reason, I'd suggest simply washing it before use.
Pros
Soft fabric
Perfect size
Great level of firmness and durability
Thick and comfortable
Cons
Its materials are not great
Might have a strong smell when first unwrapped
Best Inversion Bench
#6- Restrial Life Yoga Headstand Bench- Stand Yoga Chair for Family, Gym - Wood and PU Pads - Relieve...
See latest price
Have you always wished to do a headstand but never felt enough confident? Avid yoga practitioners have surely spotted this inversion bench at least once on their Instagram feed. And the reason is that apparently, the social-media yoga community is literally going nuts over this bench.
It's not just a trend because the headstand bench is really amazingly useful and it can give you all the support that you need while trying some inversions.
If you're still skeptical about its true effectiveness you might have to try it yourself to really understand why so many people love it. It's nicely stable and comfortable, its wooden frame can hold up to 330 lbs and it has a thick cushion on its surface which allows you to relieve pressure from your neck and shoulders. Also, it has non-slippery pads at the bottom so you won't ever run the risk of falling out of the pose.
I always tell my students who are scared of doing inversions to give this bench a try because it does help you to build the right confidence and body awareness you need to practice advanced poses like headstands.
Because they have a huge variety of benefits: they can calm down our nervous system while promoting blood circulation, digestion, and enhancing our balance.
As if it wasn't enough, this bench is also realized with eco-friendly materials like wood and vegan leather! I have to say it's really tough to find a flaw in this product, but scrolling down on its reviews, I've found out that some customers claim that this stool was quite tough to put together. So my suggestion is kind of obvious, but still, I think that the best way to figure out how it works is to simply try watching a video tutorial: the internet can surely help you with that!
Pros
Soft cushion
Sturdy and durable
Non-slippery pad
Comfortable
Realized with eco-friendly materials
Cons
Instructions might not be super easy to understand
Yoga Props Buying Guide
When you're looking for nice yoga props there are several things to ponder before the purchase, but to be fair, the choice of your props mainly depends on the style of yoga you usually practice and on your necessities. For example, if you know you love restorative Yoga then you'd definitely need to prop yourself up with some nice bolsters, pillows, blankets, and so on.
As we said, there is a huge multitude of different props out there and obviously, the toughest part is to spot the ones that are really good for your routine. So if possible, ask your yoga teacher for advice because they could help you find what you need.
Furthermore, there are four fundamental criteria you should consider before buying: comfort, firmness, material, and durability. Let's see why:
Comfort
This is probably one of the most essential features of a prop. Whether it's a belt or a bolster, when you're lying on something comfy it's always a nice feeling. But be aware: comfy doesn't necessarily mean that it's less sturdy. Before buying a specific item, remember to always check its reviews because this is the only way you can find out more about the true quality of that prop!
Ideally, find something that's a good balance between firmness and comfort, and the trick is done!
Firmness
As we've just seen, along with comfort, the firmness of a prop is also incredibly crucial. Props, as the name itself suggests, were designed to help, to support, so a prop that has little to no firmness is not really a prop. Especially if you're a beginner, having a prop that's slippery or unsteady will indeed backfire: as a result, you may start losing confidence and even get injured!
Obviously, the firmness of your props strictly depends on their materials, so you might want to check out the section below to find out more about the best ones available on the market!
Material
Something you might need to add to your checklist when browsing yoga gear is the choice of material. If possible, the best option is to always go for something eco-friendly and strictly non-toxic. As we all know such materials tend to be quite pricey but in my opinion it's always best to invest a little more in something you know might be beneficial for both you and the planet.
But that's just a matter of perspective of course. Still, I believe that as a matter of fact, the material does make a huge difference not only in terms of sustainability but also in terms of quality. Based on my experience, most high-quality, eco-friendly yoga accessories are a whole lot different than those standard ones made of PVC and such.
Durability
As it's clear, the durability of the yoga props varies sensibly depending on their material and the frequency of use. Say that, for instance, you know you're fully committed to yoga and have a consistent practice, then in this case I'd warmly encourage you to spend a little more money on durable products, instead of getting a cheap alternative that won't last too long.
Even more so if you're a beginner: you have a long path ahead of you and saving some dollars to buy a low-quality product might truly jeopardize your practice. So be fully aware of what you're getting!
FAQs for Props
How to use yoga blocks?
As we've seen, blocks can make a huge difference in your practice. They have three different settings so you may choose which one works best for you. Always make sure your yoga blocks are nicely stable when practicing postures and also ensure your hands have a firm grip on them.
You may choose the setting depending on the pose you're performing and on the width of your hands. They can ease your forward folds and intense stretches like extended side angle and they can also help you find the right alignment in balancing poses such as Ardha Chandrasana (half-moon pose).
But there's more, they can even help you explore new transitions (e.g.from Downdog to a seated forward fold!). Simply follow your teacher's guidance and you'll discover how to use them in detail.
How should I store my yoga props?
Yoga studios or a yoga businesses will have cupboards and set places to store the props correctly. If you are creating a space at home for your props, the best way to store any yoga gear is to simply follow the guidelines provided by the product manufacturer.
Blankets should be folded neatly, a mat should be rolled up, and blocks can be stacked on top of one another.
Ideally, try to create a small "yoga corner" in your house where you can store all your yoga gear and mat, possibly away from pets, kids, or curious roomies…
What are the benefits of using yoga props?
Props can support your body so that you can lift your chest higher in some postures and you can bend deeper in others. A yoga mat will help you stay in place while practicing and blankets will keep you warm or cushion your head when you lay on the floor.
You may also discover that a combination of yoga props, commonly found in studios can be used to support your body to rest deeply and relax as you lie in savasana.
What can I use instead of yoga props?
The regular price of yoga props can be pretty expensive. If you aren't ready to purchase your own yoga props just yet, there are a few alternatives. You can use old, thick books instead of yoga blocks.
You can use any towel or blanket instead of a yoga blanket. You can use a belt or scarf instead of a yoga strap. Get creative with the items you have at home and experiment to see how you can use them to support your yoga practice!
Final Thoughts
So we've finally come to the end of our review: I do hope this article has shed some light on your search and will help you find the best props for you. But then again, remember to always consult a yoga teacher or at least an expert practitioner before buying any prop because good quality props do move the needle!
Let us know your thoughts on yoga props, we'd love to hear from you.
Namaste!