We wear them just about every day, to go to the coffee shop, to workout, and to put together a cute casual outfit for lunch. At first glance, you may think leggings and yoga pants are the same thing. That is, until you try doing downward dog or do squats in thin leggings… oops! Not pretty.
Yoga pants are truly designed for fitness, while leggings are often just for fashion, loungewear, or a warm baselayer. Yoga pants are a general term for opaque, thicker material, stretchy, sweat-wicking bottoms that can be used for athletics like running, pilates, gym workouts, or of course, yoga. Leggings, on the other hand, are typically designed to wear under your clothes for warmth or comfort.
But what about the yoga pants that are leggings? There are many different fabrics and styles of yoga pants, from flare to capris to skin-tight. Here's the lowdown on the nuances and differences between the two, and how to choose the best for you.
Top Legging and Yoga Pant Picks
lululemon Align High Rise leggings are the cream-of-the-crop leggings for yoga. They are ultra soft, sweat-wicking, stretchy, and luxuriously easy to wear. The Aligns have a sleek, minimal seam look that is versatile both on and off the mat. These are perfect for transitioning in and out of the studio.
At under $30, these leggings are the ultimate steal. They have all the stretchy, buttery-smooth goodness of brand-name types, but at a fraction of the price. We love the big side pocket (for a large smartphone) and tummy control fit.
For a breezier practice, these flattering calf-length capri feels as it looks. The Powervita fabric is like a soft hug and the pockets are stretchy and spacious. We love the tummy-tucking high rise and expanded sizing from XXS to 3XL.
While not the cheapest option, these yoga pants are definitely the most decadently comfortable option on the market. With a classic flared fit and smooth, weightless fabric, these are the Ferraris of yoga pants. Available in an array of gorgeous colors and expanded sizing, these yoga pants are so comfy you can freely sweat in them (without sweat stains) and sleep in them without feeling restricted.
Any Athleta fan will fall in love with this girl-powered company's take on classic yoga pants. They have a semi-fitted design with an ultra high-rise waistband and perfectly quick-dry8ing fabric. We love the breathability and style of these pants. Available in tall, regular, and petite, you can easily get the perfect inseam for your height.
For yogis on a budget, this classic bootleg with pockets is crazy comfortable and under $50. They even look nice enough to wear off the mat! We love the polyester and spandex blend that feels stretchy without showing off every detail of your legs. They're durable when washed and are thick enough to keep you covered.
What are Leggings?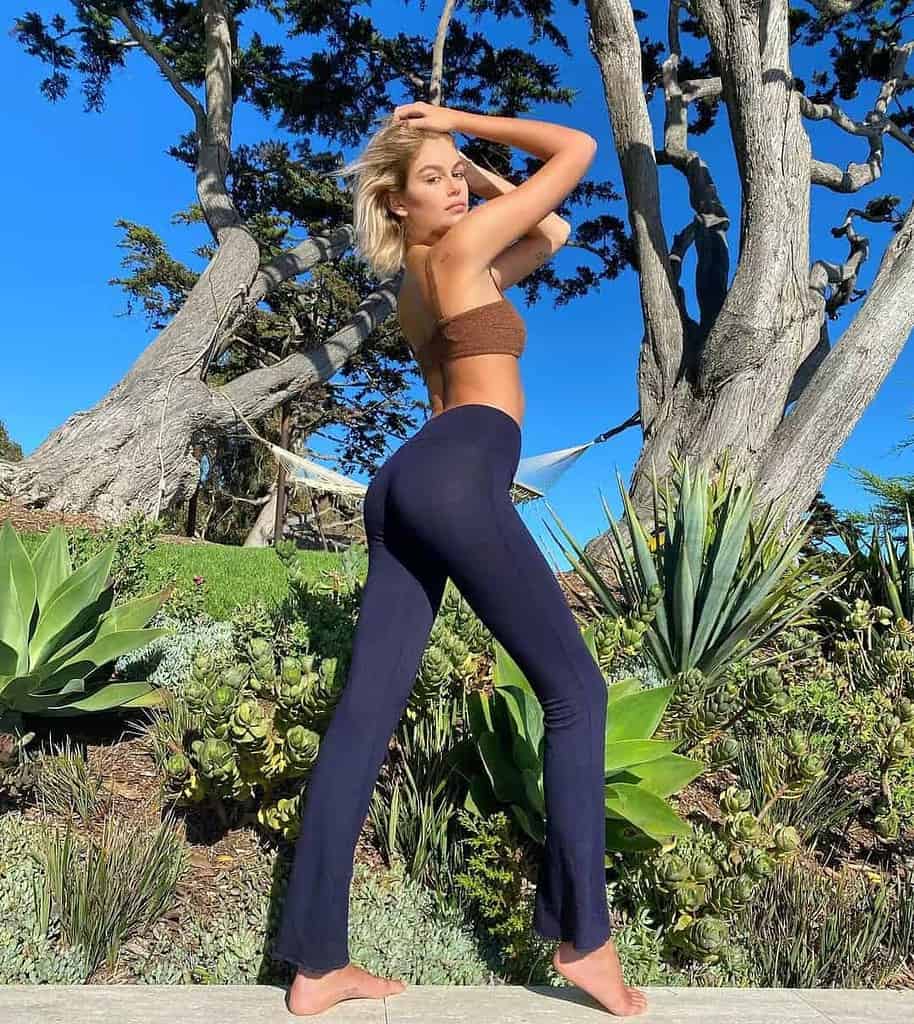 Leggings are skin-hugging pants that are thicker than tights but thinner than true yoga pants. They are delicate and comfortable for lounging, wearing under a skirt, or adding an extra layer of warmth in the winter.
Before leggings were trendy, they were really just undergarments. You wore them to stay warm in the winter like long johns. These days, women (and sometimes dudes) seem to wear leggings just about everywhere. Pair with a crop hoodie or baggy t-shirt and you're good to go! But it can be a little embarrassing when you forget that those cute stylish zebra print leggings aren't really designed for workouts or yoga.
Pros of Leggings
Cheap and affordable
Comfortable
Body-hugging
Thin
Stretchy
Warm base layer
Huge variety of styles, fabrics, and patterns
Cons of Leggings
Thin fabric is not good for stretching
Somewhat see-through
Not designed for workouts or yoga
Waistband has a tendency to fold or not stay in place
Types of Leggings
Cotton
Cotton leggings are the most widely available and budget-friendly leggings available. You can find them at Walmart, Forever 21, Target, Cotton On, and just about everywhere else. They sometimes have a little bit of spandex in them, however cotton leggings tend to "pile" and wear out overtime as they are stretched and washed.
Cotton leggings come in a million colors and styles, but they are thin and lose their shape. They are especially terrible for yoga or the gym because they can be see-through, hold sweat stains and moisture, and don't stay in place.
Polyester
Polyester leggings are a bit higher in quality than cotton. They are much more sweat-wicking and stretchy than cotton, but their main downside is the tendency to hold onto smells. A polyester fabric blend can be great for workouts, but sometimes these are also just fast-fashion leggings.
Wool
Wool has been used for literally thousands of years as one of the warmest and most sweat-wicking materials. These days, Merino wool is especially popular and found in a variety of base layers, including leggings. Anyone who lives somewhere with a cold winter or does winter sports like skiing will appreciate wool leggings tremendously. However, they are significantly more expensive than cotton.
Faux Leather
On the fashion side of things, faux leather leggings are like an ultra-comfy pair of leather pants. They're stretchy and more breathable than true leather, however they can be a bit expensive. Faux leather leggings are great for a night on the town and probably horrible for anything else.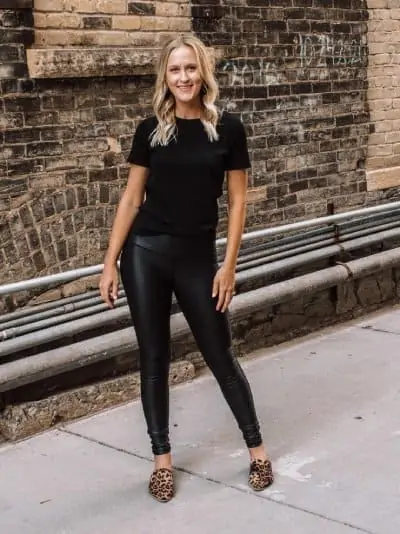 Spandex
Straight spandex leggings are especially body-hugging and popular in shapewear. This fabric starts amazingly small and stretches out very wide, but that also means it is typically see-through.
Nylon
Nylon or nylon blend leggings have become the most popular fabric because of their affordability and durability. Nylon is stretchy and doesn't wrinkle, however it does shrink. If the leggings are thick enough, nylon is a great material for wicking sweat during workouts.
Legging Lengths
All leggings are technically tights, however they come in different lengths. Full length is the most common that stretches from the waist to bottom of the ankle. Some people prefer stirrup-style leggings that loop under the heel for dancing or other activities.
Ankle length leggings (⅞) hit just above the ankle and capri length (¾) tend to hit at the calf. Body-hugging biker shorts and footed leggings are also technically leggings because they are made of the same material and serve the same purposes as undergarments.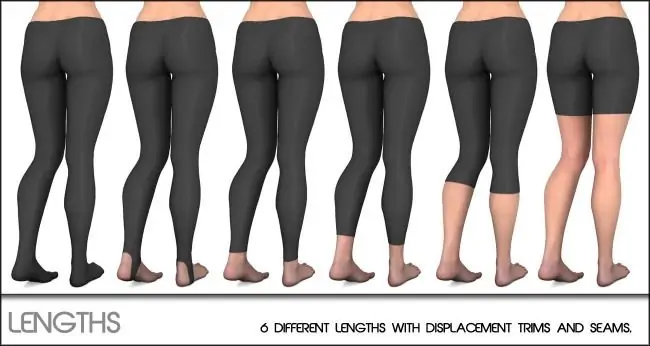 Best Leggings for Lounging
While we don't recommend leggings for yoga, we still love all that stores like Forever 21, Cotton On, Amazon, and Romwe have to offer. Cute leggings are always a staple in my closet!
What are Yoga Pants?
Yoga pants are another popular modern alternative to pants. You can always find someone wearing them to Starbucks, the gym or yoga studio, or to pick up kids at school. Yoga pants are not exclusive for yogis, however they are certainly the best-designed bottoms for a yoga practice.
The key difference between leggings and yoga pants is the thickness and stretchiness of the fabric, as well as the waistband. Yoga pants tend to be thicker and more durable, so they aren't see-through when you move. They are tight in the but area but loosen up as you move downward into different poses.
Pros
Not see-through
Stay in place during workouts or yoga
More comfortable than leggings
Hold their shape
Sweat-wicking
Thicker waistband
Moves with the body; never restrictive
Cons
More expensive than leggings (but last longer)
Yoga Pants are Best for Fitness
Yoga pants also give you all the freedom to do your favorite asanas without worrying about leggings stretching too tight against your skin or restricting movement. The thicker, rollover-style waistband also helps with movement because it keeps the pants in place. However, companies have also started coming out with a variety of fitness leggings and pants that don't have the signature roll-over band.
Styles of Yoga Pants
Many fitness leggings are really a lot more like yoga pants than they are like leggings. Styles include booty shorts, wide-leg pants, yoga sweatpants, cropped leggings, ankle-length running pants, and more. The most popular style of yoga pants is the high-raise body-hugging style we see at lululemon, Alo Yoga, and more. These pants beat leggings every time because they are actually made for functional movements rather than cheap fashion.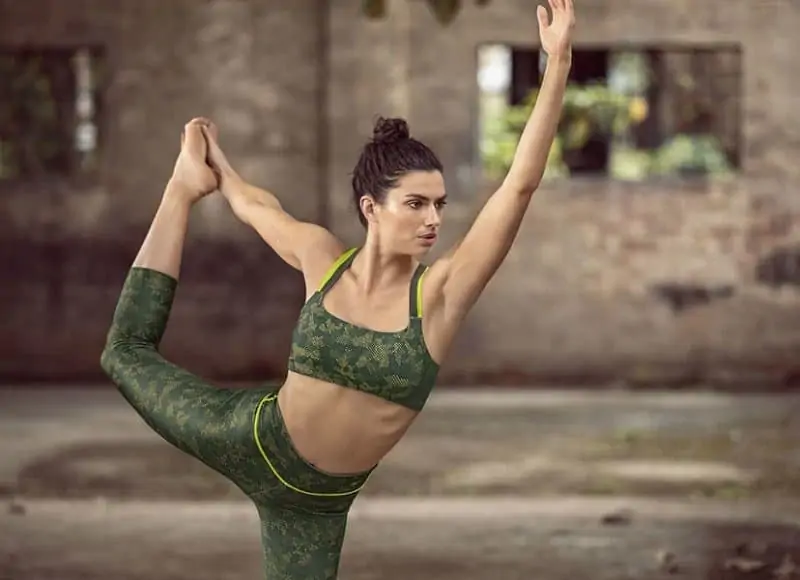 Best Yoga Pants for Your Price Range
When it comes to yoga, the best yoga pants should be opaque (not see through), sweat-wicking, stretchy, form-fitting, and stay in place while you twist and move.
We did a full review of the best non-see-through yoga leggings for different price ranges and styles here. Our favorites include:
For under $13 these leggings can't be beat! They're opaque and stretchy, squat proof, and surprisingly soft. Despite the affordability, the fabric actually lasts and I haven't noticed any pilling. These leggings are breathable and thick enough to prevent seeing-through, yet not so thick that you feel constrained or too hot.
If you're going to be breaking a serious sweat during yoga class, these thick yet breathable Gym People leggings are the best choice for you. Reviewers say they are never see-through, squat-friendly, and super supportive. The reinforced seams and gusseted crotch ensure durability and no chafing (hallelujah!)
We can't talk about yoga pants without mentioning lululemon leggings. Don't be confused by the name, these are certainly yoga pants designed for and by yogis. These buttery soft, ultra-high-quality Nulu-fabric yoga pants are cream of the crop when it comes to yoga wear. I know people who have worn their Align leggings every day for years and swear by the perfect fit, durability, functionality, and flexibility.
Yoga Pants vs. Fashion Leggings vs. Activewear Leggings
At the end of the day, these terms can be easily confused. It's important to distinguish that yoga pants and activewear leggings are higher quality, more expensive, thicker, and better fabrics for working out and doing yoga.
Activewear leggings are a hybrid of yoga pants and leggings, but still fit under the yoga category because they are never see-through and tend to be longer-lasting. Fashion leggings are cheap and widely available with fun patterns and styles for casual or dress-up use.
At the end of the day, the differences between yoga pants and leggings are pretty major. They significantly differ in price, style, fabric, and functionality. Ultimately, if you want to do yoga or workout, go for yoga pants. If you want to lounge around or create a casual outfit, choose leggings.
What do you think? Have you ever tried doing yoga in normal leggings?
Namaste!