Are you new to meditation and struggling to find the proper posture? Or perhaps you're a regular meditator looking to find more ease to extend your practice times.
Sitting meditation can be uncomfortable regardless of your experience or flexibility. But this doesn't mean you should cut short your meditation practice or give up altogether. No matter where you are in your meditation journey, chances are you can benefit from using a meditation cushion.
If you've been to a meditation class before, you may have already tried a meditation cushion and experienced the benefits. So why not invest in your own meditation set so that you can get the most from your home practice every day?
In this article, we will share how a meditation cushion can benefit you and how to choose the right one for your needs. We will also reveal the best meditation cushions available online so that you can start to uplevel your meditation experience today.
Are meditation cushions worth it?
Whether you meditate a few times a week or every day, having a meditation cushion is well worth it. Meditation cushions help to support the body by elevating the hips to keep your spine straight and prevent slouching.
Along with support, meditation cushions can make you feel much more comfortable and make sitting meditation far more accessible. In addition, they can be very effective at relieving tension in the lower back, reducing knee pain, and preventing your legs from seizing up after long periods of sitting.
Moreover, meditators with meditation cushion sets are likelier to create a sacred meditation corner or room in their home. Doing this is vital if you want to cultivate a daily meditation practice. Seeing your meditation cushion will serve as a visual prompt to do your practice, helping to reduce the likelihood of forgetting to mediate.
Are meditation cushions better than a chair?
Some injuries and medical conditions can make sitting meditation extremely uncomfortable, even with a cushion that is specifically designed for the practice. In these cases, meditating on a chair is the most comfortable and safest option.
However, if you do not have any injuries, meditating on the floor is much better than on a chair. This is because sitting in a chair is an unnatural position for humans. Still, because we spend little to no time sitting on the floor in our modern-day lives, it can feel uncomfortable at first. This is why meditation pillows are such helpful props.
How to choose a meditation cushion
Before you purchase a meditation cushion, it's best to do some research to ensure it will meet your needs and is of the highest quality. Here's what you should consider when shopping for a meditation cushion set.
Shape
Meditation cushions come in various shapes and different sizes.
Round
Some are round, like the Zafu cushion, which originates from Japan. This style is ideal for meditators who prefer to sit in the Seiza position (kneeling position with knees outside the hips) instead of cross-legged. The small, round Zafu cushion fits perfectly under the sitting bones, minimizing knee stress and encouraging a straight back.
Rectangular
Other cushions, like Zabuton Meditation Cushions, are rectangular and are also known as Japanese floor cushions. Their large size provides comfort to your knees, ankles, feet, and sitting bones when meditating in a lotus pose or another crossed leg position.
The downside of using only a Zabuton cushion is that it will not elevate your hips higher than your knees. This can cause lower back strain or a rounded spine. Therefore, if you meditate in a crossed-leg seated position, we recommend purchasing a Zafu and Zabuton set (which is what is traditionally done in Japan). This way, your hips are elevated by the Zafu cushion, and your lower body is supported by the Zabuton mat.
Oblong
Oblong-shaped cushions, like bolsters, are a good alternative for people who prefer a longer cushion to give more support under the hips and the knees. Bolsters are also ideal if you're a yoga practitioner, as they can double up as a yoga prop too! The height, length, and firmness of a bolster can vary, so try a few out before purchasing.
Size
Aside from the shape, consider the size of your pillow, both the cushion's height and the length/width. Generally, bolsters are the highest, between 8 to 10 inches, although you can find mini bolsters at 4 inches tall. The length of the bolster usually determines the height, most range from 70 to 90 cm long.
Zabuton cushions are the flattest, usually just several centimeters thick. In terms of length, there are three typical sizes; 25″ x 31″, 27″ x 34″, and Jumbo, 30″ x 34″.
Zafu cushions come in various sizes starting from 5 inches, designed for travel as they are portable. 7 and 8 inches are the most popular sizes, but for those with longer legs, the 9-inch pillow is best. Like with bolsters, the length/width determines the thickness.
Filling
The filling of the meditation cushion you choose is essential as the material will determine the firmness and the type of support. For example, some fillers will keep the cushion firm to steadily hold your body. In contrast, others are softer to improve blood flow in your legs.
Kapok is a soft material similar to cotton batting that comes from the Kapok trees of Asia and is the most traditionally used filler. It has a relatively high level of firmness. Still, it can flatten quickly and require fluffing up to return to its original state.
Buckwheat hulls, the outer shells of buckwheat grain, are a heavier fabric than kapok. Buckwheat filling is super firm, does not flatten, and is designed to adapt to your body shape and posture. Buckwheat is used in most of the round Zafu cushions.
Another possible meditation cushion filler is wool. Wool meditation cushions are more soft and lightweight but are said to support blood circulation. Therefore, they are a good choice for meditators who experience their legs falling asleep during practice. Many Zabuton cushions use folded wool or cotton batting as this pillow style is designed to be soft.
Cushion cover material
The material of the cushion cover is not so essential, but cotton and polyester are the most common fabrics used. However, nowadays, many meditation cushions are made with organic cotton. This is more environmentally friendly than regular cotton as it is grown without harmful chemicals, leaving the soil, air, and water free from harmful pollutants.
What is the best meditation set?
If you've already browsed the market, you will know that many meditation cushions are available. However, they are not all high quality, so to reduce confusion, here are three of the best meditation cushions, rating high in stability, comfort, and durability.
This 2-piece meditation cushion set is a favored choice among many meditators. It contains a firm, sturdy round Zafu pillow filled with buckwheat hulls and a soft Zabuton mat filled with high-quality, durable kapok.
The Zafu pillow measures 14 inches in diameter and 7 inches in height and weighs 7 pounds. The Zabuton mat measures 30″ x 28″ and is suitable for people up to 5 ft 10 inches tall. The Zafu has a durable double-stitched carry handle for easy transportation. However, note that only the Zabuton has a removable cover.
The meditation cushion set has 9 color options, including black, brown, royal blue, and red.
The Bean Products Zafu & Zabuton Meditation Cushion Set is designed to help you find zen and relax deeper into your meditation practice. The cushion set is made in the USA with durable, organic materials.
The Zabuton is available in small (24″ x 24″ x 2″) or large (32″ x 36″ x 3″). It has a soft cotton batting filling to insulate cold floors, and you can choose recycled or organic cotton. You can also choose between a round Zafu (14″ x 14″ x 6″) or an oval Zafu (14″ x 18″ x 6″). They are filled with organic buckwheat to give firm support and reduce stress on the knees, hips, and lower back.
The cushion covers come in three fabric options, which are all removable and machine washable. Choose between sturdy 10 oz regular cotton, 10 oz organic cotton, or 17 oz hemp fabric. Finally, you can get it in your favorite color, as over 25 color options are available.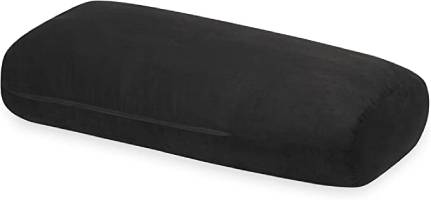 Best Overall:
Gaiam Yoga Bolster - Long, Rectangular Meditation Pillow - Supportive Cushion for Restorative Yoga...
See latest price
The Gaiam Yoga Bolster has a unique rectangular shape as it is adapted for meditation practice, making it flatter than traditional yoga bolsters. In addition, it has a machine washable removable cover and a handle strap making it easy to transport around.
This oblong-shaped meditation cushion has a natural cotton batting filling and a 100% polyester cushion cover for superior comfort. It weighs 5.2 Pounds and is measures 27″ (L) x 11.5″ (W) x 7″ (H). For meditators with a regular yoga practice, this bolster-style meditation pillow is excellent value for money.
How do you wash meditation cushions?
If your meditation cushion has a removable cover with a zippered opening, simply remove it and wash the exterior. However, cleaning the entire pillow with the filler is not recommended as it may cause it to lose its shape.
If the cushion cover is made from cotton or hemp fabric, we recommend you wash them cold with similar colors and then hang them to dry. Polyester covers may be able to be washed in a standard warm wash but check the label beforehand. If the exterior cannot be removed, you can clean it by spraying it with an all-purpose cleaner and wiping it with a damp cloth.
Final thoughts on meditation cushion sets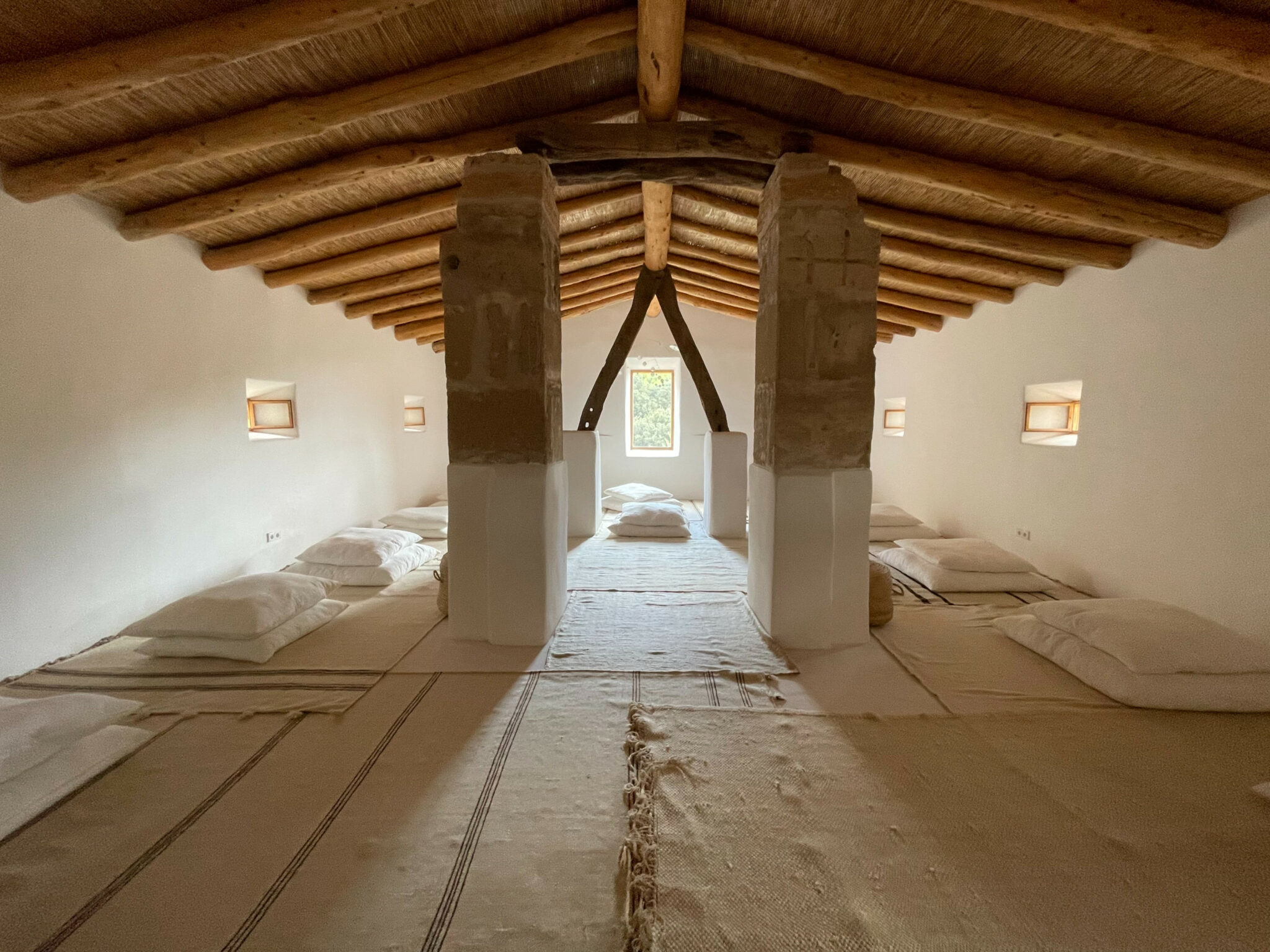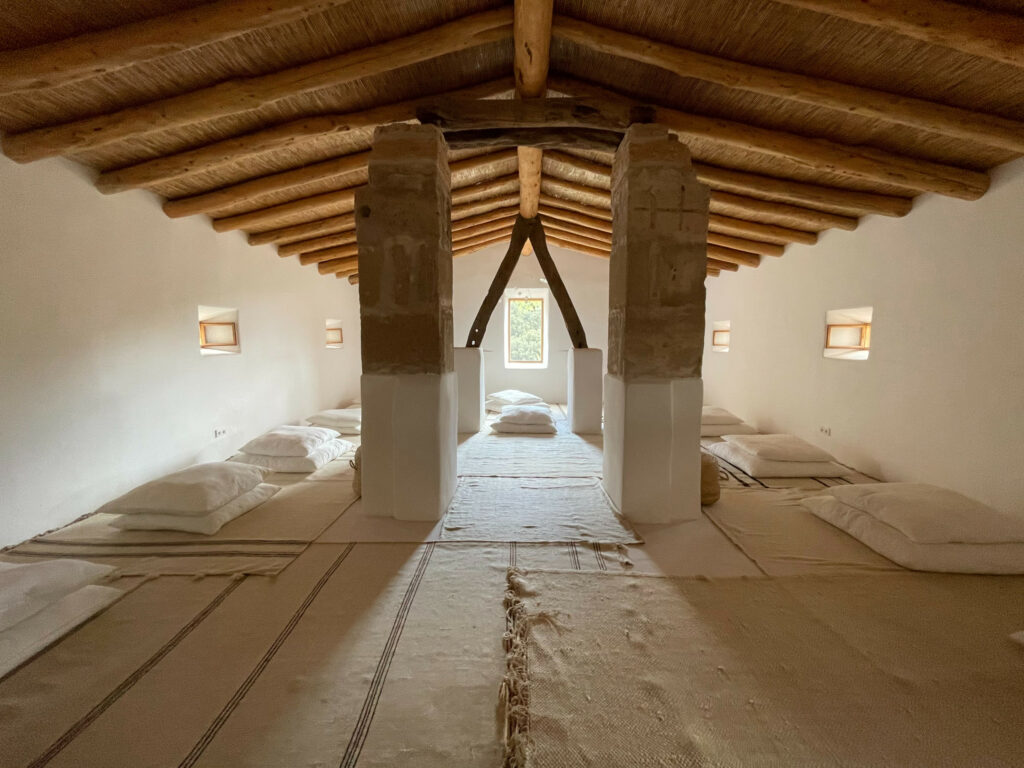 Meditation cushions can increase your comfort and stability, allowing you to meditate for longer and retain your focus. If you experience tension in your back, knees, or ankles, a meditation cushion will relieve much of your discomfort. What's more, by investing in a meditation cushion set, you'll have a visual reminder to do your practice every day, helping you move further along your spiritual journey.