Rolling your back on a yoga wheel feels like the most relaxing massage you've ever received. If one yoga prop could embody the feeling of "ahhhhh, release", it would be the yoga wheel.
If you have chronic back pain or even just some spinal tension, you may have been drawn to yoga seeking relief. Yet backbends can be pretty intimidating and even dangerous for many yoga students.
The yoga wheel's rapid rise to fame explains why so many have a love/hate relationship with backbends. Back-opening poses feel so dang good, but you can also accidentally strain your back and cause more issues.
Celebrities and famous yogis brought yoga wheels to the forefront in the past couple of years. Unlike many pop culture trends, this one lives up to the hype!
Everyone deserves some back-opening relief, so we've reviewed the top 7 best yoga wheels on the market to help you decide which is best for your practice!
If you're in a hurry, our favorite yoga wheel for general yoga is the UpCircle Seven Yoga 12" Wheel. It is affordable, simple to use, durable, and versatile.
Our favorite plastic-free cork option is the Inviguri Back Roller Yoga Wheel. It is eco-friendly, 100% sustainable, and includes a spinal grove for extra back pain relief.
What is a Yoga Wheel?
A yoga wheel is a dream-come-true for any yogi with back pain or injuries! It is a circular-shaped padded tool that rolls beneath the spine to help you open your back in a wide range of poses.
It is similar to a yoga block, but more versatile and more comfortable. Yoga wheels mimic the contour of your spine, encouraging more opening in your chest, shoulders, and hip-flexors in inverted and backbend poses.
Yoga wheels can be made from cork, foam, plastic, or rubber. They come in a wide range of sizes for different functionalities and body types.
They are especially useful for challenging inversions and back-opening asanas like Wheel Pose (Urdhva Dhanurasana) and Camel Pose (Ustrasana)
Although a yoga swing could help you ease into these types of poses, most people aren't hauling their yoga swing to the studio every day.
A yoga wheel's power lies in its versatility, comfort, and portability.
Top 7 Yoga Wheels for Back Pain Relief
Product's name
Material
Size
More Info

General Yoga


UpCircleSeven Back Roller & Yoga Wheel - Relieve Lower & Upper Back Pain...
Closed cell rubber padding and ABS frame
12"
See latest price

Strength and Durability


Risefit Dharma Yoga Prop Wheel for Yoga Poses, Aqua
Foam TPE padding and ABS frame
13"
See latest price

Softer Support


Body Wheel 12" Yoga Wheel for Yoga, Stretching, Fitness, and Acrobatics:...
EVA (Ethylene Vinyl Acetate) Foam
12"
See latest price

Plastic-Free Option


Inviguri Roller Yoga Wheel with Spinal Groove, Cork Wheel for Stretching...
100% Cork
6" or 10"
See latest price

Eco-Conscious Yogis


Yoloha Premium Cork 10-Inch Mini Yoga Wheel, Strong, Non Slip, Sustainable,...
USA-made cork
12"
See latest price

No products found.

Back Pain




No products found.

Rigid PVC-free plastic and foam
6", 10", or 12"

No products found.

Best Wheel Set


UpCircleSeven Yoga Wheel Set - Strongest & Most Comfortable Dharma Yoga...
Closed cell rubber padding and ABS frame
6", 10", and 12"
See latest price
UpCircleSeven has become really popular amongst yogis for their yoga wheels and yoga swings. They offer great styles and materials at an affordable price. This wheel is sweat-wicking and comfortable to the touch. It can support up to 550 pounds and never bends under pressure. I've found this to be one of the most comfortable yet firm yoga wheels for my practice.
Pros
Super thick padding for spinal comfort
Several color and style options
Super durable (550+ lbs)
Moisture-wicking and doesn't hold odors
100% money back guarantee
Very affordable
Cons
If you're worried about the weight-bearing capacity of a yoga wheel, the Risefit wheel is the most durable that I've found. With an ultra-strong rigid frame and eco-friendly foam padding, this yoga wheel supports over 1,000 pounds during repeated use without breaking down or bending. Yet with all this strength, it's also lightweight, portable, and comfortable to use. It includes a manual guide and a 3 year guarantee.
Pros
Ultra strong and durable
Holds over 1,000 lbs
Thick and comfortable foam padding
Very affordable
A few colors and styles
3 year guarantee
Includes instruction manual
Cons
May be too rigid for some individuals
Synthetic materials
As the perfect mesh between a foam roller and a yoga wheel, the Body Wheel is the softest support of all the wheels we reviewed. It is still firm enough to provide relief and support back bends, but the foam cushioning is closer to a foam roller than a rigid yoga wheel. These wheels have progressive finger grips along the sides and an extra wide build to roll along the sides of the back as well. If other wheels have been too hard for your spine, the Body Wheel may be your perfect match.
Pros
Soft-to-medium foam cushion
Wider body for more support on sides of back
Similar to a foam roller
Solid wheel with unique design
Very lightweight and portable
Finger grips along the interior
Perfect for those with a tender back
Cons
May be too soft for some individuals
Does not retain full shape when under a lot of weight
Synthetic foam materials
Only one color
True cork yoga wheels can be expensive, but this Inviguri back roller is a nice mid-price-range option with a spinal groove design that is great for releasing trigger points. This wheel was designed by an Australian physiotherapist for moderate to intense pressure for spinal release. It is a 100% natural and sustainable cork product with zero plastic.
Pros
Completely plastic-free
100% sustainable cork
Certified to support 500 lbs
Lightweight and portable
Extra wide (6") for more stability and core strength
Targets postural muscles with spinal groove
Cons
May be too firm for some yogis
Recommended to pad with a yoga mat if you are over 275 lbs
This premium USA-made cork yoga wheel is as eco-friendly, beautiful, and durable as it gets. The cork is handcrafted from sustainably-sourced poplar and maple wood and sealed with beeswax. The rounded edges are comfortable to grab and the non-toxic, latex-free foam top is cushioning without being slippery.
Pros
Ultra sustainable and eco-friendly
100% non-toxic materials
Non-slip
Super durable
Comfortable foam top
Moisture-resistant
Made in the USA
Beautiful and portable
Cons
More expensive than other yoga wheels
May be too firm for some yogis
No products found.
The unique shape of this wheel is designed specifically for relieving strain on muscle ligaments and massaging the spine. There is a small ridge in the center of the wheel to support and roll out the spine. While other wheels have a design specifically targeted toward yogis, this wheel is for anyone with back pain. It offers medium pressure, sweat-resistant padding, and a 500 lb weight load.
Pros
Unique middle ridge "spinal canal" design cups the spine
Available in 3 sizes
Medium pressure
½" thick sweat resistant padding
100% PVC-free
Clinically-recommended by chiropractors and doctors
Cons
Mid price range
May not be as functional for yoga asanas
If you're not sure what size yoga wheel will work best for you, why not try a whole set? UpCircleSeven offers a simple choice that is accessible for beginners, lightweight, and nesting into each other (so storage size stays the same).
These wheels are super sturdy and don't bend under pressure. The padding is thick and supportive, but the firmness ensures that they are strong enough to roll out any tension or knots in your back.
Pros
Set of 3 nests inside each other
Different sizes allow focus on different body parts
Super comfortable 8mm thick padding
Closed-cell technology prevents moisture buildup
Sweat resistant padding
Non-toxic materials
Non-slip texture grips
550+ lb load capacity
Non-flexing frame made of ABS
Includes free guide
Cons
Synthetic materials
Rubber may not last as long as other materials
Who Needs a Yoga Wheel?
If you have underlying back pain or spinal injuries, a yoga wheel is one of the best forms of "yogi insurance". It provides support and structure so you don't overextend or strain the spine.
A body yoga wheel is also the most accessible prop for a beginner. You don't need to know much about yoga to use it and the relief is nearly instant. Yoga wheels make back-opening poses approximately 1000% easier to enter and exit.
Unlike yoga straps (which you eventually don't need), a yoga wheel has great advantages for intermediate and advanced yogis as well. It can be used to make poses more challenging. Advanced yogis use wheels to test their core strength and balance.
Benefits of a Yoga Wheel
There are so many reasons to get a yoga wheel, including:
Massage aching back muscles
Prevent injuries
Ease into challenging poses
Improve posture
Build balance and core strength
Massage Those Aching Back Muscles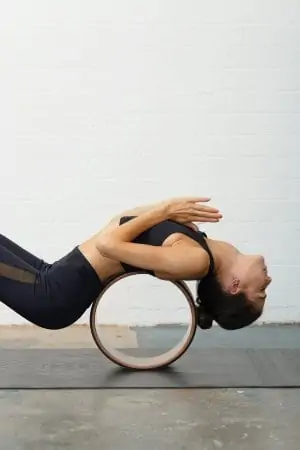 The easiest and most popular way to use a yoga wheel is for getting out those kinks and aches in the neck and back. Most yoga wheels are wide enough to place between the shoulder blades and massage out the full length of the spine.
Simply lay down, position the wheel underneath your back and use your legs to roll back and forth over the wheel, moving all the way up to the base of the neck and all the way down to the tailbone. The rolling movement increases blood flow and warms up tight muscles so they can stretch out and relax. You can also use the wheel to massage your legs and hips.
Similar to foam rollers, a yoga wheel provides cushioned pressure similar to a massage. However, the firmness, shape, and warming effect makes yoga wheels far superior to a foam roller! It feels like a major back opening without the injury risk of an unsupported back bend.
Prevent Injuries with a Scaffold of Support
Because of the unique circular design, yoga wheels follow the curvature of your body and improve spine mobility with less risk of energy. It acts as a supporting scaffold, holding the body in alignment and preventing strain.
The yoga wheel also ensures you aren't overstretching or pushing beyond your spine's natural limit.
Ease into Challenging Poses
Beginner yogis (and most people in the modern world) tend to have some level of postural hunch from sitting at a desk or using devices. To suddenly open the heart and spine can be very intense on your own, but a yoga wheel makes the challenge so much more accessible.
Use a yoga wheel to ease into more advanced poses like Wheel Pose, King Pigeon Pose, or Fish Pose.
How to do Wheel-Assisted Fish Pose:
Sit on the floor with legs extended in front of you and the back up straight
Place the yoga wheel right behind your back, parallel with the spine, and hold in place lightly with your hands
Take a deep breath and, on the exhale, lean back to stretch your spine over the wheel
Release your arms to the side and allow your body to melt over the wheel in a backbend
Keeping your heels on the floor and toes pointed, lift your hips to deepen the stretch
Relax your head and neck on the wheel, opening your arms wide to hold and release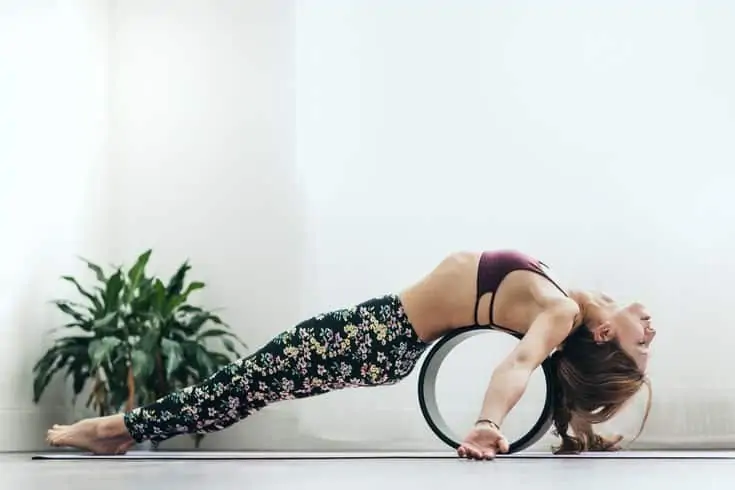 Improve Posture
If you need to counteract a full day of posture-destroying computer work, a yoga wheel is your new best friend. This prop actually improves posture over time by extending the space between vertebrates through spine lengthening.
This opening effect is especially noticeable when the yoga wheel is used between the shoulder blades in the upper back. It helps reverse the desk hunch for better posture and less back pain.
Build Balance and Core Strength
Beyond back-opening, there are many creative ways to use a yoga wheel to improve balance and core strength. You can use the yoga wheel as a prop to support your balance as you try Half Moon Pose or Assisted Crow. You can also use it for an extra ab workout. Building core strength naturally leads to less back pain and greater advancement in other asanas.
How to Do Wheel-Assisted Crow Pose:
Start in Mountain pose and put the yoga wheel between your feet
Bend your knees and lean forward into a fold, anchoring your hands into the floor
Flex the core muscles and slowly lift one foot up to place on top of the yoga wheel
Lift the other foot onto the wheel
Bring the knees into the back of your triceps, pressing and holding
How to Do Pike Pose with a Yoga Wheel:
Start in Tabletop pose with hands under shoulders and knees under hips
Place the yoga wheel between your feet
Slowly transition your shins onto the top of the wheel until you reach a Plank position
Exhale, drawing your legs toward your arms (tops of feet will roll onto the wheel) and lifting your butt toward to sky
Keep legs straight and core activated
Exhale and return to plank, then repeat, feeling the core strengthen and lengthen with each movement
How to Choose a Body Yoga Wheel
Your Goals
When looking for a yoga wheel, you will want to consider your primary goals. Are you seeking back pain relief, neck relief, more balance, assistance in entering difficult poses, or more advanced yoga postures to build strength?
Pressure and Firmness
You also need to consider how much pressure you prefer. Each body is built differently and requires different levels of firmness to roll out kinks and allow for open stretching. When you lay or sit on the wheel, the weight of your body will determine how hard it feels on your muscles.
Some yoga wheels are extra firm, whereas others are softer like a foam roller. Most people opt for mid-pressure yoga wheels for their versatility.
Materials
Yoga wheels come in a range of materials, the most common being ABS plastic, foam, and cork. Consider the style, smell, feel, durability, and sustainability of yoga wheel construction before purchasing. You want your yoga wheel to last for a long time and fit your lifestyle.
Yoga Wheel Use Tips
Ease into Things
Although the yoga wheel is great for beginners, it can be an intense back opening at first. Be sure to breathe slowly and ease into the stretch. Take time to properly position the wheel on your back and make sure everything feels right before moving into asanas.
Watch Instructional Videos
There are so many instructional yoga wheel videos available online. Our favorites are from Yoga with Kissandra and Ashton August.
How to Clean Your Yoga Wheel
To extend the life of your yoga wheel, we recommend cleaning it after every use. You can use a simple DIY diluted vinegar and essential oil spray on most materials. Mix one part vinegar and three parts water, then add a couple drops of your favorite essential oil scent.
We hope your yoga wheel brings you as much joy and release as it has brought us! Namaste!